Majesty palm is a typical indoor plant that gives a tropical ambiance to a house. With its feathery fronds that gracefully bend from its crown, it totally goes by its name – majestic.
As regal as they may seem, they still need some nourishment from the best fertilizers for majesty palms in the market. However, as you may notice, feeding these warm-loving plants is not as easy as it seems.
Anything majestic doesn't go by typical stuff, even majestic palms. They are known to be fickle and challenging to grow, emphasizing the value of knowing their needs before fertilization.
(You could use the table of contents below to jump to the sections that are most important to you.)
---
Getting To Know Majesty Palms
Like other tropical plants and trees, majesty palms or Ravenea rivularis thrive in tropical regions of the US, like California and Florida.
They are native plants found lining the rivers, streams, and swamps of Madagascar, Africa. The land next to bodies of water provides a constant supply of humidity in the air and forest-like soil nutrients, which is the ideal environment for the species of Ravenea rivularis.
Majesty palms are almost endangered in the wild and are now often found as indoor plants. Homeowners and interior designers love using majestic palms because of their crown-like features and slow growth.
Other than its attractive features, here are its other characteristics:
Watering: Needs more water than plant food (once or twice a week – during summer).
Humidity: High-level – needs misting or humidifiers from time to time.
Sun exposure: Indirect sunlight to mimic its natural habitat where it nestles under the canopy of other trees.
Maximum height: 5 to 10 feet indoors – 98 feet outdoors.
US Hardiness Zones: 9 to 11.
Nutrient needs: Most nutrients but more emphasis on potassium, magnesium, and iron.
Common problems: Browning of leaf tips.
Fertilization: During transplant and as needed. Do not fertilize during the winter months.
Magnesium and iron are often not included in typical fertilizers. These nutrients are essential for palm trees in making chlorophyll for maintaining green leaves. However, that doesn't mean you should neglect the primary nutrients such as NPK or nitrogen-phosphorus-potassium (three digits in fertilizer labels 10-10-10).
Now that you have an idea of what to look for in a fertilizer, here is a list of the specific selection of best fertilizers for majestic palm trees.
10 Best Fertilizers For Majesty Palms [Best Picks for 2023]
Aside from the nutrient content of plant food, a fertilizer's source, composition, and nutrient release are also important. In this list, we selected both synthetic and organic fertilizers that contain different features and plant technology for palm trees.
Let's start!
1. Dr. Earth Exotic Blend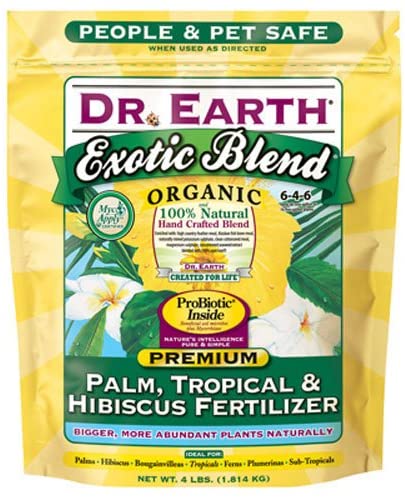 If there would be a full package of nutrients and goodness for palms, that would be Dr. Earth Exotic Blend.
First, the brand itself is known for using the cleanest materials for its fertilizers, such as food-grade scraps and non-GMO manure.
Second, it contains magnesium and sulfur, which is crucial in keeping the leaves from turning yellow or brown.
As with most healthy stuff, Dr. Earth is pricey, but it is clean and good for the environment. It also degrades slowly, which makes you use it less than usual. Based on its labels, you only need to apply ½ cup for every foot of plant height every two months or as needed. It is derived from:
Feather meal.
Fishbone meal.
Bone meal.
Magnesium sulfate.
Alfalfa meal.
Potassium sulfate.
Kelp flour.
Exotic Blend has an NPK ratio of 5-4-6. It comes with a TruBiotic formula that helps nourish healthy soil bacteria for optimal processing of organic materials and makes nutrients more accessible to plants. You may also use it on other tropical plants, such as:
Hibiscus.
Ferns.
Bougainvillea.
Other tropical plants.
Since most majesty palms are house plants, it is crucial to choose a pet and kid-friendly fertilizer. Dr. Earth is one of the safest options to use if you have kids and pets around the house. The only downside is its price and its typical organic smell.
Pros
Organic ingredients.
With magnesium and sulfur.
No GMO-infested chicken manure.
OMRI-listed.
Kid and pet-friendly.
Environment-friendly.
Easy to use.
Cons
2. JR Peters 51624 Jack's Classic 16-5-25 Palm Food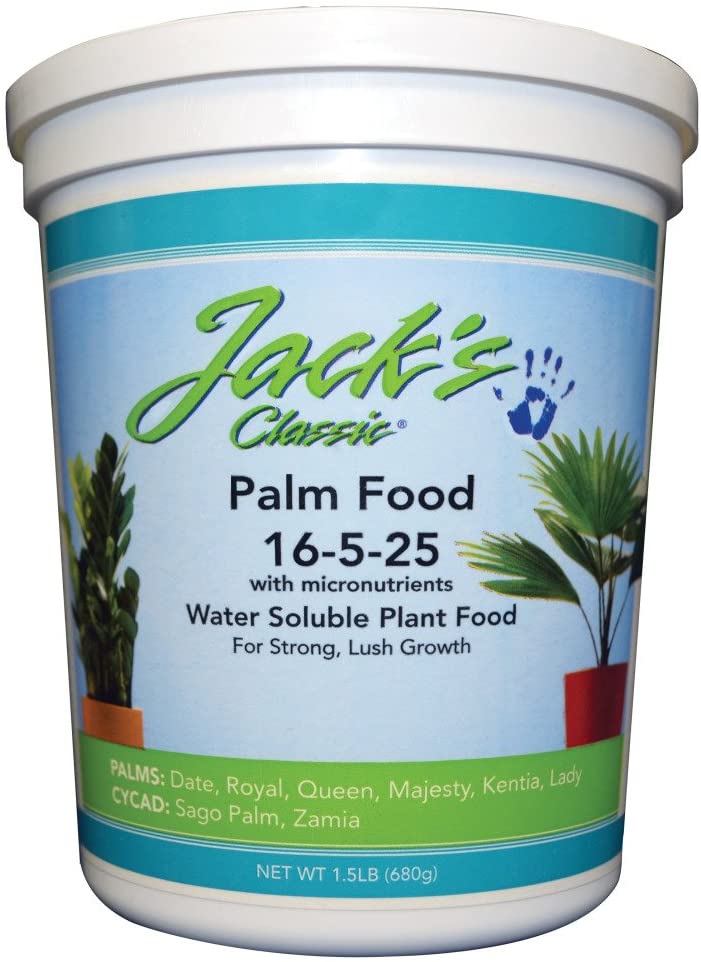 JR Peters Classic Palm Food is another homeowner favorite for hibiscus and palm trees like majesty palms. It is efficient in aiding palms with yellow and brown leaves. It is a synthetic fertilizer with a water-soluble formula.
Oftentimes, gardeners prefer a water-soluble type of fertilizer because it allows you to ensure how much nutrients are absorbed by the plant than slow-release fertilizers.
JR Peters Palm Food has an NPK ratio of 16-5-25 with additional nutrients, such as magnesium, sulfur, and micronutrients. What makes it stand out among its competitors is its formula that prevents the buildup of harmful salts found in slow-release fertilizers. It is also very high in potassium to support chlorophyll production and the healthy growth of young palms.

The fertilizer formula of JR Peter Palm Food is designed for the following palm and cycad varieties:
Date.
Royal.
Queen.
Majesty.
Kentia.
Lady.
Sago.
Zamia.
Gardeners often notice that this fertilizer does not provide an overnight solution. It takes constant application until you see your palms flourish and restore their former glory. It is not organic, but since majesty palms are the thirsty type of plants and their soil is often fast-draining, any excess does not leach into the soil and does not harm any kinds of pets in your household.
Pros
Efficient fertilizer for yellowing leaves of majesty palms and hibiscus.
Packed with micronutrients, magnesium, and sulfur.
Easily absorbed by plants due to its water-soluble formula.
Durable packaging.
Specifically made for palms and cycads.
Comes with a free measuring spoon.
Cons
3. Miracle-Gro Palm Tree Food 20 lb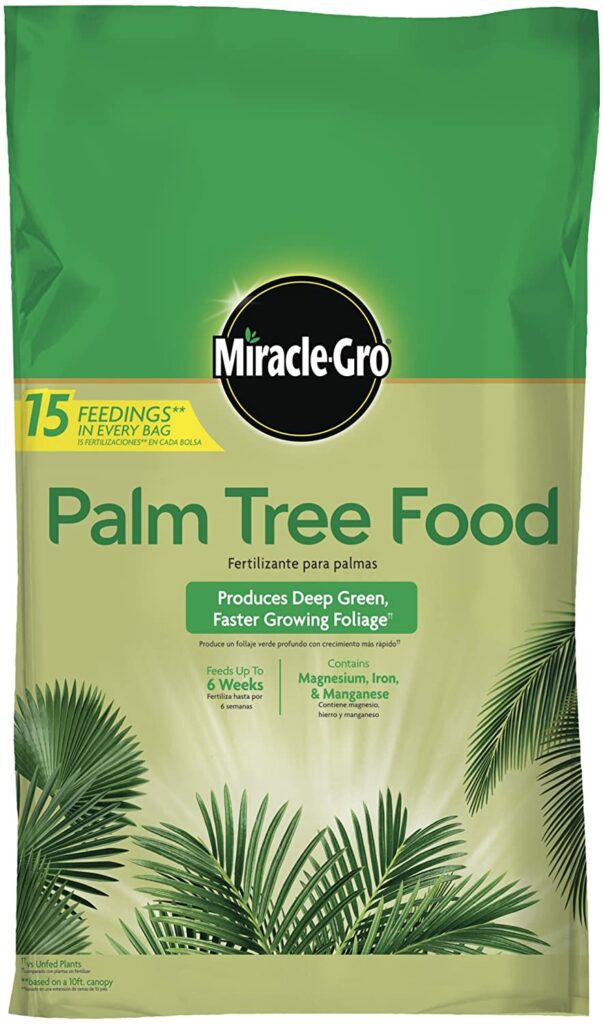 Another popular fertilizer for palm tree owners is the Miracle-Gro Palm Tree Food. It is a slow-release fertilizer that feeds your majesty palms for six months. The nutrients are released into the soil once you water your plants. Since you'll be watering majesty palms often, you should observe the amount you will put into the pot. Otherwise, they will become over-fertilized.
The NPK ratio of this fertilizer is 8-4-8. It contains magnesium, iron, calcium, and manganese, crucial nutrients for palms. According to the manufacturer, it is intended for outdoor use only.
The packaging is also not resealable, so you may need to either use another container or keep it in a cool dry place to preserve it for future use.
Most gardeners find success in using Miracle-Gro Palm Food for their dying palm plants and sickly palm trees. It is also a convenient fertilizer for busy individuals since watering the palms also means feeding them as well when using a slow-release fertilizer.
Pros
Easy to use.
Feeds for six months.
A bag goes a long way.
With extra nutrients for full pal nourishment.
Helps revive sickly and dying palms.
Cons
Non-resealable packaging.
Might cause overfertilization if not used properly.
May burn the base of the stem if you apply the fertilizer too close to it.
4. Jobe's Organics Palm Tree Granular Plant Food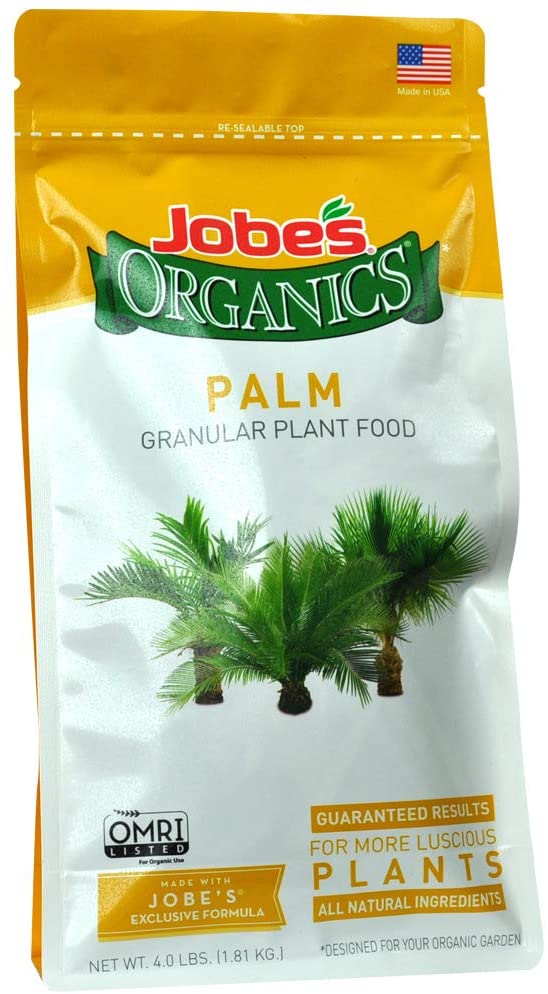 We sure know that there are some Jobe fertilizer fans out there, especially if you've tried their other products on some of your plants. If Dr. Earth is too expensive for you, Jobe's Palm Tree Plant Food is the best alternative. It is an organic fertilizer, OMRI-listed and safe to use around kids and pets.
Jobe's Palm Plant Food has a slow-release formula that feeds plants every 2 to 3 months or as needed. It has an NPK ratio of 4-2-4 with extra nutrients like calcium, magnesium, and sulfur. Here are the organic materials in this fertilizer:
Feather meal.
Bone meal.
Sulfate of potash.
Processed poultry manure.
Aside from its organic contents, Jobe's also boasts its exclusive formula that contains archaea, beneficial soil bacteria, and endo-mycorrhizae. They are non-plant food contents that help nourish the soil microorganisms, enabling them to process the organic matter faster and more efficiently for the plants.
Due to its organic contents, you should expect that this fertilizer will have an unpleasant smell. It is safe to use around kids and pets and also good for Mother Earth. It also has resealable packaging which adds up to its many good qualities.
Pros
Organic fertilizer.
No synthetic ingredients.
With beneficial microorganisms that improve nutrient absorption.
OMRI-listed.
Safe for the environment.
Kid and pet-friendly.
An affordable alternative to Dr. Earth.
Feeds palms for two to three months.
Resealable packaging.
Cons
Smelly due to its organic contents.
5. Espoma Organic Palm-tone 4-1-5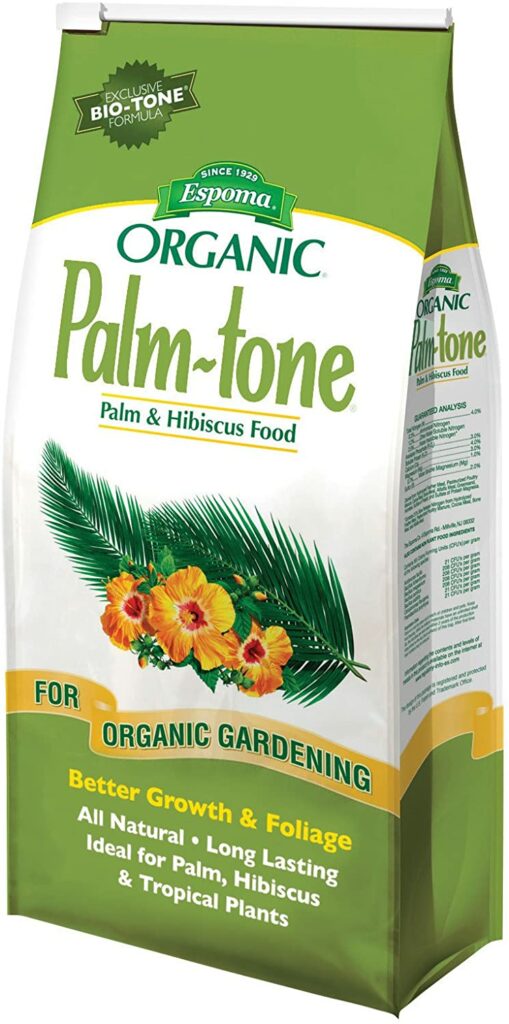 Espoma's fertilizer is also among the gardeners' favorites for its organic formula and efficient nourishment of plants. Palm-Tone is their formula for feeding palm trees and other tropical plants. It has an NPK ratio of 4-1-5 with beneficial microbes to nourish the soil microbiome.
The formula of this fertilizer contains an exclusive Bio-tone that helps nourish the soil microbiome. It is a slow-release fertilizer that feeds palms for three months. The brand prides itself on not containing any fillers of sewage sludge.
Espoma's Palm-Tone contains calcium, magnesium, and sulfur for greener leaves and healthy growth of palms. It is derived from the following organic materials:
Feather meal.
Poultry manure.
Bone meal.
Alfalfa meal.
Greensand.
Sulfate of Potash.
Sulfate of Potash Magnesia.
Espoma's price point is at par with Dr. Earth. However, more gardeners appreciate the generous content in every bag of its fertilizer. Palm-Tone is kid, pet, and environment-friendly, but you should expect some distinct organic smell since it contains poultry manure.
Pros
Organic fertilizer.
Improves soil while feeding majesty palms.
Feeds palms for three months.
OMRI-listed.
With magnesium and sulfur.
No fillers and sewage sludge.
Cons
Smelly due to its organic contents. 
Pricey.
6. Botanicare Cal-Mag Plus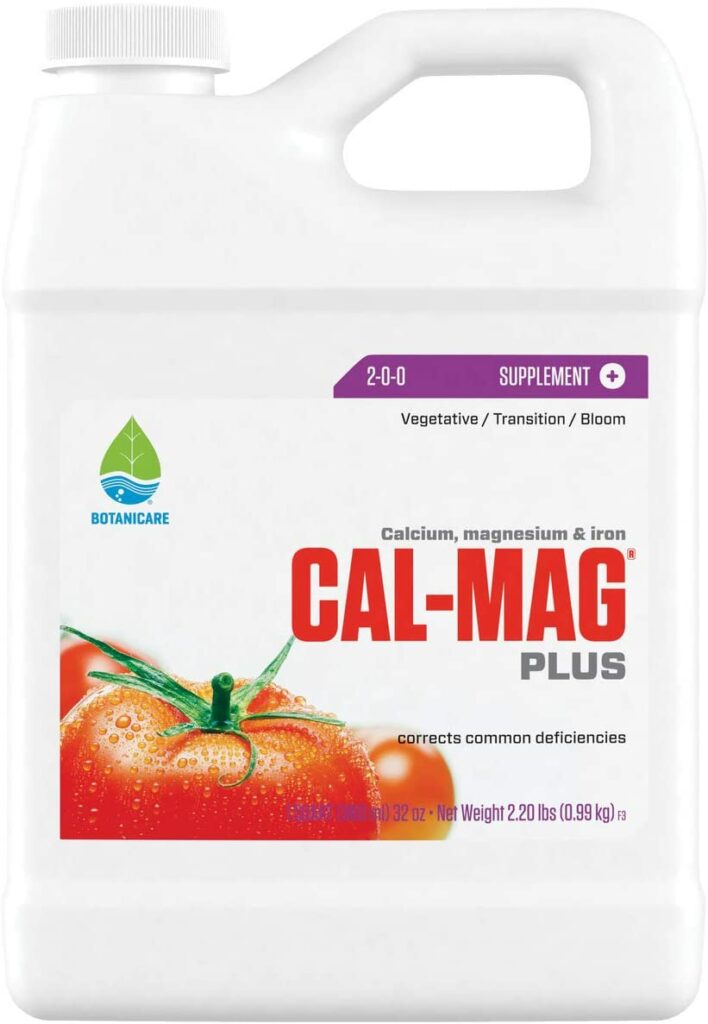 For treating specific problems in majesty palms that are not solved by increasing their water intake, a little dash of Botanicare Cal-Mag Plus can be the solution. It is a plant supplement that specifically provides the following nutrients:
Nitrogen.
Calcium.
Magnesium.
Iron.
The goal of this supplement is to correct common problems in plants, like chlorosis or leaf discoloration without overfertilizing them. It is derived from synthetic nutrient sources. It has an NPK ratio of 2-0-0, which is perfect for sensitive majesty plants. It is best applied as a foliar spray to plants when they experience:
Stunted growth.
Pale new leaf growth.
Upward curl on new leaves.
Leaf discoloration.
Aside from leaf problems, Cal-Mag can also help revive unhealthy palm trees. It is safe to use around kids and pets when dry. Since it is just a supplement, the whole bottle can last for a long time.
Pros
Helps correct leaf problems and common deficiencies in majesty palms.
Prevents overfertilization.
Easy to use.
Safe to use around kids and pets when dry.
Can be used on different varieties of plants.
Cons
Not a substitute for NPK fertilizer.
7. Epsom Salt (1 Gallon) by Earthborn Elements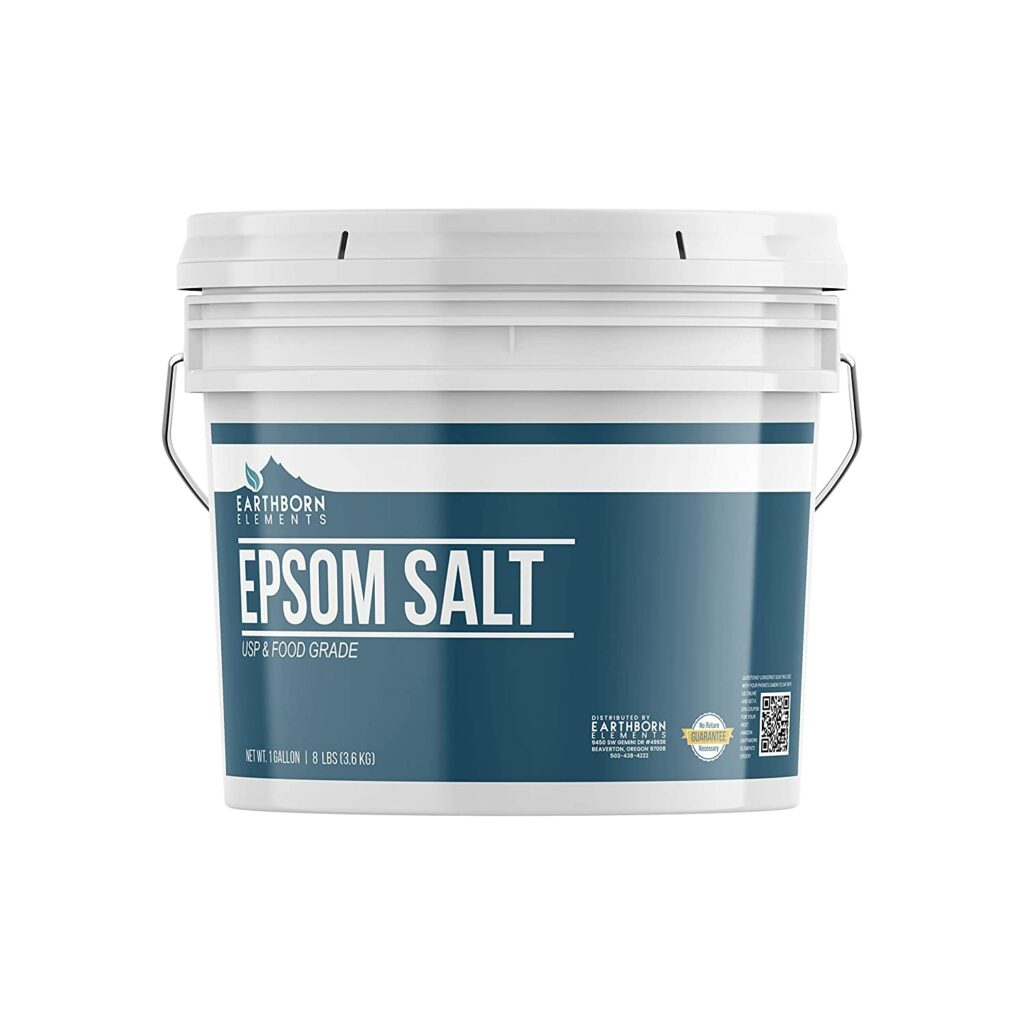 Epsom salt is a multi-purpose substance that can be used in cleaning and gardening. It is rich in magnesium that aids in the production of chlorophyll, which is the green pigment in the leaves of plants. You only need one teaspoon for a gallon of water when adding it to majesty palms.
Though Epsom salt is rich in magnesium, it is not an alternative to the best majesty palm fertilizers that contain the primary and secondary nutrients needed by palm trees. Consider it as a plant supplement that you can add when they are gravely sick or dying.
Pros
Multi-purpose. 
Plant supplement.
Readily accessible. 
Organic source of nutrients.
Helps give majesty palms deep green leaves.
Cons
Not a substitute for palm tree fertilizer.
8. Miracle-Gro Shake 'N Feed Palm Plant Food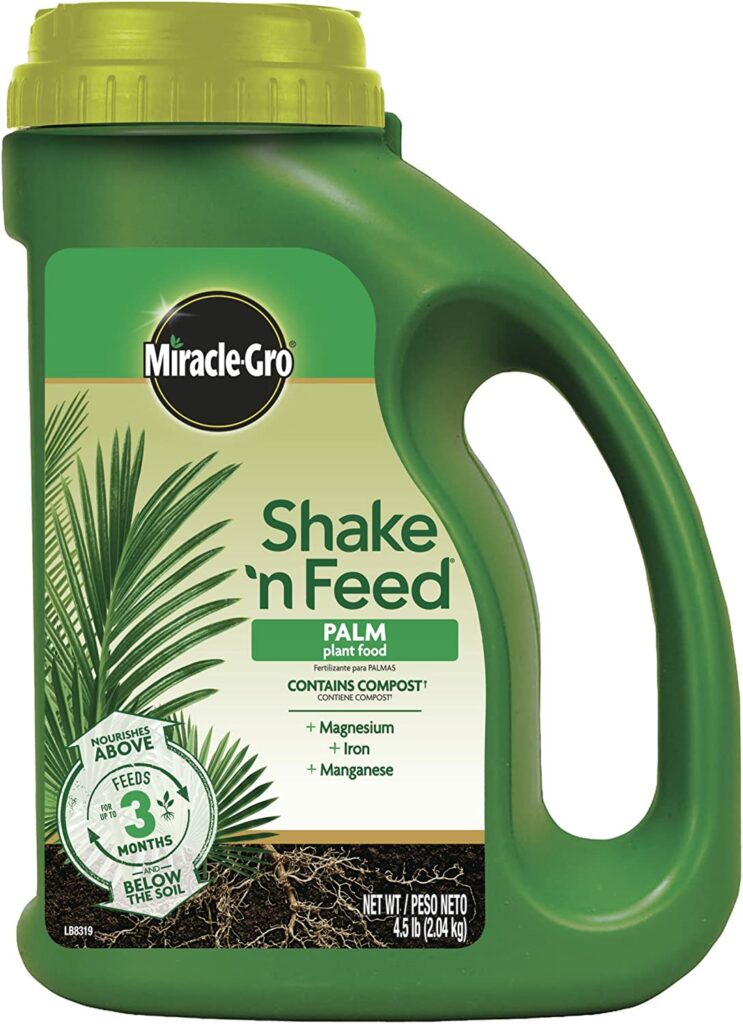 Another form of Miracle-Gro that you can use is their other variant of palm food made of pellets. It is a synthetic fertilizer with an NPK ratio of 8-2-12 with extra nutrients like manganese, magnesium, and iron. These nutrients are slowly released into the soil for up to three months.
Unlike other fertilizers, the Shake 'N Feed variant contains compost that helps improve the soil for efficient nutrient absorption of plants. The microbes in the compost break down nutrients that will support the root development of growing majesty palms. It also has a durable jug packaging that you can refill and reuse.
One word of advice in using slow-release pellets like this fertilizer is to use it sparingly. Majesty palms need water more than once a week, which means the pellets will be releasing more nutrients into the soil. It can cause overfertilization and kill your majesty palms.
The best way to use slow-release pellets is to use less than the recommended amount to avoid harming your sensitive majesty palms. Otherwise, you may risk overfertilizing them.
Pros
Easy to use.
No measuring or mixing.
No mess.
Durable packaging.
Improves soil condition.
With manganese, magnesium, and iron.
Feeds majesty palms for three months.
Cons
Use sparingly or less than the recommended amount to avoid overfertilization.
9. Palm Fertilizer by EZ-GRO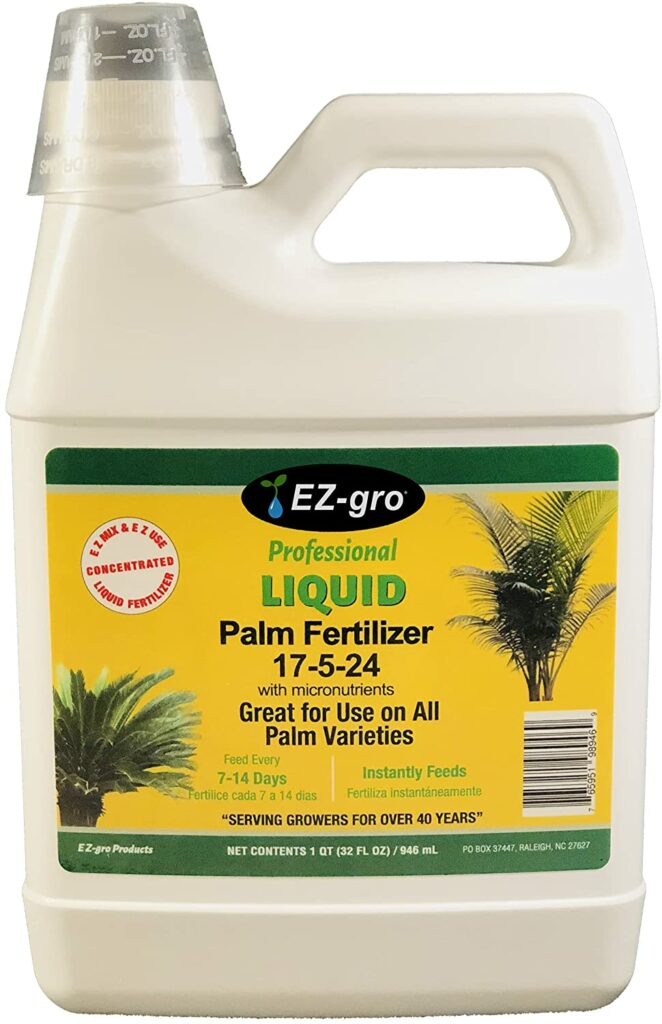 Moving on to the new brand, EZ-Gro Palm Fertilizer may not be part of the mainstream fertilizers but it proves to show that it deserves the spotlight. It is a liquid fertilizer with an NPK ratio of 17-5-24. Gardeners love this brand for its efficiency in treating yellowing and browning leaves of majesty palms.
Though this palm fertilizer is made of synthetic materials, it comes with more added nutrients ideal for palm varieties such as:
Magnesium.
Sulfur.
Boron.
Copper.
Iron.
Manganese.
Molybdenum.
Zinc.
Liquid fertilizer easier for plants to absorb nutrients, especially for majesty palms that consistently need moisture. It is also easy to gauge the number of nutrients your plants absorb every feeding.
The only downside is it contains molybdenum, which is harmful to kids and pets when wet. The consistency of the formula is highly-concentrated, so a jug goes a long way. The ingredients are also urea-free, which the manufacturer considers more efficient in rapidly releasing nitrogen than urea-based nitrogen sources.
EZ-Gro Palm Food has durable packaging and a free measuring cup. Give it a try if you find no luck with mainstream brands like Miracle-Gro.
Pros
Help plants absorb nutrients faster.
Less risk for over-fertilization.
Promotes calculated feeding.
Affordable.
Highly-concentrated. 
Urea-free.
Contains more added nutrients than its competitors.
Ideal for treating browning or yellowing leaves of majesty palms.
Durable packaging.
Free measuring cup.
Cons
Synthetic fertilizer.
It contains molybdenum which is harmful to humans and pets when wet.
10. BGI PALMGAIN 10lb Bag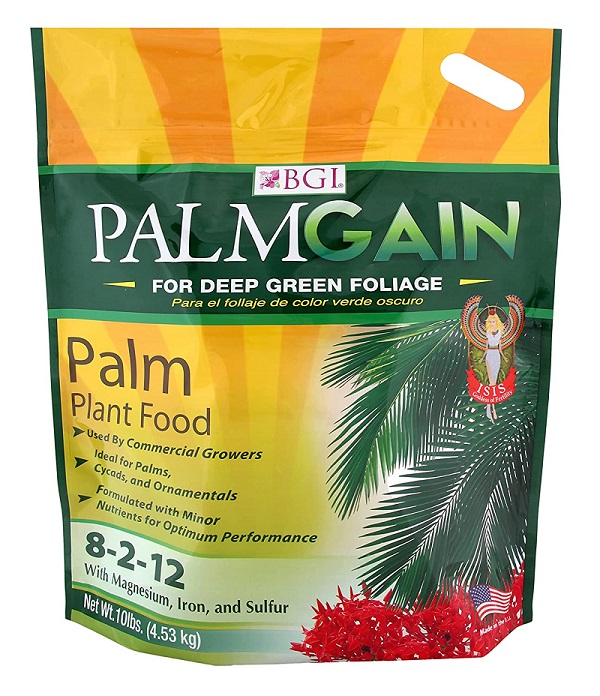 A new addition to the best palm fertilizers in the market is the BGI PalmGain. It is a synthetic fertilizer but works efficiently for majesty, oxtail, Sylvester date palm, and other palm varieties. It has an NPK ratio of 8-2-12 and is ideal for use on palms, ferns, cycads, Ixora, and ornamental plants.
The formula of PalmGain is based on the recommended formula of the University of Florida IFAS Extension. It has a slow-release nitrogen content to ensure consistent feeding. Like its competitors, it is packed with extra nutrients, such as:
Magnesium.
Sulfur.
Boron.
Copper.
Iron.
Manganese.
Zinc.
Due to its synthetic ingredients, PalmGain is not ideal for use around kids and pets due to possible eye and skin irritation. Allow the product to dry before allowing kids and pets in the treated area. The packaging is also resealable and easy to carry.
Overall, PalmGain is well-loved for its efficiency in nourishing majesty palms. It is affordable and comes with durable packaging. If you're not a fan of mainstream fertilizer brands, PalmGain can be your next best gardening tool for nourishing palms.
Pros
Fertilizer formula based on University recommendations for majesty palms
Contains an extensive list of nutrients than its competitors
Durable packaging
Easy to use 
Affordable
Cons
Synthetic fertilizer
Contains slow-release nitrogen that might cause overfertilization if not applied well.
---
A Common Problem With Majesty Palm: Browning of Leaves
Majesty palms are prone to browning of leaves because of their high dependency on humidity, indirect light, and moisture. Their specific needs are also why they are known to be sensitive and challenging to grow.
Brown leaf tips are a common issue in majesty palms, and there are three possible reasons why:
Low humidity.
Nutrient deficient.
Root rot.
Since majesty palms prefer water and humidity over plant food, it is better to initially increase humidity indoors. If the plant responds well, you no longer need to fertilize them. However, if it remains lumpy and sickly, feeding them might do the trick.
Majesty Palms Care: Ideal Growing Environment
Majesty palms are indeed majestic when they are healthy and thriving. Their leaves give off a distinct shine and are not dropping too low, unlike the areca palm. They only grow one foot per year. Once they reach 4 feet or 5 feet they start to slow down in growing since their roots are bound in a container.
Outdoor majesty palms, though they rarely exist, are free to spread their roots in the ground and continuously grow up to the height of a pine tree. As majesty palm growers, we know the challenge of taking care of them since they are as temperamental as the weather.
To help you bring the best out of your indoor or outdoor majesty palms, here are their ideal growing conditions that you should take into consideration:
Soil Mix and Acidity
Majesty palms need an environment that mimics their natural habitat. Since they need more frequent watering than usual indoor plants, well-draining soil is crucial to prevent root rot and overwatering issues.
For in-ground majesty palms, add perlite and peat moss to the soil to ensure a balance between drainage and water retention. For indoor majesty palms, the most ideal potting mix to use is cactus potting soil.
Another thing to note about majesty palms is they thrive in acidic soil. They grow in soil pH levels as low as 5.0. The soil pH level is key information when feeding your majesty palms because best majesty palm fertilizers contain acidifying agents that can alter the soil pH level.
Using a soil pH meter can be handy to ensure that the soil is not too acidic or alkaline for your palms. Otherwise, the roots will fail to absorb nutrients from the soil and become nutrient deficient.
Watering and Humidity
The humidity next to rivers is what majesty palms require. What that means for you as a grower is to ensure that the indoor humidity is at 50% and the indoor temperature is within 65 F to 85 F.
The winter months can be challenging for tropical plants due to dry air. When the winter season is harsh, a humidifier can be a worthwhile investment.
When watering majesty palms, make sure that the topsoil is dry. Though these tropical plants are heavy drinkers, they can suffer from root rot too. The common indication of root rot is brown and curling leaves which means that the roots are no longer able to absorb water and nutrients from the soil since it is rotting.
Pruning
Majesty palms do not need a lot of pruning. They are a slow-growing variety and can appreciate the trivial trims, like removing dead fronds. The other occasion that may require you to cut something from a majesty palm is when separating pups from the mother plant for propagation.
Pups are the young shoots that grow at the base of the mother palm. Growing majesty palms from seed is a tough battle and the common way commercial and home growers propagate majesty palms is by growing the pups.
Pest Control
A healthy majesty plant can resist any pests. However, a stressed palm can invite more pests like spider mites and mealybugs. If you see some webs and white dots on the leaves or fronds, wipe the leaves with soapy water to remove the pests.
If you have a heavy infestation, use insecticidal soap or neem oil. Take the synthetic insecticide as the last approach, especially for indoor majesty palms.
---
Frequently Asked Questions (FAQs)
Do majesty palms need fertilizer?
Yes but rarely. Majesty palms need more water than plant food to thrive. However, potted plants have limited access to nutrients than in-ground palms. Feed palms once or as needed during the growing season. Feeding is also essential when palms are starting to have leaf discoloration or stunted growth.
Do palm plants like coffee grounds?
Yes, especially dried used coffee grounds. It helps acidify the soil, especially in areas with alkaline soil. It is also rich in nitrogen which boosts plant growth.
Why are the tips of my majestic palms turning brown?
There are two possible reasons why majesty palm leaves turn brown. First, the humidity is low. Indoor majesty palms, in particular, are sensitive to humidity and need moisture in the air to prevent the leaves from drying.
The second possible reason is it is nutrient deficient due to the need for plant food, root rot, or alkaline soil. Check the soil pH level and inspect the roots before fertilizing to find the real cause of the plant issues.
How do I know if a majesty palm needs water?
At glance, it can be hard to distinguish when majesty palms need water. In hopes that they can talk and ask, the best way to know is by using a moisture meter.
If the moisture levels fall to 3 or 4, the palms need watering. If it's above that, delay watering for a few more days to avoid drowning the roots.
What kind of soil do majesty palms like?
Majesty palms need an acidic soil with a soil pH of at least 5.0 and fast-draining. They require a lot of moisture, which puts them at more risk for overwatering.
Is a majesty palm a good indoor plant?
Majesty and areca palms are the charm of any interior design. They give life to space by giving a tropical ambiance. As members of the true palms, they are non-toxic to dogs and cats. At the same time, they absorb harmful substances in the air, such as carbon monoxide and formaldehyde.
Can you put a majesty palm outside?
Yes and no. Majesty palms trained or grown in low light may not be able to adapt well in an outdoor setting. However, if they are slowly exposed to a shaded outdoor patio or balcony, they may adapt well. Plants that are used to low light can experience shock when placed under the indirect summer heat.
Can majesty palms be in full sun?
Majesty palms can handle full sun exposure for a brief time. Their natural habitat is in the canopies of other tall trees that give them indirect sunlight.
So, place them in areas where they can receive a brief full sun time early in the morning and indirect sunlight in the afternoon to avoid any sunburns.
Are majesty palms self-cleaning?
Yes. Majesty palms clean themselves naturally by peeling off old fronds. They have few to no pruning needs, which makes them a low-maintenance indoor plant.
Do majesty palms clean the air?
Yes, both areca and majesty palms can clean the indoor air. They help absorb toxins such as benzene, formaldehyde, and carbon dioxide that are harmful to human and animal health.
Final Thoughts
Majesty palms are challenging to grow but rewarding to have. They are getting endangered by the day, and helping the Earth propagate more of their species makes you an ally to its preservation for the future generation.
We hope that this post helped you find the best fertilizers for majesty palms and learned how to identify their specific needs.
These palms are not a fan of the typical growing methods because as their name suggests, they are majestic, one of a kind, and rare. Be proud of yourself for growing one. You are one tough gardener indeed!