Tropical and exotic flowers can look intimidating to grow. However, it's quite the opposite.
Tropical Flowering plants like plumeria plants are low maintenance and bloom best if given the best fertilizers for plumeria. They are known for their fragrant beautiful flowers and as a main component of leis or the Polynesian garland of flowers.
Either you're finding new ways to feed your plumerias or a beginner in growing them, you might feel overwhelmed about where to begin nourishing them.
For starters, plumeria needs fertilizers that have high phosphorus content to boost its bloom production. Also, you should consider using fertilizers that are good for slightly acidic soils.
In this post, we listed 10 of the best plumeria fertilizers out of hundred brands in the market.
We recommend these products for their great performance in helping plumerias bloom more and keep them healthy.
Not only will it keep you from the expensive trial-and-error process but also reduces the chances of putting your plants at risk.
(You could use the table of contents below to jump to the sections that are most important to you.)
---
10 Best Plumeria Fertilizers – Product Reviews
Before we head on to the fertilizers, here's some jargon recap for beginner gardeners.
NPK stands for nitrogen, phosphorus, and potassium respectively. So, when you see numbers 10-10-10 that is the minimum NPK content of fertilizers.
Manufacturing companies do not declare the real NPK ratio of their fertilizers to prevent their competitors from copying their formulas. The NPK formulation is just to give you an idea about the contents.
Now, check out the following fertilizing that is suitable for every type of gardener. Either you're an organic plumeria grower or a beginner in the planting hobby, you'll surely find that will suit your preferences.
1. Grow More Hawaiian Bud and Bloom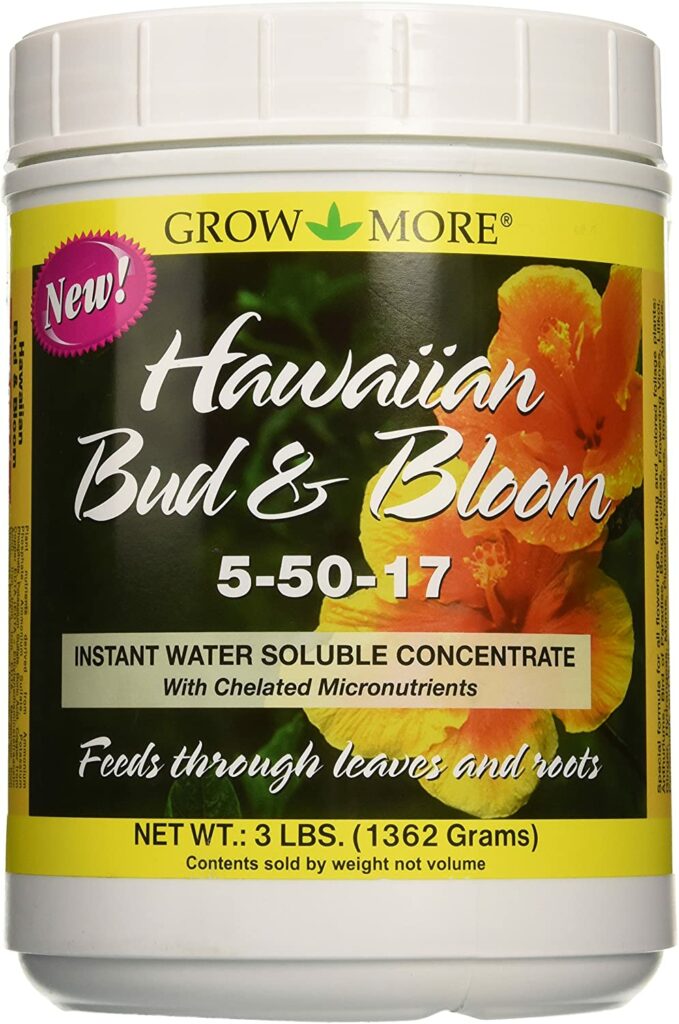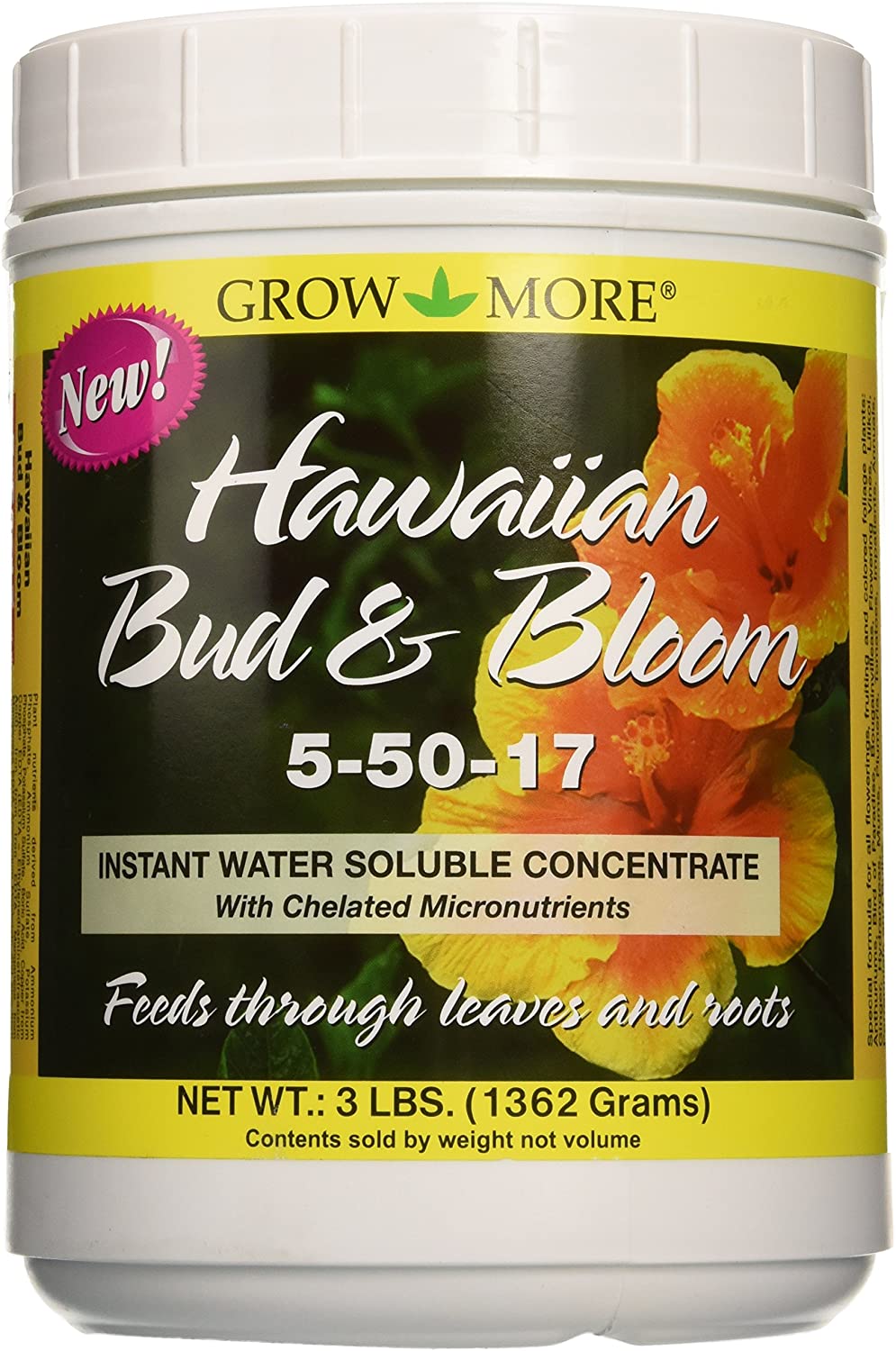 Hawaiian Bud & Bloom is one of the fertilizers with the highest phosphorus content which will suit flowering plants best.
It is a water-soluble fertilizer and applied while you water your plumerias. Nutrients from water-soluble fertilizers that go with the water make it easier for plants to absorb them. Thus, resulting in immediate plant improvement in flowering plants.
This fertilizer is a 5-50-17 NPK fertilizer that can be applied through foliar feeding or spraying and pouring into the soil. It also contains molybdenum and boron which are responsible for healthy plant systems and make the plants efficient during plant processes like photosynthesis.
Aside from plumeria, you can also use this fertilizer for the following plants:
Plumeria
Orchids
Bromeliads
Perennials
Birds of Paradise
Annuals
Perennials
Birds of Paradise
Lilikoi
Xerophytes
Hawaiian Bud & Bloom is synthetic fertilizer but it has all the nutrients that plumeria needs in a fertilizer. However, improper application of this fertilizer can burn your plants.
Here are two ways on how you can properly apply it to your plants:
Foliar spray
Use one tablespoon of Hawaiian Bud & Bloom per gallon of water. Make sure to apply it on your plants in full coverage spray to wet all the sides of the leaves.
To ensure that your plants are also watered properly, water the dry soil first before spraying fertilizer.
Soil drench
Like the foliar spray formula, you can dissolve one tablespoon of this fertilizer into a gallon of water. Then, apply the diluted fertilizer to the drip line of the plant.
The drip line is found 2 to 3 inches away from the stem. It is where the absorbing roots of the plants are located.
Since this fertilizer is non-organic, it might not be kid and pet-friendly and should be kept out of reach of children.
Pros
Nutrients are easily absorbed by the plants
High phosphorus content
Flexible feeding options
Resealable packaging
No smell
Cons
Contains Molybdenum that is toxic to some beneficial insects
Synthetic fertilizer
Messy
2. EarthPods Premium Hibiscus & Tropical Flower Plant Food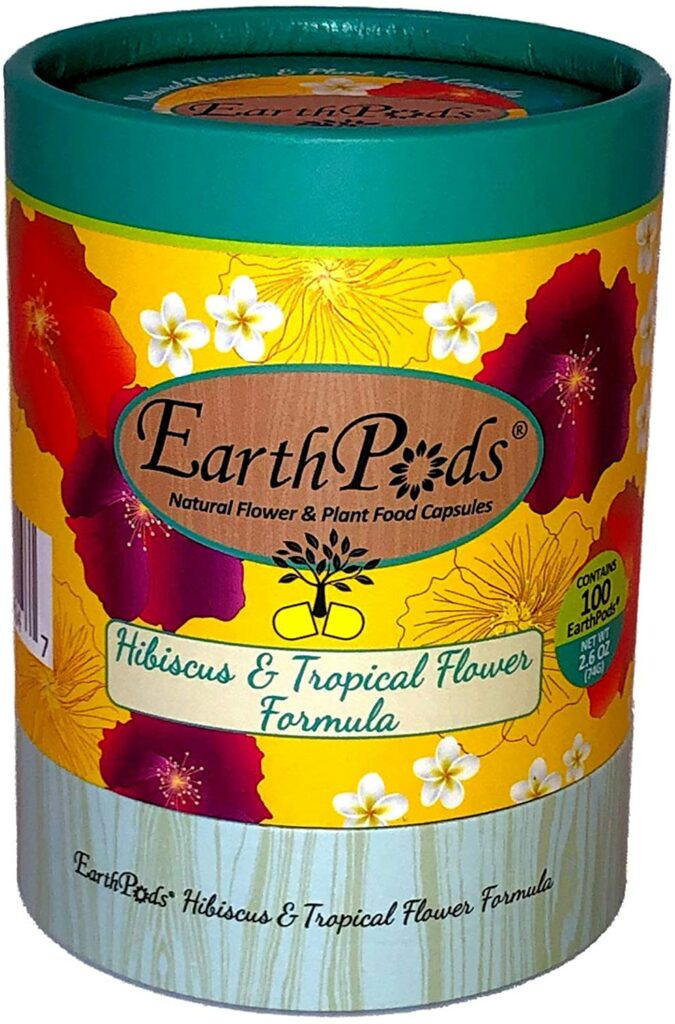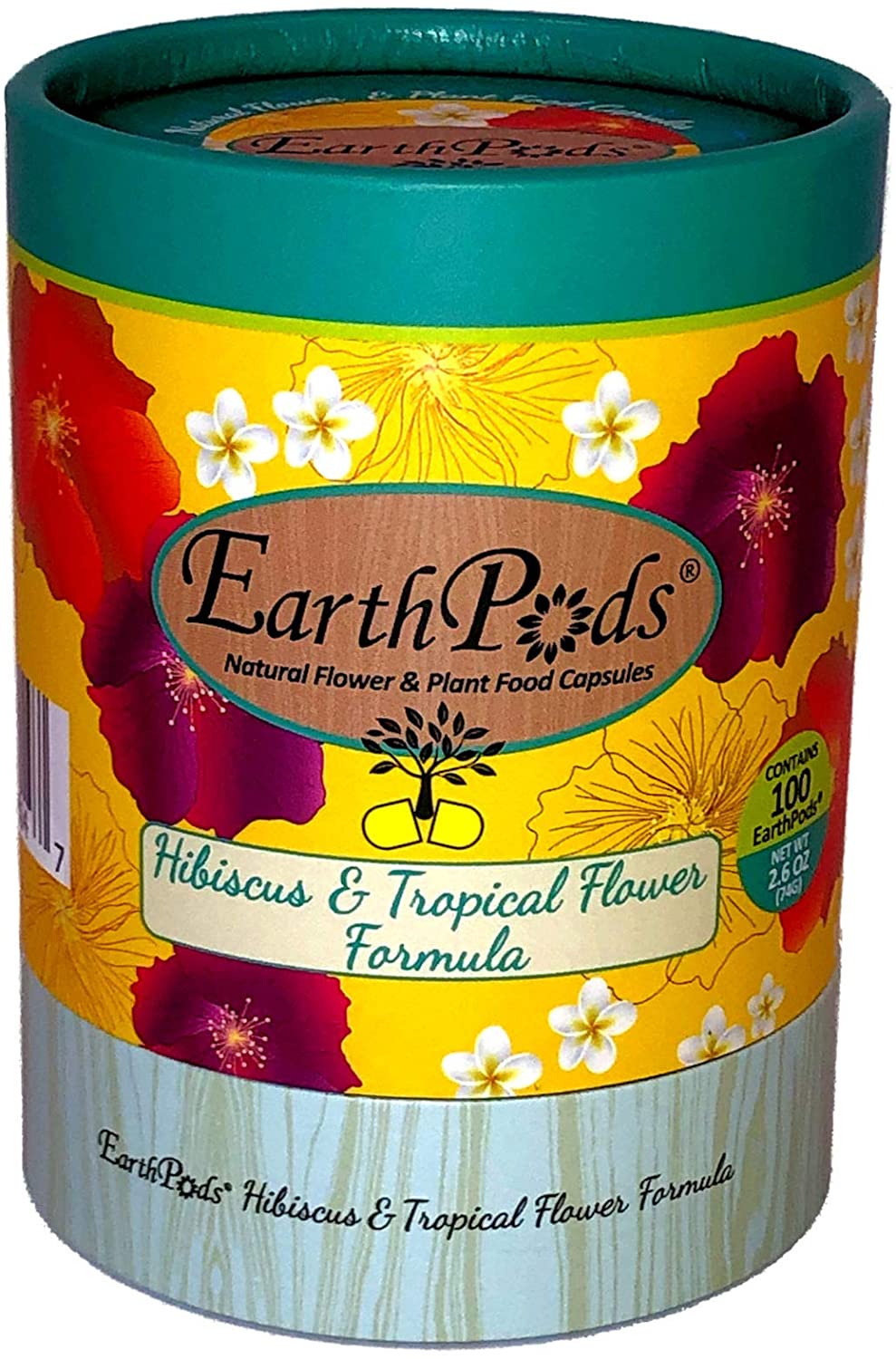 If you're looking for an organic fertilizer that's easy to apply to your plants, EarthPods is a good option.
EarthPods Premium Hibiscus & Tropical Flower Plant Food Spikes is a slow-release fertilizer spike that can ensure the consistent release of nutrients for your plumeria plants. This fertilizer is in capsule form and releases nutrients whenever you water your plants.
EarthPods manufacturer prides itself on the forest-earth-like composition of their products. They use organic materials which is an advantage if you want to grow plants in an environment-friendly way.
However, the manufacturer is also a bit secretive about the NPK ratio for this fertilizer. To imitate a forest-soil grade of nutrient, the fertilizer includes:
Natural plant nutrients
Growth hormones
Minerals
Beneficial microbes
Healthy bacteria & fungi
Humic acids
Fulvic acids
Amino acids
EarthPods fertilizers don't have the smell that usually comes with organic fertilizers. The formulation is also geared towards helping plants produce more vibrant blooms, lush green color in leaves, and enhance root growth.
It also aids in reducing transplant shock and helps plumeria be more disease and pest-resistant.
It is also applicable to the following plants:
Plumeria
Hibiscus
Anthurium
Lantana
Crocosmia
Heliconia
Bird of Paradise
Blood
Lily
Passion Flower
Plumbago
Jasmine
You only need 1 or 2 capsules for each p[lumeria every two weeks or up to 21 days. The release of nutrients will be activated once you start watering them.
You have two options in applying them to your plants. You can either:
Place one or two capsules of EarthPods fertilizer for about 1-2 inches in the topsoil.
Dissolve 1-2 capsules in a vase of lukewarm water & stir before you put it in the plant
Due to its ease of use and organic nature, you can use this fertilizer both indoors and outdoors. It is also environment, pet, and kid-friendly.
Pros
No mess 
No bad smell
Fast and easy to apply with no measurement needed
Can be used in all plant location
Eco-friendly
Cons
A bit pricey 
NPK ratio is not declared
3. Nelson Plumeria Plant and All Flowering Tropicals Fertilizer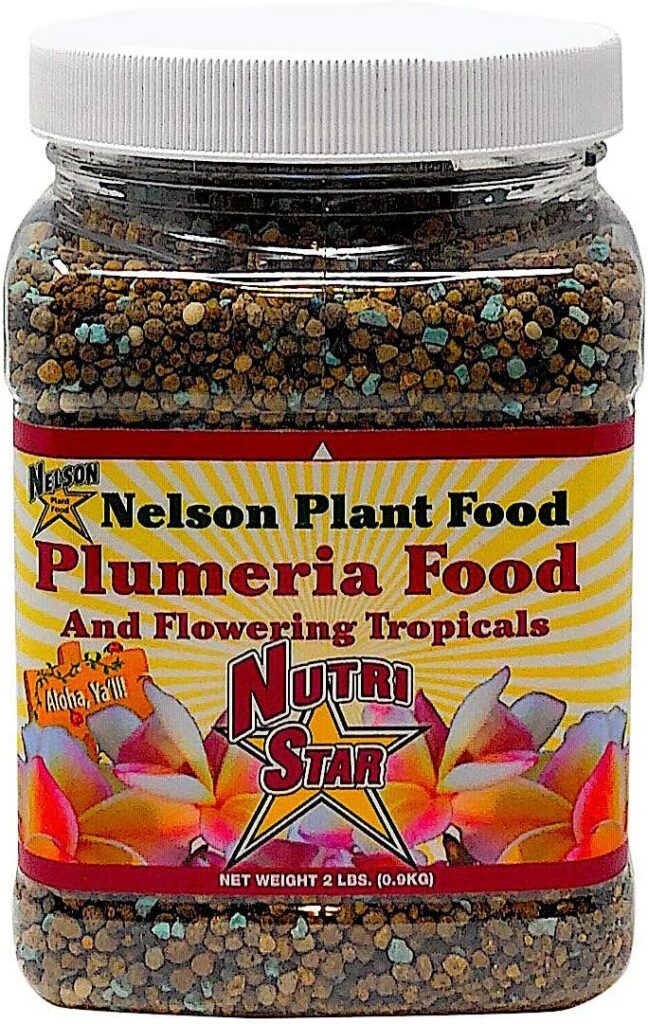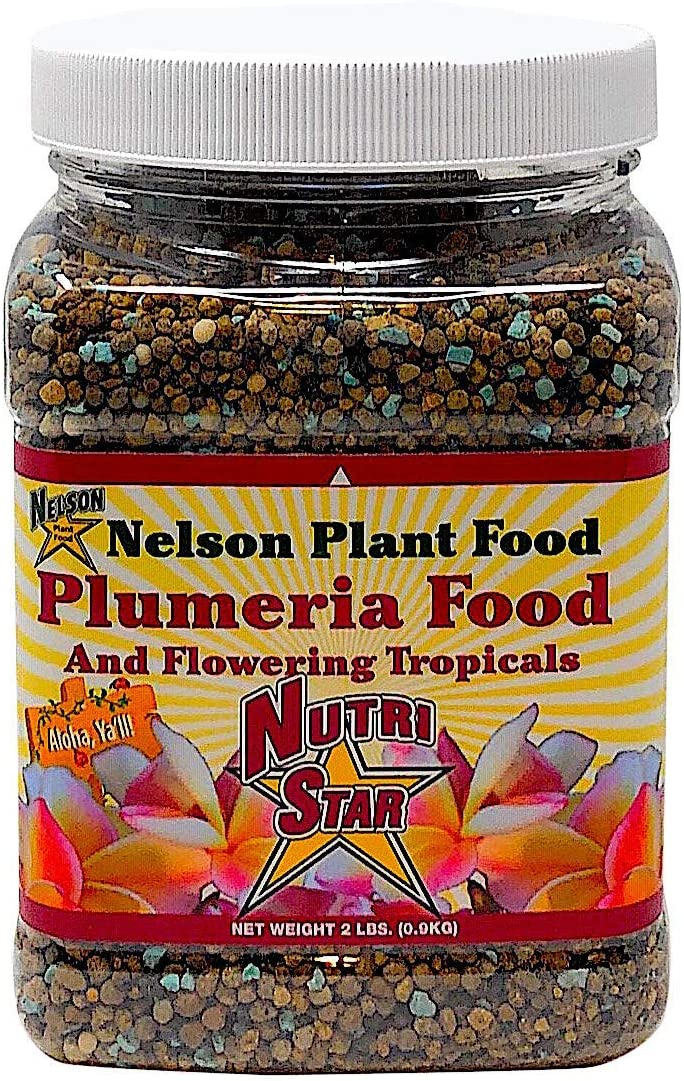 Nelson Plumeria Plant and All Flowering Tropicals Fertilizer is a granular fertilizer specially formulated for plumerias and other tropical plants. It is also high in phosphorus content which fuels the bud formation of plants and enhances their size and colors of flowers.
It is a 5-30-5 NPK fertilizer and also one of the most recommended fertilizers for plumeria flowers. It has low nitrogen content to help you manage the growth of your plumeria plant and help it focus on producing flowers. It also contains:
Urea
Monoammonium
Potassium Nitrate
Ferrous Sulfate
Magnesium Sulfate,
Calcium Sulfate
Sulfur
Zinc Sulfate
Manganese Sulfate
Copper
Magnesium Oxide
Iron oxy sulfate
NutriStar works by transforming the soil best suited for tropical loving plants. It both promotes the lush growth of the leaves and vibrant colors and enhanced aroma of plumeria flowers. It also contains extra nutrients such as iron, calcium, and magnesium.
Magnesium helps convert solar energy to fuel photosynthesis in plants. Iron, on the other hand, helps in the synthesis of chlorophyll and respiration in plants. Lastly, calcium helps build strong cell walls in plants.
You can also use this fertilizer for these plants:
Ground Orchids
Crotons
Tree Ferns
Stephanotis
Mexican Firebrush
Candletree
Plumbago
Peace Lily
Ixora
This fertilizer, though specialized for plumerias, is non-organic and may burn plants with improper application. It may not also be safe to use around pets and kids.
According to the manufacturer labels, you only need to apply it every two weeks or monthly during the growing season.
Pros
Specially formulated for plumerias
Non-burning formula and fast absorption
Doesn't smell bad
High phosphorus content
Cons
Synthetic fertilizer
Not kid and pet-friendly
4. Dr. Earth Organic 8 Bud & Bloom Fertilizer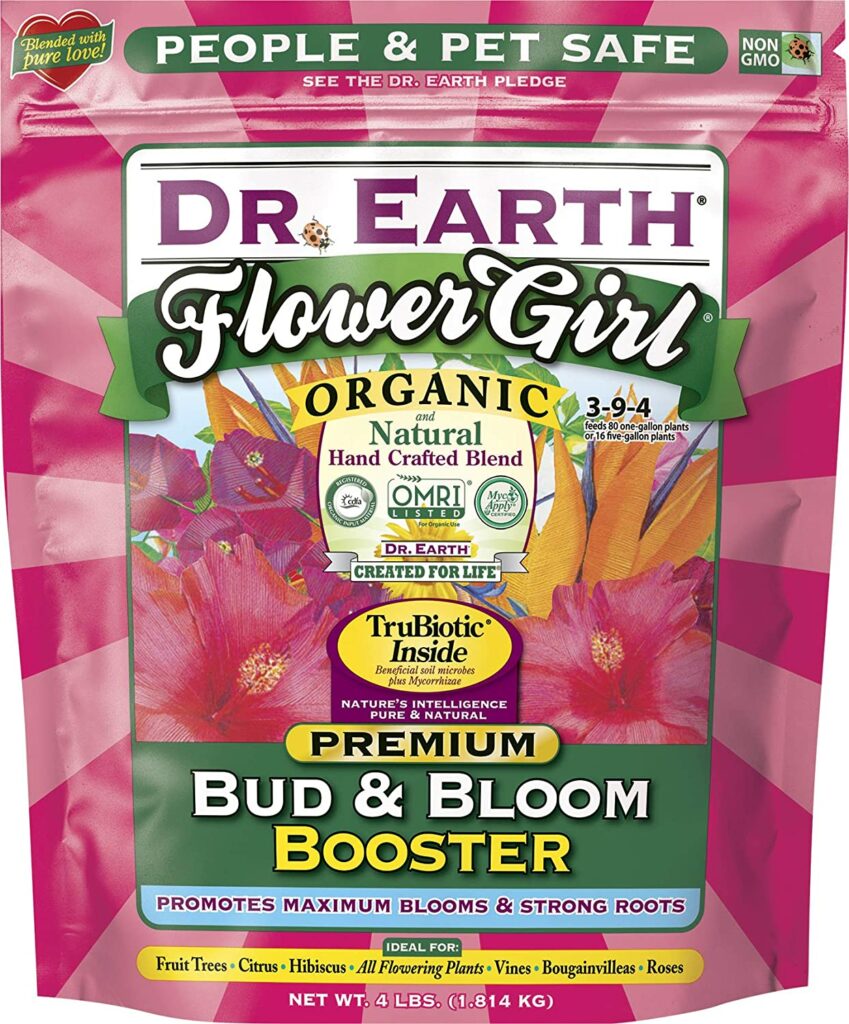 If you are looking for the most organic fertilizer possible for your plumeria plants, Dr. Earth fertilizer should be on the top of your list.
Many organic farmers prefer Dr. Earth fertilizers due to their integrity in declaring the organic contents of their products. To keep their claims as authentic as possible, their fertilizers are OMRI, OIM, and NOP certified.
Dr. Earth Organic 8 Bud & Bloom Fertilizer is a 3-9-4 NPK fertilizer that slowly releases nutrients for your plumerias. It has an enhanced phosphorus content which helps your plumerias to have bigger and more vibrant blooms.
It is derived from:
Organic land plants
Ocean plants
Alfalfa meal
Fishbone meal
Feather meal
Soft rock phosphate
Mined potassium sulfate
The manufacturer claims that it does not contain GMO-infested chicken manure and uses feed-grade and premium quality organic materials to provide nutrients for your plumeria plants. Dr. Earth's fertilizer is also enhanced with Tru Biotin which is a blend of healthy soil microbes, mycorrhizae, and probiotics.
Since it's purely organic, you can use it around kids and pets. Also, it's environment-friendly so you won't worry about chemicals leaching off into the groundwater. The only thing that you might not like about it is its smell that you'll find in most organic fertilizers.
Pros
Most authentic organic fertilizer
OMRI, OIM, NOP certified 
Kid-and-pet friendly
Environment-friendly
Less risk on burning your plants
Cons
The smell makes it not suitable to use indoor
5. J R Peters Inc. Jacks Classic Blossom Booster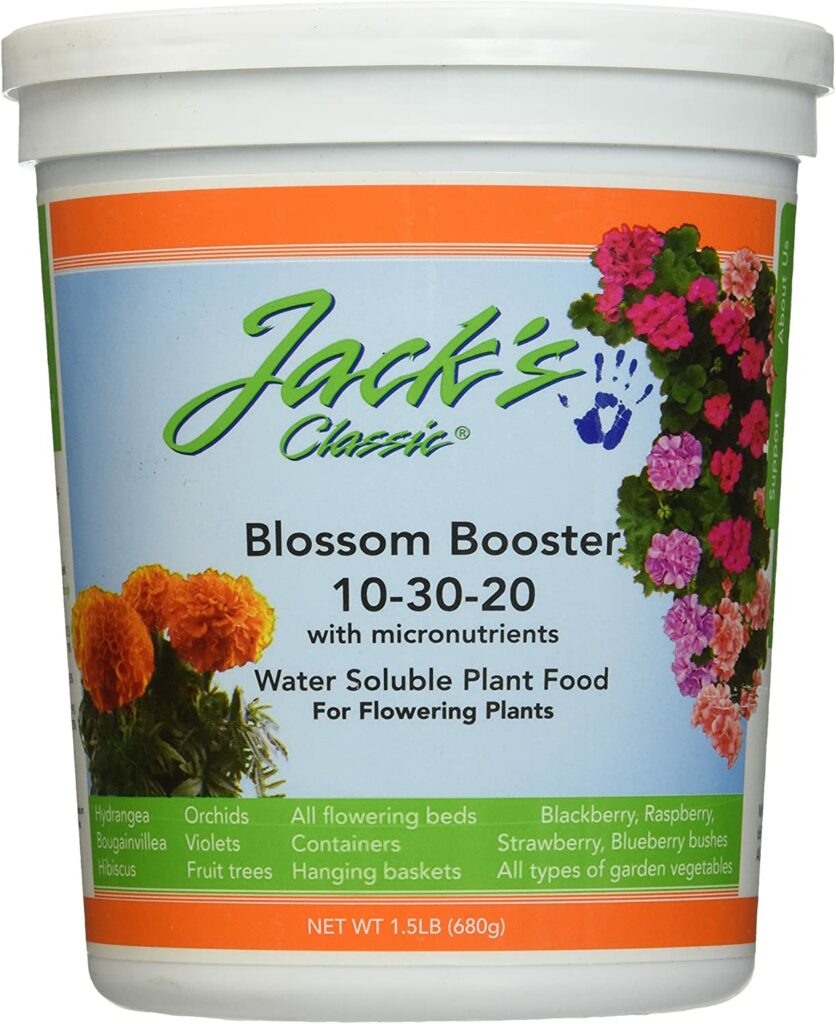 Jack's Classic No. 1.5 Blossom Booster is a water-soluble fertilizer that is among the popular fertilizers for boosting bud production and improve the size and color of plumeria. It is also great to use on nourishing vegetables.
It is a 10-30-20 NPK fertilizer and contains micronutrients to support a healthy soil condition for flowering plants. It is purposely low on nitrogen to help flowering plants to focus on flower production that growing the stems and having more leaves.
It is derived from:
Ammonium nitrate
Monopotassium phosphate
Magnesium sulfate
Boric acid
Iron
Manganese
Zinc
Copper
Ammonium molybdate
Though it's non-organic, it can be used both indoors and outdoors. You may also apply it to other types of flowering plants such as
Orchids
Hibiscus
Hydrangea
Bougainvillea
Fruit trees
Petunia
African violets
All types of garden vegetables
Since it contains chemicals, make sure to use it with caution around kids and pets. As advised by the manufacturer, dissolve this fertilizer in warm water to mix the ingredients faster.
Pros
Specially formulated for flowering plants
A water-soluble formula that promotes fast absorption of nutrients
A good alternative to stronger types of fertilizers
Reusable packaging
Cons
Non-organic fertilizer
Not kid and pet-friendly
Messy
6. Dr. Earth Exotic Blend For Palm, Tropical & Hibiscus Fertilizer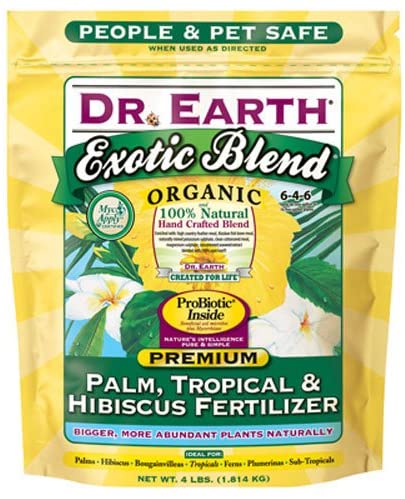 Since Dr. Earth is one of the best fertilizers in the market, your plumeria plants will also benefit from its variant for exotic plants.
Dr. Earth Exotic Blend is formulated to provide the specific needs of tropical plants and trees. It has received a lot of good reviews from plumeria growers and has kept many plumeria variants blooming every season.
It is a 6-4-6 NPK fertilizer and slow-release plant food for tropical plants. You may notice that it doesn't have the highest phosphorus content but it has the formulated that conditions the soil for the nutritional needs of tropical plants. It is derived from:
Feather meal
Fishbone meal
Bone meal
Magnesium sulfate
Alfalfa meal
Potassium sulfate
Kelp flour
Mycorrhizae
Humic acid
It has a specific application instruction for plumerias at the back of the packaging which makes it very easy to use.
The application recommendation for newly planted plumerias is to mix ½ cup of the fertilizer into the soil that will fill the planting hole.
Then, sprinkle the other ½ cup of fertilizer around the plant and work it on the first four inches of the topsoil. Lastly, make sure to water it thoroughly.
Like the other Dr. Earth fertilizer in this list, this Exotic Blend is also made from premium organic materials.
That means, it is also safe to use around kids and pets and a perfect fertilizer for environmentally conscious gardeners. Just prepare yourself with the smell that usually comes with most organic fertilizers.
You can use it with the following plants, but limited to:
Hibiscus
Plumeria
Bougainvillea
Ferns
Palms
Other tropical plants
Gardeners love this fertilizer for its pure organic contents and for being clean from GMO-infested chicken manure. It also contains humic acids that are responsible that helps the plant roots to increase the absorption of nutrients.
Thus, resulting in increased bud formation and higher yields in vegetable farms.
Pros
Organic fertilizer
No synthetic chemicals, GMO infested chicken manure, or toxic ingredients
Certified by OMRI, OIM, CCOF, and NOP 
Kid and pet-friendly
Cons
May attract dogs to eat it 
Messy
Bad smell
7. BR-61 Plant Food from Carl Pool Fertilizers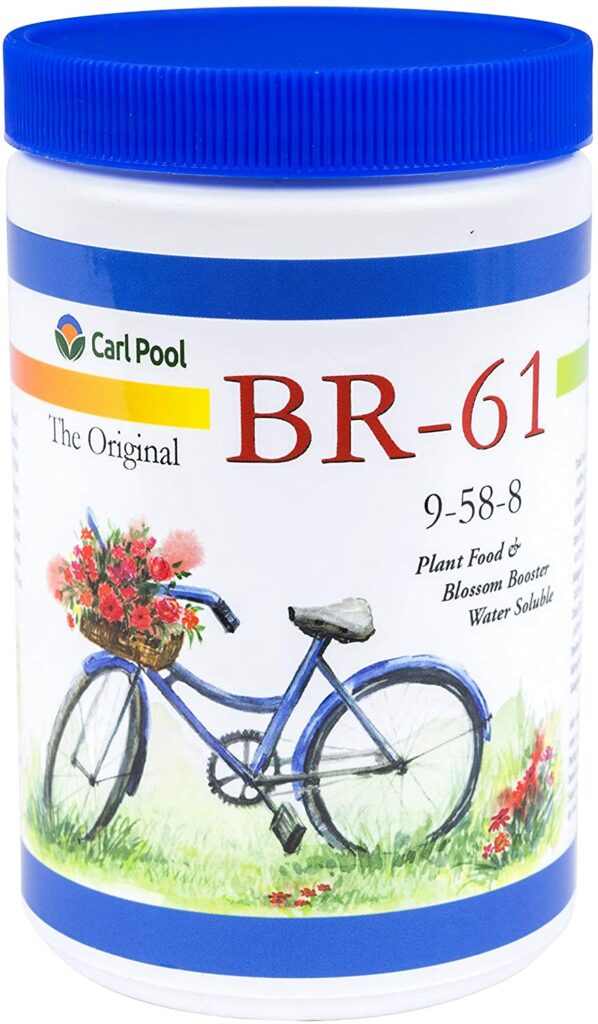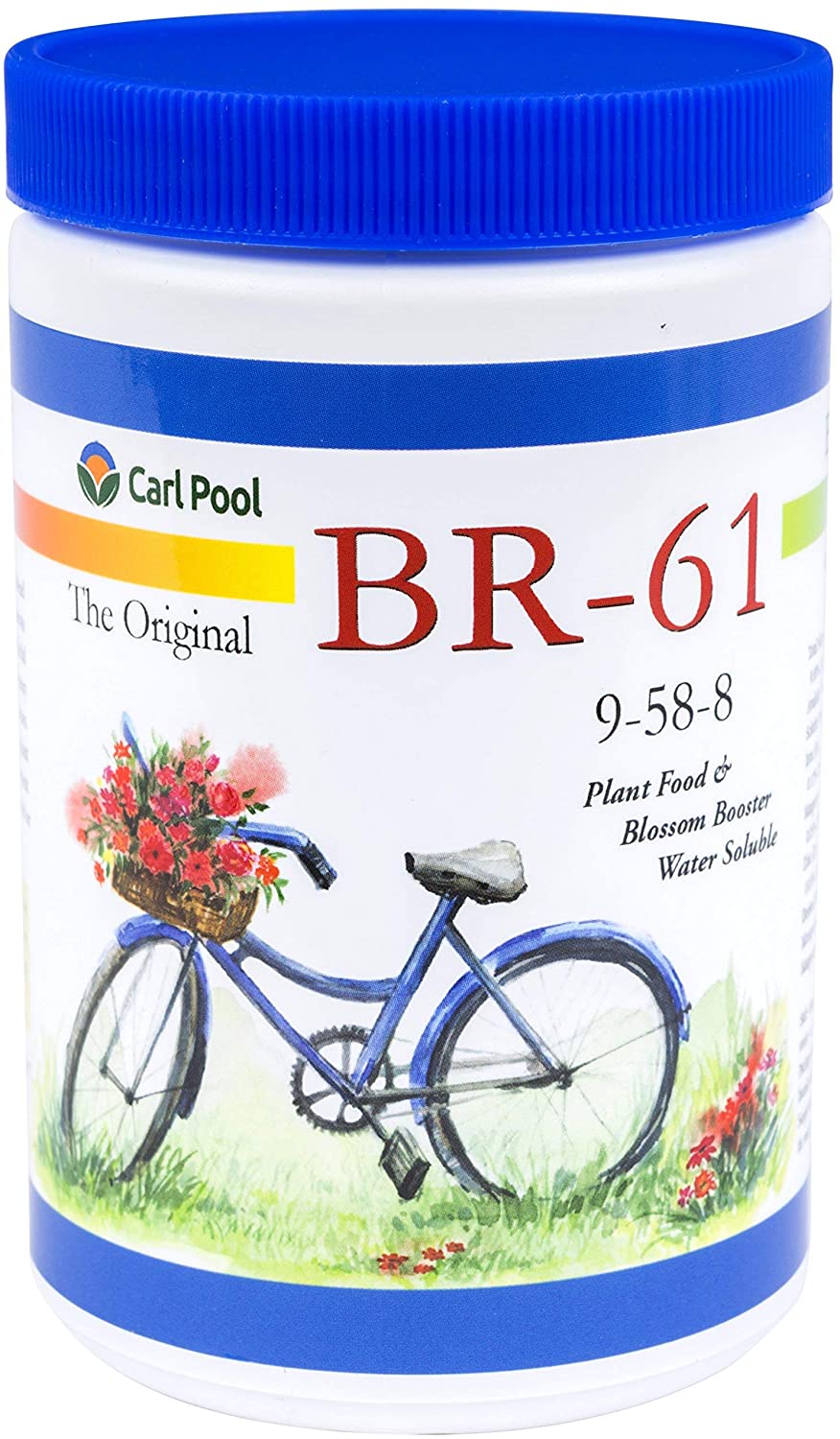 Carl Pool Fertilizers offer specific fertilizers for almost any type of plant. Its BR-61 fertilizer is the most applicable for plumeria for its high phosphorus that works best for flowering plants. It is a water-soluble fertilizer that is associated with rapid results in most plants.
BR-61 is a 9-58-8 NPK fertilizer that supplies macro and micronutrients in the soil to enhance plant performance. It is gaining popularity for its ability to deliver results after the first application of the product.
Another advantage of this fertilizer is you can use it not only on your flowering plants but also on your lawns and sod. Here are the specific plants that you can use it for:
Petunias
Marigolds
Vincas
Moss Rose
Geraniums
Shasta Daisy
Candytuft
Bougainvillea
Daffodils
Gladiolus
Tulips
Caladiums
It is a synthetic fertilizer so you'll need to use it with caution especially around kids and pets. It is also highly concentrated and you'll only need 1 tablespoon for every gallon of water.
This fertilizer may not come from the mainstream manufacturers of fertilizers but most gardeners find it worth buying and must-try.
Pros
High phosphorus content
Resealable packaging
Non-burning formula
Can be used on other types of plants like sod and grass seeds
Rapid results and can revive extremely malnourished plants
Cons
Synthetic fertilizer
Messy to prepare
Not kid and pet-friendly
8. FoxFarm Cha Ching Water Soluble Fertilizer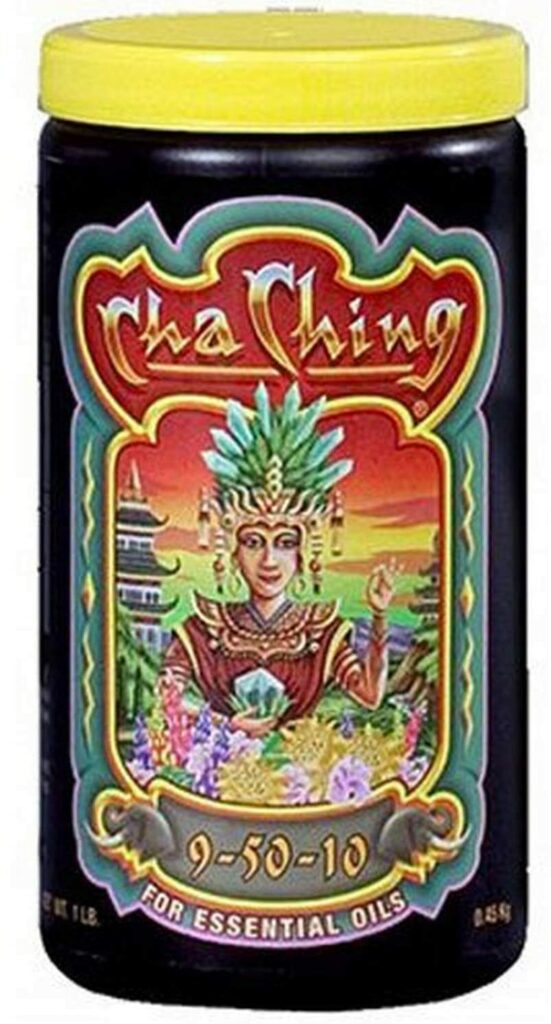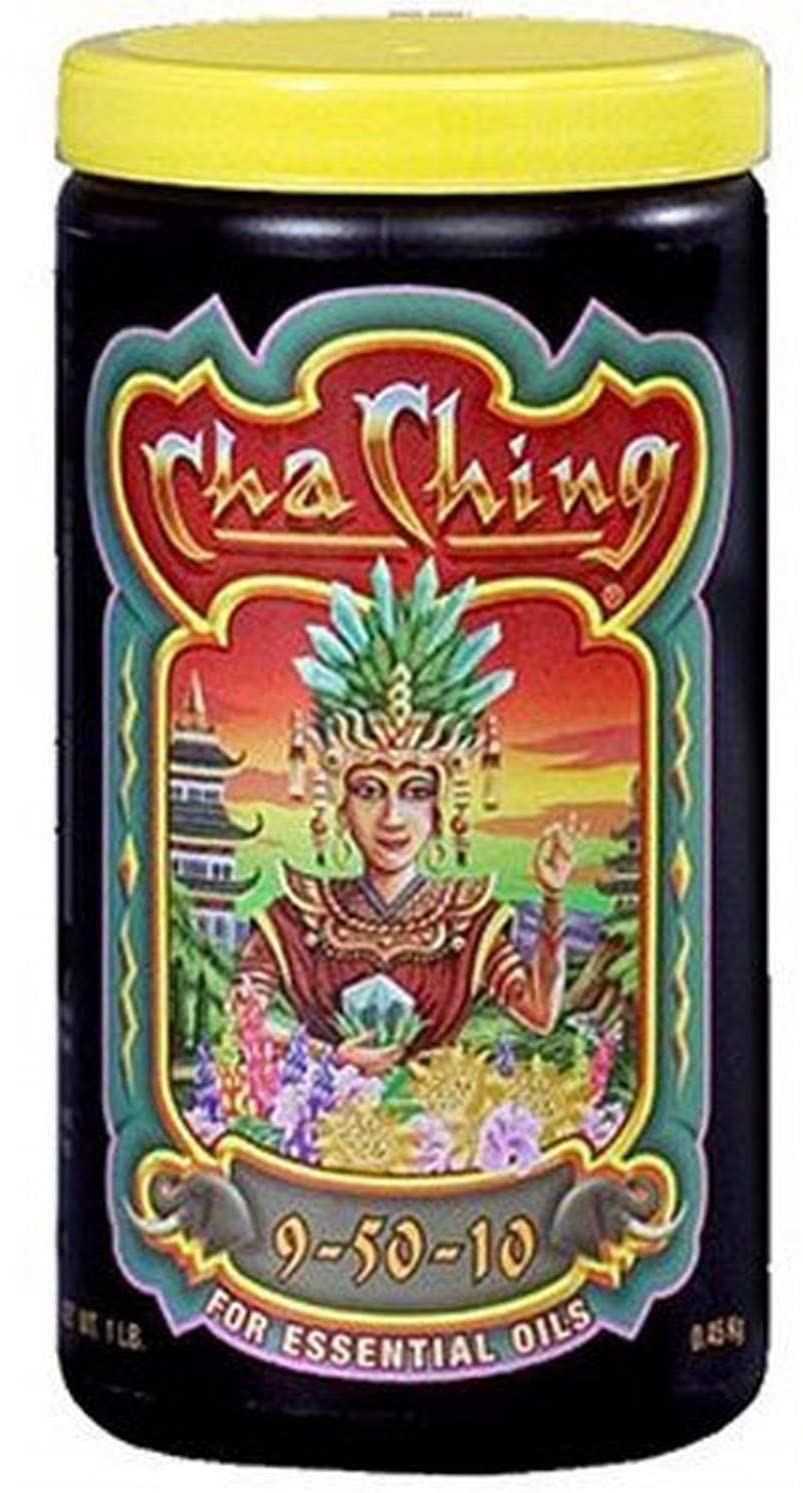 Many are intimidated by the name, design, and price of FoxFarm Cha-Ching. However, it's one of the few fertilizers in the market that lives up to its promise.
Cha-Ching is a water-soluble fertilizer formulated to nourish flowering plants and other phosphorus-hungry varieties.
It is a 9-50-10 NPK fertilizer and among the fertilizers with a high phosphorus content. It's pretty unique since you can use it for soilless mixes, organic soils, hydroponics, and aeroponic systems. It contains:
Calcium
Magnesium
Boron
Manganese
Sulfur
This fertilizer is non-organic but the manufacturer also has other organic varieties of fertilizers.
Most gardeners love using Cha-Ching for plumerias because it does not leave salt build-up at the bottom of the soil. It is also specially engineered for late flowering formulas and to maximize the plant's bud production.
Recommended application:
Hydroponics: Mix 1 teaspoon of the Cha-Ching fertilizer per gallon of fresh water in the final weeks of flowering. If you are using other fertilizers, use 1/4 – 1/2 teaspoon per gallon of freshwater.
Soil: Mix 1/2 – 1 teaspoon per gallon of water during the final weeks of flowering. If combined with other nutrients, only use 1/4 to 1/2 tsp per gallon of water and apply it weekly.
Pros
High-quality fertilizer
High phosphorus content
Formulated to increase essential oils and produce heavy resins in fruit, buds, and flowers
Non-burning formula
Cons
Synthetic fertilizer
Messy
Not kid and pet-friendly
Can cause skin irritation
A bit pricier than other fertilizers for plumerias
Works perfectly with other FoxFarms fertilizers but may not as effective with other fertilizers
9. Miracle-Gro Water Soluble Bloom Booster Flower Food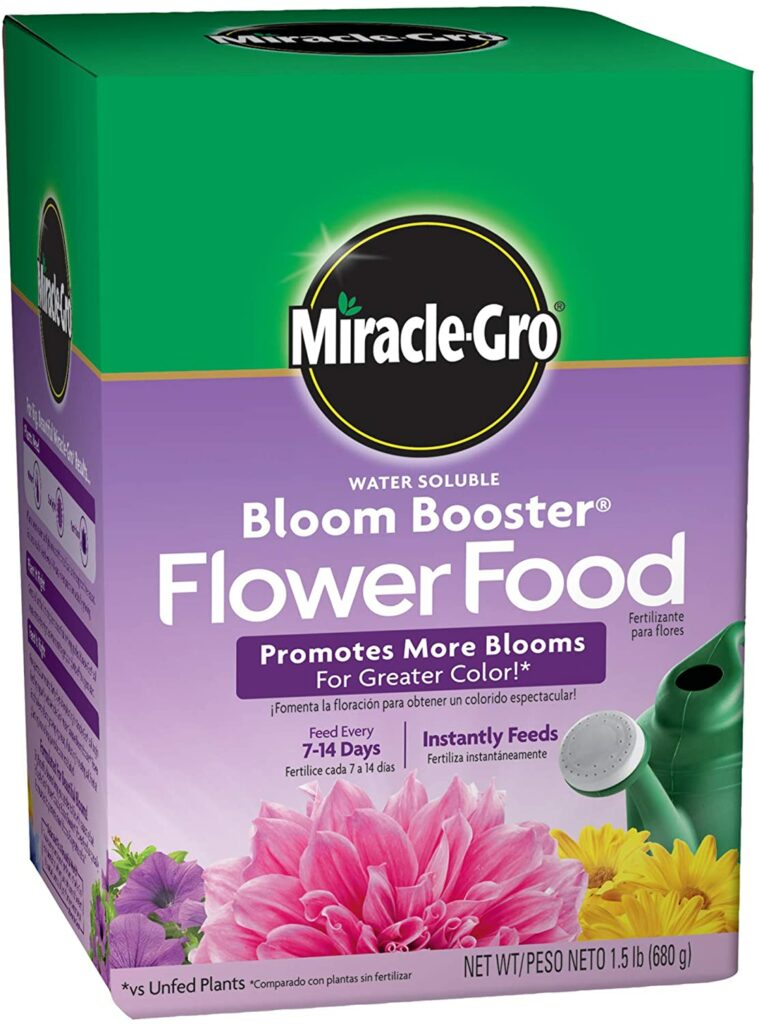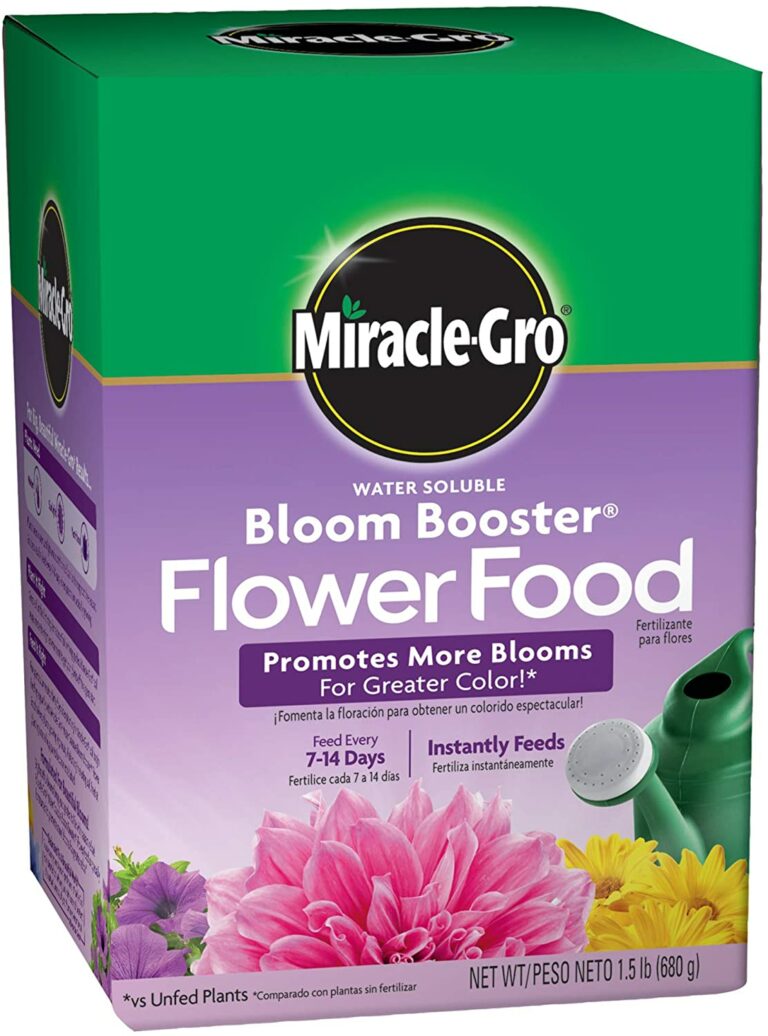 Our list will not be complete without any of the Miracle-Gro fertilizers. For plumerias, the best variant from the Miracle-Gro line of fertilizers is the Bloom Booster Flower Food. It is a water-soluble fertilizer with a formula that will ensure the fast absorption of nutrients.
It is a 10-52-10 NPK fertilizer that can be used either with foliar feeding or soil drench. It also has a high phosphorus content that promotes bigger, vibrant, and fragrant blooms.
Gardeners love it for being an excellent bloom booster and for its rapid results after application.
It is a non-organic fertilizer so be careful in using it around kids and pets. The only downside to this fertilizer is it is easier to apply using a watering can.
The recommended application for outdoor plants is to mix 1 tablespoon of Miracle-Gro® for every gallon of water. As for indoor plants, you need to mix 1/2 teaspoon per gallon of water.
Pros
It's a non-burning formula if used as recommended
The water-soluble formula makes it easier for the plant to absorb the nutrients
No bad smell
Cons
Synthetic fertilizer
Messy
Not kid and pet-friendly
10. Schultz Bloom Plus Water Soluble Plant Food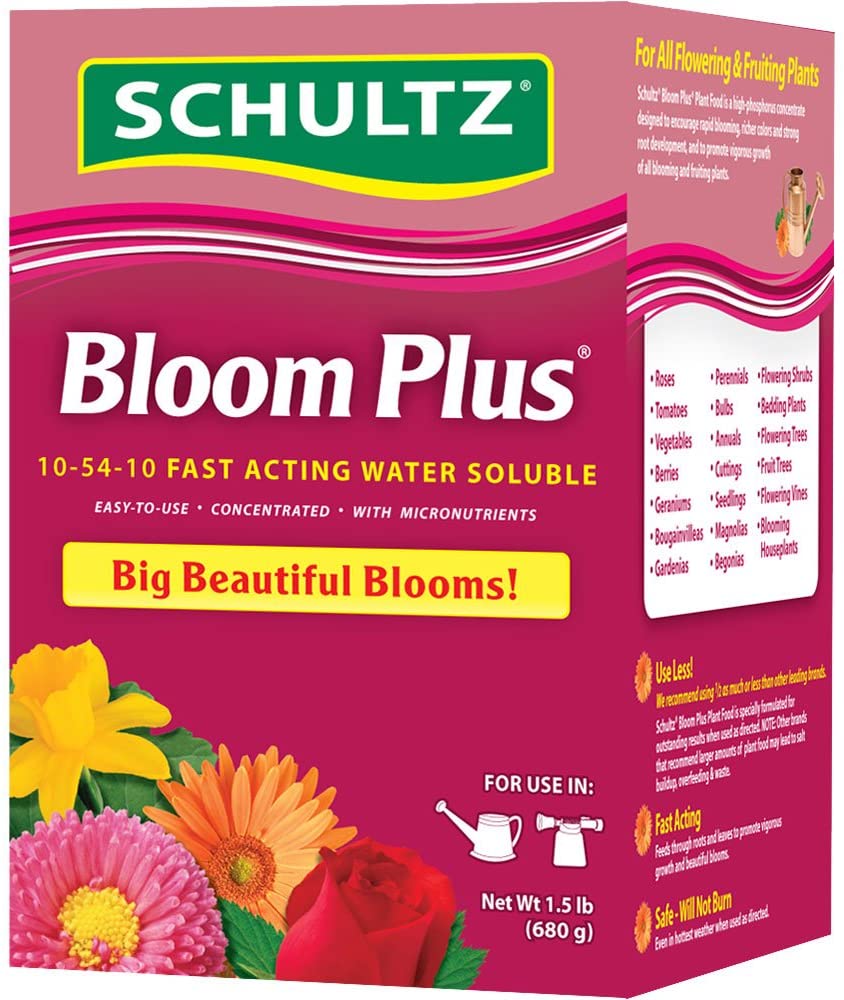 Schultz Bloom Plus Water Soluble Plant Food is another fertilizer from a popular line of fertilizer. It also has a water-soluble formula that ensures the immediate absorption of nutrients in plumeria plants.
This will provide the high phosphorus content that plumeria needs to produce more blooms that are bigger and more vibrant than before.
This fertilizer is a 10-54-10 NPK fertilizer that is developed to replicate how nature naturally feeds nutrients to plants whenever it rains. It also contains micronutrients that make it a good fertilizer for transplants, cuttings, and seedlings.
It also comes with extra contents such as iron, manganese, and zinc. Schlutz Bloom Booster can also be used to nourish plants such as:
Perennials
Annuals
Fruit/Vegetables
The recommended application is as follows:
Blooming plants, trees, and shrubs: Mix 1 tsp per gallon of water
Outdoor blooming potted plants: Mix 1/2 tsp per gallon of water
Indoor blooming potted plants: Mix 1/4 tsp per gallon of water
This is not an organic fertilizer so use it with caution around kids and pets.
Pros
Recommended by gardeners and professional growers
The water-soluble formula promotes immediate results in flowering plants
Non-burning formula
Cons
Synthetic fertilizer 
Messy
Not kid and pet-friendly
---
What You Need To Know About Plumeria?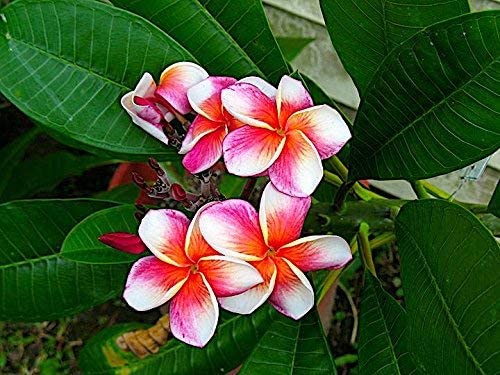 Plumeria or frangipani is an exotic shrub tree mostly found in tropical areas. It is popular as a part of the Polynesian flower garland called lei.
In the US, it is commonly grown in a pot in zones 10 and 11. Plumeria loves full sun and can survive short periods of drought.
Compared to other sensitive flowers, plumeria is easy to grow. It is also among the most fragrant flowers that spread its aroma at night. Every variant of plumeria has a different smell but the yellow ones are the most fragrant of all.
It can grow as tall as 20 feet in some countries. However, the indoor plumerias are grown for up to 6 feet to help it focus on producing more flowers than growing its trunk. It can also overwinter and should be kept indoors during winter for its dormancy period.
Plumeria blooms every May to November. Since it is a tropical plant, it can't tolerate cold temperatures. So, when the first frost comes make sure that they are already relocated indoors.
Soil Requirements
It needs slightly acidic soil
Best soil mixture us ⅓ peat moss, ⅓ Coir, and ⅓ Perlite
Best soil PH is between 6.5 to 7.0
Sun Requirements
Plumeria needs 6 to 8 hours of full sun exposure
However, keep it away from the scorching afternoon sun by placing it in a slight shade.
Water Requirements
Too much irrigation can cause root rot. Make sure to let it dry out in between your watering routine.
Potted plumeria needs daily watering
They are better off drier than moist all the time.
Reduce watering plumeria in mid-fall as they start going dormant.
Fertilizer Requirements
Plumerias need phosphorus-rich fertilizers to help them develop more flowers than focus on growing their trunk and leaves. Nitrogen encourages growth. That's why the ideal fertilizer must have a lower nitrogen content and higher phosphorus content.
Stop fertilizing them 45 days before winter to allow them to prepare for their dormancy period.
Pest Control Requirements
Plumeria attracts pests when they get too dry or develops fungus from nearby spores when the leaves are left wet. They're prone to rust fungus when there is not enough air circulation and there is too much moisture.
Common pests in plumerias are:
Mealybugs
Spiders
Moth larvae
Whiteflies
Slugs
Snails.
Tips in Growing Plumerias
Here are some tips from the professional growers of plumerias:
You can use Epsom salt or lime to neutralize the acidity of the soil.
The milky sap from plumeria can irritate the eyes and skin. It is also poisonous so make sure to wash your hands immediately upon contact with the sap.
Bring your plumerias inside the house when the temperature drops to 50 F degrees.
Use insecticidal soap to deal with harmful insects and diatomaceous earth for the slugs.
Final Thoughts
Out of the 10 fertilizers in this post, the best plumeria fertilizers are EartPods and Dr. Earth. They are organic, environment-friendly, and convenient to apply on plants.
They may cost more than others but their formulas cut down some risks and preparation requirements without sacrificing the nourishment they provide to plants.
We hope that this post has been helpful to you in finding the best fertilizer for your plumeria.
Do you agree with the top fertilizer that we chose?
Comment your experience below and let us see which of the 10 fertilizers are the best performers. Also, share this post with other fellow gardeners and help them find the best fertilizers for their plants too.