Gardening can be addicting. Whether you admit it or not, as long as there's space, the urge to sow a seed can be hard to resist, even on your fences. Check out some creative fence planter box ideas in this post so you can fill your space with plants in style.
Growing plants on fence planters may look straightforward. However, there are many ways your plants can provide benefits other than giving life to the fence.
You can purposely plant the vines to create an arch full of blossoms or add some designs to the planter boxes to match the exterior theme of your house.
Let this guide give you some ideas on how you can set up your fence planter boxes.
(You could use the table of contents below to jump to the sections that are most important to you.)
---
46 Stunning Fence Planter Box Ideas You Can Try
Decorating your fence with plants may look easy until you catch yourself staring at it for hours, thinking of designs to make it more beautiful.
So, to help you achieve the best concept, we listed some of the best fence planter box ideas for you. Check them out below.
Wooden Planters
When making fence planter boxes, palette wood is probably the first material that comes to mind. Piles of palette wood are widely used in home gardens to repurpose spare planks from home construction projects.
Though it's straightforward to make a planter box, its location in the yard and design on the fence make the difference.
You can either place the planter boxes on the ground or attach them to the fence. Check out which design suits your taste from the following ideas: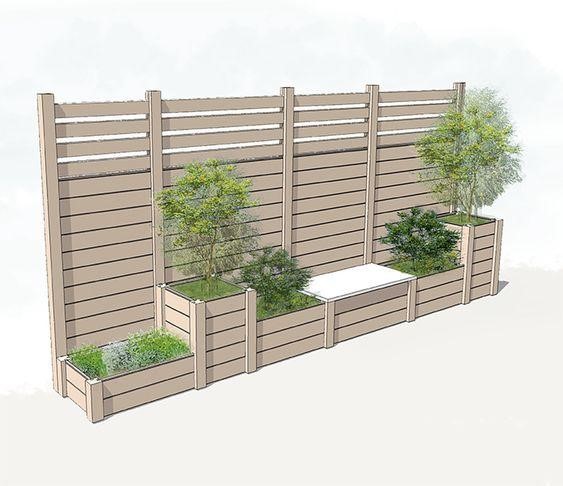 If your fence consists of thin planks of wood and you want to grow some evergreens, raised garden beds would be a good fit option. You can make a whole stretch of garden bed that includes a seating area next to the plants.
To make the garden beds look unique and stylish, you may raise some planters rather than making a straight and bare garden bed.
The design from the image above is a traditional concept for rooftop gardens and office gardens with limited space. What makes it stand out is the added space for seating which saves you from spending on outdoor chairs.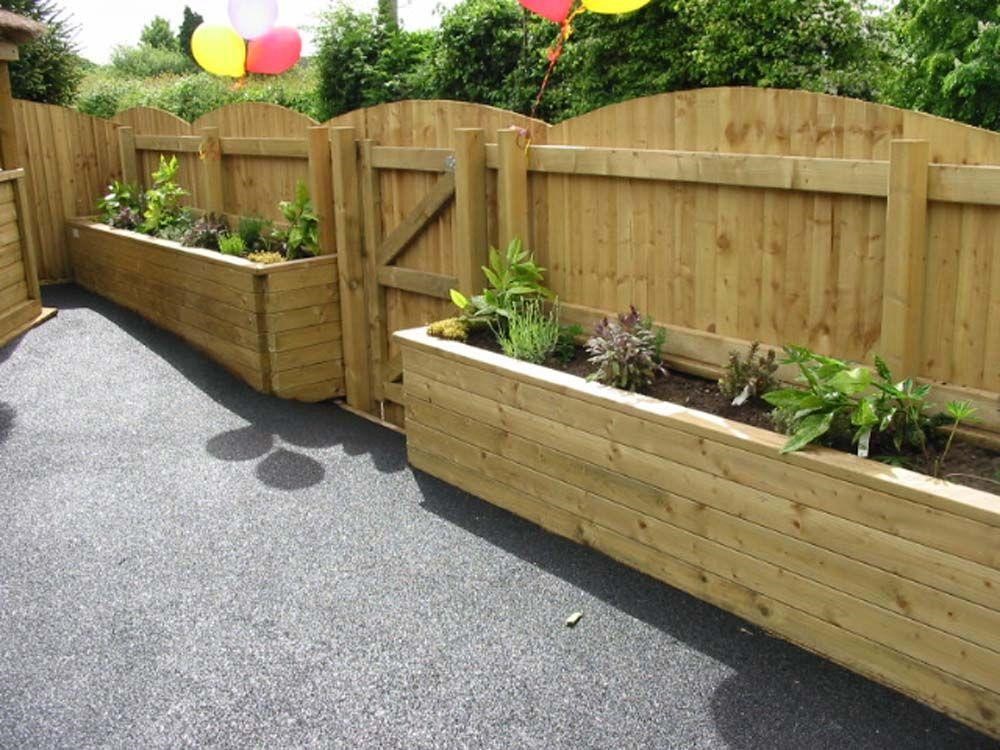 For low fences, the appeal of simple raised garden beds can look charming. Filling up the bottom part of a low fence with a garden bed helps redirect the focus to the plants. It is the best option for a simple and minimalist-styled outdoor space.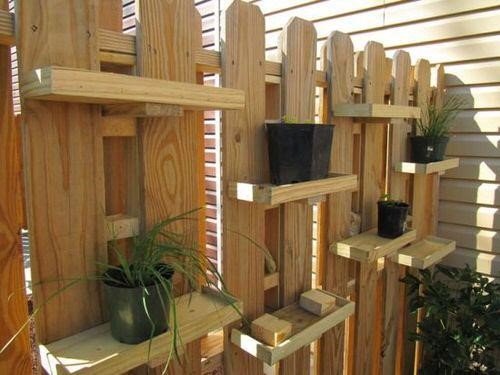 If you run out of wood planks or do not have enough time to build boxes, you may consider using shelves as plant holders. The fence design would look so much better with uniformly designed pots to make the overall look more stunning and neat.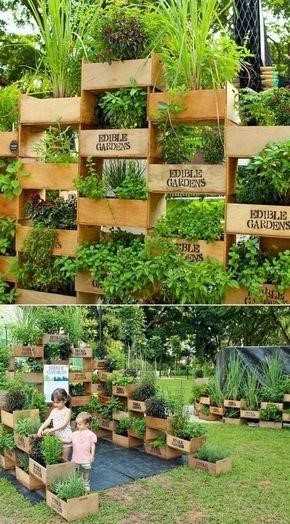 For a more creative concept, you can merge them into one by stacking the planter boxes like the design in the image above. If the plants you wish to grow on your fence do not require full sunlight, you can stack them up and turn them into a divider or let the planters be the fence itself.
Due to the number of planter boxes that you'll stack to build a whole wall or fence, you'll have more space to grow plants and herbs. Watering the top plants will consequently water the planters below, helping you save water. The same goes when it rains.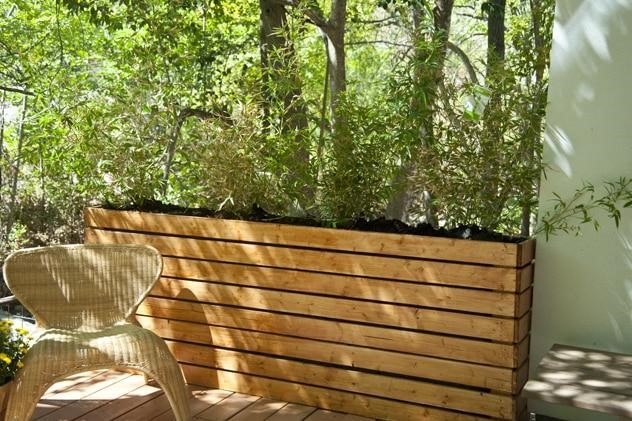 The tall and minimalistic concept is the trend for most modern and contemporary landscape designs. The rise of thin and tall planter boxes also became a trend in the landscape community used for growing bamboo, money trees, and other evergreens.
The modern-designed planter box in the image above is ideal for fences that need more privacy screens without eating so much space.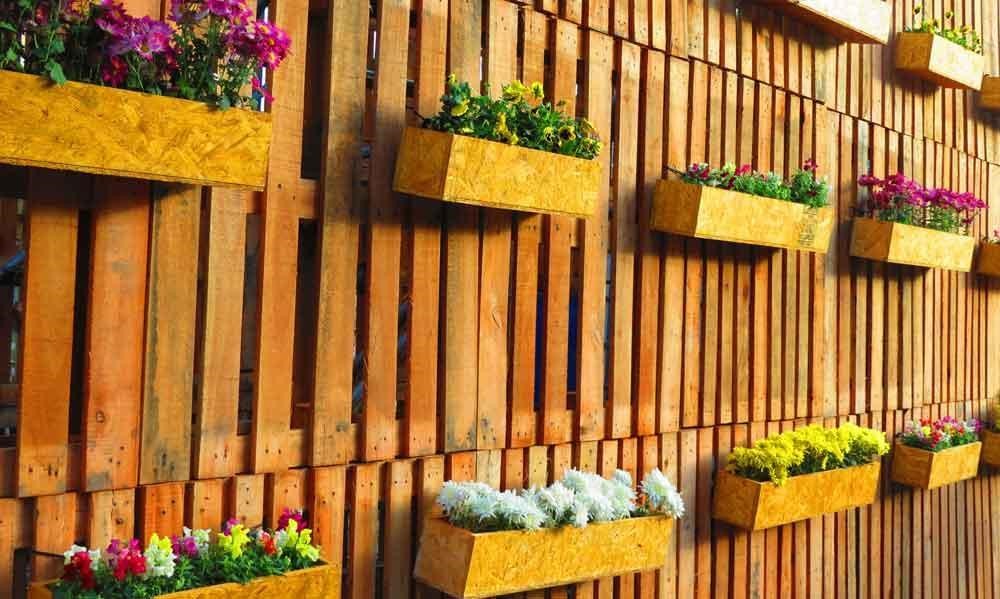 Usually, hanging planter boxes is the immediate choice of most homeowners for their fences. However, some concerns arise about attaching the planters to wood planks because of weight issues and maintenance.
Rain and moisture will eventually cause screws to rust and rot, especially if the planter is heavy. If you want to attach the hanging planter boxes to the fence, make sure that you will only grow small plants or succulents. They are lighter and do not require constant watering.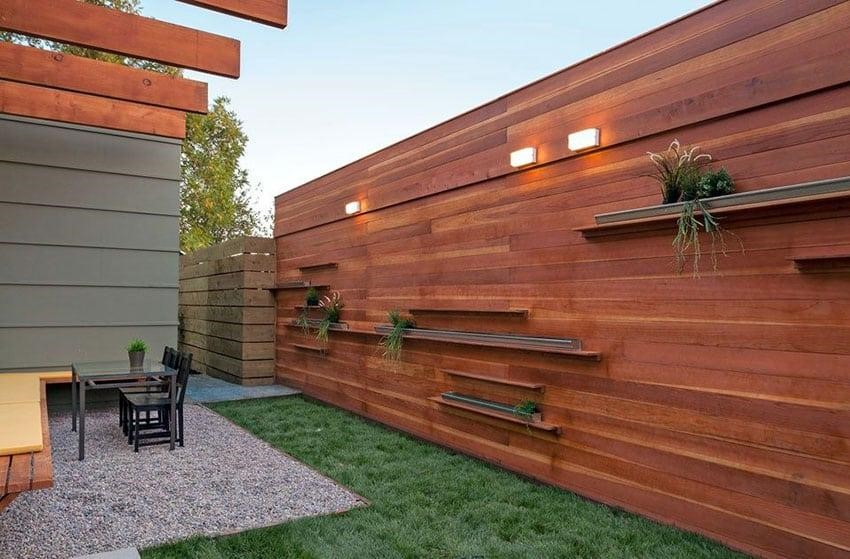 If you want to make your fence look more elegant, incorporate your planters in your fence design. In the image above, you may notice the shelves intended for the fence planters follow the irregular patterns of the wall, with planks protruding to create extra space.
Big Planters
Big planter boxes provide an elegant and luxurious appeal to any garden. It becomes a focal point of a landscape design that makes the space look bigger than it is.
Here are some big planter ideas that may change your perspective on your garden to make it look spacious and more luxurious: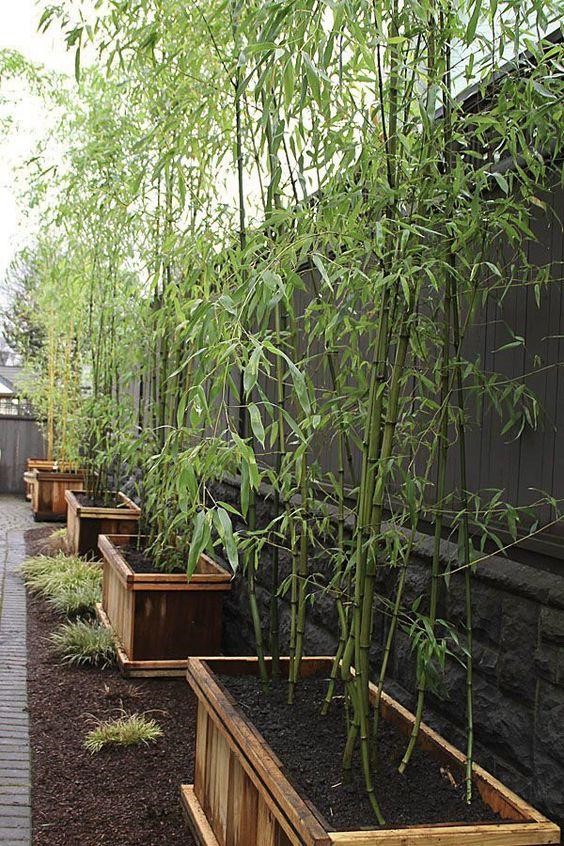 Wood gives a more tropical vibe and color to a dull garden. By placing small or miniature trees in wooden crates along your fence, you can achieve a natural privacy screen and a wall of greenery in your garden.
The crates in the image above are designed into planter boxes to handle 20 to 40 gallons of soil for bamboo. The shades of brown from the wood planters balance the gray and dark colors of the fence, making it stand out along the green leaves of the bamboo.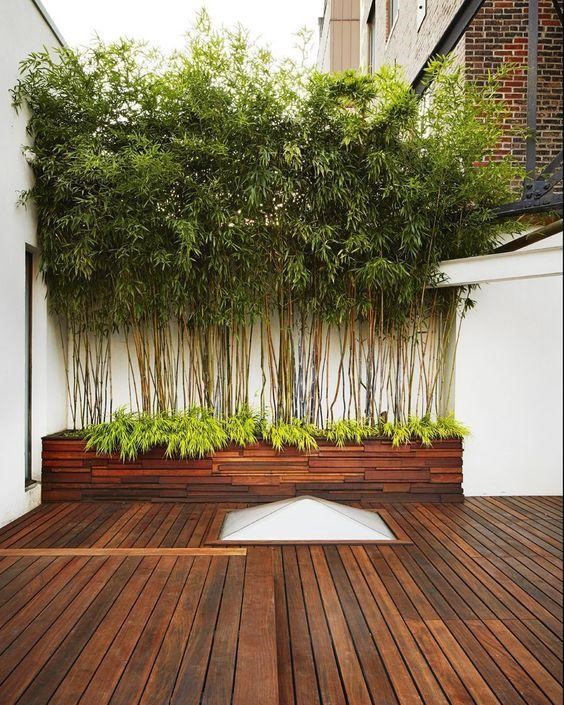 Urban areas often utilize fences as the means to separate two properties. Due to building congestion, home fences are usually short and inadequate to block noise and other privacy issues.
In the image above, a wooden planter box covers the bottom part of the fence and follows the same theme of the deck.
The wooden planters are big enough to handle multiple young bamboos and shade-loving plants. The lush foliage of the bamboo is enough to cover and add some shade to the backyard while making it look more aesthetically pleasing to the eyes.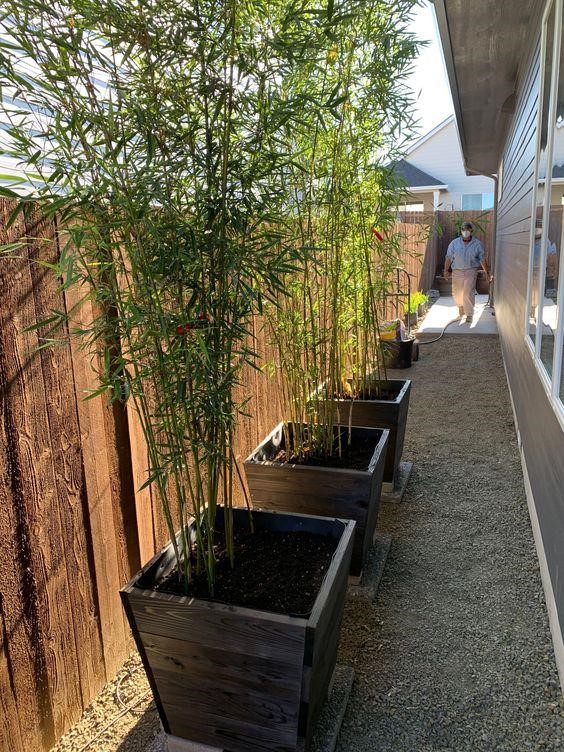 In the absence of a garden bed made of wood, 20 to 50-gallon pots are an ideal alternative. They are large enough to provide room for the roots of mini trees to grow.
Concrete
Concrete is a durable material that you may also use for fence planter boxes. Unlike wood, concrete doesn't age and provides a durable brace for your fence. You have to make sure that you want the planter permanently in your desired location. Otherwise, it becomes an obstacle to your plans for your garden.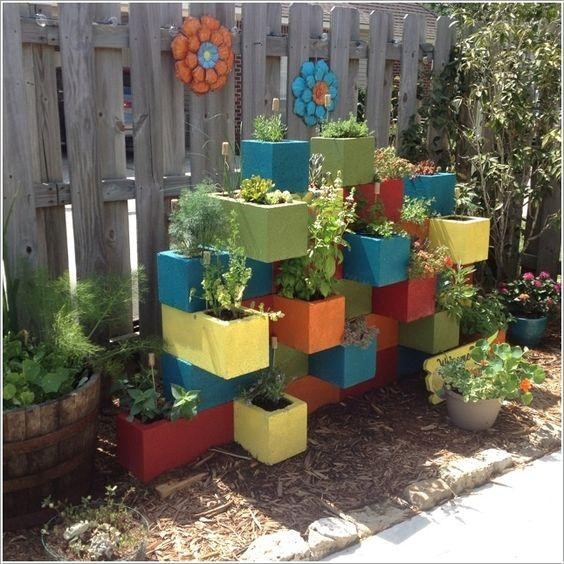 The beauty of using concrete is it allows you to create unique shapes and designs for your planters. In the image above, you may notice that the planter design does not follow the traditional garden bed design.
Instead, it is composed of stacked boxes facing in two different directions. The planter boxes come with bright colors that allow them to stand out next to the fence.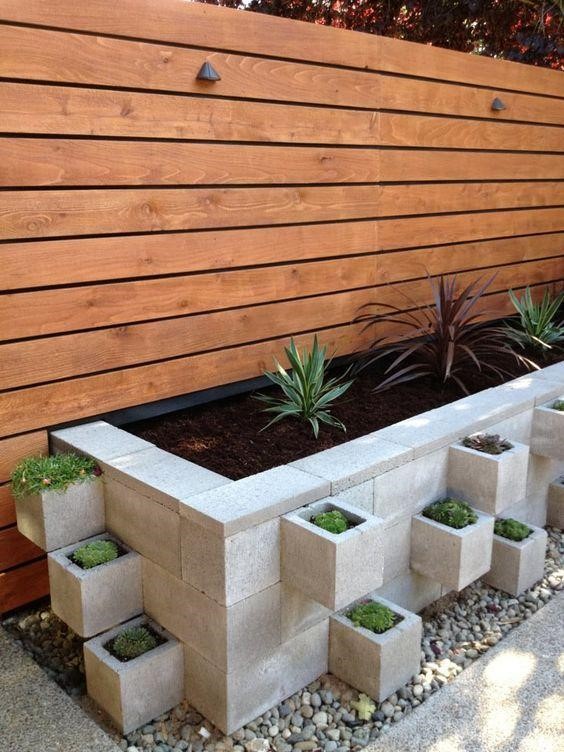 Another unique concept is from the design above, where some blocks protrude from the planter surface. The protruding blocks create new pockets of space for smaller plants. The overall vibe is oddly-looking but unique at the same time.
The combination of wood and concrete colors blends well, making the design and overall appearance look neat, calm, and relaxing to the eye.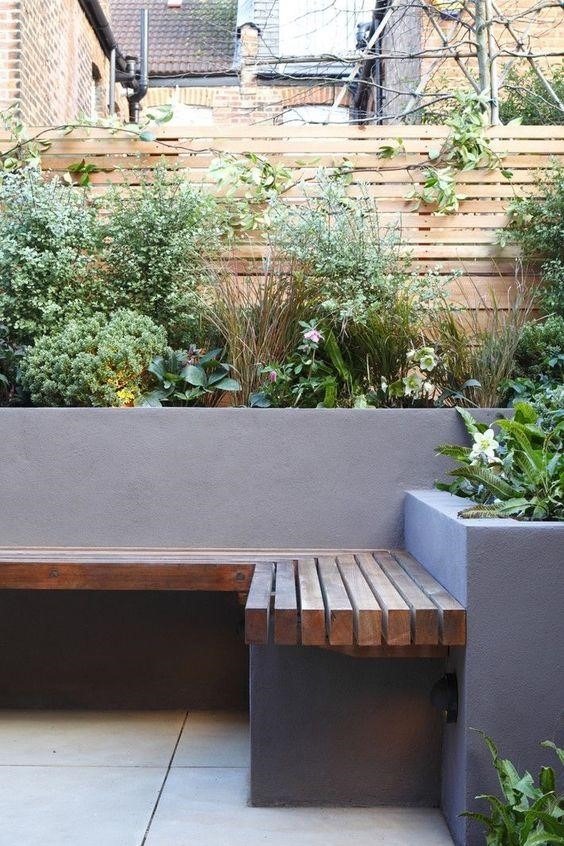 Small and crowded areas make it look impossible to grow plants. In the design above, adding a concrete fence planter next to the fence creates a room for plants and a seating area.
Frames
Do you find a typical planter box boring?
Well, you might try to make a twist to your usual planter box by turning them into frames. Set up five-inch wide planks as a frame and make your potted plants look like art pieces in your garden like the design in the image below: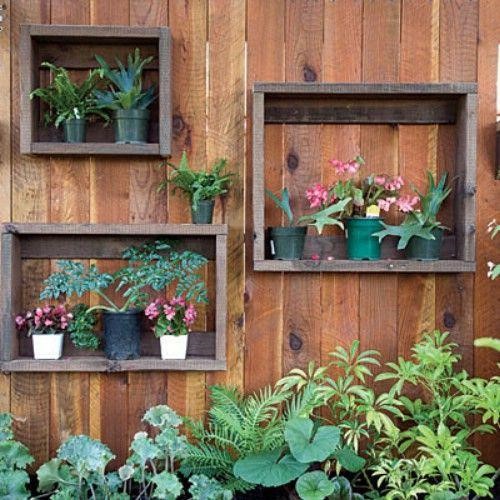 Hybrid Design
If you want full coverage of the whole fence, you may merge two design concepts to achieve your desired effect. You may also add a live wall on top of it.
In the design below, you may notice the pattern of each planter sits parallel to the hanging fabric planters to specify the columns.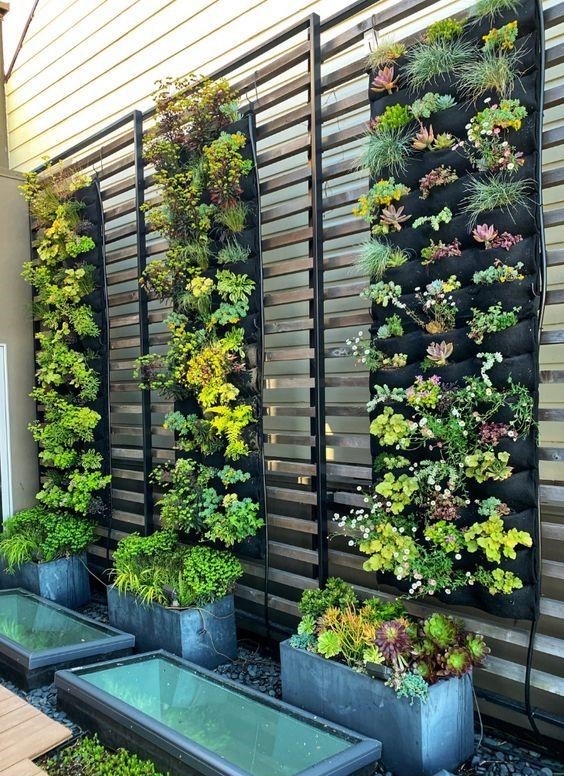 Layered Planters
Layered planter design is a perfect example of vertical gardening that utilizes vertical space to grow plants in small and tight spaces. Walls and fences are the ideal places to attach vertical planters.
Here are some designs to inspire you to change your usual garden beds into vertically layered planters.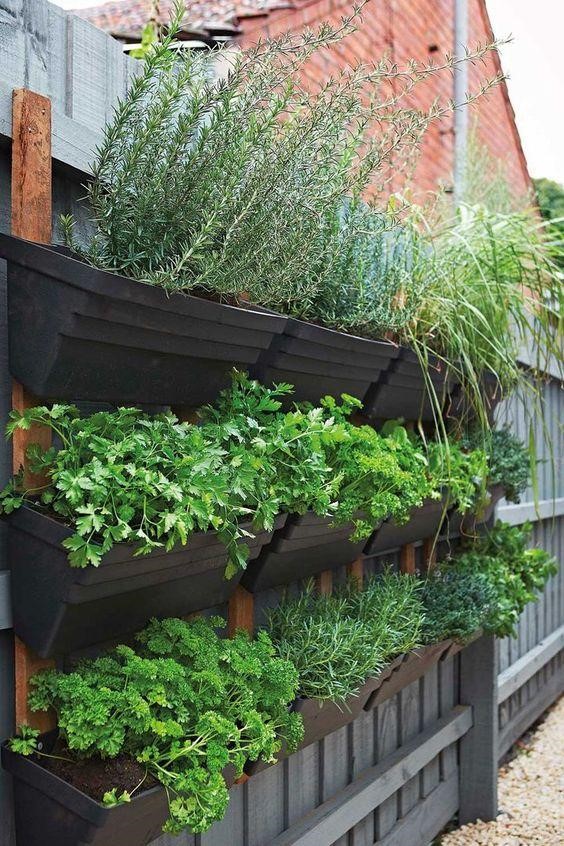 The fence planter in the image above is a vertical herb fence planter. It is bigger than the average vertical planters, so it is attached to another frame. The frame holds its weight and keeps everything aligned to each other.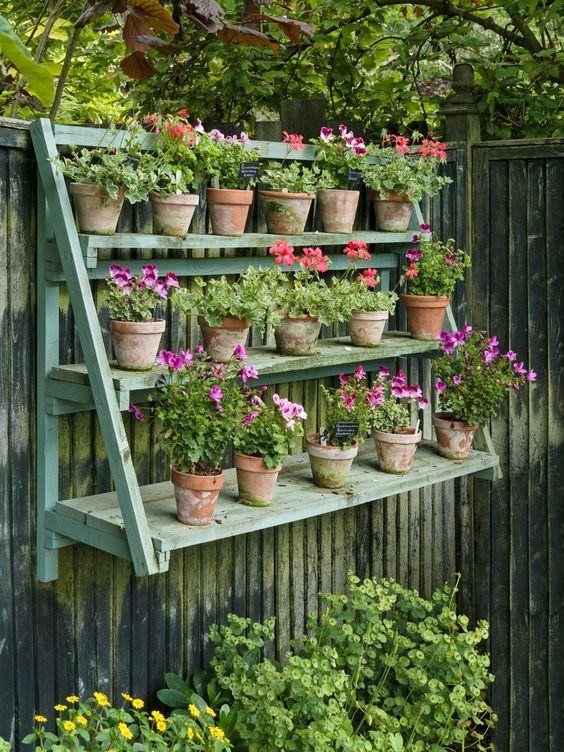 Repurpose your unused plant rack into a tiered fence planter. In the image above, the three-tiered plant rack matches perfectly with the fence. It created plenty of room for mini-potted flowering plants in a more organized and neat style.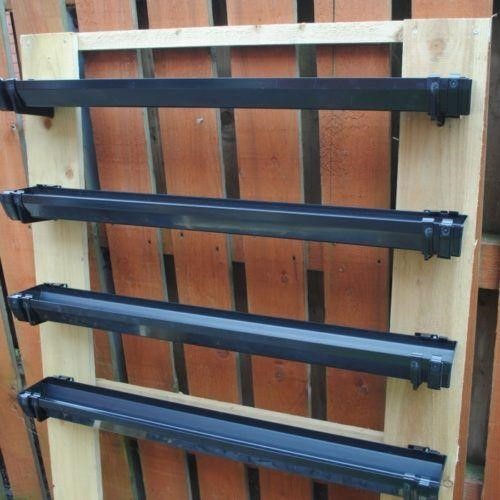 For homeowners who are DIY lovers, you may utilize your spare or used gutters as planters for small plants. You will notice in the image above how the rain gutters transform into four-tiered planters. They are attached to a frame that keeps them on the fence.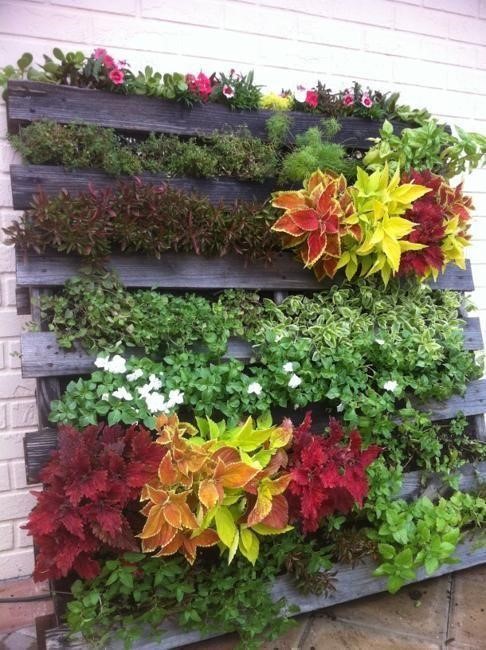 Tightly spaced vertical planters are a strategic option in building a live wall on fences. The abundance of space allows you to mix and match colorful plants like Red Aglaonema or Heuchera with other evergreen or flowering plants. You can also make a pattern based on the color of the plants.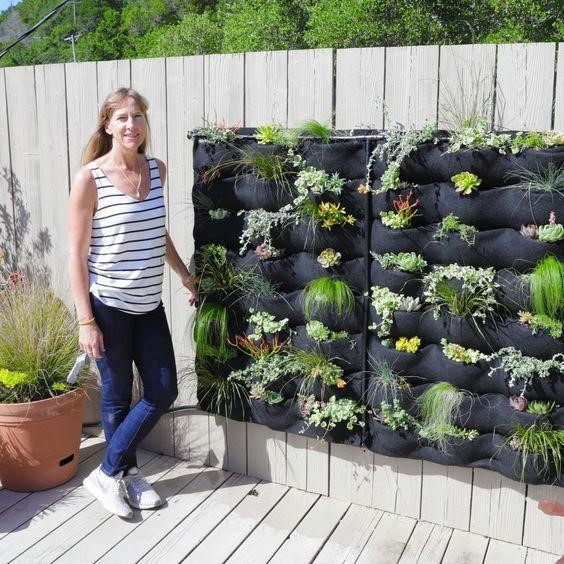 Vertical fabric planters are a life-saver for gardeners who are not into the woodwork. They are easier to attach using zip ties or any rope and do not require technical measurements. The fabric material used is water-retaining at an optimal level to ensure that the soil won't get dry faster.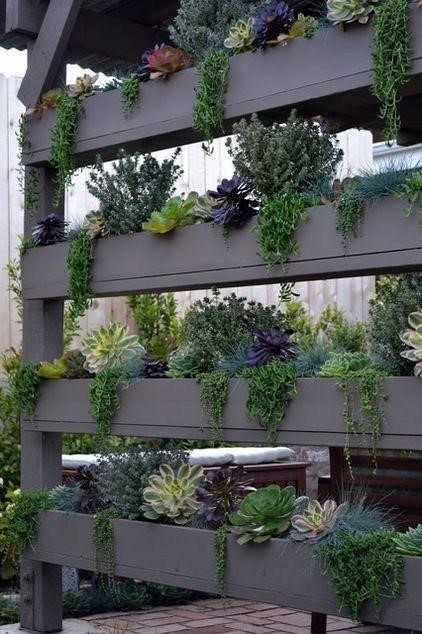 The planters in the image above serve as a divider or a mini fence on the porch. They have a 10 to 12 inches distance for plant growth and adequate light exposure. The plants used for the planters are succulents with a lightweight potting medium, an ideal option for small fence planters.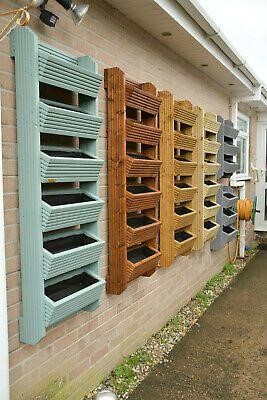 Pre-made wall planters may also work efficiently on fences. They have brackets and frames that can handle the weight of the soil, watered or unwatered. Some tiered or layered planters also come in different colors, making your fence design more beautiful and complementing your landscape concept.
Live Wall
In a world where virtual meetings and live broadcasts are the norms, having a pleasing and flattering background becomes a significant concern of most remote workers and influencers.
Instead of constantly using green screens and dull-looking Zoom background, why not create a live wall for a more Instagrammable and background-worthy area in your garden.
Here are some ideas on how you can get it done on your fence: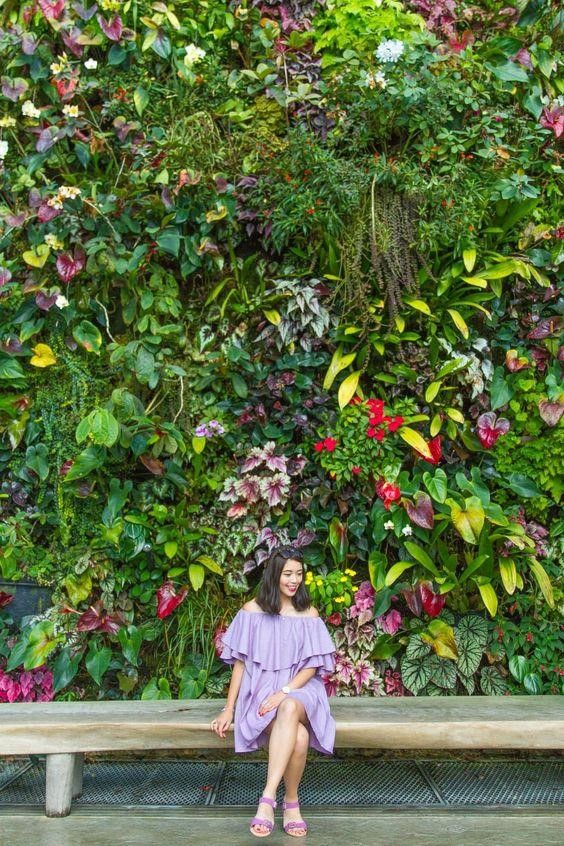 Let your fences be the star of your garden by growing vertical plants of different colors and types. In the image above, you may notice the variety of plants that grow on the wall, making the area look relaxing and almost a tourist destination in a tropical country.
Creating a live wall may look intimidating, but it only takes a brace to set up the vertical planters and let them grow and show their beauty naturally.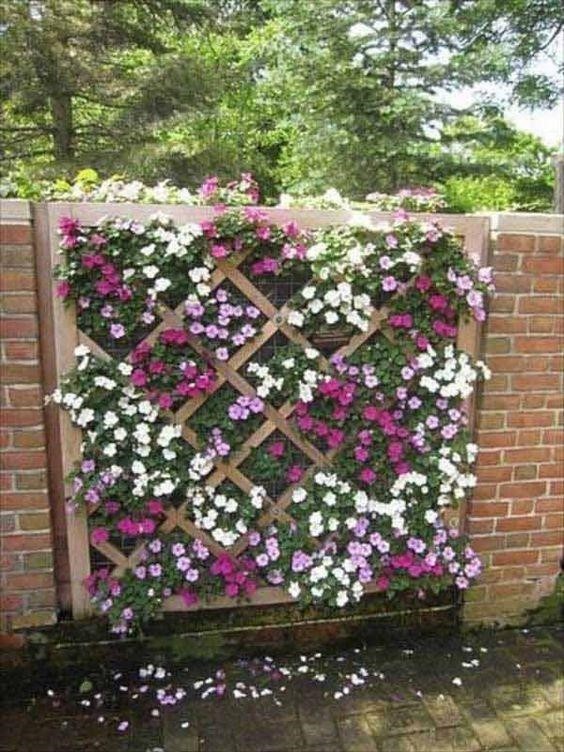 Flowering plants are the star of any garden. Their vibrant colors, fragrant scent, and beautiful petals add a unique vibe to a live wall.
If you love flowers more than ornamental plants, you may try the design in the image above. The railings of the fence transform into a wall of multicolored flowers.
Behind the criss-cross wooden frame is a steel matting that holds the planters and organizes the stems. The ideal types of flowers for this kind of fence design are:
Marigold.
Azaleas.
Yellow Alyssum.
Hibiscus.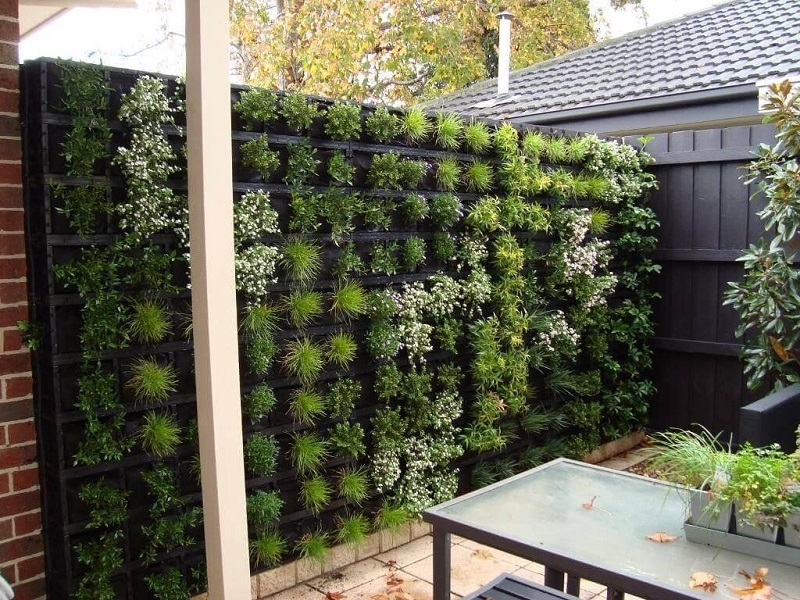 In an urban space setting, gardening is no longer limited to pots but also on live walls. You can plant as many plants until the planters have enough vertical space. In the design above, you will notice that the whole stretch of the wall contains 8-inch box-type planters.
The plants in the vertical planter are still small, but they are starting to form some patterns. Though they're small, they're already gorgeous. Just imagine when all plants become bushy with their green and white foliage.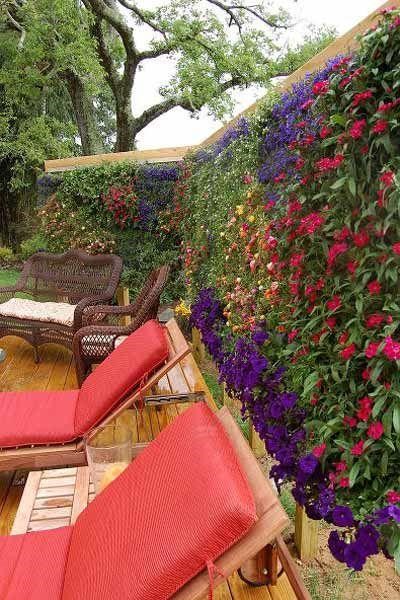 Pool and lounge areas are often the areas of the house where you need the most privacy. Allow a handy fence filled with a thick bush of plants to be the natural privacy screen for these areas.
You may notice in the image above that the home fence is not covered from top to bottom. The base is open, exposing the beams that serve as the foundation of the planters. The rest of the wall contains planters for the flowering plants. The plant varieties are multi-colored ornamental plants such as petunias, coneflowers, dahlias, and impatiens.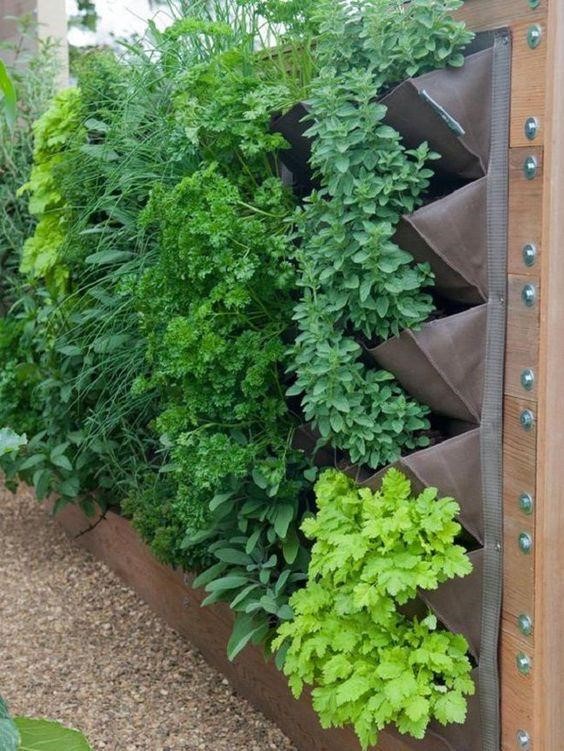 For green lovers, the wall design above will challenge your creativity to match the best ornamental and evergreen plants in one vertical planter.
The fence planter design above shows how the foliage and stems of the plants cover the planter itself. The growth of the plants gives off a jungle ambiance, making the backyard look more relaxing and filled with nature.
Planter Box With Trellis
Fence planters are also the best areas to grow vine vegetables or flowering plants. You may place some planters with trellis next to the fence to set up plants with vines like grapes or pumpkins.
In the image below, you may notice the line of multiple planters with trellis serving as a temporary fence, a privacy screen, and a mini vegetable garden in one.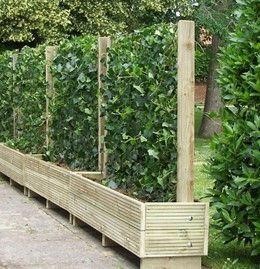 ---
6 Planter Box Alternative Designs
Other than fence planter box designs, some planter types can also transform your fences. Check out these unique designs, and we will leave it up to you to decide if they're better than your usual wooden planter boxes.
Plastic Pots
Plastic pots are everywhere these days, and they come in beautiful colors and designs. If a specific plastic pot caught your attention, use them as a hanging fence planter. You can always turn them into a hanging pot by creating a hole on the sides.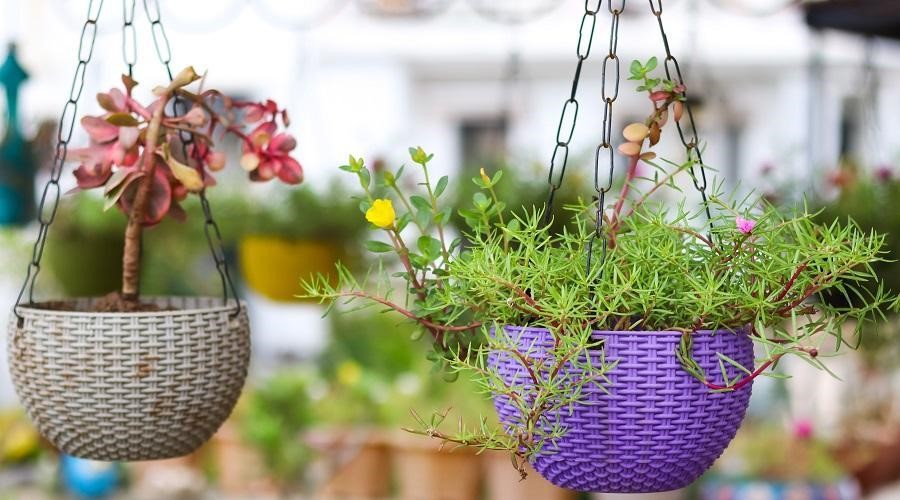 Round Live Walls
For another unique take on the live walls, you may opt for a round wall planter where you can train the plants to follow their shape.
The round planter concept is a usual concept for moss walls. However, they can also work perfectly for fence planter designs with the right plant choices and guiding their stems to follow the round shape.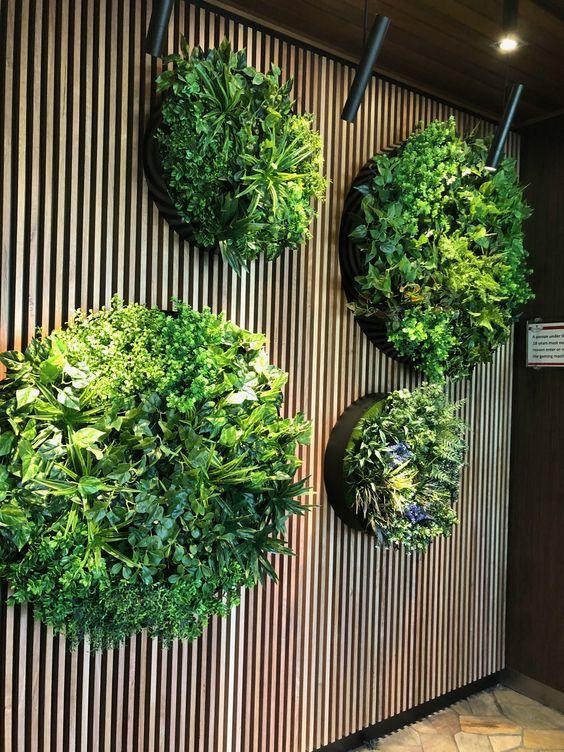 Terracotta Planters
There's something about terracotta pots that makes them a unique design of their own. The simple fence planter design below is proof that you don't need too many planters to transform your fence. You only need a plant pot holder, terracotta pots, and small plants to do the job.
If you want to try the design from the design below, here are some planter holders that you can use: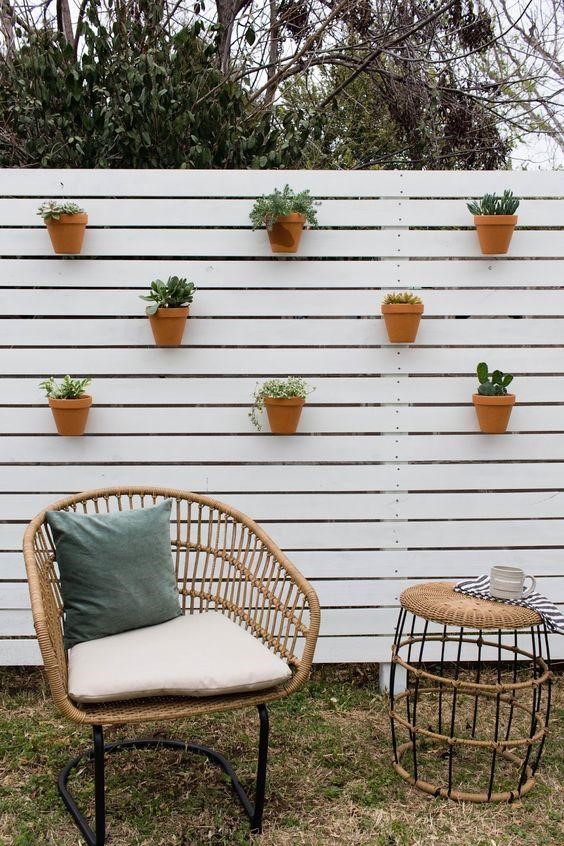 Tubes
If you have the tools and the skill, you may also utilize drain pipes and tubes to build a fence planter. Drain pipes, in particular, are deep enough to hold soil and grow small plants or succulents.
You can chain them together and make a layered fence planter to make them more organized. Check out the unique designs below to inspire you to give it a try.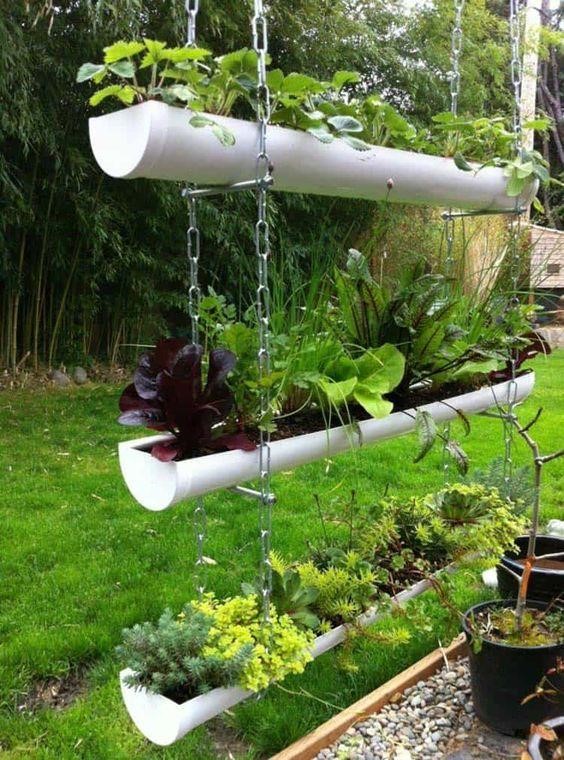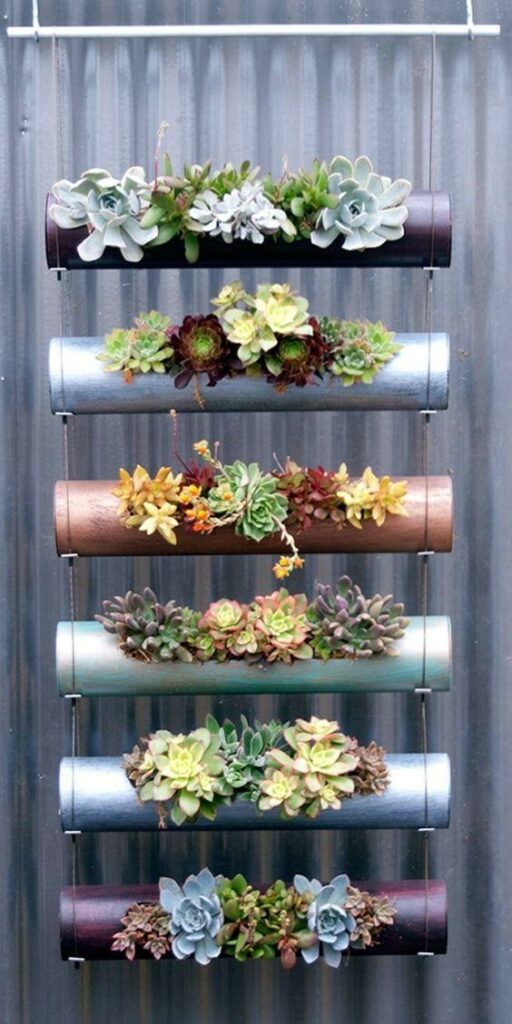 Hanging Planters
Some homeowners don't want to mess with their fences, even with minimal damage. After all, working with wood requires a lot of maintenance to keep them from rotting.
So instead of attaching planters, hanging the planters using plant hooks will work much better. Here are some of the planer hooks ideal for fences: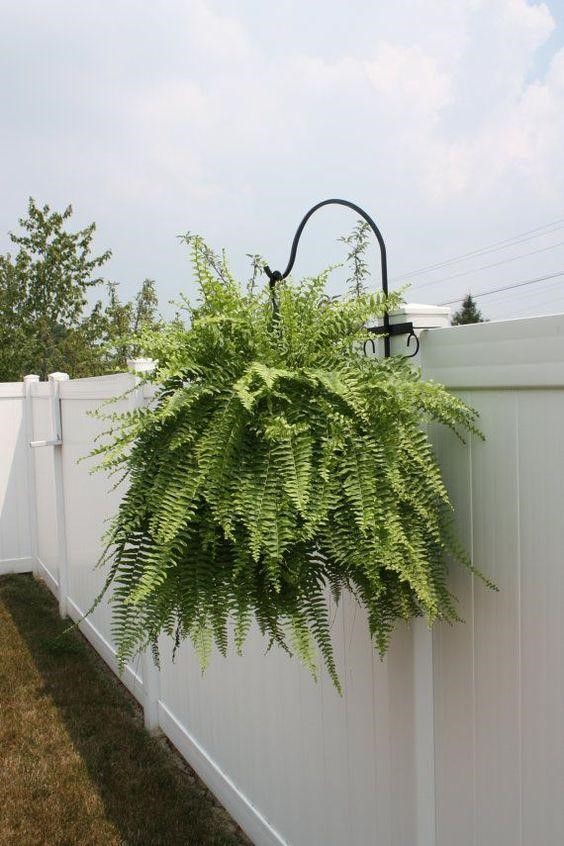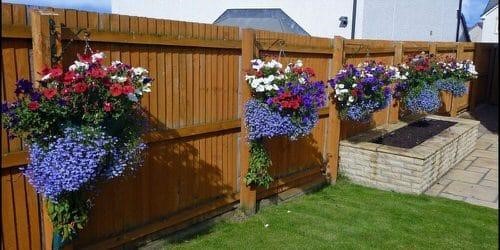 Repurposed Planters
Eco-friendly and economical planters will always be the best option in gardening. Aside from contributing to the environment, you're also helping reduce waste.
If you have the chance to repurpose plastic bottles and other old household materials, turn them into an art project to use for your gardening needs. Here are some concepts to get you started: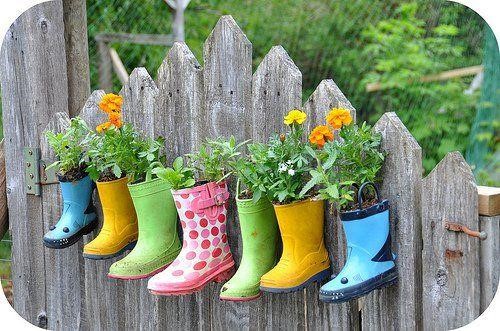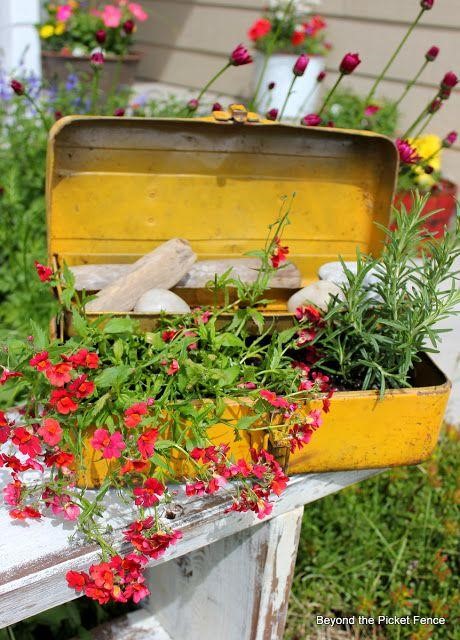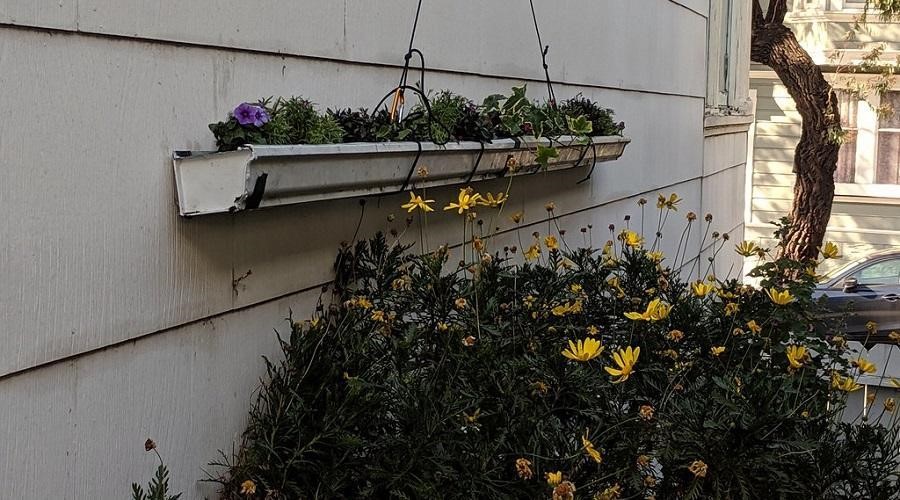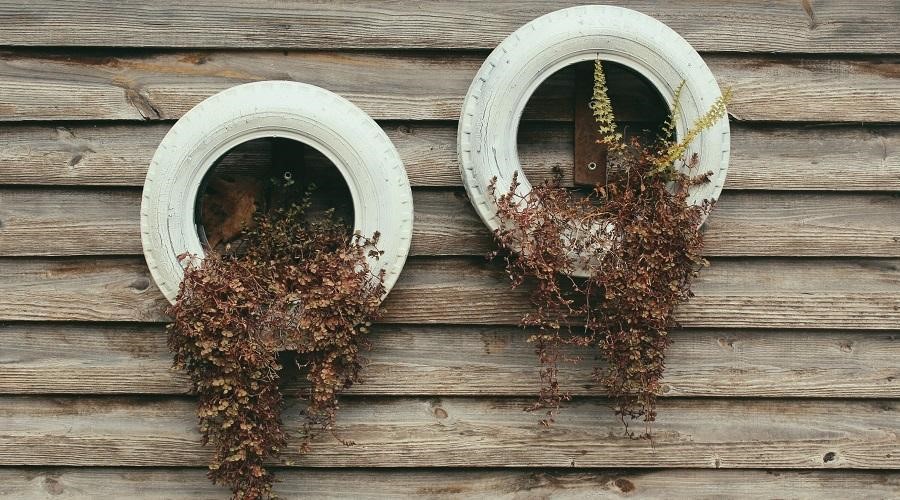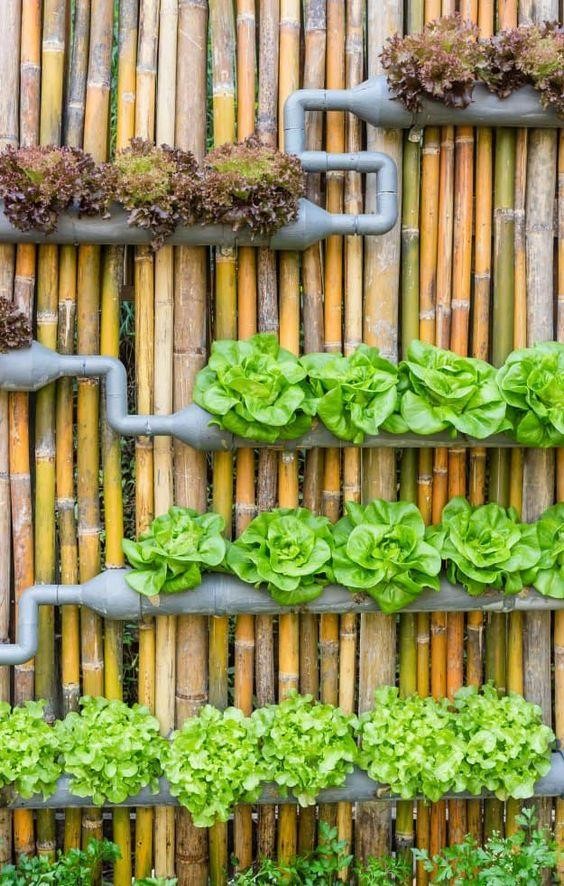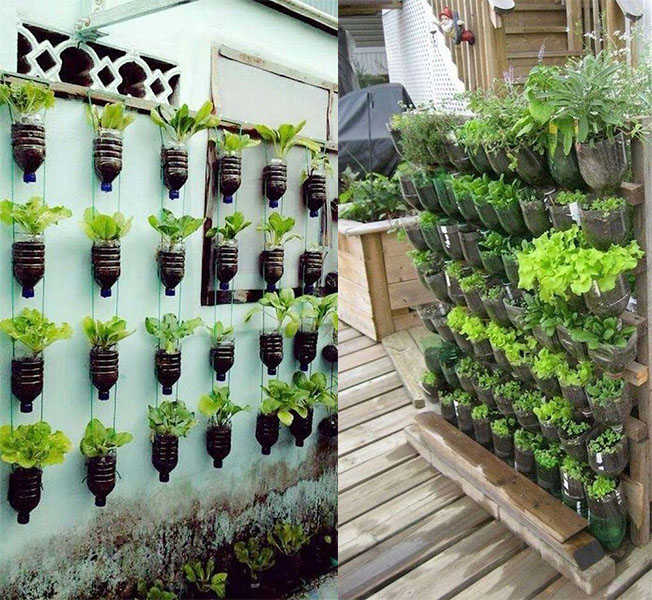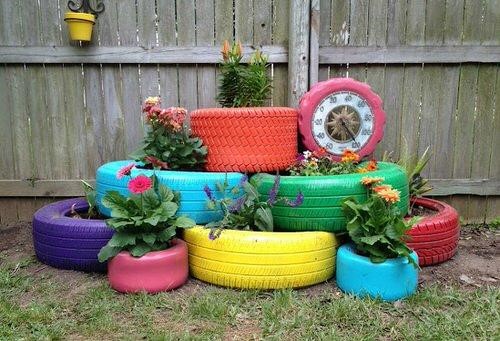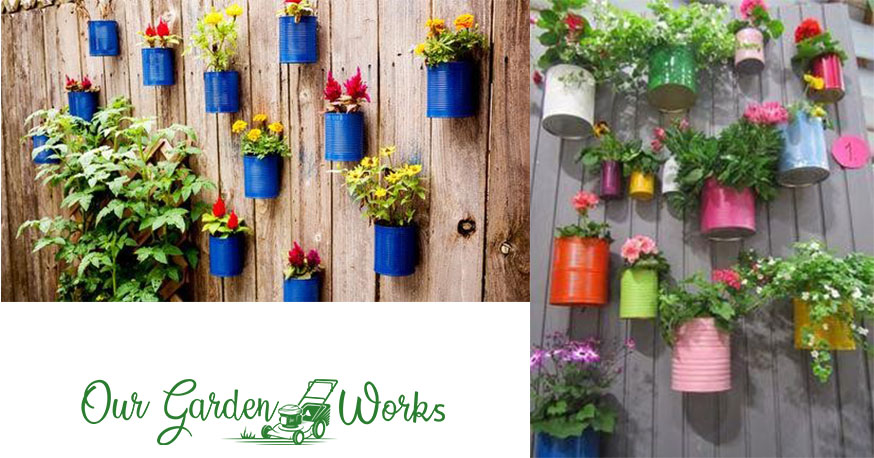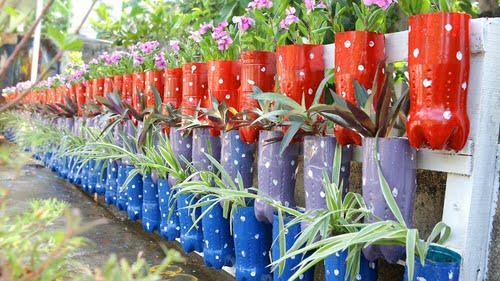 ---
Benefits of Adding Planters on Fence
Having a fence is one thing but decorating it with plants hosts a lot of benefits more than what meets the eye. Maintenance is one, especially for wooden planter boxes. However, the benefits outweigh the maintenance tasks you need to do in the future. These include:
Increase your gardening space.
Add life to a dull fence.
Serve as a privacy screen.
Take advantage of the space.
Filter the air.
Change the ambiance of the outdoor space.
Create Instagrammable nooks.
How Do You Attach a Planter Box To a Fence?
After looking at the fence planter ideas in this post, you might be wondering how you can make it possible. There are a lot of issues when attaching planters to fences. That would include damaging the home fence itself, or the screws won't be able to hold the weight of the fence planters.
To help answer your concerns, here's how you can securely place the planters for less maintenance and avoid damaging your fence.
Materials:
Saw or circular saw
2×4 wood
Tape measure or ruler
Pencil
Directions:
The solution to securely placing planters on your fence for the long term is to use brackets. First, measure 9 inches from the 2×4 wood and cut it using a circular saw.
Cut two or more brackets depending on the length of the planter box. To maintain proper weight distribution, most gardeners recommend using the rules of thirds. One of the brackets should be placed under the planter for every 3 inches. Otherwise, the brackets might not be able to hold the weight and fall.
Use the ruler to mark a 45-degree angle on one end. That end will be attached to the fence side.
Cut the marked angle. Repeat the process to the rest of the brackets.
Attach the brackets to the fence using a couple of screws. Then, place the planter on top and use another screw to attach the fence planter to the brackets.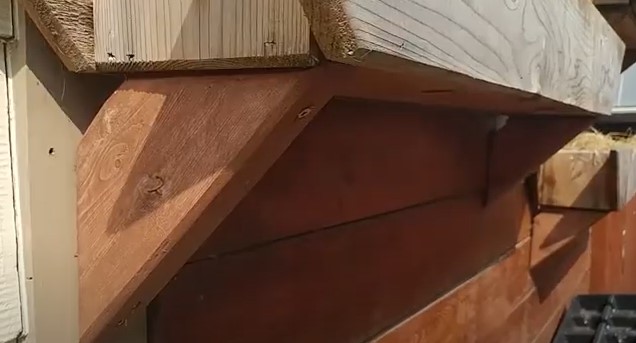 ---
What Plants Are Best For Fence Planters?
Any plant can flourish and look good in a fence planter. To help you choose, here are the most recommended plants ideal for fence gardening:
Bacopa
Bacopa is a creeping perennial herb that provides beautiful small blooms and is known for its medicinal properties.
In Ayurvedic medicine, bacopa is medicine for various diseases. However, it requires more research to verify its effects on humans based on the warning of the FDA.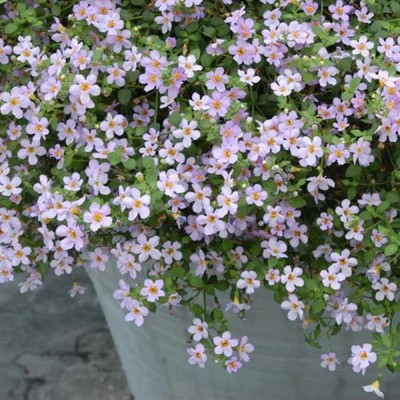 Nasturtiums
If you want a vibrant and cheerful vibe in your garden, let yellow and orange flowers of nasturtiums fill your fences. They are easy to grow and have both annual and perennial varieties.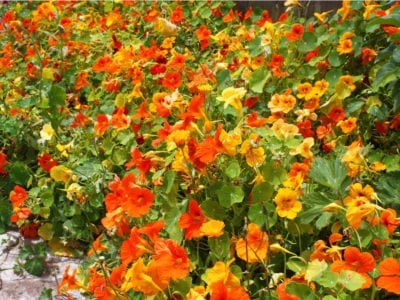 English Ivy
If you want to build a live wall or a vertical planter along your fence, you should include some creeping vines like the English ivy. It will help provide the kind of greenery you'll want in a living wall.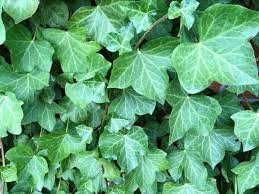 Lobelia
Lobelia is a warm-loving flowering plant that produces tons of tiny purple flowers. It is an annual herb that is also known for its medicinal properties.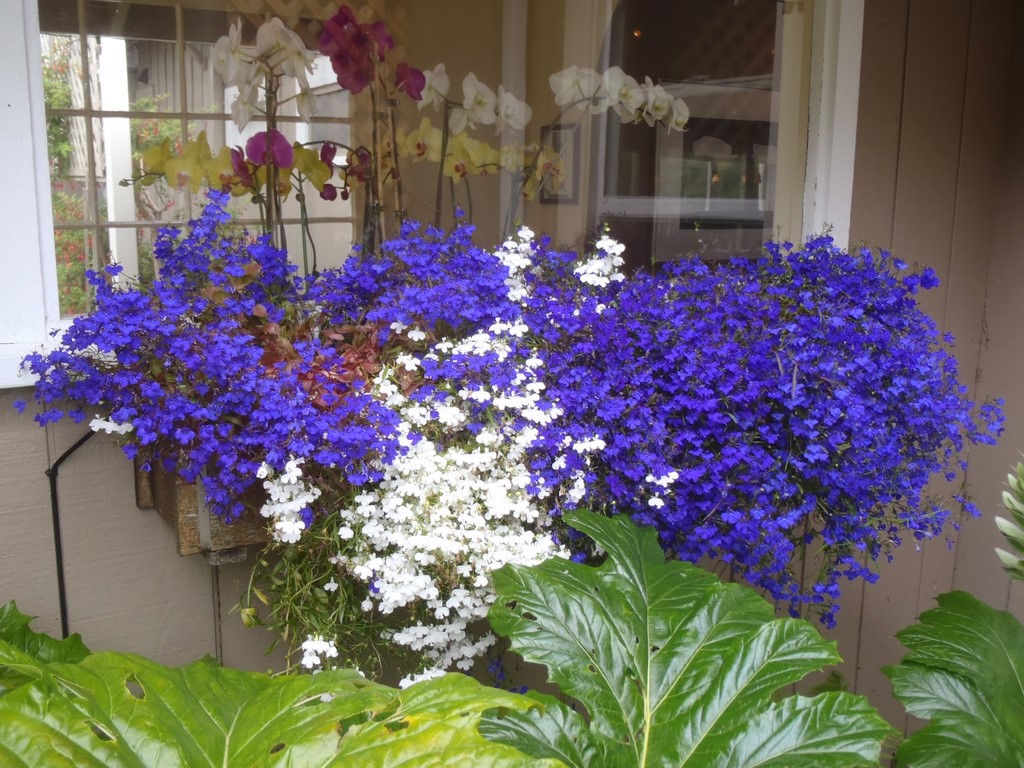 Carolina Jessamine
Create a fairytale-like fence planter using the yellow flowers of Carolina Jessamine. It is a well-mannered vine that produces many flowers that excrete a fragrant smell. You can also use it as a ground cover as an alternative to grass.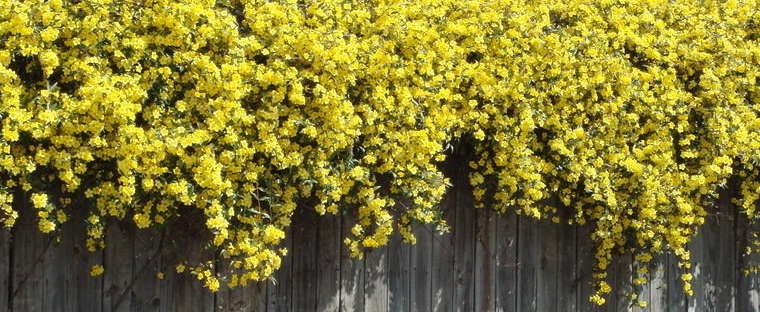 Final Thoughts
We hope you got some unique concepts from our fence plant box ideas. Decorating your fences can elevate your gardening space, making it look more like a sanctuary than a typical backyard.
Let us know in the comments which planter box is your holy grail and why. Also, please don't forget to share this post with your friends to help them take advantage of the space and add a natural privacy screen on their fences.