Knockout roses are known to be the most low-maintenance type of roses for landscaping. It's self-sufficient in terms of resisting plant diseases, bloom in every season, and even clean itself.
However, just like any plant, knockout roses also need essential nutrients so they can give more beautiful roses in your yard.
While most plants love any kind of fertilizer, knockout roses have a particular set of nutrients that it needs. With a multitude of fertilizers in the market, it's easy to be overwhelmed with the options.
In this post, we listed 10 of the best fertilizers for knockout roses so you can cut out the trial-and-error phase of finding the best ones for your knockout roses.
We'll also share what is the ideal soil condition, season, and process for fertilizing knockout roses.
Let's start with your options.
(You could use the table of contents below to jump to the sections that are most important to you.)
---
10 Best Fertilizers For Knockout Roses in 2023 – Reviews
Below is our list of the most recommended fertilizers for knockout roses. The list includes smart-release, water-soluble, liquid, synthetic, and natural fertilizers to fit the goals of every green thumb like you and help them achieve the best blooms possible for your knockout roses.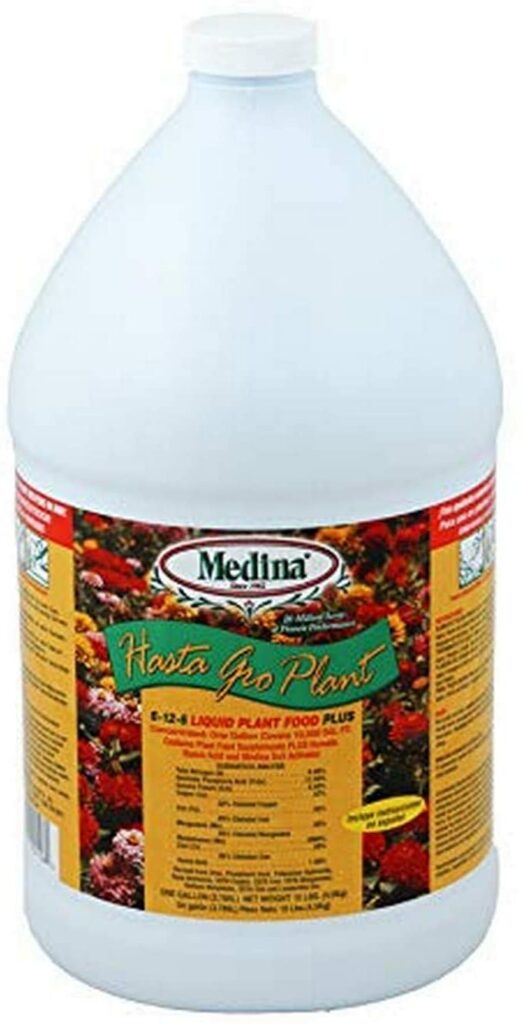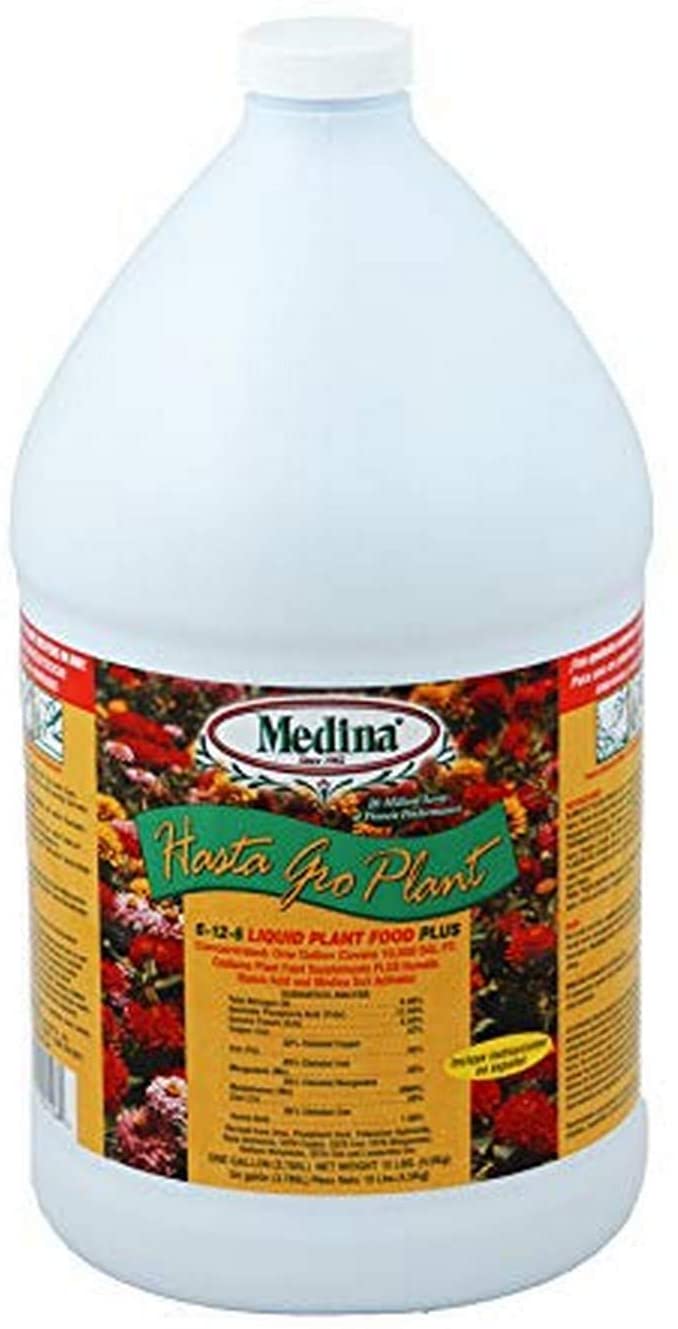 If you're used to the traditional way of fertilizing plants like 10-10-10, fertilizers in 6-12-6 works wonders in knockout roses. Medina Hastarow is a 6-12-6 natural liquid fertilizer that can help nourish your plants. The three numbers in this fertilizer are equivalent to the nutrients contained in it. NPK, in the same order, stands for nitrogen, phosphorus, and potassium.
Medina HastaGro is an eco-friendly voice and only contains seaweeds and other natural ingredients. It has no chemicals so it doesn't burn your plants from chemical and salt buildup. It is a concentrate and the manufacturer claims that 1 gallon makes 128 gallons of fertilizer when mixed with water.
The phosphorus content in Medina Hastagro is higher which helps in photosynthesis and essential in fruit and bud formation in plants. It's more intended in aiding the plants with the nutrients it needs to produce beautiful blooms and healthy fruits.
To use this product, you have to dilute 0.5 or 1 ounce in a gallon of water. You can either apply it in the soil or spray it directly on the leaves or foliar method.
Pros
All-natural ingredients
Good for transplants
Contains high phosphorus content that promotes beautiful blooms in knockout roses
Concentrated solution and little amount of the product can fertilize two or more knockout roses
Helps in activating the biological activity in the soil
The liquid formula helps the plant easily absorb the fertilizer immediately.
Cons
Low nitrogen and potassium content
May improve the plant's biological activity in producing blooms and does not include the nourishment of the soil.  
Needs frequent application than other fertilizers
---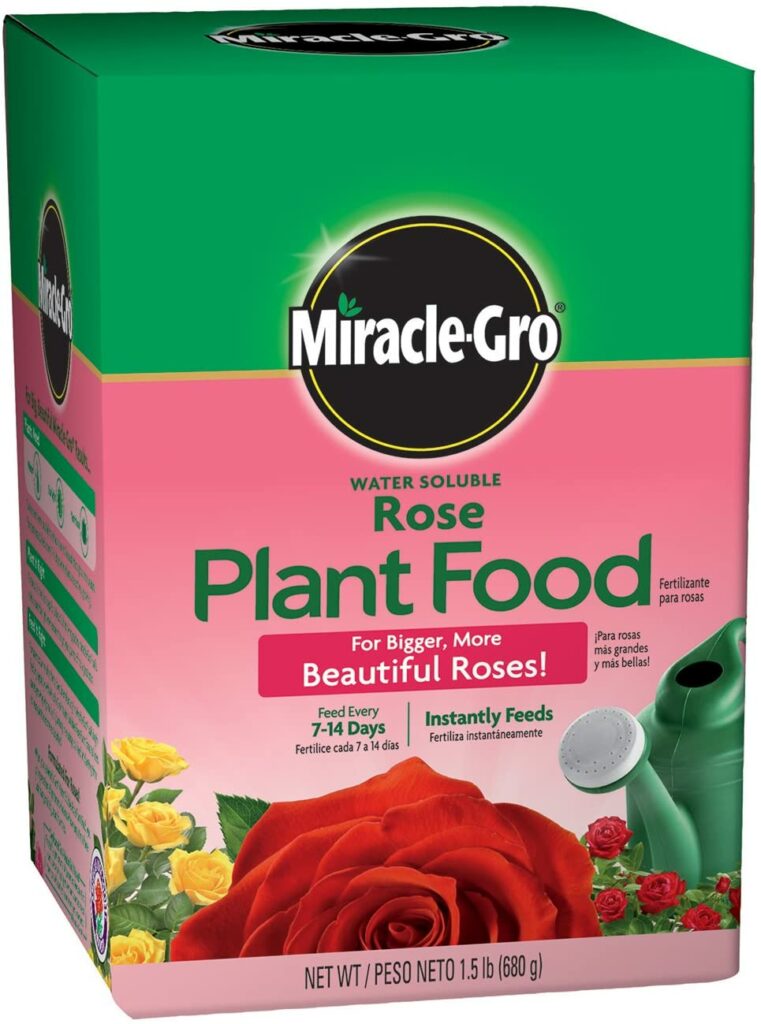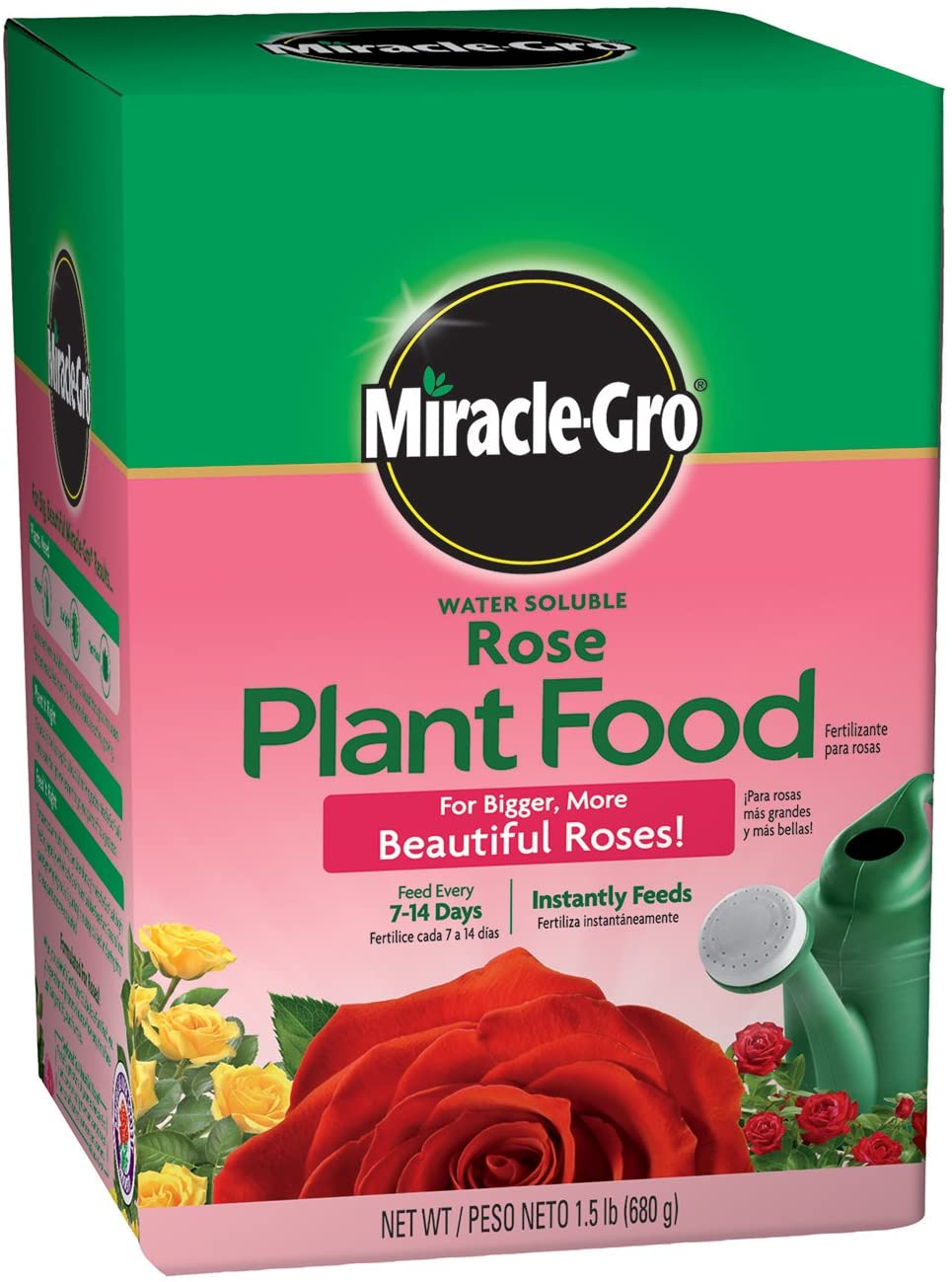 Miracle-Gro fertilizer line has a specific version for roses which is their Miracle-Gro Rose Plant Food. It is a water-soluble fertilizer that contains the holy grail of roses in 18-24-26 formulation. The manufacturer claims that it can help your knockout roses produce three times bigger and vibrant blooms.
The product weighs 1.5 lbs or 680 g and can cover 600 square feet of plants. The product guarantees that it's safe to directly apply on plants. However, too much product concentration of water-soluble fertilizers can burn your plants. That means as long as you're using the right amount of this product, your knockout roses are safe.
The direction for use, based on the manufacturer's recommendations, is to apply the product on your knockout roses every 7 to 14 days during its growing season. You may use this product using a watering can or a plant feeder with 1 tablespoon of Miracle-Gro Rose Plant Food per gallon.
We recommend that before transplanting your knockout roses, soak the roots for an hour in a half-strength solution. This allows the nutrients to penetrate the knockout roses and absorb as many nutrients as they can to survive the new soil condition. Pour the used solution into the soil where you'll transfer the roses.
It's specifically formulated for ever-blooming roses like knockout roses or the repeat-blooming variants in the roses family. With its good performance with roses, it is recommended by the American Rose Society.
Pros
You can see immediate results in a week.
Specifically made for rose plant nourishment
Recommended by experts
Two-step application: Mix with water and apply to plants
Non-toxic to pets 
Cons
May cause skin and eye irritation in pets with contact and diarrhea when ingested
It's a synthetic fertilizer
---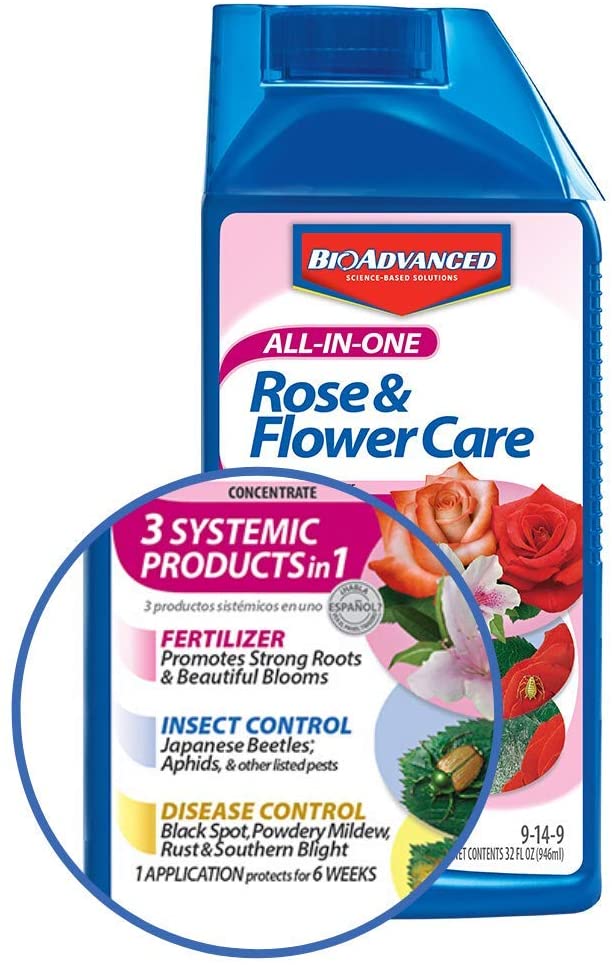 For gardeners who are looking for a simpler way to take care of their knockout roses, Bayer Advanced All-in-One Rose and Flower Care (previously known as Bayer Advanced All-In-One Rose and Flower Care) are probably the best one in the market. It's plant food, an insecticide, and fungicide in one solution.
As a plant food, it aims to boost the strength of the rose plant's roots and produce beautiful blooms. As an insect killer, on the other hand, the manufacturer claims that the product can help control the following insects in two weeks:
Japanese Beetles (adults)
Aphids
Leafhoppers
Adelgids
Spider Mites
Whiteflies
Black Vine Weevil Larvae
Borers
Flathead ( Bronze Birch/Alder Borers)
Roundheaded (Eucalyptus Longhorned Borers)
Budworms
Caterpillars (rose slugs/leafrollers)
Lace Bugs
Leaf Beetles (Elm Leaf Beetles/Viburnum Leaf Beetles)
Leafminers (Birch Leafminers/Holly Leafminers)
Mealybugs
Mimosa Webworms
Pine Tip Moth Larvae
Psyllids
Royal Palm Bugs
Sawfly Larvae
Scales (Armored Scale/Soft Scale)
Spittlebugs
Thrips
As a fungicide, BioAdvanced All-in-One Rose and Flower Care help cure and prevent the following plant diseases:
Black Spot
Anthracnose
Leaf Spot
Petal Blight
Powdery Mildew
Rust
Scab
Southern Blight
The product also has rainproof protection that can last for up to two and a half months. It's registered in the US Environmental Protection Agency(EPA). However, it's not available in New York, Connecticut, and Maryland since it is restricted to commercial applicators.
Your knockout roses can receive the nutrients from this fertilizer on the roots since it's a systemic variant. The rose plant will then absorb it and run through the stems and leaves. It will stay as a coat of protection for the plant for two weeks. Since it's rain-proof it won't get washed by rain or when you water your roses.
To use this fertilizer on knockout roses, mix four tablespoons of the in 32 fl. Oz. of water. Pour it on the soil and make sure to not let the solution touch the leaves. Also, put the rinse water that you use in cleaning the bucket on the treated plants.
A 32-ounce BioAdvanced Rose Care can cover a maximum of 32 knockout rose plants.
Pros
It has everything you need from plant food, insecticide, and fungicide.
It's rain-proof which means you don't have to reapply it frequently.
EPA-registered
Easy to apply
Safe for pets as long as directions for use are followed properly
Cons
Toxic to pets and children when newly applied. Make sure to let the solution dry before letting your kids or pets go near the plants. 
May require safety gloves and eye protection during application
It's a synthetic fertilizer.
It contains chemicals that are highly toxic to bees.
---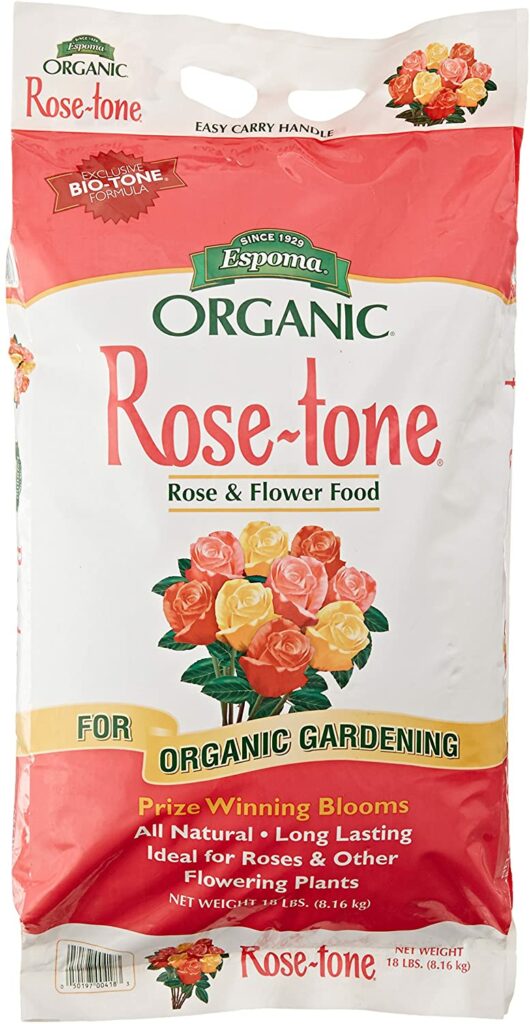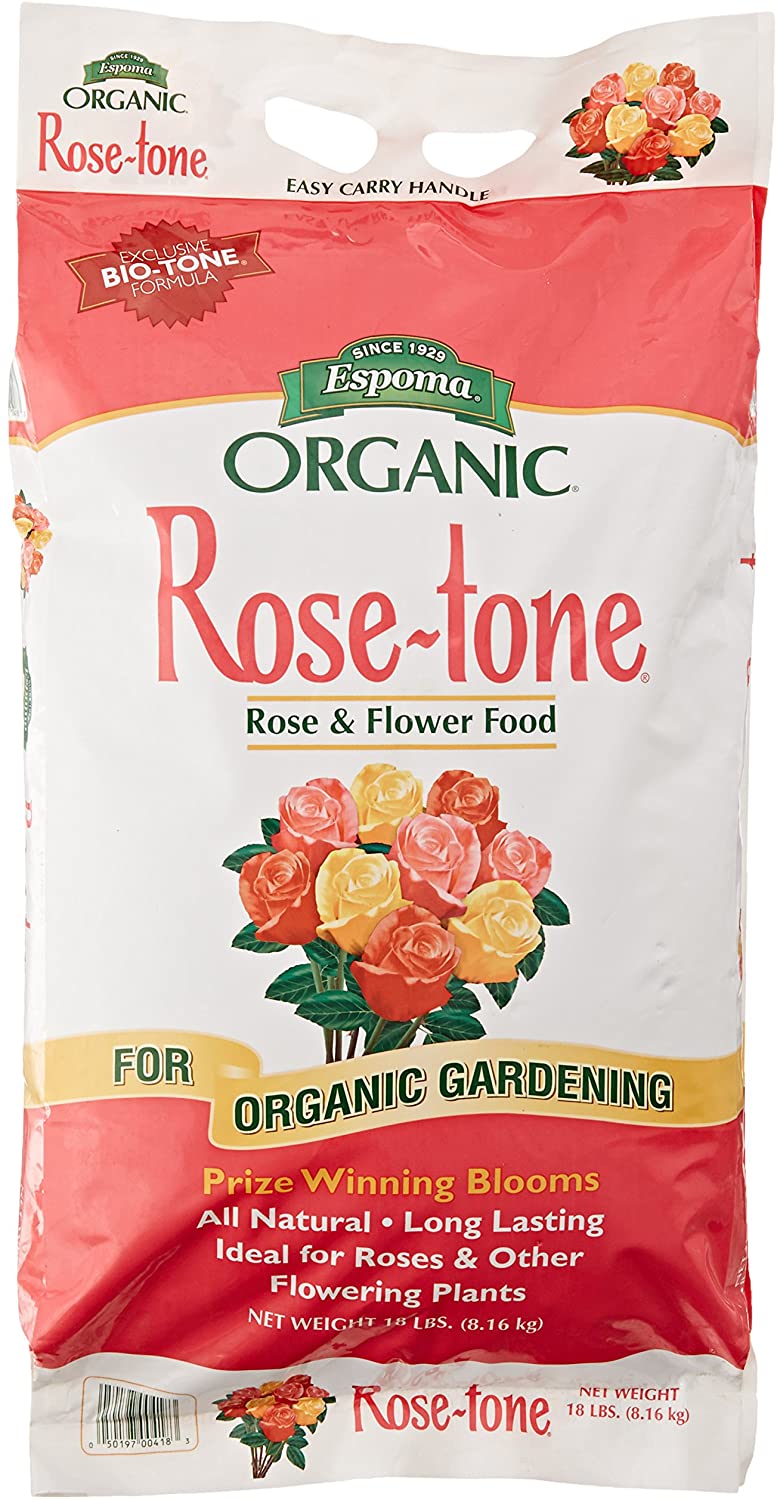 Moving into natural fertilizers, Espoma Rose Tone is one of the most recommended brands by professional rosarians and rose enthusiasts. It's a 4-3-2 (NPK) with other 13 essential nutrients for plant health.
According to the manufacturer, it contains thousands of their Bio-tone® Microbes packed as a slow-release fertilizer for long-lasting sources of nutrients. Most of the natural contents are derived from:
Feather meal
Poultry manure
Bone meal
Alfalfa meal
Greensand
Sulfate of Potash
Sulfate of Potash Magnesia
Due to the mixture of natural ingredients, it might give off a certain kind of smell but it's tolerable and will fade after weeks of application. Recommended application based on the manufacturer is a monthly feed through the growing season(May to September).
Each knockout rose plant will only need 1 to ¼ cup placed an inch below the surface of the soil. For rose beds, you'll need 6 pounds for 100 square feet. After fertilizing your knockout roses, make sure to water them on the soil and not on the foliage.
Pros
It's safe for bees
Best for organic farming due to its natural ingredients
Will only need a monthly application to the knockout roses during they're growing season
High in nitrogen content that helps improve the soil condition
Cons
Can give off the smell of manure due to its organic contents
Slow-release fertilizers depend on the moist soil condition. So if you don't water your roses properly the nutrients will not be released well on your knockout roses.
If improperly-placed, the release can happen ahead of time.
---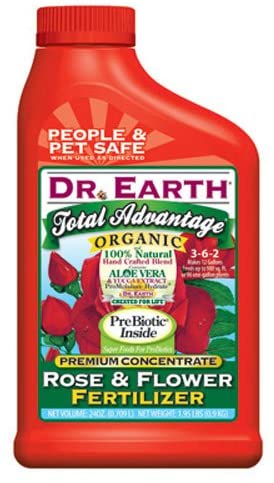 Dr. Earth's line of fertilizers is best for gardeners who want to make sure they use organic and environment-friendly fertilizers. Dr. Earth Total Advantage Rose and Flower Concentrate Fertilizer is an organic fertilizer derived from upcycled human-grade foods from supermarkets in aim to help preserve the environment.
It's a 3-6-2 NPK fertilizer and prides itself to have no chemical ingredients. It also contains prebiotics(soluble sugars) that promotes healthy soil conditions for your knockout roses. Since it's made of organic material, it's safe for pets and non-toxic to humans.
Dr. Earth Total Advantage Rose and Flower Concentrate Fertilizer contain the following ingredients:
Fishbone meal
Soft rock phosphate
Fish meal
Mined potassium sulfate
Kelp meal
Seaweed extract
Earthworm castings
Humic acid (5%)
Aloe vera (2%)
Yucca extract (1%)
Prebiotic microbial food/soluble sugars (7%).
This product is a concentrated liquid fertilizer and may last for months when used as suggested on the label. For application in knockout roses, mix four tablespoons for a gallon of water and spray on foliage or pour it on the soil around the base of your rose plants. Apply this fertilizer every 14 days to boost beautiful and bigger blooms from your knockout roses.
Many organic gardeners swear by Dr. Earth especially those who are keen on environmental safety and want to avoid chemical use for plants. It's OMRI listed and CDFA OIM Advanced Organic certified.
Pros
Organic fertilizer
OMRI listed
Contains prebiotics that helps nourish the soil
You can see results within a week
Nontoxic to pets and humans
Cons
May smell like fish due to fish content 
The fishy smell may attract cats around your area
Nutrient levels are lower than  the chemical variants but still as effective in nourishing the plants with nutrients
---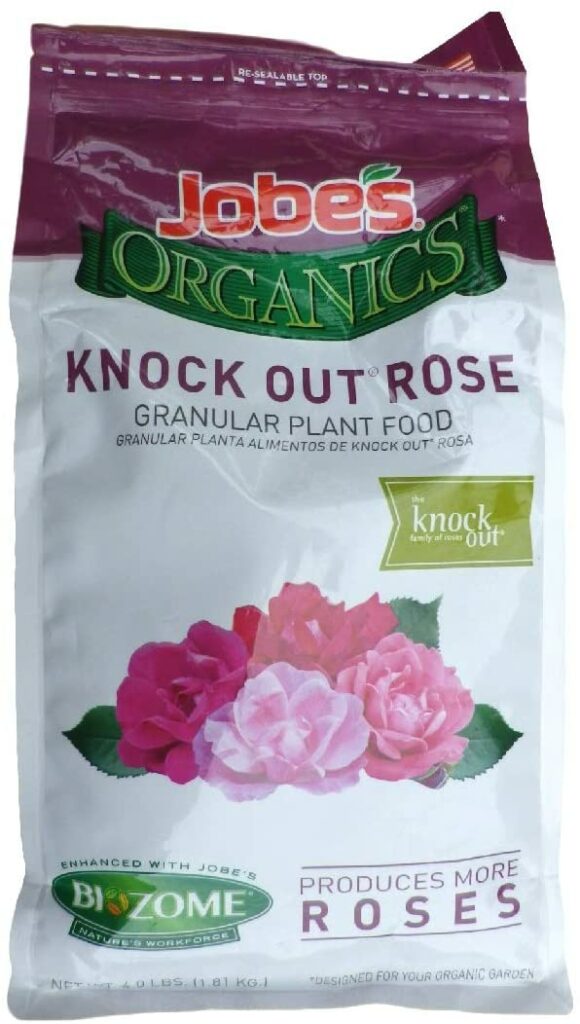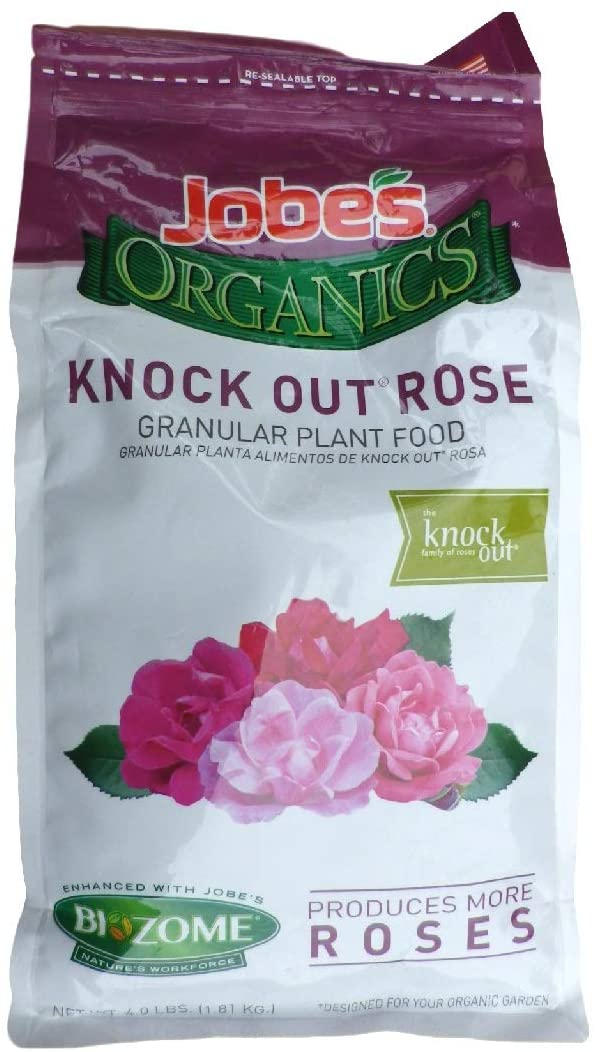 Another environment-friendly option that's specifically made for knock-out roses is Jobe's Organic Knockout Fertilizer. It contains a biome formula containing three microorganisms such as bacteria, Mycorrhiza, and fungi plus Archaea.
The biome formula helps improve nutrient absorption and maintain the balance between plants and soil. It also boosts the activity of the microorganisms in the soil that promotes plant health. This product contains:
Biozome
Bone meal
Feather meal
Nitrogen
Phosphorous
Potassium
Processed manure
Sulfate of Potash
Though knock-out roses are disease-resistant, weak plants may be susceptible to get the fungal disease. By boosting the plant health of your knockout roses, fungal disease and even pests will repel from your plants. Thus, keeping them safe and remain blooming throughout the growing season.
The product comes in granular form and should be applied during planting and every 6 weeks. Use proper amounts as directed in the label.
Pros
OMRI listed
Safe for kids and pets
Has rich organic content
Contains BioZome that specifically matches the nutrient needs of knockout roses
A little amount goes a long way and the whole pack may last for months of fertilizing knockout roses
Cons
Adding too much may burn leaves due to high salt content. Proper application is advised by following application charts accordingly.
 Phosphorus that doesn't flow with water may get stuck at the base of the soil and not reach the roots of the knockout rose.
---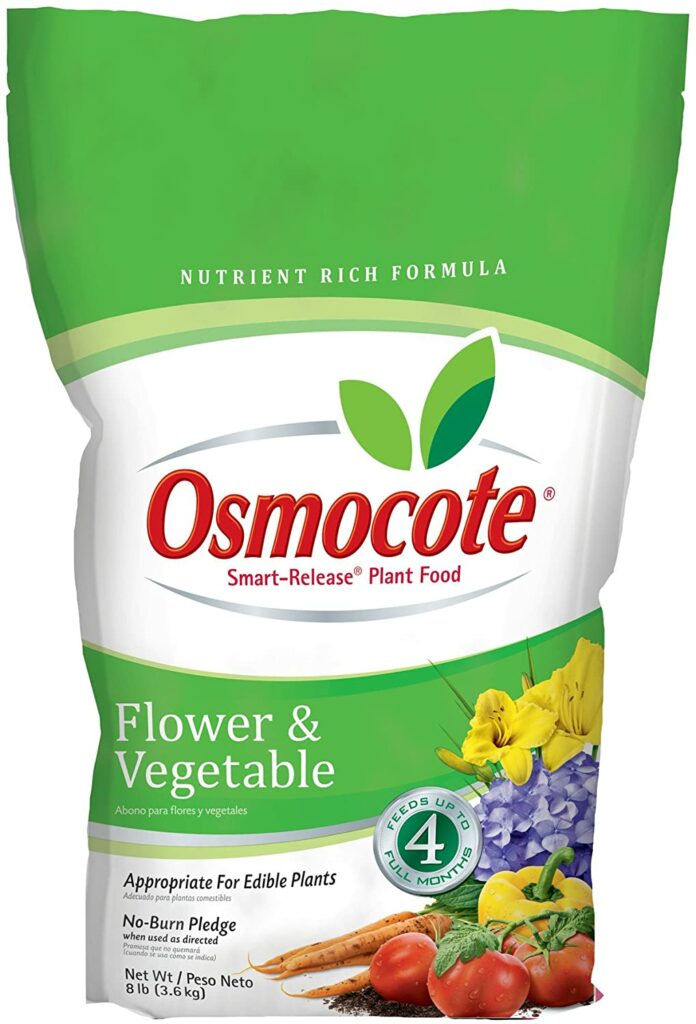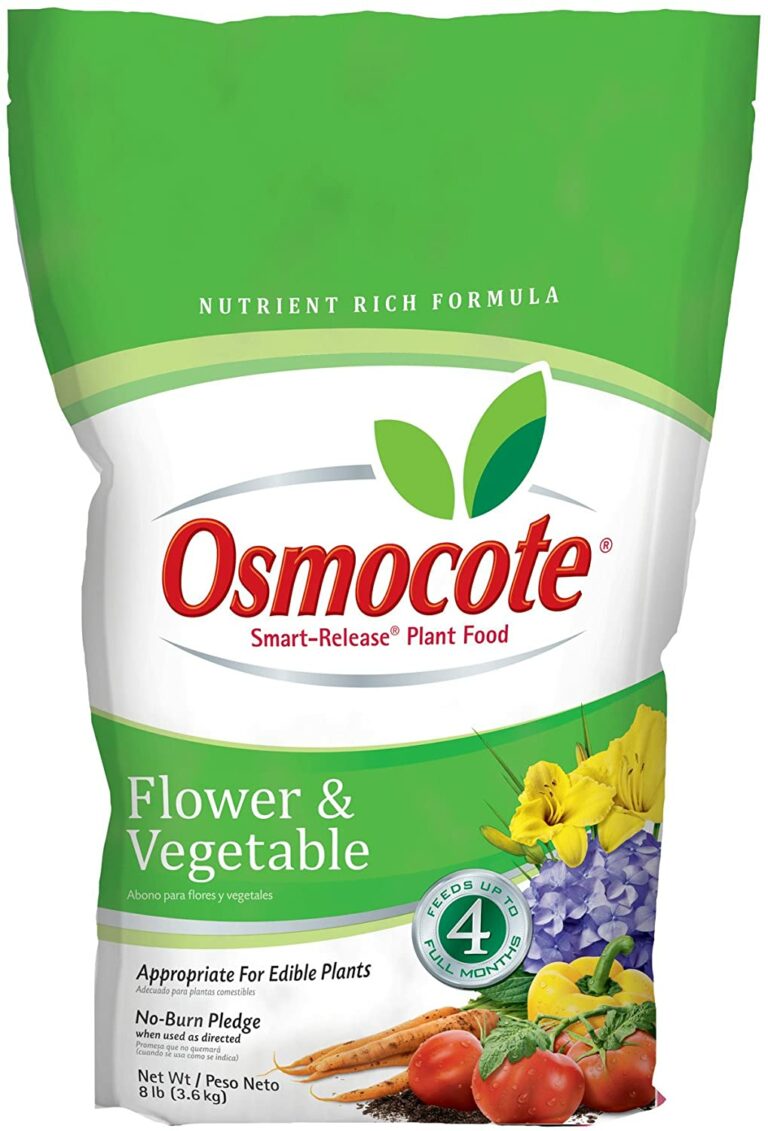 Oscamote Smart-Release Plant Food is slow-release 19-6-12 fertilizer that's one of its kind because it's covered in a special kind of resin that gradually releases nutrients to the soil for up to four months. It helps in the development of strong roots and help provide bigger and colorful knock-out roses.
This product is a 19-9-12 NPK fertilizer and also contains the following macronutrients:
Maganese (0.06%)
Molybdenum (0.02%)
Zinc (0.05%)
Sulfer (6.0%)
Boron (0.02%)
Copper (0.05%)
Iron (0.46%)
If you're looking for a fertilizer that doesn't need a lot of work to apply to your knockout roses, this product can do wonders for you. You just have to make sure that you've placed the granules properly to help the roots absorb the nutrients that they need.
You can apply three tablespoons of Oscomote fertilizer 2 to 3 inches below the surface of the soil or mulch in a 2 x 2 foot-garden area.
Pros
Granules are packed in a unique resin covering that enables the smart-release of nutrients to the soil.
Ensures continuous release of nutrients on its own
Cons
Wrong placement of the granules will affect the release of nutrients in the soil
It has a higher content of nitrogen that can burn your plant if you don't follow the correct measurements.
---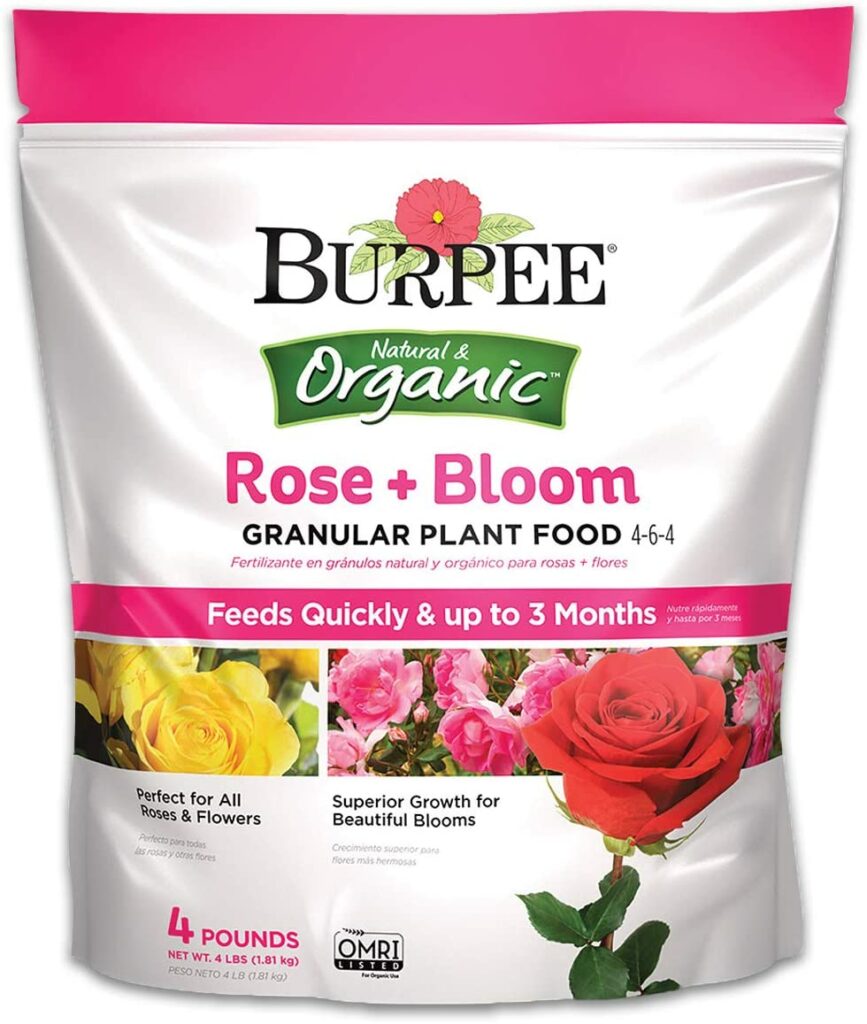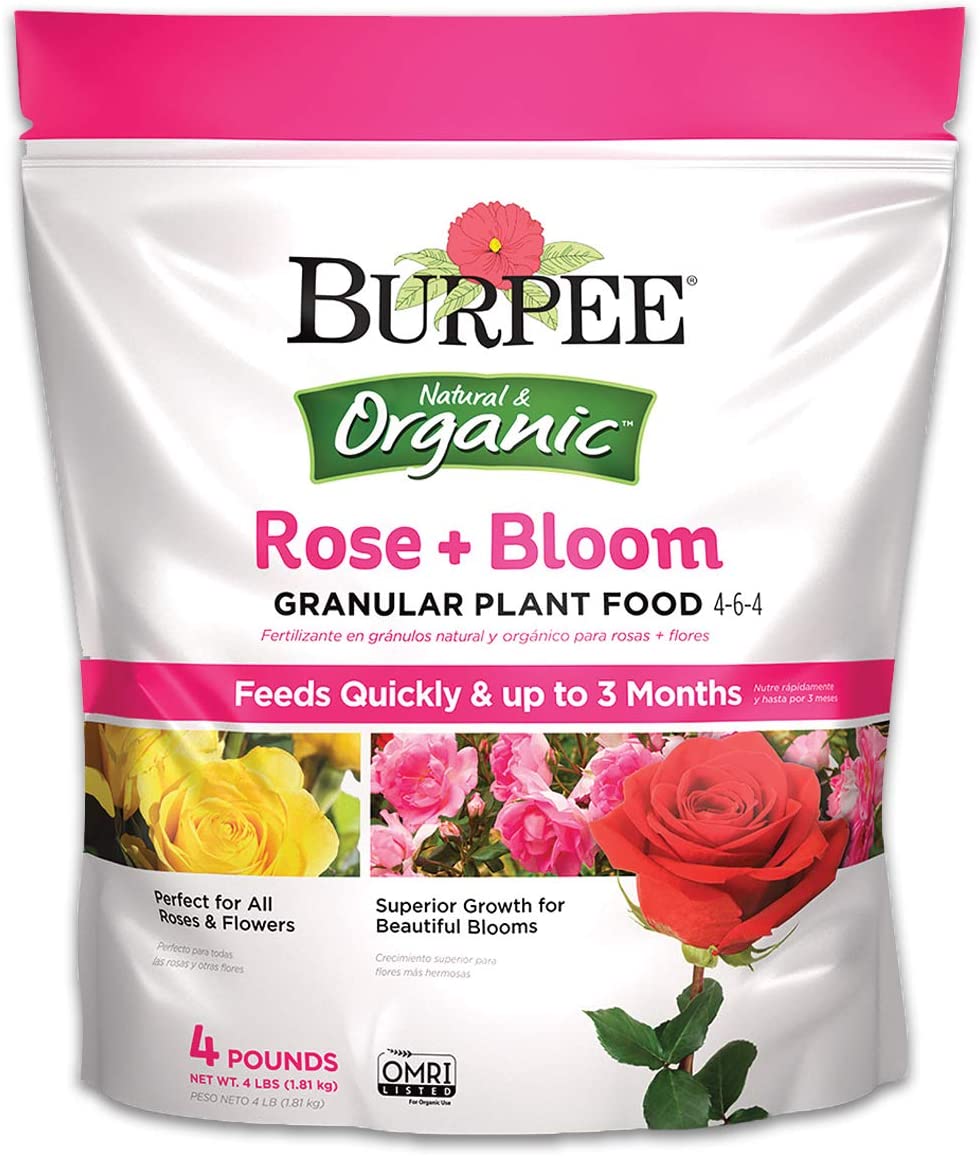 Another fertilizer that organic gardeners can try is the Burpee Organic Rose & Bloom Granular Plant Food. It is a 4-6-4 slow-release granular plant food that can nourish your knockout roses for up to 3 months.
Granular fertilizers like Burpee dissolve over time and release nutrients whenever you water your plant or the soil becomes moist. The only drawback with this type of fertilizer is if it's not properly placed in the soil and the nutrients released can't reach the roots of your knockout roses.
As long as you're following the directions included with the product and you properly placed the granules, then you won't have any problem with this product. It's loaded with natural ingredients and contains essential microbes that help your knockout roses, develop strong roots, and have bigger and more vibrant blooms.
Pros
Organic and environment-friendly fertilizer specifically made for roses
OMRI listed
Can feed your knockout roses for up to 3 months
Contains all-natural ingredients and essential nutrients for plant growth
Cons
Improper application of the fertilizer might affect and even stall the release of nutrients
The soil needs to be moist so the nutrients will be released gradually into the soil. 
---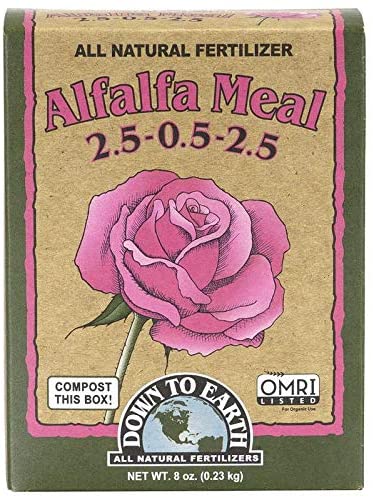 If you've been taking care of roses for a while, you may have come across Alfalfa meal in some gardening forums. Alfalfa meal is a soil conditioner made up of sun-dried and dehydrated alfalfa.
Alfalfa is a perennial plant that has small violet flowers and can absorb nitrogen and keep it in its roots. When cured under the sun, it becomes a perfect source of nitrogen and organic matter for flowering plants and shrubs.
Down To Earth Alfalfa Meal has a 2.5-0.5-2.5 formula that indicates it has more nitrogen and potassium content than phosphorus. The manufacturer claims that the product helps speed up the growth of bigger and better blooms in knockout roses and other flowering plants.
This alfalfa meal brand is grown in the Northwest region of the country and also serves as a good compost material since it's a biodegradable matter that has a high concentration of nitrogen, Potash, amino acids, organic plant hormones, and trace minerals.
Pros
Organic and Non-GMO fertilizer
All-in-one source of nitrogen, trace minerals, compost bio-activator, and Potash
Contains alfalfa that has essential nutrients specific for roses
No synthetic, growth stimulant and poultry waste fillers
Multi-purpose nourishment for your knockout roses
Cons
Alfalfa meal may heat the soil as it breaks down over time. 
Careful application is needed to avoid burning your plants(once or twice per growing season)
---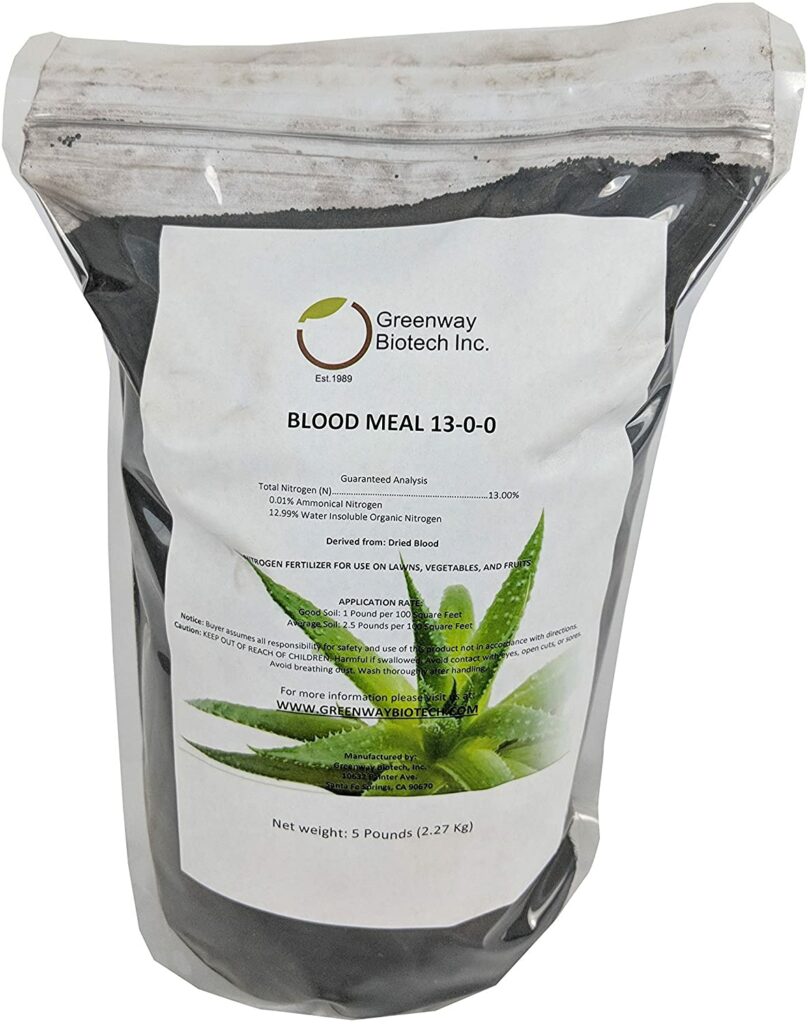 Nitrogen is an essential nutrient that boosts the foliage growth in roses. Consequently, healthy foliage in plants boosts the formation of flowers and fruits that overall makes the plant in its best form.
Among all the fertilizers on our list, blood meal has the highest nitrogen content. If you think your knockout roses are nitrogen deficient, a blood meal can help fix your problem.
Greenway Biotech Blood Meal Fertilizer contains an equivalent of 13% nitrogen, 85% protein, and 1% fat. It is a 13-0-0 natural fertilizer that's repackaged in a sealable packaging. The manufacturer claims that it's a good source of quick-acting nitrogen and can provide the following for your plants:
Increases the nitrogen content of your soil to improve the quality of your plants
Makes the soil more acidic by decreasing the pH level of the soil
Helps address nitrogen deficiency in plants
Below are the application rates for Greenway Biotech Blood Meal Fertilizer depending on your soil condition. You'll need to apply more cups of blood meal if your soil is not in a good condition.
Here's the application guide from the manufacturer:
Healthy soil
Garden area: Use 7-10 lbs. of blood meal for every 1,000 square feet
Plant pots: 1/4 cup of blood meal for each plant
A row of plants: 1 lb. of blood meal for a 10-foot row
Average soil
Garden area: 12-15 lbs. of blood meal for every 1,000 square feet
Plant pots: 1/3 cup of blood meal for each plant
A row of plants: 2 lbs. of blood meal for a 10-foot row
Unhealthy soil
Garden area: 25 lbs. Of blood meal for every 1,000 square feet
Plant post: 1/3 cup of blood meal for each plant
A row of plants: 3 lbs. Of blood meal for 10-foot row
Pros
Good source of nitrogen in boosting the growth of knockout roses
Natural source of soil nutrients
Blood meal is derived from the waste material produced from meat processing factories. Therefore, turning the blood material into purposeful solution farming needs.
Fast-acting solution for unhealthy soil conditions.
Cons
Concentrated nitrogen can burn your plant's roots
Not pet-friendly. When ingested by dogs, it may cause diarrhea and vomiting. 
Doesn't contain other essential soil nutrients like potassium and phosphorus
---
What You Need To Know About Fertilizing Knockout Roses
Knockout roses were introduced in 2000 by Conard-Pyle company as a type of flowering shrub. They're one of the low-maintenance garden plants and don't demand too much attention. They bloom in all seasons and not a magnet of fungi and pests.
Knockout rose can grow 3 to 4 feet wide and is considered as a heavy eater of soil nutrients to address its need to sustain the formation of flowers. However, even if it's a disease-resistant type of plant, pests like aphids may still stay on its stems and under the leaves.
What makes knockout roses an ideal plant is it blooms even if you don't apply any fertilizer to it. However, they can't bloom to their full potential without the help of fertilizers. Other features of knockout roses include:
Heat tolerant and cold hardy
Grows 3 to 4 feet in height and width
It's a self-cleaning plant as it can push away old blooms and give way to new budding flowers.
Essential Nutrients For Healthy Plant Growth And Function
To further help you choose the right fertilizer for your knockout roses, here are the other nutrients essential to your plant's growth:
Nitrogen
Phosphorus
Potassium
Calcium
Sulfur
Magnesium
Sodium
Boron
Chlorine
Manganese
Iron
Zinc
Copper
Molybdenum
Nickel
Among the nutrients mentioned above, nitrogen, phosphorus, and potassium are the most important.
Nitrogen helps promote healthy foliage while phosphorus strengthens the root systems of the plant and helps provide them with beautiful blooms.
Lastly, potassium helps replenish the nutrients in the soil.
How To Fertilize Knockout Roses?
In general, knockout roses need to be fertilized 3 to 4 times during their growing season. You should start fertilizing them in mid-April and mid-August right before the winter comes. You may let it grow for a year to establish strong roots and stems and finish one bloom cycle to be more suitable for fertilization.
You should avoid fertilizing your knockout roses late in the summer to help them prepare for dormancy for winter. The soil must also be moist and mildly acidic to be suitable for your knockout roses.
---
Tips in Applying Fertilizers in Knockout Roses
Do not dig deeply into the soil and avoid adding the fertilizer at the base of the soil as it can damage and burn the roots.
When working with liquid fertilizers, you should simultaneously apply them when watering your knockout roses. If your plant is mulched and it absorbs the liquid fertilizer then you have to remove and replace them after.
Water the fertilizer into the soil before and after the application to avoid burning and damaging the plant.
When your knockout roses are infested with aphids, you can use a clean towel dipped in soapy water to wipe them off the leaves and put them in a bucket.
The NPK ratio in fertilizers is the estimated lowest measurement of the contents. Manufacturers don't declare the exact numbers to prevent their other competitors from copying their formula.
Final Thoughts
We hope that this post helped you decide which fertilizer to use for your knockout roses. Not all fertilizers are made equal but surely there's one brand that will perfectly suit the needs of your roses.
If you find this post helpful, share it with your friends and help them decide and ease their selection process by looking at the best variants in the market.
Let us know in the comments the results of your chosen fertilizer for your knockout roses.