The sight and sound of flowing water provide a unique ambiance of tranquility in any landscape. If you want to add water features to your yard, you're probably looking for some water garden ideas or inspiration to get started.
Whether your space is big or small, you can build a water garden that suits your design preferences. From natural-looking falls to a simple container water garden, you can make a piece of art out of any material through your creativity and imagination.
Before you start digging into the rabbit hole of aquascape design, it pays to begin with the basics. Learn more about water gardens, their pros & cons, and different water garden designs that you can use in your project.
(You could use the table of contents below to jump to the sections that are most important to you.)
---
What is a Water Garden?
A water garden is a type of garden where its water features are the landscape highlight. The combination of different aquatic plants is the star of the water garden. Fish is added to the water to feed on the mosquito larvae and control unwanted insects.
There is a thin line between ponds and water gardens since they have similar fish elements. However, in water gardens, the focal point of the landscape is the aquatic plants, while ponds focus on the beauty of fishes like koi.
Pros & Cons of Having a Water Garden
While water gardens create a relaxing vibe in space, every homeowner should know its advantages and disadvantages. These include:
Pros:
The water feature provides a relaxing ambiance in your yard.
The diversity of flora and fauna improves the local ecosystem.
You can grow unusual and hard-to-find aquatic plants.
You may start caring for other pets like fish and turtles who love staying in the water.
Beneficial pollinators like birds and other insects will be encouraged to stay around your yard.
There are a variety of water gardens to try, ranging from small patio bowls for small spaces up to a hillside waterfall for huge yards.
Cons:
The presence of water in your yard may encourage some pests like mosquitoes. However, you can control their population by letting the fish feed on their larvae or using mosquito dunks.
Owners must maintain the upkeep of the water garden by cleaning the water from time to time or cleaning up the filters.
The planning and execution of the water garden project will take a village, especially for a pond. Boulders and stones are heavy, so you will need some lifting equipment to do the job. So, owners with big projects like mini waterfalls or wide-scale ponds hire an aquascape builder like Atlantis Water Gardens.
The good thing about water gardening is you don't need to have a lot of space to achieve your aquascape goals. Water gardens in containers are now a trend where you can change your yard with just a spark of creativity and a few materials.
33 Water Garden Ideas To Build Your Relaxing Space At Home
In this post, you will learn about the three approaches in building your aquascape, categorized by project scale.
So, whether you're looking for a peg to share with your aquascape service provider or going the DIY approach, you'll have some ideas in mind.
Small Scale Water Gardens
Having a small space should not limit your green thumb in growing aquatic plants. Considering a container water garden is cost-efficient and adds a unique addition to your terrestrial plants. Aquascape lovers often use materials with an adequate weight-holding capacity to grow bog and marginal plants and small fish.
The common materials and contents used in building mini water gardens are:
Pea gravel: The ideal potting mix for marginal and submerged plants that will keep the roots in place and stay in place.
Bricks or stones: They help elevate the pots to achieve the desired design outcome of the water garden.
Underwater pots: The aquatic plants in a water garden need separate containers to move them around during the design phase with ease.
Container: The container will hold everything in the garden together. These include garden bowls and 10 to 20-gallon pots.
Diverse aquatic and bog plants: The aquatic plants are the focal point of water gardens. The plant elements include floating, marginal, and submerged plants. Here's a simple guide on how you can position each plant in your container water garden: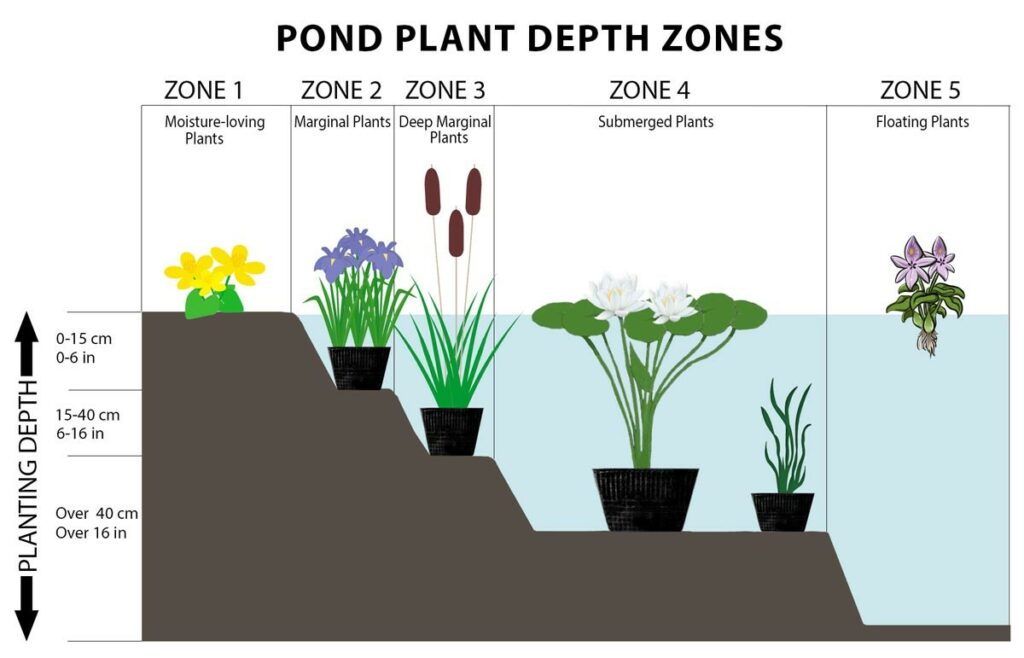 If you are in a hurry to build a water garden, there are ready-made container water gardens that you can choose from, like the Pond & Waterfall Kit from Aquascape. If you want to have more freedom in designing your water garden, here are some water garden ideas to inspire you:
1. Patio Bowl Water Garden
Patio bowls are an excellent container for your water garden. It has a wide diameter and working space to place the plants and allow the fishes to swim around. There are several options for the garden bowls, but the one from PSW is a durable plastic material that you can use.
The wide diameter of garden bowls can bring out your landscape design prowess by mixing mad matching plants.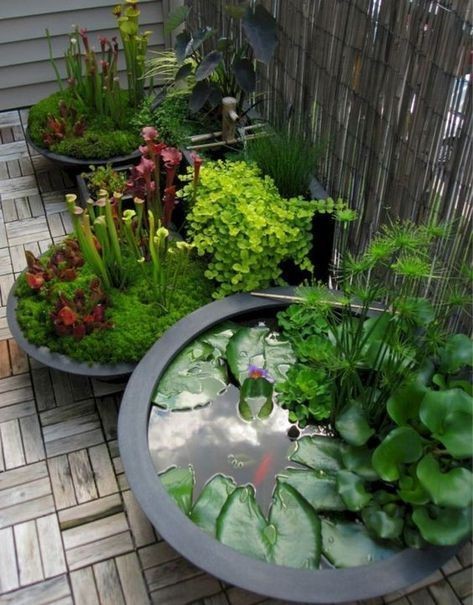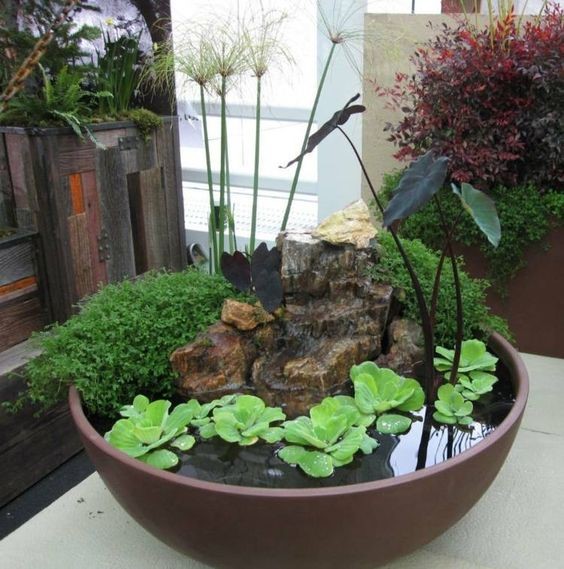 2. Wine Barrel Water Garden
Wine barrels are a unique container that can add a country vibe to your outdoor design. It creates an aged vibe that matches the idea of having floating aquatic plants like lilies and umbrella grass and a statue for an added accent.
The diameter of wine barrels also provides an ideal diameter space for the plants and the ornaments that will complete your aquascape.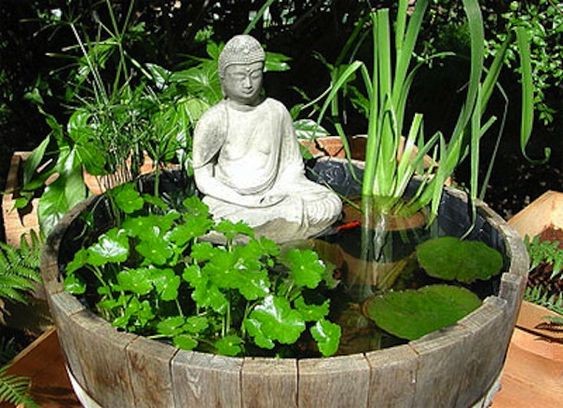 3. Tabletop Water Garden
Your mini water garden also makes a good centerpiece in your foyer or living room. A tabletop water garden can be as simple as using three aquatic plants, including a marginal plant such as umbrella grass, water cabbage for the floating plants, and some lilies.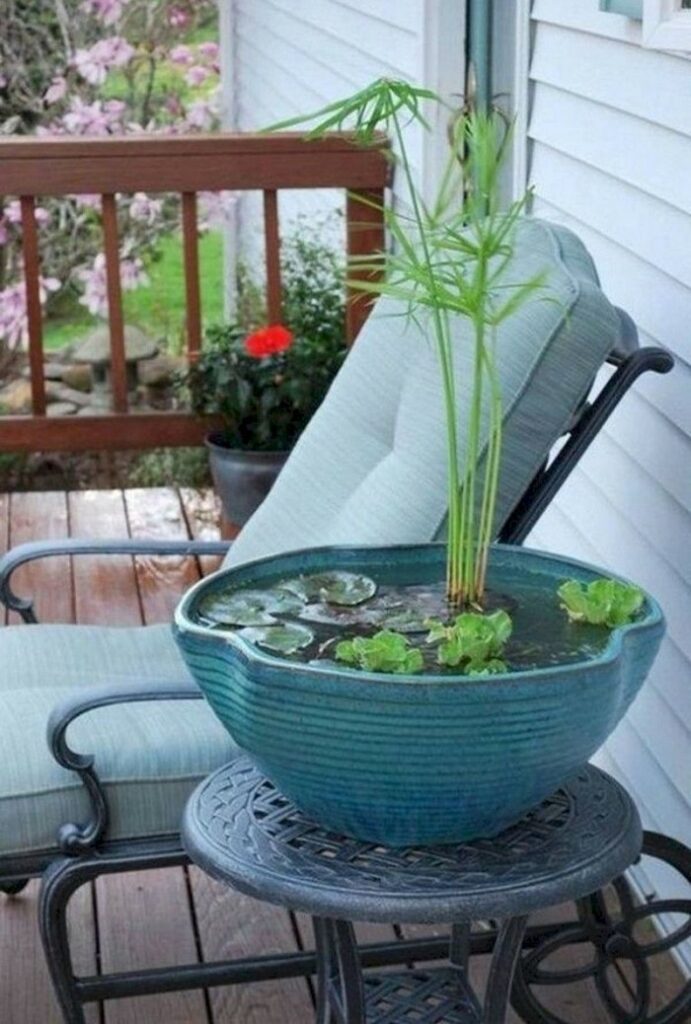 4. Galvanized Pot Water Garden
There's something about galvanized pots that adds a countryside vibe to any landscape, including water gardens. You can take advantage of the diameter of galvanized pots and fill them with eye-catching marginal plants that will stick out in your garden.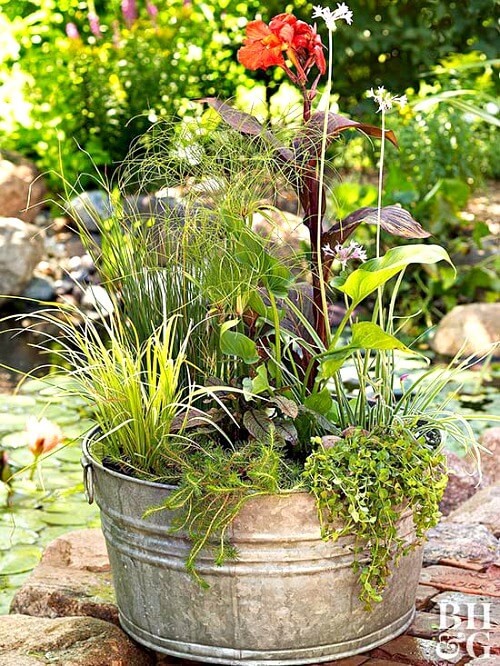 5. Galvanized Bathtub Pond
If you want to save on construction costs and buy expensive stone containers, an old galvanized bathtub makes an ideal alternative. A galvanized bathtub is deep enough for pond plants and big fishes like koi to thrive.
Since you're repurposing the tub, you're not only saving a lot of money, but you're also becoming more intentional and resourceful. Talk about reducing waste!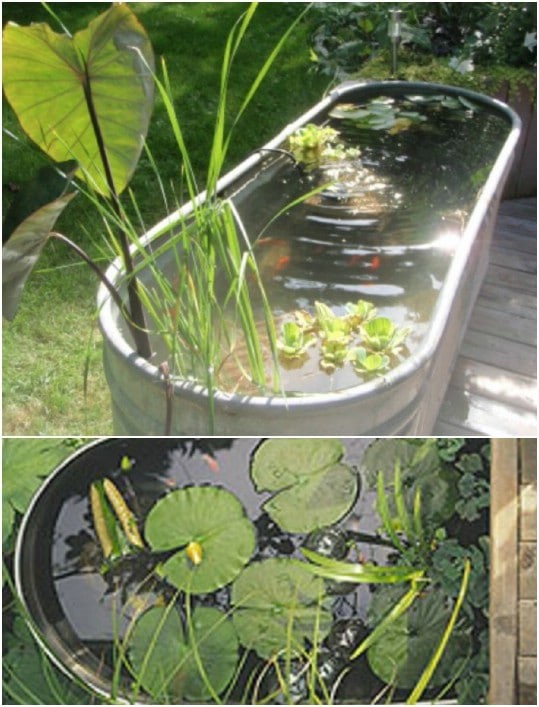 6. Clay Bowl
Terracotta lovers can also use their clay bowls as a container for water gardens. Since the surface of the clay pots is porous, you need to line it with a sealant or a plastic sheet to prevent the water from leaking.
Here are some beautiful clay bowl water gardens for some design inspiration: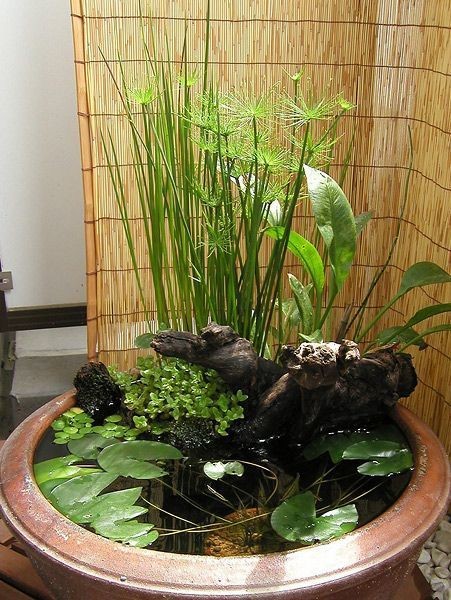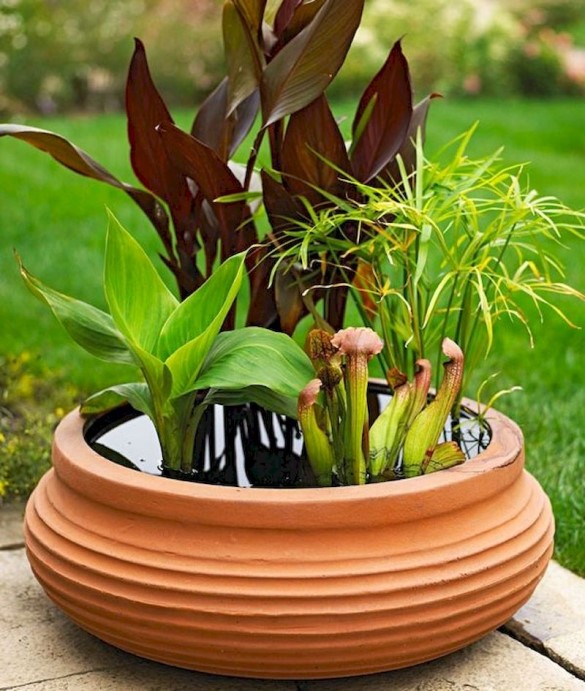 7. Nano Water Garden in a Cup
In waterscapes, size doesn't matter. You can build the cutest water garden in a large cup. Add a few baby aquatic plants like elephant's ear, cabbage lilies, creeping jenny, and voila! You now have a nano water garden! You can place it on top of your work desk or your window sill to appreciate its beauty.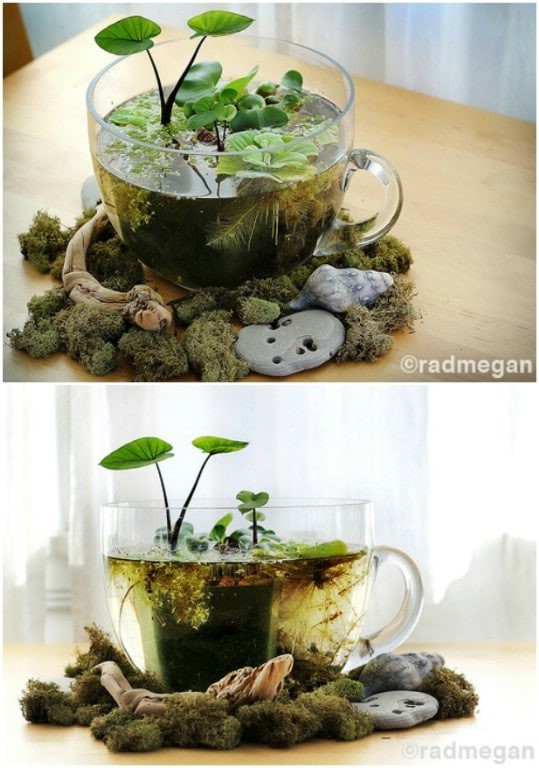 8. Water Garden in Big Pots
Who says trees are the only plants you can place in big pots?
Change the norm by using 20-gallon pots in building a container water garden. It has the depth that your submerged plants and fish will love. It also looks like a mini pond when placed in the empty corner of your patio.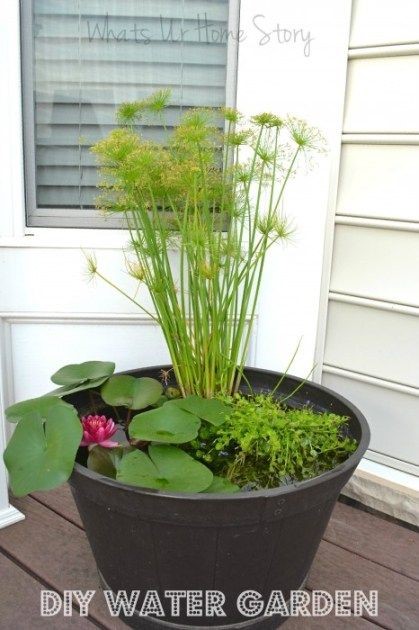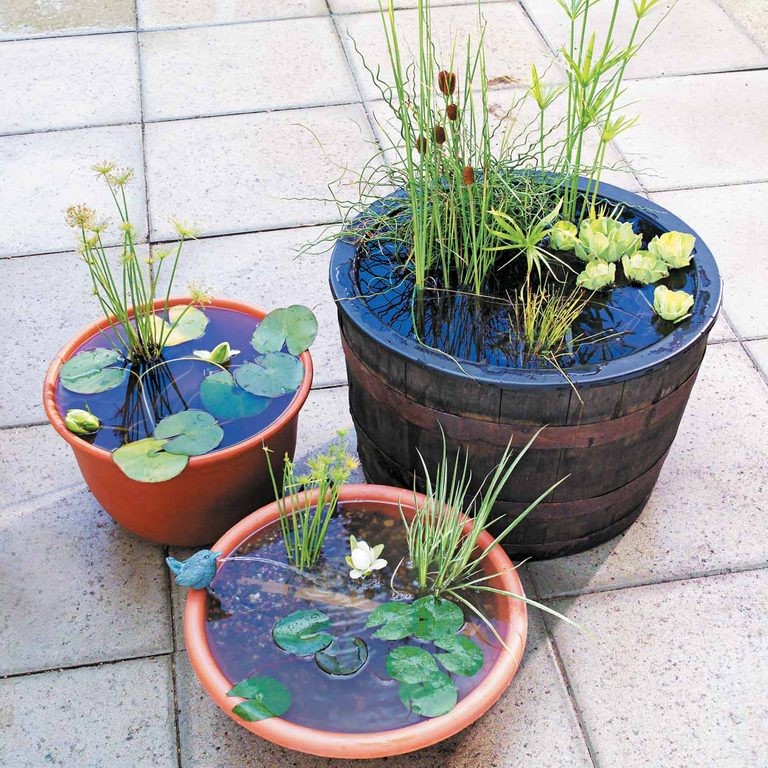 9. Stone Bowl
If you have the means to invest in a sturdy outdoor container, it's best to consider an outdoor or indoor stone bowl.
Stone outdoor water features are durable and can withstand the elements. They can also hold a lot of water without breaking, unlike other pots.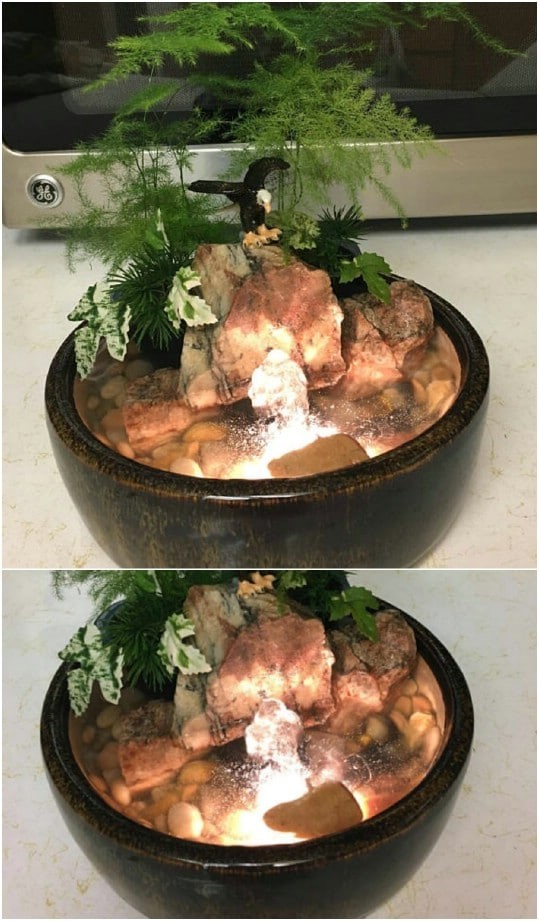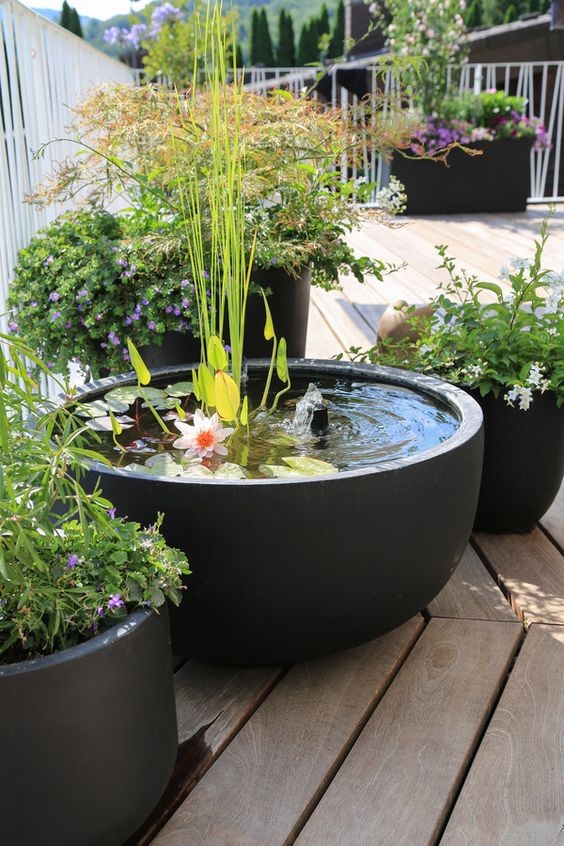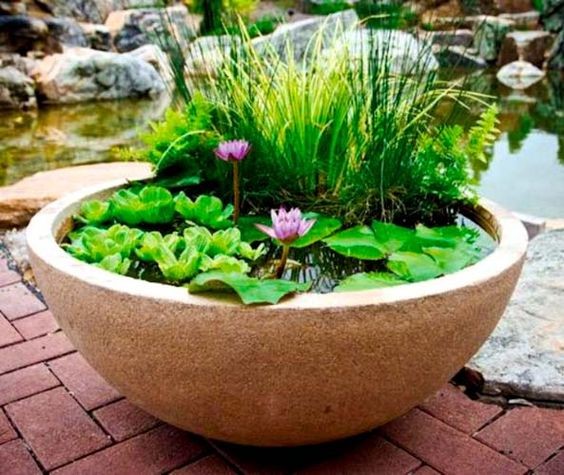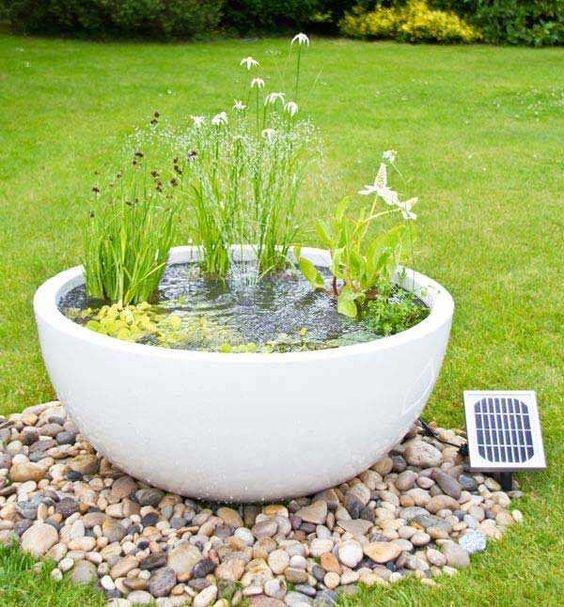 10. Water Garden in a Square Patio Bowl
If you're a beginner in aquascape design, begin your journey by using a mini square bowl as a container. With a few lilies and stones stacked, you can achieve a simple but purposeful water garden.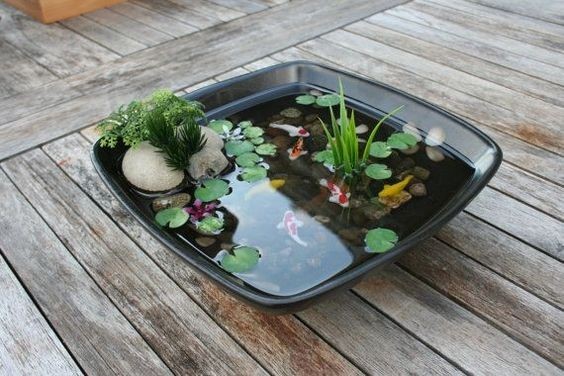 11. Indoor Mixed Garden (Moss Garden/Water Garden)
In the pursuit to make unique landscape designs, some gardeners combine the concepts of terrarium, moss gardens, and water gardens into one masterpiece. You may also try to push the boundaries of the aquascape and create a unique ecosystem for the aquatic plants and fishes.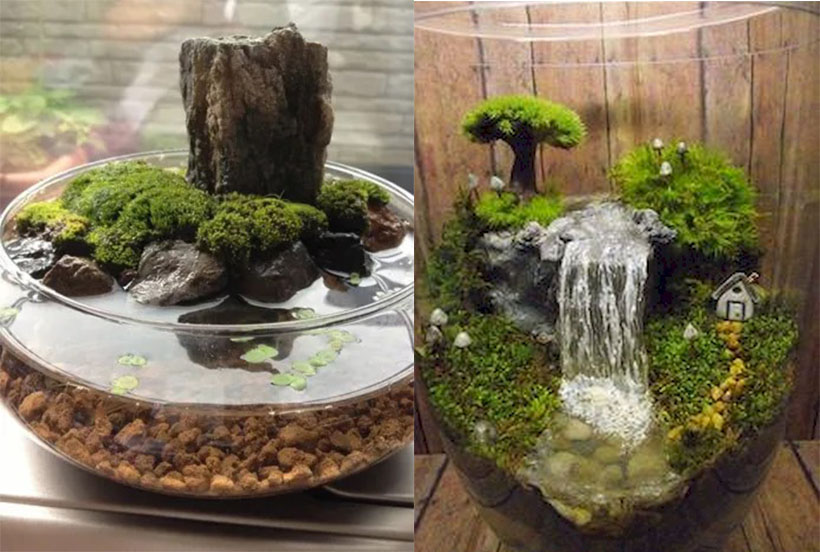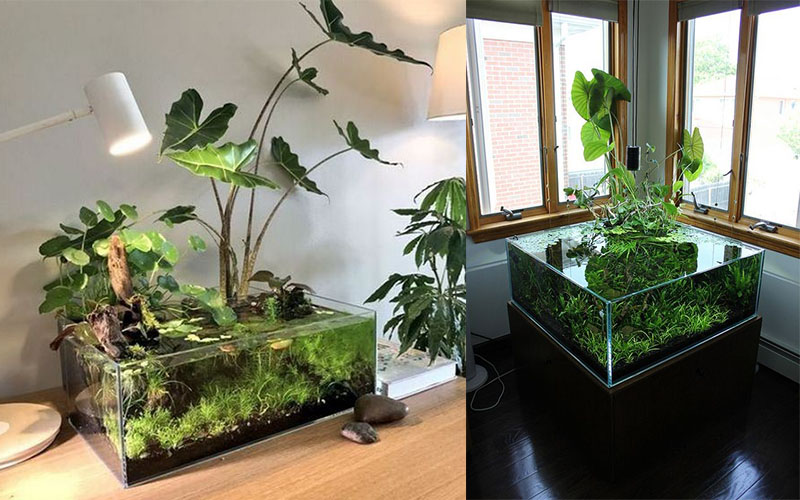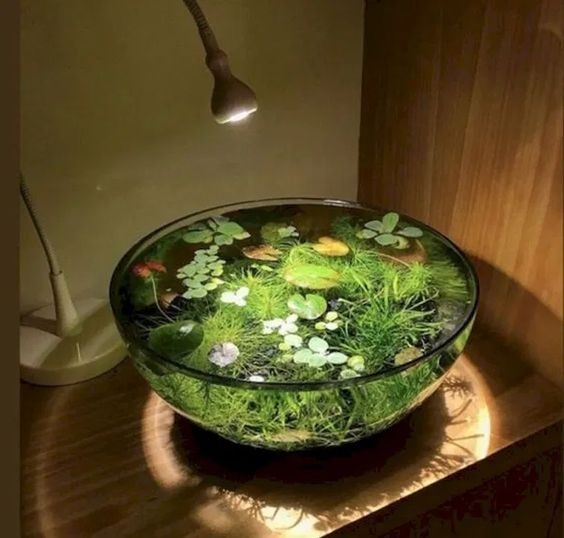 12. Carved Stone
One of the rare containers for a water garden is a carved stone. Some artisan aquascape designers use equipment to carve stones and turn them into a mini pond or water garden.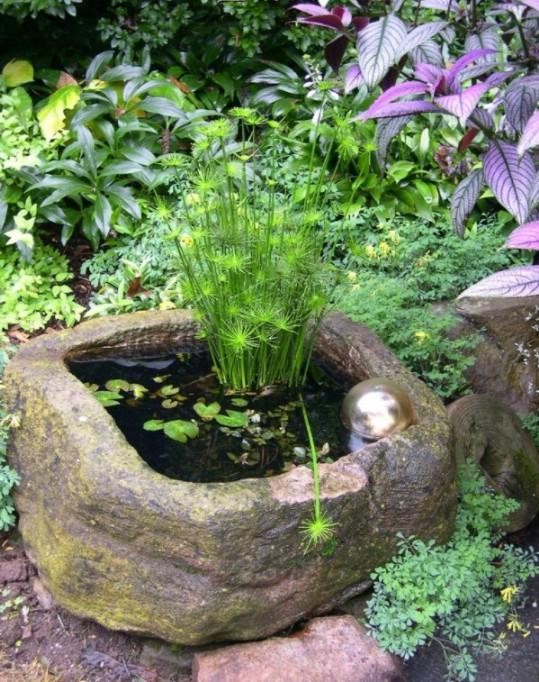 13. Old Enamel Bowls and Pots
Just like how you repurpose some household items for your potted terrestrial plants, you can also do it with mini water gardens. Your old enamel pots provide a rustic accent to your mini water garden.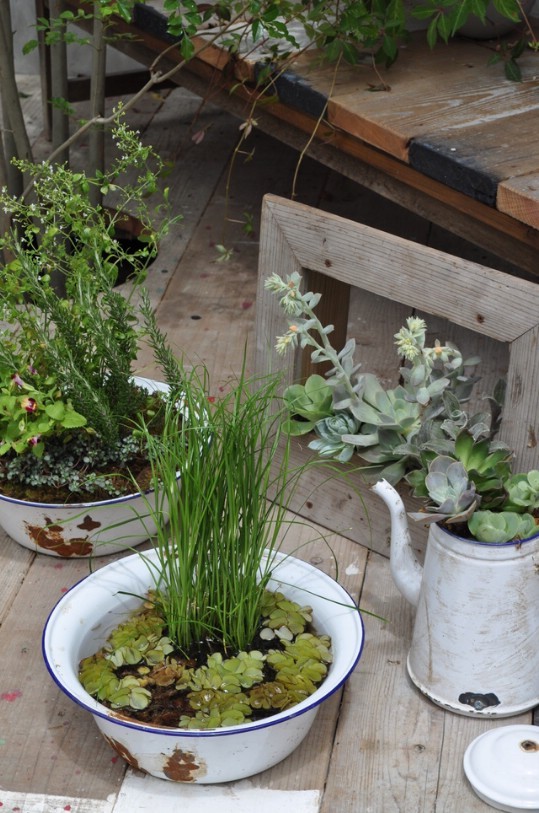 14. Box Water Garden
If you want to maintain the Asian theme in your patio, use a box-type medium for your water garden. Not only does it have a lot of space, but the box design also provides a unique feel to your garden.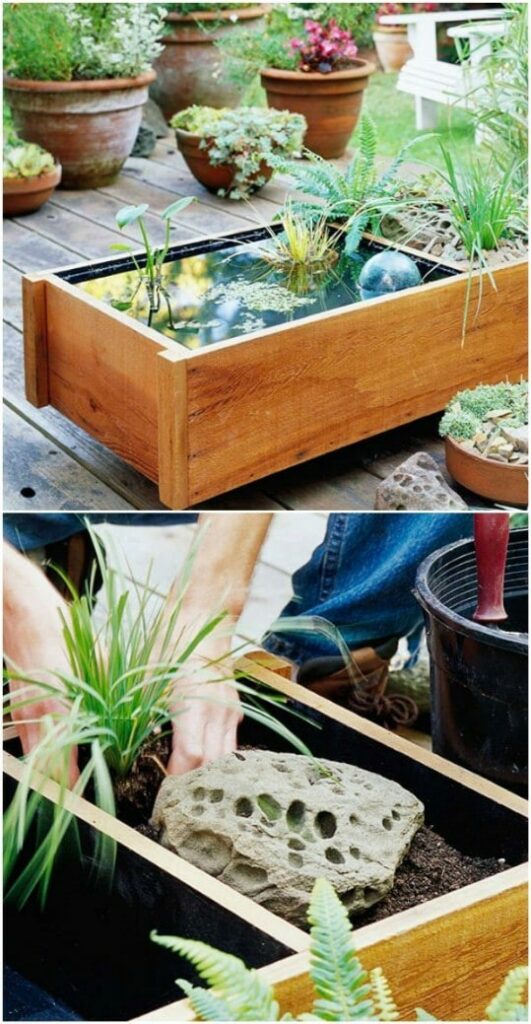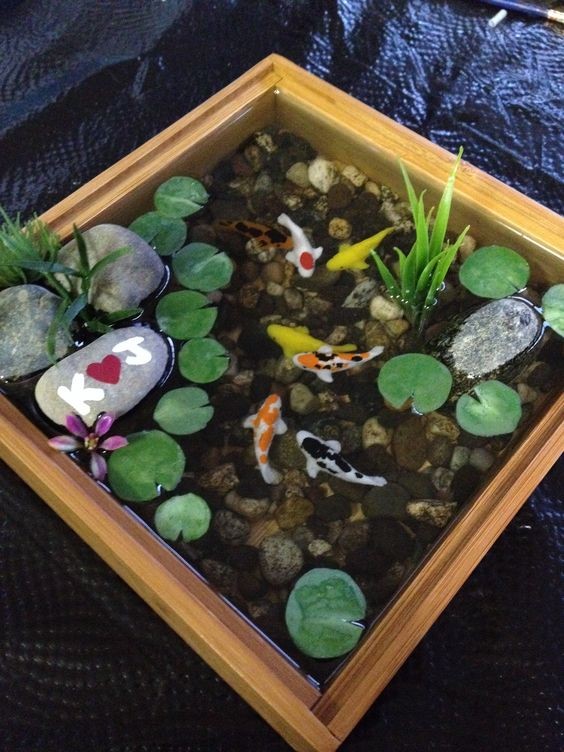 15. Mini Minimalist Pond
The minimalist design has been a popular lifestyle and design philosophy that has also reached the landscaping space. With the use of flat stone slabs as an accent for a contemporary design, you can catch your visitor's attention without adding too much detail.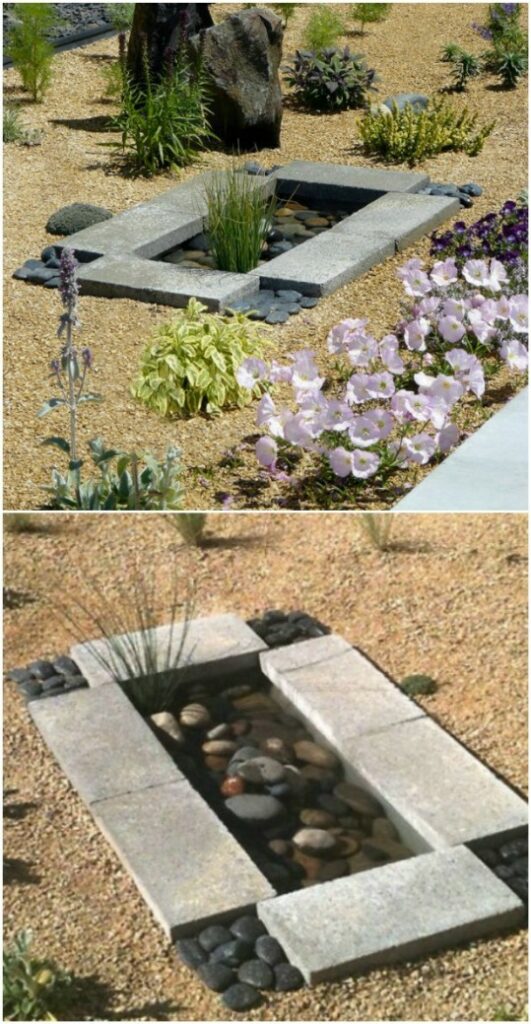 16. Stone Bowl With Bamboo Fountain
While the aquatic plants are the main focus of container water gardens, adding a simple bamboo fountain can make a difference. A bamboo fountain is often associated with Japanese design, which can set up the mood or theme in your garden.
The sound of flowing water from the bamboo fountain adds a relaxing effect to a yard. The good thing is you can achieve it in a small container water garden.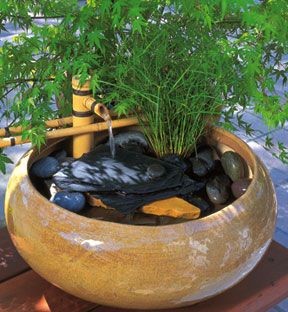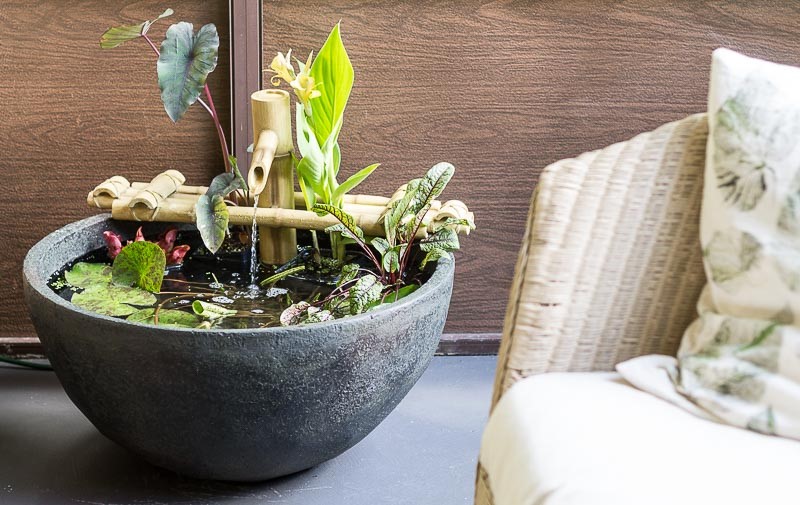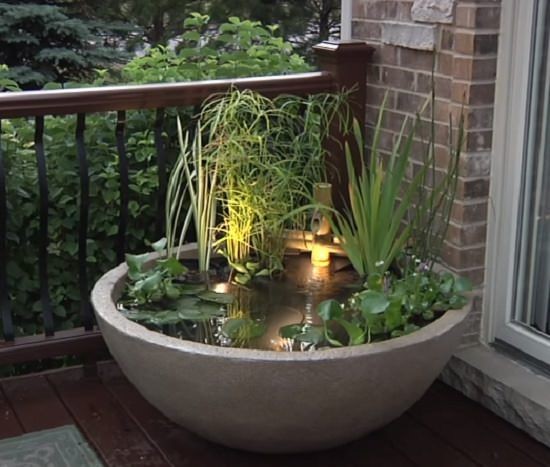 ---
Large-Scale Water Garden and Ponds
If you have the space and a budget to fulfill your dream water garden, why not invest in a design you'll never regret.
Large-scale water garden projects will require a workforce, equipment, and a lot of natural materials. So, it's only natural to have stringent planning during the design phase. Once the soil is dug and the boulders have been lifted, you can no longer change your mind.
The common feature of most large-scale aquascape projects is a mini-pool-like pond. Other details than that lie in the fruit of your imagination and creativity.
As you're trying to visualize some designs, here are some water garden ideas for large-scale projects:
1. Patio Bowls Planter in a Pond
While patio bowls make the best container for small-scale projects, they work perfectly as a tiered fountain. The chips on the edges create a natural ribbon of flowing water from the tiered patio bowl fountain to the pond. They are one of the most affordable accents in a water garden but deliver a unique and beautiful vibe.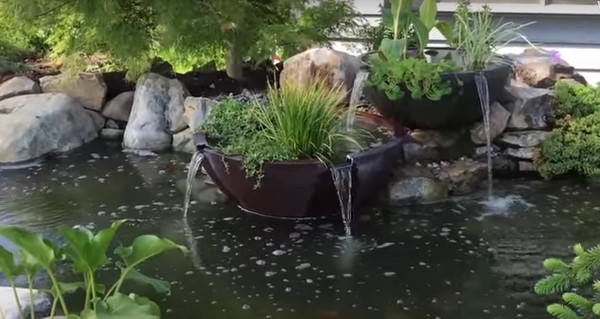 2. Roman-inspired Water Gardens
If you're a fan of Mediterranean architecture and culture, let your heart's desire show in your water garden. Bring the Italian and Roman ambiance to your yard by adding walls and statues fountains as ornaments in your garden.
Check out some of the ready-made water features to achieve in your Roman-inspired water garden: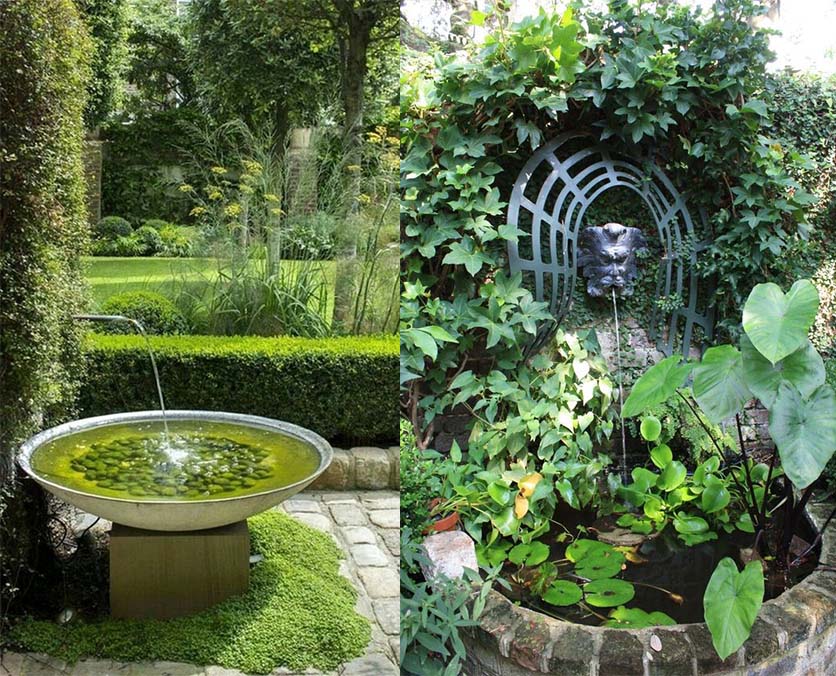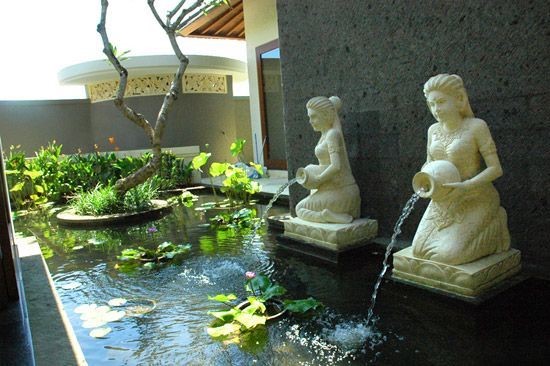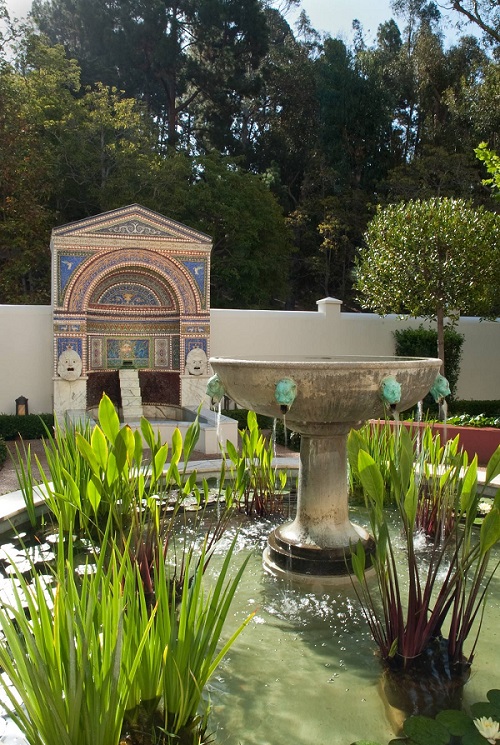 3. Balinese Water Garden
Take the tropical and serene vibe of Bali in your yard by adding some Bali-inspired statues. The statue alone can give your water garden an instant transformation. Pair it with some lilies, creeping jenny, and some tropical plants, and you'll recreate the Asian experience right at your doorstep.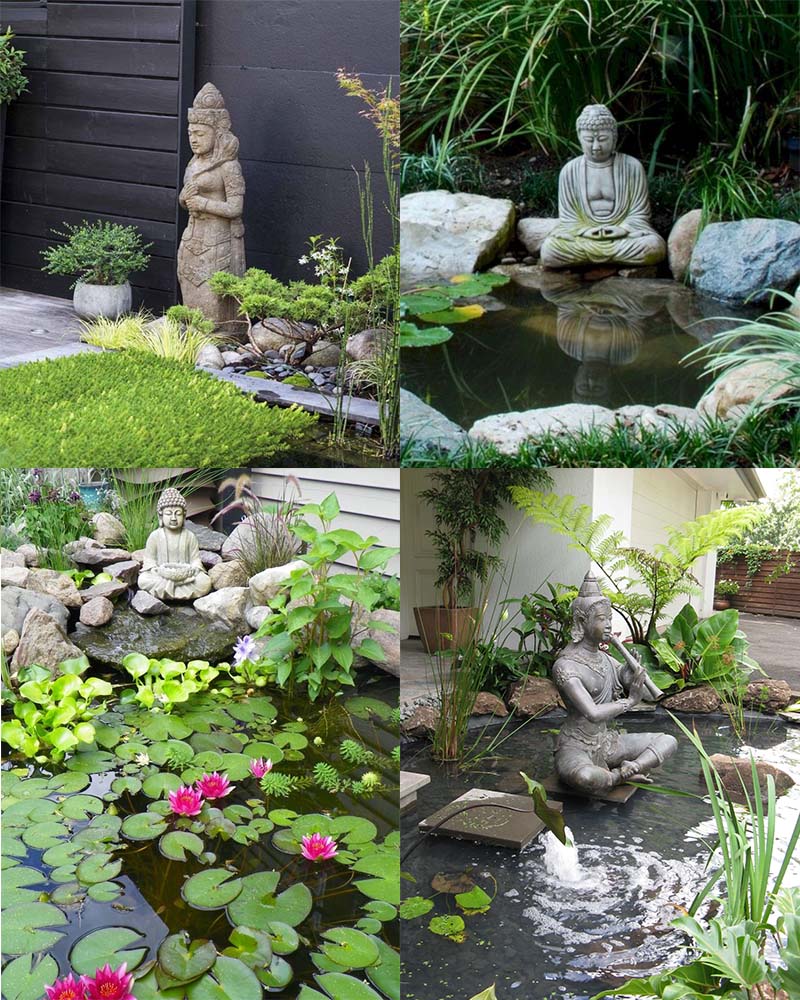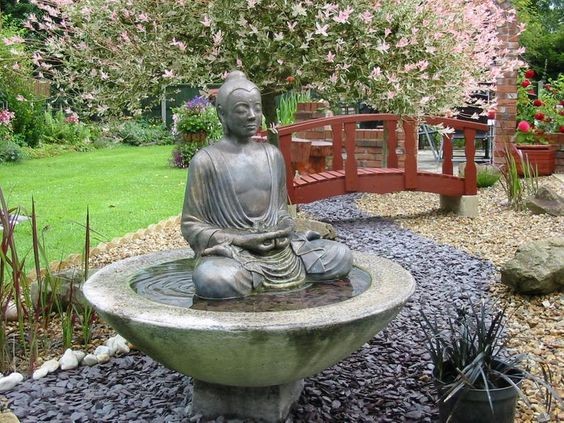 4. Japanese-inspired Water Garden
A simple pond can turn into a Japanese-inspired water garden if you add some notable Japanese pieces like:
Bonsai specimen trees
Pagoda
Mossy waterfalls
Koi fishes
Wooden bridge or deck
Rounded evergreens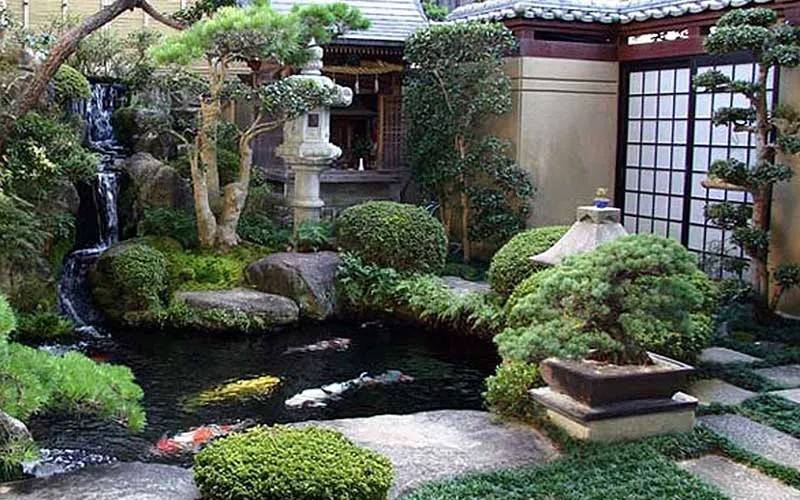 5. Hillside Waterfalls
You can take advantage of the high terrain in your yard and turn it into a waterfall. By adding some boulders, flat stones, and moisture-loving plants around, you can make your water garden look like it's a naturally-occurring stream.
If you have some pine trees in your yard, they create a perfect match for your mini stream or waterfalls.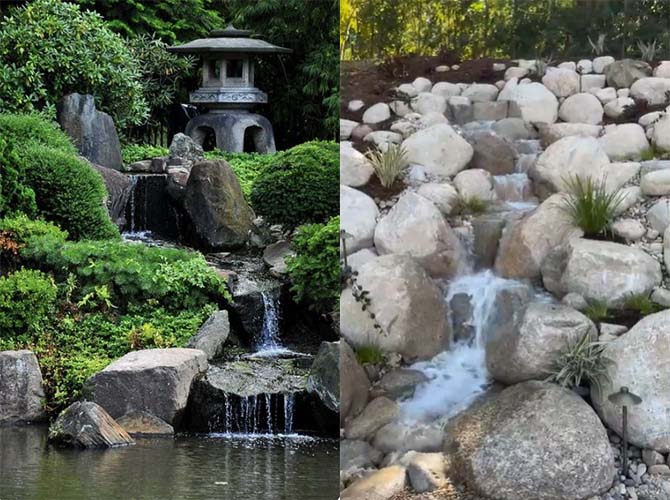 6. Jar Fountain in a Pond
Create a masterpiece by combining different water features like large jar fountains, flat stones, and a pond into one.
The overflowing jars in the landscape may symbolize abundance and a downpour of blessings. Invite the energy of abundance into your humble abode by manifesting them in your landscape.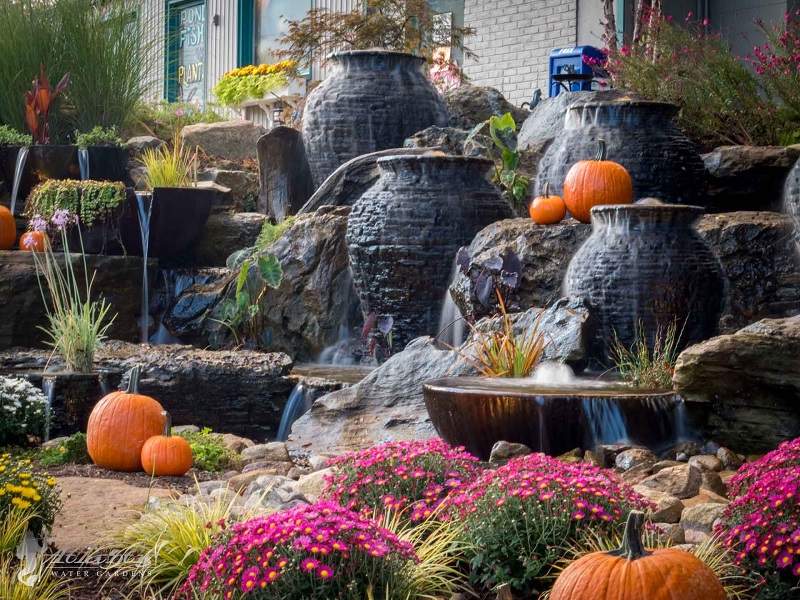 7. Sphere Landscape Fountain in a Water Garden
Sphere landscape fountains are another elegant-looking water feature that will add a luxurious yet relaxing ambiance to your water garden.
Several types of fountain spheres include stone spheres and resin spheres. However, the most eye-catching of them all is the ribbed stone sphere that matches most outdoor home designs.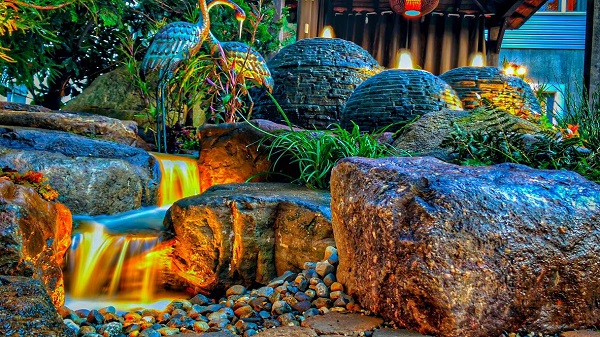 8. Stepping Stones
Some homeowners are not a fan of extravagant and luxurious water garden designs. Some prefer a more realistic approach like a natural-looking waterfall with hidden filtration and fountain systems.
Stepping stone slabs are one of the best options for a natural-looking aquascape design since the slabs can cover the fountain and filtration systems well.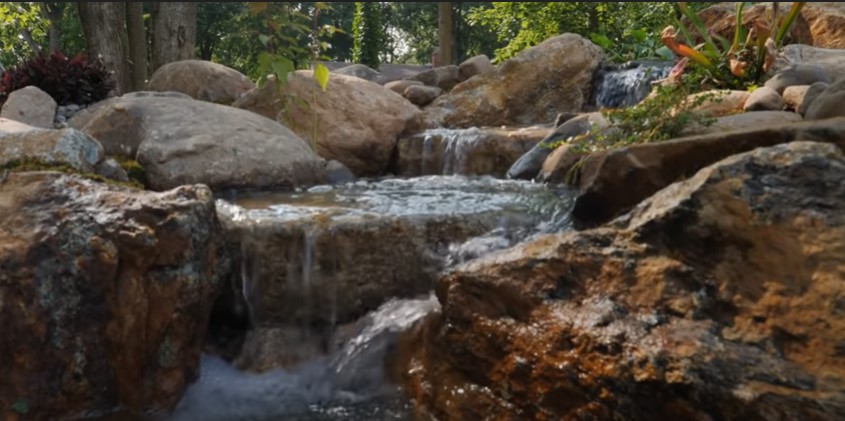 9. Door Fountain
Are you looking for something modern?
Try blending a modern fountain design such as a door fountain and blending it with a small patch of a water garden. The mirror-like water flow in most modern fountains is like a breath of fresh air for those who are used to the vintage-type fountains.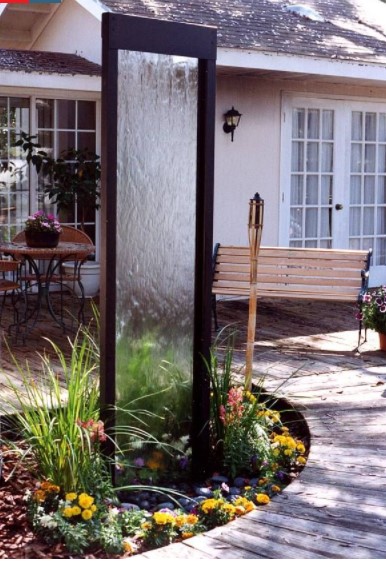 10. Outdoor Rotunda
Make your water garden the centerpiece of your yard by placing it in the middle of a rotunda driveway. The fountain and the diversity of aquatic flora will become the highlight of your landscape. You can build it at the center of your lawn or the middle of a wide driveway to function as a barricade.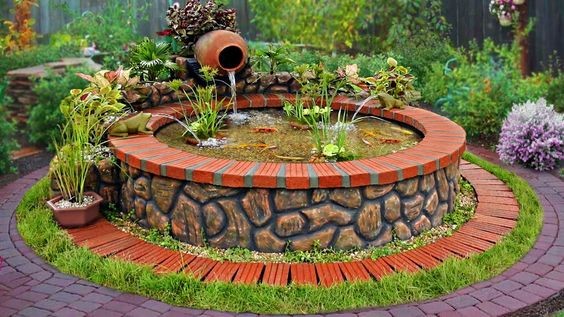 11. Mountain Top Design
Mountain top design is probably one of the most intricately designed water gardens to have. The span of the water garden is covered several feet from top to bottom built from several slabs of rock to recreate a mountain top reservoir replica.
The tree at the top of the garden adds a natural forest-like accent, including the creeping jenny covering the surface of the stone slabs. The aquatic plant selection should also work harmoniously to create a paradise-looking oasis.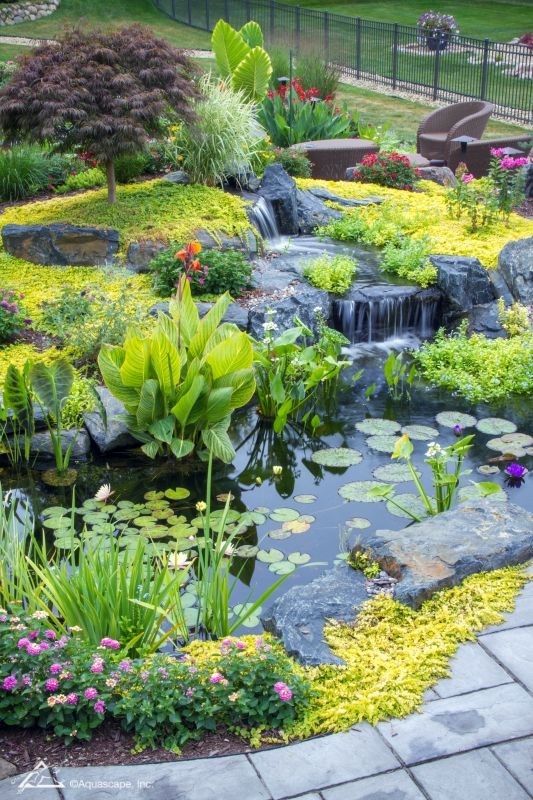 12. Traditional Pond-Type Water Garden
Some water garden designs are old but gold. One pillar design is the traditional pond design, enhanced by abundant aquatic plants, clear water, and colorful koi and goldfishes.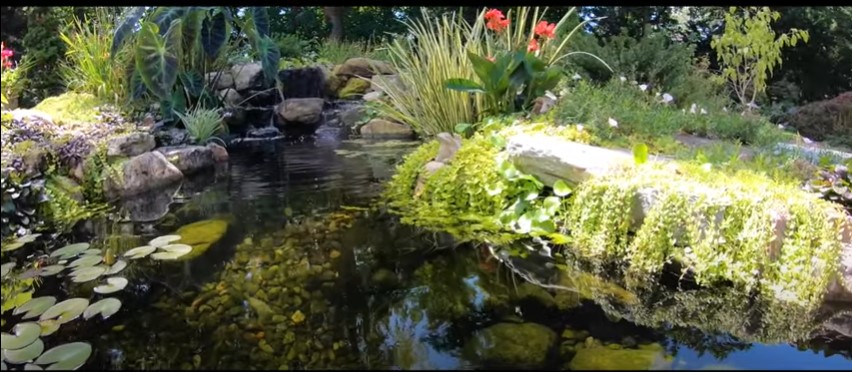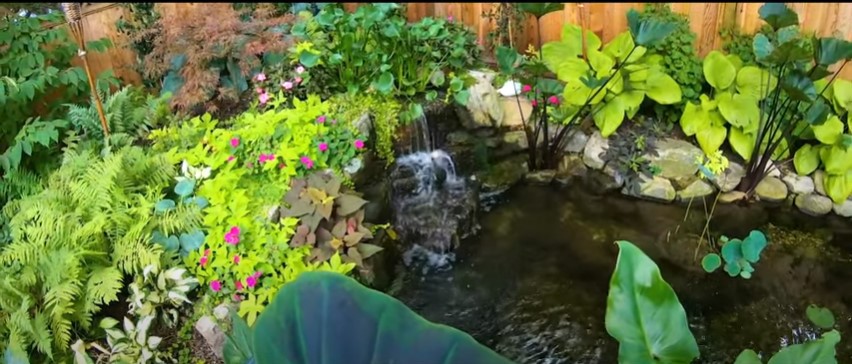 ---
Pondless Water Garden
Pondless water gardens are the new genre of aquascape where the water goes directly to a hidden reservoir under some gravel. The pondless water flow creates an illusion that the water is absorbed by the ground, creating a new experience.
Pondless water garden systems are ideal for those homeowners who don't want to deal with pond maintenance and high water bills.
If this concept is new to you, here are some of the water garden ideas in using a pondless design:
1. Pot Fountains
Create a tribal-themed-water garden by placing pondless jar fountains on each corner of your yard and illuminating the water flowing through a warm light. You may also add a spitter which creates a more surreal experience, especially at night.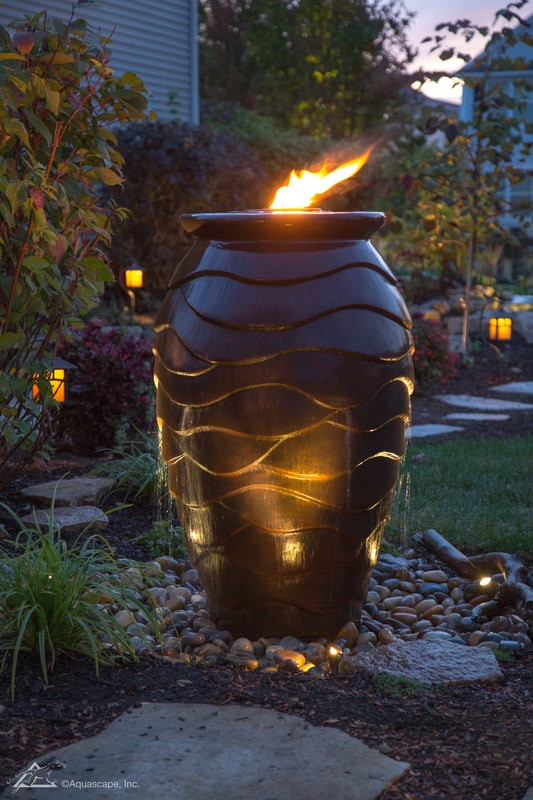 2. Wall Features
Add a unique element to your pondless water garden by using unusual water features like ribbed walls. The water flowing on the ribbed walls add a visual effect to the water garden. Ribbed walls are the new water feature gaining popularity as many landscape artists use them locally.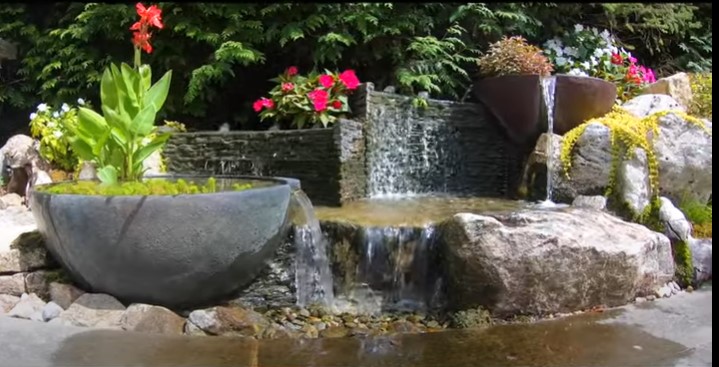 3. Mini Waterfall
The appreciation of the beauty of rock color, shape, and texture becomes more visible in most mini waterfall designs. The water and rock features are the main focal point of the water garden, and the plants are minimal.
Such design is a popular option for those individuals who love a minimalistic lifestyle that emphasizes a less is more mentality.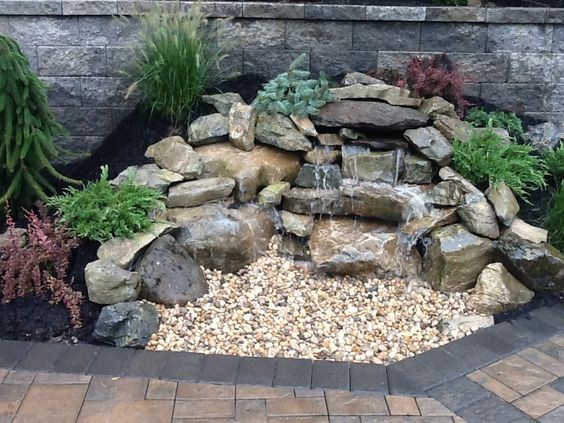 4. Flat Stones
The water flow in flat stones creates a thin sheet of water that looks more relaxing than the visual of water flowing on ribbed surfaces.
If you are looking for a water garden that works well for meditation and yoga practice, consider the tranquil water flow in a flat stone-designed water garden.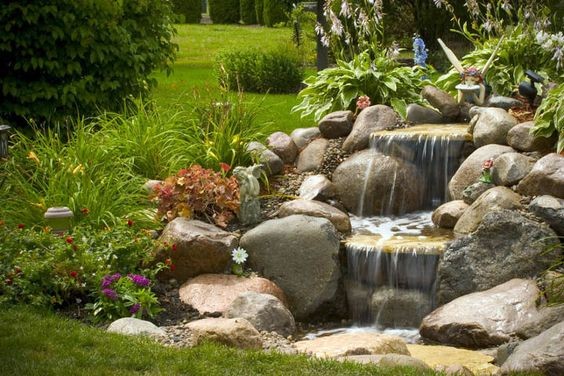 5. Basalt Fountain
If you're going for a more modern concept, the basalt water feature might blow your mind (and your pocket).
Basalt is a volcanic rock that blends a darker shade in a garden full of green. Basalt columns are hardened lava that stands out in the water garden due to their unusual shape, sizes, and contrasting color to the green background.
Basalt fountains are a statement piece in a water garden because they are expensive. A whole basalt water fountain system in Costco costs around $1200 that contains three last column fountains with a pump and filtration system. Si, having one in your yard can already give off a luxurious impression.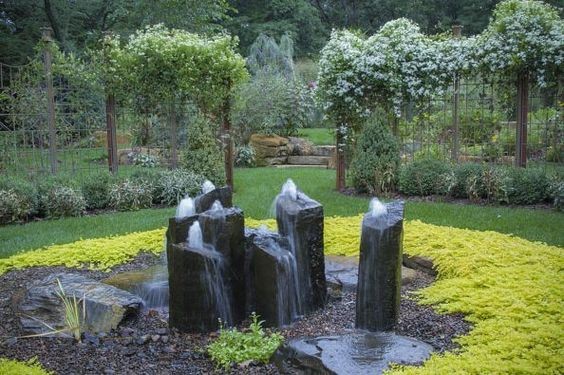 ---
5 Factors That Build a Breathtaking Water Garden
Whether you're hiring an expert or doing a DIY water garden, here are the factors that make a stunning water garden:
Water Feature/Water Source
The type of material that you will use as the focal point of the water garden is a crucial part of its overall appearance. Try to achieve a uniform design and do not overdo the ornaments.
You must remember that the water garden should be a source of relaxation and seeing a lot of water features can be distracting too.
Lighting
Light fixtures in your water garden provide several advantages. First, they emphasize the water flow and detailed surfaces of the water features like the ribbed spheres.
Second, the lighting helps set the mood and make your water garden more lively and luxurious. Lastly, they make the water garden functional to its purpose at night, which is perfect during dinner parties.
Placing a seating area next to the water garden creates an inviting notion, especially for those who seek a moment of relaxation after a long day at work.
Plant Diversity
The main highlight of water gardens lies in different aquatic plants and making them work together as one beautiful landscape.
Location
A water garden placed in a high-foot traffic location will only be a nuisance rather than a purposeful asset in the property.
Planning the best area for the water garden is one of the most crucial aspects that you should consider. Make sure that its location will add more value to your place and lifestyle to make all of your efforts and resources worthwhile.
Final Thoughts
Did you get a lot of water garden ideas from our list?
Let us know in the comments which water garden design is your favorite. We hope that our extensive list of water garden ideas helps you build the best aquascape in your neighborhood.
Please share this post with your friends and help them make brilliant aquascape designs perfect for their yards. Enjoy the fun of building your gardens!