Evergreens are among the best plants to have in your garden. They maintain the greenery in your lawn throughout the year. Landscaping pine trees in your yard is a great way to reinvent your space and make it feel more refreshing.
Like any other tree, pine trees can also be challenging to include in your landscape. It alters the soil structure and makes it more acidic, not to mention the shade it creates underneath. Not a lot of plants can thrive in acidic soil, and the invasive roots of pine trees can also be an issue.
The good thing is you can still landscape pine trees by choosing the best varieties for your climate and location. There are also varieties of plants that thrive in shady areas and acidic soil. Before we proceed to the landscaping ideas, it is worth assessing why working around pine trees is a rewarding endeavor.
---
What Makes Pine Trees Suitable For Your Landscape?
If you're done cleaning and piling up leaves every spring and fall, evergreens like pine trees make a perfect alternative. Most gardeners switch to these trees because of their huge impact in shifting the ambiance in their yard.
Here are some of the benefits of having pine trees in your landscape:
Do Not Lose Their Foliage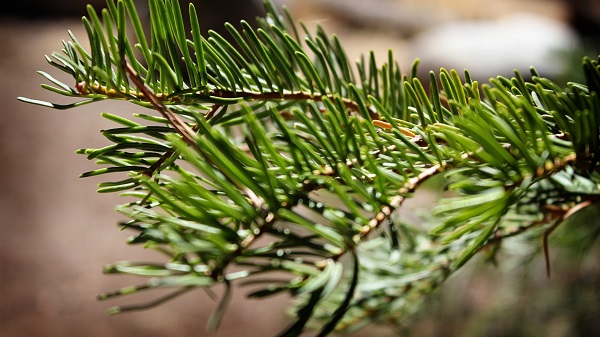 Pine trees belong to the conifer group of evergreen trees. The needle-like leaves of conifers are rolled leaves covered with a waxy surface that helps them conserve moisture and stay green during cold seasons.
The longevity of their leaves makes landscaping pine trees a cost and time-efficient project. You can still get the shade and landscape design in your yard without the hassle of cleaning up like with deciduous trees.
Good For Privacy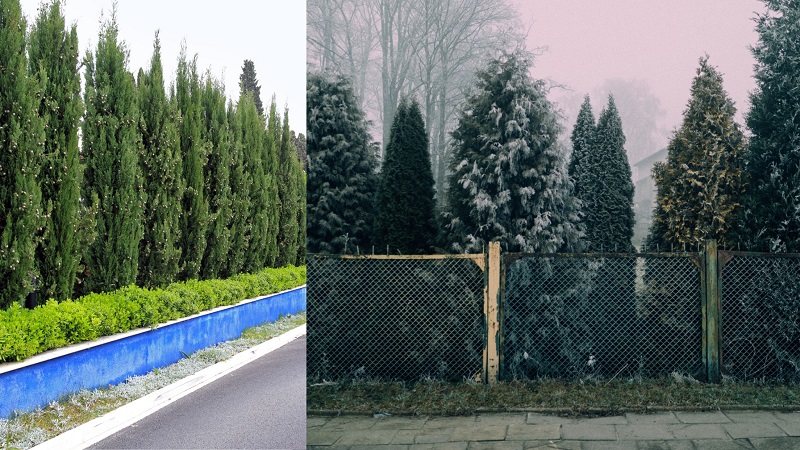 If you live next to a road or highway or are simply not on good terms with your neighbors, a line of pine trees next to your fence will provide you with the privacy you want.
Fresh Aroma
The refreshing aroma of pine creates a relaxing ambiance in your yard. People often go to cabins in the countryside just to inhale that fresh scent, but you can have that in the comforts of your yard.
Ideal Windbreaker and Shade
Due to their height and dense branches, pine trees can provide year-round protection to your home against strong winds and harsh sun.
Types of Pine Trees Ideal For Garden Landscaping
Different kinds of pine trees can thrive in both cold and sunny weather. Some dwarf varieties stay low and blend well with other plants, while some reach 60 feet and become a focal point of the landscape.
Discover which type of pine tree can suit your landscape plans for your yard below:
Pine Trees Ideal For Small Gardens
Check out the small varieties of pine trees that you can place in your front yard or empty spaces around your yard:
(1) Single-leaf Pinyon Pine: A native pine tree variety in the US that can grow up to 12 to 15 feet. It is a bushy slow-growing tree that can blend well with other plants in your garden. Its rose-like cones produce edible pine nuts that you can enjoy with your family.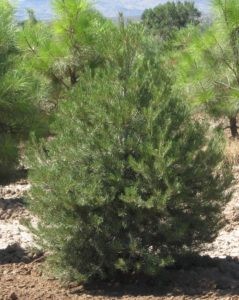 Pinyon pine tree is an ideal option in growing pine trees for borders or fences, rock gardens, and containers. It has dense branches, suitable to improve the privacy of your yard.
(2) Japanese Red Pine: A slow-growing pine tree that grows more beautiful as it ages. It has an orange-red bark and twisting trunk and branches that add up to its charm. It is suitable as a focal point of landscape in small gardens.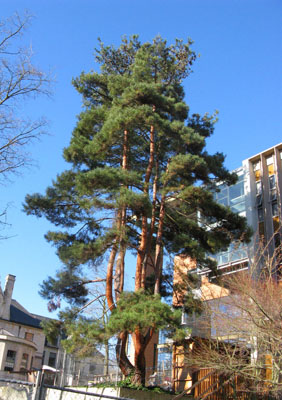 (3) Japanese Black Pine: A fast-growing variety that is popular for its bonsai specimen. It can reach up to 60 feet, but some are pruned to maintain their height and allow the branches to grow horizontally. It is a perfect show-stopper for its beautiful arching branches and puffy leaves in rock gardens or front yards.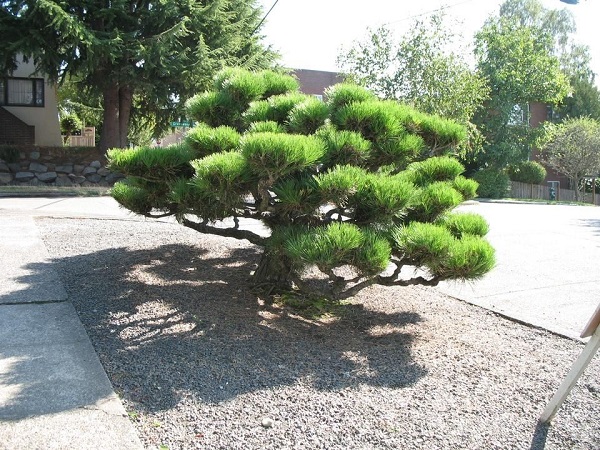 (4) Dwarf Swiss mountain pine var. Pumilo: A small variety of pine that grows into pompom-like shrubs in the garden. The color of its leaves changes between gray and deep forest green creating a rustic look.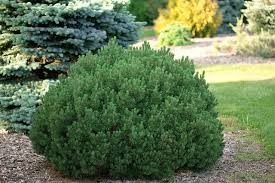 It can grow up to 20 feet but is often maintained as a shrub that blends well with other types of plants. It is suitable as an accent landscape design in rock and coastal gardens.
(5) Jeffrey Pine var. Joppi: A small variety of Jeffrey pine that grows into a ball of evergreen with 8-inch long needles. It doesn't grow beyond six feet which makes it a good option in building your patch of acidic plants or evergreens.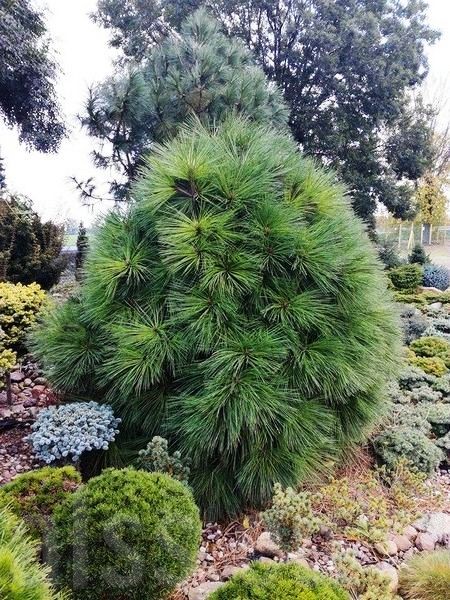 Joppi pine has a reddish-brown bark, blue-green leaves, and an irresistible aroma. It thrives in sunny areas, making it an ideal addition to rock gardens or container-grown greenery that greets your guests in your front yard.
Pine Trees Ideal For Huge Spaces
Tall varieties of pine trees are often the specimen tree in a landscape. Specimen tree means that the tree is used as the focus or focal point of the garden.
Here are some beautiful tall pine tree varieties that can give your yard a package of weather protection and an ambiance of the highland woods:
(1) Eastern White Pine: Landscape aside, if you want to grow trees that your future generations will see, you should start with Eastern white pine. It can grow up to 80 feet and will live in your garden for centuries. Its dense branches make it a great screen for privacy, a windbreaker, and a home for wildlife like squirrels and porcupines.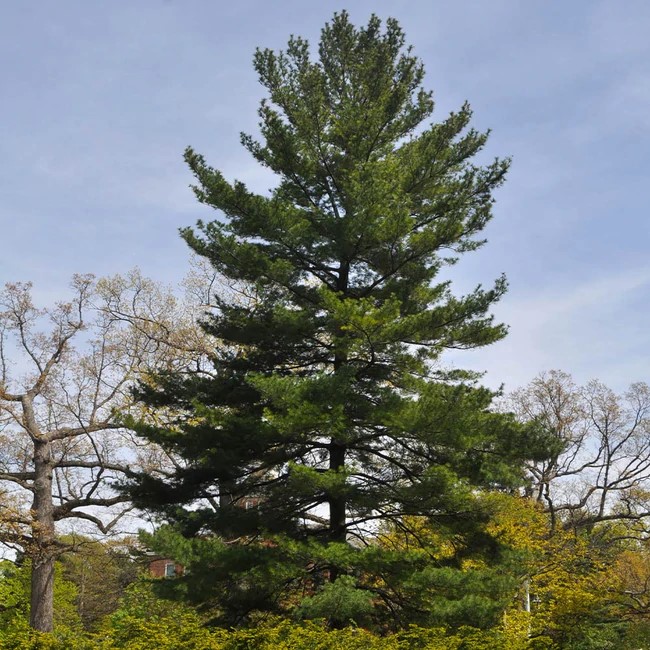 (2) Monterey Pine: The most common pine tree in the US. It is a fast-growing tree that can grow up to 100 feet. It has 3 to 6 inches long needles and fist-sized pine cones. It usually grows in coastal areas in California, so it may not adapt well in cold regions. Monterey pine is huge and works best as a specimen tree.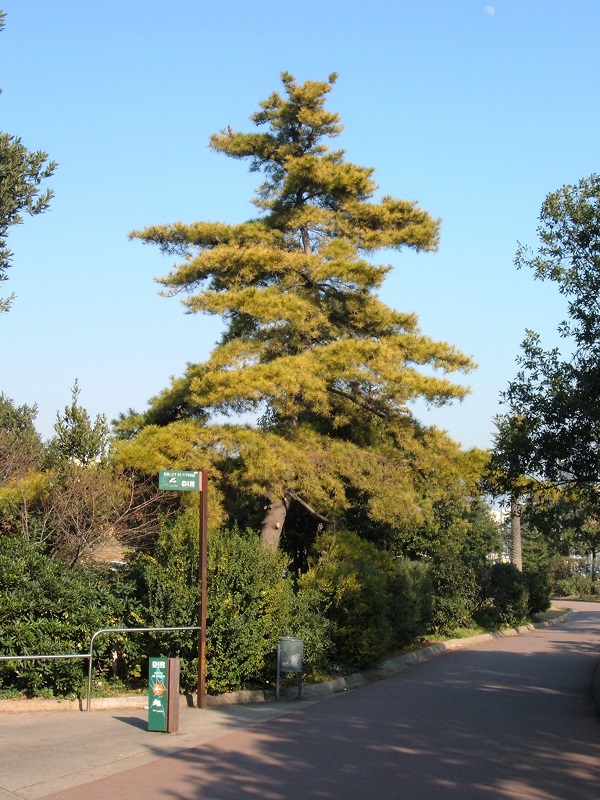 (3) Aleppo or Mediterranean Pine: A fast-growing and versatile pine that grows in dry and poor soil. It grows long trunks and boasts cauliflower-shaped foliage. It can reach up to 60 feet and tolerates hot and windy conditions. It's ideal as a specimen tree or shade for outdoor seating areas.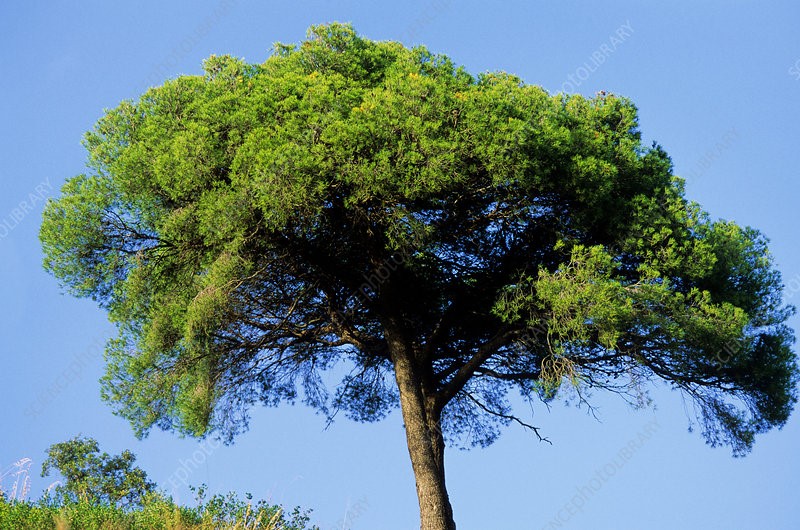 (4) Japanese White Pine: A tall tree with neatly layered clusters of foliage that you can see from afar. Due to its clusters of foliage and neatly spaced branches, it became a bonsai specimen. It produces small cones and has a gray bark that creates a beautiful accent when they shed. It is best for rock gardens as a specimen tree or a bonsai in a zen garden.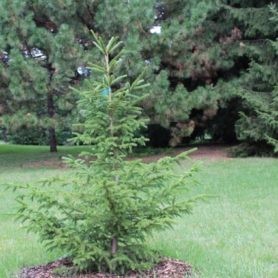 (5) Scots or Scotch Pine: Often used as a Christmas tree, Scotch pine is one of the long-living trees that your future generations can see. It grows up to 145 feet creating a dramatic effect on your landscape, making it look drawn out of a painting. Its beautiful foliage spread makes it a star in a huge-garden landscape.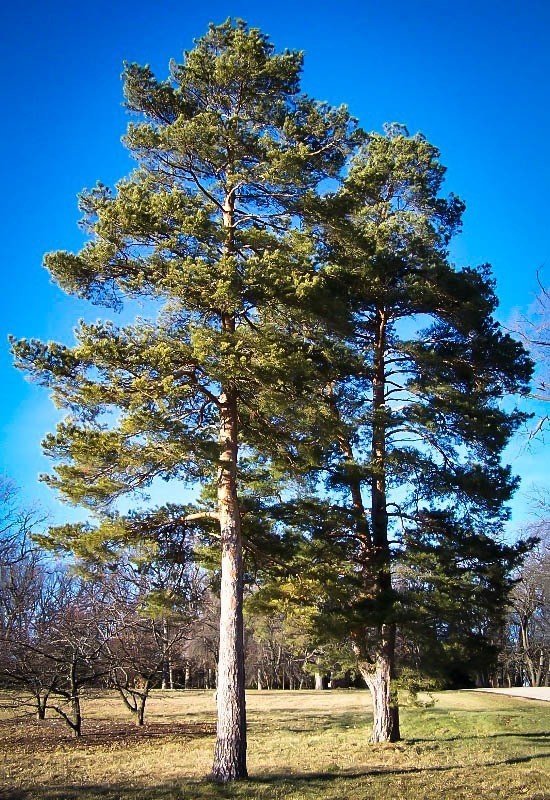 (6) Oregon Green Pine: A small tree with eye-catching unique foliage formation. The leaves are densely packed against its branches that form a baby-bottle-brush-like shape. The branches grow upwards, making the tree a unique-looking specimen tree in your landscape.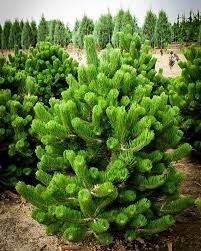 Due to its dense foliage, Oregon green pine is a good option as a landscape design next to a swimming pool or fence.
(7) Silveray Korean Pine: Landscaping pine trees can cause some challenges when it comes to space and pruning chores. Silveray Korean pine comes as a solution for such issues since it is a compact tree that grows up to 30 feet with a minimal spread of 10 feet.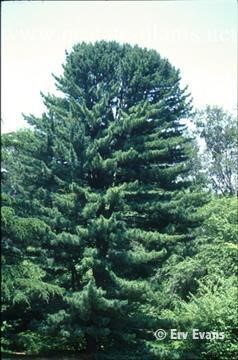 Silveray Korean pine is a partial-dwarf variety that produces silver-gray needles that make it stand out in a landscape. Due to its uniform compact growth, it is ideal for driveway, border, or fence.
(8) Italian stone pine: It is probably the most picturesque pine tree due to its long trunks with twisting branches lying on top. Its shape creates a unique inverted triangle that resembles the shape of an umbrella or a make-up brush. Its eye-catching dense foliage makes it a unique addition to huge yards, especially when they are well-spaced.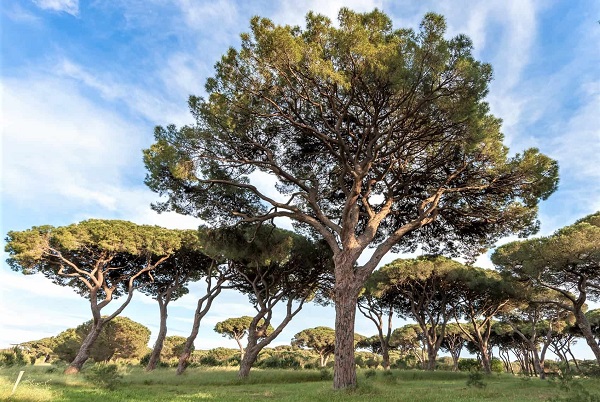 Landscaping Pine Trees: 10 Cool Ideas To Try In Your Yard
Considering the shade and soil acidity, landscaping pine trees can be a jigsaw puzzle for some homeowners. Placing them in the wrong location can cost you some inconvenience when they grow into 100-foot trees.
So, here are some ideas on how you can start landscaping pine trees in your yard:
#1 Use pine trees as a privacy screen between you and your neighbors or streetside
A big variety of pine trees makes an effective screen for your outdoor facilities. Once the leaves grow and branches spread, the dense foliage will soon become a natural fence.
Plus, you'll benefit from the shade and their refreshing aroma throughout the year. Check out other landscaping ideas in using pin trees as borders below: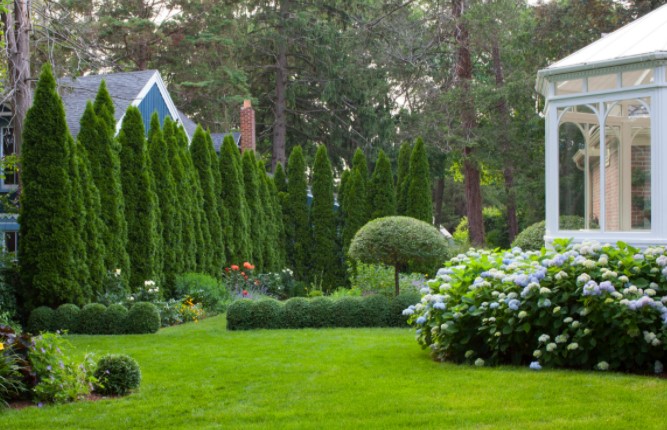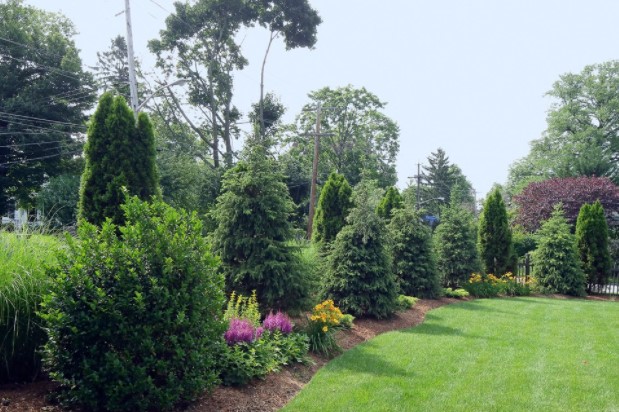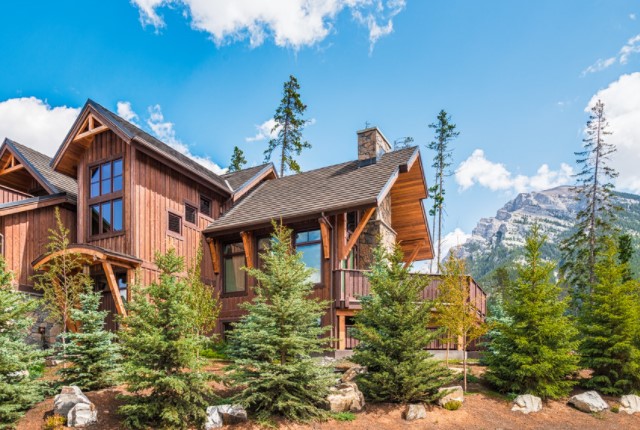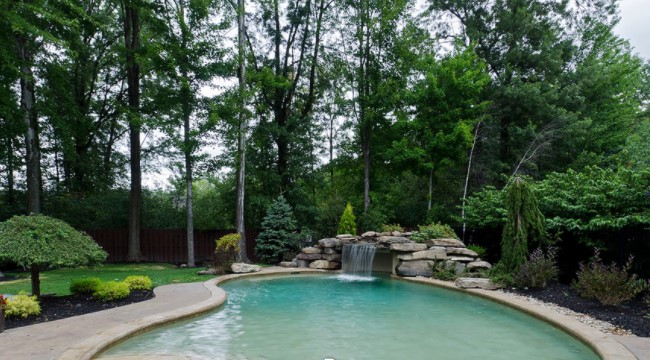 #2 Let pine trees save you some dollars on outdoor tents and umbrellas
The shade of trees creates a relaxing vibe and a cool area against the harsh sun. Landscaping pine trees next to your outdoor sitting areas or patios creates a cozy experience for you and your guests. Check out some landscape inspiration below: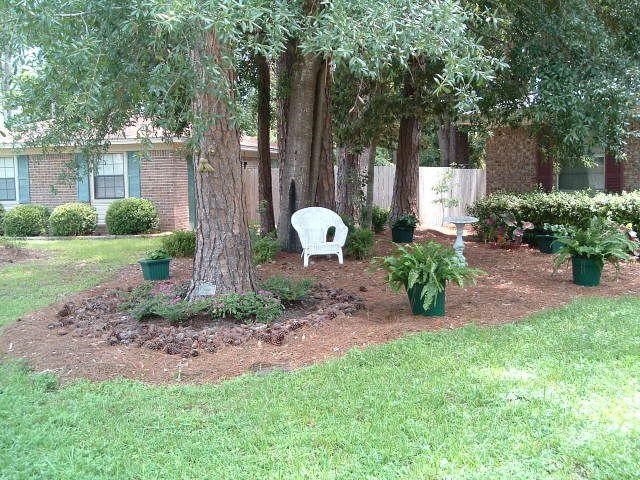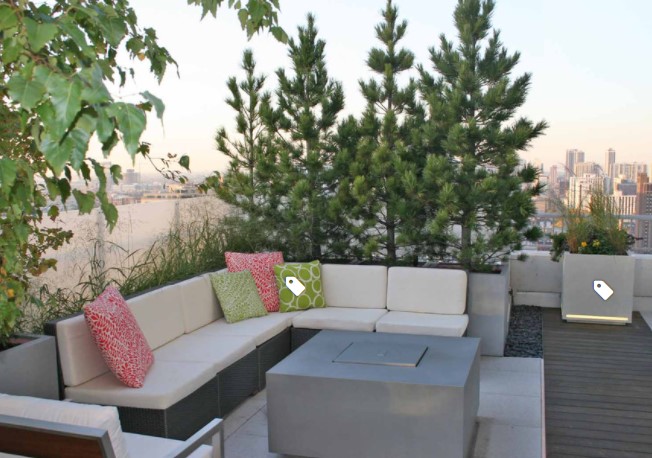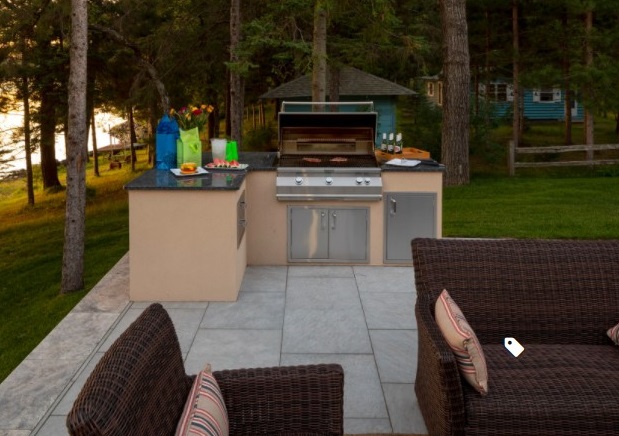 #3 Pine trees add a good contrast to brick and stone stairs
Isn't it nice to go up and down the stairs in the shade of luscious pine trees? The trees will create a hillside ambiance to your urban landscape. You no longer need to drive miles away from home to experience highlands forests.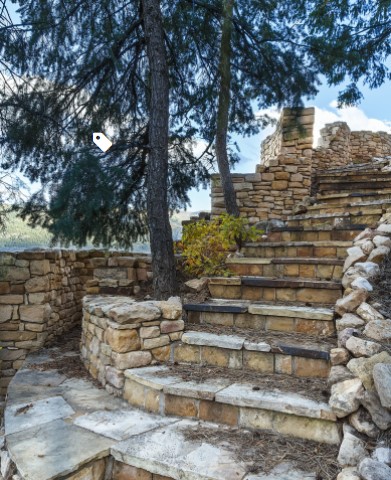 You can mimic the elevation in your outdoor landscape design and strategically place the trees when they can produce shade during the hottest time of the day.
#4 Lining up pine trees on walkways makes daily afternoon walks more enjoyable
Some people love walking around their yards after a long day at work or in the morning when they want to get some sun. Walking around pine trees lined up next to walkways will make you feel the nature around you. The scent, the rustling of leaves, and the shade of pine trees can make your outdoor walks a wonderful experience.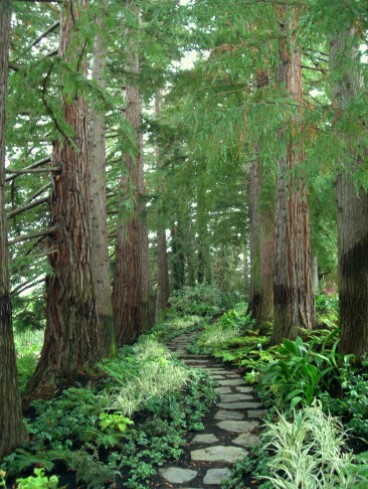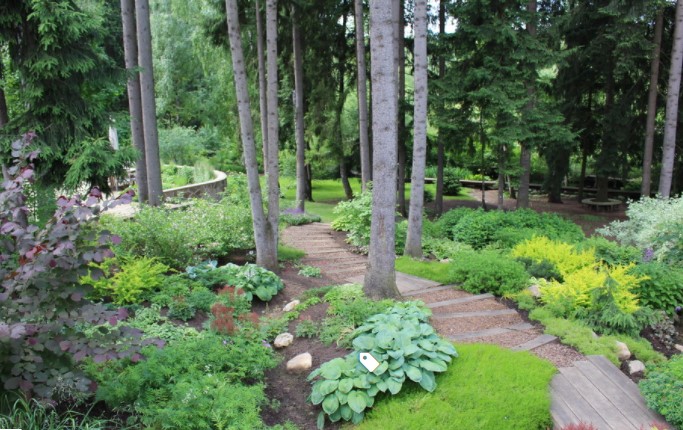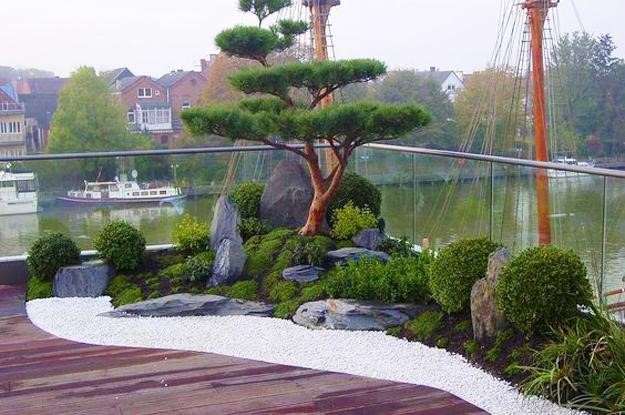 #5 Pine trees give a unique ambiance to outdoor sitting areas
With two years of staying indoors due to the pandemic, isn't it nice to spend some morning coffee or work sitting in a chair under the shade of trees? Take advantage of your outdoor space and make your mornings or working hours a more comfortable time for you.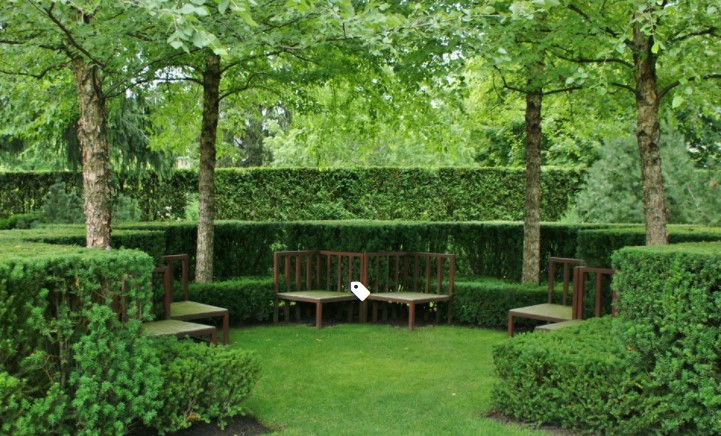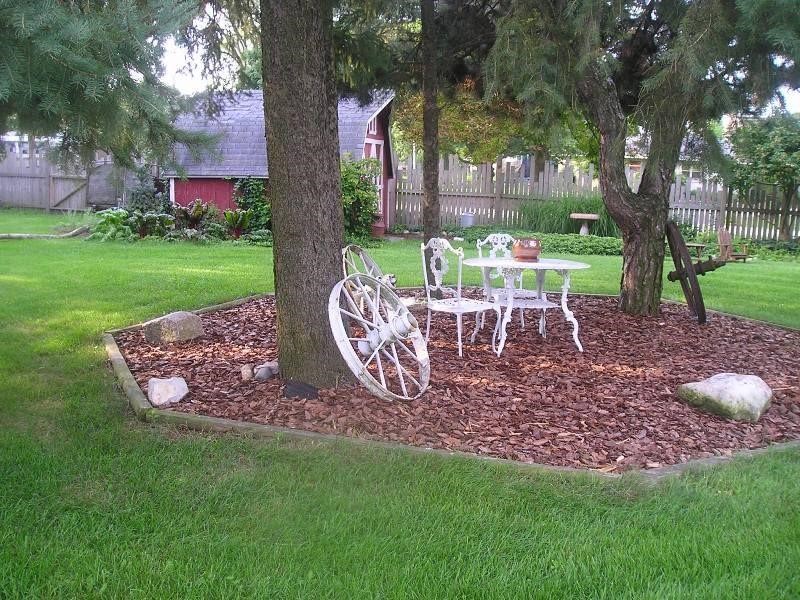 #6 Show off your gardening prowess by blending pine trees with acid-loving plants
Landscaping pine trees into your garden takes a creative pursuit since only a few can grow well with them. Try mixing and matching different plant varieties of evergreens and flowering plants to achieve your landscape art style, whether it's a zen-inspired landscape or a French renaissance design.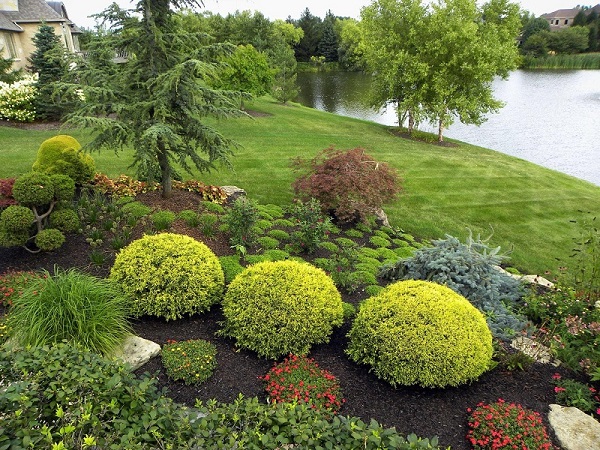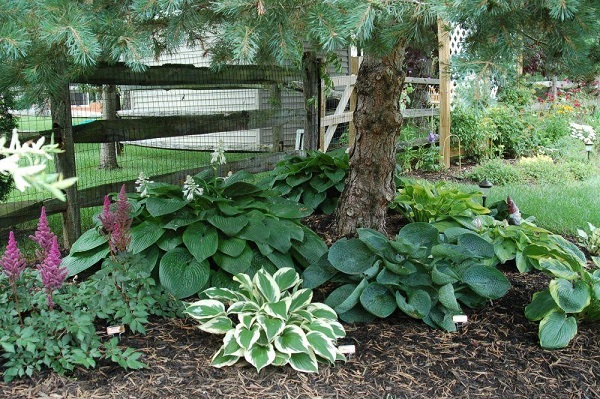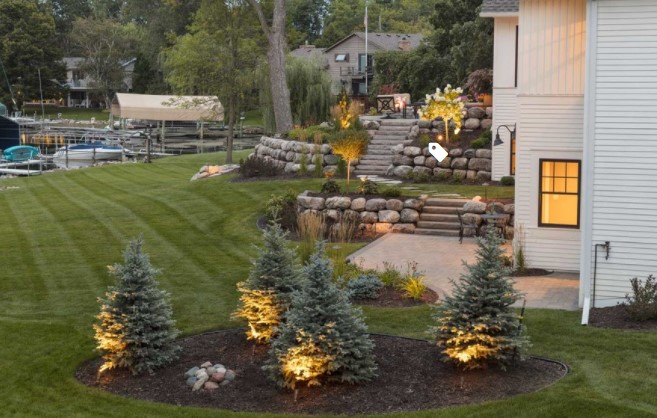 #7 Pine trees bring some life to the dull and empty areas of your property
The traditional design often focuses on the front and side yards without emphasizing some dull corners. Take a creative look at your landscape by adding some dwarf or specimen-type pine trees in the bare corners of your home.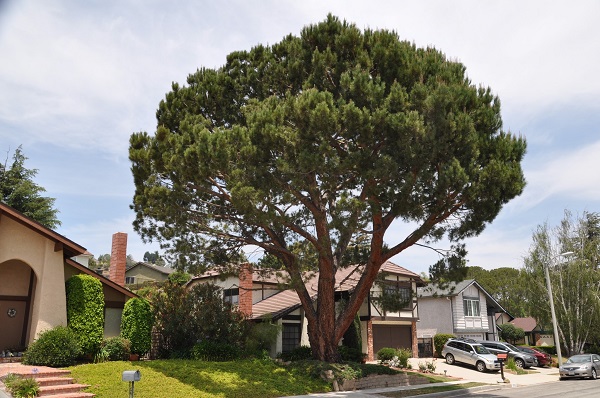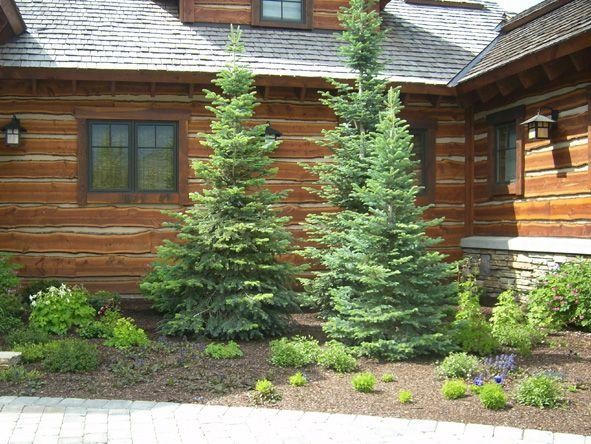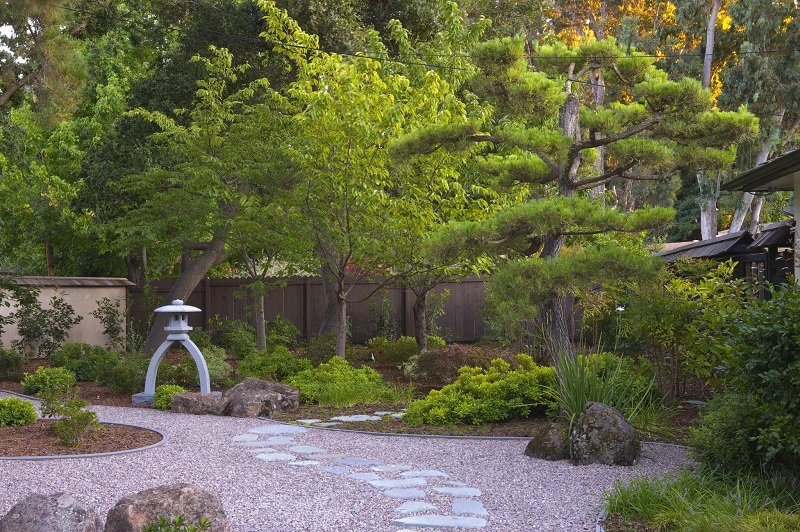 #8 Potted pine trees add a luxurious feel to the front doorways
Potted dwarf pine trees build an impression of luxury and elegance into a home. Less is more, and one vigorous pine in a beautiful container can speak volumes when placed in your doorway.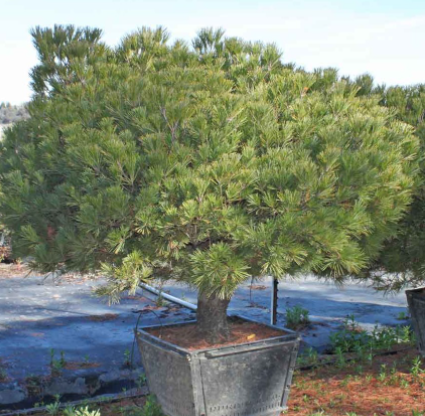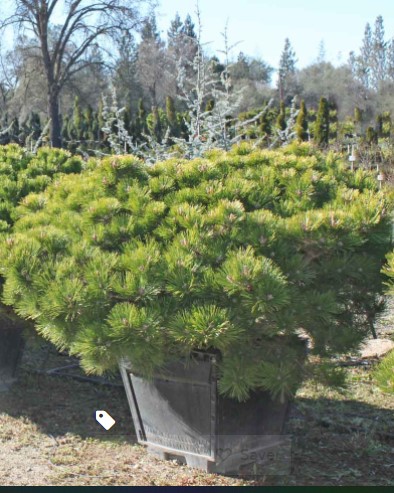 #9 Pine trees create a green area around buildings
Urbanized areas without greenery will look too congested. Adding pine trees and a couple of bushes next to apartment complexes provides a more family-friendly ambiance and balances the ratio between green space and infrastructure.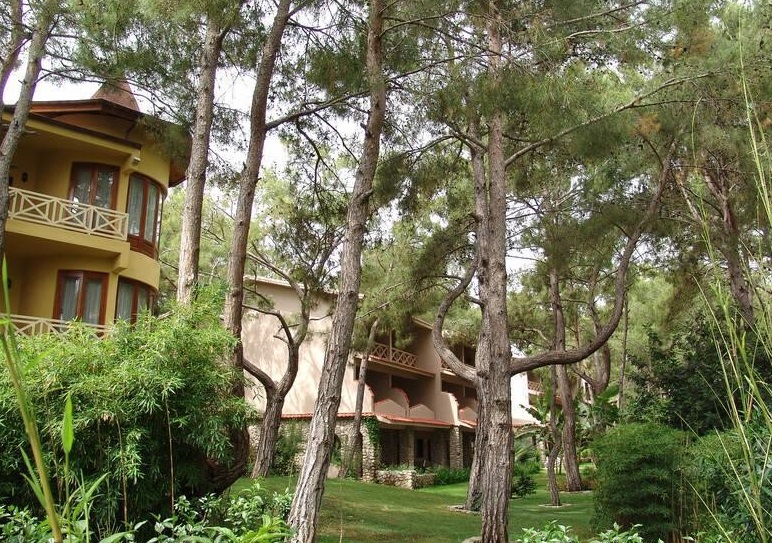 #10 A line of pine trees create a welcoming entrance in farms and front yards
If you have the space, lining up pine trees in the driveway or a beautiful specimen tree that leads to your home or farm buildings creates a dramatic entrance for your guests. It gives off an inviting feeling to see the end of the walkway, which adds up to the overall ambiance of your yard.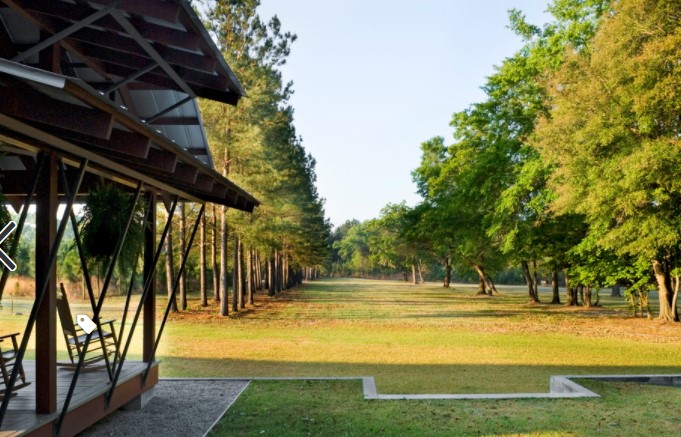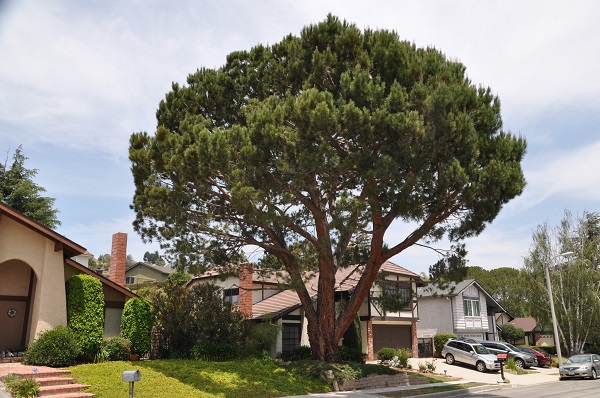 ---
What Plants Go Well With Pine Trees?
With the design and pine varieties in mind, you're probably wondering what else can be a worthwhile addition to your landscape project. Grass won't grow under pine trees since the soil becomes acidic. The trees also compete for water, depriving other plants around.
You may put an agricultural lime to make the soil workable for other plants. However, it can be a costly and laborious task. The ideal option is to choose plants that can tolerate acidic soil and thrive well in shade. Here's a sample landscape guide below: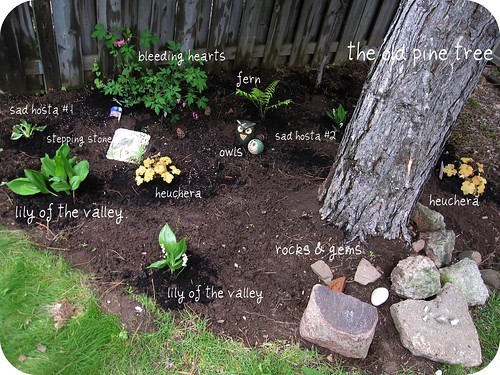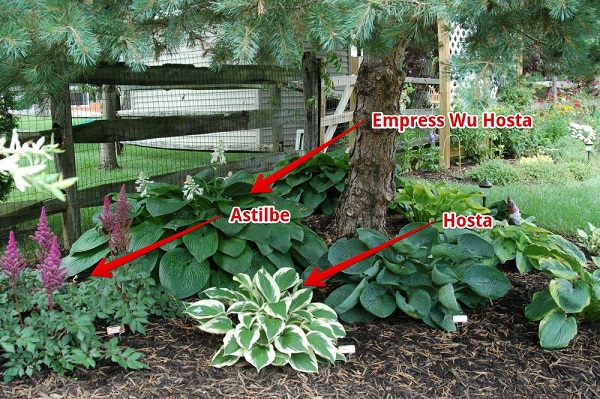 If you're not familiar with plants that thrive in shade, here are the selection of plants that blend well with the dark reddish-brown bark of pine trees:
Hydrangea: An acid-loving shrub with beautiful and colorful clusters of flowers. It creates a beautiful contrast under the forest green foliage of pine trees. However, it can grow up to 5 to 6 feet, so make sure to be ready to prune it every year.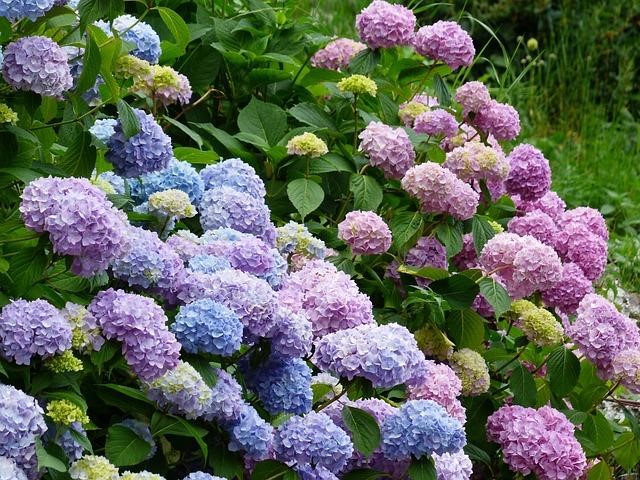 Lily of the valley: Deemed as the symbol of humility and rebirth, the lily of the valley is a good addition to landscaping pine trees for its simple beauty. It loves the partial shade that pine trees provide and moist soil. It is safe to touch but poisonous when ingested. So, you must keep kids and pets away from it.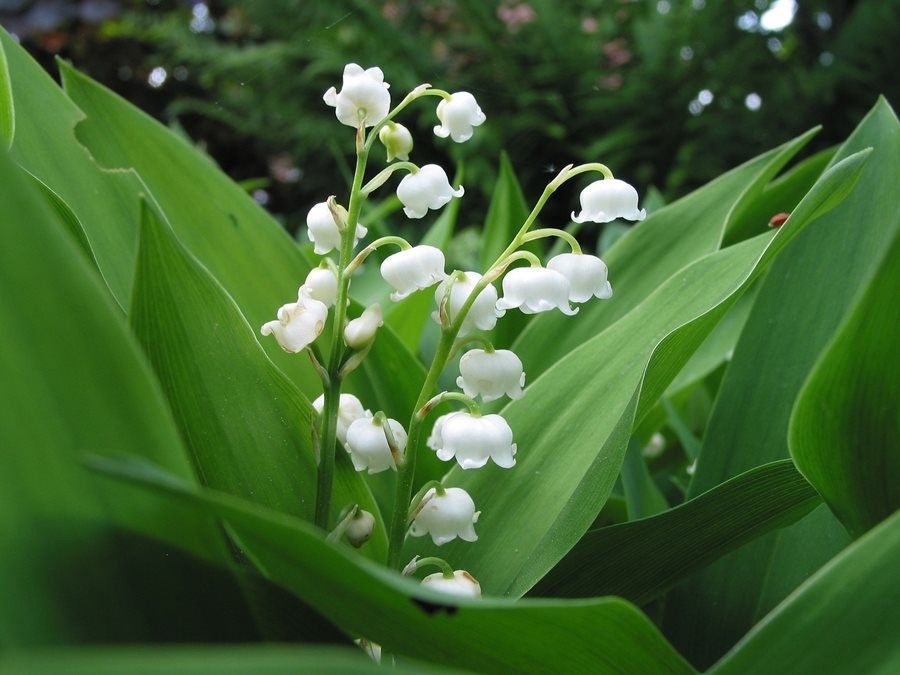 Creeping phlox: If grass won't grow under pine trees, add a beautiful cover of purple flowers using creeping phlox. It has both evergreen and flowering qualities that make it an ideal option for landscaping pine trees. It thrives in full sun or partial shade and loves moist soil.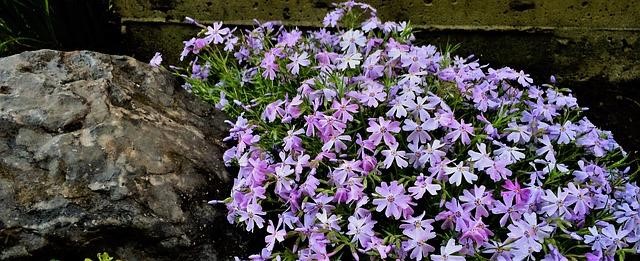 Bleeding Heart: The eye-catching pink heart-shaped flowers of the bleeding heart add life at the foot of your pine trees. It will grow well under pine trees because it loves a cool and shady environment. It dies during summer but grows back in the colder months which adds a pop of color in shady areas under trees.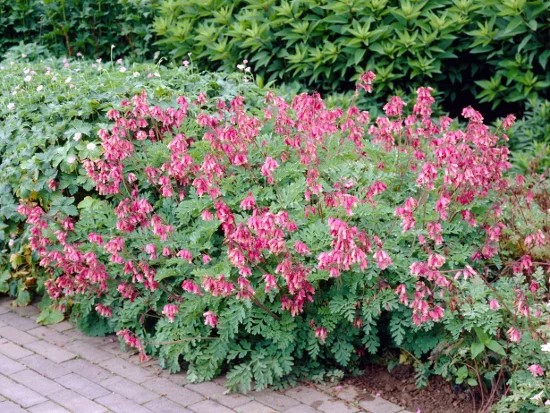 Astilbe: As a shade-loving plant, astilbe is often considered in landscaping pine trees. It creates a good texture in your landscape through its pointy clusters of flowers and fern-like foliage.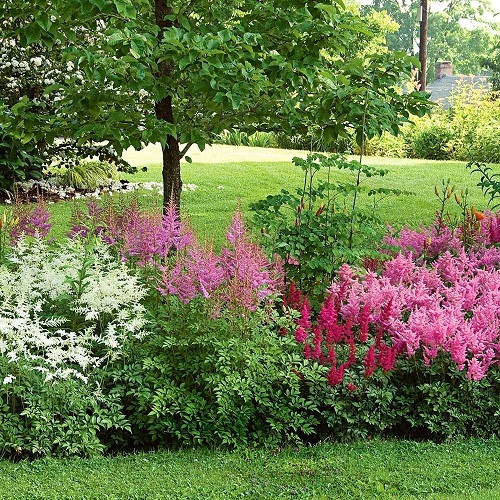 Foxglove: As a perennial flowering plant, foxglove provides tubular flowers that range in color from blue, violet, or pink. It proudly showcases its beautiful flowers, making it one of the most garden-worthy plants to have. It is versatile and thrives in both full sun and full shade.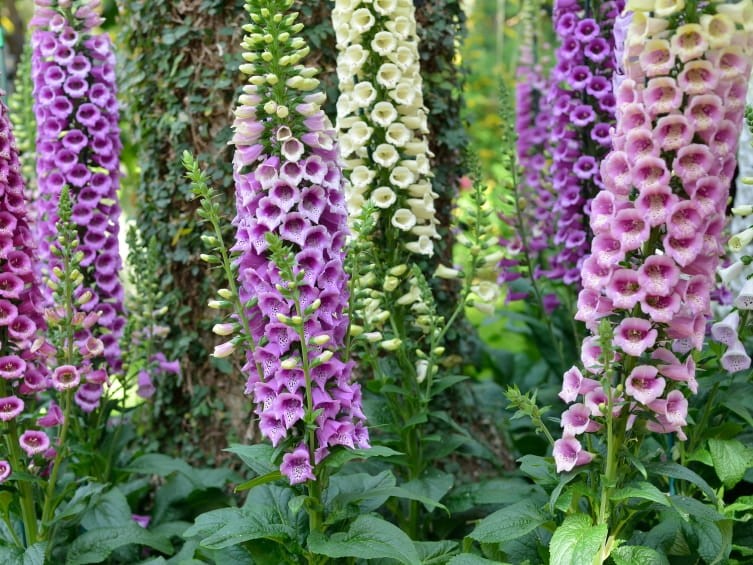 Bergenia: It has an orchid-like behavior where the flower stem sticks out from the bunch of leaves and provides an arch of pink or white flowers. In mild climates, it is an evergreen that changes its green color during fall and winter. Gardeners love its glossy leaves that turn from green to bronze throughout the year.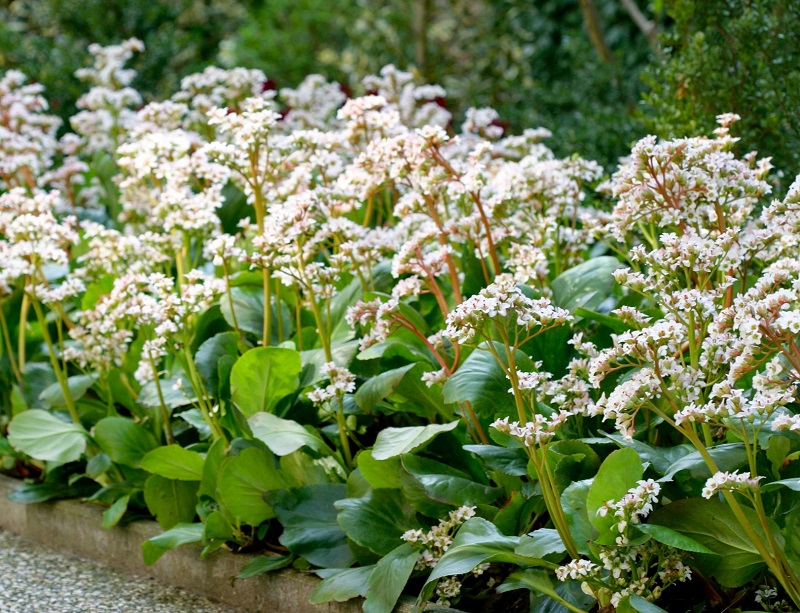 Hosta: The family of shade-loving hosta can be enough to fill your landscape under pine trees. They are often called plantain lilies in other regions. You can mix Hosta Crispula, August Moon Hosta, Blue Angel Plantain Lily, June Hosta, Hosta Royal Standard, and Hosta Geisha.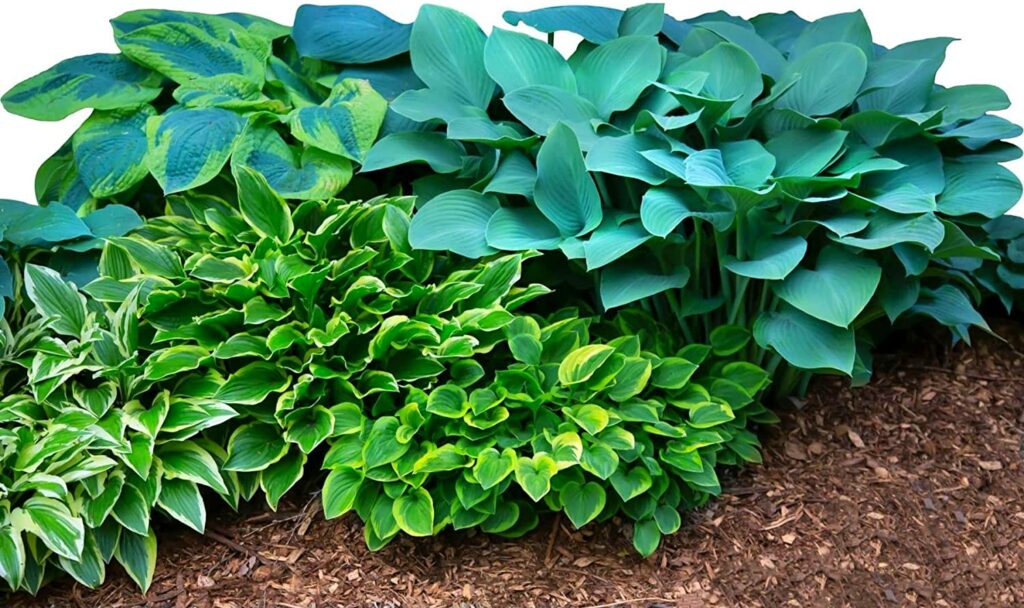 California wood strawberries (Frageria Californica): Some wild strawberries like California wood strawberries make a good ground cover for shady areas. It produces a nice shade of green on the ground while providing fragrant flowers and edible strawberries. It is a good alternative to the grass under the shade of your pine tree.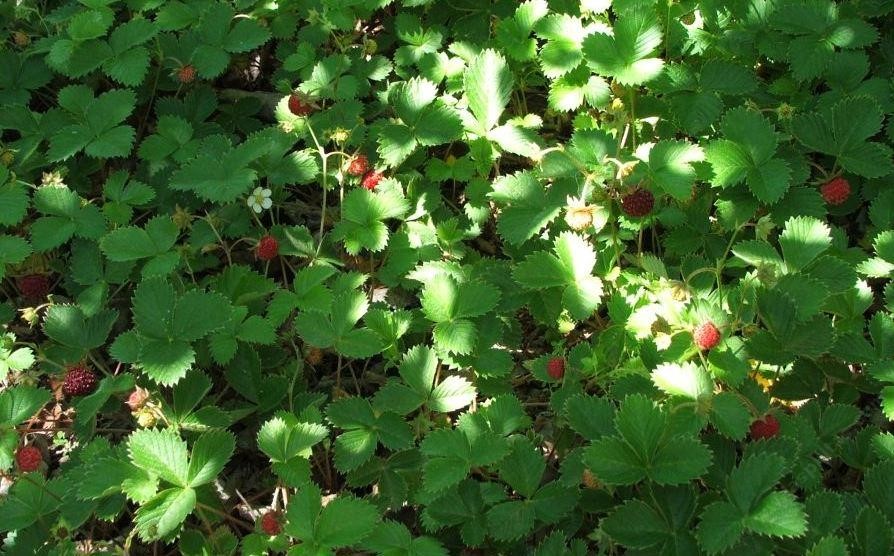 Yerba buena (Satureja douglasii): Cover the bare soil at the foot of your pine trees with creeping non-invasive perennial yerba buena. It spreads about 3 feet and densely covers every bare patch in your landscape.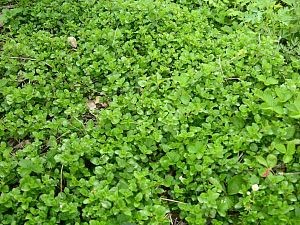 How To Take Care of Pine Trees?
The crucial stage of care of pine trees is when they're young. Once they get established, they no longer need a lot of care unless with occasional pruning. During the first stages of their growth, young pine trees need staking to stay upright until they build wider trunks.
Pines also need deep watering reaching two feet every month. Young pines are also vulnerable to beetle attacks and drought, ensure that you will schedule a regular pest and disease control. They are also not a fan of polluted air and smog, especially the Monterey pine variety.
The best time to prune and clean up pines is during the cooler months from November to February. Pruning them before the hot season will cause stress due to the heat. Their roots are invasive, so strategically plant them away from foundations and home infrastructures.
Overall, they are easy to grow and provide a picturesque view of your property, not to mention the fresh smell that welcomes you every time you go home.
Frequently Asked Questions (FAQs)
How do you landscape a backyard with a pine tree?
You can landscape a yard with pine trees by selecting plants that thrive in acidic soil and shady areas. These include hosta, lily of the valley, or a combination of other evergreens.
Are pine trees good for a backyard?
Yes, but it depends. Dwarf pine varieties are good for your front or back yard landscape to bring life and greenery throughout the year. Specimen pine trees need a lot of space but can provide shade, a screen for privacy, and a refreshing scent year-round.
What pine trees stay small?
No. Some dwarf pine varieties stay small but specimen trees can grow up to 100 feet. If you want to grow pine trees that stay small, look for dwarf varieties like dwarf mountain pine or bonsai-style Japanese red pine.
Is pine tree good for the front yard?
Yes, but it depends on the pine variety that you will have. Some pine trees can grow 3-foot diameter as they mature, but some maintain their thin trucks until maturity. Specimen trees like Italian stone pine make a good option for front yards.
Final Thoughts
Landscaping pine trees is a fun but challenging project. It opens your eyes to the vast selection of shade-tolerant plants that you have never heard of before. Plus, you will also achieve a higher green thumb level since not a lot of gardeners or homeowners can grow a beautiful patch of greenery under pine trees.
We hope that this post helped you gather some ideas on how you can start your project and utilize the benefits of having pin trees in your yard. Please don't forget to share this post with your friends and enjoy learning and discussing different pine varieties.
Which pine variety is the best for you? Let us know your pine favorites in the comments section below!