Lemon trees are heavy feeders and require a lot of nutrients during the flowering and fruiting periods. Lack of nutrients causes leaf discoloration, stunted growth, and no fruits. The best lemon tree fertilizers contain nutrients that help keep your lemon trees healthy and produce a bountiful harvest.
A lemon tree is a rewarding plant to have. However, it requires some effort from us gardeners to help them give us more fruits. It is also a self-fertile plant. It means that one tree is enough to grow fruits, unlike other fruit trees.
If you're lucky, your lemon trees can simultaneously flower and bear fruits at the same time. The variety and cultivar of your lemon play a role in the timeline of the fruiting process of lemons. We will discuss the lemon varieties and care tips later in this post.
In A Hurry, Our Top Picks:
In this post, you will stay up-to-date with the best lemon tree fertilizers in the market and lemon tree care tips. Fruit trees like lemons also need food and support to provide more fruits and stay lush and green.
Let's begin with the best selection of plant food.
(You could use the table of contents below to jump to the sections that are most important to you.)
---
10 Best Lemon Tree Fertilizers in 2023 [Top Picks & Options]
The following list of best lemon tree fertilizers consists of both natural and synthetic formulations. This is to ensure that our list can cater to any type of gardener, whether you're more on the environment-friendly side or a quick to use option.
The three numbers on fertilizer labels, like 4-4-4, are the NPK ratio of each fertilizer. They stand for nitrogen, phosphorus, and potassium, respectively.
1. Down to Earth Organic Citrus Fertilizer Mix 6-3-3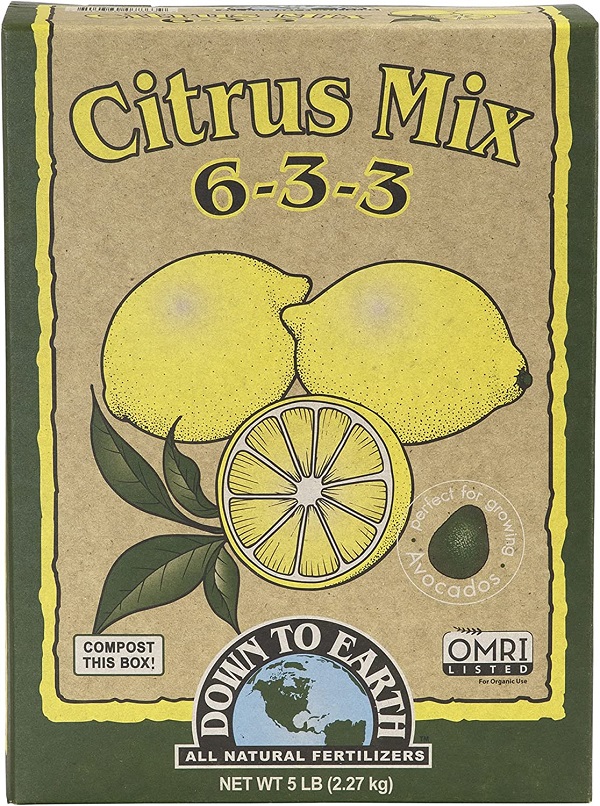 Down To Earth Citrus Mix is among the leading organic lemon tree fertilizers in the market. It has an NPK ratio of 6-3-3, where its nitrogen content is higher for boosting foliar growth and overall vigor. It's authentically recognized as an organic plant food by OMRI.
It is derived from:
Feather meal
Fishbone meal
Alfalfa meal
Greensand
Langbeinite
Basalt
Sulfate of potash
Zinc sulfate
Kelp meal
Aside from its main formula, it is also fortified with extra nutrients like calcium, sulfur, zinc, iron, and other micronutrients. The company is environmentally conscious by using a biodegradable box. However, it's not resealable.
The manufacturer claims it can be used for indoor and outdoor citrus trees. However, some untrained noses prefer to use it outdoors since it has the usual smell you'll find in most organic fertilizers. It is the best lemon tree fertilizer for nutrient deficiency, stunted growth, and critical plant health in lemon trees.
One issue common to organic fertilizer is the risks of developing fungus gnats and fungus flies. It only takes a tiny egg of any insect to get into the box, and the next thing you'll know is it's full of gnats and flies. It is crucial to seal the packaging well in storage and check for any holes before opening the box so you can return it immediately.
This fertilizer is eco-friendly and safe to use around pets. Unlike other organic fertilizers, it is affordable and works best for lemon trees. It is also applicable to avocados and other fruit trees.
Pros
Best for reviving sickly and dying lemon trees
Organic fertilizer
OMRI-listed
Safe for use around kids and pets
Affordable
Environment-friendly
Recyclable packaging
A little goes a long way
Promotes flowering island fruiting of lemon trees
Ideal fertilizer for lemon trees grown from seed
Cons
Organic odor (not ideal for indoor places without ventilation)
May attract animals due to smell
Non-resealable packaging
Some batches might be contaminated with fungus flies and gnats.
2. Dr. Earth 708P Organic 9 Fruit Tree Fertilizer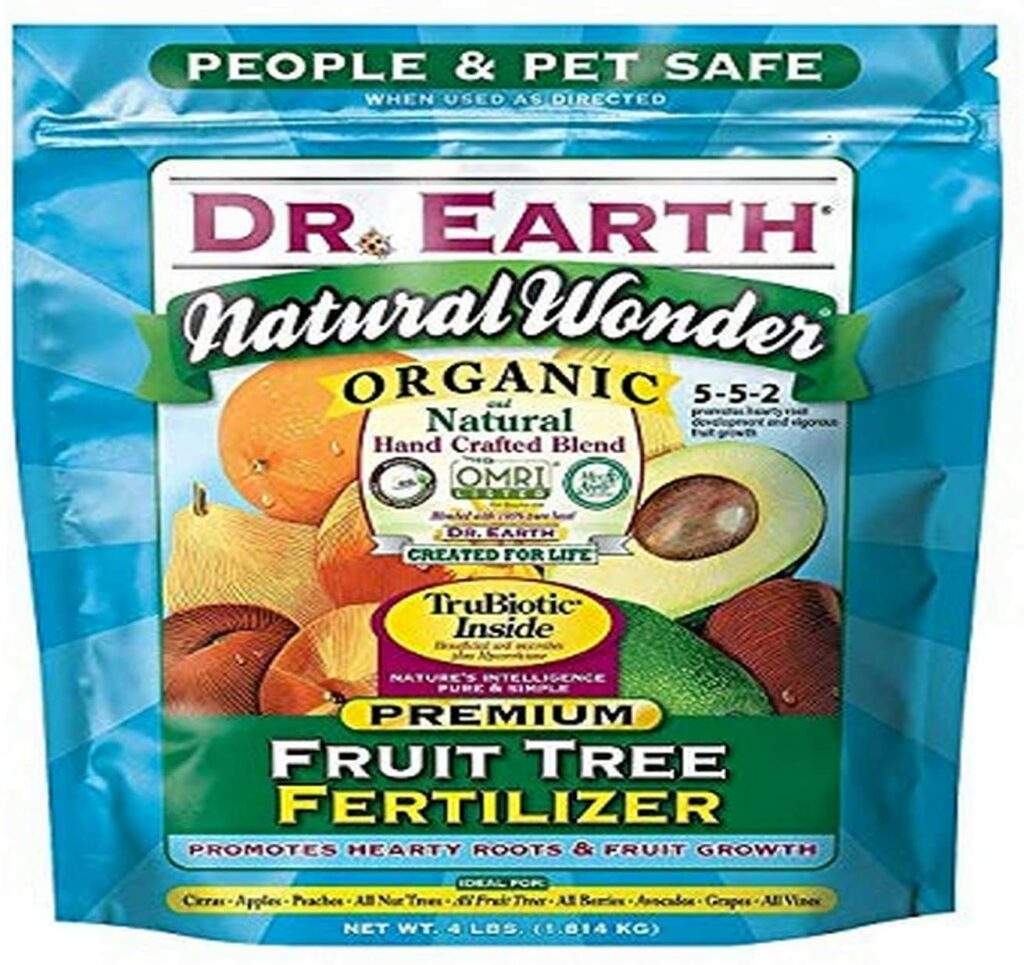 Dr. Earth is probably one of the cleanest organic lemon tree fertilizers in the market. It contains premium food-grade ingredients to ensure the quality of nutrients for fruit trees like lemon. It has a 5-5-2 NPK ratio and is derived from the following materials:
Feather meal
Alaskan fish bone meal
Clean cottonseed meal
Norwegian coldwater kelp meal
Valley-grown alfalfa meal
Colloidal soft rock phosphate
Potassium sulfate
Concentrated seaweed extract
Aside from its unique source of nutrients, Dr. Earth contains TruBiotic. The TruBiotic technology is a set of beneficial microbes such as ecto and endo mycorrhizae to improve soil health. It is also certified by several organic certification bodies like OMRI as an authentic organic fertilizer and contains no chemicals.
This fertilizer is the best lemon tree fertilizer for vegan or vegetarian gardeners since it doesn't contain any GMO-infested chicken manure or any other animal manure. Most gardeners also notice that the fruits of their lemon trees also got bigger using this fertilizer.
The manufacturer claims that the formulation helps boost root development. It is the ideal fertilizer for repotting, growing, and reviving lemon trees. It is also applicable for a wide range of fruit trees, such as:
Citrus trees
Apples
Peaches
Grapes
All nut trees
All fruit trees
All berries
All vines
It is safe to use around kids and pets but beware of its smell. It's organic, so you should expect a strong scent when used indoors. Dogs are also attracted to their unique smell, which fur parents should keep in mind.
In some cases, the bag gets contaminated with fungus leading to a horde of fungus gnats and flies. Ensure proper storage of this fertilizer to prevent contamination.
Pros
Organic fertilizer
Promotes big lemon fruits
Ideal fertilizer when repotting lemon trees  
No GMO-chicken and other manure
Vegan and vegetarian-friendly
OMRI-listed
Safe for use around kids and pets
Environment-friendly
Uses premium organic ingredients
Cons
Has strong organic odor that attracts pets
Pricey
3. Jobes 4 Lb Organic Fruit & Citrus Granular Fertilizer 3-5-5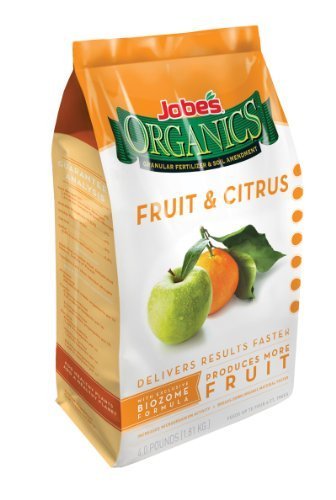 Another organic contender on our list is from Jobe's Organics. Their fruit & citrus granular fertilizer has an NPK ratio of 3-5-5 to promote strong root growth and boost bloom and fruit production. It is also certified by OMRI as an authentic organic fertilizer. It is derived from:
Bone meal
Feather meal
Processed manure
Biozome
This fertilizer is fortified with Biozome that increases microorganism activity in the soil for a rapid breakdown of organic materials and makes them readily available for plants. One of the best features of this fertilizer is it can cover up to 20% more than its competitor fertilizers.
Gardeners notice how their dying and sickly lemon trees perk up after using this fertilizer. It also helped the trees produce more fruit after several years of being stagnant and nutrient deficient. It's generally safe to use around kids and pets and works like a charm for lemon trees.
Pros
Easy to use
Help revive dying and sickly lemon trees
Organic fertilizer
OMRI-listed
Safe for use around kids and pets
Boost fruit production and root growth
Cover more trees than its competitors
Cons
4. Miracle-Gro Fruit & Citrus Plant Food Spikes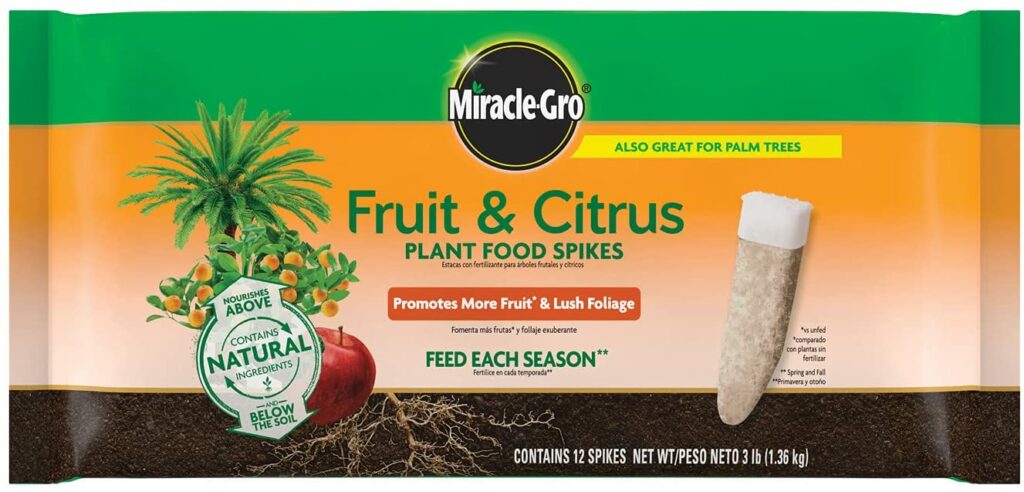 For busy gardeners who want to take care of their lemon trees in the most time-efficient method, fertilizer spikes are probably the best option. Miracle-Gro Citrus Plant Food Spikes allow you to place the spikes once and fertilize your lemon trees throughout the year. The spikes are derived from:
Ammonium sulfate
Feather meal
Bone meal
Ammonium phosphate
Potassium Chloride
Sulfate of potash
Magnetic rock
Manganese sulfate
Aside from the blend of natural and synthetic materials, the spikes are also fortified with 0.1% Iron and 0.05% manganese. The formulation of the fertilizer spikes aims to boost the leaf and fruit production of citrus trees and palm trees. The NPK ratio of each fertilizer spike is 10-15-15.
The best thing about fertilizer spikes is they are easy to use and efficient if used properly. They release nutrients in the root zone of lemon trees whenever you water the lemon trees. You no longer have to measure, mix and spray. Ensure that the lemon trees are of the ideal maturity before using them to avoid burning the roots.
Miracle-gro Citrus spikes are efficient and effective from lemon trees with falling leaves and no fruits. Once the leaves are starting to grow, you can expect that the flowers will come in as well as the lemon fruits. Pets, however, may try to dig them up due to their natural contents.
Pros
Easy to use
No mixing, measuring, and mess
Time-efficient fertilization method
Treats dropping leaves and no fruit issues in lemon trees
Contain iron and manganese
A blend of natural and synthetic materials
Cons
May burn your plant if not used with label instruction
5. Jobe's 1612 Fruit & Citrus Tree Spikes, 15 Spikes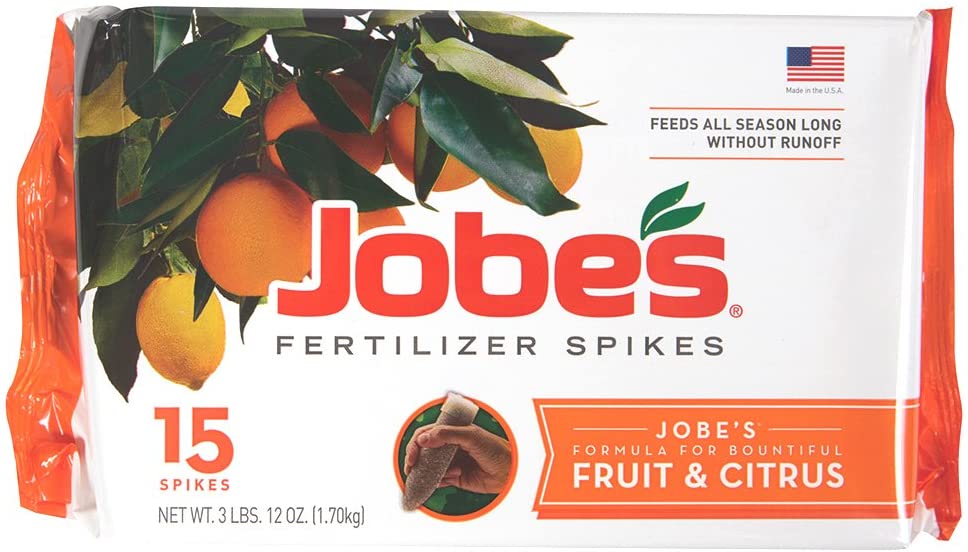 If you are interested in using fertilizer spikes but want them organic, Jobe's Organics Spikes are the one. Jobe's Fruit and Citrus Tree Spikes are a set of slow-release fertilizers that contains an NPK ratio of 8-11-11.
It is derived from:
Ammonium phosphate
Ammonium sulfate
Chloride
Chlorine
These spikes are easy to use and best for gardeners who want to do more with their time. You no longer need to mix, measure and worry about chemical runoff. Just hammer them down on the drip line of your lemon trees, and you're done fertilizing them for the whole year.
Jobe's Citrus Spikes help restore dying lemon trees in a short time. Most gardeners notice the lush growth of lemon trees, which creates a domino effect on the flowering and fruiting process. The spikes also help speed up the development of lemon trees from a small shrub into a full-grown fruit-bearing tree.
The only catch is the cost. A box or pack of spikes can be a little more expensive than others but can last for several years. Many gardeners love these organic spikes because of their value for money and efficiency in improving the health of their lemon trees. Plus, they are also safe for use around kids and pets.
Pros
Organic spike
Continuous feeding for the whole year in one application
Easy to use
Time-efficient
No mixing, measuring, and chemical runoff issues
Ideal for restoring the health of stressed lemon trees
Boost rapid growth of stunted lemon trees
Cons
6. Humboldts Secret Golden Tree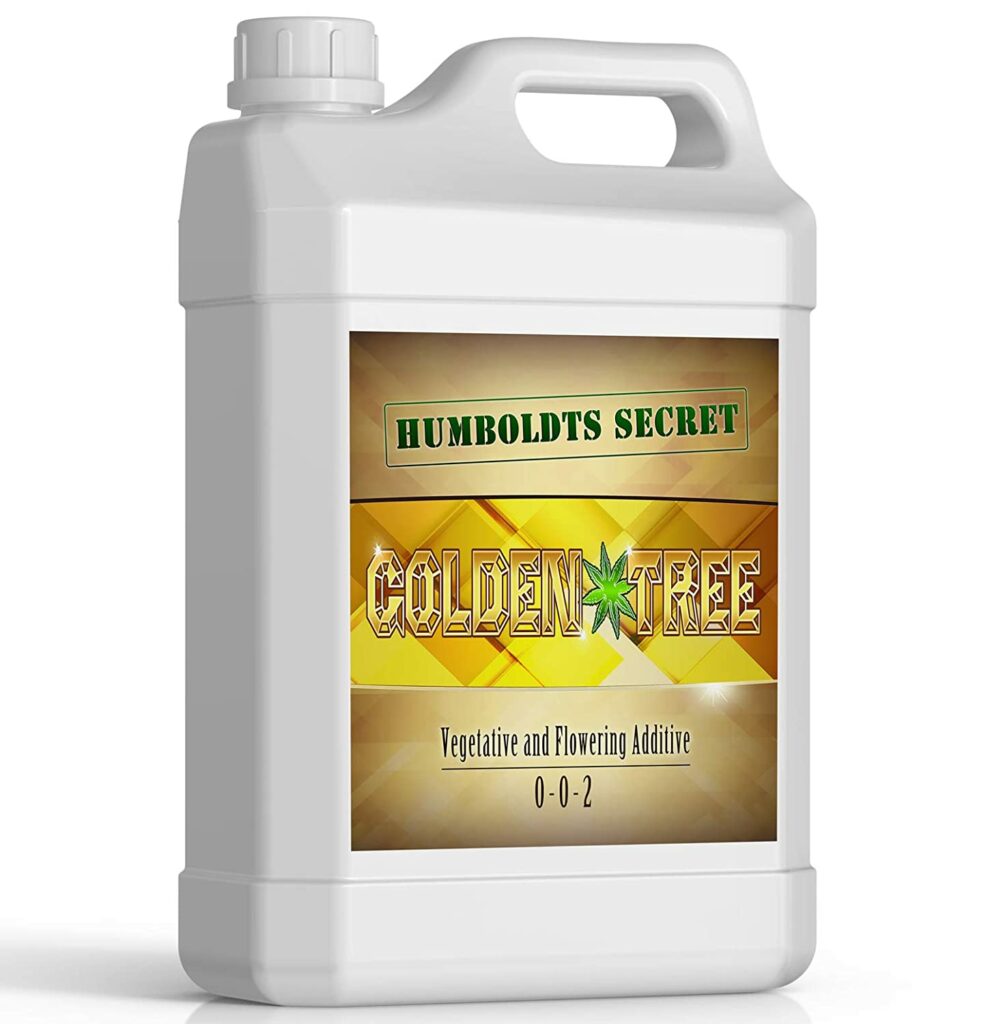 Humboldts Secret Golden Tree is a refreshing name among the best lemon tree fertilizers in the market. It is an all-in-one additive plant food for fruit trees with an NPK ratio of 0-0-2. It contains kelp, carbs, and minerals to boost foliar growth, bloom development, and fruit production.
This fertilizer helps support establishing young plants, increases nutrient uptake, and improves the stress tolerance of plants. It is compatible with all growing mediums, such as:
Potting soil
Hydroponics
Aeroponics
Coco coir
This fertilizer comes in a concentrated solution that can make up 224 gallons of plant food. Gardeners who initially discovered this fertilizer are amazed to see how fast their plants grow after one application. However, it smells organic and may not suit the sensitive noses of some people.
Lemon growers notice an increase in the size of the fruits. The lemon trees also grew faster and doubled in size. It is safe to use for container lemon trees and in-ground ones. Due to its organic contents, it is also safe for use around kids and pets. However, it doesn't have any OMRI certification just yet.
Pros
Highly concentrated
Applicable to all kinds of planting medium
Can be mixed with other plant food
Contains kelp 
Help increase and improve fruit quality in lemon trees
Boost rapid growth of young lemon trees
A little goes a long way
Affordable
Good packaging
Cons
Smell weird due to its kelp content
7. Espoma CT4 4-Pound Citrus-tone 5-2-6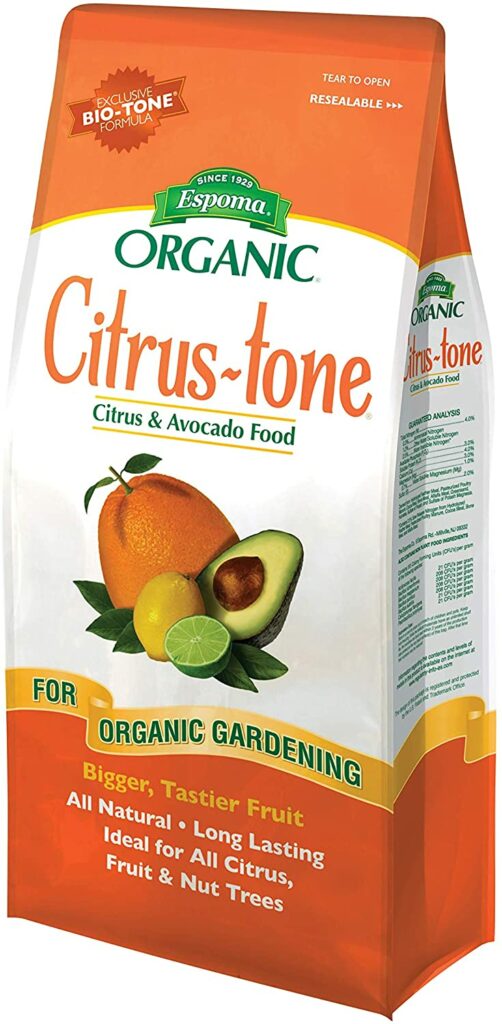 Espoma is by far among the most recommended brands for organic gardening. It is cheaper than its competitors while producing the same results. Espoma Citrus Tone has an NPK ratio of 5-2-6 and is derived from the following natural materials:
Feather meal
Poultry manure
Bone meal
Alfalfa meal
Greensand
Sulfate of potash
Sulfate of potash magnesia
Aside from citrus trees, Citrus Tone is also applicable to a wide range of fruit and nut trees. The manufacturer is proud of its no-sludge formulation. For boosting plant performance, it is also fortified with extra nutrients, such as:
Calcium 5.0%
Magnesium 0.5%
Sulfur 1.0%
Humic acid from Leonardite 1.0%
Citrus Tone is among the best lemon tree fertilizers for boosting the rapid growth of young lemon trees. Results often show within 2 to 3 days and do not contain any toxic materials. It is safe for use around kids and pets but has a potent smell that discourages some from using it indoors.
Pros
Organic fertilizer
University-recommended
Kid and pet-friendly
Promotes rapid growth of lemon trees 
Contains extra nutrients: magnesium, sulfur, and calcium
No fillers, sludges, and other chemicals
Resealable packaging
Cons
Strong organic odor due to poultry manure content
Attracts pets due to its smell
8. Nelson Citrus Fruit and Avocado Tree Plant Food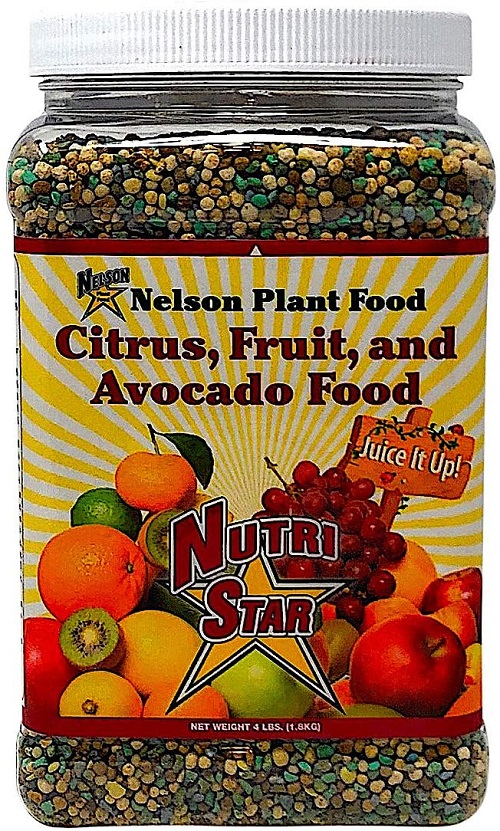 If you are unlucky in using spikes to feed your lemon trees, your trees might be compatible with slow-release fertilizers like Nelson Citrus Tree Plant Food. It is a mix of natural and synthetic materials, creating a formula best for citrus varieties like lemon.
It is derived from:
Sulfur
Potassium of sulfate
Magnesium
Ferrous sulfate
Magnesium sulfate
Potassium nitrate
Ureaform mono ammonium phosphate
Calcium sulfate
Zinc sulfate
Manganese sulfate
Copper sulfate
Iron oxysulfate
Bone meal
Blood meal
This fertilizer has a 12-10-10 NPK ratio and contains added nutrients such as calcium, zinc, potassium, and iron. Lemon tree growers notice an abundance of yields after using a few tablespoons of this slow-release fertilizer. They recommend adding 3 to 4 tablespoons per 60 days to increase your lemon yield. Aside from citrus, you may also use it on the following plants:
Grapefruit
Persimmon
Kiwi
Papaya
Fig
Peach
Plum
Pear
Generally, gardeners love the ease of use of this fertilizer since you no longer need to mix, measure, and worry about leaching. It also doesn't smell, making it ideal for indoor lemon trees. The smell is not attractive to pets but interesting in the eyes of curious kids.
The only problem with slow-release fertilizers is the possible salt buildup after several uses. One way to remove the salt buildup in the soil is by rinsing. Let the water run through the potting soil for a few minutes to leach the salts out.
Pros
A blend of synthetic and organic materials
Boosts lemon tree fruit yield
No mixing, measuring, and chemical runoff
No strong odor
Easy to use
Time-efficient fertilization method
Ideal for indoor and outdoor citrus trees
With other nutrients like zinc, magnesium, copper, calcium, and iron
Cons
Synthetic fertilizer
Risk for ingestion: Looks interesting for curious kids indoors
9. Miracle-Gro Shake 'N Feed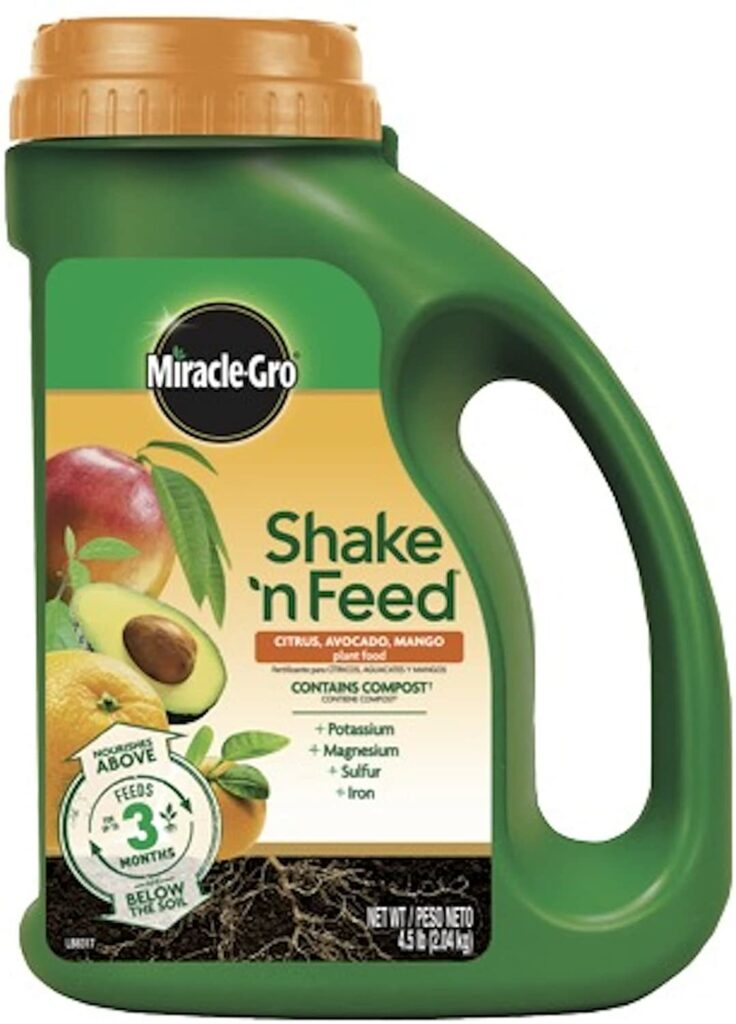 Miracle-Gro Shake 'n Feed® is another slow-release fertilizer you can try if you have no success with fertilizer spikes and other kinds of fertilizers. It has an NPK ratio of 8-2-10 that helps nourish your lemon trees for up to three months.
It is derived from:
Polymer-coated ammonium nitrate
Ammonium phosphate
Potassium sulfate
Calcium phosphate
Urea
Dolomitic limestone
Zinc oxide
Zinc sulfate
Magnesium oxide
Magnesium sulfate
Manganese oxide
Manganese sulfate
Iron oxide
Ferrous sulfate
Copper oxide
Copper sulfate
The formula of this fertilizer is also fortified with extra nutrients like magnesium, sulfur, and iron. It provides the convenience you need to keep a sustainable growing technique at home for a couple of months.
As per performance, gardeners noticed that their bland and sad lemon trees started to have flowers and also treated dropping flower problems in lemon trees. When there are more flowers around, that means you will also have more lemons to harvest at the end of the growing season.
This fertilizer is the best lemon tree fertilizer for gardeners looking for convenient feeding methods and solutions for flowering problems in lemon trees. It has no smell and has durable packaging.
Pros
Boosts bloom development
Treats flowering issues on lemon trees
No stinky smell
No mixing, measuring, and chemical runoff
Feed lemon trees for three months
Added nutrients like magnesium, sulfur, and compost
Resealable and durable packaging
Easy-to-use
Ideal for both inground and container citrus tree
Cons
Synthetic fertilizer
Risk for ingestion: Looks interesting for curious kids indoors
10. EZ-gro Citrus Tree Fertilizer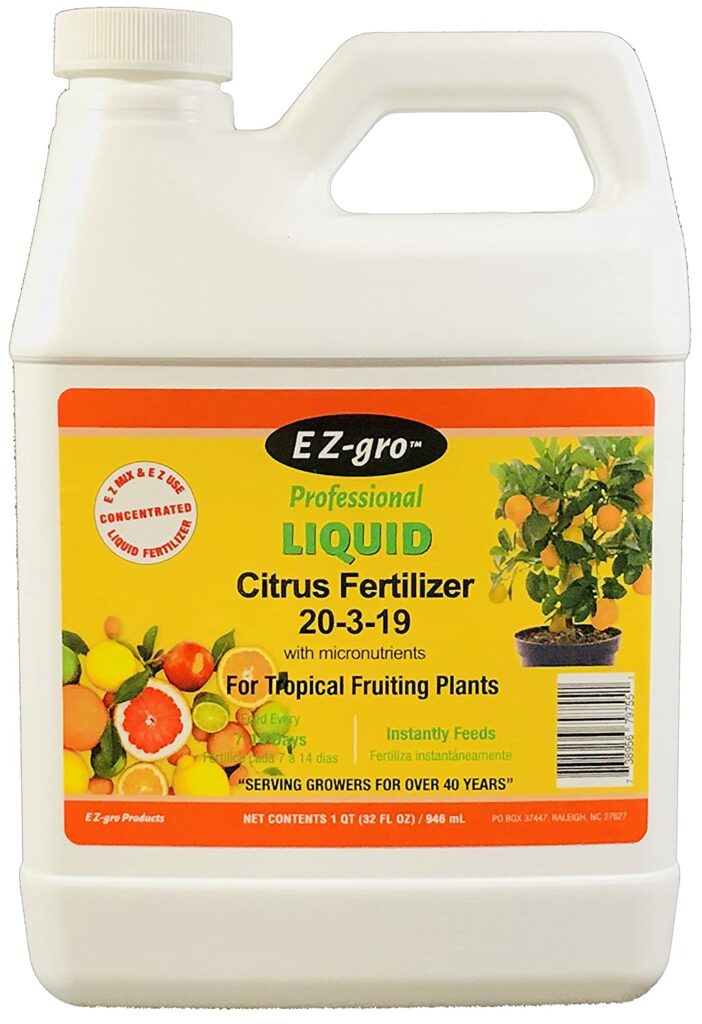 If you're looking for the last straw before you call your lemon trees dead, it's best to EZ-Gro Citrus Tree Fertilizer first. It has an NPK ratio of 20-3-19 and comes with extra micronutrients to revive your dying and severely nutrient-deficient fruit trees.
Aside from lemons, you may also use it for:
Lime
Orange
Grapefruit
Mango
Kumquat
This fertilizer is a versatile option since you can use it whether your lemon trees are the dwarf type or the large in-ground varieties or with or without seeds. Its formulation is highly concentrated, which means a few drops can go a long way. The extra nutrients include:
This fertilizer has durable packaging and comes with a free measuring cup. It is safe to use indoors and outdoors, and it has no smell. Though it has synthetic contents it's still safe to use around kids and pets.
Pros
Ideal plant food for severely nutrient-deficient lemon trees
Highly concentrated
With micronutrients
No smell 
Affordable
With a free measuring cup
Durable packaging
Ideal for all varieties of lemon trees
Cons
May burn your plants if too much – consider starting in small amounts and increase based on the results.
---
Natural Fertilizers For Lemon Trees
Aside from store-bought fertilizers, there are also other tricks to help boost the health of your lemon trees naturally.
Here are some of the homemade and natural plant food that most lemon tree growers swear by:
(1) Apply compost or worm castings every 15 days during the early growth and every month for maintenance.
(2) To boost flowering and fruiting, apply a magnesium source every month. Apply 1 tbsp. Epsom salt to one gallon of water and water it every month.
(3) Apply grass clipping tea for growing lemon trees to serve as a growth hormone. Here's how you can make one:
How to make grass clipping tea?
Collect untreated grass clippings, fruit and vegetable peels, and two tablespoons of coffee grounds.
Collect rainwater in a 20-gallon container and place the scraps and clippings. Let it sit for 24-hours before using it to water or fertilize your plants two to three times a week.
---
How To Grow Lemons Trees and Help Them Grow Big Fruits?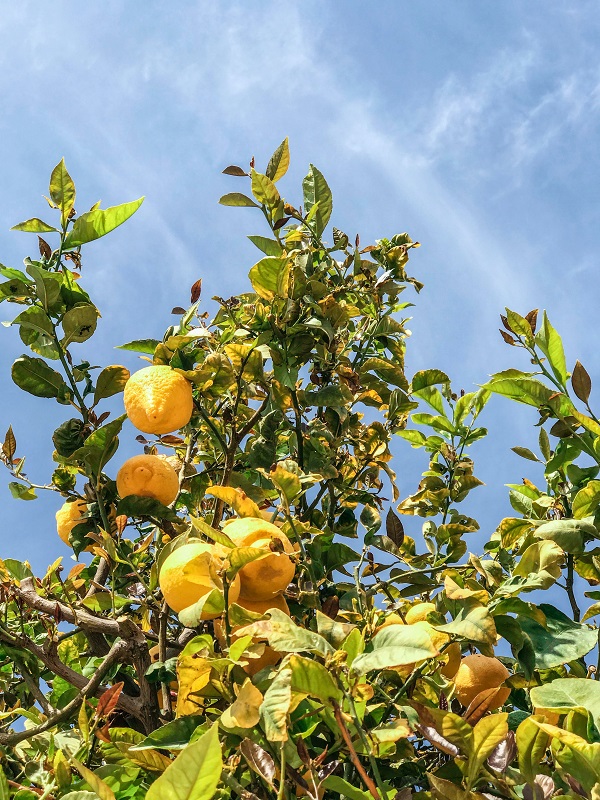 Lemon trees are warm-loving fruit-bearing trees grown outdoors in US Hardiness zones 8-11. In colder regions of the US, they are grown indoors in containers. Most indoor lemon trees are dwarf varieties wherein they can already grow fruits at 8 to 10 feet tall.
The key to fruitful lemon tree growing is choosing the best variety for the climate in your location. Here's a brief list of lemon varieties that grow in cold and warm climates:
Lemon Varieties Ideal for Warm Climates
Verna Lemon (ornamental)
Eureka Lemons (full-year fruit production)
Pink Variegated Lemon Tree (pink flesh)
Primofiori Lemon (Increased fruit yield)
Lemon Varieties That Can Grow In Cold Climates
Meyer lemon (dwarf variety)
Lisbon lemon (Hot weather resistant)
Pro tip: If you aim to grow lemon trees for their fruits, it is best to buy a grafted lemon tree from a nursery than to grow them from seed.
Soil Preparation
One of the common misconceptions about lemon trees is they need a very acidic soil with a pH level of 6.5 and below. However, slightly acidic soil would be enough for them to thrive. An ideal soil pH level for lemon trees is between 6.0 to 6.5.
Lemon trees grown in the ground have the freedom to stretch their roots to look for more nutrients in the soil. However, lemon trees in containers require more nutrient support from fertilizers and good soil structure due to their limited access to soil nutrients.
The structure of the potting soil for container lemon trees should also be well-draining and rich in nutrients. There are two common DIY potting mix recipes that you may try. These include:
Potting Mix Recipe 1:
40% garden soil
40% coco peat or peat moss
20% compost (aged manure) or vermicompost(worm castings)
Optional: perlite (for drainage)
Potting Mix Recipe 2:
Five parts of soil
Two parts of coco peat or peat moss
1 part carbonized rice hull
Three parts worm castings
1 part sand
Aside from the potting soil, the size of the pot also matters for lemon trees. As a rule of thumb, a bigger pot is better for a lemon tree. The minimum pot size that you can use must have a 14-inch diameter and 14 to 20 inches depth.
Sun Exposure and Climate
Lemon trees need 6 to 8 hours of sunlight every day. The sun helps the flowers bloom and improve the flavor of the fruits. Also, most citrus trees like lemon require temperatures around 77℉ and 86℉. Container lemon trees can achieve this temperature if placed indoors in cold-climate regions.
Some lemon tree varieties are heat resistant and can tolerate hot temperatures in the citrus belt or the rough line across California, Arizona, Texas, and Florida.
Watering Routine
Weekly watering of the lemon trees should be deep and thorough. Ensure that the soil is dry in between waterings to prevent root rot.
To know if they need water, stick your finger on the topsoil to gauge its dryness. Opt to do a soil drench to prevent causing fungal diseases caused by foliar watering.
Fertilization
Lemon trees without fertilizer may end up in nutrient deficiency or bear no fruit. Nutrient deficiency may show deficiency signs like yellowing leaves, dry stems, or even depleting leaf growth. There are also many gardeners worrying about the lack of fruit from their mature lemon trees.
To maintain the best health possible, apply the best lemon tree fertilizer of your choice for your lemon tree variety every month. At the same time, add compost to the soil to nourish the soil microorganisms and be more nutrient-dense.
Pruning
Pruning lemon trees help them preserve their energy for more essential tasks like flowering or fruiting. Remove any dead branches or leaves using pruning shears. It is also best to do hard pruning after harvesting the fruits.
---
Tips and Strategies in Growing Lemon Trees
To strengthen the roots of growing lemon trees, add one cup of steamed bone meal or rock phosphate to the soil since they are good sources of phosphorus.
If you're going to buy grafted lemon trees from a nursery, do not immediately re-pot them to prevent transplant shock. Let the trees adjust to your climate and transfer them after two to three weeks. Apply an Epsom salt solution to help reduce transplant shock.
Aside from applying the best lemon tree fertilizer of your preference, the surrounding environment is also crucial for successful pollination. Encourage more pollinating insects around your lemon trees by avoiding the use of chemical pesticides that can kill beneficial insects.
To keep your lemon trees looking lush and healthy, use the Epsom salt solution as a foliar feed. The results usually show after two to three days.
Final Thoughts
We hope that this post helped you find the best lemon tree fertilizer ideal for your lemon trees. Though there are easy-to-use fertilizers in the market, it's best to try the natural sources of nutrients first. The proper growing condition should also be managed for better plant growth and bountiful harvest.
Let us know in the comments about your experience in growing the lemon trees and what practice made you reap baskets of lemons.