The beautiful blooms of gardenias are one of the reasons why most gardeners accept the challenge of growing them.
Surely, any gardener won't love the idea of using an unreliable fertilizer for the fruits of their hard work in growing these blooms. So, looking for the best fertilizers for gardenias can be another challenge.
In A Hurry? Our Top Picks:
Since gardenias are pretty sensitive, you should only consider adding fertilizers if:
The leaves start to yellow
New plants are stunted
There are no buds and blooms
Along with azaleas, gardenias need acidic soil to thrive. So, you should choose fertilizers that are suitable for acid-loving plants or soil acid enhancers. Doing so can help improve the soil conditions and nutrients in the soil that help boost the health of your gardenias.
In this post, we'll share the 10 best fertilizers for gardenias and also impart some tips in fertilizing them. Let's start!
(You could use the table of contents below to jump to the sections that are most important to you.)
10 Best Fertilizers For Gardenias – Reviews (2023)
Here are some of the best options you can try for your gardenias. We included a variety of fertilizers that will suit any type of gardener.
1. Scotts Miracle-Gro Miracid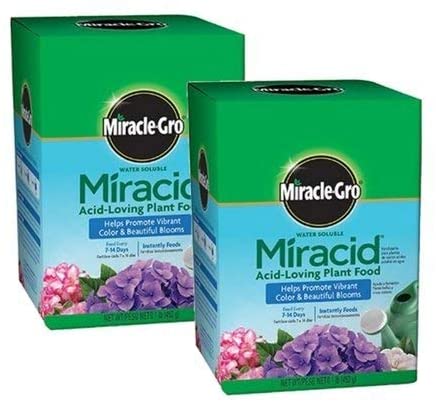 Scotts Miracle-Gro Miracid is a water-soluble fertilizer popular with most gardenia growers. Its formula is specifically made for acid-loving plants and makes it a practical buy if you own other plants like azaleas. It contains additional nutrients such as copper and manganese.
Manganese is a plant micronutrient that has a major role in photosynthesis, nitrogen absorption, and other biological processes.
Copper, on the other hand, plays an essential role in nitrogen absorption and plant development. Plants low in copper are susceptible to plant diseases and signs of deficiencies like yellow leaves.
Other types of plants that are going to love this fertilizer are:
Azaleas
Camellias
Gardenias
Hibiscus
Holly
Orchids
Scotts Miracid has a non-burning formula that helps promote better plant development and bud formation in gardenias.
It is a 30-10-10 NPK fertilizer that contains high levels of nitrogen that contributes to the more vibrant color of leaves and flowers. It also contains additional nutrients such as iron, molybdenum, and zinc
While it's popular for its effectiveness in nourishing gardenias, it's still a non-organic fertilizer. So, if you are an organic gardener or planning to be one, this fertilizer might be suitable for you.
Pros
Contains extra nutrients like copper and manganese 
Specially formulated for gardeners and other acid-loving plants
The water-soluble formula helps with the fast absorption of nutrients and provide immediate results
Cons
Synthetic fertilizer
Messy
Non-organic
Not kid and pet-friendly
---
2. Down-to-Earth Blood Meal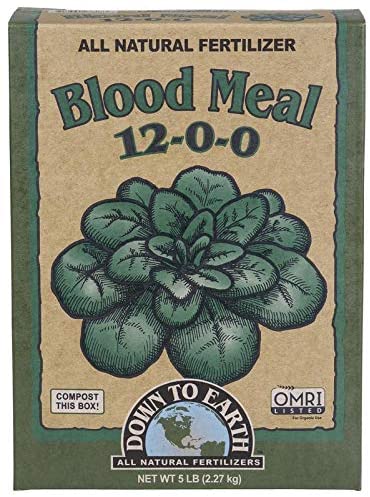 A blood meal is a common component in most fertilizers. If you're just looking for a fertilizer that can boost the soil performance for gardenias, a simple blood meal can do the trick.
You might as well consider getting your blood meal fertilizer from an organic fertilizer company like Down-to-Earth.
Down-to-Earth Blood Meal is a 12-0-0 NPK fertilizer that helps breakdown compost and nutrients in the soil. It is high in nitrogen content that solves the yellow leaf problems of gardenias.
The nutrients in blood meal also work with microorganisms, fungi, and organic matter to boost your plant's growth.
The company claims that this fertilizer is purely organic and doesn't contain any synthetic materials, growth stimulants, and fillers like poultry waste.
A blood meal is also used for several purposes. Aside from being a fertilizer, it is also effective as a bunny and deer repellant. However, the smell may attract unwanted animals or insects like flies.
Pros
Organic fertilizer
OMRI-listed
Bunny and deer repellant
A simple approach in nourishing plants
Cons
The smell can attract flies
Non-resealable packaging
May burn plants if not used according to recommended application
---
3. Jobe's Organics Bone Meal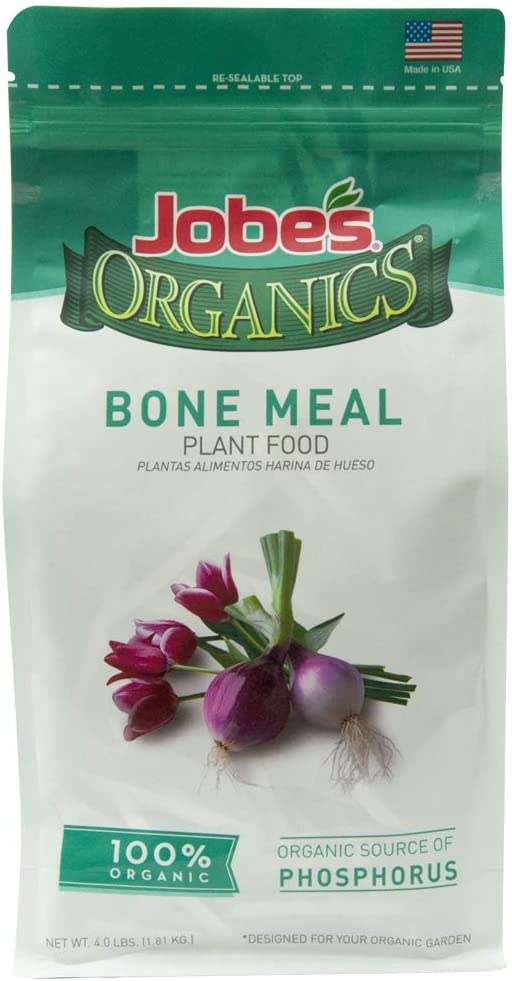 Another simple approach in feeding gardenias is using a bone meal. Like blood meal, it's usually found mixed with other nutrients in most fertilizers. It's an organic fertilizer and serves as an excellent source of phosphorus and calcium.
Calcium keeps the cell walls of plants together and plays an important role in the development of new leaves and stems. Distorted growth of leaves, flowers, and buds are often attributed to the low levels of calcium in plants.
A bone meal helps boost the root development of gardenias and helps them provide bigger and better blooms. This fertilizer is also applicable as plant food for bulbs, roses, trees, and shrubs.
Jobe's Organics Bone Meal is a 2-14-0 NPK fertilizer with a slow-release formula. It comes in a granulated form. Since it's organic, it's safe to use around kids and pets.
Pros
Organic fertilizer
OMRI-listed
Kid and pet-friendly
The slow-release formula ensures consistent feeding
Cons
It has less nitrogen content that might not solve some issues in gardenias like yellow leaves.
---
4. Dr. Earth Acid Lovers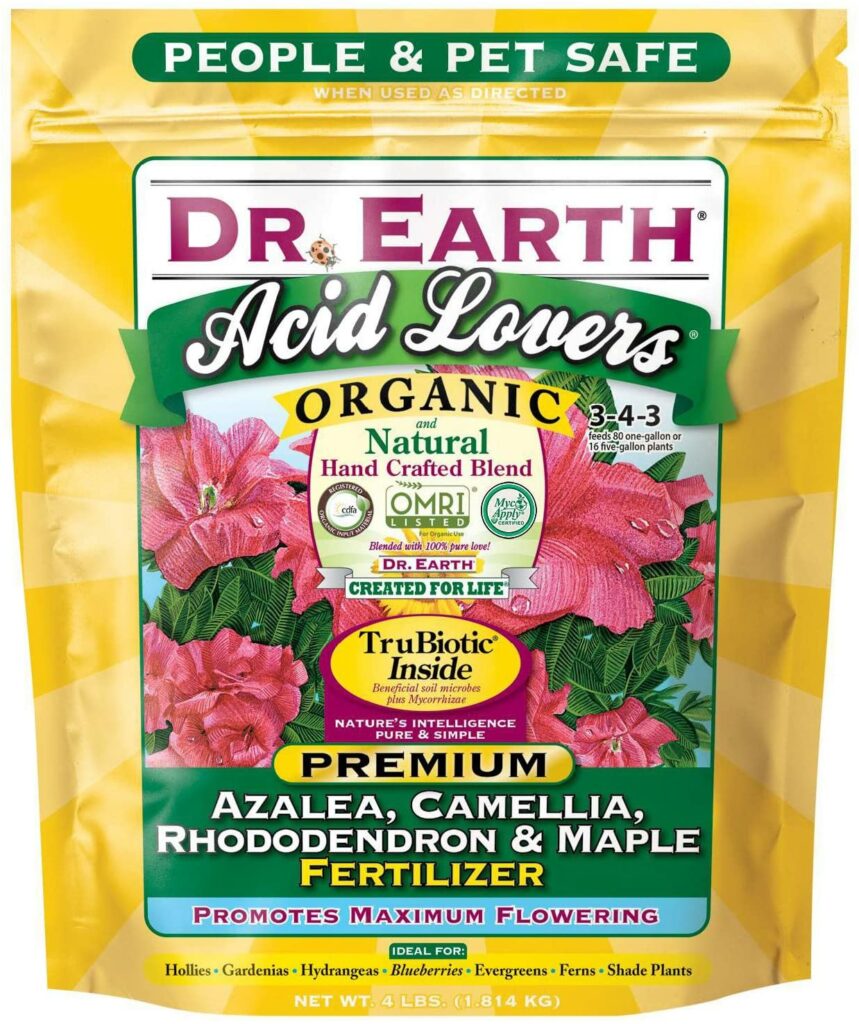 Dr. Earth Acid Lovers is an organic 3-4-3 NPK fertilizer that is specially formulated for plants that thrive in an acidic soil environment. It's handcrafted and derived from feed-grade ingredients.
So, you can be pretty sure it has no synthetic content and GMO-infested chicken manure.
It contains:
Alfalfa meal
Fishbone meal
Potassium sulfate
Fish meal
Kelp meal
Kelp flower
This fertilizer is also suitable for other plants such as:
Azaleas
Camellia
Rhododendron
Maple
Blueberries
The key advantage of this fertilizer is its TrueBiotic soil microbes and mycorrhizae that help break down organic nutrients for your plant's optimal nutrient absorption. These contents also boost gardenias' ability to have higher drought-tolerance and increased plant performance.
Mycorrhizae or mycorrhizal fungus is a good source of nitrogen and phosphate for plants. It also boosts the gardenias stress resistance to drought and heavy metals in the soil. It also strengthens the plant's defenses against soil pathogens.
Dr. Earth fertilizers are the most popular brand among organic gardeners. It has been dubbed as the purest organic fertilizer in the market and has been listed in several certifications for staying true to its organic fertilizer advocacy.
However, since it's organic you should expect some smell due to the organic materials used.
Pros
Organic fertilizer
OMRI-listed
Kid and pet-friendly
Contains extra technology like TruBiotic for better plant performance
Cons
The smell may attract unwanted animals and insects like dogs
---
5. Fox Farms Big Bloom

If you want to steer away from the mainstream fertilizers and discover new brands, Fox Farms might surprise you.
Fox Farms has a variety of fertilizers for every category of plants that you can check out too since it's starting to be popular among gardeners in the US.
Fox Farms Big Bloom is a 0.01-0.13-0.7 NPK liquid fertilizer designed to enhance the performance of acid-loving plants like gardenias. The high acidity of the soil means it has low PH levels.
On the other hand, high PH levels mean the soil is too alkaline and not suitable for Gardenias to thrive and grow in. So the lower the PH levels, the better for the acid-loving plants.
This fertilizer contains bat guano and earthworm castings. Bat guano or bat dung is a natural fertilizer that helps speed up the decomposition process in the soil and it also serves as a compost activator, natural fungicide, and nematode control. Earthworm castings provide substances that enhance germination and flower production in plants.
Fox Farms Big Bloom fertilizer can be used for gardenias in all its stages of growth. You can give your plants a jumpstart in plant food through foliar feeding. You can use this fertilizer for both indoor and outdoor plants.
Pros
Contains bat guanos and worm castings that are rich in nutrients
Can be used indoors and outdoors
Can be used in all stages of plant growth
Cheaper than mainstream fertilizers
OMRI-listed
No smell
Kid and pet-friendly
Cons
Full strength solution can burn your plants. Start with half-strength to test the reaction of your gardenias to the fertilizer.
---
6. Yum Yum Mix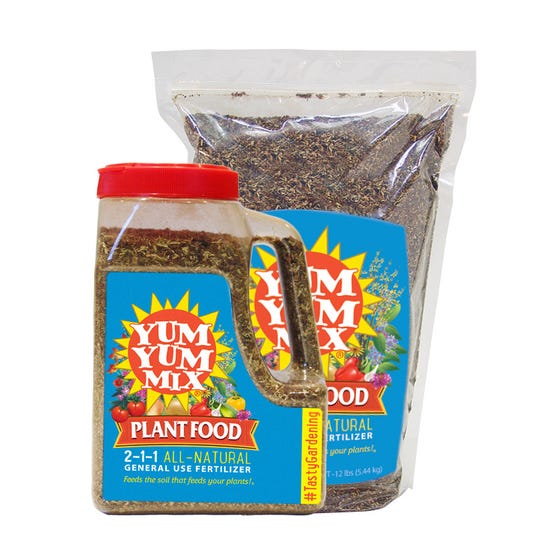 Another popular fertilizer among gardenia growers is the Yum Yum Mix. It is an all-purpose fertilizer specially invented by Donna Boner to nourish alkaline and unhealthy western soils.
It is an organic fertilizer that you can not only use in flowers but also for vegetables and other plants that love acidic soils.
Yum Yum Mix is a 2-1-1 NPK fertilizer derived from the following organic materials:
Cottonseed meal
Kelp meal
Alfalfa meal
Greensand
Rock phosphate
Dry molasses
Humate
One of the key features of this fertilizer is its good impact on soil microorganisms. Earthworms and soil microbes respond well to this fertilizer as it breaks down minerals and organic matter for the plant nourishment of gardenias.
Aside from being a good option for gardenias, it's also vegetarian-friendly. It doesn't contain any animal products, sewage sludge, and petroleum-derived chemicals. Unlike other fertilizers, it has no blood and bone meal contents.
The formulation of this fertilizer is geared towards moisture retention in your soil and increases plant resistance against drought and biotic stresses.
It also helps improve your soil's PH balance. Yum Yum Mix may not be a mainstream fertilizer yet, but it's definitely worth the try.
The manufacturer also provides a soil preparation guide for gardeners. Plus, it's kid and pet-friendly.
Pros
Organic fertilizer
Vegetarian-friendly; doesn't contain any animal product
Good for all soil conditions
No petrochemicals and sewage sludge contents
 Pet and kid-friendly
Cons
Has a smell but not as bad as typical organic fertilizers
---
7. Espoma's Holly Tone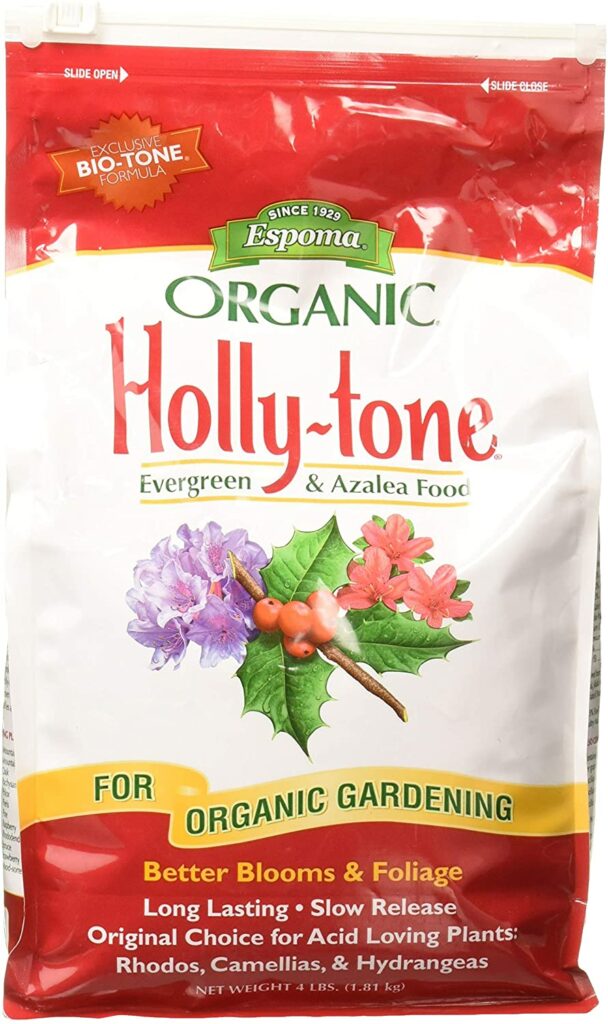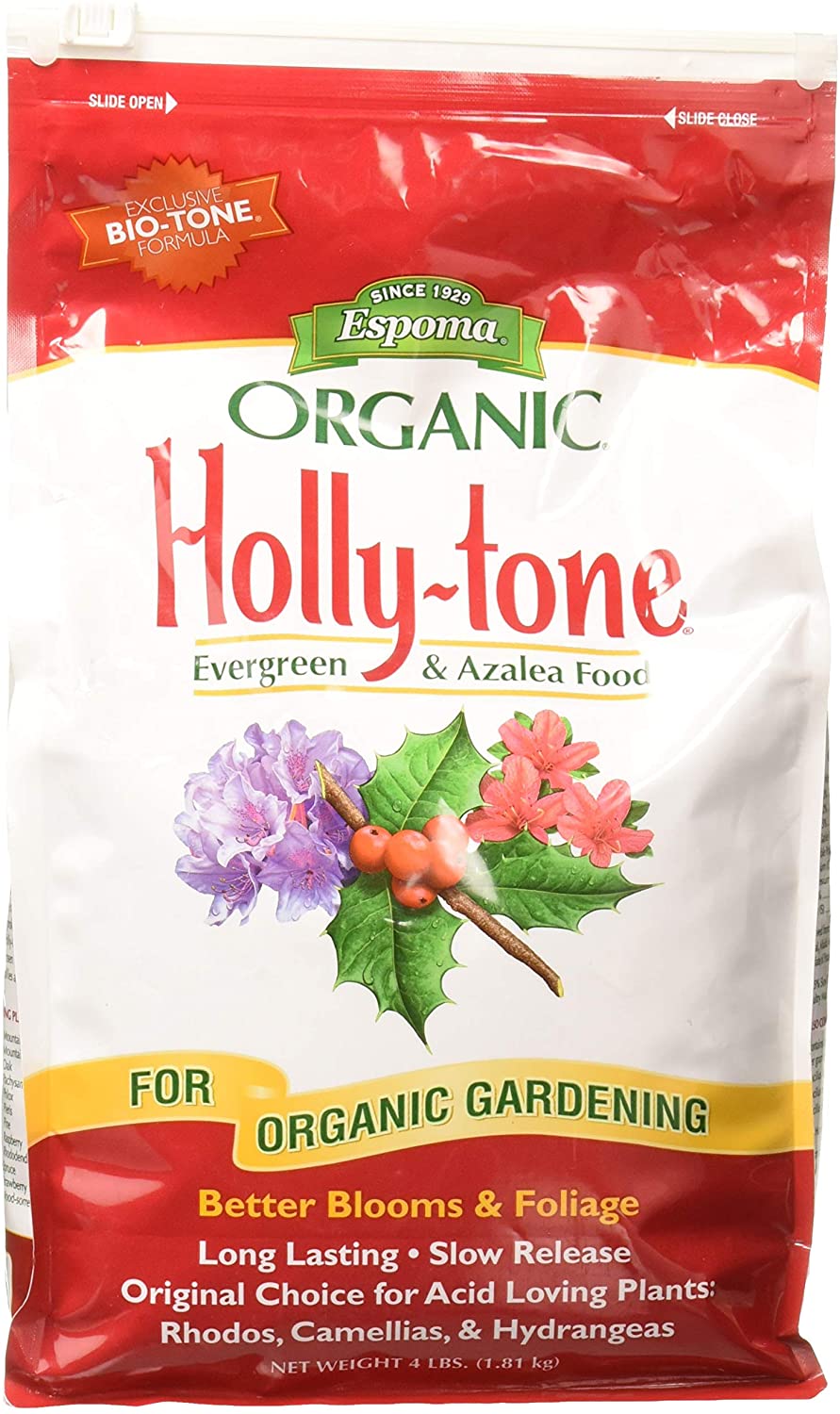 Holly Tone has been a gardener's favorite for its good performance on plants and affordability.
It is a 5-3-3 NPK organic fertilizer made in a slow-release formula. It is specially made for acid-loving plants to promote vibrant and bigger blooms.
Holly Tone is derived from the following organic materials:
Feather meal
Poultry manure
Bone meal
Alfalfa meal
Greensand
Sulfate of Potash
Potash of magnesia
Elemental sulfur
This fertilizer is also packed with extra nutrients such as calcium, magnesium, sulfur, and humic acid.
Sulfur is the fourth macronutrient in soil that is essential in the formation of chlorophyll. It is part of the amino acids which serve as the building block of plant proteins. Sulfur also serves as a metabolism activator of nitrogen.
Humic acid contributes to plant growth by improving nutrient absorption and its ability to impact hormonal effects on plants, It also helps promote strong root growth in plants.
Holly Tone is not entirely exclusive to gardenias but also good for plants that thrive in an acidic environment. These include:
Hollies
Azaleas
Camellias
Evergreens
Dogwoods
Rhododendrons
Pros
Contains extra nutrients like sulfur and humic acid. 
Organic fertilizer
Kid and pet-friendly
No bad smell
Doesn't burn plants
Cons
The smell of the materials used can attract dogs. They may eat the leaves of your plants and suffer from diarrhea.
---
8. Jobe's Soil Acidifier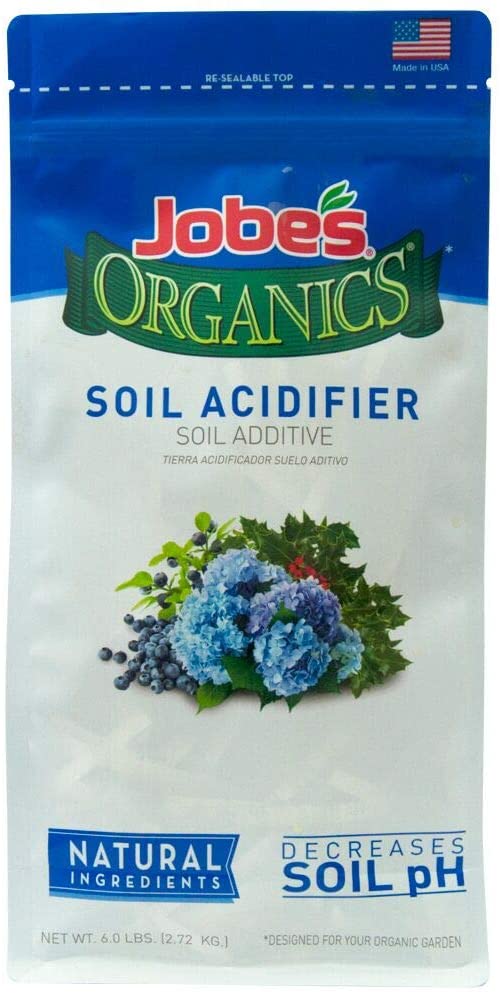 The term soil acidifier might be new to some but it has a rightful spot in line with the fertilizers in this list.
Soil acidity has a lot to do with the development and health of your gardenias. So it's worth exploring all the soil conditioners like Jobe's Soil Acidifier to improve the ability of your plants to absorb nutrients.
The acidity of the soil decreases due to several factors such as:
Climate
Soil texture
Deminirelization due to heavy rainfall
Since we experience different climate changes every year, the minerals in the soil will leach to the groundwater, one way or another.
Using soil acidifiers, you can replenish the last nutrients in the soil and makes it a perfect environment for gardenias to thrive in.
Jobe's Soil Acidifier serves as both natural soil amendment and plant food that helps lower the soil's PH levels for increased acidity. It contains sulfur and gypsum that are essential for the production of plant proteins.
Gypsum helps promote good root development of acid-loving plants. It also deals with the toxic effects of aluminum on your geranium's root development.
The sulfur content of this plant food helps in the formation of vitamins and enzymes resulting in the lush green foliage of your gardenias. Jobe's soil Acidifier also contains no harmful chemicals that can potentially burn your precious acid-loving plants.
This fertilizer is organic and OMRI-listed. That also means it is safe to use around your kids and pets.
Lastly, the optimal application rate for this plant food is two to three times a year. So, a bag goes a long way.
Pros
Organic soil amendment and plant food
OMRI-listed
Helps fix the soil condition for acid-loving plants
Boosts nutrient absorption of your plant's roots
Kid and pet friendly
Non-burning formula
Cons
Doesn't contain NPK to replenish some nutrient deficiencies
---
9. Espoma Soil Acidifier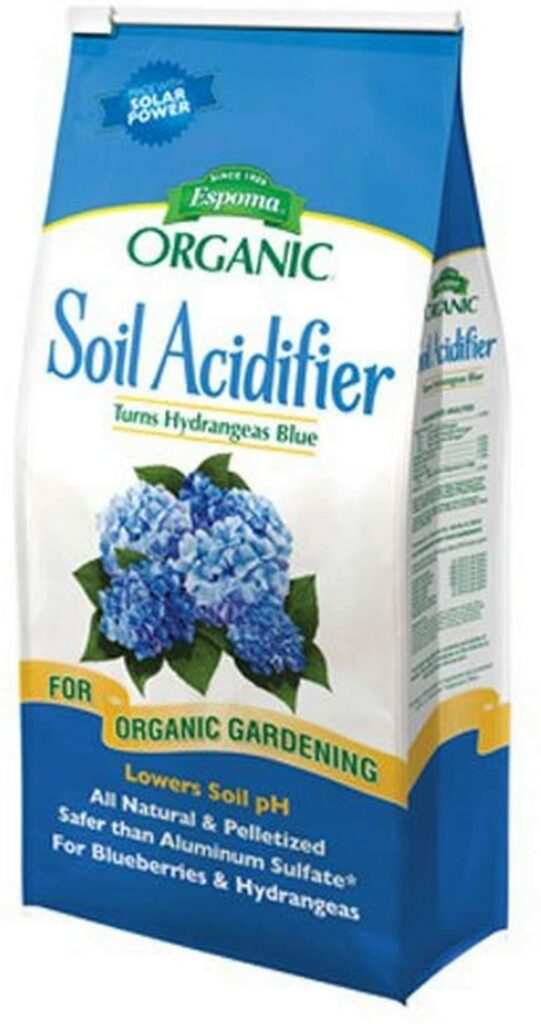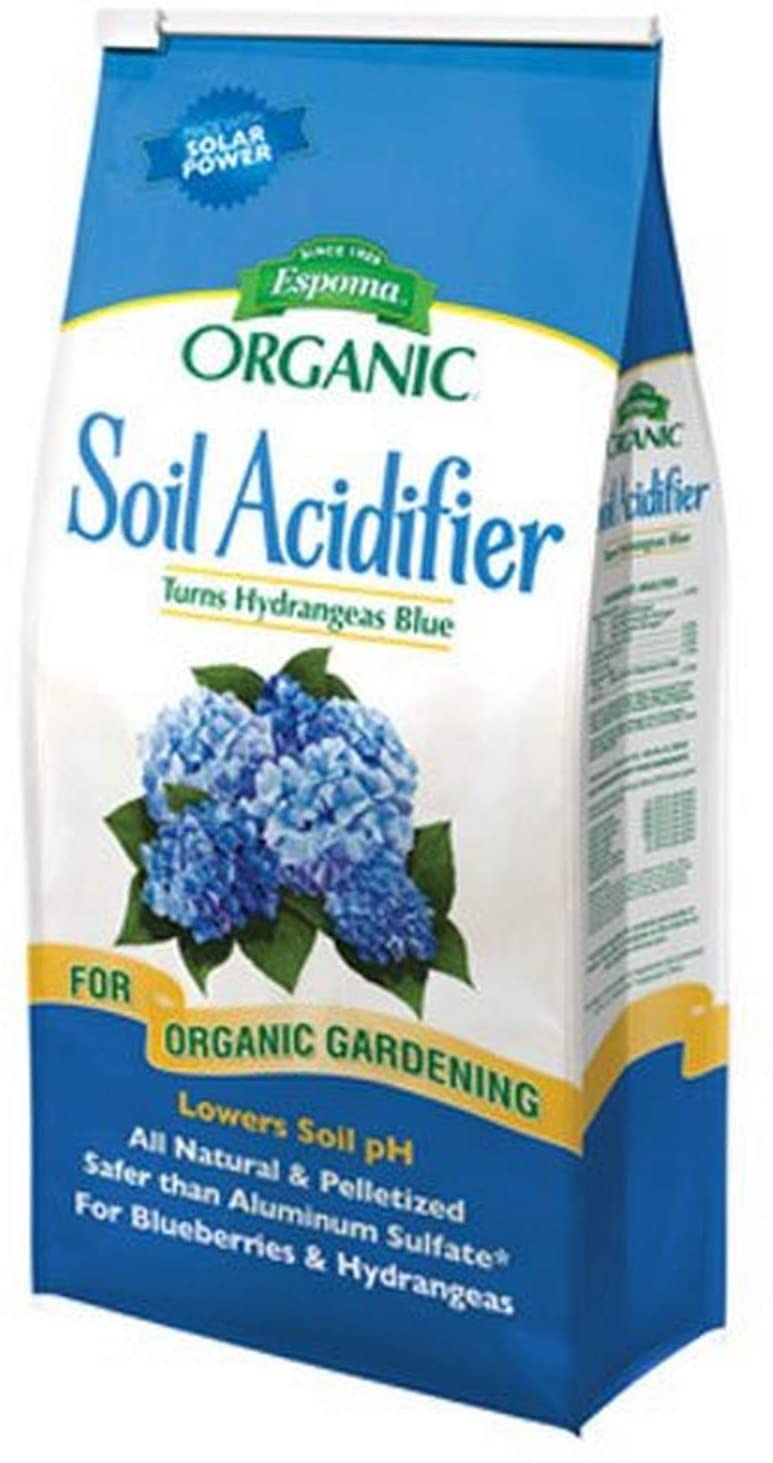 As another option besides Jobe's, you may also try to use Espoma Soil Acidifier. It works as both soil amendment and plant food for plants that thrive in an acid-loving environment.
Espoma's version also contains sulfur and gypsum for better root growth development in plants.
The manufacturer claims that it is safer to use than aluminum sulfate. This soil amendment also helps lower the PH level of soil that contributes to the optimal growth of your gardenias.
Like other Espoma products, it is also organic and works well with blueberries aside from gardenias, and can turn hydrangeas blue.
The recommended application time is during Spring every 60 days until your desired PH level is met.
Pros
Organic soil amendment and plant food
Improves soil condition for acid-loving plants
Boosts root development with sulfur and gypsum
Kid and pet-friendly
Cons
Contains no NPK and may not solve signs of nutrient deficiencies like yellowing of leaves
---
10. Vigoro Azalea, Camellia, and Rhododendron Plant Food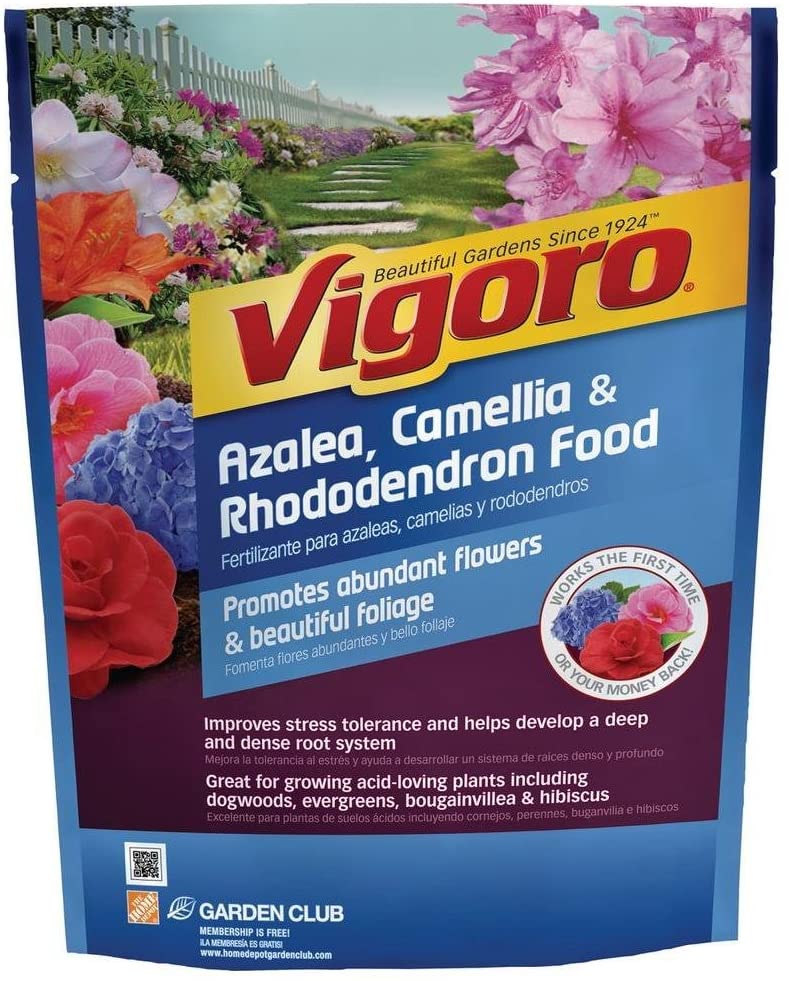 Vigoro has been in the fertilizer market for quite a while now and became popular for their Vigoro plant food for evergreens.
Now, their other fertilizers are also gaining attention. This line of fertilizers are manufactured in Canada but available for sale in the US
Vigoro's Plant Food for acid-loving plants is a 10-8-8 NPK granulated fertilizer. Its formula helps plants like gardenia to have big and vibrant blooms. You may also use this fertilizer for the following plants:
Azaleas
Camellia
Rhododendron
Hibiscus
Dogwoods
Evergreens
Bougainvillea
This slow-release fertilizer helps your gardenias develop strong and deep roots for optimal plant growth. It also helps plants to have increased stress tolerance against drought and changes in the soil condition while boosting flower formation.
The only thing that may hold back other gardeners is it's not an organic fertilizer. That said, it may not also be safe to use around your kids and pets.
Pros
Cheaper
All-purpose and can be used for other acid-loving plants
The slow-release formula is ideal for consistent feeding 
Cons
There's not much information about its actual content
Synthetic fertilizer
Not safe to use around kids and pets
---
What You Need To Know About Gardenias?
Gardenias are grown by most gardeners due to their big beautiful blooms and distinct fragrance. They love a good exposure to the sun and a touch of afternoon shade.
Check out its features and plant care requirements to make sure you're doing a good job in growing your gardenias:
1. Plant Features
Gardenias are not easy to grow due to their unpredictable needs.
Sun exposure requirements of gardenias correlate to the climate you're in. The important thing to remember is too much or too little sunlight is not good for Gardenias.
They love a humid environment and have very strict temperature requirements.
Watering them should be a good balance of keeping the soil moist but not overwatering it.
Gardenias have several varieties categorized based on their distinct features:
Large Gardenia Cultivars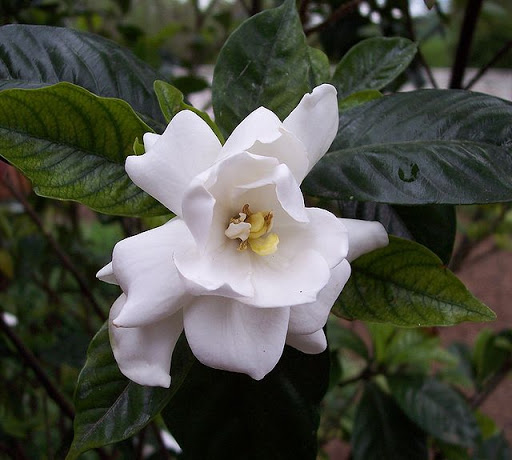 Aimee
Belmont
Fortuniana
Miami Supreme
Supreme
2. Medium-sized gardenias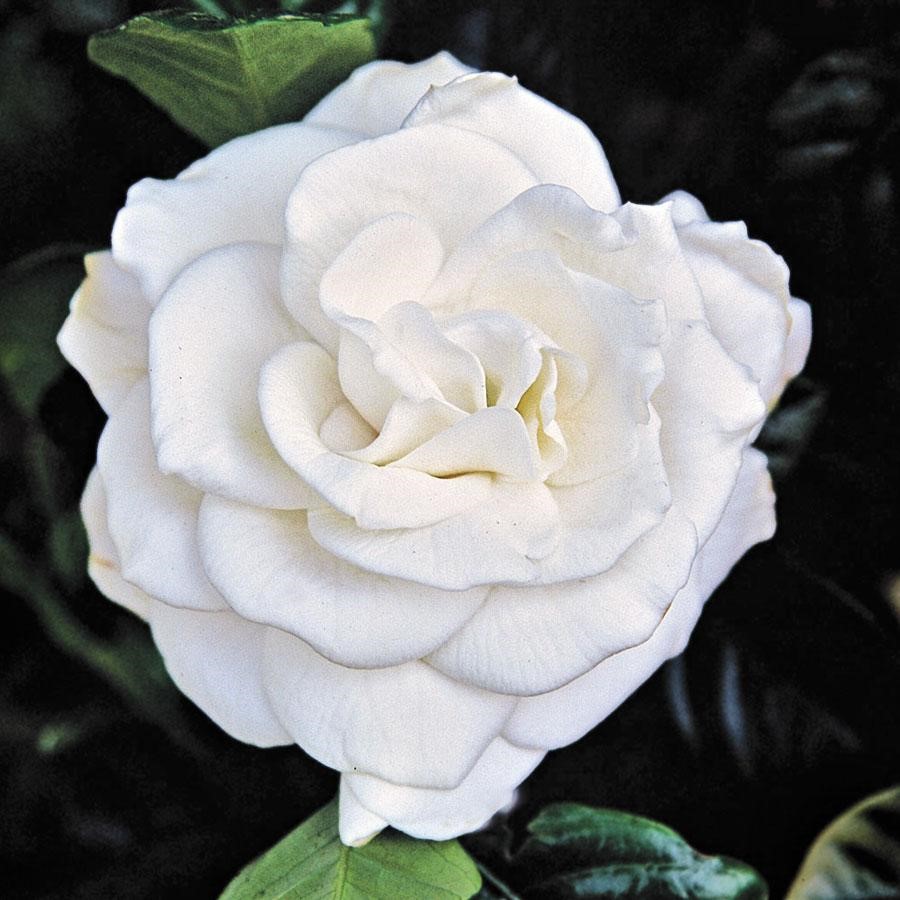 August beauty
Chuck Hayes
Coconut Magic
Daisy
Frostproof
Heaven Scent
Jubilation
Pinwheel
Veitch
Celestial Star
3. Dwarf gardenias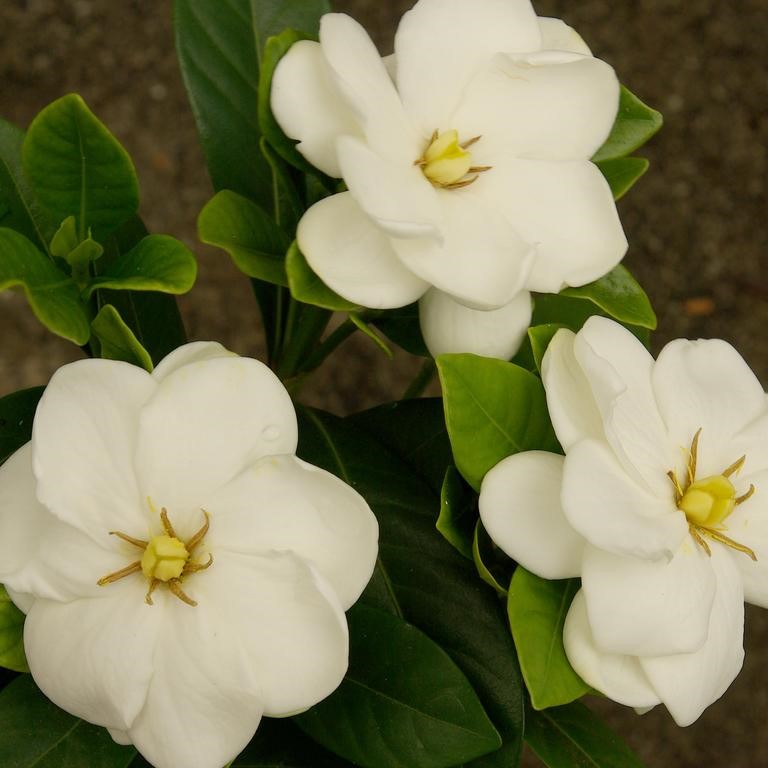 Buttons
Crown Jewel
Four Seasons
Golden Magic
Kleim's Hardy
Radicarn
ScentAmazing
4. Hardy gardenias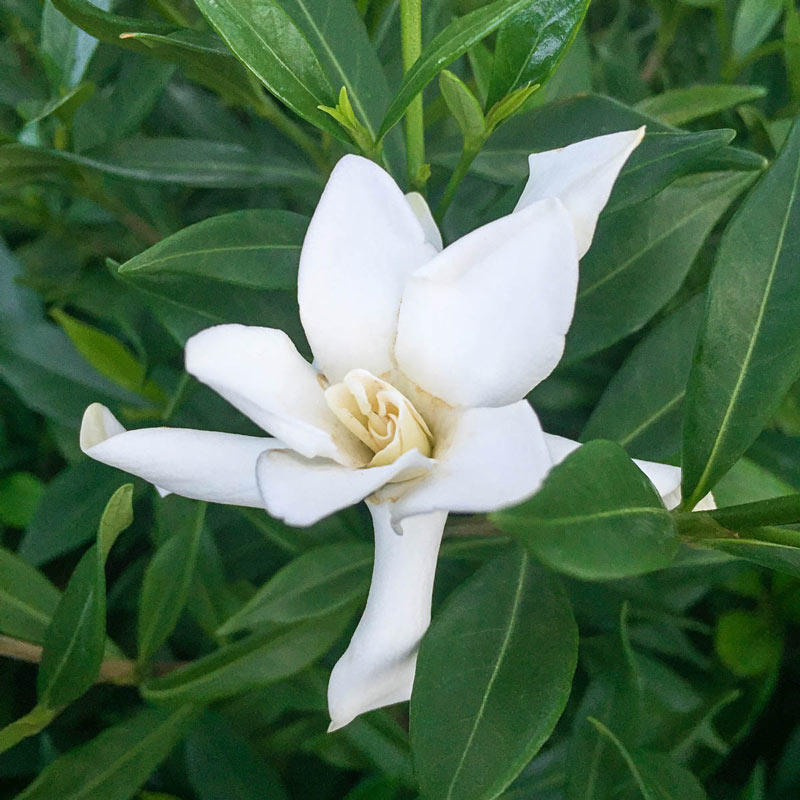 Belmont
Chuck Hayes
Daisy
Frostproof
Heaven Scent
Jubilation
Kleim's Hardy
Pinwheel
Celestial Star
ScentAmazing
2. Plant Care Requirements
Gardenias need full sun to light shade to survive. But, the tricky part comes during the hottest months of the year. It loves full sun but you should put it in the shade at the peak of noon or else the leaves may burn and buds will fall off.
Sun Exposure Requirements:
Here are the particular requirements of gardenias to avoid burning them:
Hot climates: Morning sun and afternoon shade.
Cool climates: Can tolerate full sun but roots should be insulated with mulch.
Gardenias in containers: Indirect sun.
Indoor gardenias: 6 to 8 hours of direct sunlight.
Soil Requirements:

Gardenias need the following soil features to thrive:
Acidic with a PH level of 5.0 to 6.0
Moist, well-drained but not soggy soil
Mulched – for temperature control
Nutrient-rich soil mixed with peat moss and manure
Pro tip: Avoid planting gardenias in soils with high PH levels or alkaline soils like areas near the concrete pavements and house foundations.
Humidity and Temperature Requirements:
Gardenias thrive in day temperatures of 18 to 21 degrees Celsius and night temperatures of 15 to 18 degrees Celsius. They also need high levels of humidity for optimal growth and performance.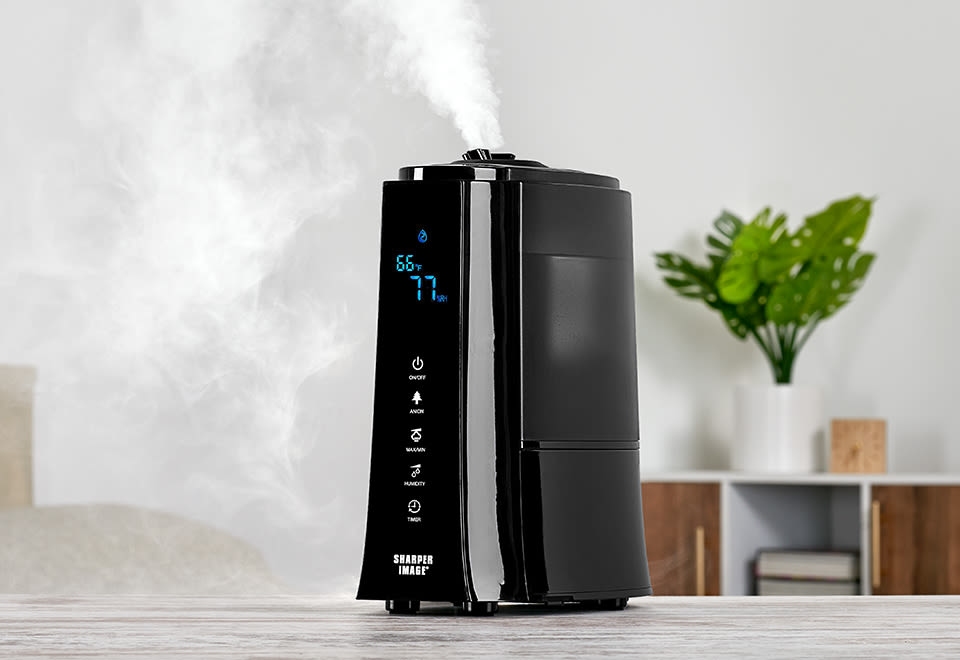 Pro tip: Increase indoor humidity by using a humidifier close to your gardenias or do a daily misting.
Pest Control:

Keep gardenias safe from unwanted pests by keeping the humidity high and using horticultural oil, insecticidal soap, or appropriate insecticides for acid-loving plants. Common pests on gardenias are spider mites, whiteflies, and mealybugs.
Watering requirements
Learn the art of watering gardenias through the following tips:
Gardenias require an inch of water every week. Don't overwater or dry out the soil or else the buds won't develop properly.
You can also water your gardenias with distilled water once a month to get rid of the accumulated fertilizer salts in the soil.
Water gardenias in the soil and not on the foliage.
---
5 Tips in Fertilizing Gardenias
Since gardenias are pretty sensitive with almost every aspect, you may want to make sure fertilization won't cause them to die.
Here are some helpful tips so you can fertilize them the right way:
Do not fertilize gardenias from November to February. Do it from March to October every 2 to 4 weeks.
Overfertilization can lead to buds falling off.
Save yourself from wasting money by not buying general-purpose fertilizers and opt for the ones formulated for acid-loving plants.
Natural ways to nourish your gardenias include:
Cottonseed meal
Fish emulsion
Blood meal
White vinegar(1 tbsp. per month)
Rainwater
Compost tea
Manure
Aged compost
5. Learn when and how to fertilize your gardenias by understanding the common problems any gardenia grower may encounter: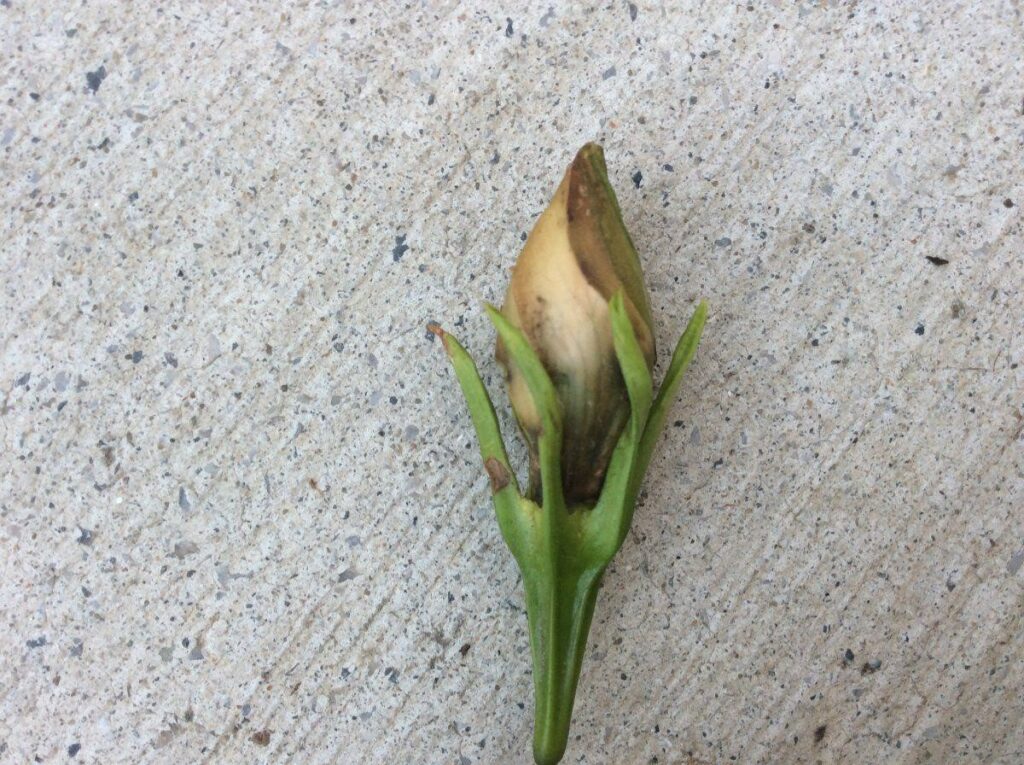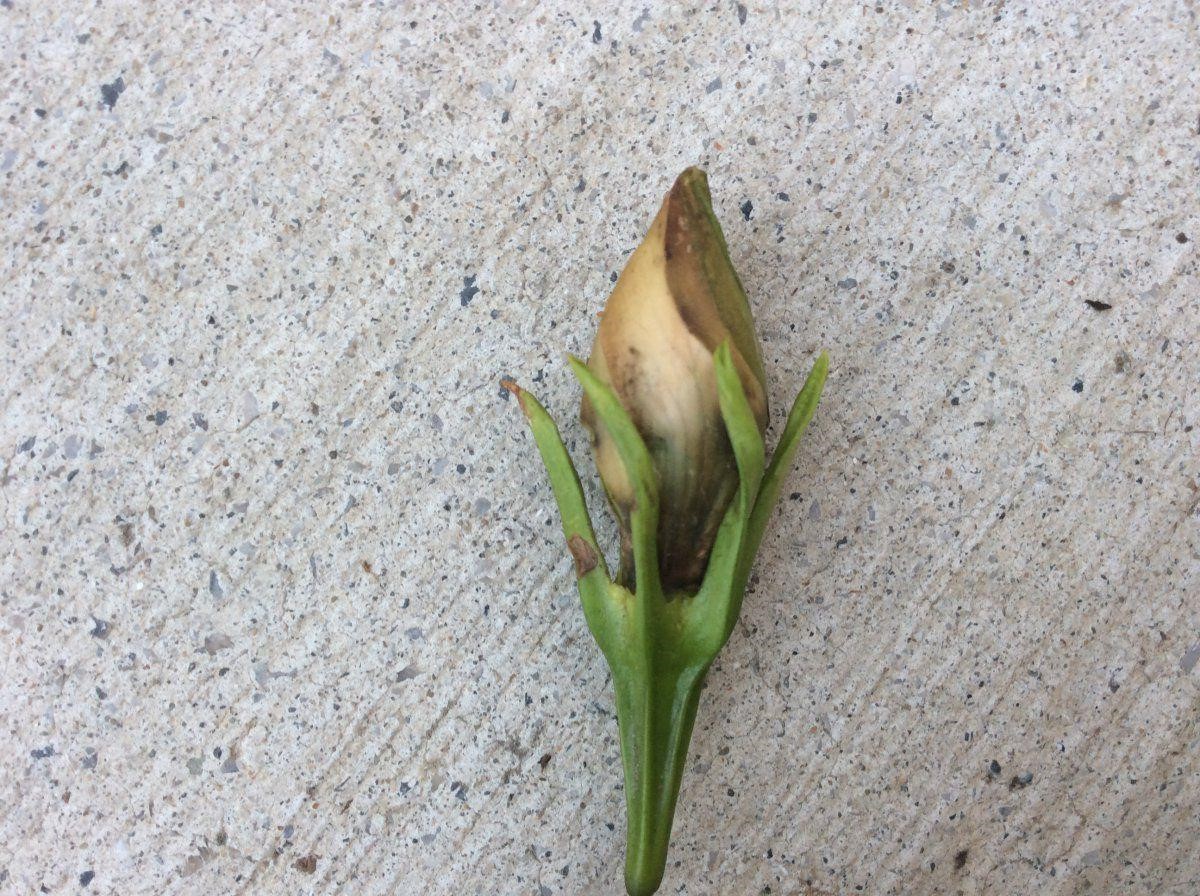 Buds Falling Off:
There are a couple of reasons why buds fall off right even before they bloom such as:
Too much or too little water
Compact soil( poor drainage)
Low humidity
Not enough sun exposure
Sudden changes in temperatures
Too much fertilizer
Nutrient deficiencies

Yellow Leaves:

Contrary to any beginner's misconception, yellow leaves don't only mean your gardenias are nutrient-deficient. It can also be due to:

Overwatering and underwatering
Not enough sun exposure
Poor soil drainage
Low temperatures
Iron chlorosis
Nutrient deficiencies
Root rots and nematodes
Brown Leaves:

When you see gardenia's leaves turn into brown, it's probably due to:

High alkaline levels in the soil
Pest and fungi infestations
Foliar watering
Insufficient sunlight exposure
Poor soil drainage

Flowers Not Blooming:

Probably one of the biggest heartaches of a gardener is when the buds are not blooming, especially with the extra picky gardenias. Here are the possible reasons why:

Sudden changes in temperatures
Nutrient deficiencies
Buds falling off
Wrong pruning practices
High alkaline levels in the soil
Poor soil drainage
Pest and fungi infestations
---
Final Thoughts
We hope that our list of the 10 best fertilizers for gardenias helped you narrow down your choices in looking for the best plant food for your gardenias.
They may be a challenging plant to grow but they produce very rewarding blooms and a good distinct smell that you'll fall in love with.
In general, it takes a good balance in giving it proper sunlight, water, soil condition, and fertilizer.
It is also advisable to measure the temperature and PH levels from time to time to give your gardenias the optimal environment that they need.
Any miscalculations can affect their development so better not waste all your efforts and keep track of every detail in growing them. Take the good challenge and be a more skilled gardener in learning their sensitive behavior.
If you find this post helpful, please share this guide with your fellow gardeners and master the art of growing gardenias.
Let us know your experience in growing them, by sharing it in the comments section below.