Roses are one of the most well-loved flowers in the world. Due to its popularity, several fertilizers are specifically made for roses in the market. 
However, we believe that doing a trial-and-error on your precious roses is not worth the money and the gamble. After all, growing a plant takes a lot of work and patience.
The good thing is that roses are not entirely picky with fertilizers. As long as a fertilizer contains nutrients, it will still show signs of improvement. Some types of fertilizers outperform the rest, though.
In this post, we'll discuss the top 10 fertilizers for roses to narrow down your options from a multitude selection of fertilizers for flowers.
We'll include all the pros and cons and what makes them different from the other fertilizers.
Let's start!
(You could use the table of contents below to jump to the sections that are most important to you.)
---
Top 10 Rose Fertilizers in 2023 – A Product Review
1. Dr. Earth Total Advantage Rose & Flower Fertilizer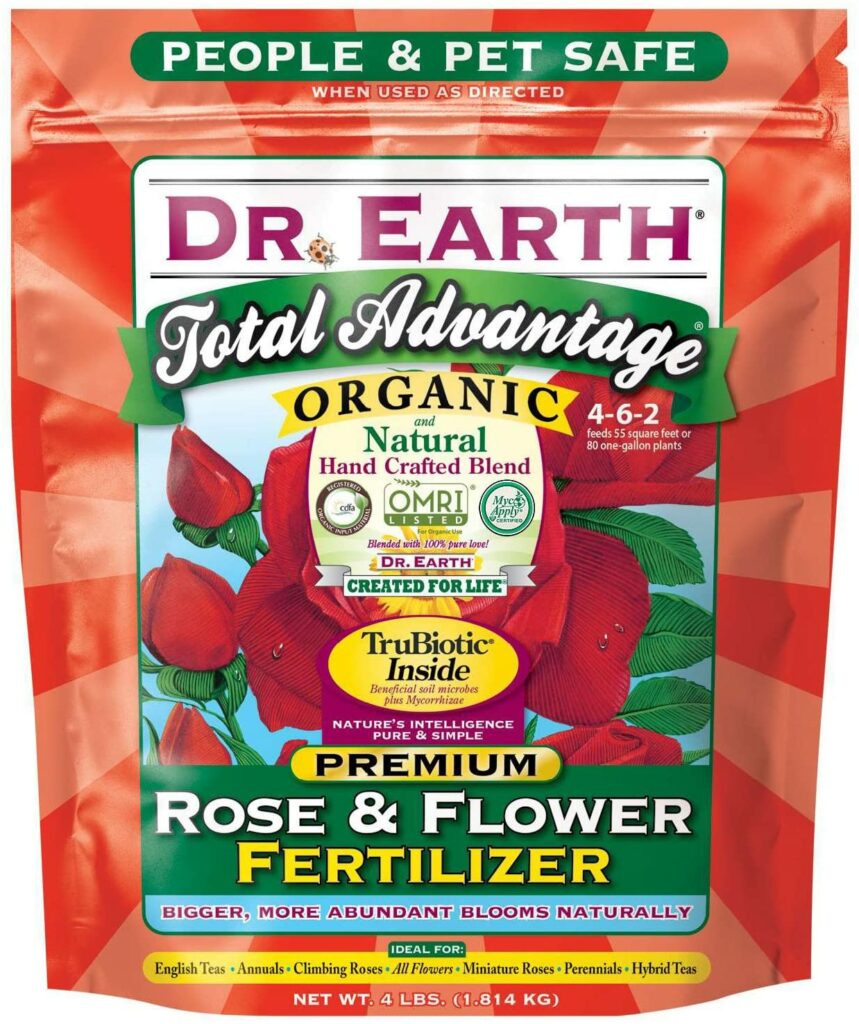 Dr. Earth Total Advantage Rose & Flower Fertilizer is an organic/granular fertilizer that is made from feed-grade ingredients and is enriched with multi-minerals, proteins, carbohydrates, humic acids, and elements that promote healthy soils for your roses.
It is a 4-6-2 NPK fertilizer handcrafted to feed flowering plants naturally for bigger and more blooms throughout the flowering season.
The manufacturer is also proud to claim that they are using GMO-infested poultry manure and only use the highest quality organic materials.
Since it's an organic fertilizer it is also safe to use around kids and pets. You may also use this fertilizer with other plants such as:
Annual plants
Vegetables/fruits
Perennials
Shrubs
Dr. Earth products are the most popular brand of organic fertilizer and are praised by most organic gardeners for their integrity with the components that they use for their fertilizers. It also contains added nutrients such as Mycorrhizae and TruBiotic.
Mycorrhizae is a good fungus that helps colonize the root system of a host plant, increasing its water and nutrient absorption. The host plant, in turn, provides the fungus with carbohydrates through photosynthesis.
TruBiotic is an added technology formulated by Dr. Earth to ensure a thorough breakdown of organic materials and immediately release them into the soil.
Thus, promoting a faster absorption of nutrients as needed by your rose plants. Healthy nutrient distribution contributes to your plants' drought tolerance, and increased plant performance.
Pros
Organic fertilizer
OMRI-listed
Kid and pet-friendly
High-quality organic materials
No synthetic chemicals, GMO infested chicken manure, or toxic ingredients
Doesn't burn plants
Cons
2. Jobe's Organic Rose Spikes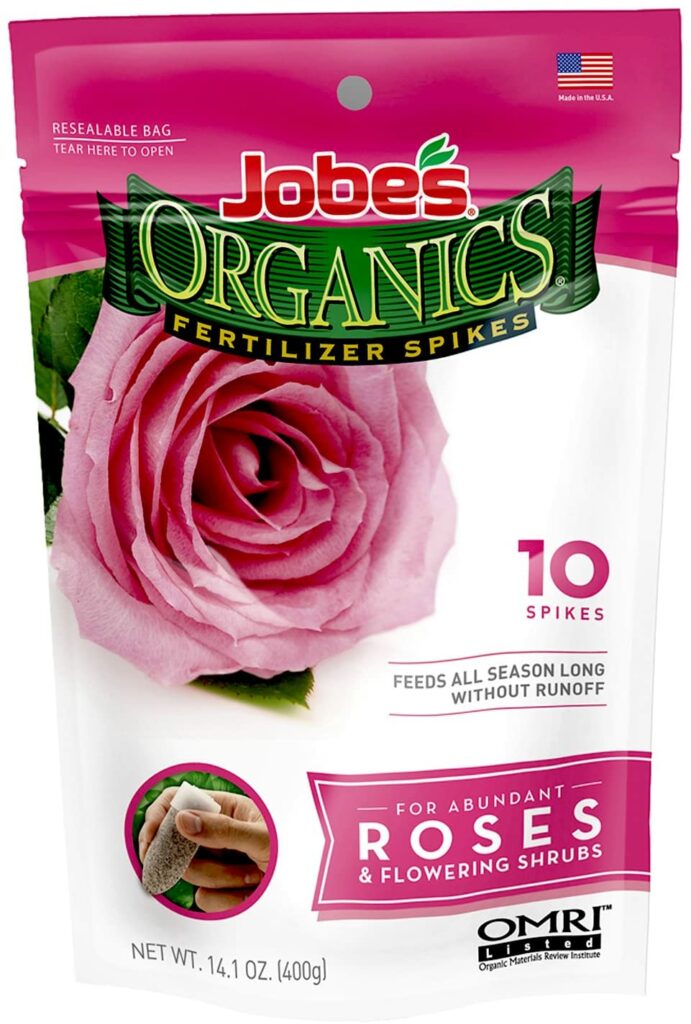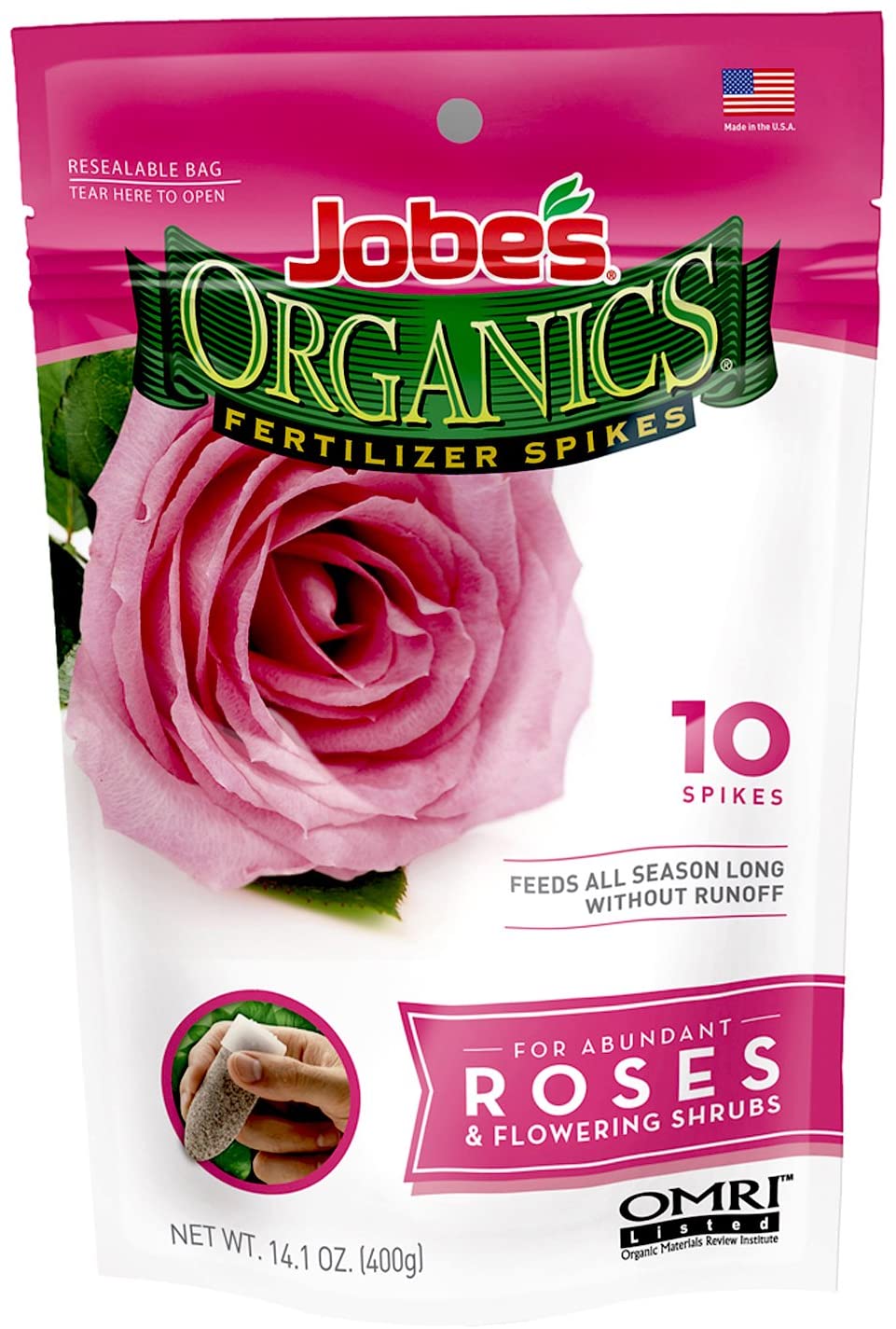 If you want a less messy way to fertilize your roses, you can try Jobe's Organic Rose Spikes. Their spike version of rose fertilizer from Jobe's is also organic and applied once every 4 to 6 weeks.
It is pre-measured for constant feeding to avoid waste and run-off. It also contains feather meal, bone meal, and potassium to enhance plant performance in producing beautiful blooms.
It also contains Biozome which is a blend of Archaea and Mycorrhizae fungi. The fusion of these healthy bacteria improves the soil condition that also boosts plant health.
They also help your plants develop strong roots and make your roses resist the effects of pests and insects and have a higher drought-tolerance.
It is a 3-5-3 NPK fertilizer that is applied at the dripline of your roses where the absorbing roots are located.
You should maintain a good watering schedule to activate the release of nutrients from the spikes.
Many gardeners love this rose fertilizer because it is easy to use and doesn't require extra steps such as mixing and measuring the fertilizer.
Pros
Organic fertilizer
Easy to use
Kids, environment, and pet-friendly
Certified by OMRI (Organic Materials Review Institute)
Prevents waste and run-off
Cons
Wrong application of the spikes can drift the nutrients away from the absorbing roots
3. BioAdvanced Rose & Flower Care Concentrate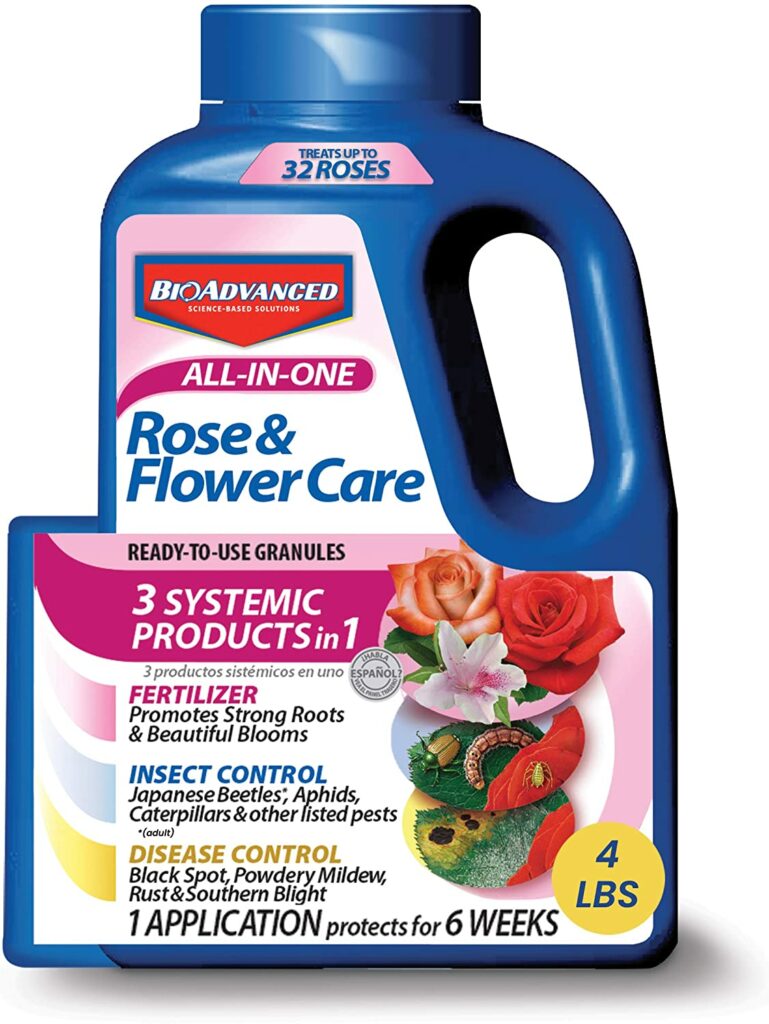 BioAdvanced Rose & Flower Care is a water-soluble/granular fertilizer that serves as an all-in-one rose and flower care.
It helps with pest and disease control and as a fertilizer for your roses. It also contains extra nutrients such as phosphate and tebuconazole.
Tebuconazole is a systemic fungicide that works for a variety of plants for landscaping and farming. It is absorbed by the plant from the soil and protects it against diseases by staying in the plant system.
It can help prevent the further spread of fungal diseases in plants or stop it from damaging your plants.
Phosphate is a natural mineral processed to produce phosphorus. Phosphorus is one of the three main components found in fertilizers. It is responsible for the growth of new plant tissues and the healthy division of cells.
Without enough supply of phosphorus, your roses will be unable to complete their production cycle.
Other types of plants that are going to love this fertilizer are:
Iris
Azaleas
Camellias
Rhododendrons
Hibiscus
Other Ornamental shrubs
Rose & Flower Care Concentrate is a 9-14-9 NPK fertilizer formulated for strong roots, shoots, and blooms. It is also a suitable solution in curing, prevent and controlling other diseases such as powdery mildew, leaf spot, petal blight, rust, and scab. It can also control insects like aphids, whiteflies, adelgids, and spider mites.
It is not used as a foliar spray and can be directly poured around the base of your roses.
Pros
Contains extra nutrients like phosphate and tebuconazole 
Specially formulated for gardeners and acid-loving plants
All-in-one plant care for roses
Doesn't have a strong chemical smell
Cons
Not kid and pet-friendly
Synthetic fertilizer
Messy
Can kill pollinating insects
4. JR Peters Jack's Classic Blossom Booster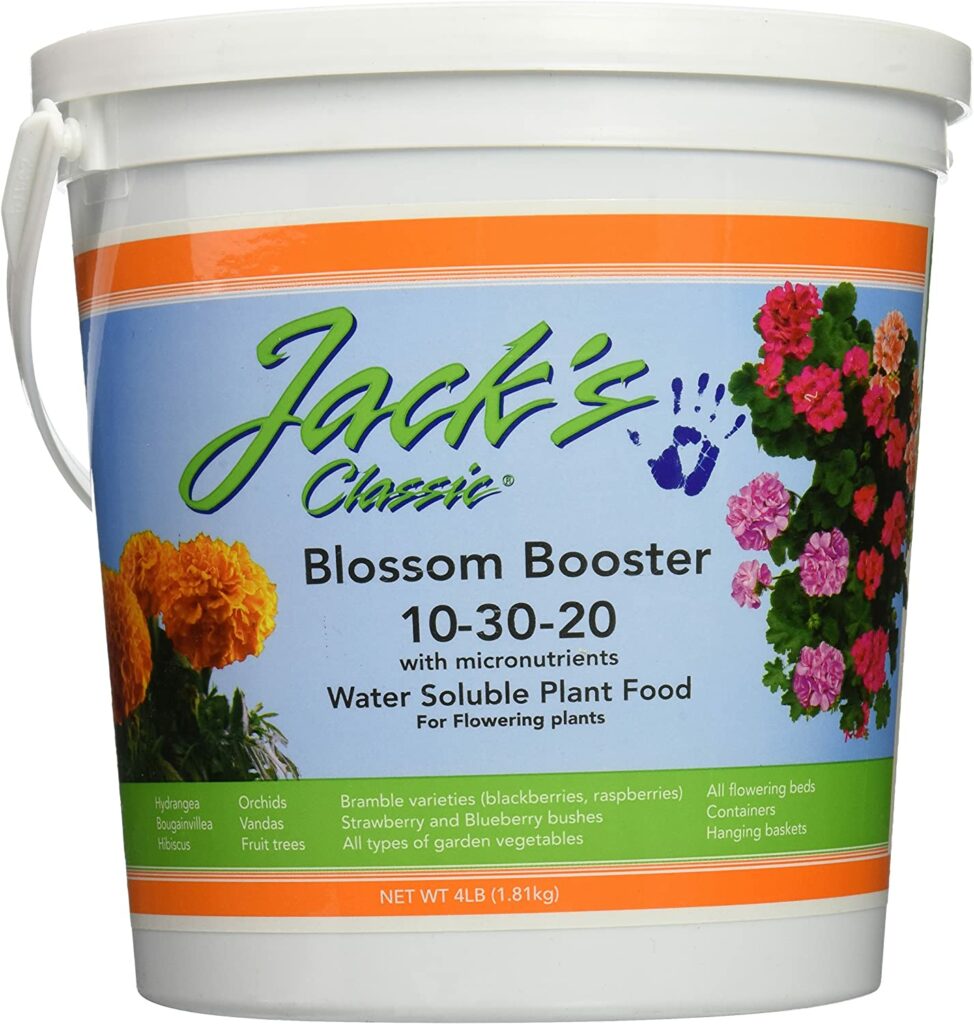 JR Peters Jack's Classic Blossom Booster is a water-soluble fertilizer that feeds your roses through the foliar spray and soil drench.
It also features the highest safety factor to preventing your roses from burning when applied as directed on the label. It contains a high content of phosphorus and potassium which is best for flowering and fruit-bearing plants.
Phosphorus is an essential nutrient that turns solar energy into useful plant compounds during photosynthesis.
Potassium, on the other hand, activates enzymes that are essential for the production of Adenosine Triphosphate (ATP), which is the energy currency of plant cells.
You may also use this fertilizer on the following plants:
Orchids
Hibiscus
Hydrangea
Bougainvillea
Fruit trees
All types of garden vegetables
Jack's Classic Blossom Booster is a 10-30-20 NPK fertilizer with a non-burning formula. It also contains the perfect blend of NPK nutrients and micronutrients to promote strong roots and lush green foliage in roses.
This fertilizer also promotes more vibrant and brighter colors on all indoor and outdoor roses.
It is one of the trusted brands by many professional rosarians for the commercial production and home cultivation of roses.
Pros
Specially formulated for fruits, vegetable, and acid-loving plants
A water-soluble formula that promotes fast absorption of nutrients
A good alternative to stronger types of fertilizers
Reusable packaging
Cons
Non-organic fertilizer
Not a kid and pet-friendly
Messy
5. Blue Gold Rose Blend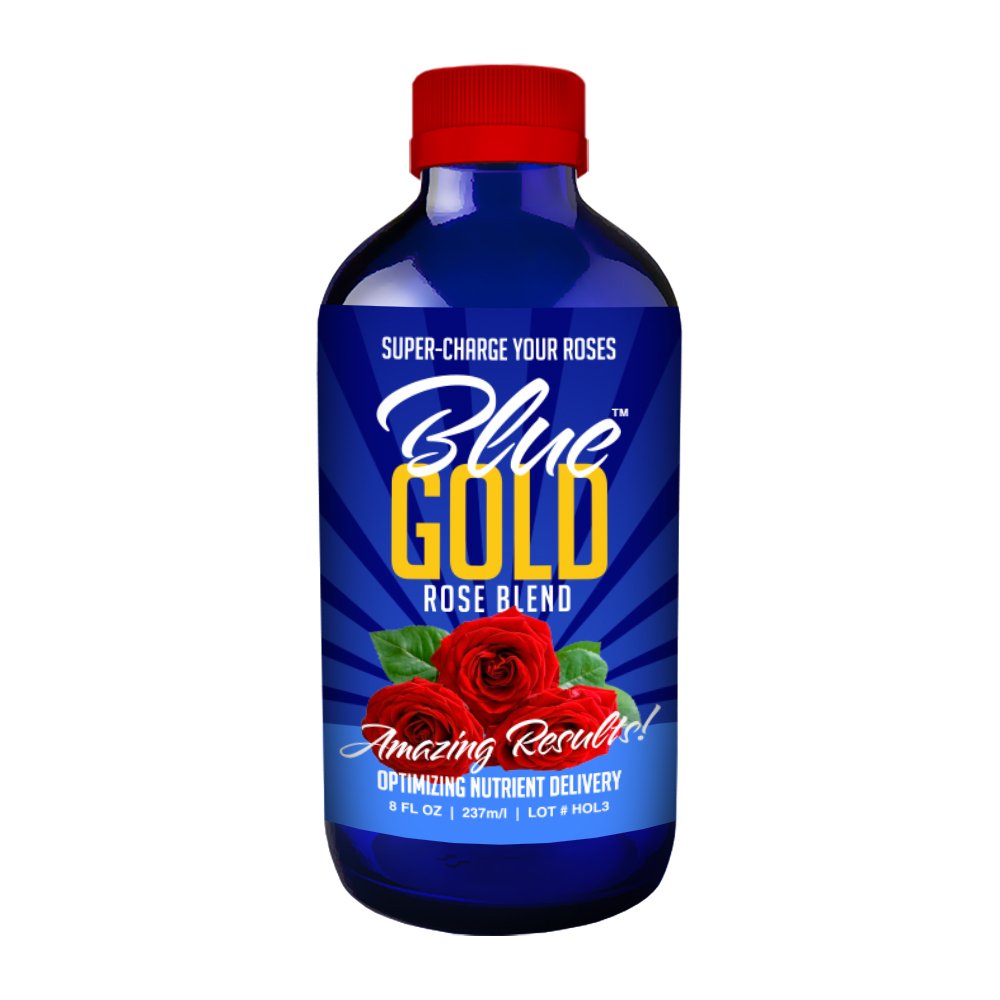 Blue Gold Rose Blend is a concentrated water-soluble fertilizer known for its excellent performance with roses.
It is a brand unknown to the majority but works just as perfectly as other mainstream fertilizers. Not to mention its affordability compared to popular fertilizers in the market.
It is made from natural ingredients and has been recognized by the NOP as an organic fertilizer. It is formulated with plant saponins, carbohydrates, resveratrol, and Triacontanol that are only applicable to flowering plants and medicinal herbs.
Blue Gold Rose is a safe solution designed to quickly nourish the plant systems and provide faster results like longer blooming cycles, bigger and vibrant blooms, enhanced aroma and root growth of roses, and prolongs the life of fresh rose cuts.
It is a 7-9-8 NPK fertilizer and helps protect roses from extreme weather conditions and helps in keeping them healthy to withstand plant diseases and pest infestations.
The manufacturer claims that its formula does not is harm beneficial insects and animals like birds, bees, butterflies, and earthworms.
Pros
Organic/water-soluble fertilizer
NOP certified
Safe to apply in all-weather conditions
A non-toxic solution to beneficial insects and does not cause skin irritation
Kid and pet-friendly
Doesn't stain fabrics, metal, wood, and even plastic
Cons
Enhanced with Triacontanol that can harm other types of plants 
Bad smell
6. Down to Earth Organic Rose & Flower Fertilizer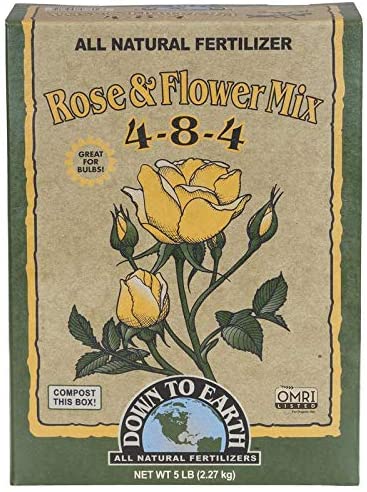 Down To Earth Rose & Flower Fertilizer is one of the well-known organic fertilizers for roses aside from Dr. Earth.
It is derived from organic materials such as fishbone meal, blood meal, langbeinite, alfalfa meal, seabird guano, rock phosphate, and kelp meal. It works with soil microorganisms to help build a healthy soil environment for your roses.
It is a 4-8-4 NPK fertilizer with an added phosphorus content for better and bigger blooms in roses. The manufacturer prides itself on not using organic fillers like sludge in their organic products.
If you're gearing towards an environment-friendly approach in gardening, Down-to-Earth fertilizers are the good way to go.
The only downside that you can find from this fertilizer is its smell since it contains organic materials.
But the good side of organic fertilizers is it's safe to use around children and pests. It will also not likely burn your plants compared to the synthetic ones.
Pros
Organic fertilizer
A water-soluble formula for fast absorption of nutrients
Safe to use in any season
Certified by OMRI (Organic Materials Review Institute)
Kid and pet-friendly
Cons
Bad smell
Non-resealable packaging
7. Miracle-Gro Shake N Feed Rose & Bloom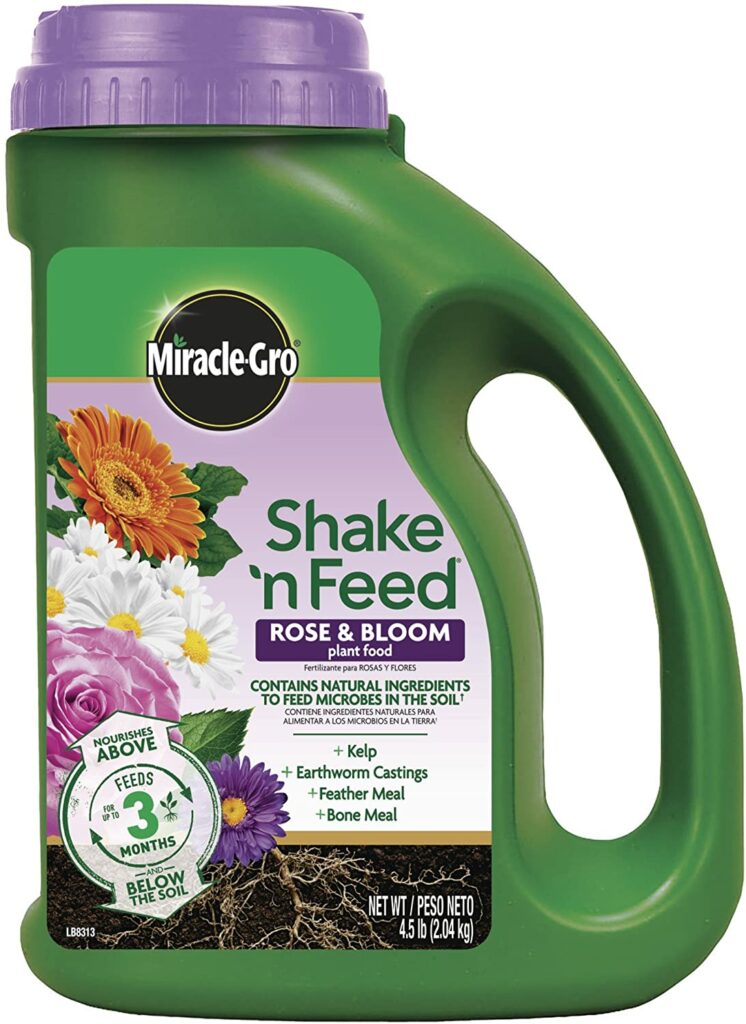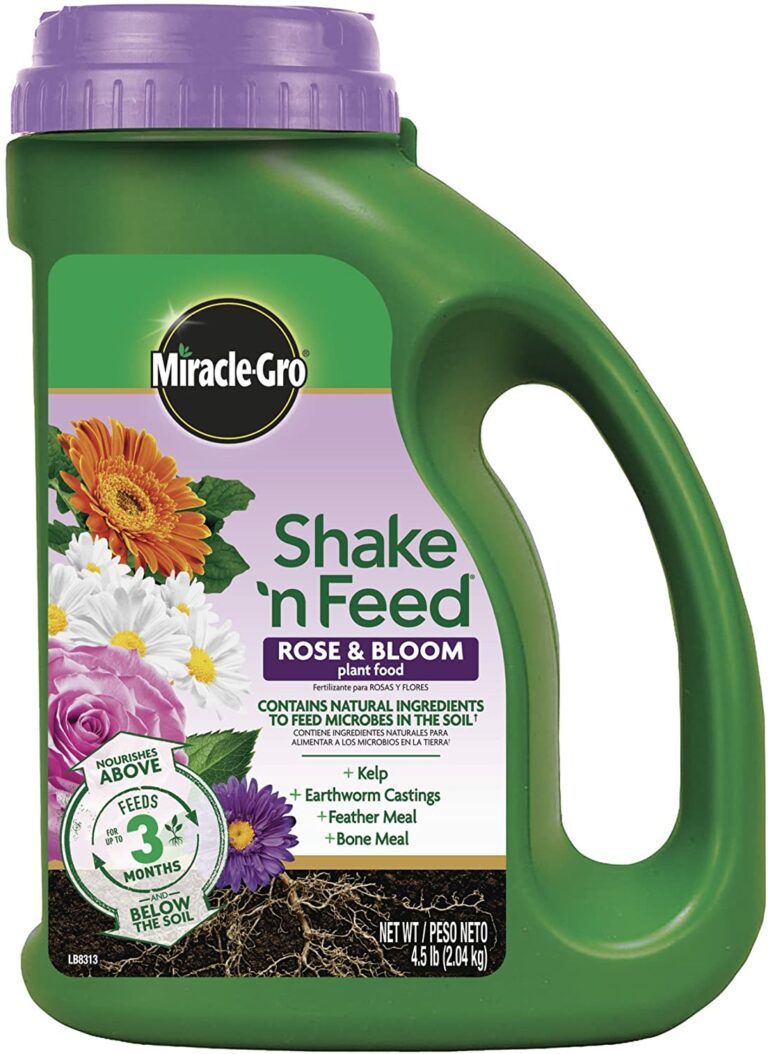 Miracle-Gro Shake N Feed Rose & Bloom is a widely-used granular fertilizer that contains micronutrients that help feed microbes in the soil that promotes more blooms and more vibrant colors in flowering plants and roses.
This fertilizer contains kelp, earthworm castings, feather meal, and bone meal for enhanced nourishment.
It is a slow-release fertilizer that will consistently feed your plants for up to three months. It has a 10-18-9 NPK formula with more phosphorus content to promote beautiful blooms in your plants. It also helps microbes break down natural ingredients faster into nutrients to support the strength and development of roots for an increased water intake.
It is a synthetic fertilizer that contains natural ingredients. So, if you're an organic gardener or want to be one, this is not the best option for you.
Improper application of this fertilizer like foliar feeding and piling up the fertilizer at the stem of the plant can burn your roses. It is also not kid and pet-friendly and must be kept out of reach of children.
Pros
Slow-release fertilizer 
Feeds up roses for up to 3 months
Easy application
Does not have a bad smell
No-mixing needed
Cons
Synthetic fertilizer
Not a kid and pet-friendly
8. Jobe's Organics Rose & Flower Fertilizer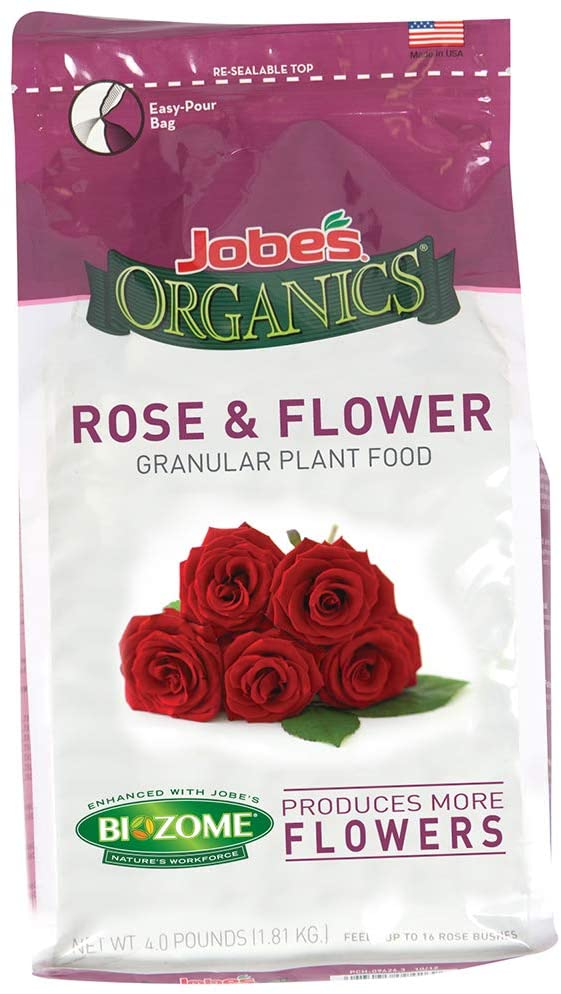 Jobe's Organics Rose & Flower Fertilizer is another organic fertilizer formulated for roses and other flowering plants. It is suitable for both newly-planted and established roses.
This fertilizer is enriched with bone meal, feather meal, and Biozome exclusive to Jobe's Organics products. However, it contains processed manure that some conscious gardeners may not like for their roses.
It is a 3-5-3 NPK fertilizer enhanced with Biozome that contains Archaea which help quickly break down organic material and minerals in the soil.
The broken-down nutrients and trace elements will then be easily absorbed by the roots of your roses.
Thus, resulting in improved soil condition, disease and pest-tolerance, and drought-tolerance during the growing season.
It also contains Mycorrhizal fungi that help expand the water and nutrient absorption of the roots by adding filaments that act as extensions of the plant's root system.
As with most organic fertilizers, you just need to prepare yourself for the smell but it is certainly kid and pet-friendly.
Pros
Organic fertilizer 
Non-burning and fast-acting formula
Kid and pet-friendly
Certified by OMRI (Organic Materials Review Institute)
Contains Biozome technology
Cons
9. Espoma Rose Plant Food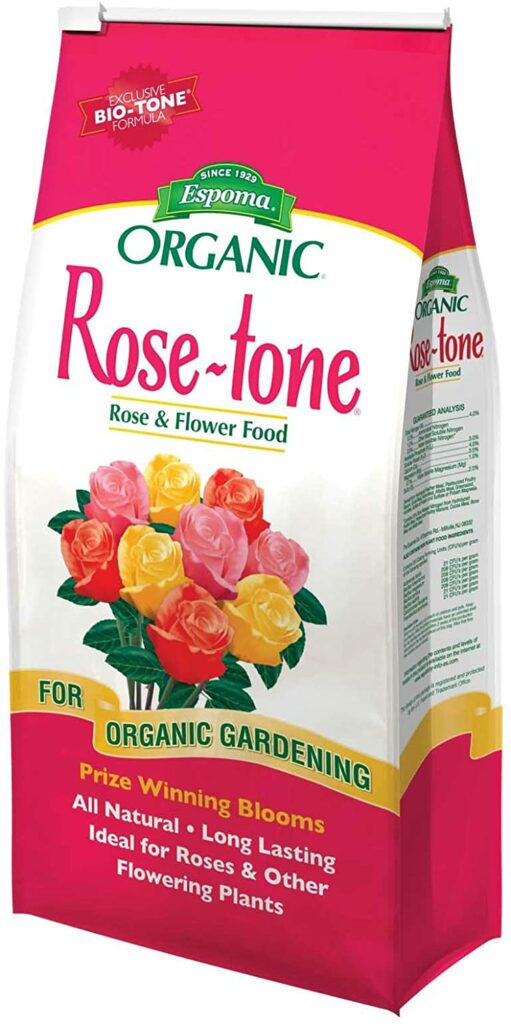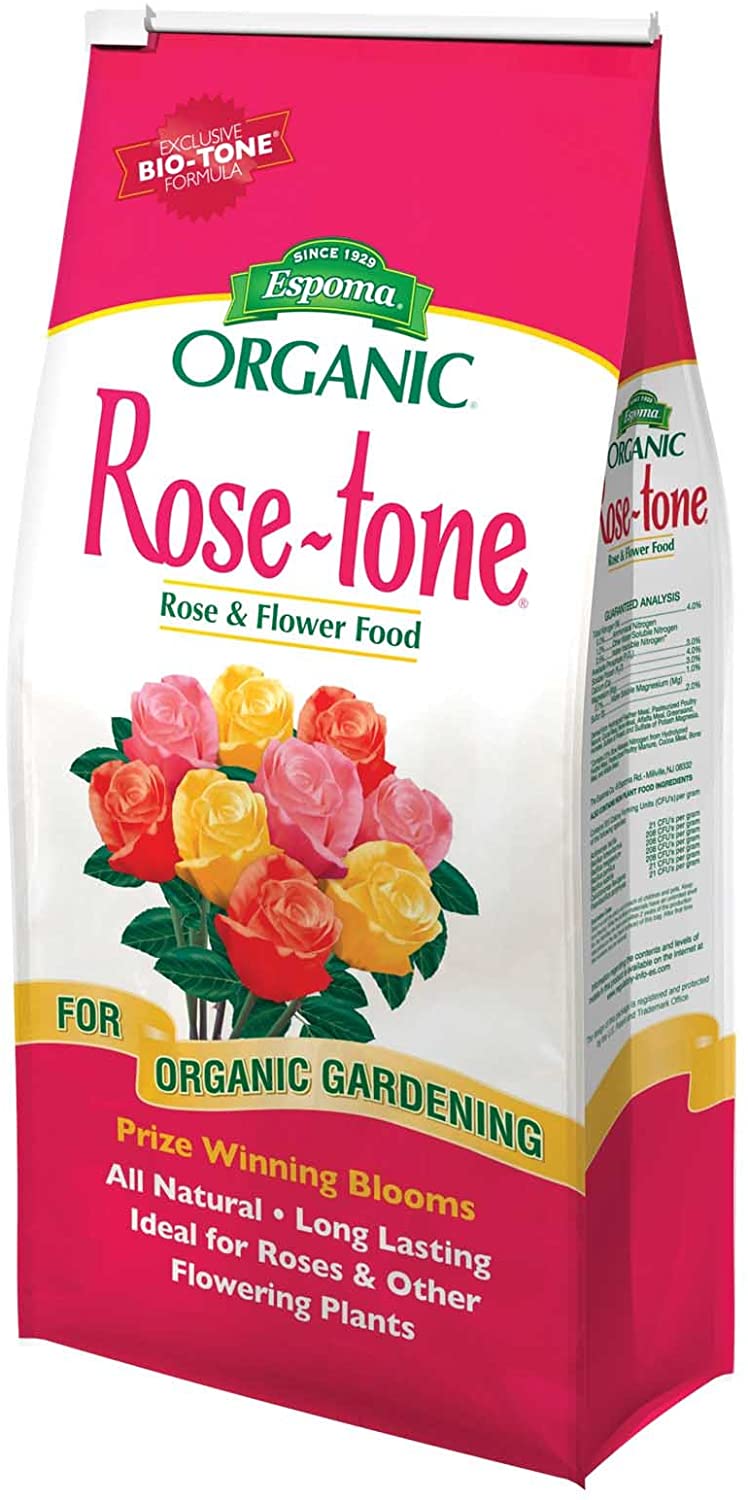 Espoma Rose Plant Food is an organic plant food that is highly recommended by professional rosarians and gardeners. It is a slow-release fertilizer that will ensure consistent feeding to your roses.
It contains organic materials such as:
Poultry manure
Feather meal
Bone meal
Alfalfa meal
Greensand
Sulfate of Potash
Sulfate of Potash Magnesia
This fertilizer also contains humic acid derived from Leonardite which is responsible for the increased nutrient intake of plants. It is enhanced with extra nutrients such as magnesium and calcium.
Magnesium helps chlorophyll to absorb solar energy needed for photosynthesis, which is used by plants for processing carbohydrates and the formation of plant cells.
Calcium, on the other hand, promotes strong cell walls and serves as a reserve messenger of plants when they are stressed. The manufacturer claims that Rose Tone has no fillers or sludges.
Gardeners can also use this fertilizer for:
Viburnum
Bougainvillea
Clematis
Floribunda
Rose-tone is a 4-3-2 NPK fertilizer designed to nourish modern shrub roses, tea roses, and floribundas. It is also safe to use around kids and pets.
However, you may want to think twice about using it indoors as it has the usual bad smell from organic fertilizers.
Pros
Organic fertilizer
Ensures consistent feeding of rose plants
OMRI-listed
Kids, environment, and pet-friendly
No sludges, hazardous or toxic ingredients
Cons
10. Miracle-Gro Rose Plant Food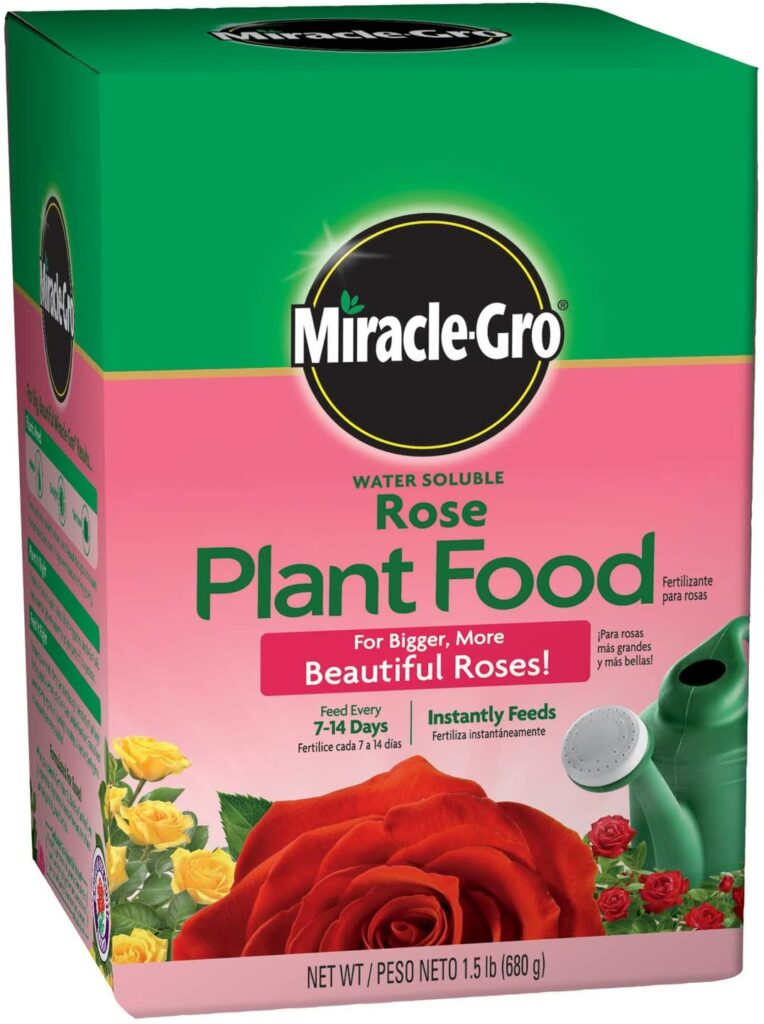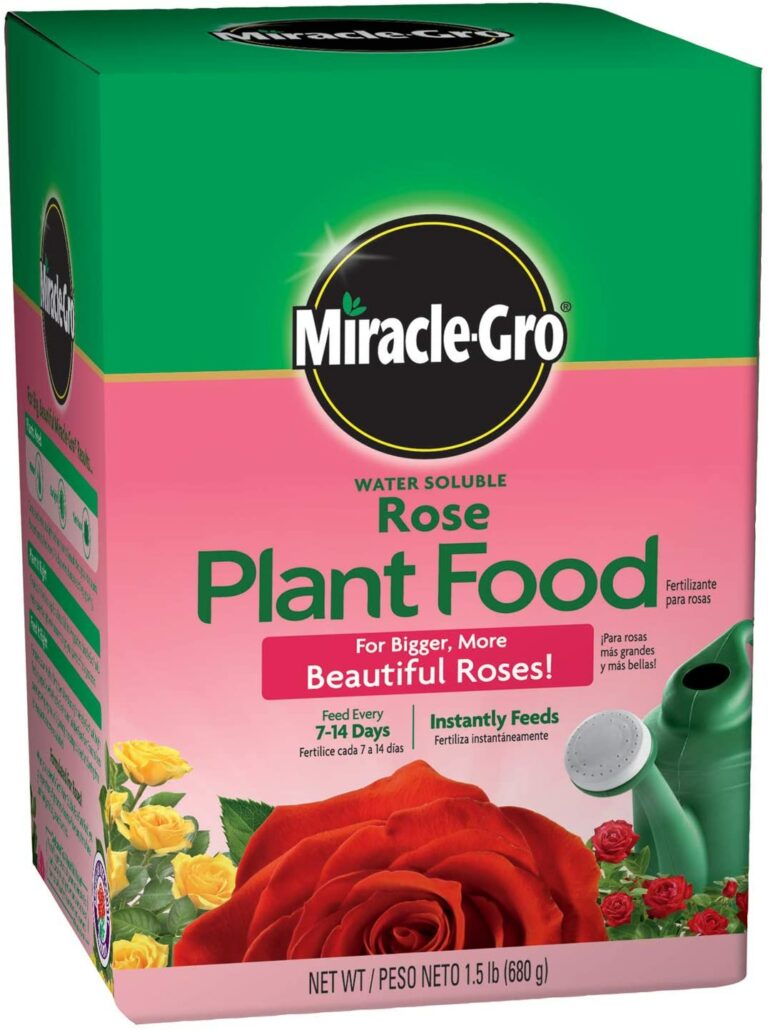 Another good fertilizer from Miracle-Gro is their Rose Plant Food. It is a water-soluble fertilizer that promotes the fast absorption of nutrients in rose plants.
It is derived from potassium phosphate, ammonium sulfate, urea, copper sulfate, iron, manganese, and zinc sulfate. It can also be used for both indoor and outdoor plants.
This fertilizer is mixed with water which makes it easier for the plants to receive nutrients. It is one of the well-known brands for feeding roses. It is also enriched with magnesium that is a vital plant nutrient for good seed germination and production buds. This fertilizer also helps roses grow new canes and improve overall plant health.
It is an 18-24-16 NPK fertilizer endorsed by the American Rose Society. It is ideally used for all types of roses planted in pots, beds, or borders.
Though it is praised for its excellent performance in roses, it's not organic and may not be safe to use if you have kids and pets around.
Pros
No smell
The water-soluble formula helps roses absorb nutrients faster
No sludges, hazardous or toxic ingredients
Cons
Synthetic fertilizer
Not kid and pet-friendly
Overwatering or underwatering with this fertilizer can cause damage to the roots.
Messy
---
What You Need To Know About Roses?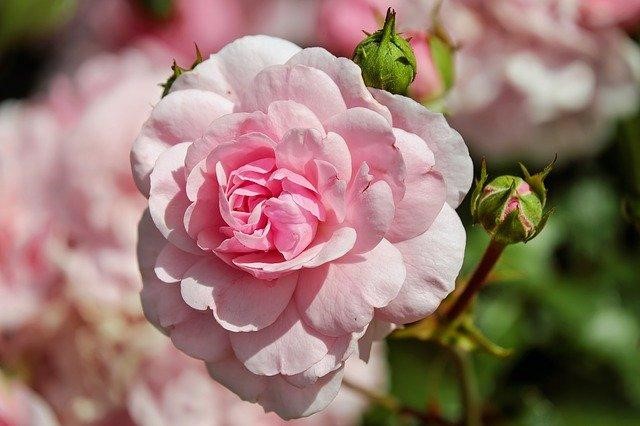 Roses are easy to grow than other flowering plants. They are not sensitive to temperatures, unlike other flowering plants.
They can be dormant that's why when you buy bare root roses, they may look like sticks. But, they are not dead yet and will have new leaves again during the growing season.
A minimum of 5 to 6 hours of the full sun helps roses grow well and produce more blooms during the growing season.
Place them at the part of your house where they can as much sunlight during the day. However, you must also put them in an area where the scorching afternoon sun will not burn their leaves and blooms.
What is The Best Soil Condition For Roses?
Roses love and flourish in loam soil with good water drainage but retains enough moisture.
They also thrive in slightly acidic and neutral soil with a ph level of 5.5 to 7.0. A PH level 6.5 is just perfect for roses.
Roses don't like wet and clogged soils that's why you should avoid using clay soils.
Watering Requirements of Roses
A part of growing healthy roses is your watering routine. Newly planted roses need to be soaked with water to help them survive.
However, be careful not to drown them. They need moisture just right for the roots to absorb enough water.
You can use mulch not only to retain moisture but also to protect the soil from external stress.
During summer, prevent the soil from drying by watering your roses twice a week. Make sure that water reaches the roots to prevent the fungus from growing. Reduce your watering routine as soon as the season is getting colder.
Fertilizing Roses
Roses are not picky when it comes to fertilizers. You need to feed them regularly during the growing season to help boost their bud formation and help them build better and more vibrant blooms.
During the dormancy period, you should stop feeding your roses 6 weeks before the first frost to help them preserve their energy for dormancy.
Compost and fish emulsion helps keep roses healthy throughout the growing season. You may also use organic rose fertilizers to help provide the specific needs of your roses.
You might like: What Are The Best Insecticides For Roses?
---
6 Tips in Fertilizing Roses
Aside from watering and feeding roses with organic or synthetic fertilizers, here are some tips from professional rosarians:
Keep bare-root roses in a dark cold room in a box with enough moisture.
Protect roses from the cold by growing them near the foundation or walkways of your home. The building structure will serve as a protection against the harsh cold winds and low temperatures. Just make sure that the roses are placed in a spot where they get full sun.
Do not plant too many roses in a bed. They will compete for nutrients in the soil and will have poor root and sem growth. Otherwise, your roses may become a magnet for powdery and downy mildew.
When you transplant your roses, protect them as they adapt to the new environment by pushing all the loose soil around the stem.
Nutrients from banana peels are good for roses. It contains phosphate, magnesium, and calcium. However, placing it on top of the soil will not work as it is intended, you need to soak it in water for two weeks and use it to nourish your roses.
Prevent the petals and leaves from getting wet when watering them to prevent fungal diseases.
---
Frequently Asked Questions(FAQs)
What does Epsom salt do for Roses?
Epsom sulfate contains magnesium sulfate that helps increase the production of chlorophyll in plants that helps roses have lush green foliage and have brighter blooms.

You will need ½ cup of Epsom salt mixed in the soil of your roses and should be watered down to release the nutrients into the soil.
Can you over-fertilize Roses?
Yes, too many nutrients can overdose roses too. Excessive nitrogen in roses pushes them to produce more leaves and foliage instead of bud formation.

So, you'll have a weak bush of roses without blooms when you overfertilize them. Other effects of overfertilization include burning the plants, leaf drop, and poor nutrient absorption.
Is cow manure good for Roses?
Manure is one of the common components of most organic fertilizers for roses.

Cow manure contains nitrogen and potassium which helps promote healthy stem and roots in growing roses. Once a year manure application is good enough to nourish your roses.
How do I get more flowers on my roses?
Try to feed your roses with fertilizers and check the soil condition. Your roses might not also be getting sun as much as they do. Roses need at least 6 hours of sun and less of that can affect their bud formation.

You should also prune your roses regularly to help them preserve more energy for bud formation.
Are eggshells good for Roses?
Eggshells are good sources of calcium for roses. They can help balance the PH level in the soil and repel insects that attempt to prey on your roses. You can mix crushed eggshells into the soil during the growing season.
When should I stop fertilizing my Roses?
You should stop fertilizing your roses 6 weeks before the first frost to prepare them for dormancy. Otherwise, they will be forced to process the nutrients and work on growing leaves instead of preparing for dormancy.
Why are the leaves on my Roses turning yellow?
Too much acidity in the soil can be the culprit of the yellowing leaves in roses. Roses only need slightly acidic soil and should be around 5.5 to 7.0 PH soil PH level.
Are used tea bags good for Roses?
Teabags are one of the best sources of nitrogen and an excellent inclusion to compost since they leave.

However, tea also contains tannins which can increase the acidity in the soil. So, add them when you notice that the soil is getting more alkaline than slightly acidic.
Final Thoughts
Roses are well-loved for several reasons. Altogether, roses are easy to grow and benefit from most types of fertilizers.
However, our list of the 10 best fertilizers for roses is mostly the organic ones, especially Jobe's Rose and Flower Fertilizer spikes. It is easy to use and contains all the distinct nutrients needed by roses which is what most gardeners are looking for in a fertilizer.
We hope that this post helped you narrow down your choices when it comes to rose fertilizers.
There are already overwhelming chives for rose fertilizers in the market and trying the best ones cut your searching process.
If you find this post interesting, please don't hesitate to share it with your fellow rosarians.