All palm trees found on beaches and plantations have one distinct quality – long trunks and beautiful foliage.
We rarely see their roots, which makes some people, especially kids, wonder: do palm trees have roots, and what is the secret behind their strong resilience against gusting winds of storms and hurricanes?
In this post, learn more about the anatomy of palm trees a.k.a the tree of life. We will also share their growing behavior and what are the things you should consider before planting palm trees on your property.
Having them in your garden is more than just the space and aesthetic but also the integrity and safety of the area where you'll plant them. 
---
Q: Do Palm Trees Have Roots? 
Palm trees have a unique set of roots that allows them to become unbeatable by strong winds. Unlike other trees, palms do not have a taproot. Instead, they have sporadic small roots continually growing from the root-initiation zone or a region at the base of the trunk.
There's a deep irony in the way palm tree roots grow. They stand tall and strong but have a shallow root system.
So, one may wonder, how does it support itself? Their trunks are not even thick enough to handle all the weight of their crown and fruits.
The roots of palm trees don't grow deeper than three feet. They also don't grow in diameter compared to the roots of other trees. The secret lies in their root-spread behavior.
The canopy of trees is usually the basis of the drip line of the spread of roots underground. However, the canopy of palm trees is not the most accurate basis for their drip line. 
Palm trees may not have all the edge when it comes to rooting depth and size and trunk diameter, but they leverage their ability to spread their shallow roots across the ground reaching up to 100 feet.
Learn more about the root system of palm trees, how they develop, and how they can affect your landscape. Who knows you might also learn some life lessons from palm trees along the way.
The parts of a palm tree
Palm trees are monocot or monocotyledon types of plants. They develop roots and grow in trunk diameter differently than dicot or dicotyledon trees like oak and fruit trees.
Get familiarized with the parts of a palm tree below so you can appreciate its unique root qualities and growth habit.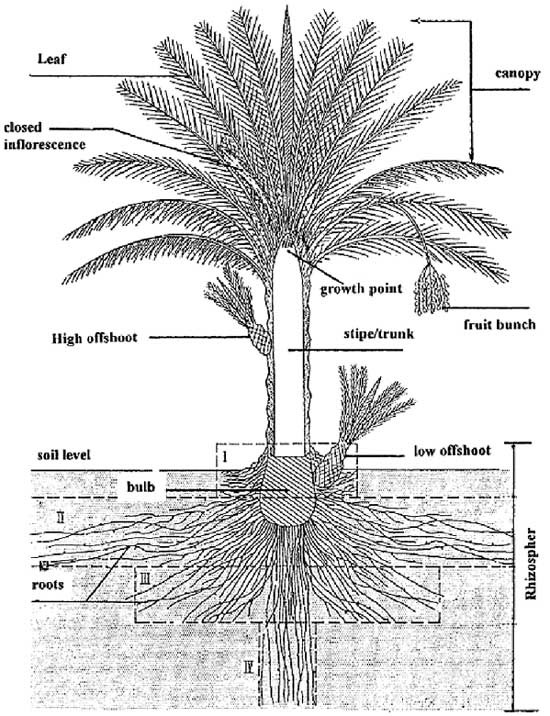 Bulb or root ball: The bulb of palm trees is the resting place of the seed that produces pups or offshoots. This distinct feature can be found in date palms. However, not all palm trees and varieties have bulbs. 
Fibrous roots: The fibrous roots of palm trees move horizontally to gain traction from the ground and support their trunk. Since palm trees are monocots, they don't have tap roots that grow deep into the soil like dicot plants or trees. 
Trunk: The trunk of palm trees has varying diameters based on variety and planting medium. 
Crown or growth point: The base of the fronds where leaves of palm trees emerge. 
Leaves: Foliage or canopy of palm trees which consists of long leaves with parallel venation. 
Fruit branch: The fruit branch holds the coconuts, dates, or the fruits of the palm trees. 
Fruits: The fruit, seed, or nut of palm trees. Most fruits of palm trees are edible like coconuts and dates, but some are poisonous.
Distinct characteristics of palm tree roots
The best way to describe the root system of palm trees is how the human hair is attached to the scalp. A bundle of hair is harder to uproot than a single strand.
Palm tree roots have tons of slim roots emerging from their root ball that creeps across the ground slowly and discreetly.
Check the features below to know more about the unique qualities of palm tree roots and how they contribute to the sturdy nature of palm trees.
Horizontal spread
The roots of palm trees grow in a horizontal direction and a shallow manner to easily access water and nutrients. They do not grow deeply but rather create a network of thick but slim roots underneath the surface of the soil.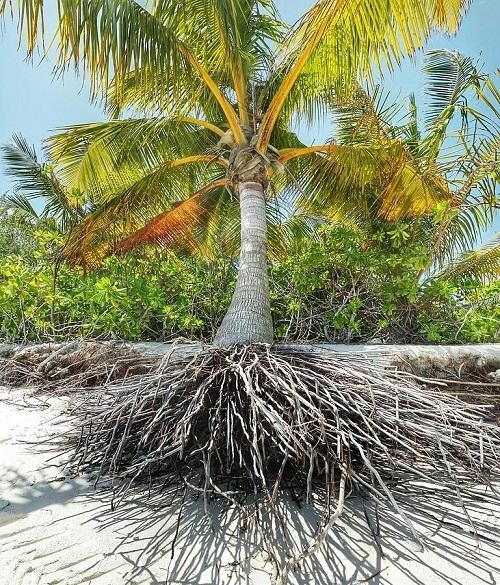 Its strong grasp of soil particles plus its horizontal root spread is the reason why it takes a very strong hurricane to uproot a palm tree.
Fibrous growth
The two main types of root systems in plants are taproots and fibrous roots. Palm trees belong to the fibrous group. They have no taproot and produce tons of tiny roots from the base or bulb.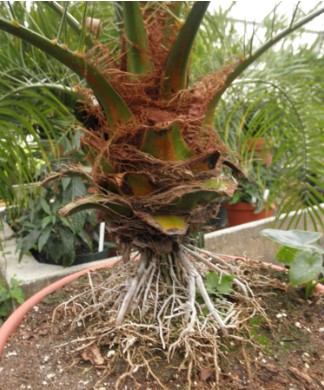 Compared to the taproot system of timber trees, fibrous roots do not grow deep into the soil and have a similar size and length. 
Sandy soil preference
Palm tree roots need sandy soil to support their horizontal growth. They love to spread their roots with ease and absorb nutrients properly.
The ideal soil structure for palms is moist but loose and well-draining. It is the reason why they thrive in coastal areas and sandy parts of southern states.
Steady root size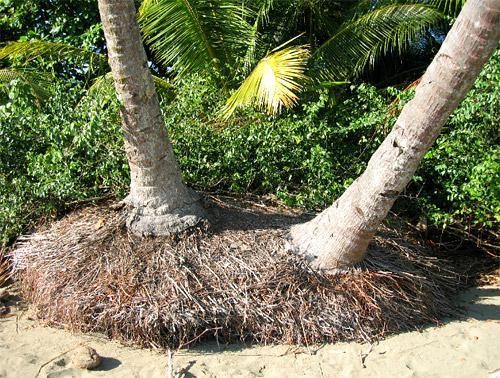 Palm tree roots do not grow in diameter regardless of age. They just branch out, grow in length and become thicker in time. The root ball continuously regenerates new roots to compensate for the roots that die as the tree ages.
The roots of timber and dicot trees spread and grow in diameter which is the reason why they can damage nearby home foundations and other concrete establishments as they grow.
How deep do palm tree roots grow?
Palm trees grow roots at an approximate depth of 2 to 3 feet (or 1 meter). Though shallow-rooted, palm trees are not easy to uproot because of their pencil-sized roots that have a strong hold on wet sand or soil particles. 
During typhoons or hurricanes, you may notice palm trees still standing even if half of the soil has been washed off by the high tide. That shows that no matter how thin the roots are, a clump of healthy roots can still keep the palm tree alive.
The ability of palm trees to keep standing amid merciless weather conditions is something that we can learn from as humans. 
Are the roots of palm trees invasive?
If you are inspired by the resilience of palm trees and aim to have at least one in your garden, you're probably wondering how it can affect the structures on your property.
Some palm trees are invasive while some are slow-growing and are ideal to grow in gardens. 
According to Florida Invasive Species Council, the following palm trees are considered invasive and may have a mild to moderate impact on local plants:
Coconut palms (Cocos nucifera).
Senegal date palms (Phoenix reclinata).
Chinese fan palm (Livistona chinensi).
Solitary palms (Ptychosperma elegans).
The palm species listed above are known to be a problem in some regions since they can surpass the native tree populations and wipe out native plants and shrub species in the area.
Their invasive behavior not only affects local ecosystems but also impacts the large-scale ecological balance in a region. 
What are the non-invasive palms ideal for a residential landscape?
Choosing the right palm species can help you achieve the tropical paradise you want to achieve in your home garden.
Here are some of the best palm species that you can grow at home:
Queen Palm: As a warm winter palm tree, the slender trunk and majestic canopy of the queen palm make a good addition to your landscape.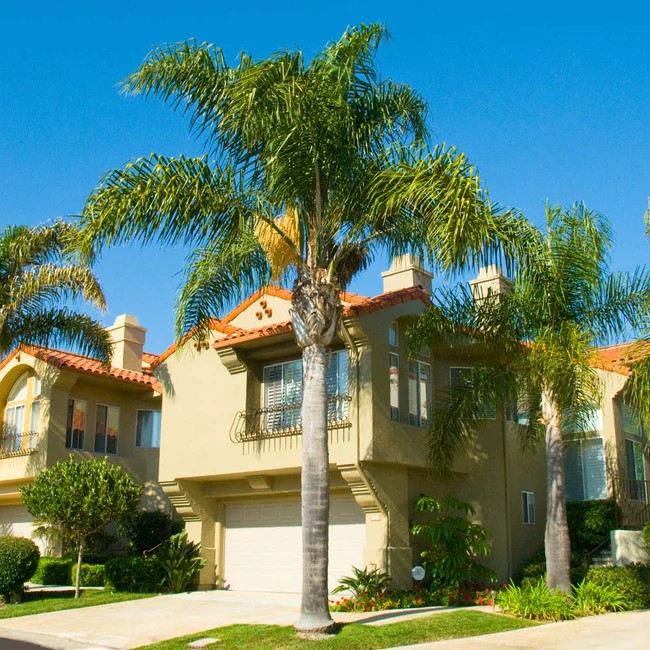 Its roots grow around 4 feet away from the trunk and the maximum height of the tree can be around 15 to 20 feet. 
Pygmy date palm: If you have a small garden, the landscape-favorite pygmy date palm is the best option for you. It only grows around 10 to 20 feet and can be planted in big pots or containers.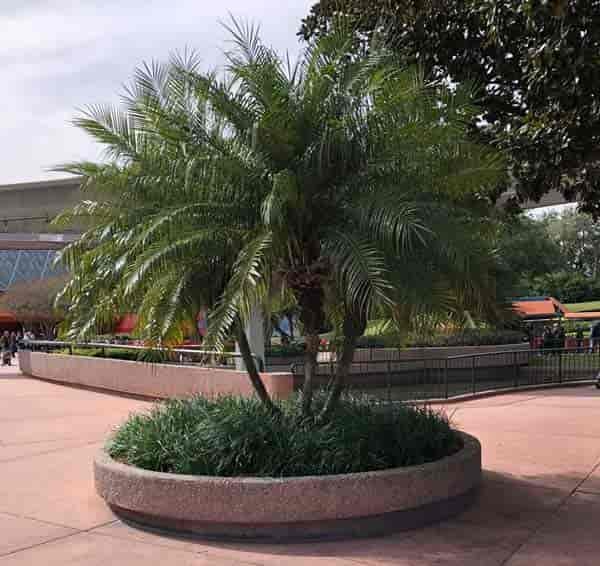 Compared to other types of palms, it has thorns on its stem but shows off a soft canopy of palm leathery leaves. 
Growing windmill palms: Ideal as a street-side specimen tree, the windmill palm is a cold hardy variety that grows 25 to 40 feet.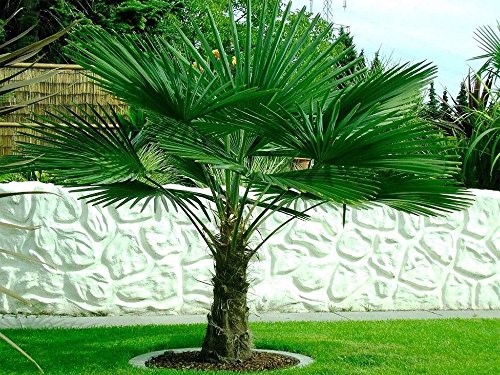 It has fan-shaped leaves, a slender trunk, and a small root system ideal for residential settings. Though it's a tropical tree it can endure temperatures around 10℉.
Mediterranean fan palm: For cold regions, the Mediterranean fan palm is an ideal option due to its cold hardy nature.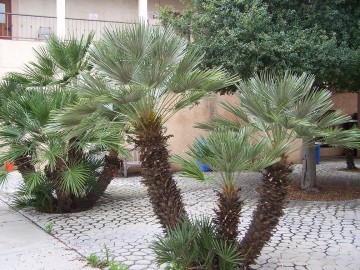 It can grow in containers in its early years and makes the best specimen tree in the garden. It grows multiple trunks during maturity and can grow from 10 feet to 20 feet.
How to manage overgrown palm tree roots
Overgrown palm trees in neglected properties and gardens are quite a piece of work for homeowners. They often come in shattered concrete containers with roots overlapping excessively into the space.
If you have an overgrown palm tree at home, here are some tips to manage the mess without killing the palm tree:
Remove the shattered concrete and try to remove dead fronds on the palm tree.
Use a chainsaw or a hand saw to cut off excess roots that overlap around the tree. Make sure that you're not removing the soil that supports the weight of three to prevent any accidents.
Once done, rebuild the container of the palm tree and add a buffer space of around 1 to 2 feet to give the roots some space to regenerate new roots and prevent them from breaking the new concrete plant container.
If the palm tree is starting to cause a problem with the foundation of your home, it's better to cut it down and consider checking our guide on palm tree stump removal here.
Frequently asked questions (FAQs)
Can you plant palm trees close to your house?
No, you can't plant palm trees or any tree close to your house. The ideal distance of palm trees to your house is at least 20 feet away. However, if the palm tree is in a container, you can place it close to your home, even on the patio.
Do palm tree roots grow deep or wide?
Palm tree roots grow wide and in a lateral direction. Even though the tree is very tall, its roots can only go as deep as 3 feet.
How big is the root ball of a palm tree?
The palm root ball does not grow at the same rate as the height of the tree. The rate of root ball growth is usually eight times smaller than the tree's height.
For example, a 10-foot palm tree usually has a root ball with a 15-inch diameter.
Do palm trees have invasive roots?
Most palm trees do not have invasive roots as they only grow shallow roots and some even have a slow-growing habit. They are unlikely to overrun spaces and cause any issues.
Will a palm tree fall over?
Several factors make a palm tree not easily fall over. Its roots may be thin and small but the hundreds of them strongly hold a huge volume of soil that helps the tree to keep standing. Also, palm trees can bend over for up to a 50-degree angle without snapping.
Do palm trees need a lot of water?
Palm trees like other plants require a lot of water. Its fibrous roots have sensors that navigate the soil in search of water and nutrients.
Do palm trees break easily?
Palm trees don't break easily because they can bend up to 50 degrees without breaking. Unlike other trees, palm trees are not made of wood. Its trunk has plant tissues called xylem and phloem that act like reinforcing bars, enabling the trunk to become flexible.
How strong are palm trees against the wind?
Palm trees are very flexible so they would just sway in the wind and withstand up to a wind speed of 145 mph.
Final Thoughts
Palm trees have unique qualities that add to their charm. Its tropical vibe can add warmth to any garden space no matter how they're placed.
We hope this post encourages you to appreciate the outstanding resilience and strength of palm trees. They are more than just the coconuts and the shade but an epitome of strength that humans can emulate.