Neem oil has been a popular choice for organic gardening for hundreds of years. The best neem oil for your plants is a purely cold-pressed neem oil extracted from neem seeds. The strong garlic smell is a good indication that you are using pure and undiluted neem oil.
Neem oil is an all-in-one solution that serves as an insecticide, fungicide, and miticide. It is a contact insecticide wherein you have to apply it directly on the pest or infected leaves for it to work. You can use it until the harvest day, and the fruits and vegetables are safe to eat.
Today, there are tons of neem oil brands in the market that may overwhelm any gardener. In this post, we cut the process and save your time with the 10 best neem oil products for your plants.
---
10 Best Neem Oil For 2023 [Reviews and Top Picks]
We searched and selected the high-performing and top-rated neem oil products, so you won't be wasting your money and time buying ineffective ones.
Let's start!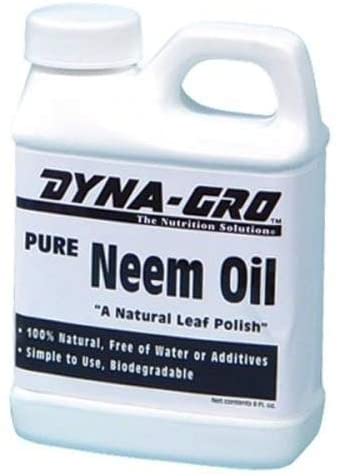 If you want to discover new and affordable brands apart from the mainstream ones, Dyna-Gro Neem Oil might give you the difference you are looking for. It is made of 100% cold-pressed neem oil and doesn't contain other ingredients. Unlike other brands, it is also free from silicone content.
Aside from being a leaf gloss, you can also use it as an insecticide, fungicide, and miticide. It has the usual color of neem oil, and the consistency is thick and not runny. It solidifies at room temperature, so you may need to bathe the bottle in warm water.
You can use it purely as a leaf gloss, but you need to mix it with Castille soap or other dish soap to work effectively on pests and mites. The soap will serve as an emulsifier to help you dilute the neem oil with water. Neem oil and water alone will not blend no matter how much you shake or mix them. It is highly effective for controlling:
White/green aphids
Leafminers
Red scales
Whiteflies
Other common pests in plants
Many gardeners love this product for its pure neem oil content and effectiveness in controlling pests. It also comes in an 8-ounce jug for an affordable price.
So, a few drops can go a long way. It also doesn't clog the stomata of your plants when you use it as a leaf gloss.
The application rate is 1 1/2 teaspoons of neem oil for every quart of water plus a half teaspoon of Castille soap. It has a pungent smell which is natural for pure neem oil. It is non-toxic but should be applied late in the afternoon to avoid the risk of burning your plants.
Pro tip: Neem oil may solidify at cooler temperatures. Store above 65° F and below 95° F. If oil thickens, place the bottle in warm water. Do not apply Neem Oil in direct sunlight. Always spot test plants first for sensitivity to sprays.
Pros
Easy to use
Affordable and great value for money
Concentrated 
Long shelf life (as long as the oil remains solidified and out of direct sunlight)
Natural leaf polish
Not mixed with other ingredients
Cons
Strong odor but fades with time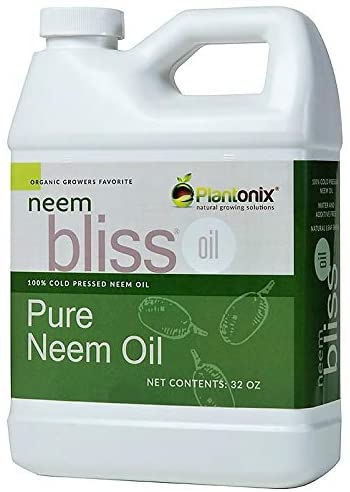 If you've been searching for neem oil products online, you might have seen Organic Neem Bliss. It is among the best neem oil due to its pure neem oil content. It helps gardeners who are conscious about its authenticity as an organic product since it is OMRI-listed.
This neem oil guarantees that it is extracted from the kernels of neem seeds. The extracted oil from the neem seeds has the highest concentration of azadirachtin than the oil extracted from neem leaves.
Azadirachtin in neem oil is responsible for inhibiting the growth of insects and impairing their digestive system. Organic Neem Bliss is effective for controlling and treating:
Spider mites
Lily beetles
Scales
Powdery mildew
Leaf-footed bugs
Aphids
Leafminers
This neem oil works wonders if properly mixed and applied. Otherwise, you will end up with a glob of neem oil. Also, you should expect its strong smell since it is authentic neem oil.
However, many gardeners seem to notice that it is not effective in controlling gnats and caterpillars. A good solution for caterpillar infestation is a Bt solution.
It is suitable for use both indoors and outdoors. However, if you are extra sensitive to the smell, you should opt to use it outdoors as it can give off a fishy smell. It is highly effective for rust, scab, and powdery mildew.,
You have to apply it late in the afternoon or early in the morning to avoid burning your plants.
Compared to pre-mixed neem oil, 1 1/2 teaspoons of this concentrated solution can already provide you with a quart of pesticide for your plants. Talk about savings!
Pros
Easy to use
Affordable
Pure and concentrated
No contain harmful compounds
High Azadirachtin content
Cons
Solidifies at cold temperatures
Strong smell
Harsh on plants if used undiluted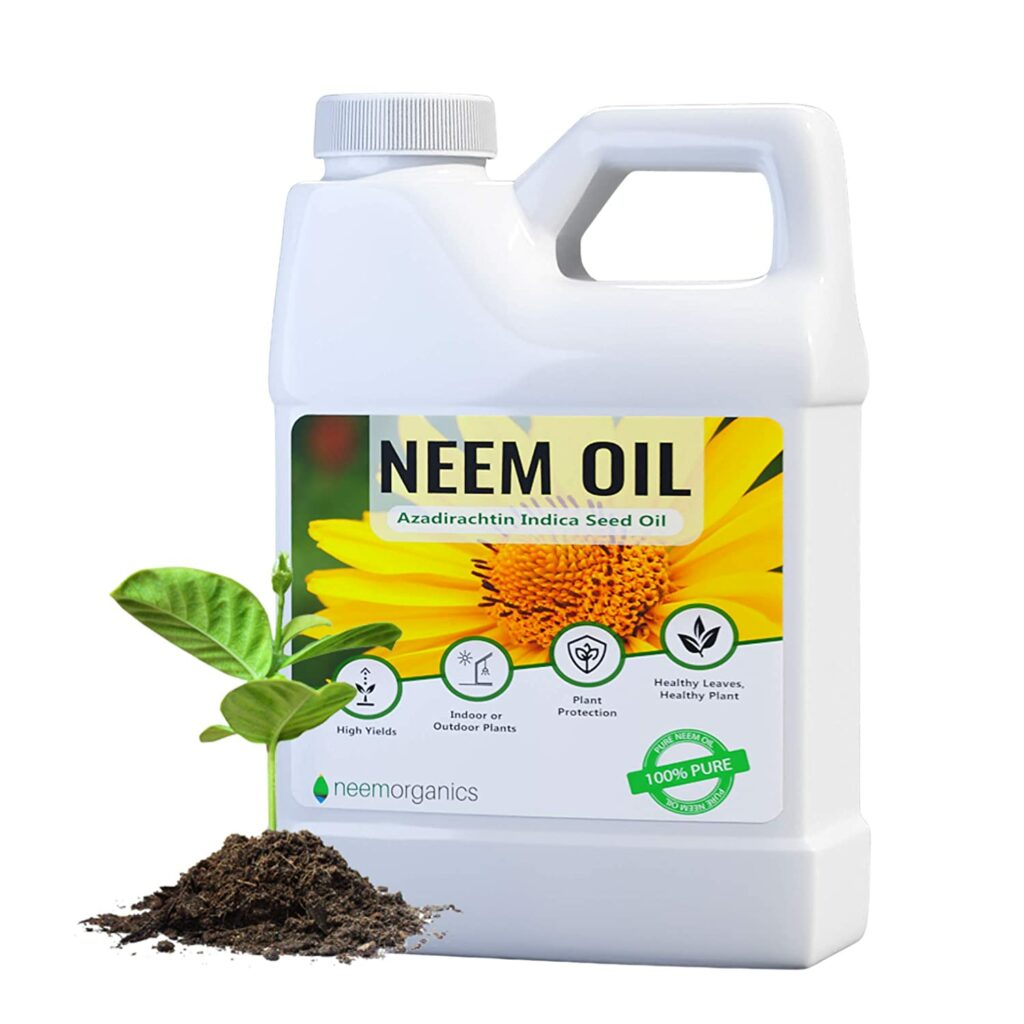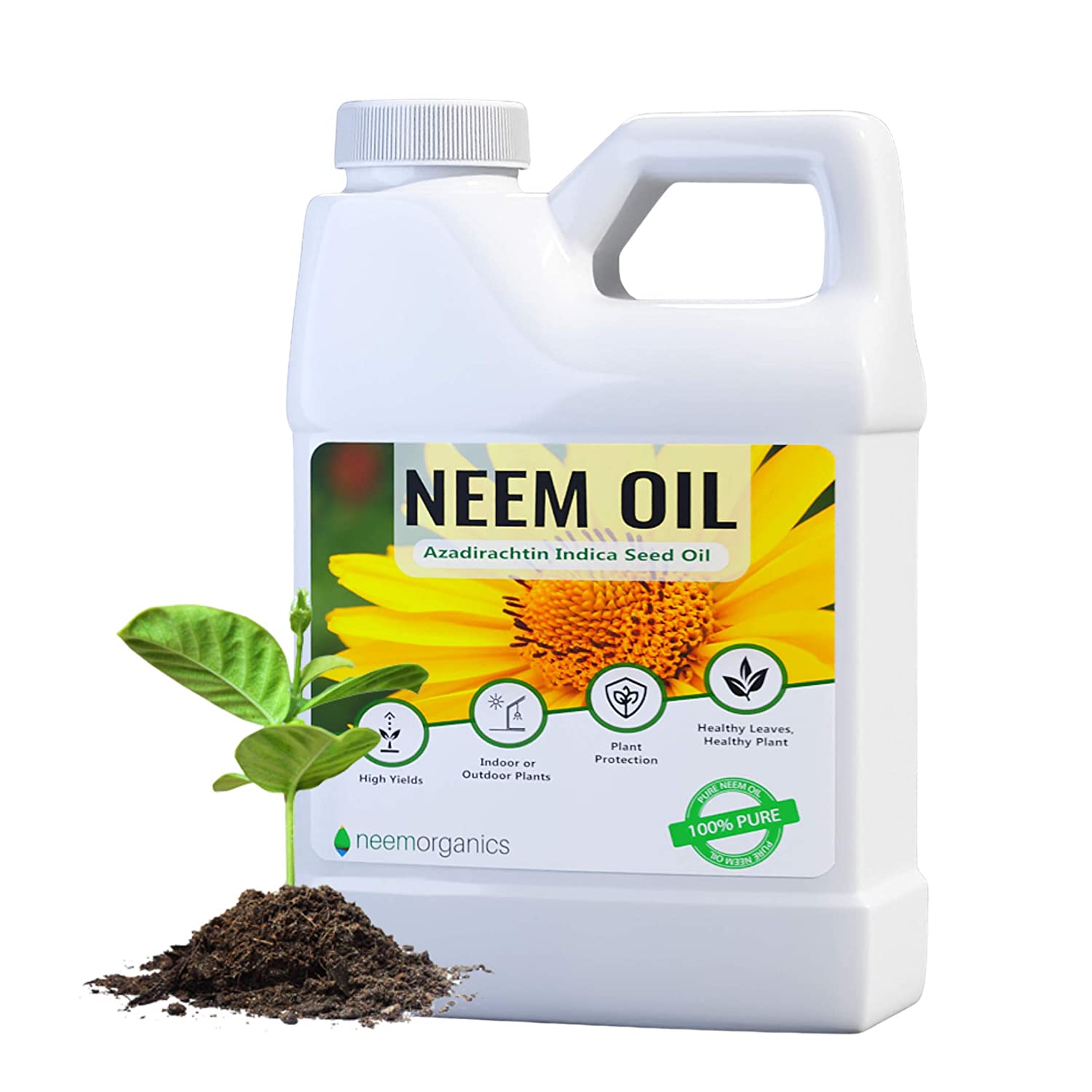 Another OMRI-listed product on our list is Neem Organics Pure Neem Oil. It weighs 16 oz, which is 5 oz more than other brands. It is highly concentrated, and you only need an ounce for every gallon of water.
If you have a large vegetable garden, this product is suitable for you. It is safe to use for all types of plants, including:
Flowering plants
Ornamental plants
Landscaping
Fruit trees
Vegetables
Herbs
Medicinal plants
As with most authentic neem oil products, you can use it from seed to harvest. It works great as a leaf shine and dormant spray for your overwintering plants.
One of the few tricks is to mix it with soap to deal with some resistant bugs. Soap also helps keep water and neem oil blend well.
It is popular among gardeners as a good value for money. You can use it for a long time without causing any health hazards to you and your pets. It is organic and doesn't contain harsh chemicals that can damage the environment.
The only downside of this product and a common misconception of some gardeners is it's not effective in controlling caterpillars. Bacillus Thuringiensis or Bt solution works best for caterpillars than neem oil.
This product is also a growth regulator in insects. Neem oil may not be able to control heavy infestations of mature insects. You may need a more intense formula of pesticide to handle the adult insects.
Pros
Regular foliar application can ensure your plants remain healthy from seed to harvest. 
It weighs more than its competitors for the same price
Good value for money
Pure neem oil
Highly concentrated
Cons
Help lessen future infestations, but it cannot handle a heavy infestation of pests.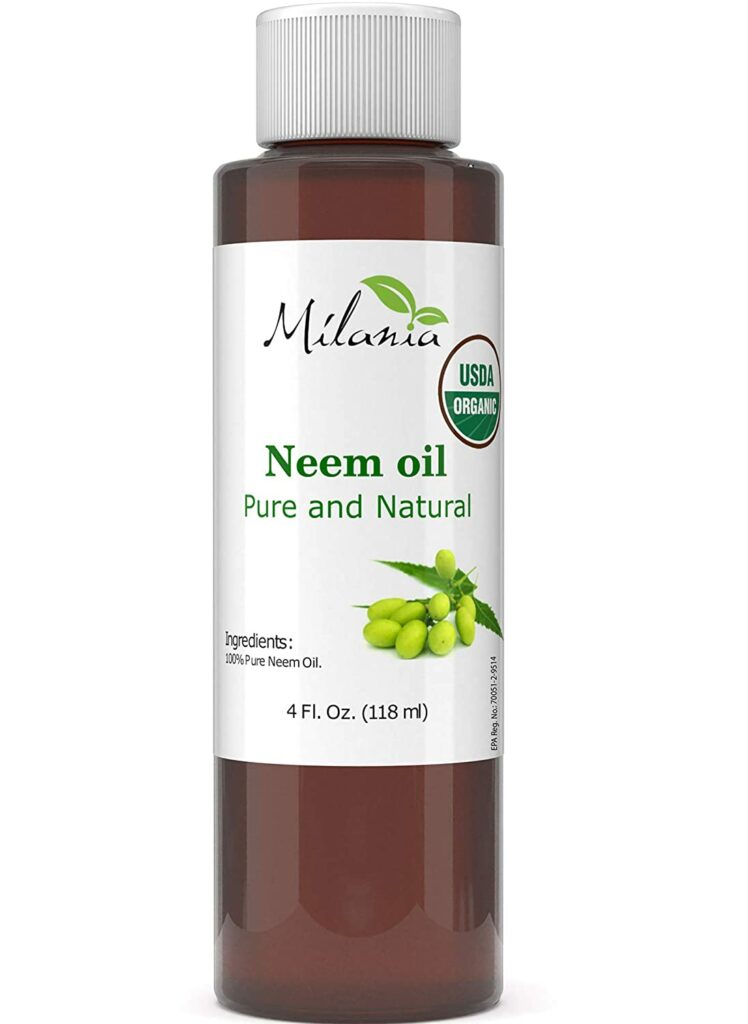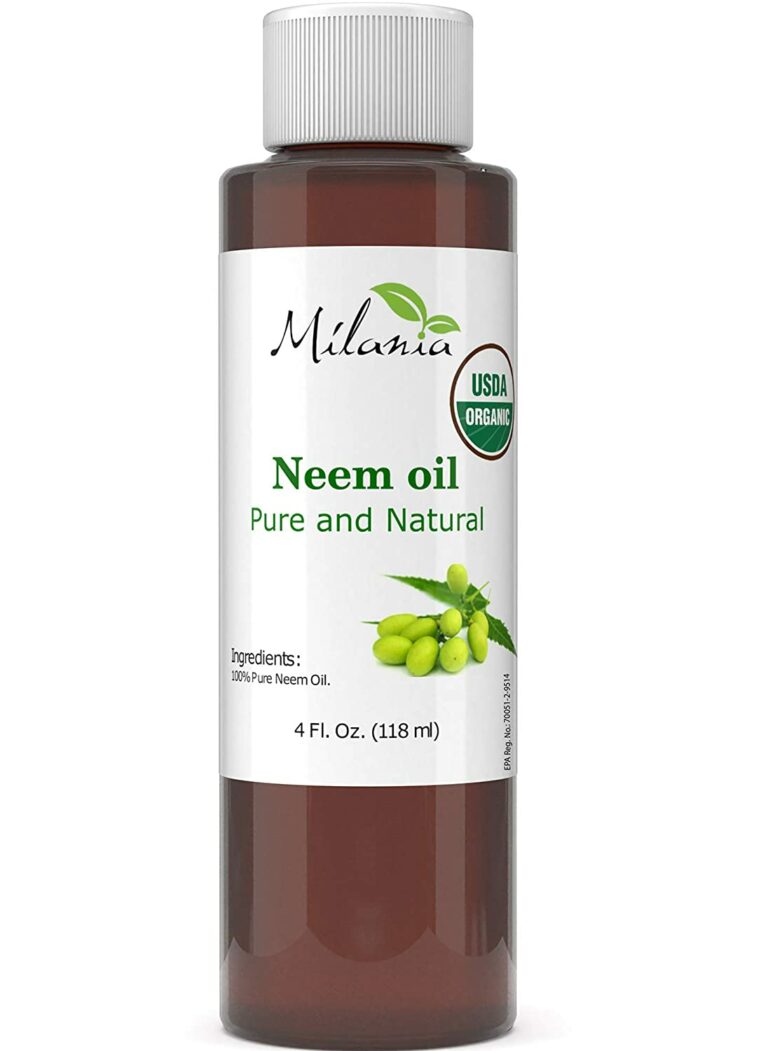 Though neem oil is known as a plant's best friend, it is also beneficial for your skin and hair. For many centuries it has helped treat various skin conditions for both humans and pets.
If you are looking for a multi-purpose brand of neem oil that is guaranteed safe to use on your skin and hair, Milania Premium Neem Oil is the best one to try.
This neem oil has an earthy smell made from 100% neem seed oil. Gardeners are raving about it since it is one of the purest neem oil in the market.
Milana neem oil contains 45% Azadirachtin which makes it a great companion in vegan and organic gardening. It is formulated for safe use in treating skin conditions, fleas, and lice on humans, plants, and pets.
This neem oil is an effective treatment for common pests in plants like aphids and fungal diseases like powdery mildew, rust, and scab. You have to mix it with milder oils like jojoba oil and coconut oil when using it for your skin.
Though neem oil is organic, it can still be too intense for your kid's skin. Make sure to do a patch skin test first before applying it all over your body.
Pros
Multi-purpose neem oil for human, pet, and plant use
Natural antibacterial and fungicide
Keeps the leaves clean and plant healthy 
Treats skin and hair conditions like dandruff, dry scalp 
Purest neem oil in the market
Cons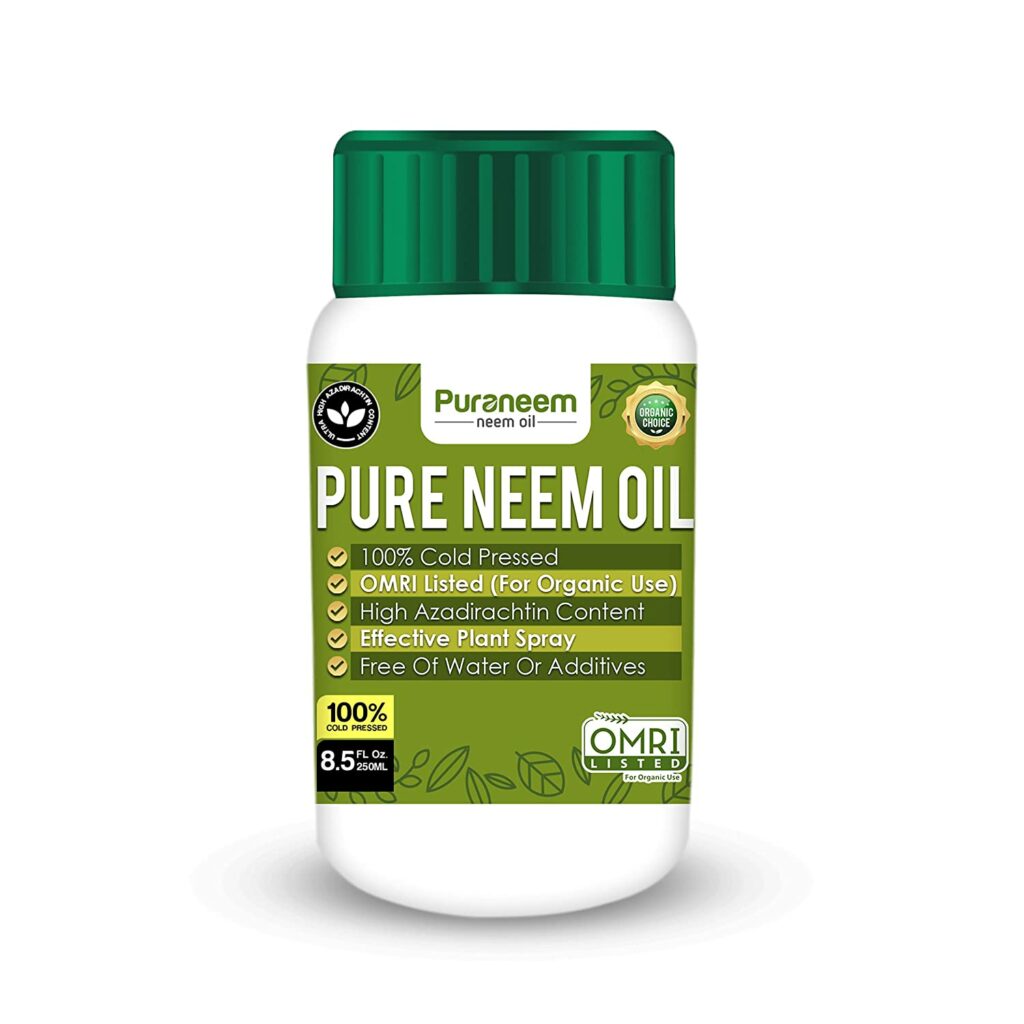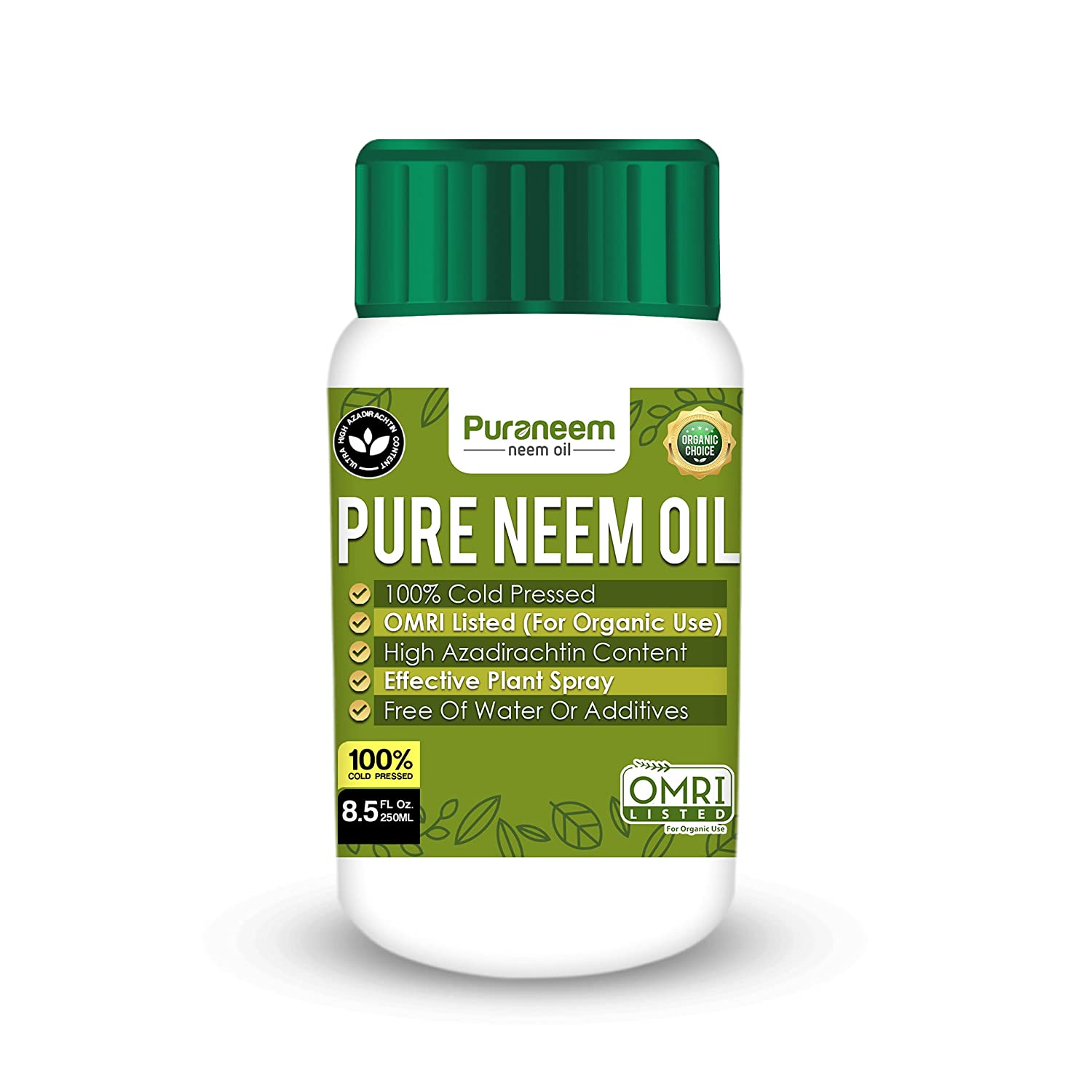 Pure PetraTools Neem Oil is another variant of multi-purpose neem oil. You can use it for your skin and your plants for protection against pests and fungal disease. It also comes with a high concentration of azadirachtin.
This neem oil brand has the usual smell of pure organic neem oil. It comes in two sizes which are 8 oz. and 32 oz. It is more affordable than other neem oil products, which most gardeners love about this brand.
If you are keen on its authenticity as an organic product, it holds two certifications from OMRI and USDA. It is highly effective for controlling pests, such as:
Aphids
Mites
Scales
Leafhoppers
Whiteflies
Mealybugs
Thrips
Neem oil is also a versatile pesticide that you can use in any location. Just make sure that you can tolerate the smell if used indoors. The shelf life of PetraTools Neem oil is about 12 months. The manufacturer even advises keeping this neem oil in the refrigerator to prolong its shelf life.
The only downside of this product is its packaging. Many gardeners are having a hard time removing the cover. They even had to use a tool to pry it open. However, their customer service is considering replacements if you will have problems with opening the product.
Pros
100% pure cold-pressed neem seed oil
High Azadirachtin content
Multi-purpose 
OMRI and USDA-listed
Free of additives
Has two sizes
Cons
Packaging is hard to open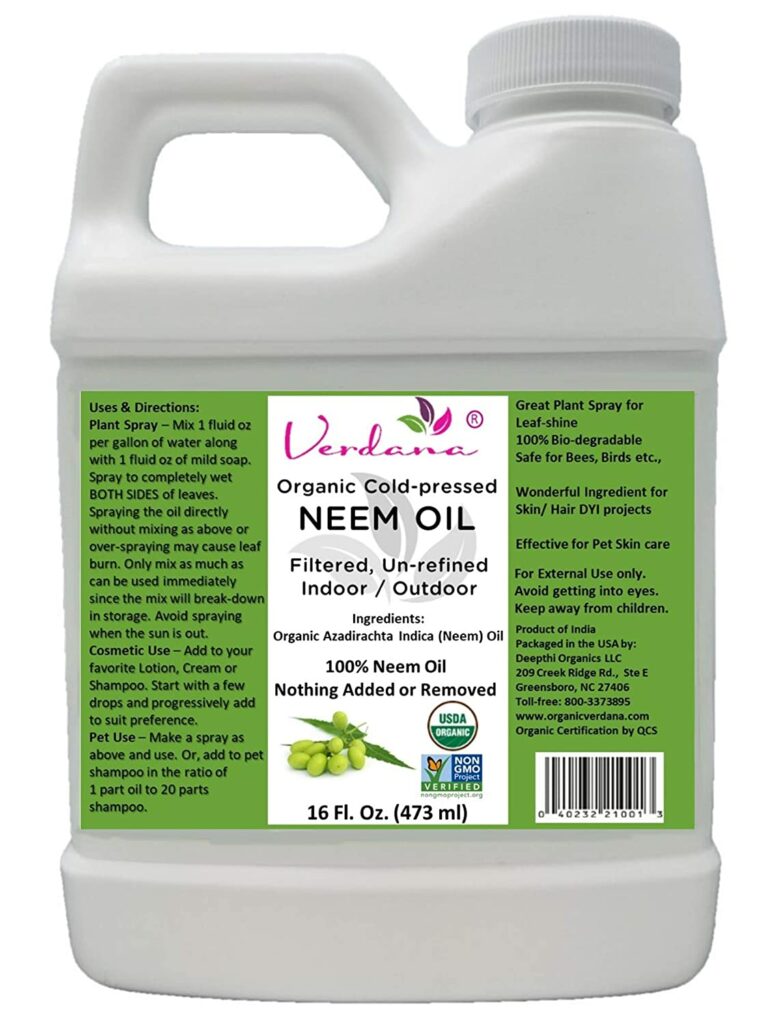 Another popular choice for the multi-purpose variants of neem oil is the one from Verdana. It comes with specifications for pet use and skincare use which is not usually the case from its competitors. It came from India, which is the biggest producer of neem oil in the world.
Aside from plant care, Verdana Neem Oil is effective for treating rough skin and pet skin issues. You can mix it with your favorite skincare or mix it with your pet's shampoo.
For plant care, you need to mix it with mild soap to blend with water. It is highly effective in controlling common pests in plants, including spider mites, cucumber beetle, mosquitoes, and biting flies.
Many gardeners love this product since it works on relieving the itchy skin of pets. At the same time, they can also use it to protect their plants. However, be careful spraying it too much on your plants since it can turn the leaves and stems into black.
A common mistake of some gardeners is they try to blend this neem oil with water alone. You have to mix a few teaspoons of dish soap which will serve as the emulsifier. The soap helps the neem oil and water blend well and be more effective as a pesticide.
Pros
Safe for use on humans, pets, bees, and birds
Suitable for indoor and outdoor use
Easily bio-degrades and does not leave residual effects
Pure neem seed oil
Multi-purpose 
Made from India
Cons


Harris Neem Oil is one of the best neem oil in the cosmetic-grade area that is also effective as an organic pesticide for your plants. It has many uses in treating skin conditions and improving your skin and hair health. It is a concentrate which means a bottle of this product can go a long way.
The manufacturer recommends a 1:20 ratio of this neem oil to your pet's shampoo to treat fleas. You only need one fluid ounce of this neem oil, a few drops of mild soap, and a gallon of water to achieve your organic pesticide. You have to remember that it is a contact pesticide that requires you to spray the diluted neem oil directly onto the pest itself to work as desired.
Gardeners love this product since it is safe and effective as a natural repellent. However, it comes in a small bottle which may be a disadvantage to some. It may stink, but the smell is usually a good indication of its pure formula.
It is among the premium brands of neem oil in the market. So, it can be a bit pricier than others. Despite its price, people are still buying it due to its high quality and for being true to its claims.
Before using it on your skin, make sure to do a patch skin test to check if your skin can handle the formula.
Pros
Premium neem oil (Cosmetic-grade)
Multi-purpose
No harmful additives, GMOs, or other fillers
Good in treating all skin and hair conditions
Cons
Pricey
Possible insecticidal effect on beneficial bugs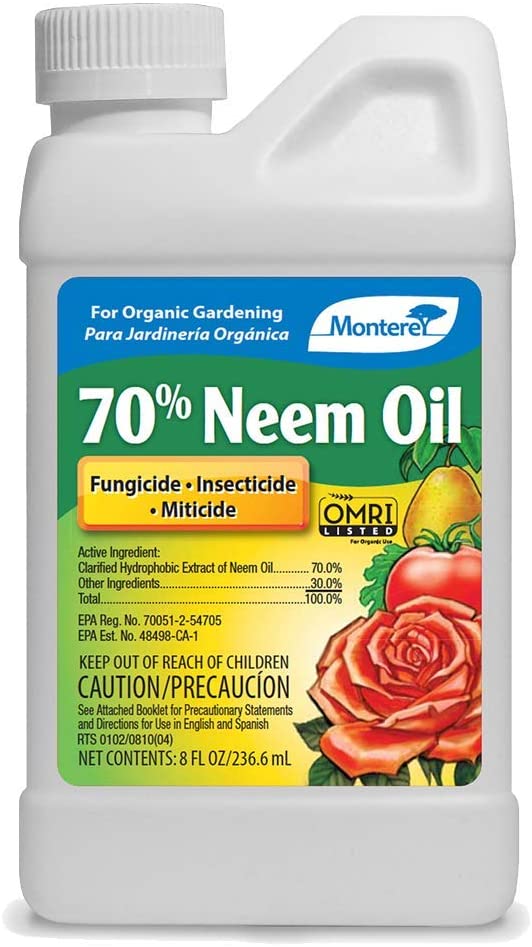 Our list will never be complete without including some mainstream pesticide like Monterey Neem Oil. It contains 70% of neem oil and other ingredients undisclosed by the manufacturer. It is suitable for heavy pest infestations that pure neem oil alone cannot solve.
The neem oil formulation of this brand is filtered and mixed with extra contents to make it more efficient in protecting plants.
Unlike other neem oil brands, this brand is only suitable for plant care. It helps control the following plant problems:
Black spot
Powdery mildew
Rust
Needle rust
Downy mildew
Spider mites
Aphids
Whiteflies
Twig
Tip Blight
Anthracnose
Scab
Botrytis
Alternaria
It can also control common pest infestation in plants like aphids, leafminers, leafhoppers, and leaf-footed bugs. You can apply it to almost all types of plants. It has the usual garlicky smell of neem oil and comes in a white milky consistency.
Though it contains neem oil, it has other contents that may cause skin irritation. It is not as pure as other neem oils, but it works as advertised and deals with pest problems as expected from the product. You may also want to consider putting an interval between applying it and harvesting your crops.
The manufacturer of Monterey Neem Oil recommends using it once a week or twice a month to achieve better results. If you want to stick with the purest form of neem seed oil, this may not be the best choice for you unless your plants are suffering a heavy infestation.
Pros
OMRI-listed
Best for heavy pest infestation
Works as a pesticide, fungicide, and miticide
Cons
May cause minor eye or skin irritation
Toxic to bees 
Filtered neem oil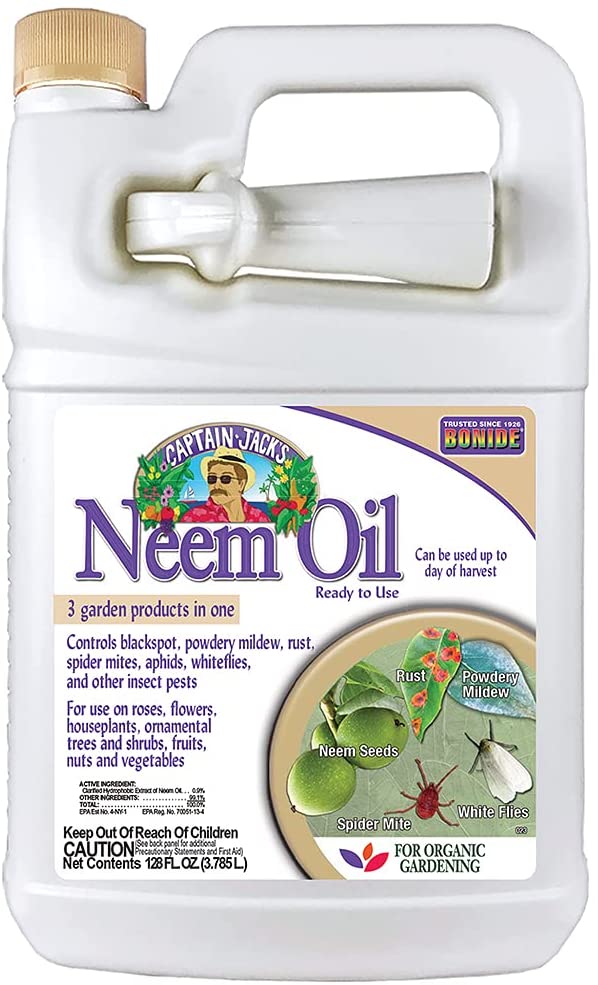 Bonide Neem Oil Concentrate has the strongest neem oil formula in the market. If you want a quick solution for your pest problem without the need to blend neem oil and water, this product is best for you. It contains 0.9% of clarified neem oil and 99% of other ingredients undisclosed by the manufacturer.
Though it uses the clarified form of neem oil, it is still OMRI-listed. You can use it as a dormant spray to get rid of the overwintering eggs of insects. It also has a more subtle smell than pure neem oil.
What makes it stand out among the rest is it can kill insects in any of their stages of growth. The manufacturer also claims that it can stop the progression of powdery mildew within 24 hours. It is also effective in treating other plant diseases such as:
Black spot
Downy mildew
Anthracnose
Rust
Leaf spot
Botrytis
Needle rust
Scab
Flower, twig, and tip blight
Alternaria leaf spot
The only downside of this product is it doesn't contain the purest form of neem oil. However, it is true to its claims and works as advertised. It is ready to use, so you no longer need to mix it with other emulsifiers.
Pros
Stops powdery mildew in 24 hours
Best heavy infestation and severe fungal disease
Applicable from seed to the day of harvest
OMRI-listed
Ready-to-use
No mixing needed
No mess
Subtle smell
Cons
Harmful if absorbed through the skin
May cause moderate eye irritation
Not suitable for wilted or stressed plants or newly transplanted plants
Not applicable for known sensitive plant species, such as impatiens flowers, fuchsia flowers, hibiscus flowers, some rose flowers, ornamental olive trees, or some carnation varieties without prior testing.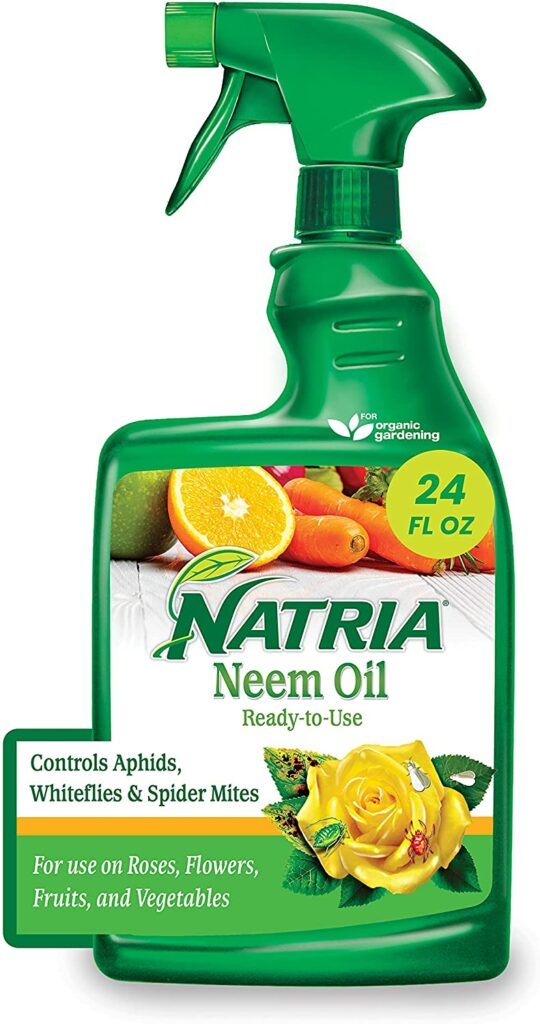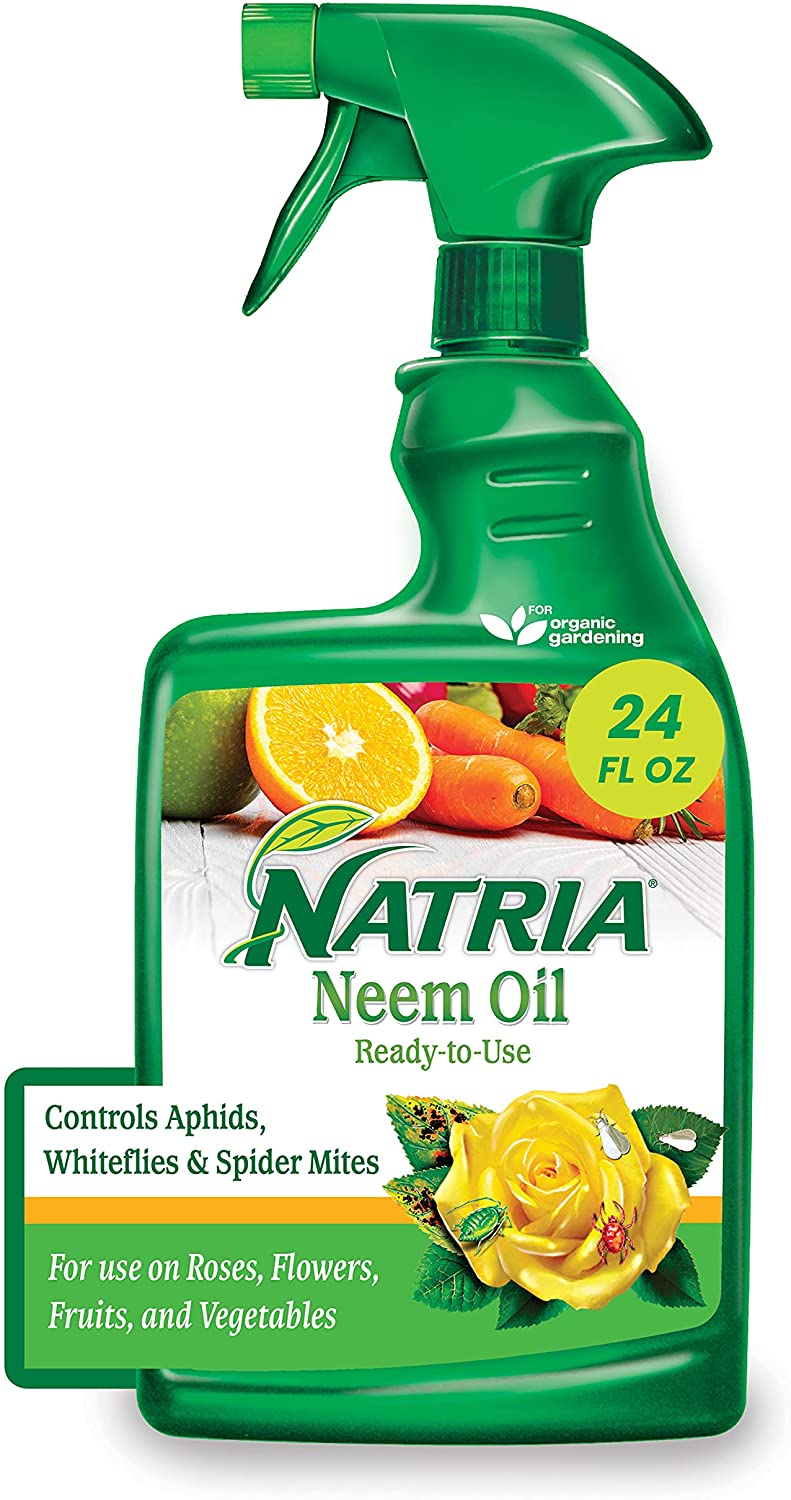 Last but not least is the ready-to-use neem oil formula from Natria. It contains 0.9% of clarified neem oil, and the other 99% of contents are also undisclosed by the manufacturer. Though it is not a pure neem seed oil, it still works as advertised.
It is a viable option if you are looking for another neem oil product that no longer requires mixing. You just need to shake it and spray it on the problem areas of your plants.
Neem is a contact insecticide, so you have to make sure that it is sprayed directly to the insects. It can control:
Aphids
Whiteflies
Spider mites
Fruit flies
Before you apply the fungicide, the best practice is to remove the affected leaves and stems. Also, make sure to sanitize all your gardening tools to prevent the spores of fungal diseases from spreading. One of the best features of this brand is it doesn't smell as pungent as pure neem oil. So if you have a sensitive smell, this might come in handy. It can help treat:
Black spot
Rust
Powdery Mildew
Other common fungal diseases
The only downside of this product is it can be misleading some gardeners into buying this product, thinking it is pure neem oil. It may also cause skin irritation if applied directly to the skin. So, you may need to wear protective gloves when spraying this product on your plants.
Pros
Ready-to-use
No mixing 
No mess
Works as advertised
Subtle smell
Cons
Toxic to bees. Do not apply this product while bees are actively visiting the treatment area.
Misleading advertisement
---
How Do I Know If Neem Oil Is Pure?
A pure neem seed oil comes with a strong garlic smell. It also solidifies at room temperature.
Pure neem oil should be placed away from sunlight to preserve its shelf life. The consistency is thick and does not blend easily with water. It requires an emulsifier like dish soap to be mixed with water.
Reminders In Using Neem Oil For Your Plants
Buying the best neem oil for your plants is one thing, but proper application is another task.
Here are some tips in using neem oil for your plants:
Spray your plants with neem oil late in the afternoon or early in the morning to avoid killing beneficial insects and burning your plants.
Do not try to mix neem oil with water alone. Add a few teaspoons of soap to blend them.
Too much application of neem oil can kill your plants due to suffocation.
The best application for controlling pest infestation is once a week or twice a month.
Neem oil is a contact insecticide. The diluted solution must be applied directly to the insects. That is why you need several applications to catch all the pests and their eggs.
Above all, handpicking the visible pests is still more effective than insecticides.
Always do a patch skin test before using neem oil on your body and your pets.
Final Thoughts
The best neem oil for those organic gardeners looking for pure neem oil is Verdana Neem Oil. It is multi-purpose and comes with instructions for plant care, pet care, and skincare.
For those looking for a quick fix for a pest infestation, you can count on Bonide's Ready-To-Use Neem Oil. It is also suitable for heavy pest infestations that are not solved by pure neem oil variants.
We hope that this post has been helpful in your quest to find the best neem oil for your plants. They may seem the same and categorized as organic, but they differ in contents, formulation, packaging, and value for money.
We are glad that more and more people are now considering the value of using organic products for plant care like neem oil. We believe that we only have one planet. We are the only ones who can take care of it by using environmentally-friendly products.
Make sure to weigh your options before buying, and don't get swayed easily by the label alone. If you find this post helpful, please don't forget to share it with your friends.
Which brand of neem oil worked best on your plants? Got questions? Let us know in the comments below.