Soil Ph tester is one of the handy tools that can help you take care of your plants better.
Aside from watering and fertilizing plants, achieving the right soil pH level is crucial to promote healthy growth and flower and fruit production. There are now a ton of best soil ph testers that contain extra features of their own.
The soil Ph level must match the required soil pH level of your plants. Otherwise, the roots will find it hard to absorb nutrients from the soil.
It can further lead to stunted growth, no bloom production, and overall plant health decline. With a soil pH tester, you may now help you diagnose soil problems when your plants are not growing well.
In this post, we listed down 8 of the best soil pH testers in the market to help discover new brands that contain extra features and be more informed before buying one.
We will also share some tips on how you can raise and lower the pH level of the soil naturally.
---
(You could use the table of contents below to jump to the sections that are most important to you.)
---
8 Best Soil Ph Testers in 2023 [Top Picks]
Due to tons of brands in the market, it can be hard to find the best one right off the bat.
So, we listed them up for you and included models that are multifunctional and also cost-effective.
Let's start!
1. HiLandy Soil pH Meter 3-in-1 Soil Tester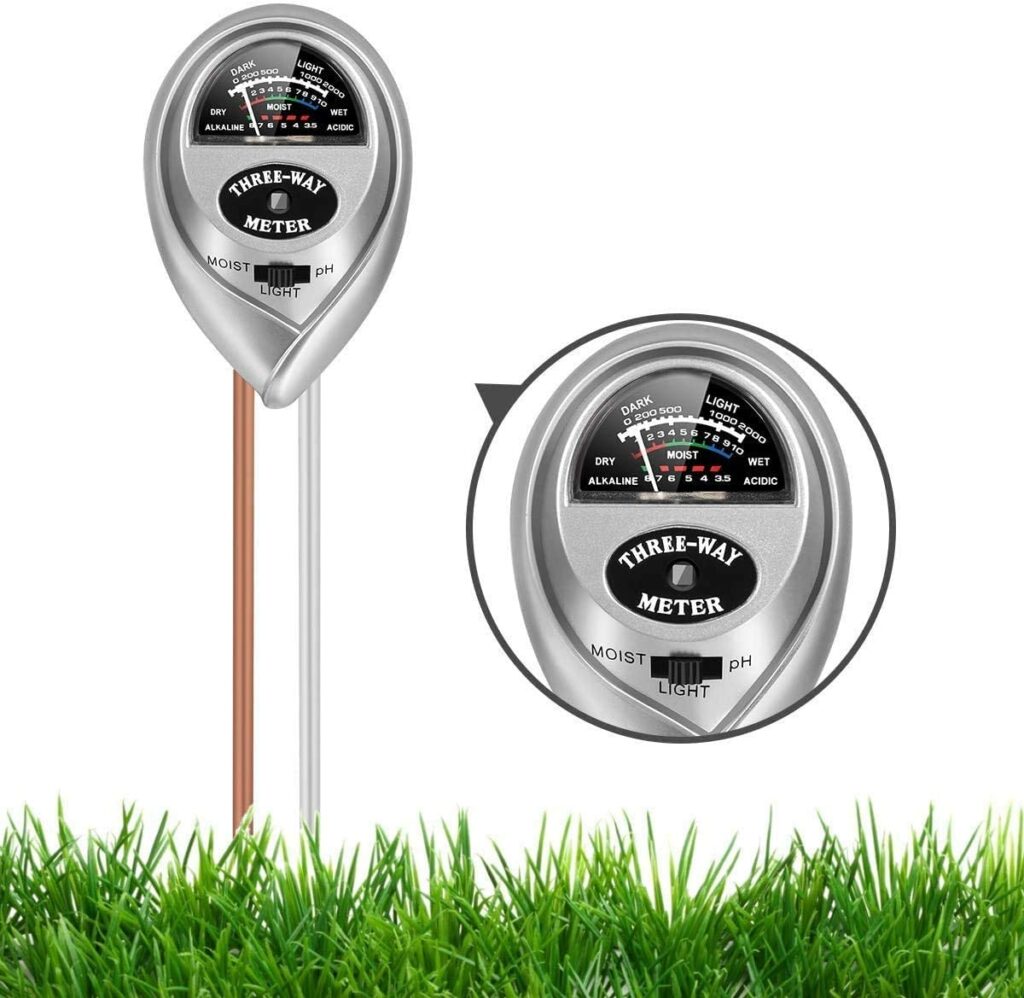 HiLandy Soil pH Meter 3-in-1 Soil Tester is a multifunctional soil tester that measures soil pH, moisture, and sunlight. It is portable and does not require any batteries and charging time.
The results from this tester only take 30 seconds after you put the probes in the soil. However, most gardeners wait about 10 minutes to be sure of the results.
This soil pH tester provides a more accurate result when it is wet. Otherwise, the indicator will not move. Its pH sensors can detect soil acidity from 3.5 to 8. It also detects the moisture level of the soil in three color codes, namely:
Red: 1-3 (dry)
Green: 4-7 (moist)
Blue: 8-10 (wet)
The probes of this meter are 5.34 inches long which are suitable for plants with shallow to mildly deep roots.
The two probes are made of copper and aluminum that detect both moisture and soil pH. Its overall size is 8.25 inches x 2.0 inches x1.74 inches which means it's portable and easy to carry.
HiLandy Soil pH meter can only be used in soil and not on the water. Using it on liquids may damage the probes. However, the light sensor only detects the current light amount during your testing and does not record the accumulated light of plants per day.
Most gardeners find this soil pH tester accurate. However, it might need more time to reset what the manufacturer claims.
Instead of 30 seconds, it may need about 10 minutes after every use before you can use it to test other pots. It's portable and inexpensive and a good option for new gardeners due to its ease of use.
Pros
Easy to use
Good for small potted plants
Long probes that can reach deep roots
Multi-functional and test the light, moisture, and soil pH
Accurate results
Affordable
Portable
Easy to carry
No batteries needed
Cons
Some products have defects. So, make sure to buy from legitimate online sellers.
2. Sonkir Soil pH Meter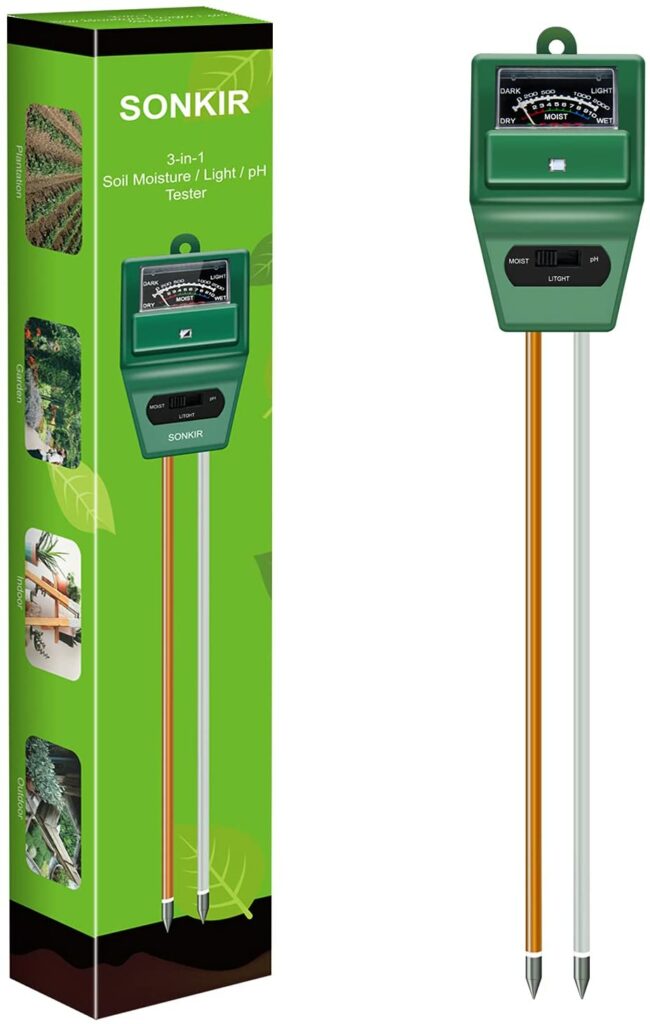 Sonkir is probably one of the most popular brands of soil pH meters among gardeners. It is hailed for its accuracy. It is also multi-functional and can detect soil pH, light, and moisture levels. It also detects soil pH from 3.5 to 8 and moisture levels with a spectrum from dry, moist, to wet.
Like other popular soil pH meters, it is ready to use without the need for external energy sources like batteries.
However, it has a bigger scale display for a better reading experience among gardeners. It also provides longer aluminum and copper probes that reach 7.9 inches.
So, if you have big potted plants, the probes of this soil pH tester can easily reach the deep root zone of your plants.
Due to its bigger display and longer probes, this soil pH tester is a bit bigger than its competitors with the size of 11.5 inches x 2.0 inches x 1.5 inches.
Like other soil pH meters, you should only use them on soil and not on liquids to prevent damaging the probes.
Lastly, you should also water the soil before testing since it will not work on extremely dry soil.
Pros
Bigger reading display
Longer probes reaching 7.9 inches
Easy to use
Multi-functional
Accurate results
Affordable
Cons
You need to clean the probes diligently to get accurate results. If the results remain the same after you add any soil amendment, try to brush the probes to remove any debris. Most of the time, dirty probes lead gardeners to think that it is defective.
Be careful putting the probes into the soil. They are longer than other soil pH meters, so they are more at risk for breakage.
3. Kensizer Soil Tester, 3-in-1 Moisture/Light/pH Meter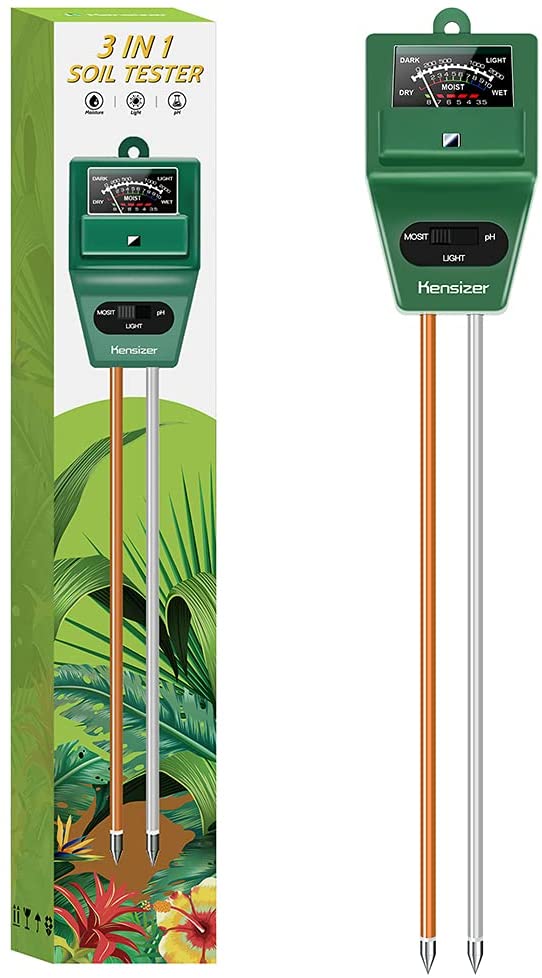 Another soil pH meter that looks almost identical to the first two meters is from Kensizer. It is a multi-functional meter that measures the soil pH, moisture, and light amount in the soil or plant beds. It detects pH levels from 3.5 to 8 and also provides accurate light results.
This tester has two probes to help detect both moisture and pH levels. The light sensor provides a spectrum that ranges from 0-200 which means lower light, 200-500 for low light, pp500-1000 for normal light volume, and 1000-2000 high light content. The moisture index can also indicate if your soil is dry (1-3), moist (4-7), and wet (8-10).
The probes of this tester are 7.9 inches which makes it easier for you to reach the deep-seated roots of plants.
The overall size of the tester is 11.5 inches and 2 inches wide. It also has a single button to shift the tester from light, moisture, to soil pH.
Kensizer soil pH meter is ready to use and does not require other power sources. Most gardeners find it accurate and provide the same results with a professional tester from lawn maintenance services.
For the light meter to work, you should face the meter to the light source to get the best results. Otherwise, the indicator will not move, which misled most gardeners that the meter is defective.
Some gardeners may have difficulty in using this meter for various reasons. These include unclean probes, incorrect reading procedures, and defective models. Some models may also feel a bit flimsy.
So, if you happen to receive a defective model make sure to contact your seller for a replacement before using it.
Pros
Accurate results 
Easy to read and use
Lightweight 
Ready to use
Long probes
Affordable
Cons
May provide inaccurate readings if the probes are let unwiped before use.
Some models feel flimsy.
Due to the length of the probes, they may break easily if forced into hard soil.
4. Luster Leaf Soil Meter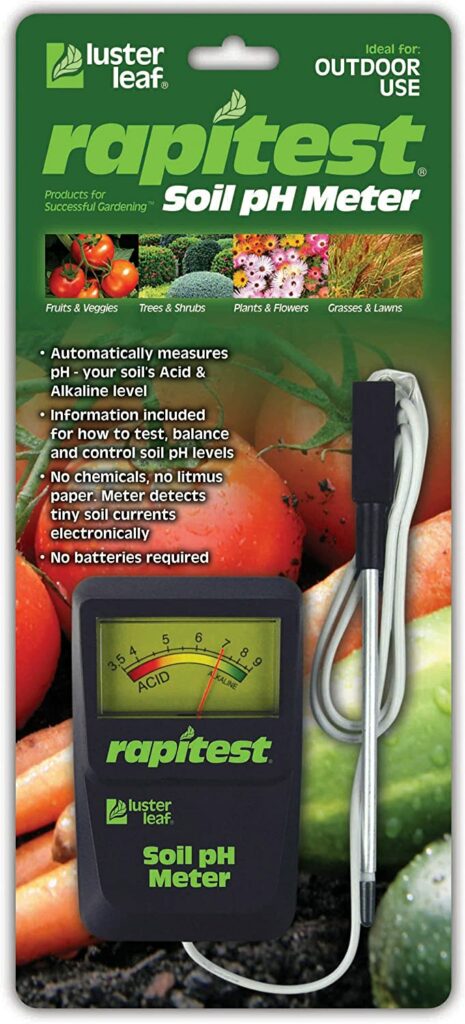 If you're looking for a tool exclusively for soil Ph reading, Luster Leaf is worth trying. It is a corded soil pH meter that measures the soil acidity from 3.5 to its alkalinity, which is at 9. It has a large-scale plate that solely displays the soil pH reading.
If you find the multifunctional soil pH tester complicated or the display is too technical, this tester is the one for you.
It uses a proper logarithmic scale and includes a cleaning pad and 400+ recommendations for various plants.
Unlike metal probes, corded probes of this tester are more flexible and allow you to even hold the meter while reading the soil pH. The flexible copper tether connecting the meter and the silver probes is 25 ½ inches long, while the probes are 4 inches long.
Some gardeners who are having a hard time reading meters at eye level gain a lot of convenience from this soil pH meter.
The probes are also sturdy and can get through very rough root balls. It may not have other gauging capability for moisture and light, but it still provides a good testing experience for most gardeners.
Pros
Simple and easy to use
Long tethers and durable probes
Easy to read results due to flexible copper tether
Affordable
Come with a cleaning pan and a comprehensive guide to gardening
Low maintenance
Cons
Exclusively measures soil pH
The 4-inch probe needs to be placed deep in the soil for big potted plants
The probe may need a bit of familiarity to use since it is a bit thicker than the probes in other soil pH testers.
5. Garden Tutor Soil pH Test Strips Kit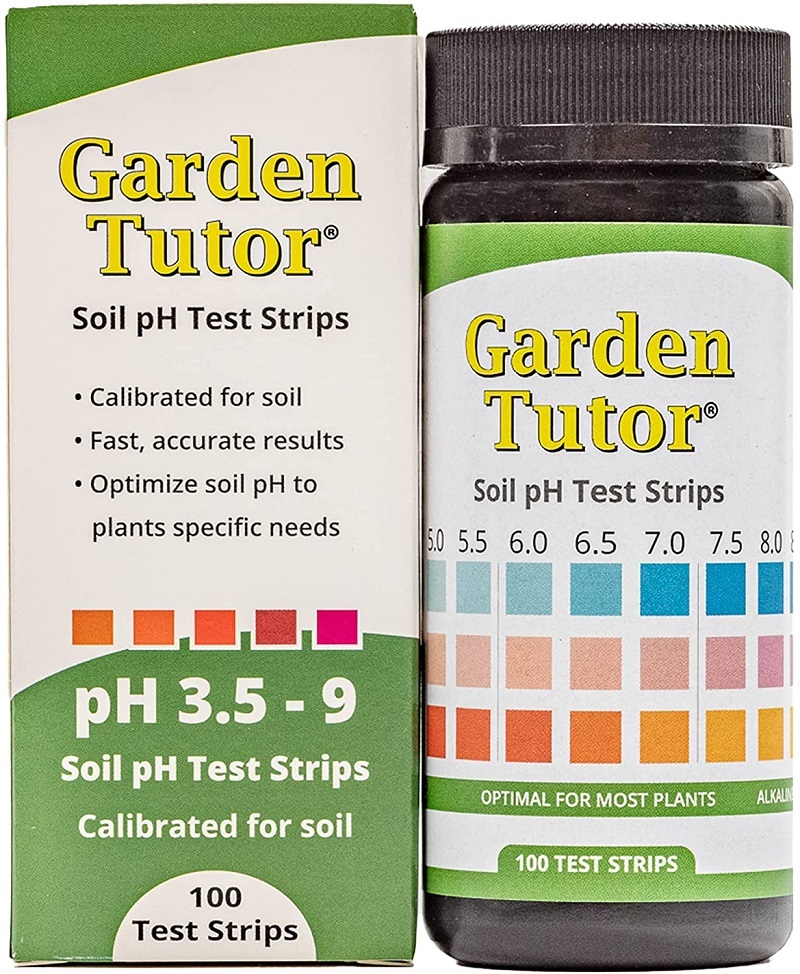 If you are more of a conventional gardener, soil pH test strips may probably be your kind of thing.
Garden Tutor Soil pH Test Strips Kit determines the acidity of your soil based on the color of the strips after you place the soil sample. A box of this tester provides 100 test strips.
This tester is a good option for elderly gardeners who may find it hard to read scales and meter displays but recognize colors better.
To use it, you need to mix your soil samples from different corners of your plant bed with eight tablespoons of water. Let the soil and water solution sit for 20 minutes and mix it for 10 seconds before you dip the strip. The resulting color will give away the pH level of the soil.
This tester comes with a 16-page guide on full-color pH testing and lime and sulfur application charts. The range of testing capacity runs from 3.5 to 9.0. The ideal water to use in testing the soil pH is distilled water.
The only catch with this type of testing is the impact of water on the soil pH. If you have hard water at home and use it for testing, the result may have a difference of 0.5 to 1.0 to the actual pH level of the soil.
Your best bet is to use distilled water in mixing your samples. However, most households have tap water with a pH level of 6.5 to 8.5 which will only make a 0.5 difference from the actual result.
If you want to stay on the sure side of things, it's best to use distilled water.
Pros
Come with a 16-page guidebook about soil pH management
Color-based results
Best for gardeners who find it hard to read scales
Easy to use and simple to use
Results are close to lab results
Cons
Some color pads can be slightly unaligned with the color chart due to variations in printing 
It requires mixing, which can be a hassle for some gardeners.
6. Fivota Soil pH Meter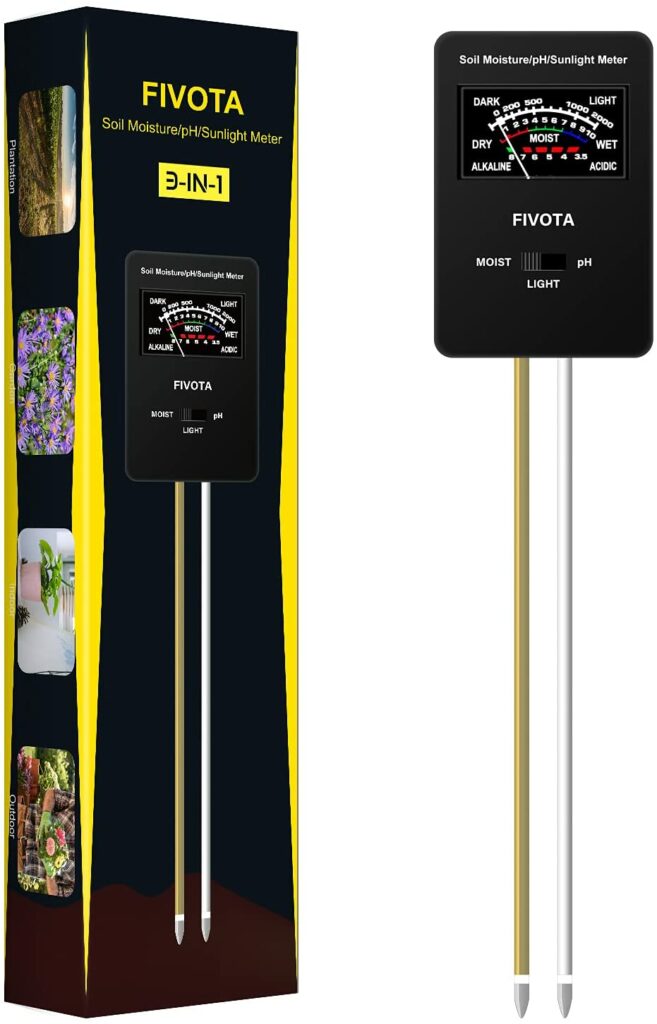 If you're tired of squinting your eyes to see the number on the scale, enjoy a larger scale display with a Fivota soil pH tester.
Its overall color is black, and the markings on the scale are printed in a lighter color for better visualization. It works as a multifunction garden tool in testing the light, moisture, and soil pH.
The moisture sensor has a scale of 1 to 10, wherein 1-3 means dry, 8-10 is wet, and the numbers in between means moist.
The soil pH, on the other hand, ranges from 3.5 to 8.0. The probes are aluminum and copper with a length of 7.3 inches. Despite its bigger display, the overall meter is still portable with a size of 11.3 inches x 2.8 inches x 1.4 inches.
Like other soil pH testers, you have to leave this tester in the soil for about 10 minutes to get the most accurate results.
However, don't leave it in the soil for too long to prevent the probes from rusting. The light sensor only reads UV light, so you will not get any results if there's available light from light bulbs.
If you are conscious about the aesthetic and the clarity of the scale, the Fivota soil pH tester is a good option. The contrast between black and other light colors used in the scale provides ease in reading the results. It also has an improved light sensor compared to other testers.
Pros
Accurate results
Bigger display for more convenient reading
Contrasting colors of black and lighter color scale indicators makes numbers easier to see
No battery needed
Improved light sensors
Cons
The probes may be a little bit more sensitive to different locations in the soil.
7. Gain Express Soil Ph & Moisture Meter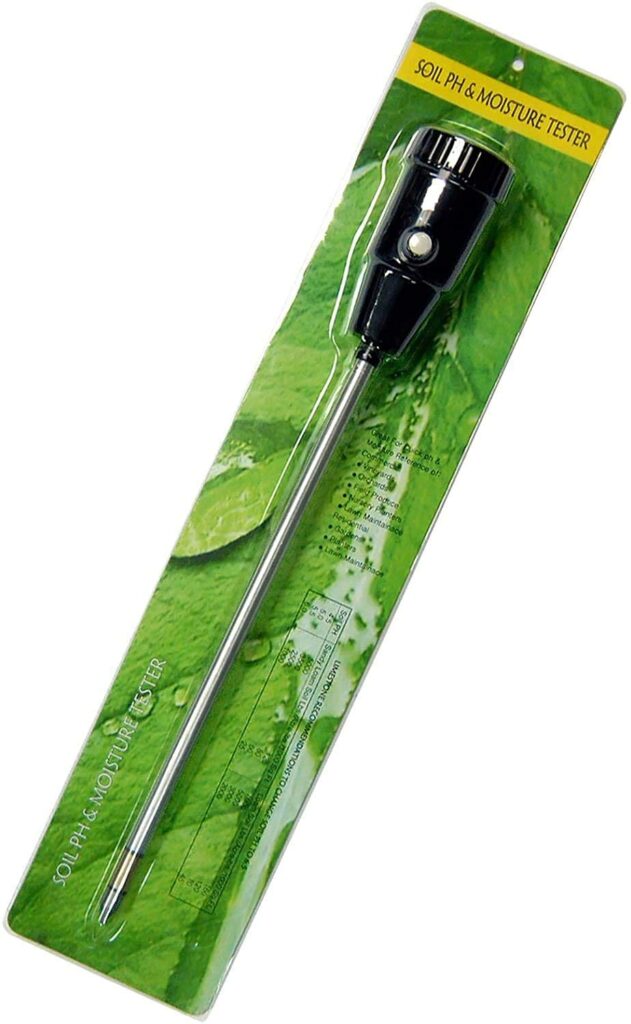 Another design that can make it easier for you to read the soil pH is from Gain Express. It is a multifunctional tool that can read the pH and moisture level of the soil.
The scale or display is right on top, so as soon as you stick it in the soil, you no longer need to kneel or sit to check the results. It is a perfect tool for commercial gardens or vegetable gardens where the demand for testing is constant.
The probe or electrode is 11.6 inches long and can reach deep root balls of plants. The pH level range of the scale is from 3.0 to 8.0 pH units, and the moisture level range is from 1-8.
However, unlike other testers, it has a working temperature of 41-122°F (5 – 50°C). The meter is also a bit bigger reaching 4.3 inches.
Most gardeners and farmers love using this soil pH meter because you can do the reading even while standing. It is also not too technical and resembles the traditional display you find in most testers. It is a good option if you are cultivating any of the following:
Vineyards
Orchards
Field production
Lawn maintenance
Home Use
Gardens
Planters
Lawn maintenance
The only setback that you may want to consider is that it has a resolution of ± 0.2 pH units which makes it suitable for agriculture field or educational experiments.
The package comes with the meter, user's manual, and standard factory blister package.
Pros
Easy to use
The display on top of the meter makes reading easier
Long and sturdy probe that can go deep in the soil
Durable yet lightweight
Affordable
Good for commercial use
Cons
Need to make a hole before testing if the soil is hard
The probe must be wiped clean for the most accurate reading and extend its lifespan
The probe is long which makes it prone to breakage if pushed too hard from the top and the soil is too hard.
Has a resolution of ± 0.2 pH units
8. Primens Soil Plant Moisture Meter, 3-1 Soil Moisture PH Light Meter, Water Sensor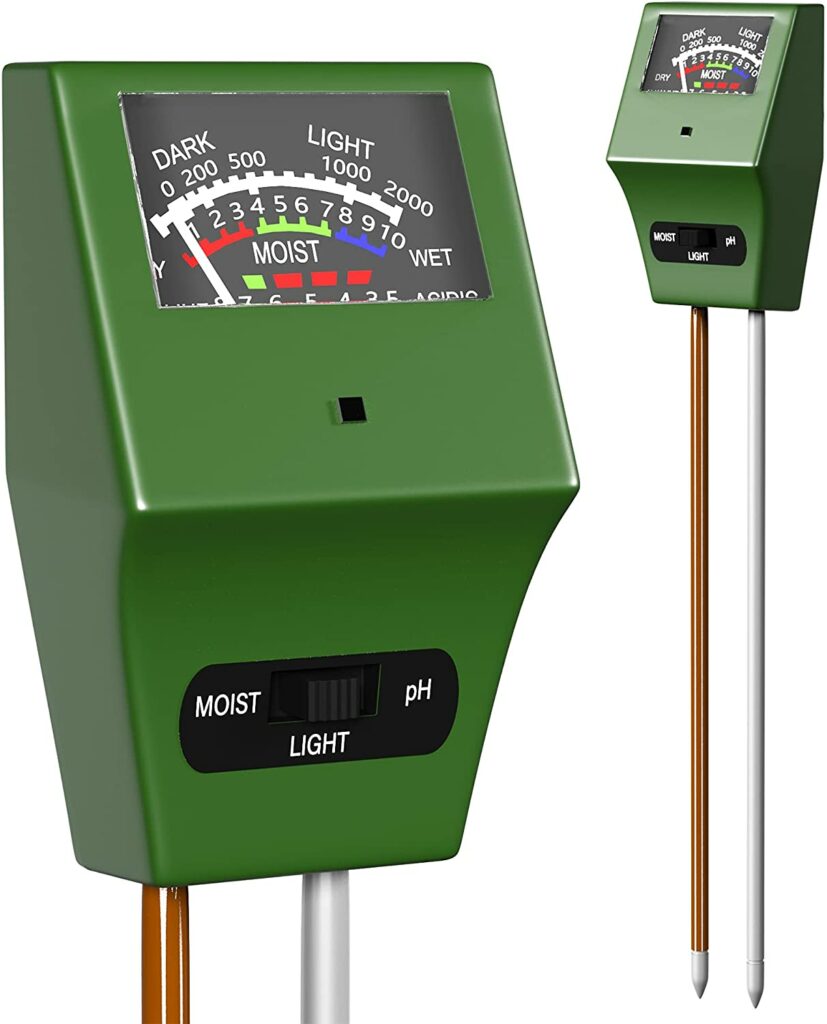 Last on our list is from Primens Soil pH meter which holds an almost identical design from other brands.
It is a multi-functional tool that also measures light, soil pH level, and soil moisture. It has identical features to its competitors. However, it is among the most durable ones in the market.
The probes of this meter are 7.5 inches long, and the sensors measure the pH levels starting from 3.5 to 8.0.
The moisture level spectrum also starts from 1 to 10, where ten is considered wet and one as dry soil. It is also ready-to-use and does not need any external power sources like batteries or recharge from an outlet.
Gardeners can count the durable materials used for this meter. If there are no available stocks for the famous brands, gardeners may count on this affordable meter.
Pros
Affordable
Easy to use
Long probes that reach the deep roots of some deep potted plants
Super sensitive probes provide accurate results
Multi-purpose
Cons
Should not be used for hard soil since the probes may be prone to breakage.
---
How to Choose The Best Soil Ph Tester?
The best soil tester for you depends on your needs and your willingness to invest in your plant tools.
If you have a vegetable garden at home or growing your indoor collection of Monstera plants and other highly-priced plants, having a durable soil pH tester can be worth buying.
Here are some of the factors to consider in buying a soil PH meter:
Durability
Check if the probes are intact, not bent, and long enough to reach the roots of your plants.
In some cases, when the needle or the arrow in the display stays still at no. 7, some gardeners consider them as defective.
However, 7 is the neutral state of most soils, and the needle will only move on each end when it touches anything too acidic or too alkaline.
Multiple Functionalities
Some soil pH testers are equipped with other functionalities like moisture and light testers.
These added features can help you detect if you are overwatering your plants which causes leaves to yellow. You may also be able to know ahead of time if you need to add more holes on pots when the soil is always wet for your plants.
Cost-Efficient
Branded soil pH testers don't always equate to their durability. In most cases, there are inexpensive testers that can outperform the branded ones.
Why would you spend so much for a brand if you can get the functionalities you're looking for in a cheaper one?
Prioritize quality, and you'll save tons of bucks from your gardening tools.
Accuracy
Most soil pH testers are not as accurate as the results you get from an agricultural laboratory. They have a low resolution of 0.001 pH unit which means the results you get from the meter is 0.001pH units close to the exact pH level of the soil.
Soil pH meters help give gardeners an idea of how the soil is performing, whether it's too wet, acidic, or alkaline.
For a more accurate result, always clean the probes of your soil pH tester. Also, you should push the probes to the root zone of the plant reaching about 3 to 5 inches deep. Lastly, you should never leave them in the ground to prevent rust from damaging the metal probes.
---
Natural Ways To Lower and Raise Soil PH
The common pH level of soils ranges from 3.5 to 7. Low soil pH levels usually range from 3 to 6, which means the soil is too acidic or sour in gardeners' terms. High pH levels range from 7.5 and up means the soil is too alkaline or too sweet. The neutral pH level lies between 6.5 to 7.
If you notice that your soil is too acidic for your plants, you need to amend the soil with soil acidifiers. On the other hand, if the soil is too alkaline, you can perform some steps to help increase its acidity.
Here are some ways to help you adjust the soil pH level based on the needs of your plants:
#1 Rain
Rain may increase the acidity of the soil due to the pollutants in the air. In highly urbanized areas, rain is more acidic, which can directly affect the health of your plants.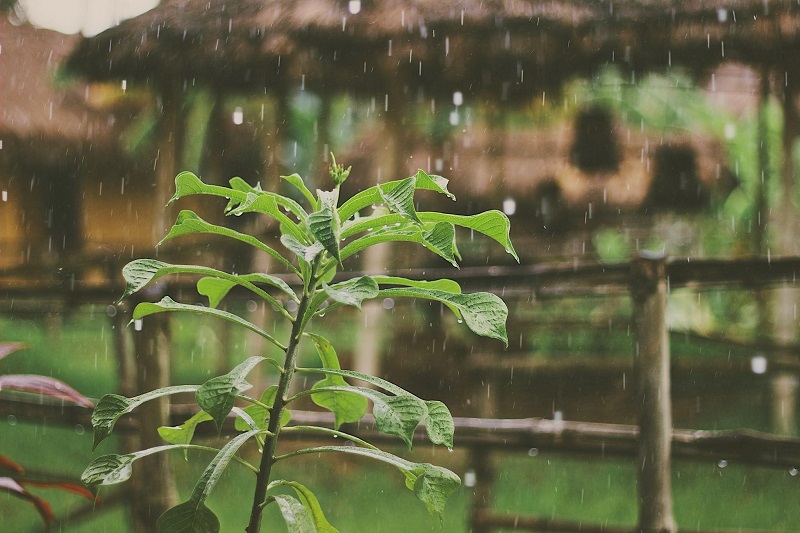 You may notice that after the plants were irrigated with rainwater the soil pH tester will show you that it is acidic.
To adjust the soil acidity and increase the soil pH, you can aerate the soil by disturbing the topsoil. Doing so will allow the moisture to evaporate and revert the neutral pH of the soil.
If your plants are quite sensitive to acidity, you may place them indoors during the rainy season.
#2 Compost/Vermicast or Worm Castings
Compost and worm castings are popular soil amendments that can help increase soil pH levels. They have neutral acidity that helps balance the soil acidity.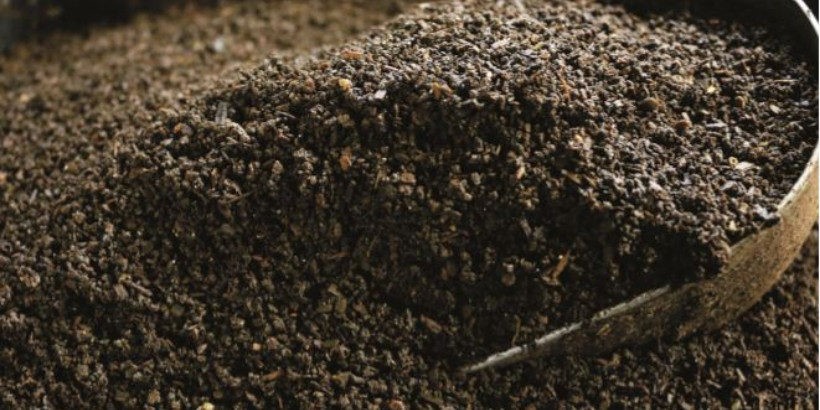 You may add them to your plants once a month if they tend to be more alkaline to climate change and other factors. You may try one of the best from the market, such as Wiggle Worm Worm Castings.
#3 Limestone
Limestone is a soil amendment common in agricultural use. It helps sweeten or increase the soil pH level of the soil after it becomes too acidic.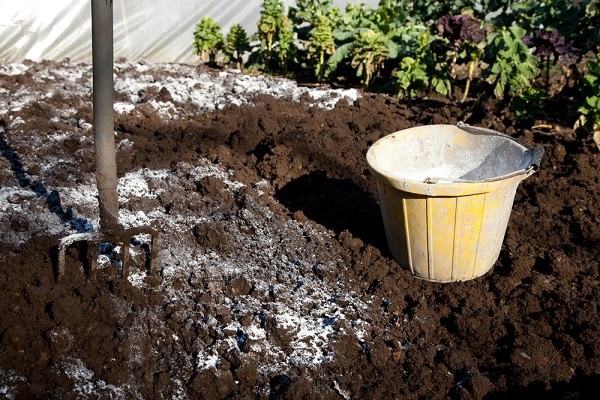 Aside from adjusting the pH level of the soil, it also provides other nutrients such as magnesium and calcium.
If you opt to add limestone to your soil, you can use an organic option like Down to Earth Organic Prilled Dolomite Lime.
#4 Coffee Grounds
Coffee grounds are among the frequently asked questions by most gardeners. It contains mild acids that can help slightly lower the soil pH level.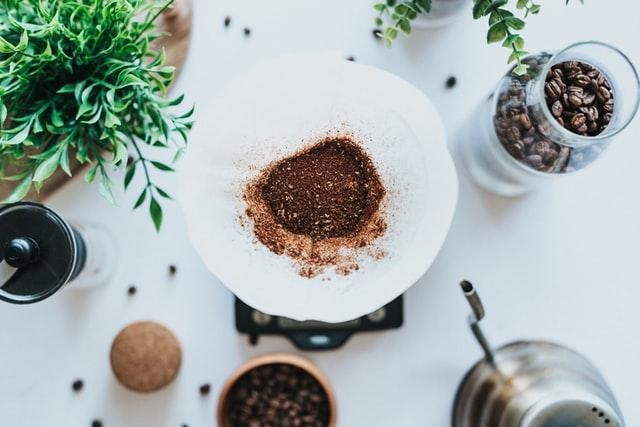 However, it is rich in nitrogen and also serves as an organic matter in the soil. Before adding them to your plants, make sure that they are suitable for additional nitrogen since most flowering plants need more phosphorus than nitrogen to produce more flowers.
#5 Lemon Juice
Lemon juice is another organic source of acids to increase the acidity of the soil.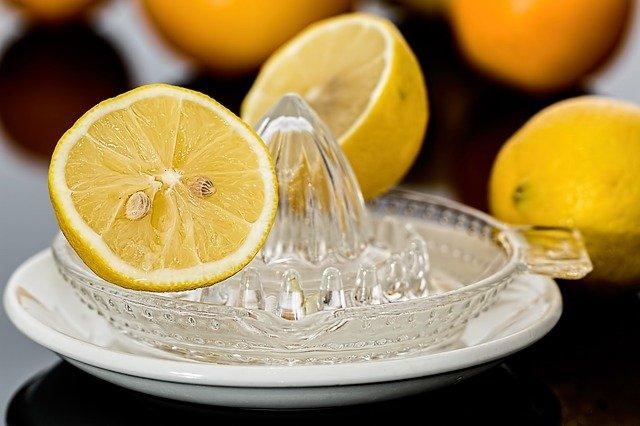 You can mix about two tablespoons of lemon juice and mix it with 1 liter of water. Pour it into your plants once a month if you want to maintain the acidity of the soil.
#6 Vinegar
Another popular method of adjusting the soil pH is using your kitchen vinegar. Since vinegar is widely available in every household, it became an easy fix for most homeowners.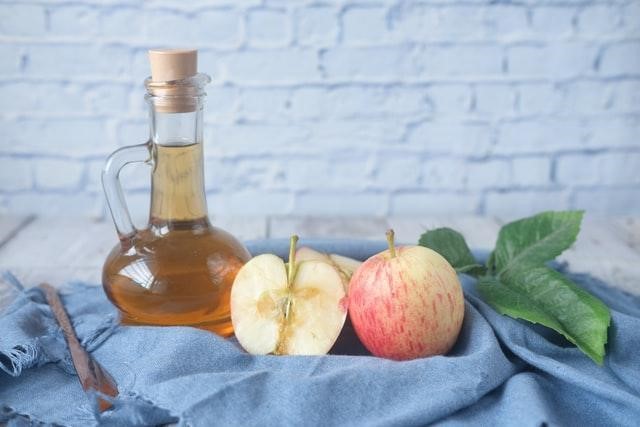 Mix one tablespoon of vinegar or apple cider vinegar to 1 liter of water. Pour it generously into the soil once a month for best results. Always check the soil pH level before and after you apply any amendment.
#7 Shredded Pine Bark
Pine bark is a popular option for mulching the soil. However, over time, it can absorb nitrogen in the soil and change the soil pH level. It helps increase soil acidity.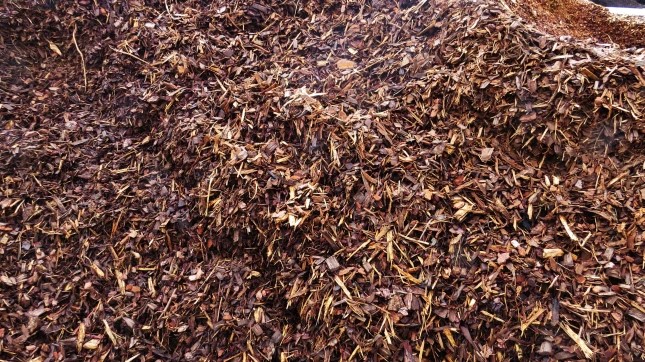 So, if you use it as a mulch, don't forget to add nitrogen-rich fertilizer from time to time aside from observing its effect on the soil pH.
#8 Aluminum Sulfate (Alum)
Aluminum sulfate is another option in increasing the acidity and lowering the soil pH level. It is a good soil amendment when preparing the soil or plant bed for acid-loving plants like azaleas.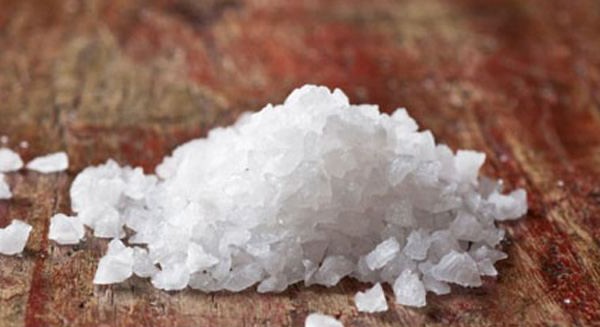 It should be diluted in water and poured into the soil. Simply mix ¼ cup of aluminum sulfate and mix it with 1 gallon of water. Pour it on the soil to help adjust the acidity level.
#9 Sulfur
Sulfur is alternately used with Aluminum sulfate in lowering the soil pH. Once they are diluted in water they form sulfuric acid that provides the acidity in the soil.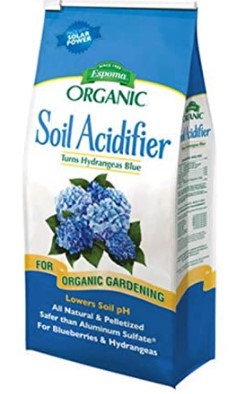 One of the popular brands of sulfur for gardening is Espoma Organic Soil Acidifier which contains 20% sulfur.
#10 Wood Ash
If you are growing plants that love soil with neutral soil pH, you can add wood ash whenever the soil becomes too acidic. It is high in calcium which contributes to its ability to raise the alkalinity of the soil.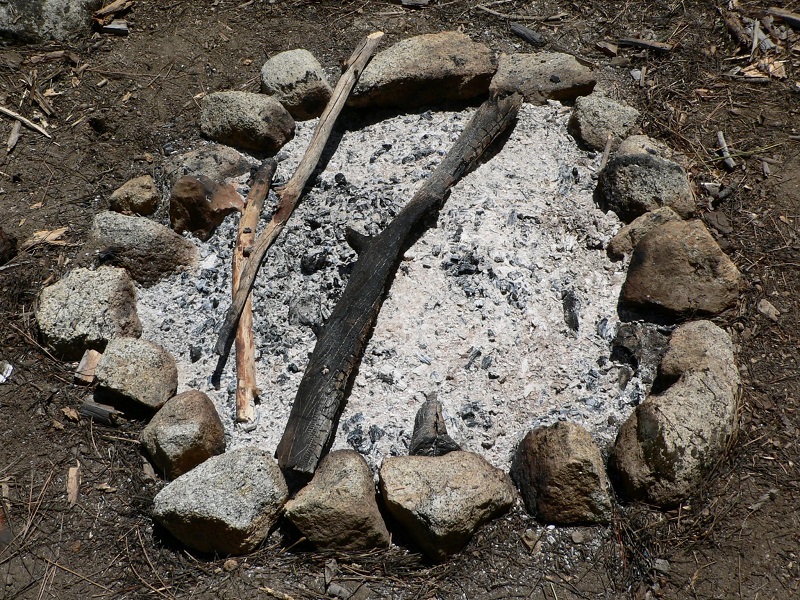 Aside from amending the soil, you should also check the soil drainage of your plants. Prolonged exposure of the soil to stagnant water increases its alkalinity.
Check the drainage of pots, and check if the soil is well-draining or loamy. You should also make sure that you aerate the soil to allow the roots to breathe and regulate the moisture in the soil.
---
Frequently Asked Questions (FAQs)
Do soil pH testers really work?
Yes. Soil pH testers give gardeners an idea of what causes several plant problems like stunted growth, nutrient deficiency, and no fruit and bloom production.
Though most testers have about 0.001 pH unit of discrepancy to the actual soil pH level, it is still too close to the actual results. To achieve the most accurate soil pH level from your soil, you may send them to an agricultural laboratory for testing.
Can I test soil pH myself?
Yes. Most gardeners use soil pH testers to help them diagnose where the problem comes from on their plants. Most of the time, gardeners were able to get ahead of the decline of their plants by checking the soil pH of their plants regularly.
How do you adjust pH in soil?
You may adjust the soil pH level by amending the soil with acidifiers. You can also adjust the soil acidity by ensuring that the soil has good drainage or tucking it away from the rain. Rain can adjust the soil Ph and make it more acidic, especially in urban areas.
What pH is best for soil?
The best soil pH depends on the soil PH level that your plants need. Some plants are acid-loving, like azaleas and some plants thrive in alkaline soil like peanuts. Pay more attention to the needs of your plants and consider them in amending your soil.
Final Thoughts
We hope that this post has helped find the best soil pH tester for you. When it comes to ease of use, Fivota Soil Meter is the top pick on our list since its design makes reading the results so much easier.
Luster Leaf Soil Meter is the most beginner-friendly, and the best multifunctional meter is the one from Sonkir.
We hope that you also learned how soil pH levels work and how you can adjust them naturally.
Our climate and your plant care routine can affect the soil pH level of your plants. So, make sure to always check the soil acidity from time to time for best results.
If you find this post helpful, please don't forget to share this post with your friends. Who knows you might be saving their plants by giving them the most educated advice.
Let us know in the comments which soil amendment and soil meter worked best for you in the comment section below.