Pine trees are the least likely evergreens that you might consider fertilizing. However, even these self-sufficient giants need care from time to time. These types of conifers also require a little boost from the best fertilizers for pine trees if they are sick and stressed.
Before you proceed with the list, pine trees are more likely to be thirsty than heavy-feeders. They don't require a lot of plant food because they are self-sustaining. They are already satisfied with deep watering. Oftentimes, water-stressed pine trees are mistaken as nutrient-deficient, which leads to further health decline of the pine.
In a forest setting, pine trees can get enough nutrients from their pine needles that decompose in the ground. The pine needles, in reality, are rolled leaves that store water that allows pine trees to survive and thrive in harsh climates.
Unlike pine trees in forests, potted or lawn pine trees in home landscapes are not exposed to that kind of luxury. Lawns are well manicured and cleaned from any debris, which disrupts the self-preserving process of pine trees.
For that reason, lawn pine trees have a higher tendency to become nutrient-deficient and sick. The general rule in fertilizing pine trees is they need a well-balanced source of nitrogen, phosphorus, and potassium suitable for acidic soil.
The nutrient sources can vary from organic cottonseed meal or well-balanced 20-20-20 fertilizer. The fertilizer options for pine trees are usually the same as the ones you use with gardenias and rhododendrons because of their acidic soil-friendly contents.
In this post, we will name some of the brands that professional growers use to maintain the health of their pine trees. The three numbers (10-10-10) that you will see in this post represent the nitrogen, phosphorus, and potassium content of fertilizers.
Let's start!
(You could use the table of contents below to jump to the sections that are most important to you.)
---
10 Best Fertilizers For Pine Trees – Reviews in 2023
Not all tree fertilizers are ideal for pine trees. Some are good for deciduous trees, while others are carefully designed for evergreens. One of the examples of this is among the best fertilizers for pine trees on our list – Holly Tone.
1. Espoma Organic Holly-Tone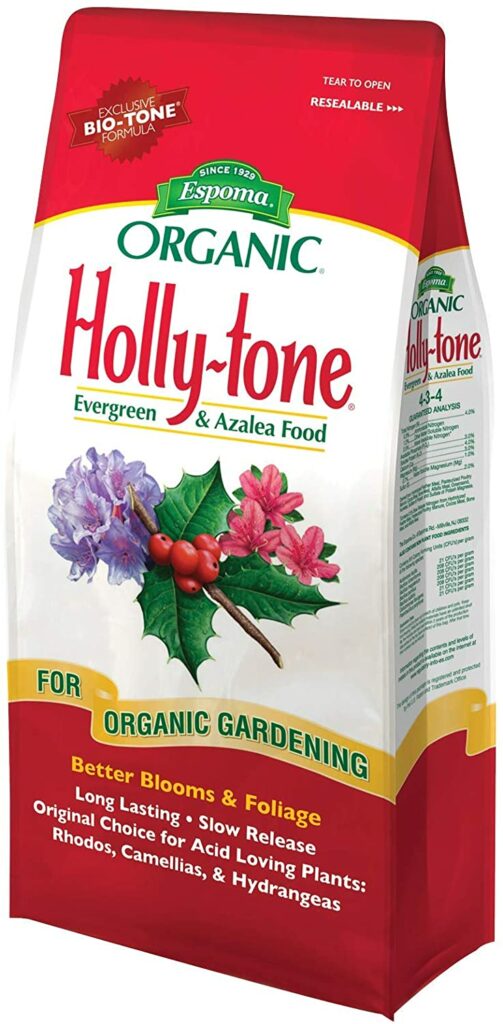 Espoma's Holly-Tone may not seem like the first tree fertilizer you would think of. However, it has been the holy grail of gardeners to keep their pine trees healthy and lush green.
It is an organic fertilizer with an NPK ratio of 5-3-3. Its formula is also suitable for acid-loving plants and trees like pine.
Holly–Tone is derived from the following organic materials:
Feather meal
Poultry manure
Bone meal
Alfalfa meal
Greensand
Sulfate of Potash
Potash of magnesia
Elemental sulfur
Aside from primary plant nutrients, this fertilizer is also packed with calcium, magnesium, sulfur, and humic acid. Most gardeners sprinkle Holly-Tone along the drip line of pine trees and allow the nutrients to leach into the soil when the tree is deep-watered.
Other than pine trees, you can also use it on a lot of acid-loving plants, such as:
Hollies
Azaleas
Camellias
Dogwoods
Rhododendrons
Since Holly-Tone is organic, you should expect that the smell can be like chicken poo that can attract dogs. It contains poultry manure which causes the smell. However, it will soon subside after a day or two.
Pros
Affordable.
The holy grail of pine tree growers
With added nutrients like sulfur and humic acid
Organic fertilizer.
Kid and pet-friendly.
Cons
The smell can attract dogs and may cause diarrhea when they accidentally ingest it.
2. Jobe's Fertilizer Spikes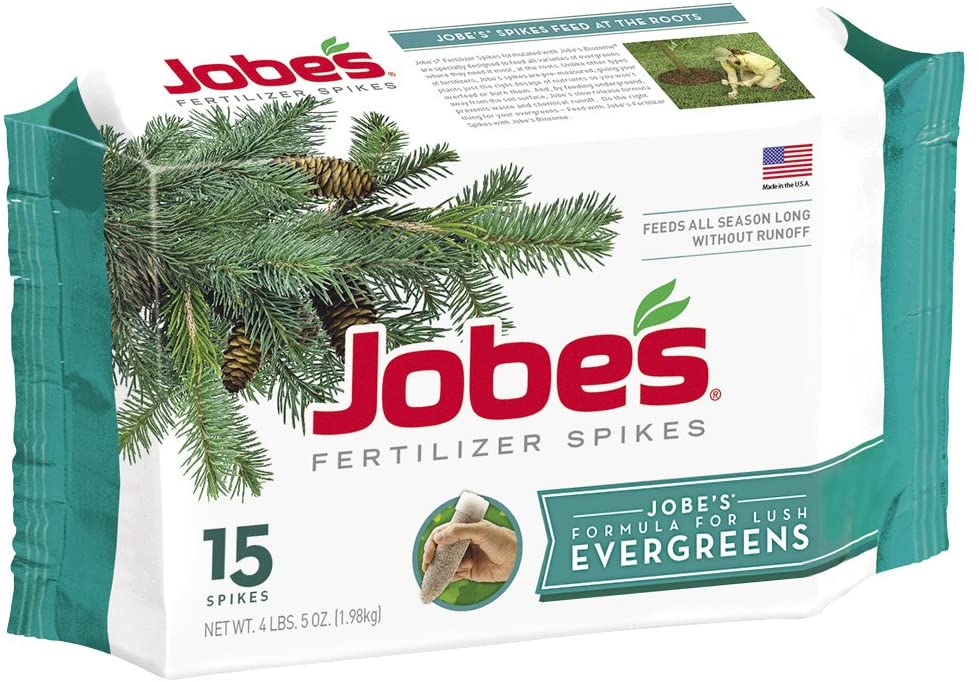 You should opt for fertilizer spikes if you want something that will keep feeding your pine trees throughout the growing season.
Jobe's Fertilizer Spikes for evergreens are pre-measured to easily feed your pine tree for several months. It is specially designed for conifer trees like junipers, spruces, pines, and other evergreen trees and plants.
Most gardeners love using spikes because it eases the task of feeding trees every month. They are easy to use and usually applied on pine trees during late fall or early spring. The spikes come bulk in 5s, 9s, 15s, and 160s.
Gardeners with sick and dying pine trees see their trees grow back to life after using the spikes. However, some gardeners had dead pine trees after using the sike. Here are the possible reasons why:
(1) The spikes are used on young pine trees. During the first years of the pine trees, they don't need a heavy dose of nitrogen but a time to establish strong roots to boost drought and frost tolerance.
In adding nitrogen during the first season, the trees will be forced to produce more shoots than roots. With that, they will have weak growth, resulting in a low survival rate.
The foliage of pine trees stays on the tree for 1.5 years. So, while the foliage stays on the tree, focus your feeding on helping your pine trees build more roots.
It's okay to add an acidic fertilizer pre-planting pine trees. However, you should skip a year before you fertilize them again to allow some time for root growth before you go for the shoot development.
(2) Another possible reason why pine trees die after using spikes is due to the rate of application. Acidic fertilizers change the pH of the soil.
According to Tennessee University Agricultural Extension Service, the application rate of acidic fertilizers in acid-loving trees is based on the existing soil pH. Pine trees need a soil pH of 4.5–7.0.
Without prior pH testing, fertilizing pine trees with spikes may lead to a soil pH mismatch that will make your growing trees nutrient deficient. The roots will fail to get enough nutrients from the soil because they can either be too acidic or too sterile.
The NPK ratio of the spikes is 13-3-4, which means it is high in nitrogen which a growing pine demands in its early years. Most gardeners use it to revive dying pine trees and make them develop a greener color during the spring season.
As good as it may seem, some gardeners are also complaining about how it is easily crumbled in the packaging and its smell. Other than that, it is well-loved for its aid in promoting the steady growth of pine trees.
Pros
Easy to use
No measuring or mixing needed
Revive weak, sick, and dying pine trees
Help ensure regular feeding for growing pine trees
Set the proper pH for pine trees
Encourage fast recovery for pest-damaged pine trees
Ideal for fertilizing transplanted trees
Cons
Can kill trees if not used properly
Crumble in poor packaging
3. Miracle-Gro Shake 'N Feed Flowering Trees and Shrubs Plant Food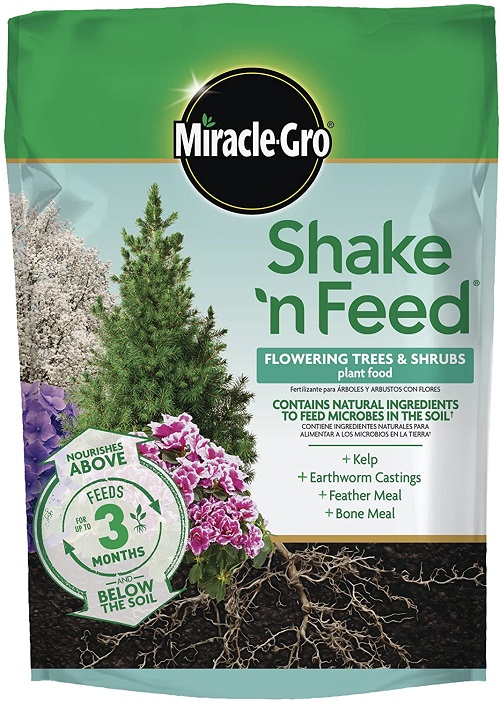 If you're not a fan of fertilizer spikes or do not have the experience in using granular fertilizers, a beaded fertilizer might work for you.
Miracle-Gro's Shake'N Feed for Flowering Trees and Shrubs can secure that your pine trees will have sustained nutrients in the soil for three months.
The NPK ratio of this fertilizer is 18-6-12 and focuses on promoting the shoot and root growth of pine trees. It is made of organic materials that include:
Kelp
Earthworm castings
Feather meal
Bone meal
Aside from its natural contents, it is also packed with added nutrients, such as:
Calcium carbonate 3.3%
Iron 2%
Magnesium 1%
Sulfur 6.9%
You may also use this Shake N' Feed for specimen pine trees and potted pine trees grown indoors. Most gardeners find this fertilizer reliable in reviving neglected pine trees and restoring their former glorious green shade during spring.
Pros
Feeds pine trees for three months
Easy to use
Packed with natural ingredients like kelp and bone meal that naturally acidifies the soil
Restores the health of weak and malnourished pine trees
Cons
Synthetic fertilizer
Uses bead technology in releasing nutrients into the soil
4. Down to Earth All Natural Tree & Shrub Fertilizer Mix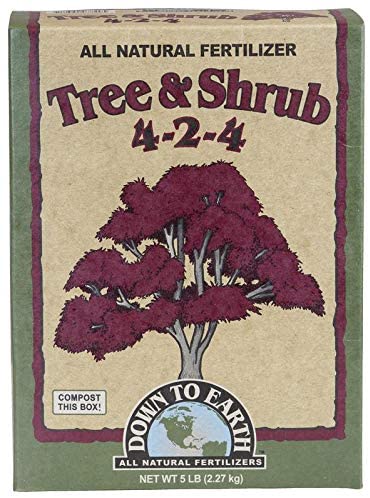 Down to Earth is another organic fertilizer option that you can use aside from Holly-Tone. Their Earth Tree & Shrub Fertilizer. The mix is a five-pound 4-2-4 NPK fertilizer that nourishes your pine trees with organic goodness, which includes:
Fishbone meal
Corn gluten meal
Langbeinite
Greensand
AZOMITE
Humates
Kelp meal
Mycorrhizal fungi
Down To Earth is one of the most earth-friendly brands that provides eco-friendly packaging and is naturally made, making them among the best fertilizers for pine trees.
Fishbone meal is a good source of nutrients that will help strengthen the roots of young pine trees and improve the soil microbiome for better nutrient absorption.
Aside from its natural content, this fertilizer is fortified with eleven species of endo- and ectomycorrhizal fungi to improve root development and increase its tolerance against drought and other plant stresses.
If you are transplanting trees into a new location or pot, this fertilizer is well-formulated to aid in supporting bare-root trees and reduce transplant shock. As the tree adjusts to its new environment, the beneficial microbes and nutrients in the fertilizer help increase the survival rate of pine trees transferred from the wild into a landscape. Plus, fishbone meal is a nitrogen source that does not burn plants and trees.
Pros
OMRI-listed
Organic fertilizer
With fishbone meal and kelp that fixes the soil pH 
Packed with beneficial soil microbes to improve soil condition
Reduce transplant shock on transplanted pine trees
Eco-friendly packaging
With burn-free nitrogen sources (fishbone meal)
Promotes root development for young pine trees
Cons
A bit smelly due to fish contents
5. Burpee Bone Meal Fertilizer
Bone meal is a rich source of phosphorus that helps improve the soil condition for newly planted pine trees. It is often used during pre-planting fertilization of poor and nutrient-deficient soil. According to Dave Moorhead from the University of Georgia, loblolly pine is more sensitive to low phosphorus content in the soil than slash pine trees.
Burpee's Bone Meal fertilizer is one of the best options to feed pine trees because it is a slow-release organic source of phosphorus and calcium. It will help build up the soil nutrients that will nourish the roots of the pine trees as soon as they are transplanted.
Burpee's Bone Meal is OMRI-listed with finely grounded consistency to ensure that it will blend well in the soil to spread the nutrients in equal proportions. Aside from nutritional benefits to pine trees and the soil, it also helps repel deer that feed on your trees.
Pros
Organic fertilizer
OMRI-listed
Ideal for pre-planting fertilization in poor soil
Deer-repellent
Flexible and can be used with other nutrient sources like blood meal
Cons
The smell may attract dogs and other pets into the garden.
6. Down to Earth All Natural Acid Mix Fertilizer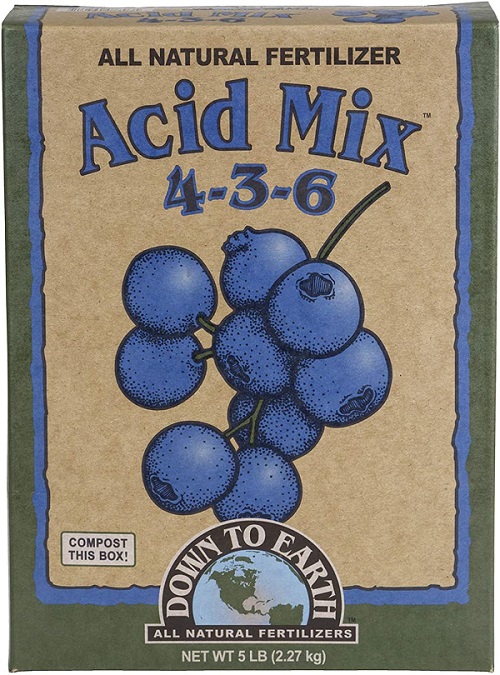 Another Down To Earth product that you can use on pine trees is their Acid Mix Fertilizer specifically made for acid-loving pine trees.
Before we get into details, you should only use this fertilizer if you want to adjust the acidity of the soil. Otherwise, move on to the next fertilizer on this list.
DTE Acid Mix Fertilizer is an ideal food for pine trees during fall to help promote good root growth and help them strengthen their resistance to frost and drought. Aside from pine trees, you can also use it on:
Rhododendrons
Azaleas
Camellias
Hydrangeas
Blueberries
Raspberries
Strawberries
Potatoes and other evergreens
This fertilizer has a 4-3-6 NPK ratio. It is also OMRI-listed and safe to use around kids and pets. It is derived from the following organic materials:
Cottonseed meal
Fishbone meal
Langbeinite
Rock phosphate
Kelp meal
This fertilizer also contains an additional 2.5% humic acid, which helps improve the health of the soil microorganisms and speeds up the breakdown of nutrients for the trees.
Pros
OMRI-listed
Organic fertilizer
Help fix soil acidity
Safe to use around kids and pets
Help promote root growth for pine trees before winter
Cons
A bit smelly due to its fish content
7. Earth Safe Organics Cottonseed Meal 7-3-2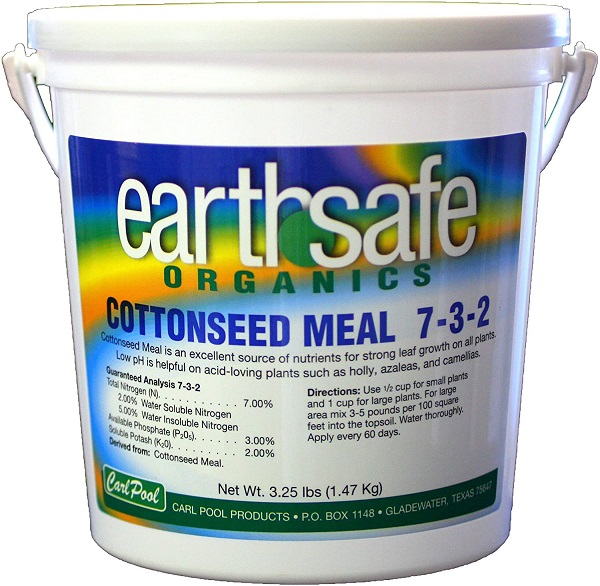 Cottonseed meal is an organic fertilizer that you can use with fish emulsion to stabilize the acidity in the soil. It also helps promote vigorous leaf growth for young pine trees. It is low in pH, which makes it an ideal plant food for pine trees and other acid-loving plants.
This fertilizer has an NPK ratio of 7-3-2. Some pine growers place the cottonseed meal in tea bags and place them on potted pine trees for them to easily gauge the number of nutrients they can let into the pot.
Cottonseed meal is usually mixed with fish emulsion for a more balanced mix of wet and dry nutrients for pine trees. Unlike using other fertilizers, pine growers add cottonseed meal and fish emulsion in spring to help relieve stress from the trees that are candled.
Like a bone meal, a cottonseed meal is a versatile fertilizer that you can mix with other nutrients in nourishing your plants and trees.
Pros
Can be mixed with other fertilizers
Easy to use
Organic fertilizer
Stabilizes the acidity in the soil
Promotes vigorous leaf growth for pine trees
Cons
Without testing the soil before fertilization, cottonseed meal can make the soil very acidic.
8. Neptune's Harvest Fish & Seaweed Fertilizer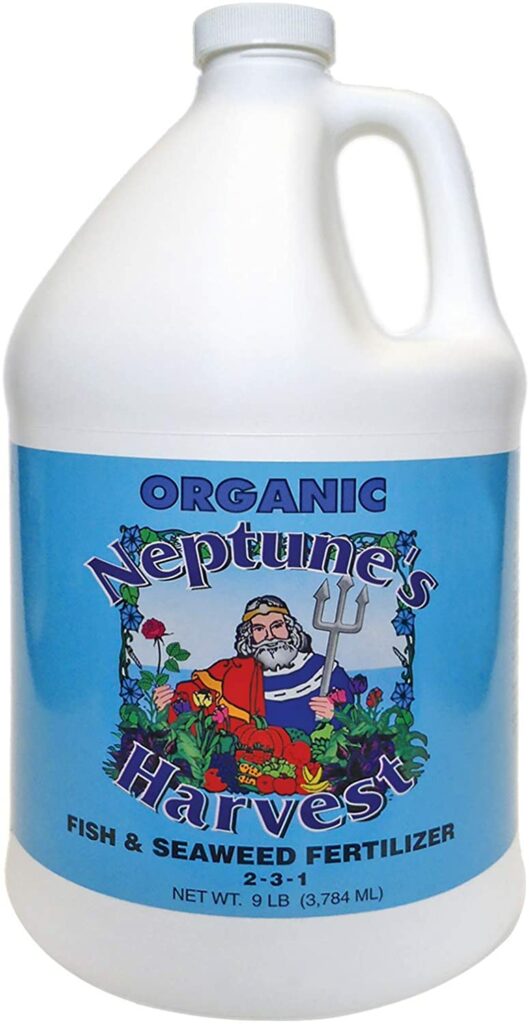 Fish and seaweed are the unlikely fertilizers you might consider for pine trees. However, many gardeners use it for the benefit of plant development and soil microbiome.
Seaweed fertilizers contain hormones like cytokines that help to feed soil microorganisms and keep them healthy. When the soil microbiome is healthy, the consequence always leads to a healthy pine tree.
Fish emulsion contributes to the organic source of nitrogen for trees. When combined with seaweed, they are enough to make your pine trees glow in summer.
The only downside of fish fertilizers is they degrade faster than other fertilizers and smell unpleasant, especially for the first few days of application.
Pros
Organic fertilizer
Boost tree health and soil microbiome
Can be applied with cottonseed meal in feeding growing pine trees
Easy to use
Healthy and natural sources of nitrogen and plant hormones
Cons
Fishy smell
Degrade faster than other fertilizers
9. JR Peters Inc Jacks Classic No.4 20-20-20 All Purpose Fertilizer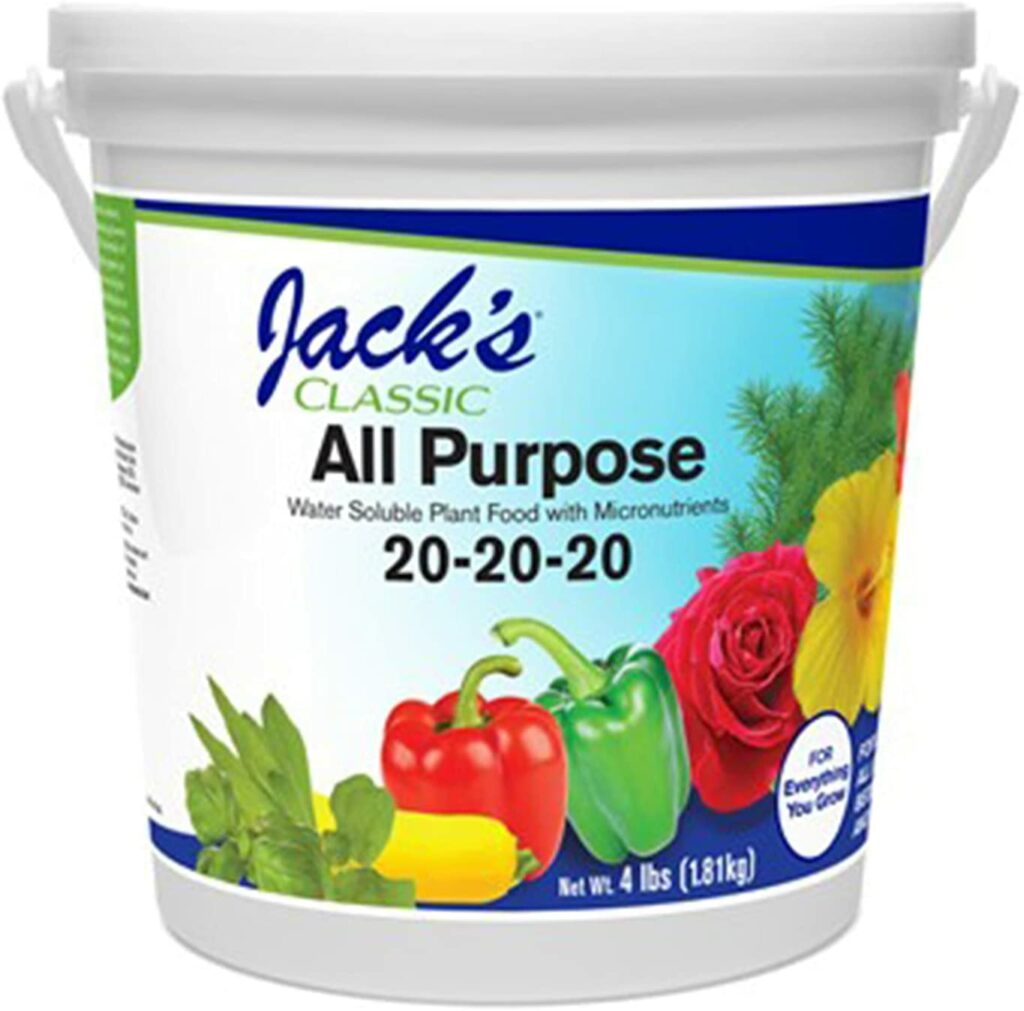 Old pine trees may look established, but they can appreciate a little boost. After all, they get stressed because of sudden changes in weather and pest damage. Replenish the nutrients in the soil with a general fertilizer like JR Peters 20-20-20 All Purpose Fertilizer.
Gardeners use general fertilizers to strengthen the roots and promote new foliage on established but underfed pine trees. The best thing about general fertilizers is you can use them to nourish any plants or trees. They can help improve the health of:
Evergreens
Fruit trees
Flowering plants
The packaging of JR Peters is also a durable plastic that you can reuse as a bucket or recycled pot for your plants. Most gardeners consider it as an alternative to Miracle-Gro when their plants are not responding well to it.
Since it has high concentrations of nutrients, a little goes a long way. Avoid adding too much and observe how your trees react to it. Once you notice that they perk up, gradually increase application if needed.
Pros
All-purpose fertilizer
Help maintain the foliage and strong roots of established pine trees
Durable packaging
Packed with extra nutrients
No smell
FREE cup
Cons
Synthetic fertilizer
Might change the pH of the soil
10. Scotts Evergreen, Flowering Tree & Shrub Continuous Release Plant Food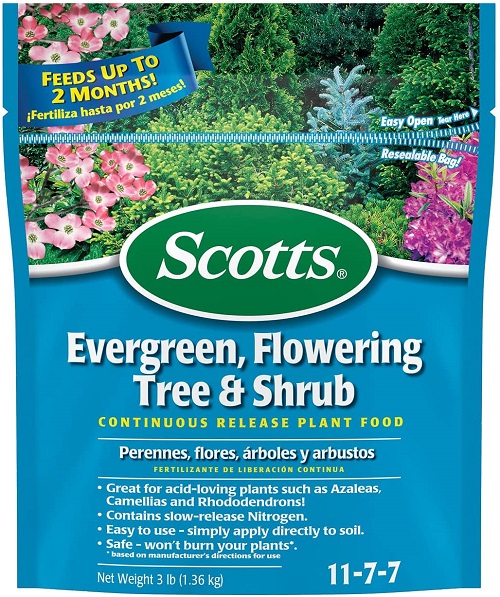 Our list will never be complete without another ready-to-use evergreen fertilizer from Scotts. It is a slow-release fertilizer that is specifically made for acid-loving trees and plants like pine trees. The NPK ratio of this fertilizer is 11-7-7 and contains about 2.3% sulfur.
Sulfur is an essential plant nutrient that is often added to commercial fertilizers. It helps plants produce amino acids that are heavily needed by plants and trees in producing proteins for plant growth. Since it is a slow-release fertilizer it will keep your growing trees fed and strong against plant stresses for two months.
This fertilizer has a strong formulation, so start with small applications. Observe how your plants respond to it and add as needed. Some evergreens die because of over-fertilization. Once you get the gist of how to use it, you'll consider it as one of your holy grails in gardening like other gardeners.
Pros
Feed plants for three months
Easy to use
Made for acid-loving plants
Strong formula 
Consistent formulation
Cons
Too much of this fertilizer can kill a tree, shrub, or plant. 
Synthetic fertilizer
When Is The Best Time To Fertilize Pine Trees?
The best time to feed pine trees depends on their growth stage and if they're just water-stressed. As we mentioned earlier in this post, pine trees would choose water over any kind of plant food. They need water to maintain the lush growth and plump texture of their pine needles.
For specifics, here are the best situations to fertilize pine trees is when they are:
Heavily damaged by deer and woodpeckers.
Leaves are dull and browning.
Still gearing up before new growth (April to mid-July )
Neglected for several years
Growing young pine trees will do just fine without the help of fertilizers as long as they are mulched and watered well. The nutrients from the mulch are enough for the growing trees.
There is an ongoing debate and conflicting thoughts about fertilizing young pine trees. While it's common for some gardeners to feed growing pine trees during their young years. Studies beg to differ. These include:
(1) According to a study, conifer seedlings fed with too many minerals may suffer from a low shoot-root ratio and making them prone to drought and frost injury and low survival rate.
(2) The University of Minnesota Extension explains that fertilizing new growth of pine trees can prematurely expose them to the winter season unprepared. They will fail to harden off making them fail to survive the harsh winter months.
(3) The University of Tennessee also recommends that you should only fertilize pine trees when the soil pH is not within the level ideal for pine trees. The importance of testing the acidity of the soil is also of high importance to avoid overfertilizing the trees and excessive iron chelates or iron sulfate.
Therefore, to be on the safe side, you should consider the following practices before adding the best fertilizers for pine trees:
Water the pine trees first before fertilizing them. Observe if they will get better. If not then, start adding some mulch around its roots. Continue watering it twice a month.
Deeply water dry pine trees before fertilizing to prevent burning them (chemically).
Tips For Fertilizing Pine Trees
A combination of bone meal and the fish emulsion is enough to raise the acidity of the soil and feed nutrient-deficient pine trees.
A simple blanket of mulch at the feet of the pine trees can already serve as their nutrient source.
When it comes to pine trees: water first, and fertilize later.
Place the fertilizer away from the trunk to prevent burning the stem.
Crumbled fertilizer spikes can still be used by sprinkling them around the tree and watering it frequently.
Frequently Asked Questions (FAQs)
What kind of fertilizer is best for pine trees?
Pine trees don't often require fertilizers but they need a lot of water. The nutrients in the soil and mulch are enough for them to get through the harshest weather unless they suffer from pest damage or drought.
How do I keep my pine tree healthy?
Place them in a sunny location, water deeply once a month, always add mulch to retain the moisture in the soil, and fertilize them in their second year in the ground.
How much fertilizer does a pine tree need?
The ideal amount for fertilizing pine trees is 0.7 ounces (20 grams) of slow-release 10-10-10 fertilizer for every square foot.
How long do pine trees live?
Pine trees can live up to a century in optimal growing conditions. It is the reason why some gardeners aim to boost the growth of pine trees so they can live enough to see them grow into a hundred feet.
Final Thoughts
We hope this post helped you get some clarity about the proper way to fertilize and the best fertilizers for pine trees.
They are one of the most self-sufficient and resilient trees that adds a unique vibe to any property. We also hope that you live long enough to see it grow higher than you could ever imagine.
A pine tree will grow with your kids and grow old with you. Something sentimental isn't it? Trees are a legacy that will help your kids and grandkids remember you one day.
So, plant more and let the whole environment remember your contribution to its preservation.
@Photo by Pille Kirsi.