Having a koi pond in your yard can be both a statement piece and an invitation of luck. As a water feature, a koi pond also creates a serene ambiance where you can relax, meditate, or do your daily yoga sessions.
In this post, we will share creative koi pond ideas to help you build an aesthetic koi pond that matches your style and home exterior design.
Koi ponds highlight the color, beauty, and breed of koi fishes. In Japanese culture, koi represent courage, luck, and perseverance amidst adversity because they can swim against the current. More than their colorful display and symbolism, koi fishes are also very valuable, costing around $10 to $200,000.
Koi fishes are a colorful type of carp that are kept in ponds as decorative pieces. They grow from 12 inches for domestic koi to 36 inches for jumbo-sized ones. Before we start geeking out about koi, check out koi pond ideas that you can try below.
(You could use the table of contents below to jump to the sections that are most important to you.)
---
91 Creative Koi Pond Ideas For Inspiration For Your Next Yard Project
Your creativity is the limit in building your koi pond. It is one of the joys of building your project – the ability to make your ideas into reality. To help you get some inspiration, below are some ideas worth checking out. We categorized every idea depending on the scale and design classification.
Start and enjoy visualizing your koi pond with the following ideas!
#1 Classic Koi Pond Designs
Since koi ponds have been around for decades, some timeless classic designs are hard to resist.
The elements of the design usually have some rounded stones as the lining of the pond, soft-rounded shape, and terrestrial plants vigorously growing around the pond. Some homeowners can achieve a no-liner pond that looks more natural.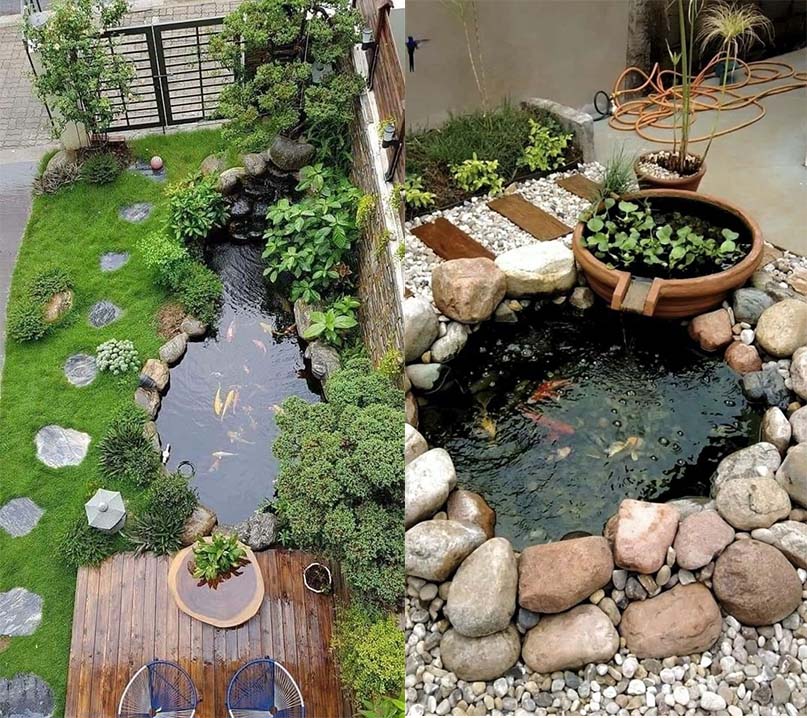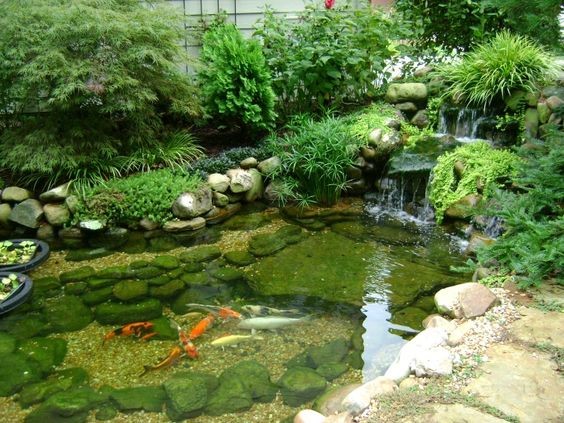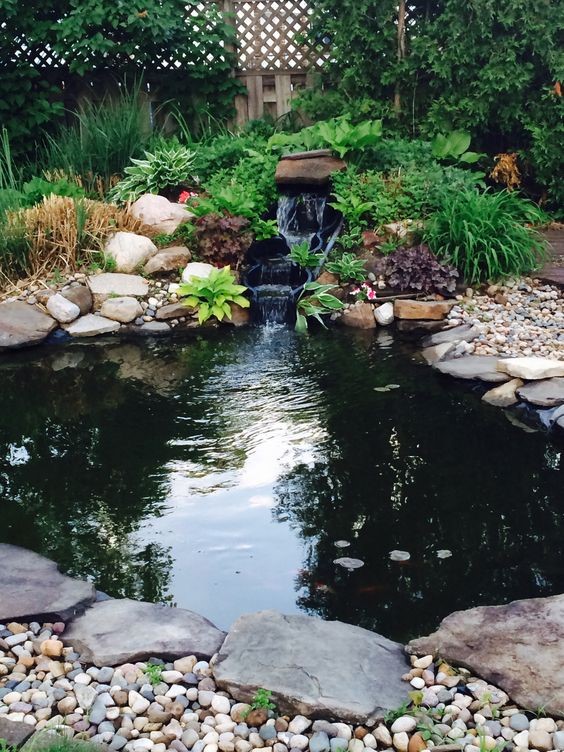 #2 Hybrid Designs: Koi Pond + Water Garden
Usually, koi ponds are turned into a full-blown water garden since the aquatic plants help improve the ecology in the pond. Water gardens highlight the beauty of aquatic plants while koi ponds allow the koi fishes to stand out. You can have their concepts in one pond to create a beautiful hybrid design.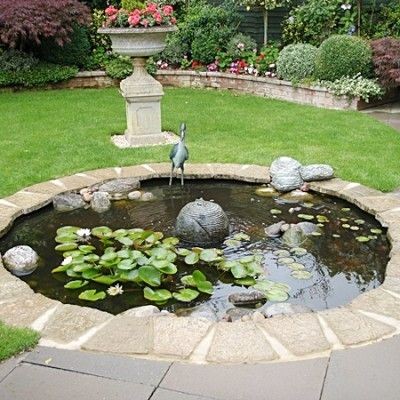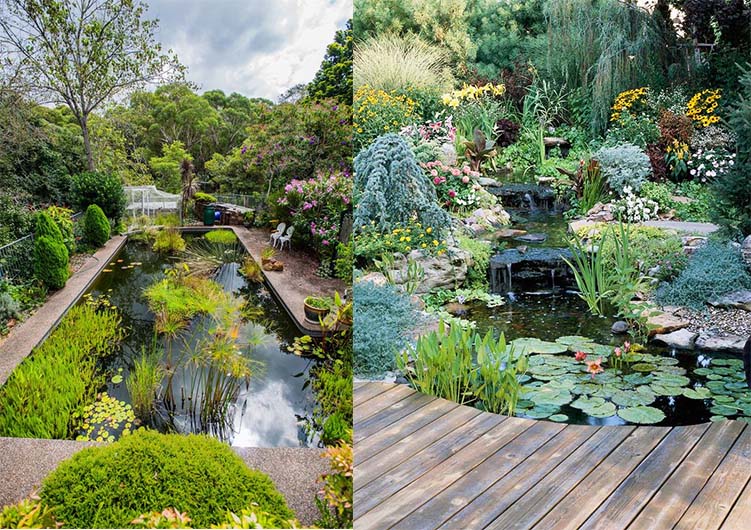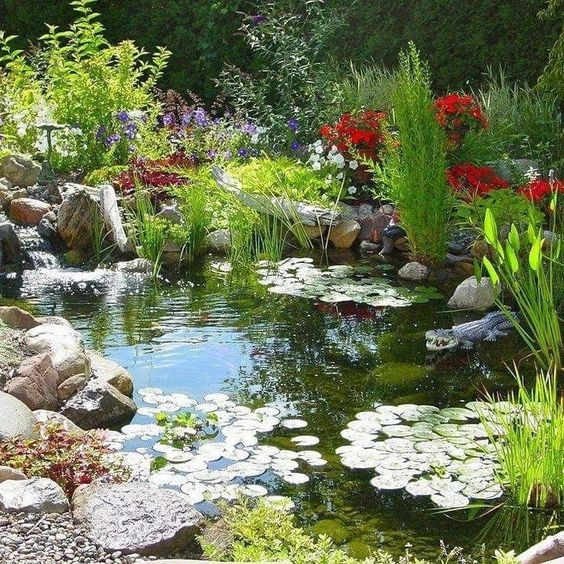 #3 Indoor Koi Pond Designs
Some people make use of the space under the stairs and turn it into an indoor koi pond. More and more interior designs are now incorporating some eco-friendly accents to give life to living spaces. If you're up for a new feature in your home, you should try some indoor koi ponds.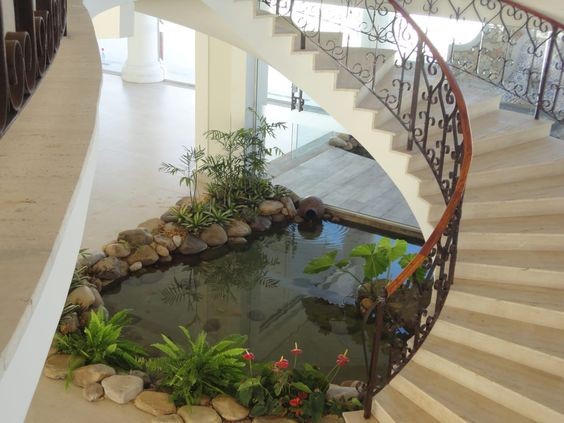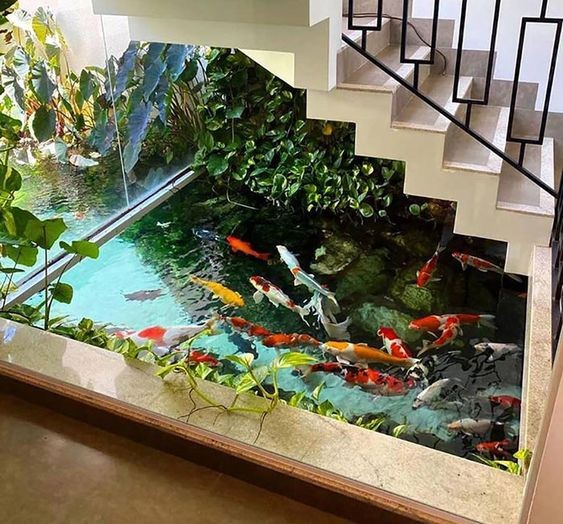 #4 Container Koi Pond Designs
Who says small spaces can't have koi ponds?
Deep containers are a good option for mobile koi ponds. They are deep enough for the koi to swim and have enough surface for the aquatic plants to flourish. However, the amount of koi that you can grow is limited, especially if you're planning to grow the jumbo ones.
Galvanized Tubs Pond
Using galvanized koi ponds is a practical approach for those who have no budget to hire aquascape experts. They are deep enough to 1 to 3 koi fish and several marginal and floating aquatic plants.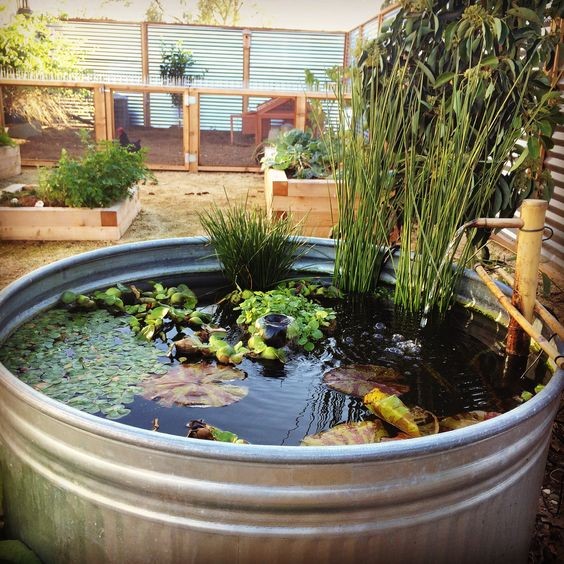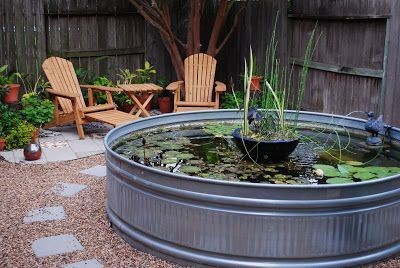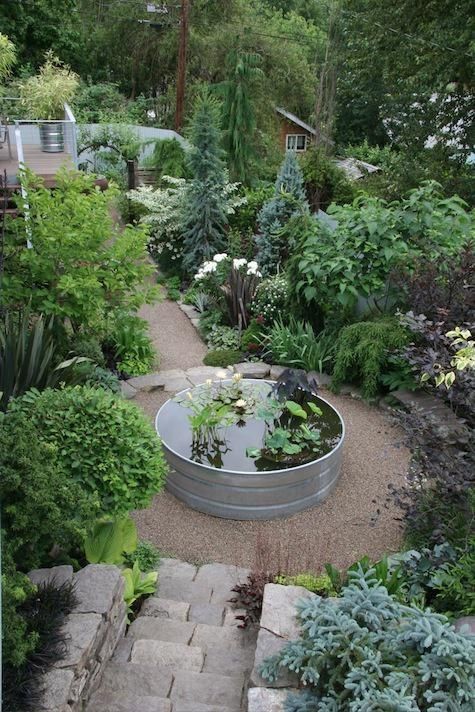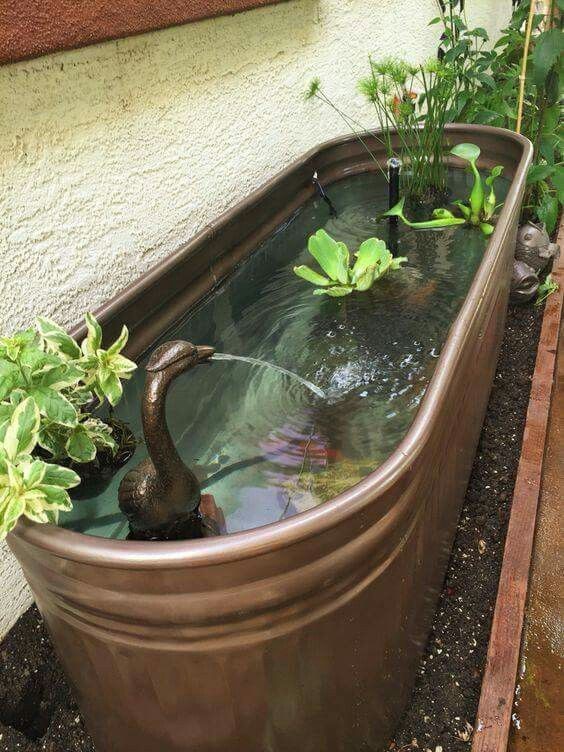 #5 Aesthetic Koi Pond Designs
If your house follows a certain theme whether it's rustic or modern contemporary, your koi pond should also carry the same style.
The koi pond ideas listed in this category use different materials, perspectives, locations, and themes that will suit the exterior house design of homeowners.
Koi Pond With Glass Designs
Glass is a typical element in aquariums that now applies to koi ponds. Koi enthusiasts are now using glass walls and ornaments to showcase the beautiful colors of koi fishes underwater.
Here are some of the ways you can incorporate glass in your koi pond:
Glass-wall koi ponds
Allow your kids to enjoy seeing your colorful koi fishes swimming around the pond. It produces an effect where there's an invisible wall that keeps the water in place.
The ideal glass thickness to handle the water pressure in a pond should be up to 1.3 inches (~33.04 mm). The glass feature may add a little bit of cost to your pond project but you'll surely love the outcome.
Here are some of the beautiful ways that you can use glass walls in a koi pond: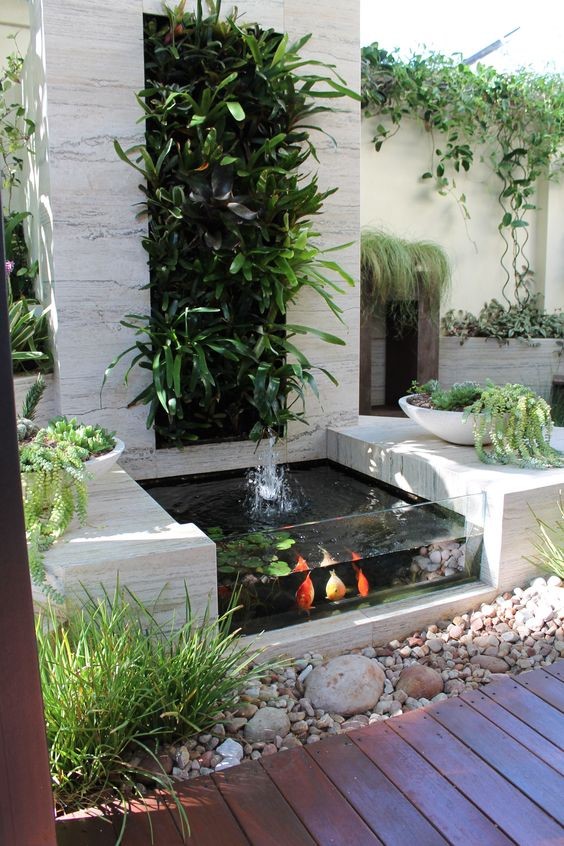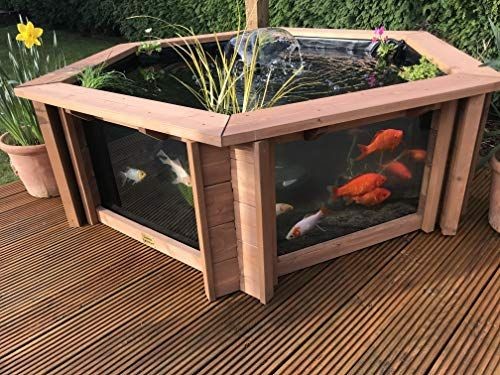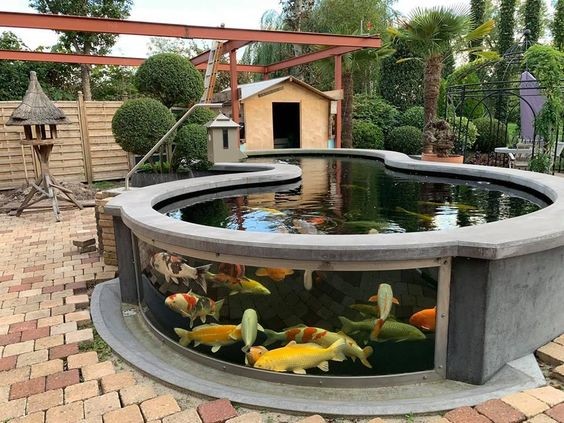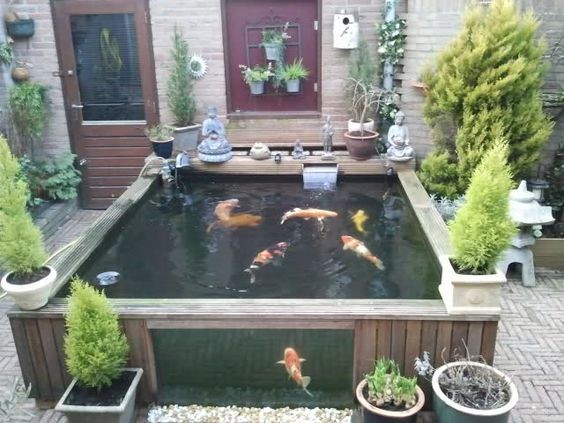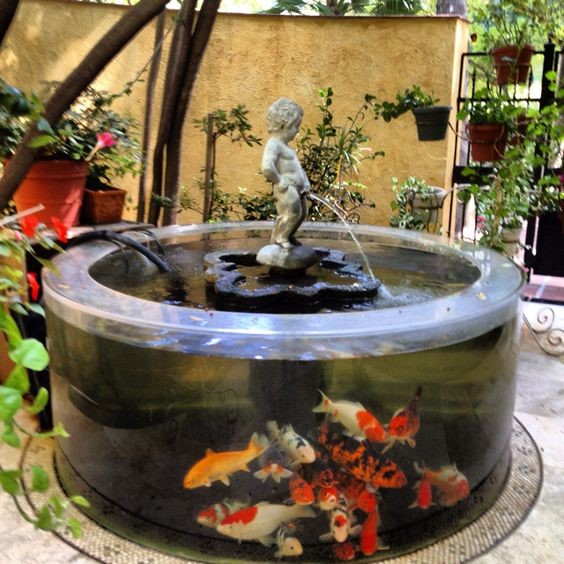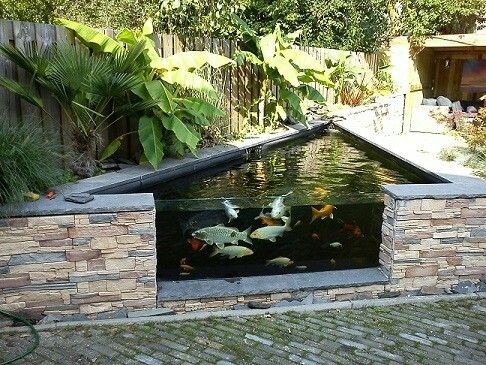 Glass spheres ornaments in koi ponds
One of the coolest additions to a water feature is the glass sphere that helps magnify the fish underwater. Some glass features just float on the pond to serve as a decoration.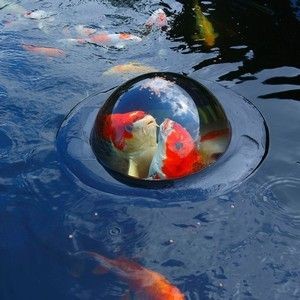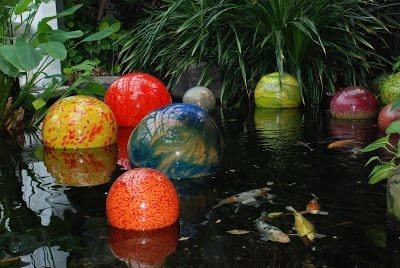 Vertical koi pond glass tank
Be in awe of the color and size of your koi fishes by placing them in a transparent tank. Check out some koi viewing glass samples below: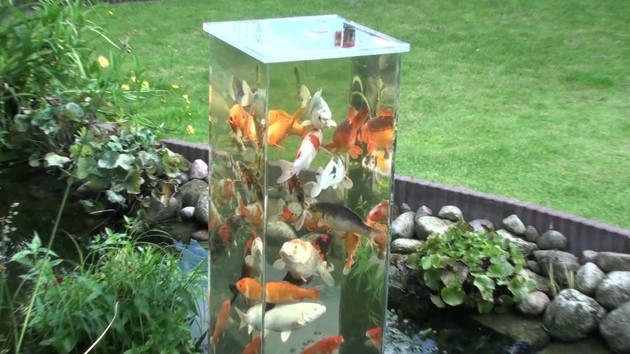 Box and Wooden Aesthetic Koi Pond
Wood materials are an amazing exterior and edge design for a pond. They give a subtle touch of Japanese style but in a more flexible way. Wooden koi ponds can blend in any landscape design whether it's minimalistic or a country theme.
Check out some of the ways you can use wood for your koi pond project.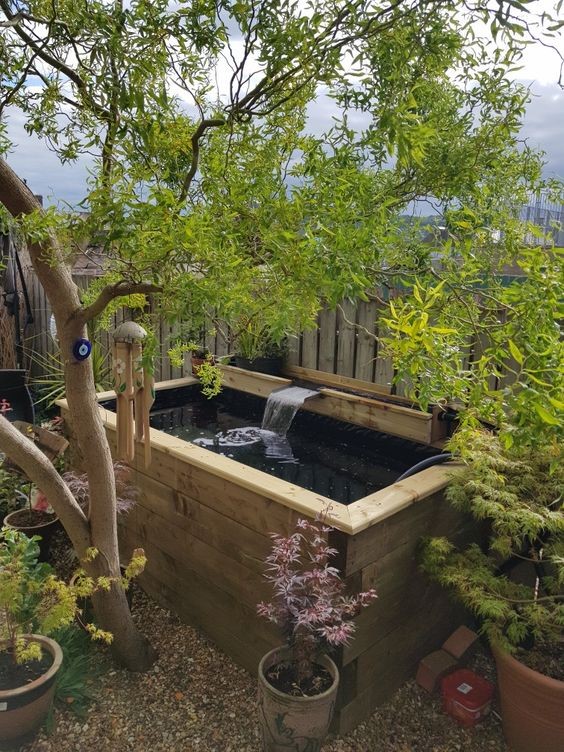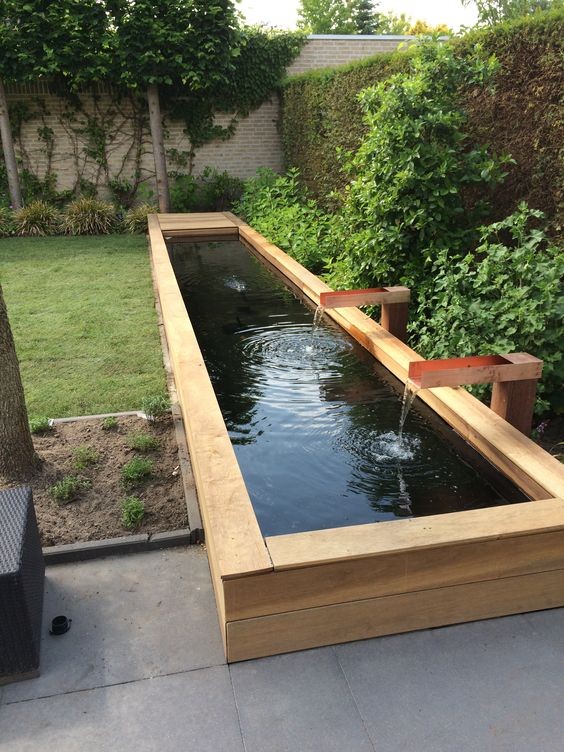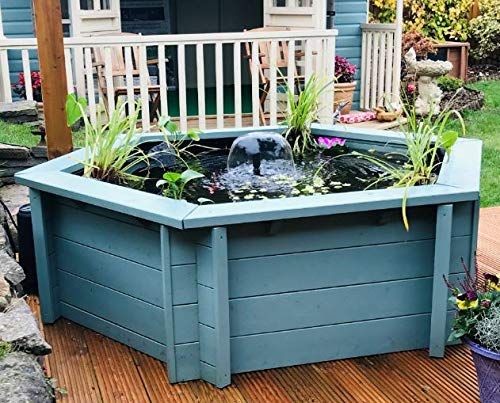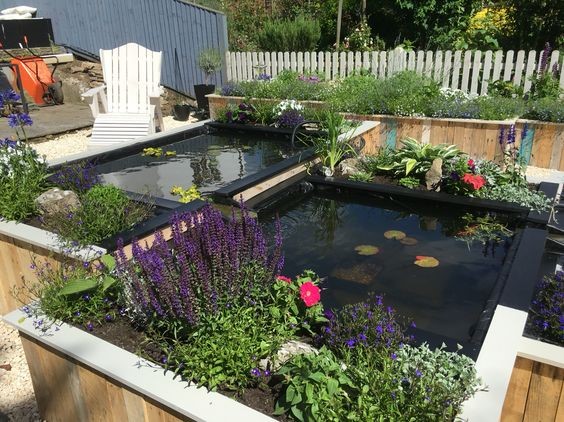 Koi Pond with Waterfalls Design
Almost all koi ponds have a waterfall design. It helps with the aeration of the pond and the sound of water flowing adds up to the relaxing ambiance that the pond creates in the yard.
Here are some of the coolest waterfall designs in koi ponds: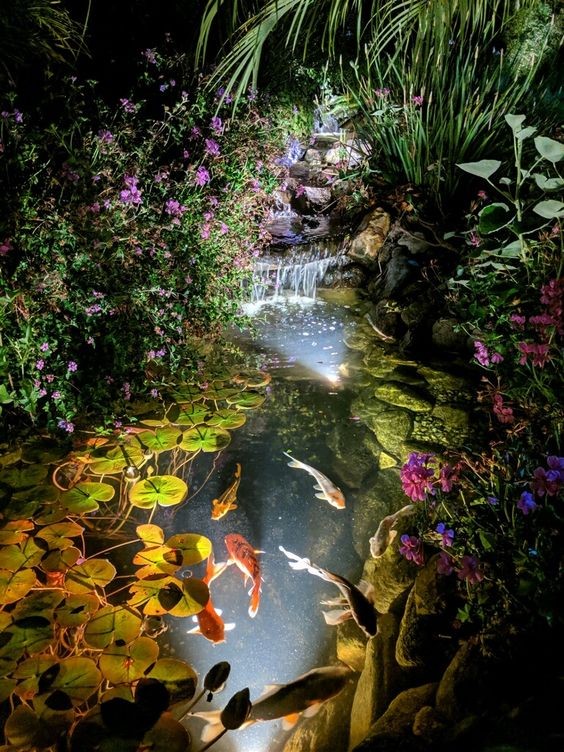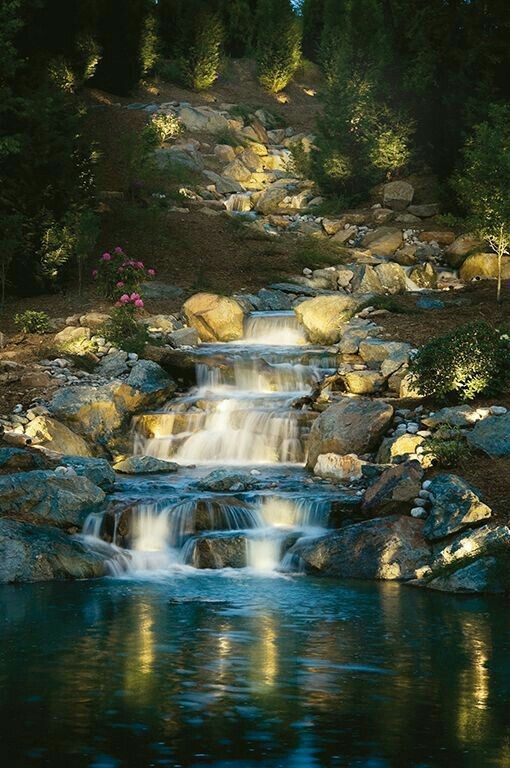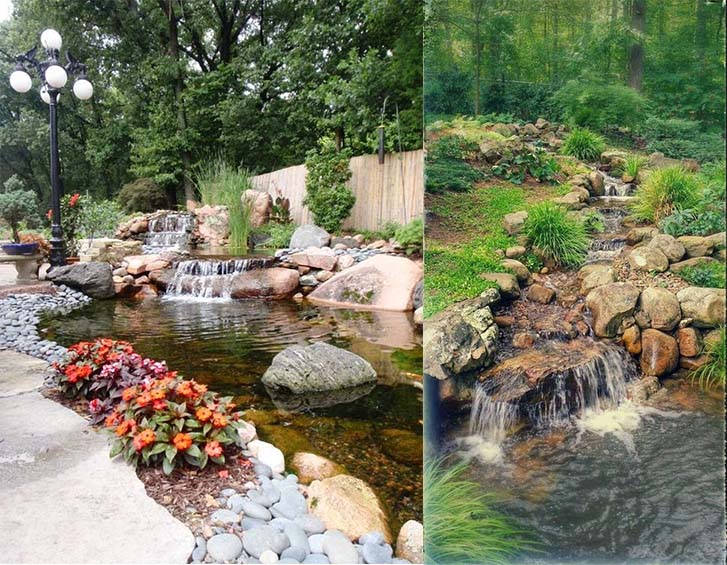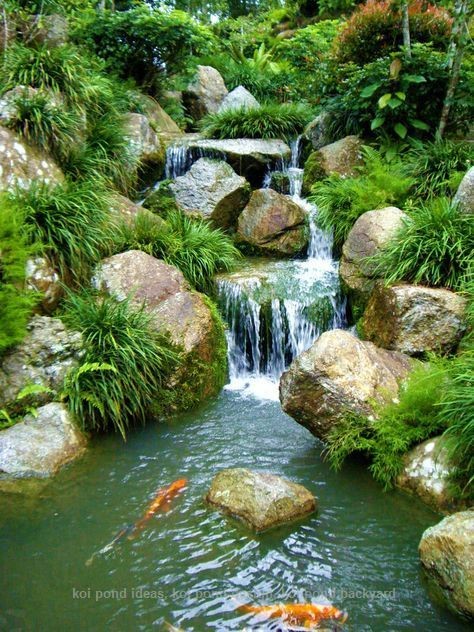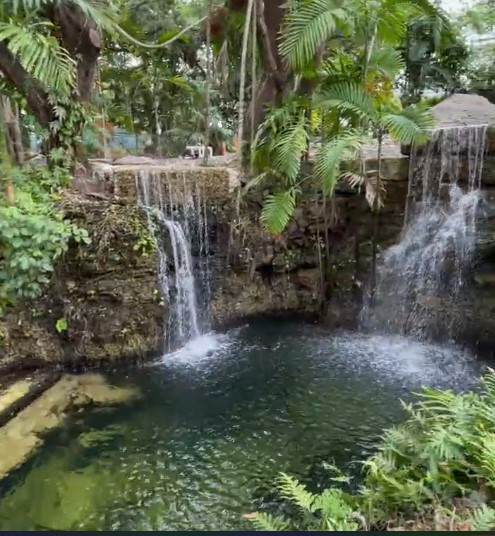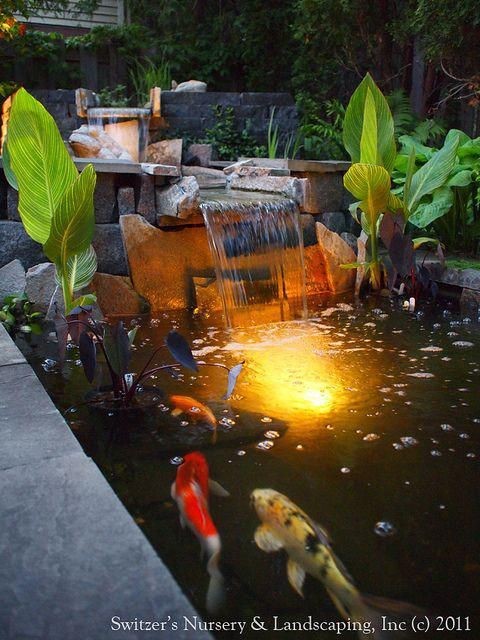 Themed Koi Pond
Some designs allow you to move from focusing on one element of design to a whole theme. Whether you want to recreate a specific scenery from a country you've been to or you simply fell in love with a culture, you can turn your yard into a new area with the help of a koi pond or water garden.
Build a time-capsule or a point of teleportation to another location in your home with these themed koi pond designs:
Japanese-style koi pond
Japan is the home and breeding ground of the most valuable koi fishes in the world. Koi is their national fish and has instilled a deeply-rooted meaning in their culture. Therefore, they also have the most iconic koi ponds that you can recreate in your yard.
The elements of a Japanese koi pond include the design elements of a rock garden, boulders, bonsai specimen trees, a wooden deck, and a small pagoda statue. Their koi fish are also the jumbo ones, which are more valuable.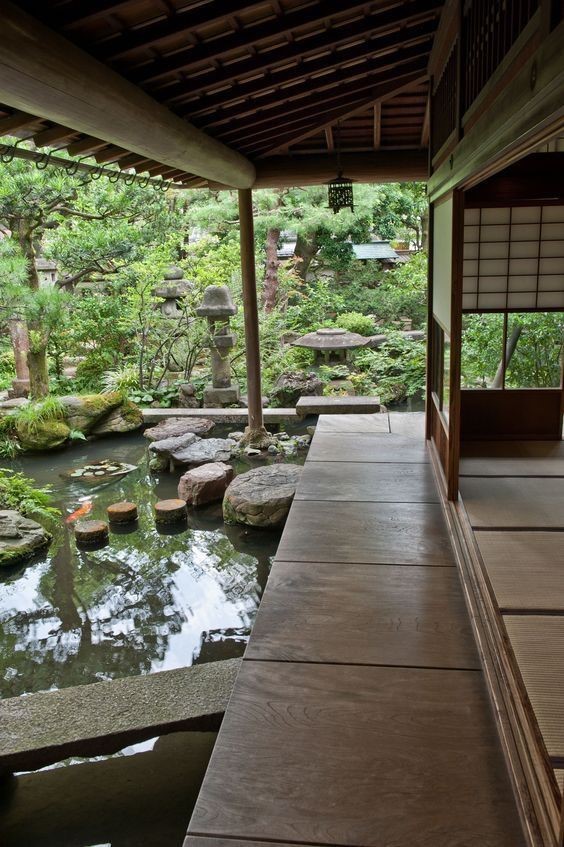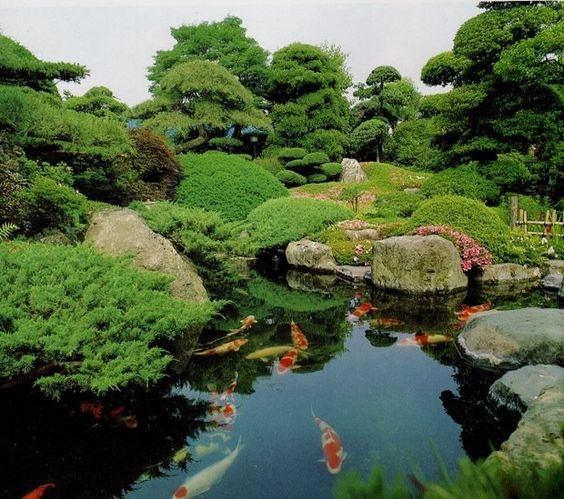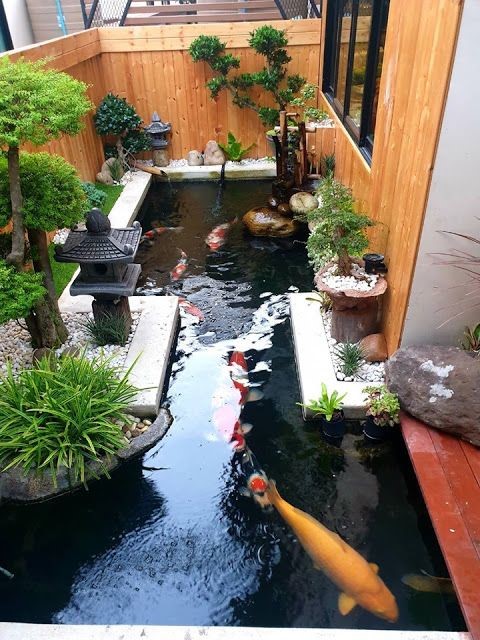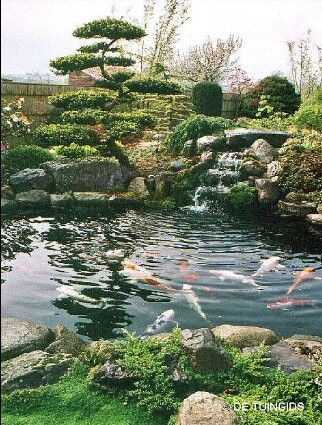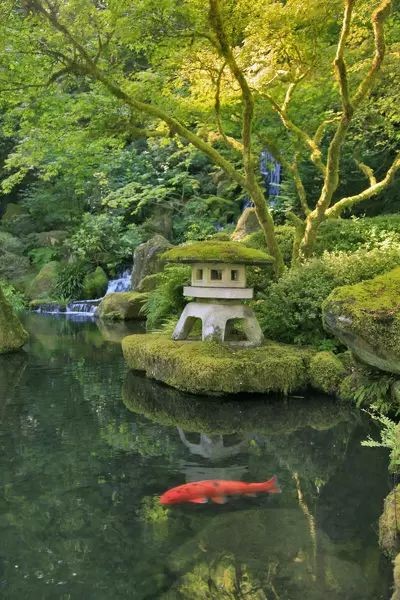 Bali-inspired koi pond designs
Bali's tropical and quiet ambiance has inspired a lot of koi pond enthusiasts. Its simple design elements match well with a holistic approach in life through some activities like yoga and meditation practice.
The common design elements in a Blai-inspired koi pond include white painted walls, tropical plants or wide-leaf plants, Palmera or sago palms, Buddhist elements, and a simple pond.
Here are some Bali-inspired koi pond ideas you can try: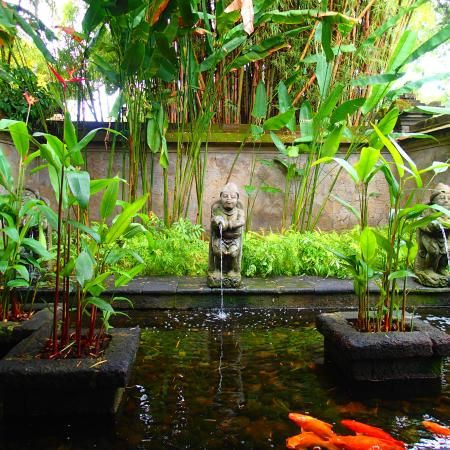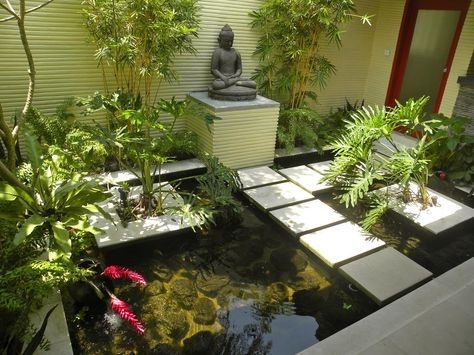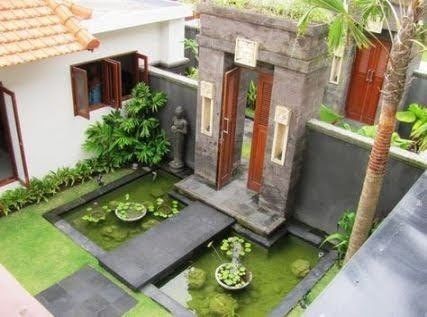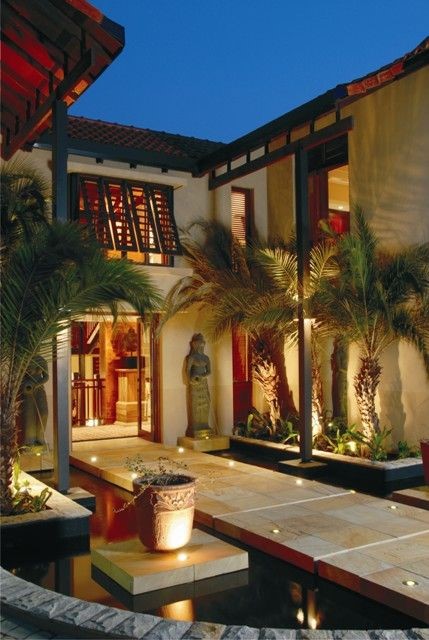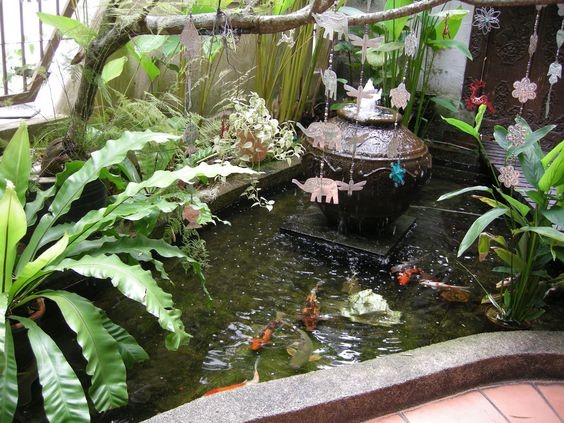 Rock garden koi pond designs
The beauty of rocks can also be emphasized in a koi pond. It is the reason why a koi pond can also blend well in a rock garden. You can either use boulders, round stones, and colorful rocks to design your koi pond.
Here are some of the examples that can spark your visualization: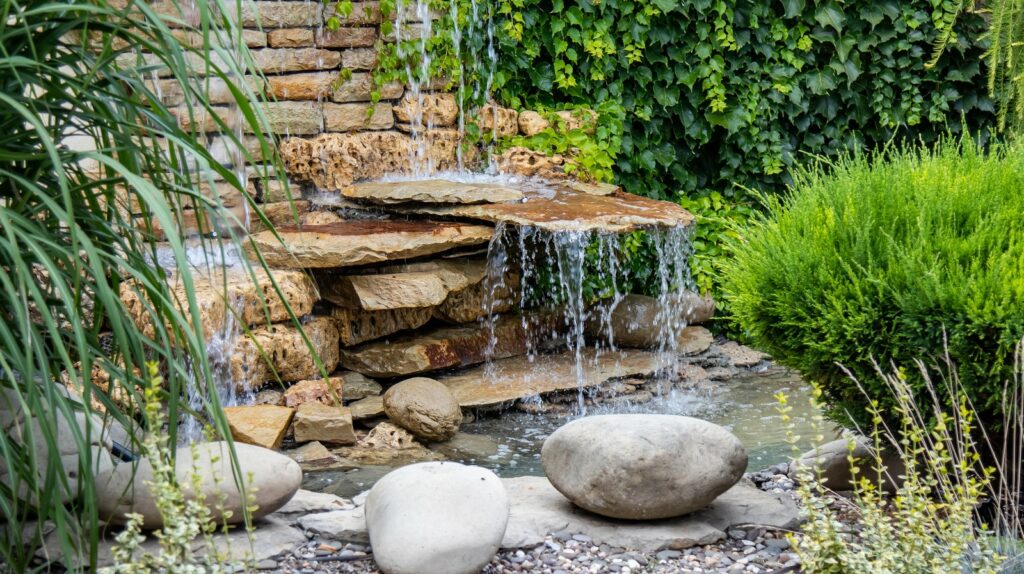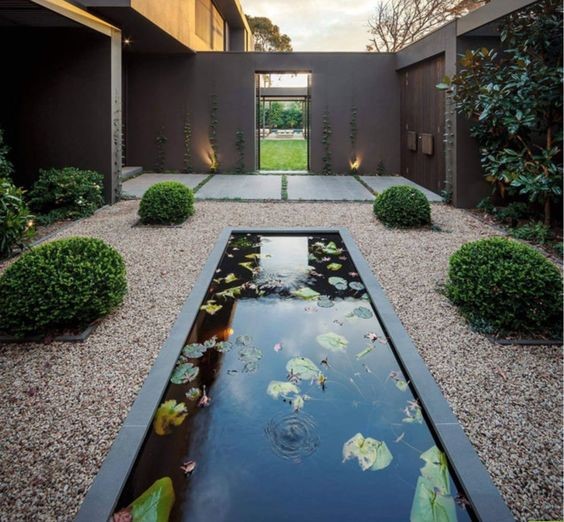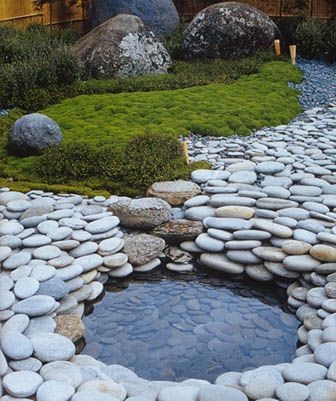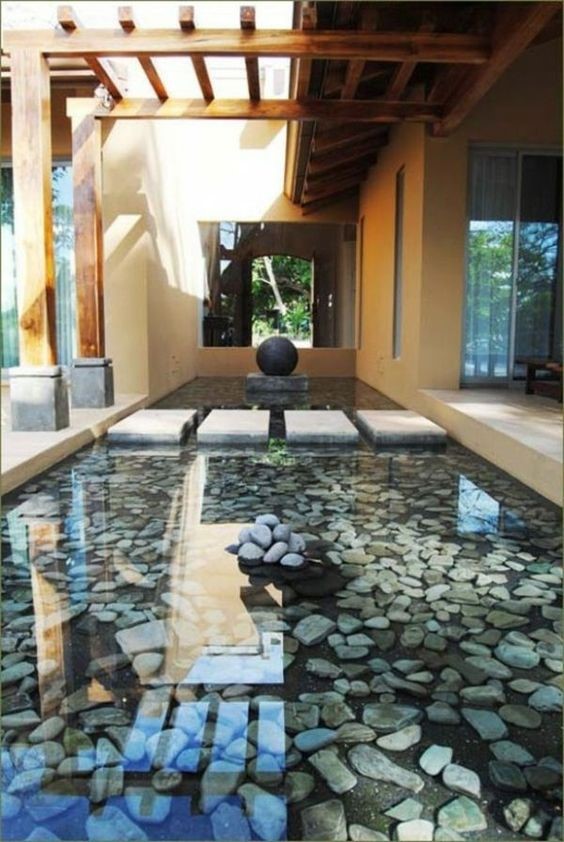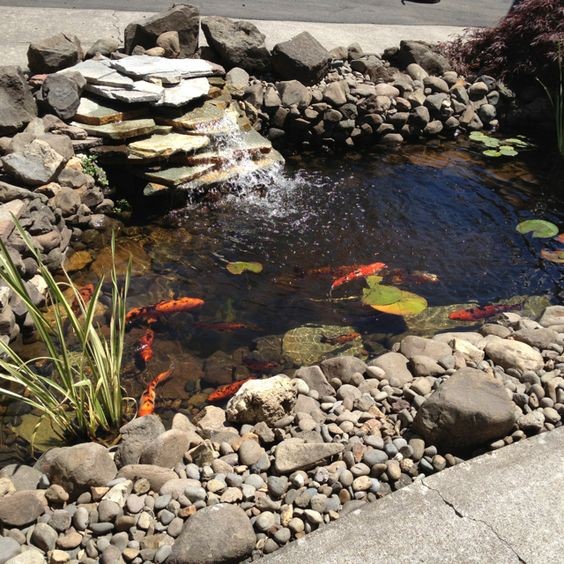 Contemporary Minimalist koi pond designs
Koi ponds also blend in with modern landscape designs by changing some key design elements. In contemporary modern design, the bright colors of koi fishes are the highlight of the landscape. The walls, walkways, and plants share a neutral color palette that allows the plants and fishes to stand out.
Here are some koi pond ideas if you prefer a modern approach: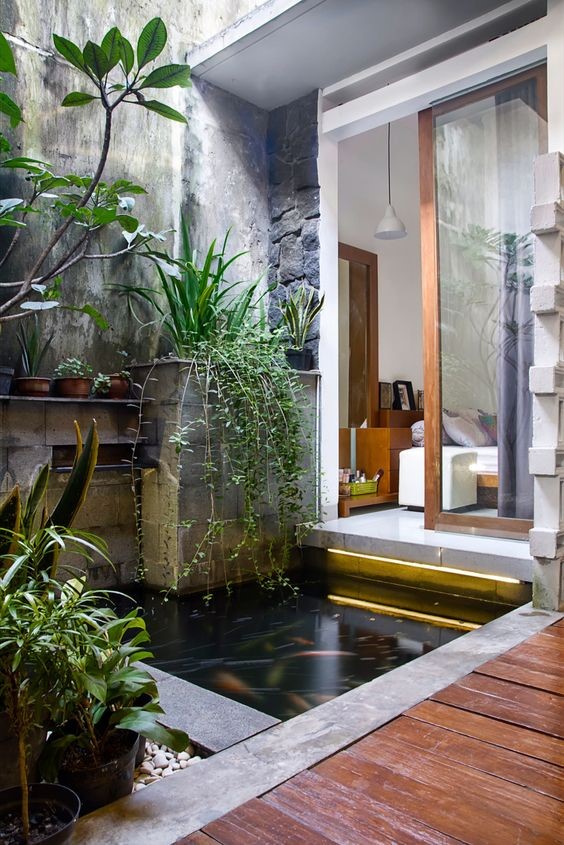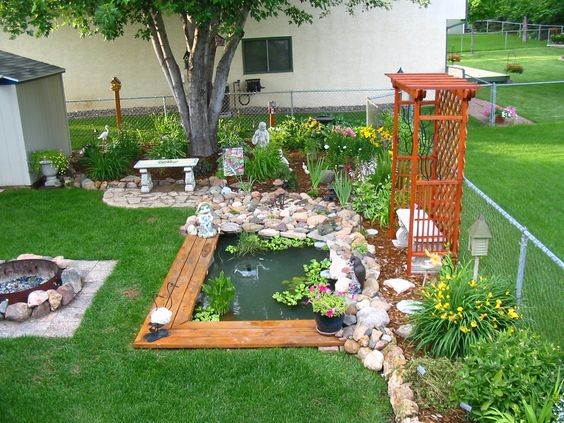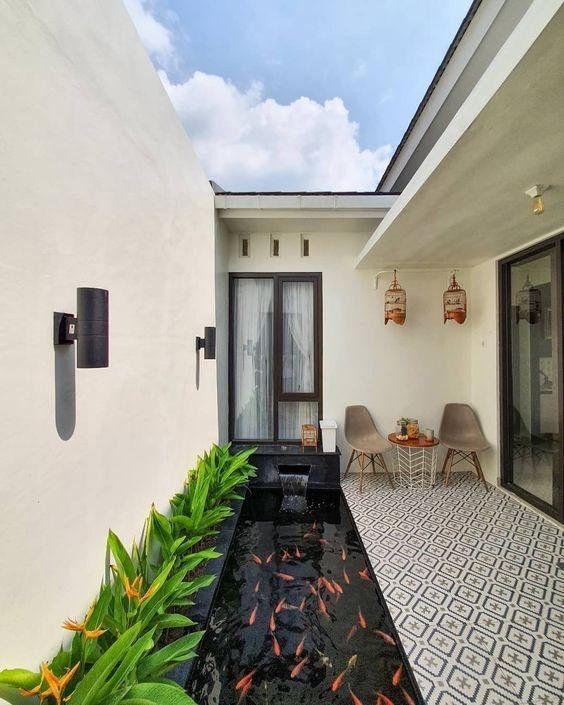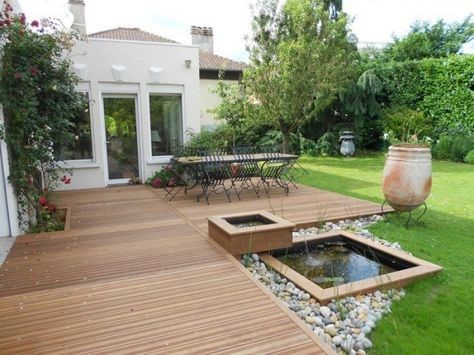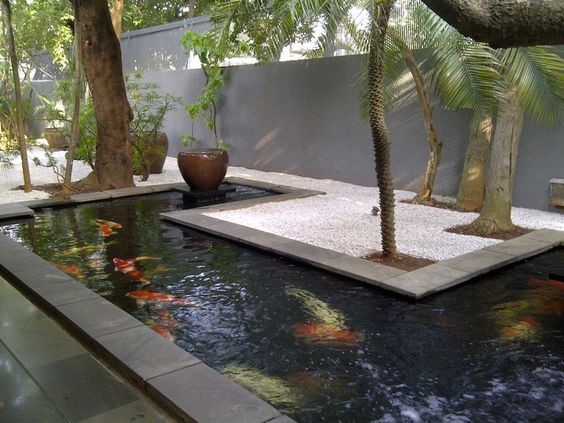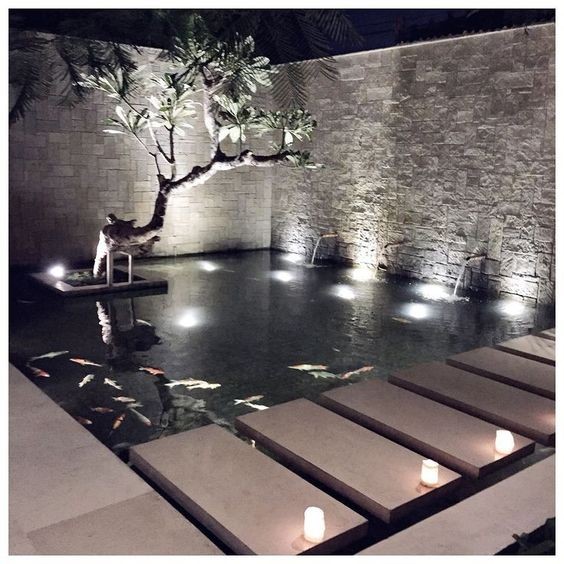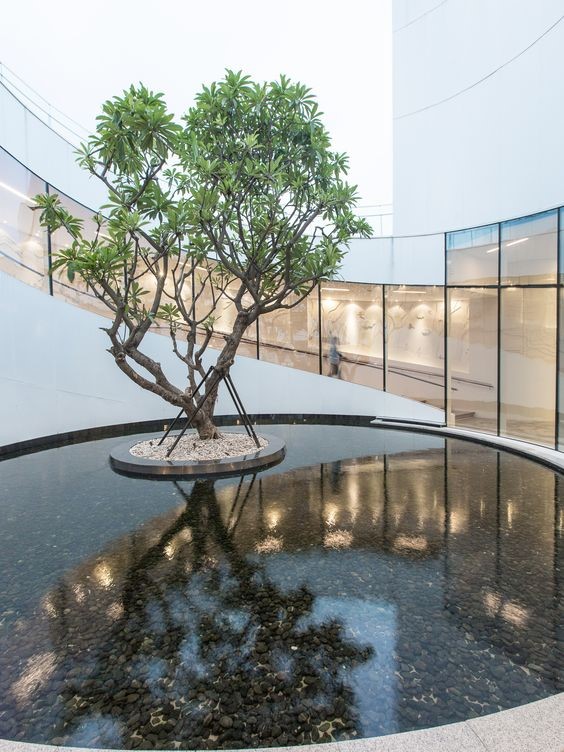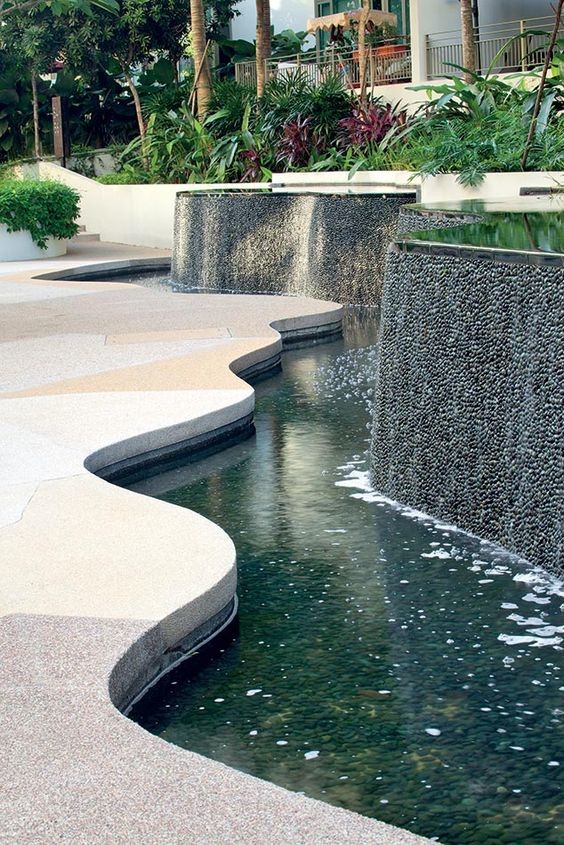 Raised Koi Pond Designs
One of the challenges of building a koi pond is the gravity of the excavation that you need to acquire the ideal depth and size of the koi pond. As a solution, some homeowners consider building a raised koi pond to reduce some costs for the project.
Here are some raised koi pond examples that you can consider when you're running on a tight budget.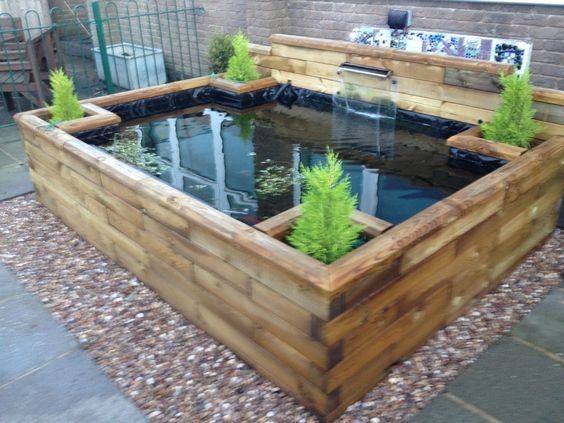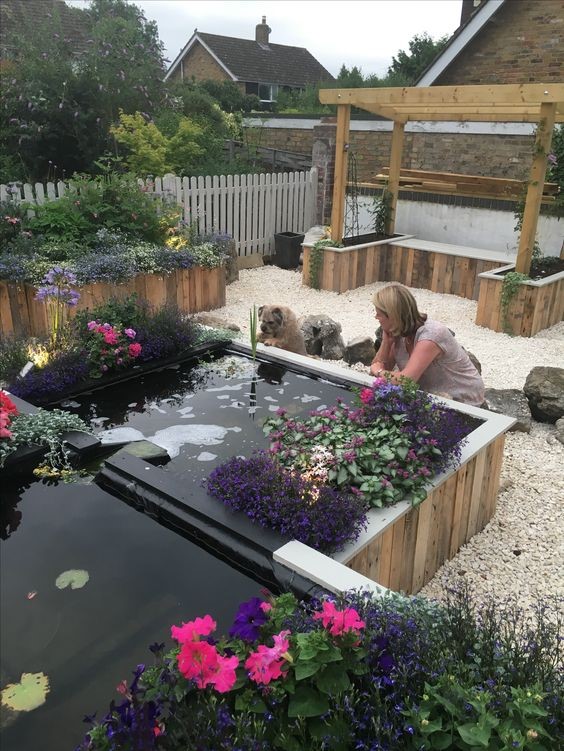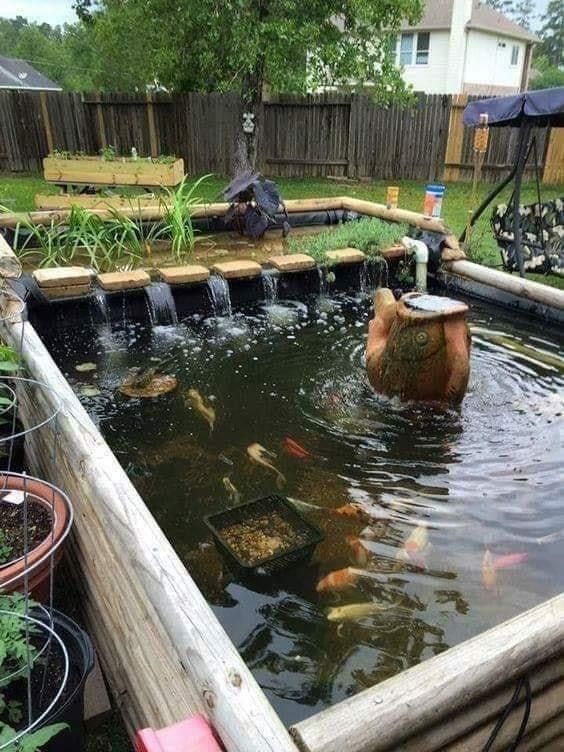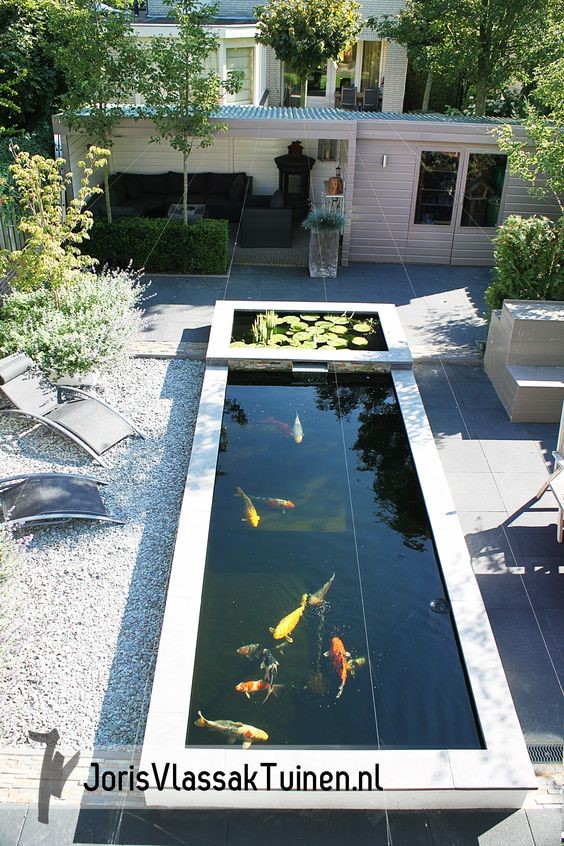 Koi Ponds In Different Shapes
Sometimes, you don't have to add too much stuff on a koi pond to make it exceptional. Some big changes can start from the shape of a pond. See how the shape of the pond can be a game-changer for your landscape in the following designs:
Circle koi ponds
Breaking away from the classic pond design, circular koi ponds are now becoming a trend for their small but functional features. Here are some rounded koi ponds that can give you some well-rounded ideas (pun intended).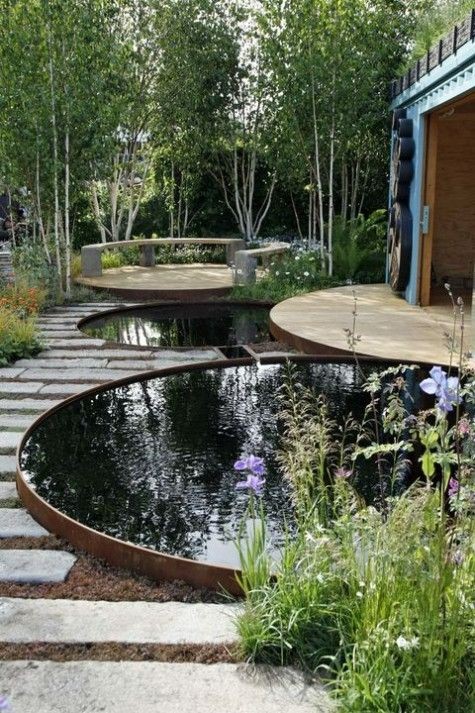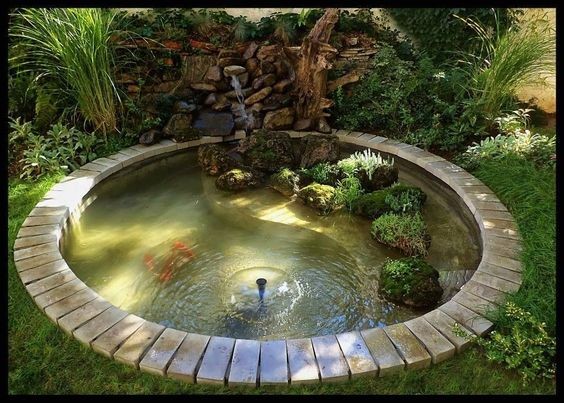 Triangle koi ponds
Triangle is an uncommon shape to have for a koi pond. Its edges may eat a lot of space but if you place it in a yard properly, it can give your yard a major transformation.
Check out the koi pond ideas of these brave and creative homeowners: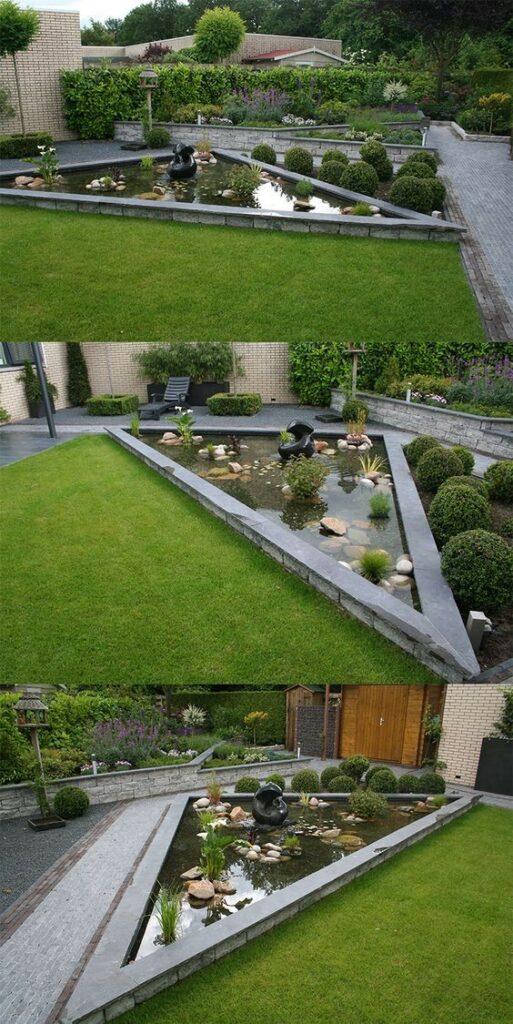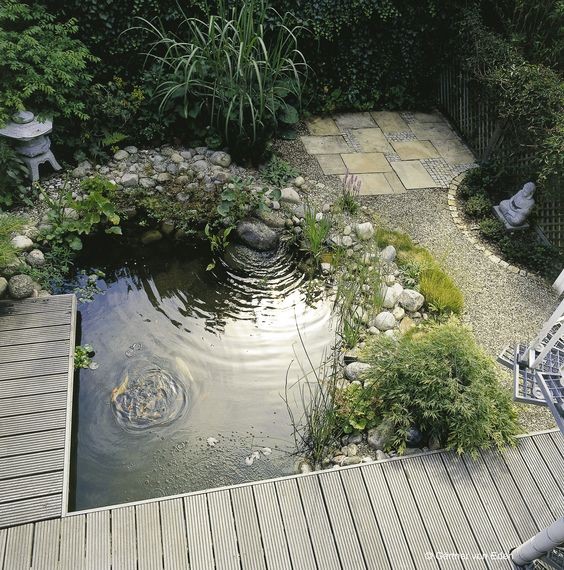 S-shape koi pond designs
Some homeowners have wild imaginations that breed some exceptional designs like an S-shaped koi pond. Check one example below and see how you can make an S-shape pond in your garden.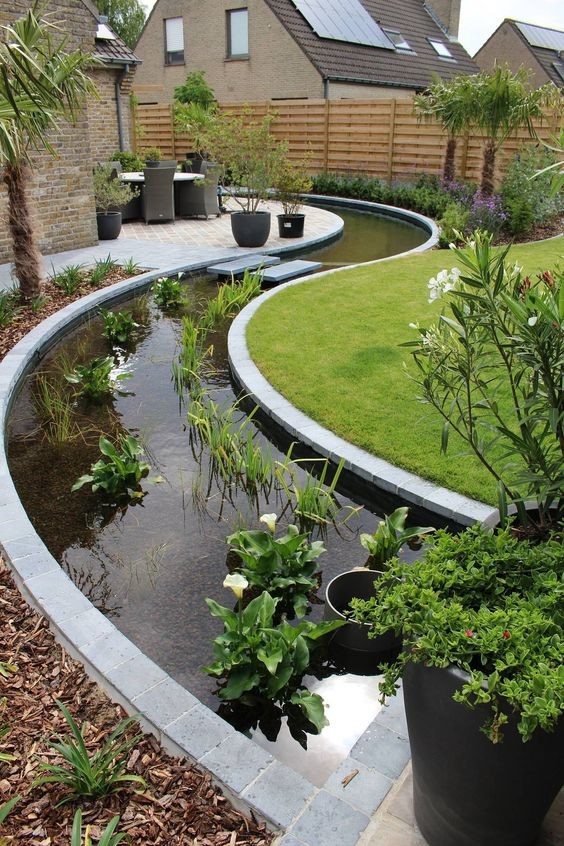 #6 Large-scale Koi Pond Designs
For a major yard transformation, your koi pond design can turn your koi pond idea into a reality or a nightmare. Prepare for your big project by creating a solid vision of what you want for your space.
Here are some koi pond ideas to ponder on for your dream koi sanctuary:
Koi Pond and Pagoda
When you have the space and budget to turn several acres of lawn into a full-blown water garden, why not build a pavilion or pagoda over it?
Having a space in the middle of swimming fishes allows your family to spend a romantic date night, a good place to celebrate parties, or a simple place to get some fresh air and drink your morning coffee.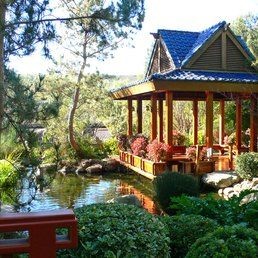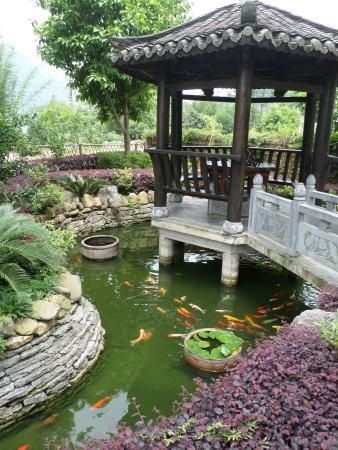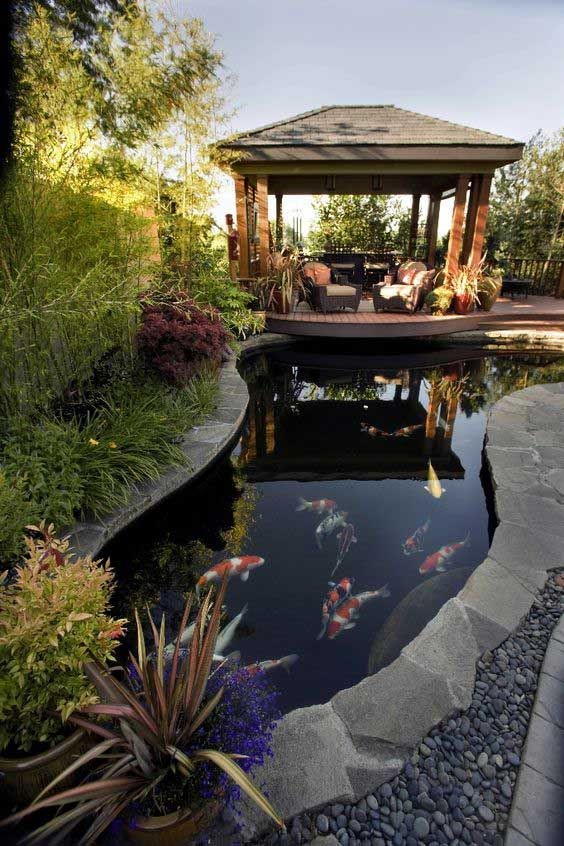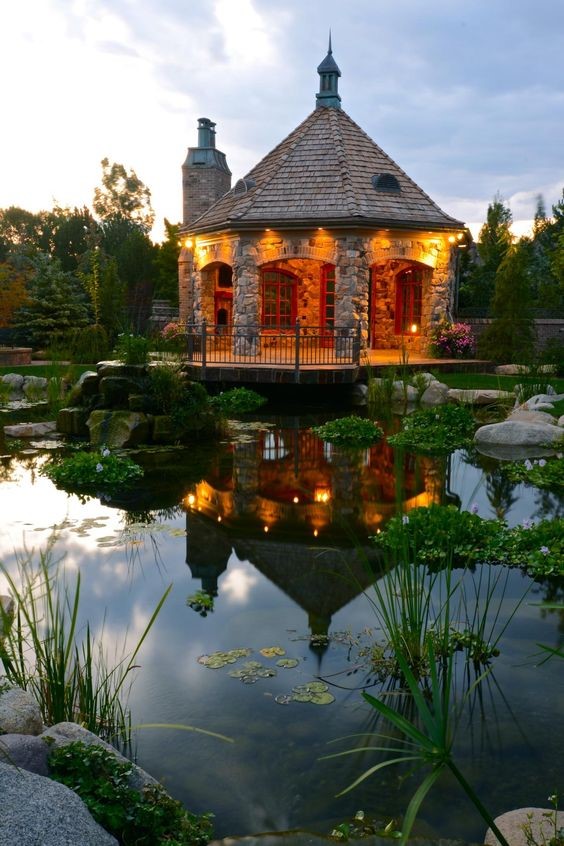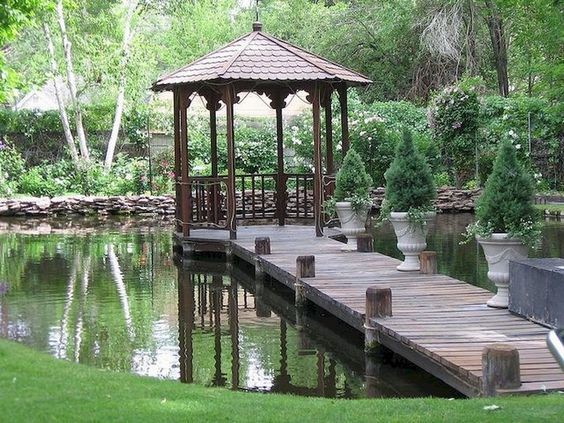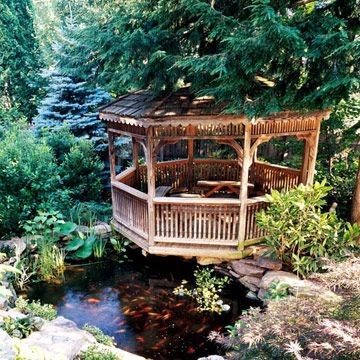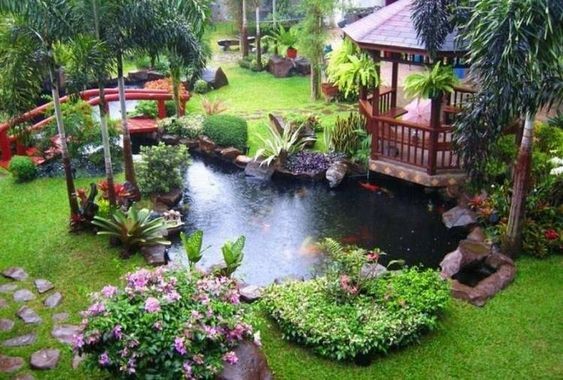 House Perimeter Koi Pond Designs
If you love the water rustling around your property, you can build a perimeter koi pond that allows the water feature to be accessible anywhere in the house. Perimeter ponds are usually narrow with 12 to 20 inches width but the length extends to several feet.
Here are some examples that may inspire you to try this koi pond idea: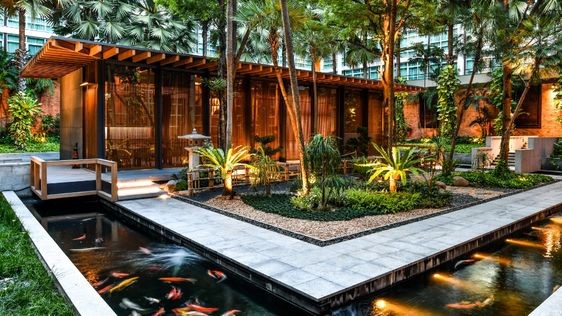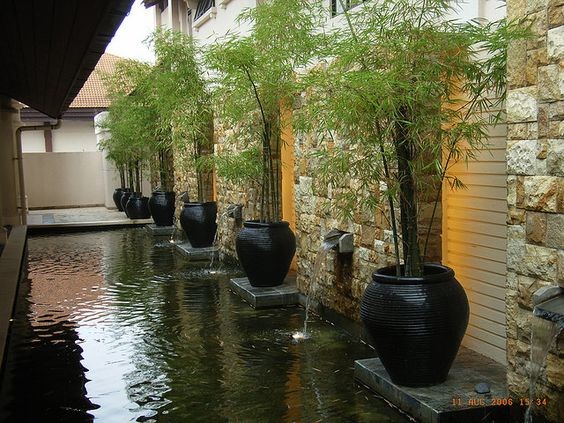 Walkway Koi Pond Designs
Walking across a pond is one of the trendy koi pond features you can add to your project. Walkways allow you to have a space to further appreciate koi up close.
Here are some designs that you can mimic: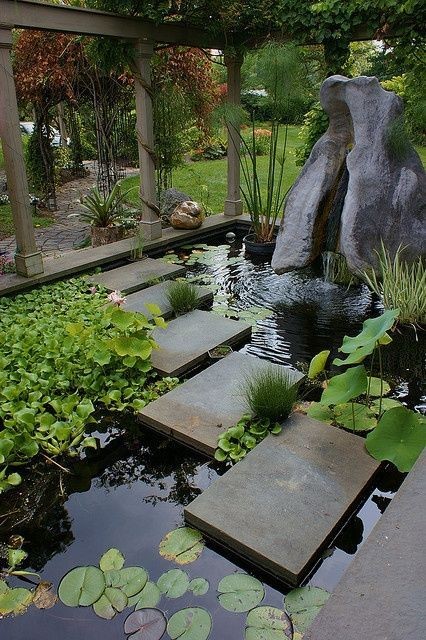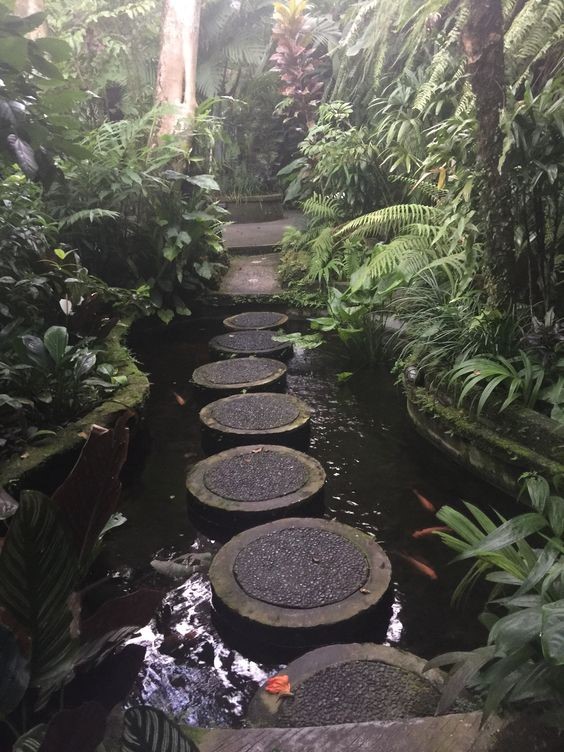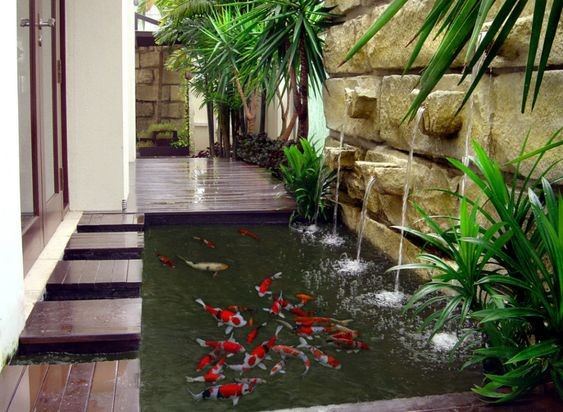 Koi Pond Under a Bridge Designs
Small bridges are often a classic design used with large-scale koi ponds. It may look traditional but it adds up to the historic vibe of a place.
Here are some ideas for building a koi pond under a bridge: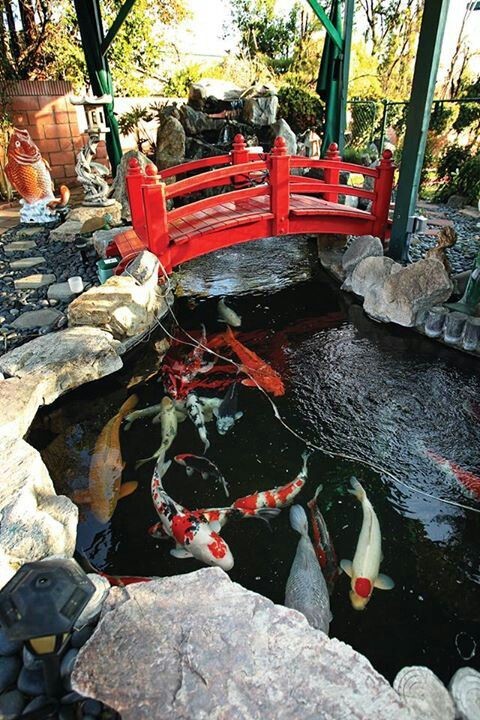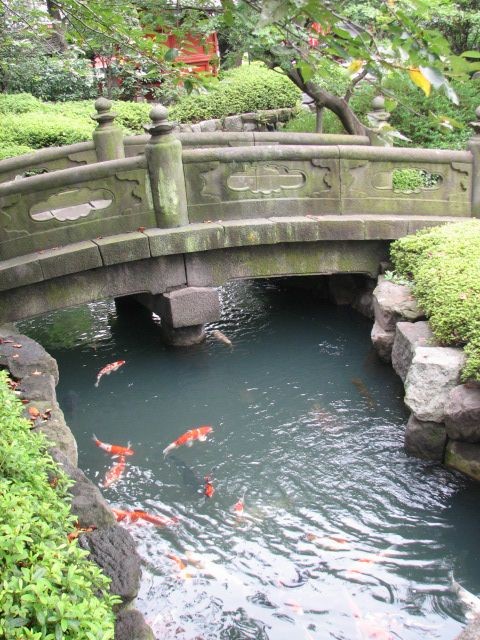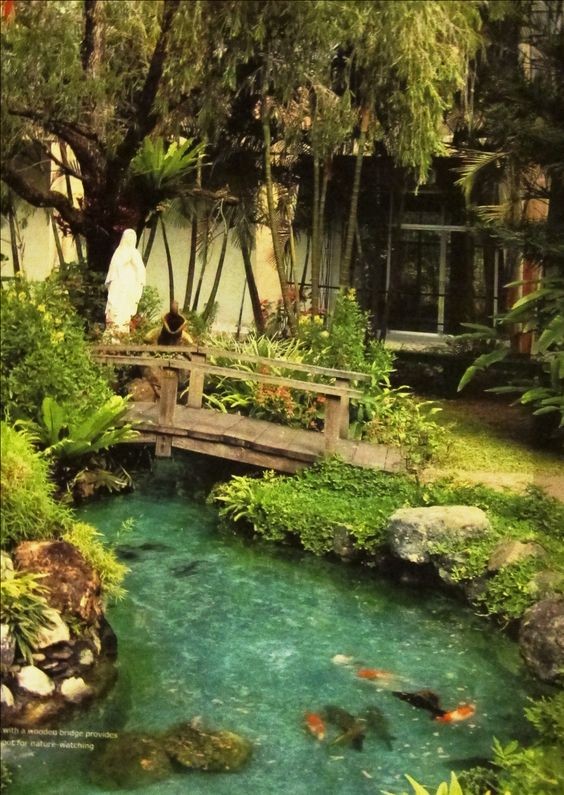 Stream-like Koi Ponds
Koi has a unique quality of swimming against the current of water like salmon. Let this quality show by placing your koi in a stream-like pond around your property.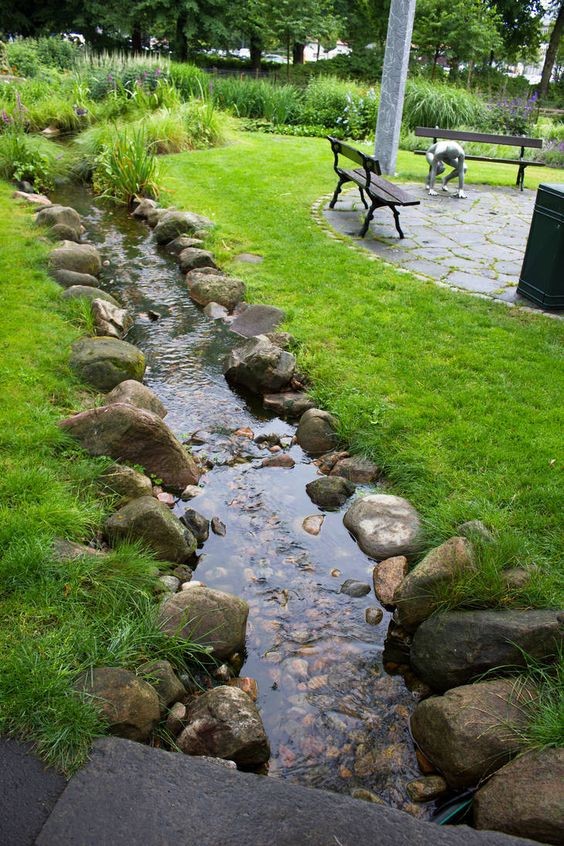 Courtyard Koi Ponds
What a great way to maximize your space by placing the koi pond in your courtyard. It helps add a central space of calm around the house and improves the overall indoor ambiance.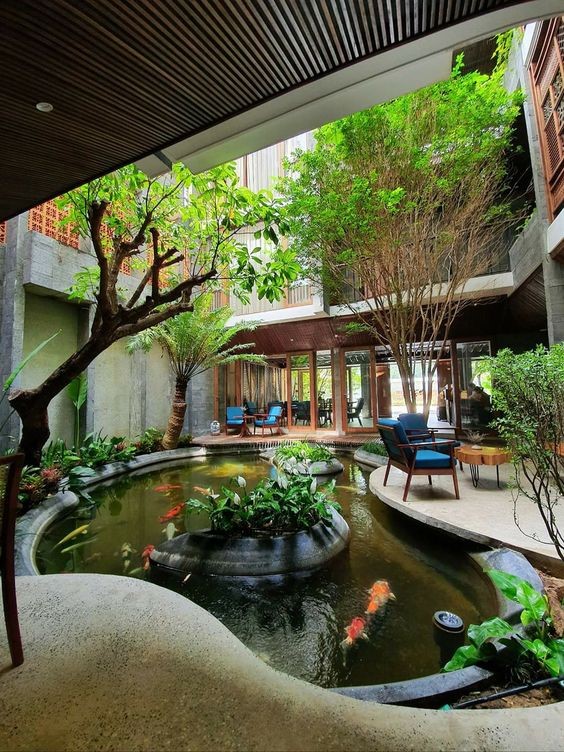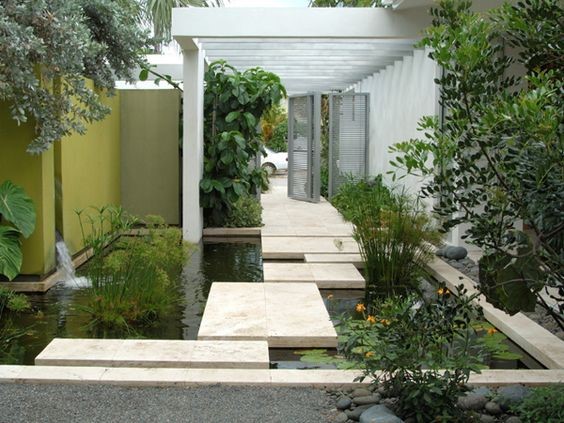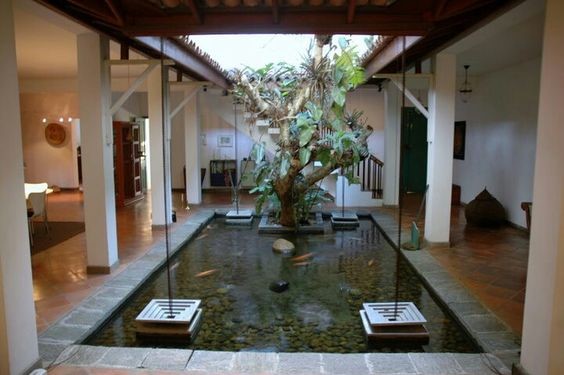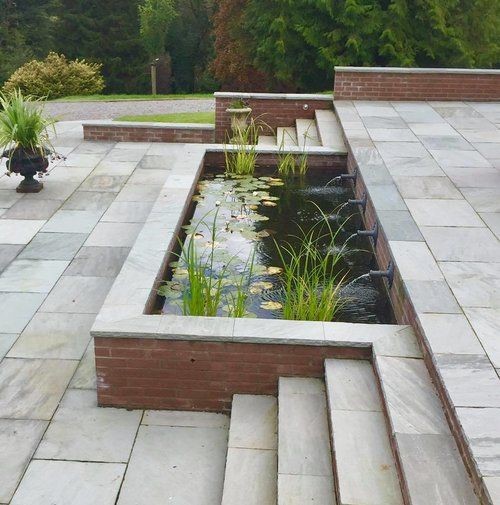 Koi Pond and Wooden Deck
Seating is one of the most important elements of a beautiful koi pond. It gives space for anyone to bask in the sound of water flowing and the refreshing sight of colorful koi.
Here are some examples of placing a viewing deck next to a koi pond: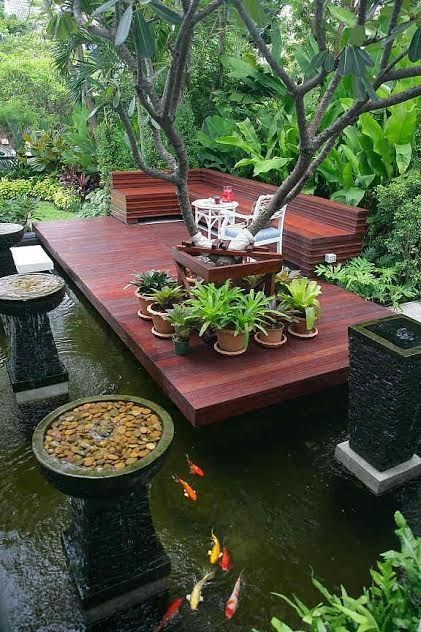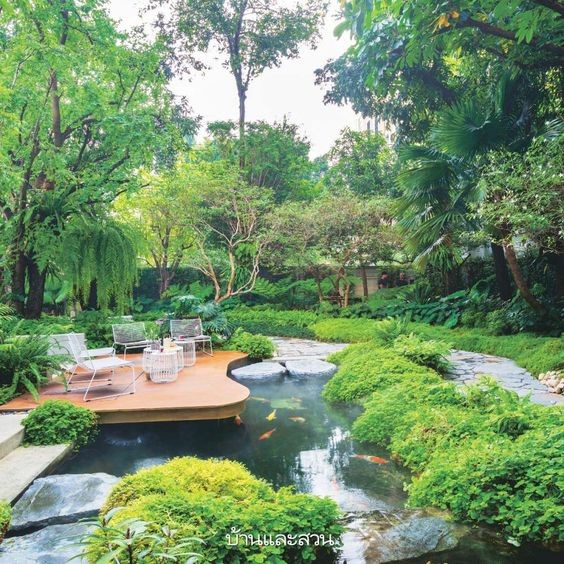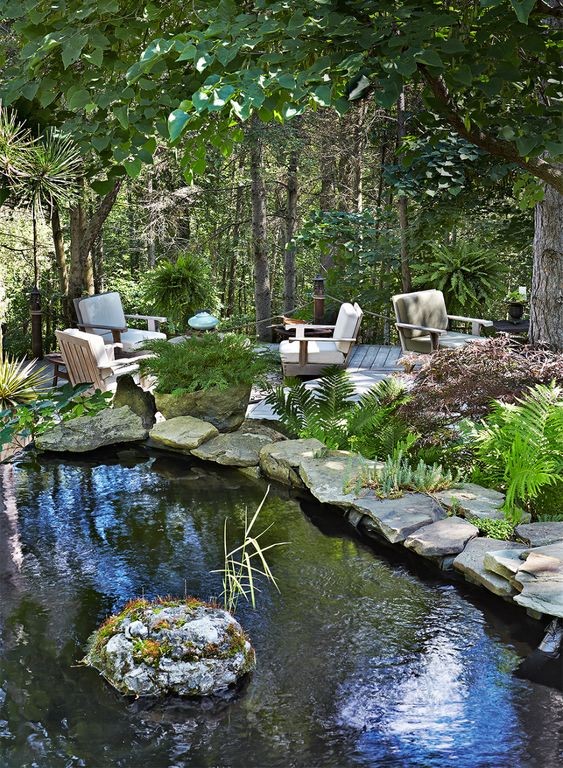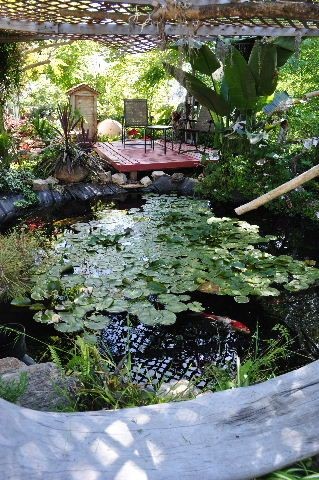 ---
What is a Koi Pond?
A koi pond is a water feature that highlights the color and size of koi. It is often merged with other types of water features like fountains and water gardens since the fishes feed on the larvae of mosquitoes. On the other hand, the aquatic plants help filter the fish wastes in the pond.
Did you know?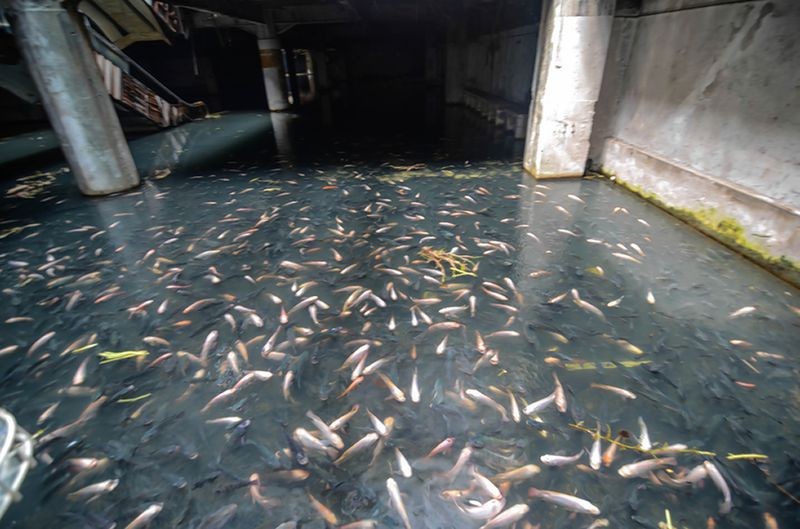 The largest koi pond was built by accident in an abandoned mall in Bangkok. A pool of water filled the basement of the mall that has caused a massive mosquito problem in the area. To solve the problem, local authorities filled it with koi to let them eat the mosquito larvae.
Considerations in Building a Koi Pond
Building a pond requires more attention than a garden. Different varieties of koi are sensitive to temperature and can grow for up to 3 feet and weigh around 12 pounds up to 90 pounds.
Depth: The ideal depth of a koi pond can be anywhere between 4 feet to 20 feet. It largely depends on the type of koi that you want to grow. If you want to keep your fish small due to space issues, you should consider domestic koi varieties.
Space: The space of your koi pond should be enough for the koi to swim around. Otherwise, they may die from stress.
Location: Some koi ponds are built as part of a front yard landscape, while some serve as a space for homeowners to rest around the water feature.
Design elements: The elements of the koi pond landscape usually includes the framing materials, the type of fountain or waterfall, plants, underwater lighting, and filtration system.
Water aeration: Waterfalls are added to most koi ponds to serve as natural oxygen for koi. In the absence of waterfalls, you may also place some pond aerators to keep your koi healthy.
Predator planning: To keep your valuable koi safe from cats, raccoons, and other predators, you must ensure that the pond is deep enough (4 feet) for them to hide.
Plant and fish dynamic: Plants help naturally clean the fish wastes in the water. They serve as a natural filtration system and a perfect breeding place for koi.
---
Frequently Asked Questions (FAQs)
How deep should the pond be for koi?
A koi pond should be 4 feet to 21 feet deep. It should be deep to help the koi protect themselves from land predators.
What should I put on the bottom of my koi pond?
Gravel and river rocks are the ideal material to place at the bottom of your koi pond. The rocks create a healthy environment for the bacteria to process fish wastes. They also help hide the liner of the pond and make it look more natural. Aquatic plants can also attach their roots to the gravel, giving them a more sturdy foundation.
How big of a pond do you need for koi?
A 4 x 4 feet is good enough to build a small pond for your koi. However, if you're planning to care for the jumbo varieties, you should consider a longer and deeper one to help them swim better.
What else can I put in my koi pond?
Aside from fish, you can place some aquatic plants and other water features like glass balls or unique water fountains.
Do koi reproduce in a pond?
Yes, once there are adult male and female koi in the pond and the ideal temperature and environment are met, spawning becomes a natural occurrence and you no longer need to do anything to increase their numbers.
Final Thoughts
We hope that this post helped you get some inspiration from the 91 koi pond ideas we listed in this post.
If you find this post helpful and informative, please don't forget to share it with your friends so they can help you build your first koi pond.
Which pond design did you resonate with the most? Let us know in the comments below!