Hydrangeas are among the most beautiful flowers that enhance almost any landscape.
Most gardeners love growing them because they are easy to grow and not too demanding with fertilization and soil requirements. However, they get infested with fungus and pests like any other plant.
In A Hurry? Our Top Picks:
When hydrangeas get stressed or malnourished, their resistance to pests and infestations gets weaker. Fungal diseases in hydrangeas not only affect their appearance, but also their overall health.
In this post, we will discuss the 10 best fungicides for hydrangeas and how to take care of them. We will also share the frequently asked questions and other features of hydrangeas.
---
Top 10 Fungicides For Hydrangeas To Try In 2023
Let us help you find the right types of fungicides and skip the long hours of searching and wasting your money.
The products listed below are not ranked according to their performance as they are all effective in controlling fungal diseases in hydrangeas.
Here are the 10 best fungicides for hydrangeas:
1. Ortho MAX Garden Disease Control Concentrate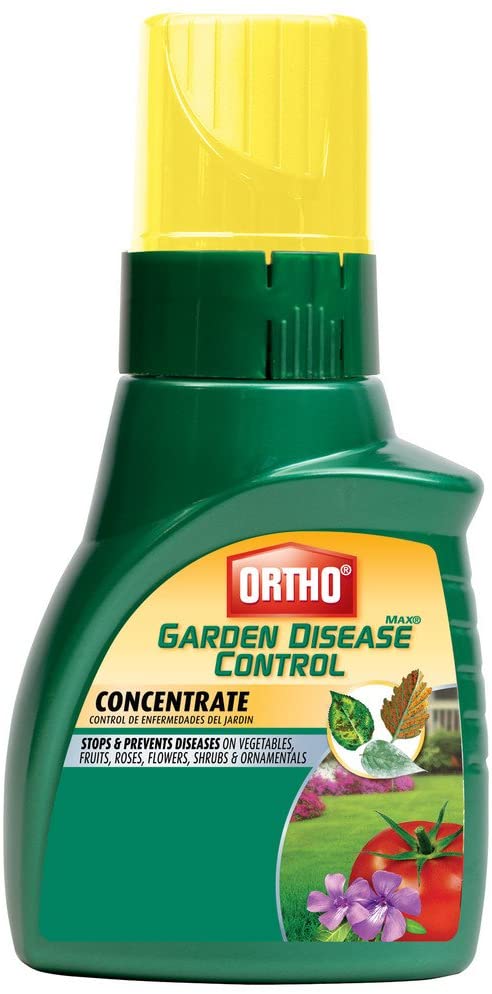 When it comes to leaf spots, most gardeners applaud the effectiveness of chlorothalonil. Chlorothalonil is an organic compound that is widely used in controlling diseases in crops and in preserving wood.
Chlorothalonil is the active ingredient of Ortho MAX Garden Disease Control Concentrate(Daconil) at a rate of 29.6%. It helps stop and prevent the occurrence of diseases the following diseases:
Leaf spots (entomosporium, cercosphora & septoria)
Rust
Blights
Black rot
Canker diseases
Powdery mildew
A common practice of gardeners that works in controlling plant diseases is to remove the infected parts of your plants before you continue applying a fungicide.
Ortho Max has a highly-concentrated formula, and a single bottle can make up to 64 gallons of diluted spray. That means a little comes a long way, especially if you have other plants in your yard aside from hydrangeas.
The best thing about Ortho Max you can use it for a variety of plants aside from hydrangea, including:
Vegetables & Melons: Green beans, broccoli, brussels sprouts, cabbage, carrots, cauliflower, celery, sweet corn, cucumbers, garlic, leek, melons, onions, potato, pumpkins, shallot, squash, and tomatoes.
Shrubs & Trees: Ash, azalea, buckeye, horse chestnut, cherry-Laurel, crabapple, dogwood, euonymus, firethorn (Pyracantha), flowering almond, quince & cherry, hawthorn, holly, mountain laurel, red oaks, Oregon grape (Mahonia), Photinia Pieris (Andromeda), poplar, privet, rhododendron, sycamore (Planetree), viburnum
Bulbs & Flowering Plants: Carnation, chrysanthemum, daisy, geranium, gladiolus, hollyhock, hydrangea, iris, lily, petunia, rose, statice, zinnia
Foliage Plants: Dracaena, pachysandra, leatherleaf fern, parlor palm (Chamaedorea), prayer plant (Maranta), oysterplant (Rhoeo), philodendron, Syngonium, conifers.
As with other synthetic fungicides, you should keep your kids and pets away if the leaves are still wet from the foliar spray. The manufacturer recommends applying this fungicide during early propagation. However, there can be some discoloration in the blooms of your hydrangeas if you apply the fungicide during the flowering season.
Be sure to wear gloves and a long-sleeved shirt when you mix and spray Ortho Max on your plants. Avoid letting your bare skin touch, as it can cause skin irritation. It may also trigger an allergic reaction if you get exposed to the diluted solution.
This fungicide is also toxic for aquatic animals. So, make sure that it doesn't flow into a nearby body of water or sewage.
Also, you must avoid applying this fungicide when it's windy or raining to lessen the unintended spread of the diluted solution.
Pros
Effective solution for leaf spots
Can be used on a variety of plants
Cons
Synthetic fungicide
Toxic to aquatic animals
Can cause skin irritation and allergic reaction if applied without caution and protective equipment.
2. Bonide Sulfur Plant Fungicide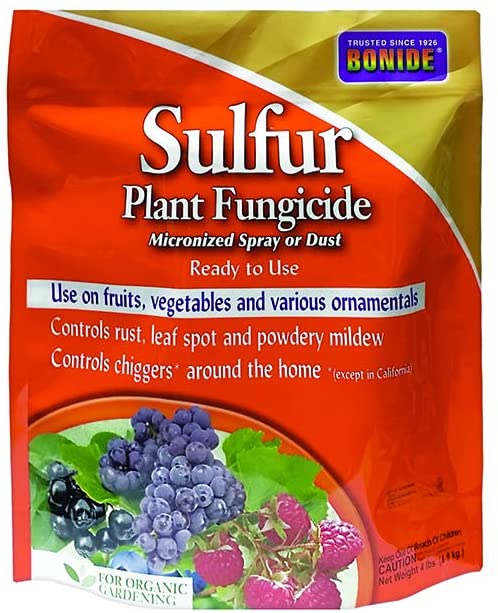 Let's head over to the organic section. Sulfur is toxic to fungus and has been an effective insecticide and fungicide in plants for a long time.
Bonide Sulfur Plant Fungicide is one of the best varieties of sulfur in the market for its ability to control both insects and fungal diseases in plants and animals.
Aside from being a fungicide and a pesticide, it can also be used to adjust the level of acidity in the soil. Sulfuric acid helps lower the soil PH levels. Thus, contributing to better and bigger blooms in flowering plants like hydrangeas, azaleas, and rhododendrons.
This fungicide also helps most gardeners deal with the following pests and diseases in plants:
Rust
Leaf spot
Powdery mildew
Chiggers
Thrips
Scale
Mites
Probably one of the best assets of this fungicide is you can use it on animals too. You can also use this fungicide in controlling fleas, mites, and ticks on the following animals:
Dogs
Horses
Cattle
Swine
Sheep
Goats
Chickens
Turkeys
Ducks
Geese
Pigeons
Other game birds.
Due to its organic nature, it is safe to use not on flowering plants but also vegetables. You can use it on:
Apples
Beans
Cherries
Berries
Peas
Grapes
Strawberries
Other fruits and vegetables
Bonide Sulfur has a micronic sulfur consistency that contributes to equal layers of protection on your plants. You can either use it as dust or spray. Unfortunately, it is not for sale in Alaska and the District of Columbia.
Since sulfur is a flammable material, gardeners are advised to use proper safety equipment in applying the fungicide. Manufacturers also warn gardeners to avoid using this product during periods of high temperature and within two to three weeks of an oil spray.
Application recommendations for sulfur are during the pre-blossom phase of your plants and when the disease has already started to show. It is also toxic to fish and should be applied away from bodies of water.
The good thing is this fungicide is environment-friendly and safe to use around kids and pets.
Pros
Organic fungicide
Can be used to control pests in both plants and animals
Can be used as a soil amendment to increase the acidity of the soil
Cons
Toxic to aquatic animals
Cannot be used in hot temperatures
3. Southern Ag Thiomyl Systemic Fungicide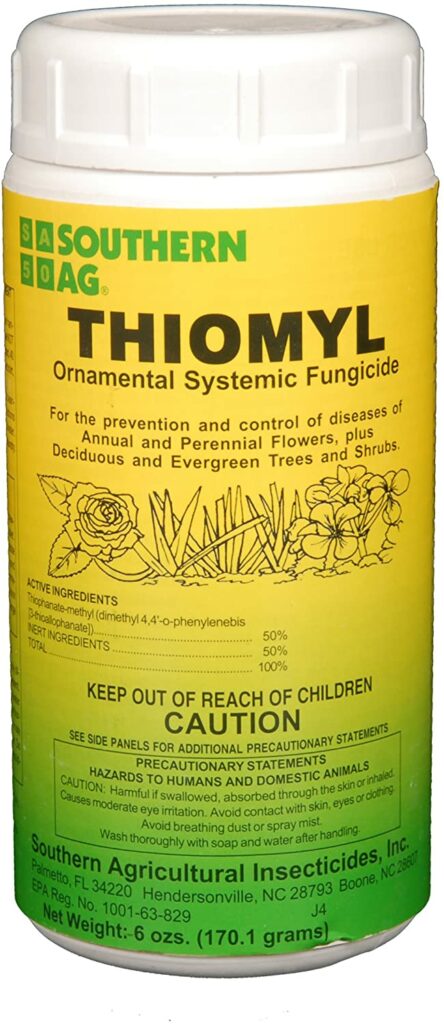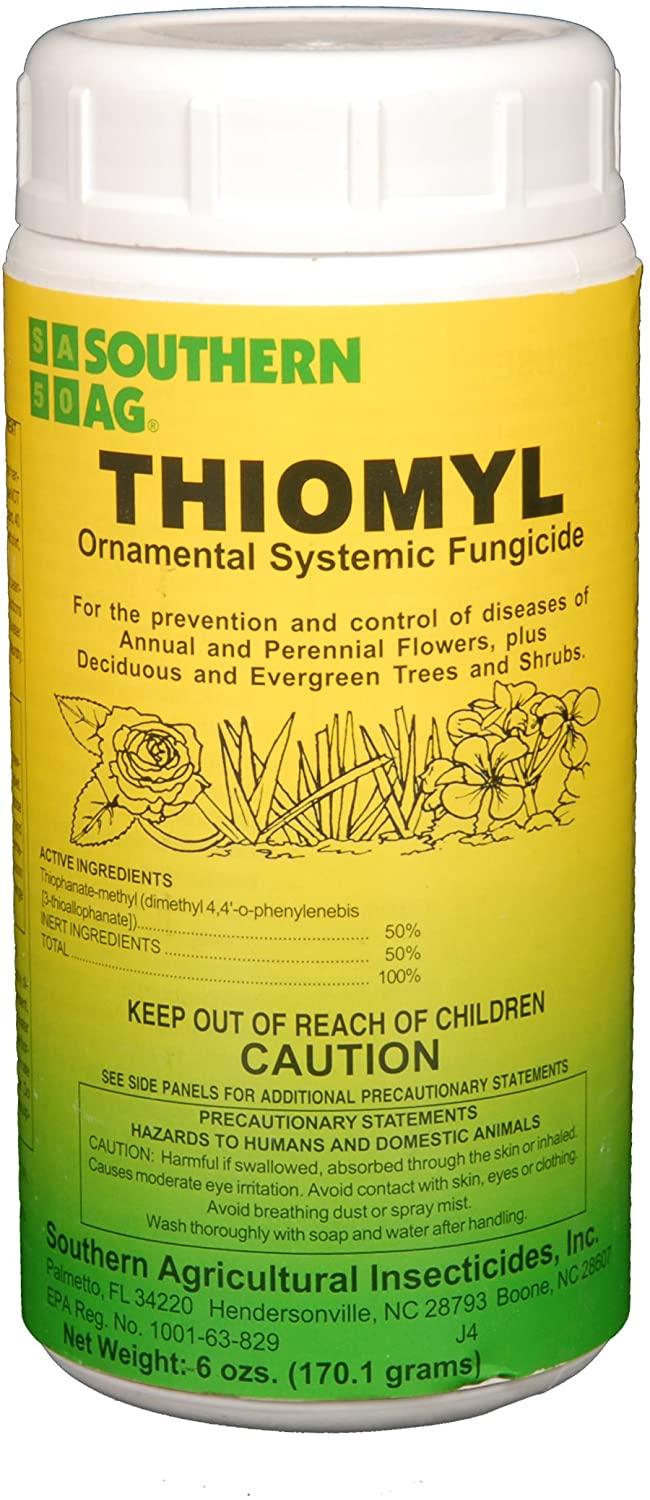 According to Tennessee State University, Thiophanate methyl is among the most effective solutions in treating foliar diseases in hydrangeas. It usually comes in wettable powder or crystals.
As one of the leading providers of this fungicide, Southern Ag Thiomyl Systemic Fungicide contains 50% thiophanate methyl, and many gardeners use it to control the following diseases:
Powdery mildew
Cercospora leaf spot
Botrytis blight
Anthracnose
Fusarium blight
Black spot
This fungicide also helps prevent root, crown, and stem rots in plants. You can use it in controlling diseases for the following plants:
Roses
Bulbs
Ornamental plants
Annual and perennial plants
Evergreen trees
This product is a foliar spray, and you only need three tablespoons per gallon of water. However, if you're into organic gardening, this might not be the best option since Thiomyl is a synthetic fungicide.
Like other non-organic fungicides, you should use them with caution around kids and pets and wear proper safety equipment when you apply them to your plants.
Pros
Best of treatment for leaf spot and anthracnose in hydrangeas
Can be used on a variety of plants
Cons
Synthetic fungicide
Not kid and pet-friendly
Can cause skin and eye irritation if not applied properly
4. Dow AgroSciences Eagle Fungicide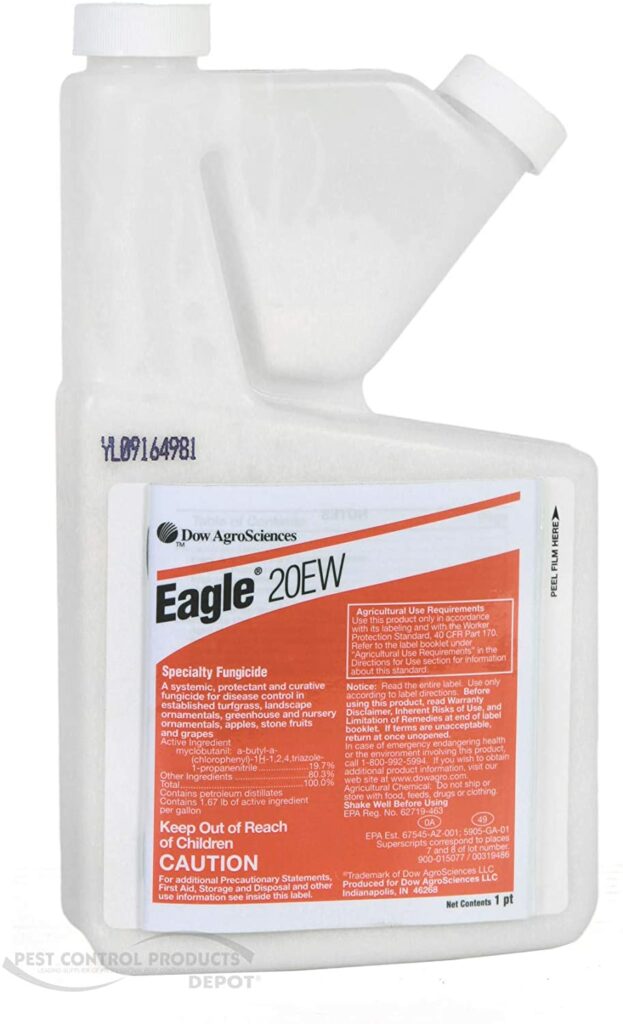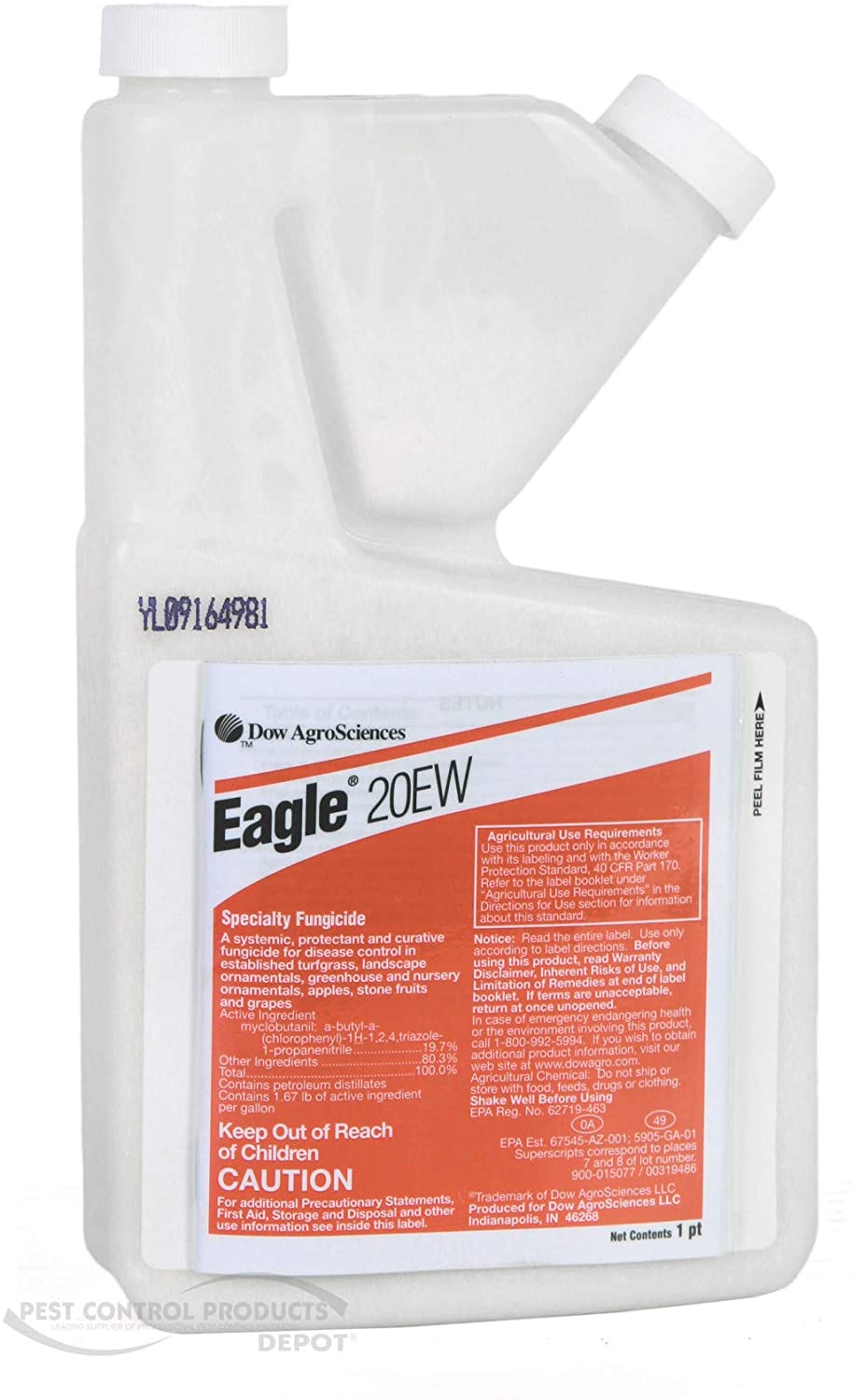 Dow AgroSciences Eagle Fungicides is a synthetic fungicide with an active ingredient Myclobutanil.
Myclobutanil is another treatment for powdery mildew in hydrangeas. It is among the most recommended chemicals that work on fungal diseases in flowering plants.
Dow AgroScience Eagle Fungicide is a systemic fungicide that controls fungal diseases from the inside out. It can help control 15 fungal diseases in plants which includes:
Dollar spot
Brown patch
Anthracnose
Spring dead spot
Necrotic ring spot
Red thread
Leaf spot
Powdery mildew
Rust
Zoysia large patch
Septoria leaf spot
Zonate leaf spot
Blight
Blossom blight
Brown rot
Copper spot
Crown rot
Dollar spot
Scab
Spring dead spot
Summer patch
White rot
The best feature of this fungicide is it provides continuous protection on new growth for up to 28 days. Also, you can use it to control fungal diseases in other plants such as:
Turfgrass
Landscape ornamentals
Greenhouse and nursery ornamentals
Apples
Stone fruits
Grapes
However, the only thing that may hold you back is this fungicide non-organic. You should also be careful in using it around kids and pets.
Pros
Best for powdery mildew
Can be used for nursery and greenhouse ornamentals
Provides 28 days of protection for new plant growth
Cons
Not kid and pet-friendly
Can cause skin and eye irritation if not applied properly
Synthetic fertilizer
5. Spectracide Immunox Multi-Purpose Fungicide Spray Concentrate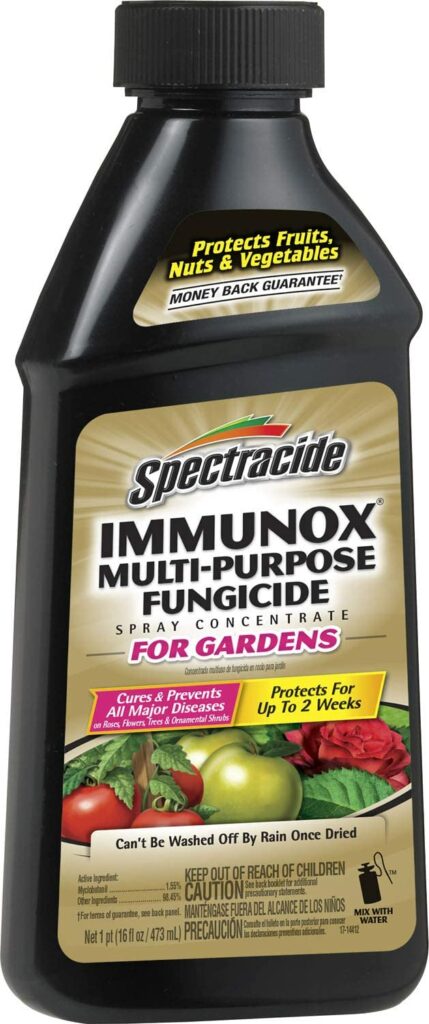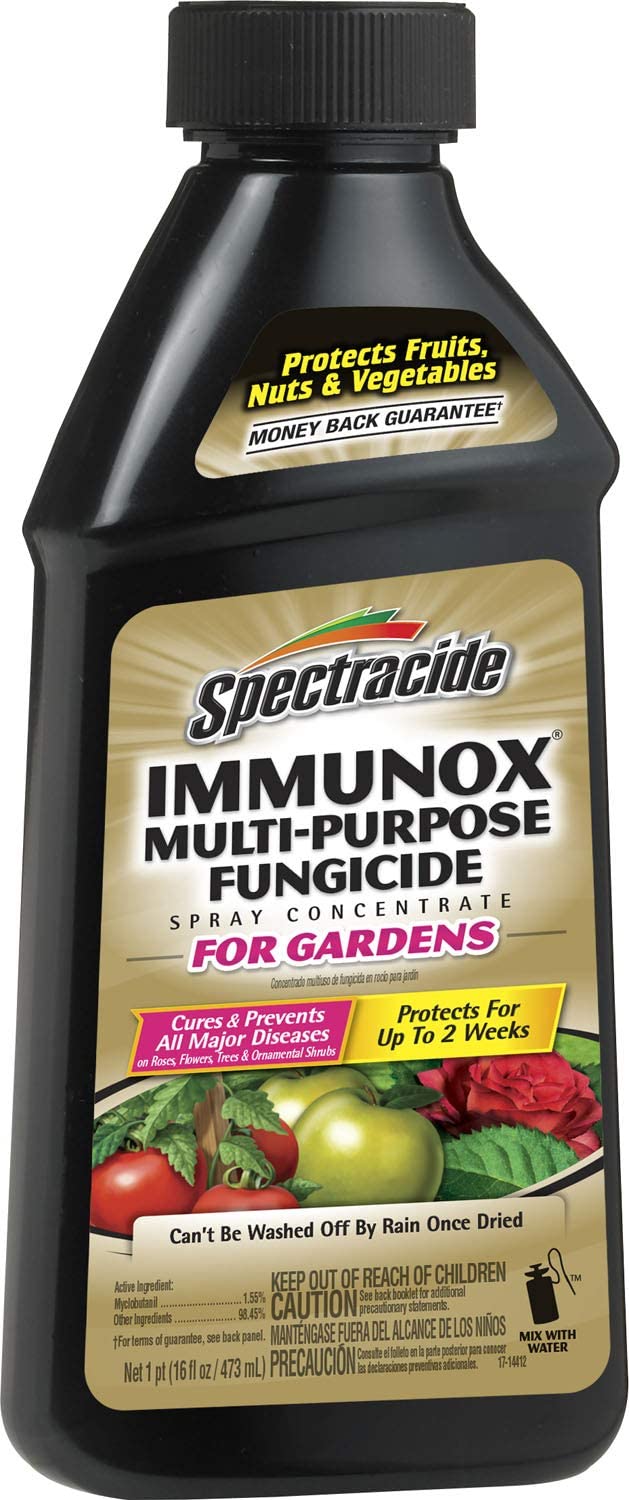 Another fungicide that contains myclobutanil is the popular Spectracide Immunox Multi-Purpose Fungicide Spray Concentrate. It is popular in controlling leaf spots in hydrangeas and other diseases in most ornamental plants, vegetables, and fruits.
Ideally, it is more suitable to prevent diseases in plants or during the early stages of fungal disease.
This fungicide helps treat the following diseases in ornamental plants:
Rose
Azalea
Abelia
Flowering maple
Ageratum
Achillea
Geranium, etc.
Spectracide can also be used to prevent and treat plant diseases in the following plants:
Apples
Almond
Stone fruits
Apricot
Cherry
Peach
Plum
Prunes
Strawberry
Blackberry
This fungicide has a long residual effect and can protect your plants for up to two weeks. It has a non-washable formula and does not wash off after it dries.
So, even if you are in a rainy season or during thunderstorms, you can be sure that your plants are still protected.
The recommended application is every two weeks throughout the growing season until hot and humid weather has passed. Spectracide is also a synthetic fertilizer which means you should take caution in using them and whenever you get in contact with the treated plants.
The manufacturer warns that you should not use the treated plants as compost or mix them in any form of fertilizer. It may also cause stains on vinyl sidings. So, make sure to patch test it first on a small part of your sidings.
Pros
Effective for leaf spots in hydrangeas
Longer protection that lasts for up to two weeks
Non-washable solution
Cons
Synthetic fungicide
It may not be effective in treating severe fungal infections in plants
Not kid and pet-friendly
6. Bonide Copper Fungicide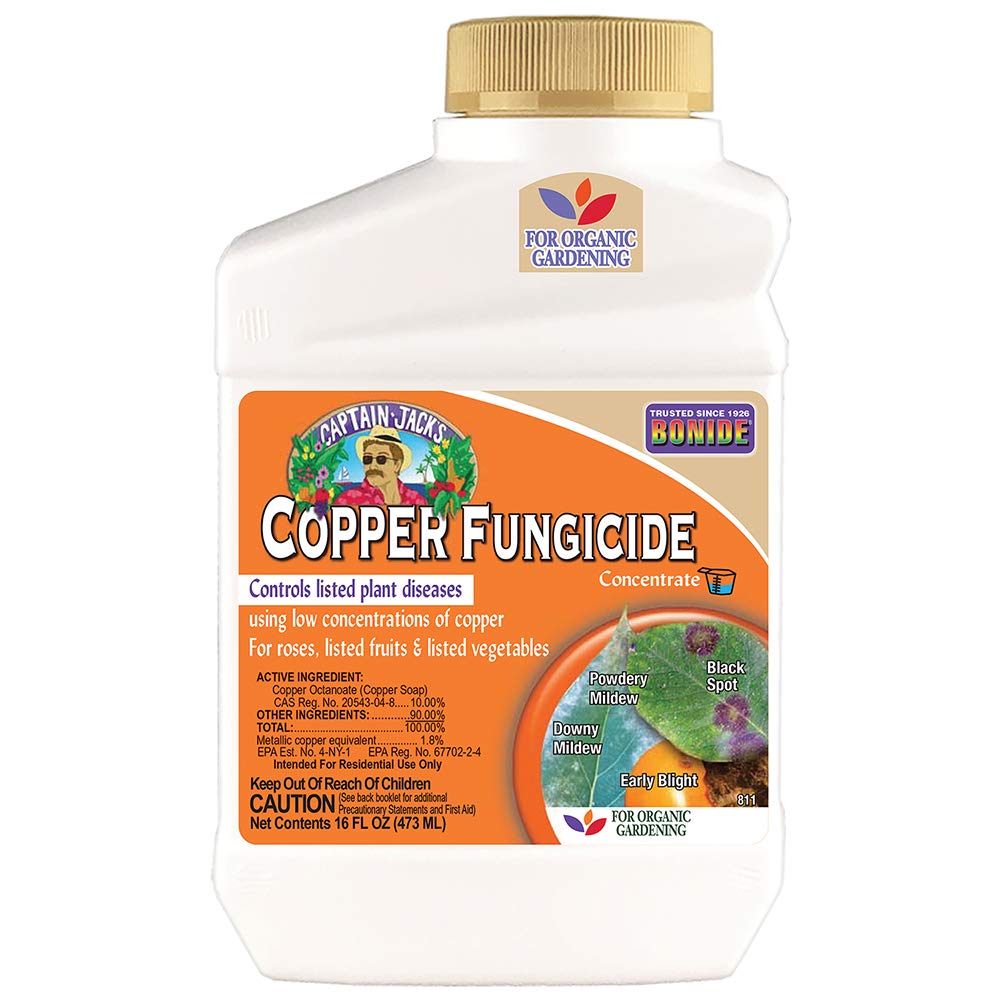 Another gardening hack that most beginner gardeners do not know is the power of copper in plants.
Copper is widely used as a fungicide and a fertilizer in plants. It aids in photosynthesis, respiratory processes, and reducing oxidative stress in plants.
With Bonide Copper Fungicide, you're not only protecting your hydrangeas from diseases but also nourish them with an essential nutrient. Copper deficiency in plants usually shows signs like pale leaves and wilt.
Bonide Copper Fungicide uses a low concentration of copper suitable for treating plant diseases like:
Anthracnose
Leaf spot
Botrytis blight
Soft rot
Needle blight
Powdery mildew
Downy mildew
Rhizoctonia blight
Rust
Dollar spot
White mold
European canker
Collar rot
Crown rot
Blossom blast
Quince rust
Flyspeck
Scab
Fireblight
Peach leaf curl
Though copper is an organic fungicide, the manufacturer advises gardeners to secure the treated plants and use safety equipment upon application. Copper is harmful when absorbed by our skin and may cause skin irritation. However, once the fungicide dries up, your kids and pets can freely roam around your home.
Bonide Copper fungicide is ideal to use in the early stages of fungal disease and disease prevention in hydrangeas. It works best when you first remove the infected parts of the plants.
Pros
Organic fungicide
Kid and pet-friendly
Affordable
Multi-purpose
Cons
Improper use can do more harm to your plants
7. Neem Organics Pure Neem Oil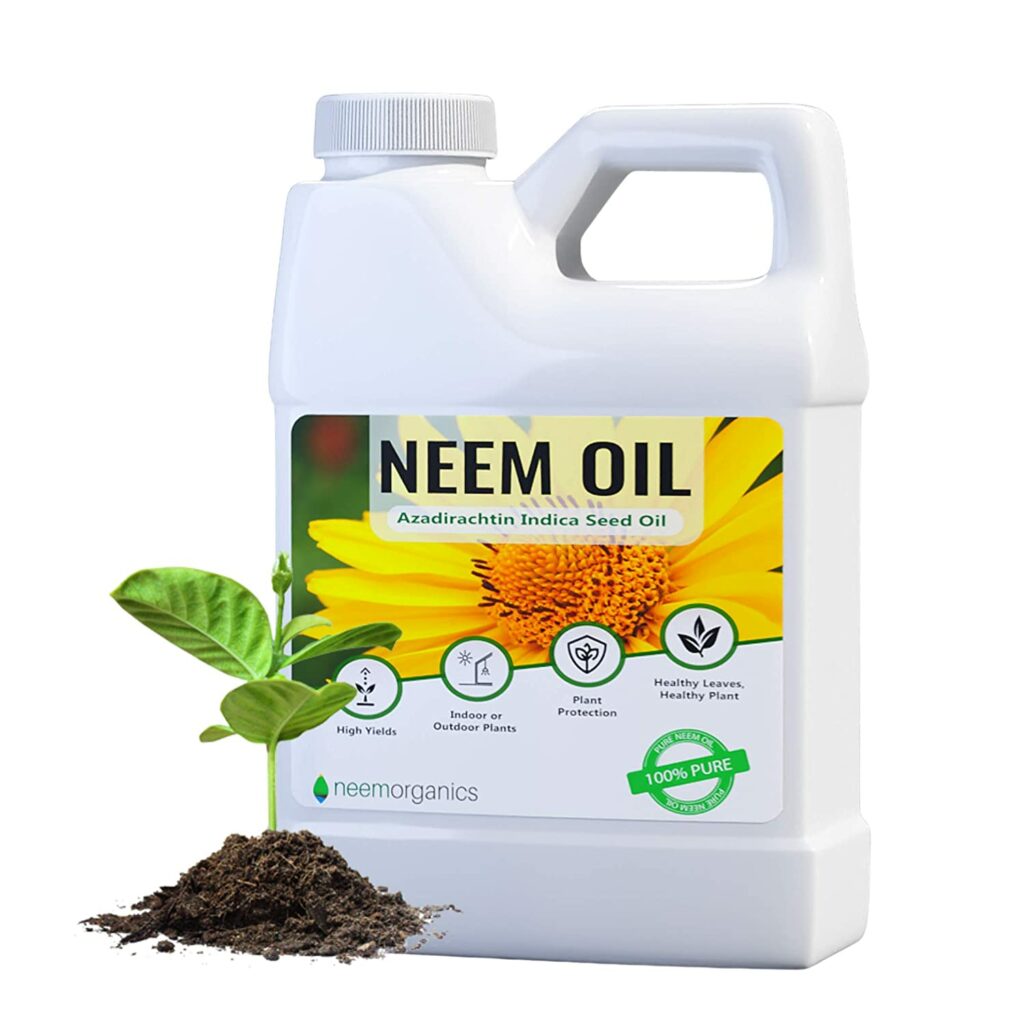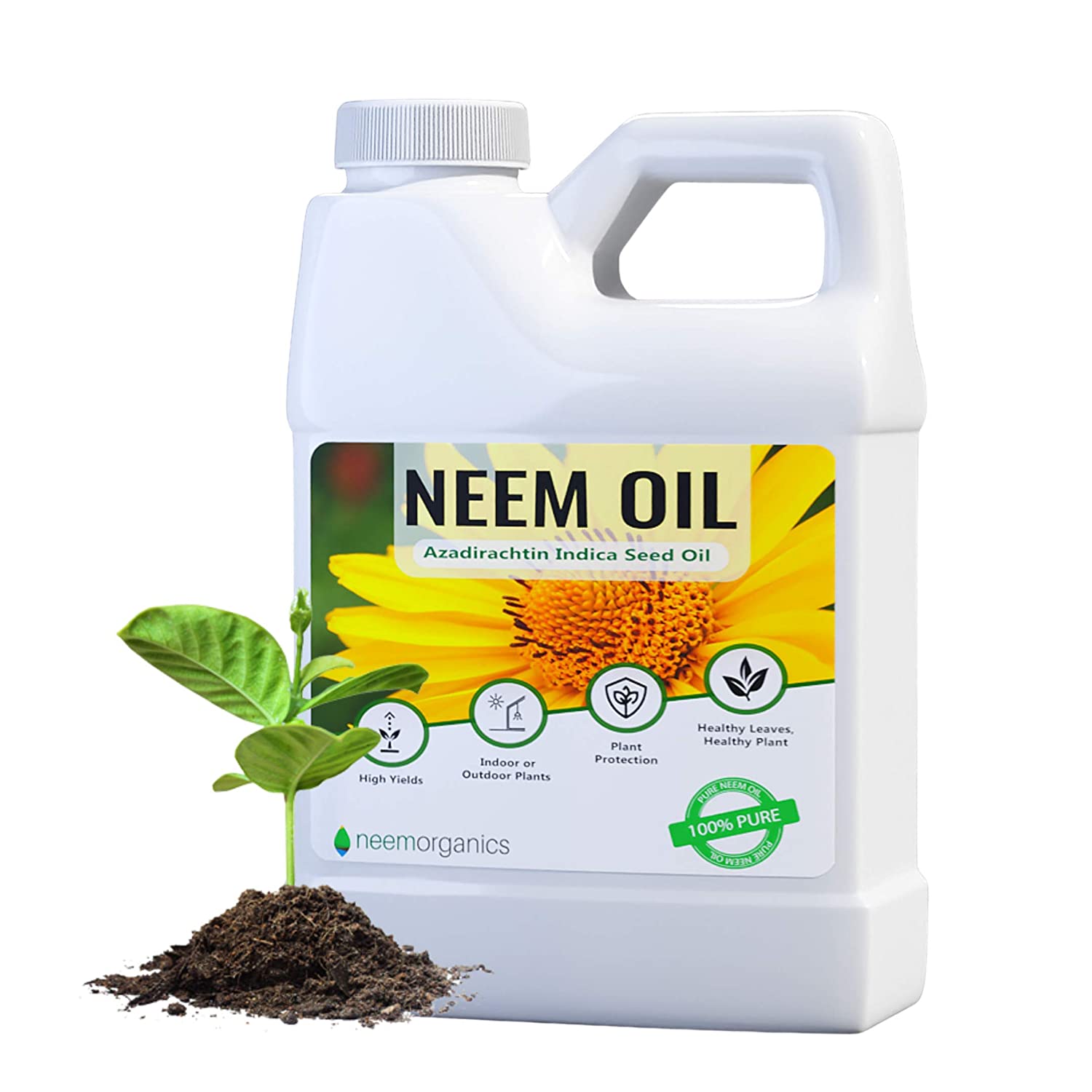 Our list of fungicides will never be complete without neem oil. Neem oil can probably be considered as a plant's best friend for being a pesticide, insecticide, and fungicide in one bottle. Alongside copper, it is an organic fungicide for both indoor and outdoor plants.
Since neem oil is a plant-friendly treatment you can use it on most flowering plants, ornamental plants, landscaping, fruit trees, vegetables, and herbs. It can also be used for all seasons and serves as a dormant spray for overwintering fungal diseases.
Neem oil is derived from cold-pressed fruits and seeds of neem trees. Since it is essentially an oil, you may need to apply it early in the morning or late in the afternoon. Oil-based fungicides applied in hot temperatures can burn your plants.
Neem oil is also effective in the cultivation of dry soils, especially when there is less rainfall in the area. It is safe to say that neem oil is a part of the holy grail of most organic farmers for being environment, pet, and kid-friendly.
Pros
Organic fungicide
All-in-one solution for plant care
Environment-friendly
Safe to use around kids
The best treatment for rust in hydrangeas
Dormant spray for overwintering pests and diseases
Cons
Can burn your plants if not used as directed in the label
May not treat resistant fungal disease and severe fungal infections
8. Southern Ag Liquid Copper Fungicide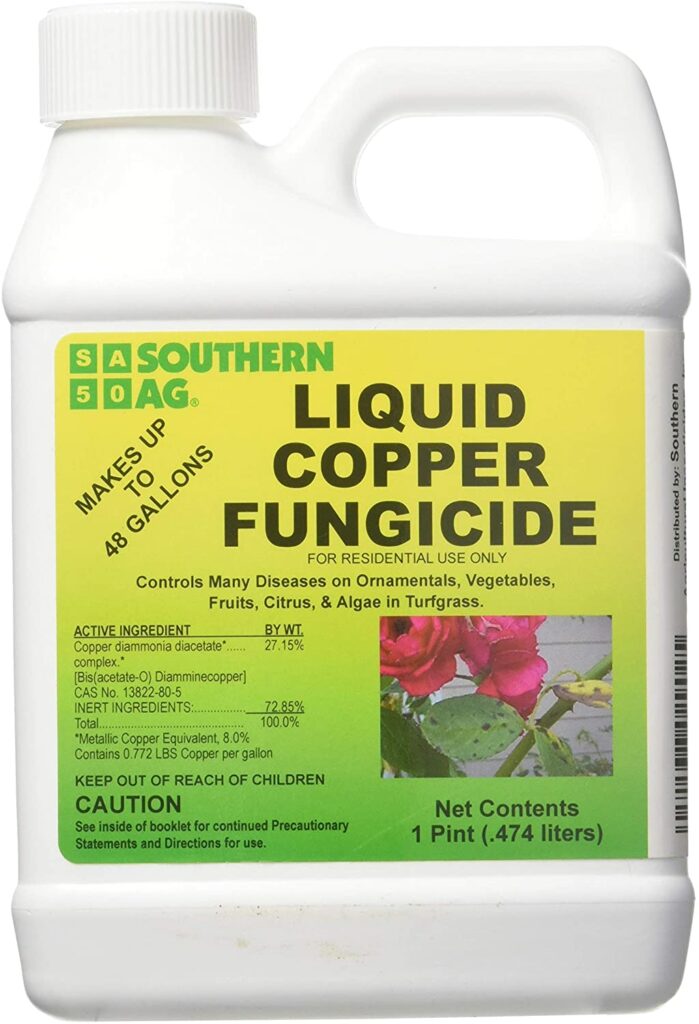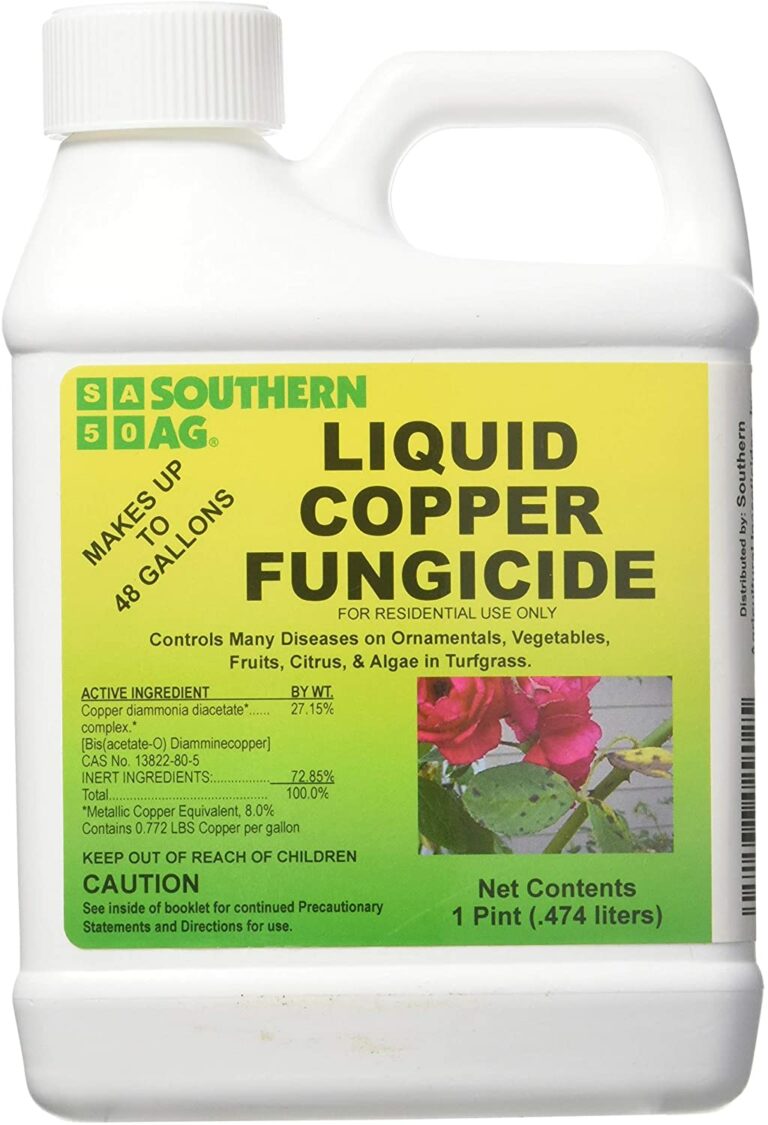 If you're looking for another variant for copper fungicide, Southern Ag is a good way to go.
Southern Ag Liquid Copper Fungicide is popular for being a good fertilizer to flowering plants and fungicide for most fungal diseases. It contains a stronger dose of Copper Diammonia diacetate, which is at 27.5%.
Liquid copper serves as a contact fungicide which means the solution must be applied to the affected part of the plant for it to work. It can help control diseases such as:
Bacterial leaf spot
Aralia Alternaria
Cercospora leaf blight
Botrytis blight
Cercospora leaf spot
Phytophthora dieback
Powdery mildew
Pseudomonas leaf spot
Entomosporium leaf spot
The manufacturer warns gardeners that only use liquid copper on the plants listed below. However, you may also use it for other plant species as long as you do a patch test first. It can also be used on a variety of ornamental plants, including:
Arborvitae
Azalea
Bulbs (Tulip, Gladiolus)
Canna
Chinese tallow tree
Dahlia
Dogwood
Gardenia
Geranium
Hibiscus, etc.
It can be used for severe fungal infection, but you need to use a shorter application interval than 7 to 14 days.
Frequent rains may also encourage the spread of plant diseases. So, you should apply the liquid copper more frequently. The manufacturer recommends using their label as a guide to avoiding harming your plants.
Liquid Copper Fungicides is essentially an organic fungicide and safe to use around pets and kids. However, make sure that your hydrangeas have completely dried out from the foliar spray before you allow anyone to go near the area.
It is also toxic to fish and other aquatic animals. So, avoid pouring the excess solution on water drains or nearby sewers.
Pros
Can be used on severe cases of fungal infection
Organic fungicide
Kid and pet-friendly
Affordable
Multi-purpose
Cons
Improper use can do more harm to your plants
9. Garden Safe Neem Oil Extract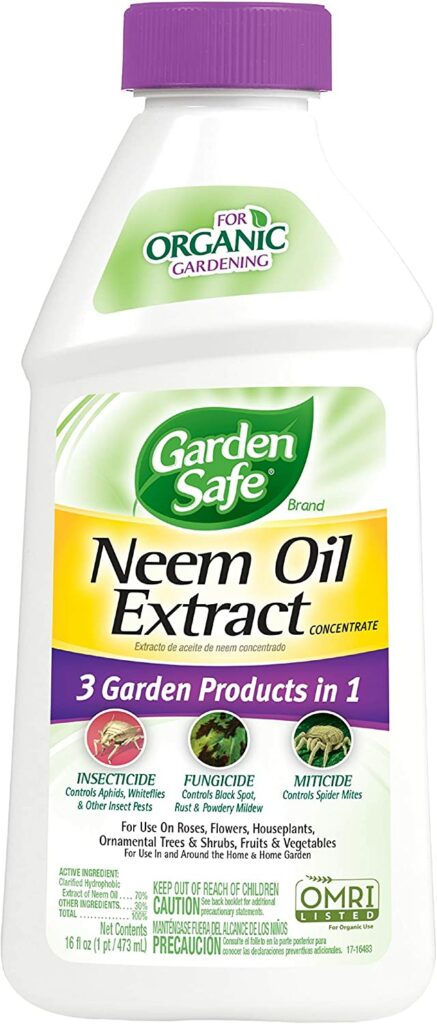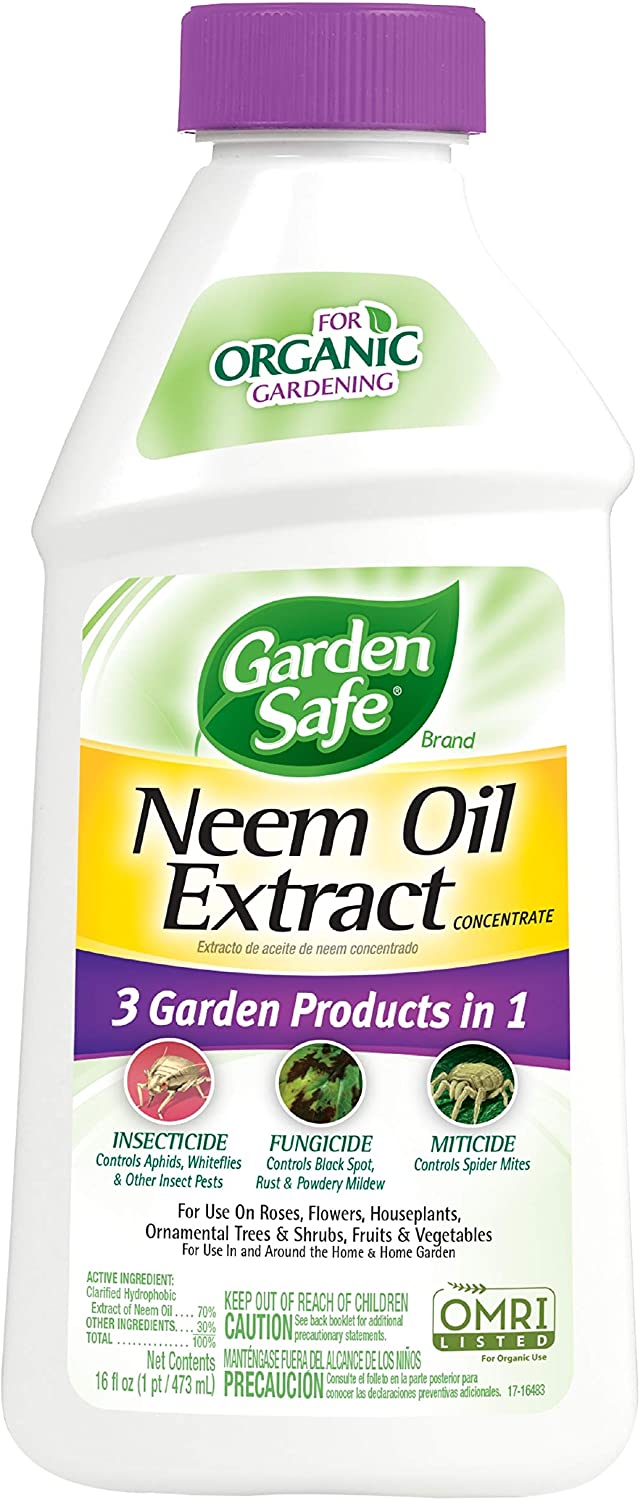 Garden Safe Neem Oil Extract is another popular brand for neem oil. As an organic fungicide, you can use it for several plant varieties both indoors and outdoors.
It acts as both contact insecticide and fungicide. That means you have to apply it directly to the infected part of the plant to kill the fungus and pests.
The manufacturer claims that this fungicide can treat powdery mildew within 24 hours of the first application. It can also help control diseases such as:
Black spot
Rust
Anthracnose
Downy mildew
Leaf spot
Botrytis
Needle rust
Scab and flower
Twig and tip blight
Alternaria
As a fungicide, you may use it on most plant varieties such as:
Fruits
Vegetables
Herbs
Spices
Roses
Houseplants
Flowers
Trees
Shrubs
What makes Garden Safe a gardener's favorite is its comprehensive guide in using its product. Here are some preventive tips from the manufacturer to ensure effective disease control in your hydrangeas:
Apply Garden Safe® Brand Neem Oil Extract Concentrate on a 7 to 14-day interval to control the diseases in your plants.
To prevent rust, leaf spot diseases, anthracnose and scab, start applying the neem oil at the first sign of spring budding.
To prevent powdery mildew, apply neem oil on your plants during midsummer or when the disease is first detected. Continue applications until the disease gets fully eliminated.
The manufacturer recommends that if the disease has started, apply the neem oil in a one-week interval. Once the fungal disease has subsided, revert to the 14-day application interval as maintenance protection for your hydrangeas.
For the optimal performance of Garden Safe® Brand Neem Oil Extract Concentrate, you should avoid doing the following:
Add adjuvants like spreaders, stickers, and extenders
Mix the neem oil with cold water with a temperature of less than 34°F
Apply to stressed plants or newly transplanted hydrangeas before root establishment.
Apply to sensitive plant species like impatient flowers, hibiscus flowers, fuchsia flowers, some rose variants, ornamental olive trees, or carnation varieties without patch testing.
Like most neem oil products, Garden Safe Neem Oil Extract is safe for the environment, kids, and pets. It can also be used as leaf polish on hardy plants.
Pros
Multi-purpose
Kills eggs, larvae, and adult insects
Dormant spray for overwintering eggs and diseases 
Organic
Kid and pet-friendly
Cons
Improper use may burn your plants
10. Mancozeb Concentrate Flowable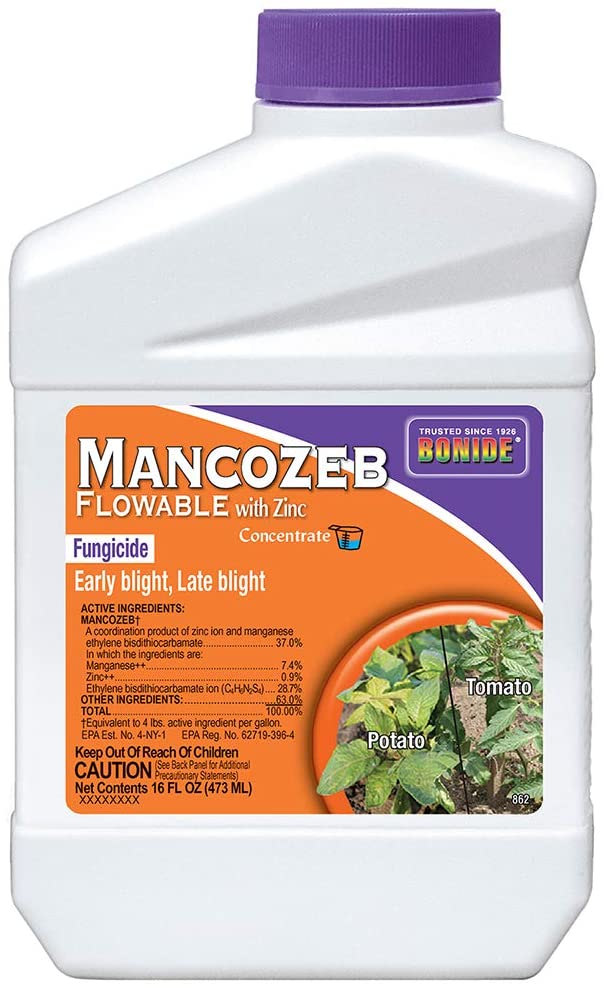 You might have heard Mancozeb a lot of times when searching for a fungicide. Due to its effectiveness and popularity, we can't complete the list without Mancozeb Concentrate Flowable. Most gardeners find this fungicide effective for Cercospora leaf spots in hydrangeas.
Mancozeb Concentrate Flowable contains an active ingredient of Mancozeb that builds 37% of the fungicide. Mancozeb is a contact fungicide that attacks the fungus in plants only when applied directly onto the affected part. It is also more recommended to use for outdoor crops and plants.
It can help control:
Fabrea leaf spot
Rust
Scab
Fire blight
Black rot
Downey mildew
Anthracnose
Gummy stem
Michrodochium blight
Botrytis leaf blight
Leaf mold
Septoria leaf spot
Cylindrocladium rot petal blight
Phytophthora twig and bud blight
Alternaria
This fungicide is formulated to treat diseases in plants such as :
Tomatoes
Potatoes
Onion
Cucumbers
Melons
Corn
Grapes
Apples
Azaleas
Geraniums
Roses
Zinnias
Hydrangeas
Bonide's Mancozeb also contains zinc which is responsible for the activation of enzymes needed for healthy protein synthesis in plants.
Many gardeners applaud this fungicide since they can see immediate results after using mancozeb for the first time. However, you should also remember that it is not an organic fungicide and therefore, not suitable for organic gardeners.
Since it's a synthetic fungicide you are required to use safety equipment when applying it to your plants. Chemical absorption through skin or eyes may irritate both pets and humans.
You should also make sure to let the fungicide dry out first before letting anyone near your hydrangeas. Just like other synthetic fungicides, mancozeb is not a kid and pet-friendly option.
Pros
Effective for Cercospora leaf spots in hydrangeas
Affordable
Multi-purpose
Cons
Synthetic fungicide
Not a kid & pet-friendly
Needs to be sprayed at regular intervals though since rain and weather can remove it.
---
What You Need To Know About Hydrangeas?
Hydrangeas are one of the beautiful varieties of flowers that stands out for their globe of multiple flower heads in colors blue, pink, lavender, and white. They usually bloom in spring and summer. Contrary to what it looks like, it's a shrub that can grow for up to 15 feet.
Hydrangeas are low-maintenance plants. They only get infested with pests of fungal diseases when they are stressed. They grow in USDA hardiness zones 3 to zone 7.
When is the best time to plant hydrangeas?
Well, the best time to plant hydrangeas is during fall or early spring. During those seasons, they have a lot of extra time to build a strong root system for the upcoming growing season.
Also, they should be planted 2 feet apart to make room for the root growth and prevent them from competing on nutrients.
Sun Requirements
Hydrangeas love the full sun but hate the scorching heat from the afternoon sun. It needs to be placed in a spot where they can get a lot of morning sun and shade during the afternoon.
Water Requirements
For newly planted hydrangeas, water them three times a week to encourage root and stem growth.
For adult hydrangeas, an inch of water per week would be enough.
Water them early in the morning to hydrate and prepare them for the hot temperatures of the day.
Fertilization Requirements
Each type of hydrangea has a specific fertilization requirement and is usually applied from March to June. The specific ratios are as follows:
Oakleaf and panicle hydrangeas: two fertilizer applications in April and June.
Bigleaf hydrangeas: Several light fertilizer applications in March, May, and June.
Smooth hydrangea: One fertilizer application during late winter.
Pest and Disease Control
Hydrangeas are not prone to pest infestations and fungal disease. However, when they are not in their optimal health, pests and fungus take advantage of them.
The usual fungal diseases in hydrangeas are:
Leaf spots
Blight
Wilt
Botrytis
Powdery mildew
The usual cause of fungal diseases in hydrangeas is poor air circulation and malnutrition.
Make sure to place a small distance between your plants to let the air flow around the flowers and prevent making a conducive environment for fungus to thrive in.
Also, make sure to keep your hydrangeas healthy by always checking the soil, and applying fungicides for prevention.
Final Thoughts
Hydrangeas add a homey feeling to every home garden. However, when they get infected with fungal diseases, you'll notice that sudden change of aura.
From our list above, the best fungicide for hydrangeas is those with active ingredients chlorothalonil, myclobutanil, and mancozeb.
For preventing diseases in hydrangeas, you can always count on neem oil and copper fungicides. We hope that this post helped you find the best fertilizer for hydrangeas in the market and saved you from the hustle and bustle of product selection.
You might also like: 10 Best Neem Oil For Your Plants
If you find this post helpful, please share this post with your friends. Also, let us know in the comments which fertilizer worked best for you.