After the snow started to melt in spring, most homeowners are welcomed with unsightly rocks all over their lawns.
Using the best landscape rock removal equipment for your garden can help ease the back-breaking and tedious task of removing the rocks in your lawn. Imagine how much time and effort you can save in cleaning up your yard using the right tools.
In this post, we will categorize the rock removal equipment based on the size of rocks in your lawn.
Many new homeowners are also dealing with long-neglected gardens where big rocks got deep in the soil. So, they may need to till the soil and unearth them for a better landscape going forward.
Let's start!
---
Landscape Rock Removal Equipment For Big Rocks in Home Gardens
Some gardeners and landscape artists usually take the help of the good old spade and shovel to move rocks.
It is efficient if you're only dealing with a small area. However, if you have a big lawn to clean up, lifting heavy stones can cause serious injuries to your joints.
The easiest way to lift the rocks to the surface is to use a tiller. In most cases, homeowners change the type of tines to comb the soil and segregate the big rocks into one location.
Due to the hard surface of rocks, some of the tines may break. The good thing is most tillers or cultivators have replaceable tines.
For a heavy-duty landscape clean-up here are among the best ones to have:
1. Mantis 7940 4-Cycle Gas Powered Cultivator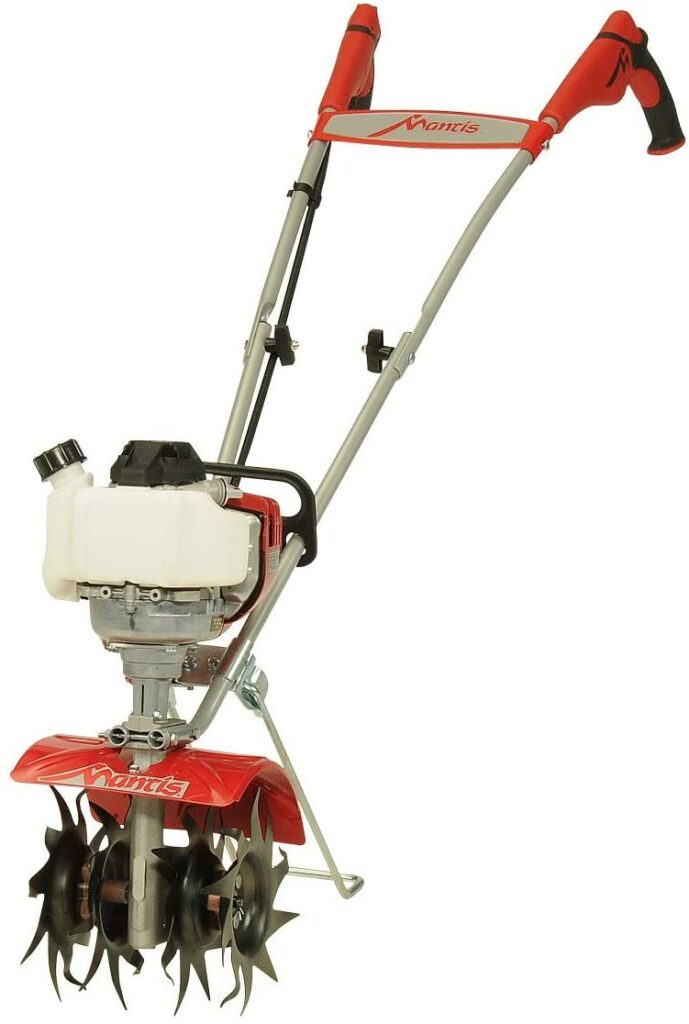 If you have a small to medium-sized garden, this Mantis Cultivator can be your all-around partner in improving your landscape. It is lightweight and easy to maneuver around your lawn. It doesn't have wheels like other cultivators so it can reach a depth of 10 inches in the soil.
This gas-powered cultivator only weighs 24 pounds and has foldable handles for easy storage. It is powered by a Honda 4-cycle engine that only requires gas instead of a fuel mix. It runs with a 25cc engine with a tine speed of 240 rotations per minute. The throttle is placed on the handlebars for easier control.
The oil used for the engine is 10W-30 4-cycle engine oil. You may also purchase its attachments so you can use it as a lawn aerator, lawn dethatcher, border edger, and for plowing the soil. Gardeners love it because it is small but does its job well, especially for rocky, hard, clay, and compact soil.
The best features that gardeners like about using to remove rocks is its maneuverability and power to unearth small to medium-sized rocks under the soil.
In some cases, it jumps when it hits a rock and some rocks get stuck in the tines. However, once they are removed, this Mantis tiller will continue to work as it is. Its lack of wheels and kickstand works to its advantage since there would be no chances of rocks getting stuck between the wheels and the tines. It is a piece of versatile equipment that is great for gardening and building landscaping beds.
Pros
Lightweight and easy to maneuver
Ideal for small to medium-sized gardens
Can till up to 10 inches deep
Sturdy curved tines that can unearth small to medium-sized rocks
Multi-purpose if connected to its other attachments
Has no wheels which reduces the chances of rocks getting stuck between the wheels and the tines
Cons
Small rocks may get stuck but can be removed to keep them operating.
2. Yard Butler Twist Tiller Heavy Duty Manual Raised Bed Garden and Flower Box Claw

If you're a believer in the power of the good old shovel in removing the rocks in your garden, a simple tool like the Yard Butler Twist Tiller can be a game-changer for you.
It is suitable for gardeners who have small gardens and prefer the manual work of removing medium to large rocks in the garden.
This twist tiller has a long handle that spans 38 inches which will ergonomically keep you from constantly bending your back.
The handle is ½-inch powder-coated steel connected to a 12 inches T-shaped handle. This simple tool uses the twisting technique to help you break hard and compacted soil. It helps aerate, loosen and turn the soil which has a lot of benefits like improving the soil condition and unearthing deep-seated rocks in the plant bed.
The claw after the T-bar is 6 inches long and six inches wide. Due to its size, it's the ideal tool for preparing plant areas or plant beds in your landscape garden.
What most homeowners like about this twist tiller is it is welded which makes it more durable than other tools connected by screws and pins.
Most gardeners use it best together with a bow rake to remove rocks in the soil. There is also a technique to avoid damaging its parts.
Make sure to make a dent in the soil using a spade to allow the claw to penetrate the surface of the hard soil. Bit by bit, allow it to go deeper. Otherwise, you will risk breaking it. Just imagine how you remove a cork in a bottle of wine.
If the soil is too hard, you may water it and wait for 10 minutes to loosen the soil. You may also do the garden work a day after it rains so it will be easier to work on the soil.
It's best to wear your gardening gloves while using this tool to avoid getting blisters due to the twisting movements required.
Among its best features, its edge among motorized tillers and other landscape rock removal equipment is it is gentle for those with shoulder injuries like shoulder bursitis. Since there's less tension on the arms resulting in less pain.
Pros
Ideal for small gardens
Best for gardeners with joint injuries
Environment-friendly option
No noise
No smoke and fuel needs
Helps easily unearth rocks underneath the plant bed 
Durable due to welded parts
Powder-coated to withstand the harsh weather
Cons
A bit heavy for some gardeners
May break if used with the wrong technique
3. Sun Joe TJ599E Aardvark 2.5-Amp Electric Garden Cultivator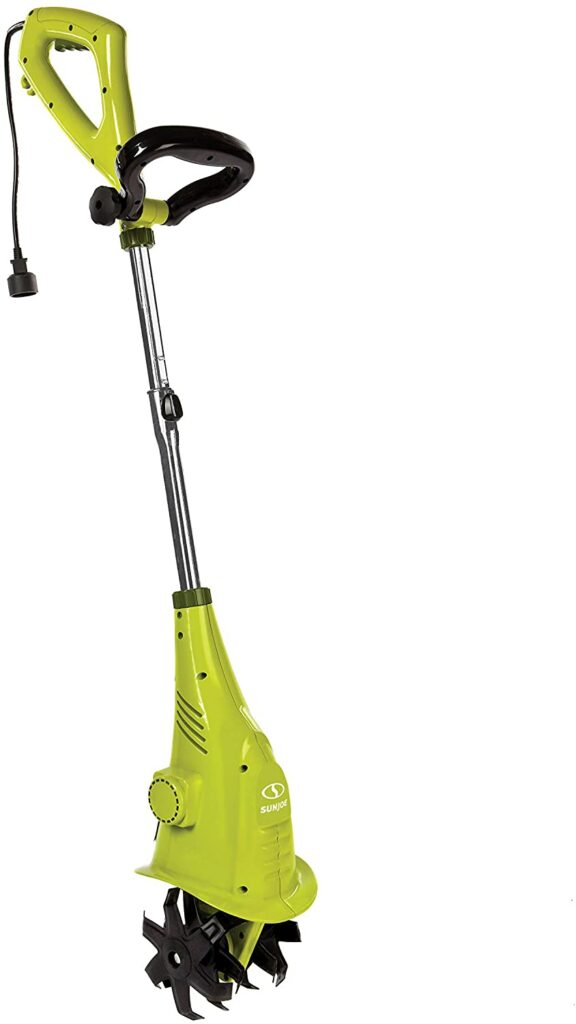 For more discreet garden work, choosing electric landscape rock removal equipment is the best option.
Sun Joe TJ599E Aardvark 2.5-Amp Electric Garden Cultivator is among the best garden cultivator for removing rocks on your landscape. It can work up to 6 inches deep and 6.3 inches wide compacted soil.
Like its competitors, it doesn't have wheels which helps prevent rocks from getting stuck. It's also easier to maneuver in a much more discreet operation, unlike gas-powered cultivators. Its best feature is its telescopic shaft which allows you to adjust its height. Its adjustable feature makes it a suitable option for gardeners with back injuries.
This landscape rock removal equipment has four durable steel tines that rotate through its 2.5 amp electric motor. If you're done with the oil, carburetor, and flammable stuff, choosing electric equipment can be the solution you're looking for. It weighs 9.9 pounds, lighter than its competitors.
For the rock removal process, small rocks may jam the tines. However, what's good about its design is it has a slip clutch that protects the motor from the jams caused by the rocks.
Some gardeners also find it affordable for its capacity and performance. The only problem is probably the constant struggle in removing stuck rocks in the tines.
Pros
Lightweight
Easy to maneuver
More discreet than gas-powered cultivators
Has an adjustable telescopic handle to keep you from bending
Ideal for small to medium garden landscapes
Comes with a set of sturdy tines and a slip clutch to protect the motor
Cons
Some gardeners may find it annoying to have rocks keep on getting stuck in the tines.
4. Earthwise TC70001 11-Inch 8.5-Amp Corded Electric Tiller/Cultivator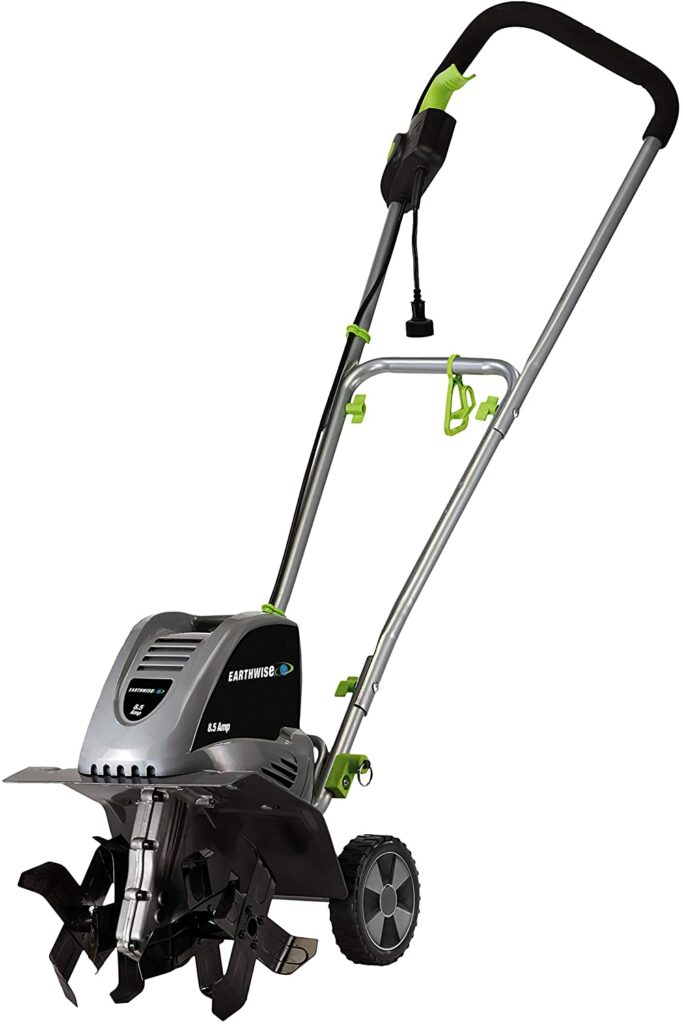 Earthwise tiller is a more powerful electric tiller cultivator with an 8.5-Amp electric motor. It is an ideal option for landscaping tasks in small to medium gardens. Unlike the other options in this list, it has two wheels that can help move it around. Its 4 tines can dig 8 inches deep and 11 inches wide.
One of its best features is it is lightweight and has an 11-inch handle with a single lever switch. The Earthwise garden tiller cultivator is ideal for small to medium-sized gardens in your home.
What impresses gardeners is its gas-like motor power without the fumes and the hassles of handling gas. When this tiller runs over a rock, it only jumps over but surprisingly does not encounter any stuck rock on the tines. However, the pivot bolts on the wheels may tend to loosen over time.
Pros
Strong torque for its price and size
No fumes and gas preparation needed
Lightweight and easy to maneuver
Rocks rarely get stuck on the tines
Cons
The bolts on the wheels may tend to loosen over time
5. Sun Joe TJ604E 16-Inch 13.5 AMP Electric Garden Tiller/Cultivator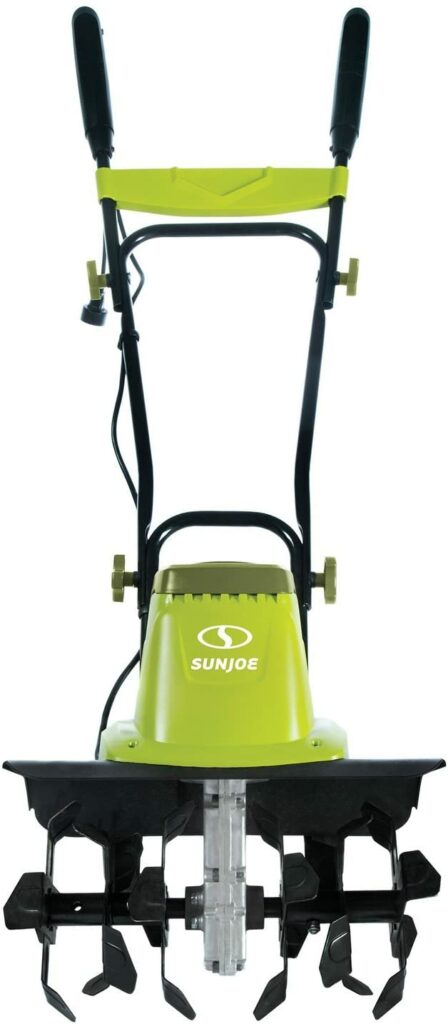 Sun Joe also has a higher-powered engine for a wider garden. Sun Joe TJ604E 16-Inch 13.5 AMP Electric Garden Tiller is composed of 6 tines that can loosen up to 16 inches wide and 8 inches deep in compacted soil. It has three adjustments for the wheels so you can move it with comfort.
The tines run at 370 rpm through a 13.5 amp engine. It has the same build as its smaller version and only differs in size and engine strength. Gardeners love it because it is strong enough to push big rocks aside and bring them to the surface.
Since this tiller is corded, you no longer need to deal with gas and its fumes. Electric tillers are also more discreet than gas-powered ones so your neighbors won't complain much when you start working on your landscape.
Pros
Strong engine
Wider tilling scope due to 6 tines
No gas and fumes required
Discreet and lightweight
Heavy-duty
Unearth and set aside medium to large rocks
Cons
May need some weight to till deeper in the soil
---
Small Rocks and Gravel
If the kind of rocks that you want to remove in your garden is on the surface, some simple hacks can be achieved. Gravel and pebbles are usually scattered on the lawn during the winter season.
So, when the spring comes in most of the gravel is scattered almost everywhere which can be frustrating.
Below are some of the landscape rock removal equipment for keeping the gravel away from your lawn to make it look neater:
1. EGO Power+ RBA2100 Rubber Broom Attachment for EGO 56-Volt Lithium-ion Multi-Head System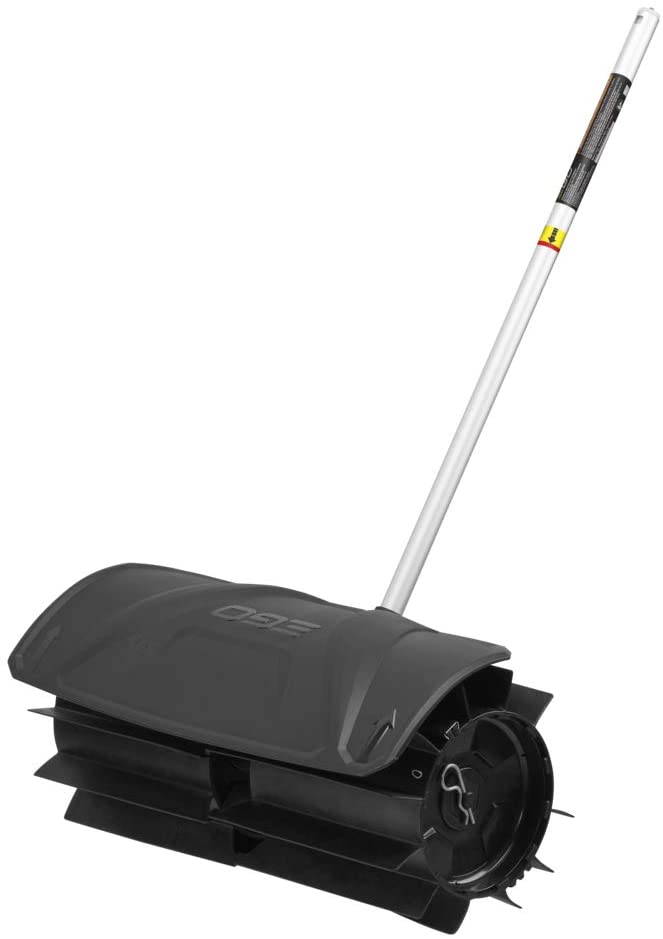 For small to medium rocks scattered around your yard after winter, the most ideal tool to use is a motorized rubber broom.
EGO Power Broom has a 21 inches swath that helps clean 21 inches of your yard in one sweep. It is an ideal tool for moving rocks and heavy debris.
The rubber sweeper has a detachable guard to prevent stuck rocks and debris. Its power comes from a battery pack that can last for 20 minutes of operation. It's bigger than it looks and a bit heavy to move around.
So, it is suitable for those who have enough strength and energy to do the heavy lifting and move it around the yard.
Gardeners consider this landscape rock removal equipment helpful because of its power and ability to handle tough jobs like moving heavy debris around the yard. It also doesn't have the loud noise and fumes that come from gas-powered equipment which is an advantage for homes in closely spaced neighborhoods.
Another advantage of this power broom is it is multi-purpose. You can use it to move rocks, tough weeds, and a few inches of snow.
However, if you are looking for something that you can either push and pull or something that functions with a smart system, this brand is not the one for you. It is also not advisable for those who can't lift heavy equipment and gardeners with shoulder and hand injuries.
Pros
Multipurpose – good for moving rocks, heavy debris, and snow
Can clear out small to medium-sized rocks on the soil surface
21-inch clearing capacity
Ideal for tough garden works
Has detachable Guard to prevent debris build-up
Tool-free rubber broom attachment
5-year warranty
A full battery lasts for a 20 to 30-minute operation
Cons
Requires arm strength due to its weight
Not suitable for the elderly and persons with disabilities
Doesn't have wheels for weight support
2. STIHL KW-KM PowerSweep™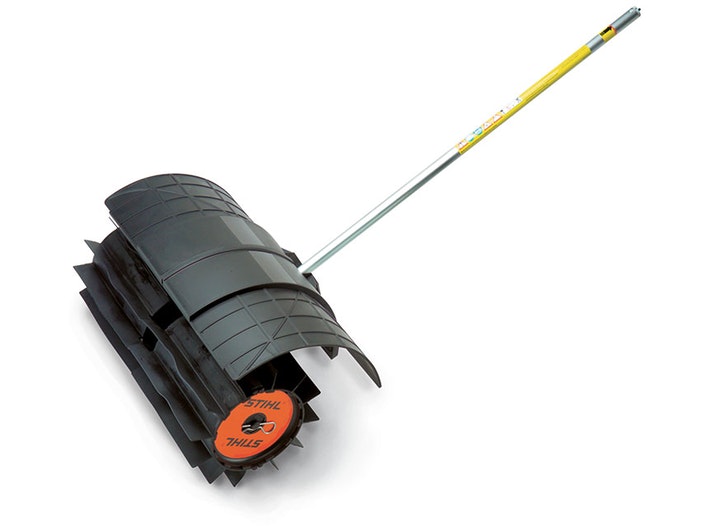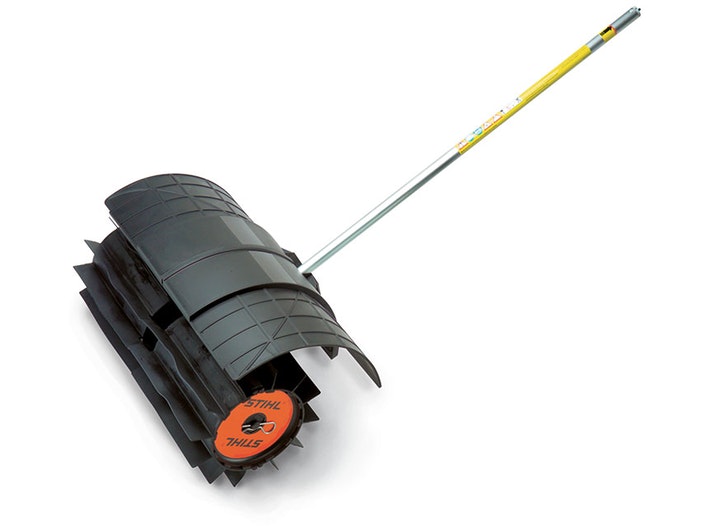 STIHL Power Sweep is probably one of the most recommended landscape rock removal equipment out there.
Many gardeners have uploaded their reviews and demonstration of using it in moving rocks. It was even jokingly dubbed as a squeegee on steroids due to its powerful cleaning ability.
STIHL Power Sweep has a powerful KombiSystem that handles the rubber flaps. The strength comes from its durable flaps as well as the engine that has no holds barred in moving anything in front of it.
Like EGO, it also doesn't have wheels to support its weight. However, you may buy a wheel attachment to help you move it around. You can check it here.
Most landscape service providers use STIHL due to its fast and efficient operation in making yard work easy and fast. If you aim to save on.
Probably, the only challenge in using this equipment lies in its maneuverability. It can be quite heavy and may cause wrist injuries if you don't have enough muscle strength to lift and move it around your yard. The good thing, however, is you can buy a wheel attachment for it.
Pros
Strong KombiSystem
Durable rubber flaps
Can move heavy debris, rock, snow, and even water
Used by professionals
No fumes
No gas required
Ideal for gardeners who wants to save on landscape service fees
Cons
It doesn't have wheels but you can buy them separately from the same manufacturer. 
It is heavy and may not be suitable for the elderly and those with disabilities and arthritis.
3. CRAFTSMAN 16 Gallon 6.5 Peak HP Wet/Dry Vac, Heavy-Duty Shop Vacuum with Attachments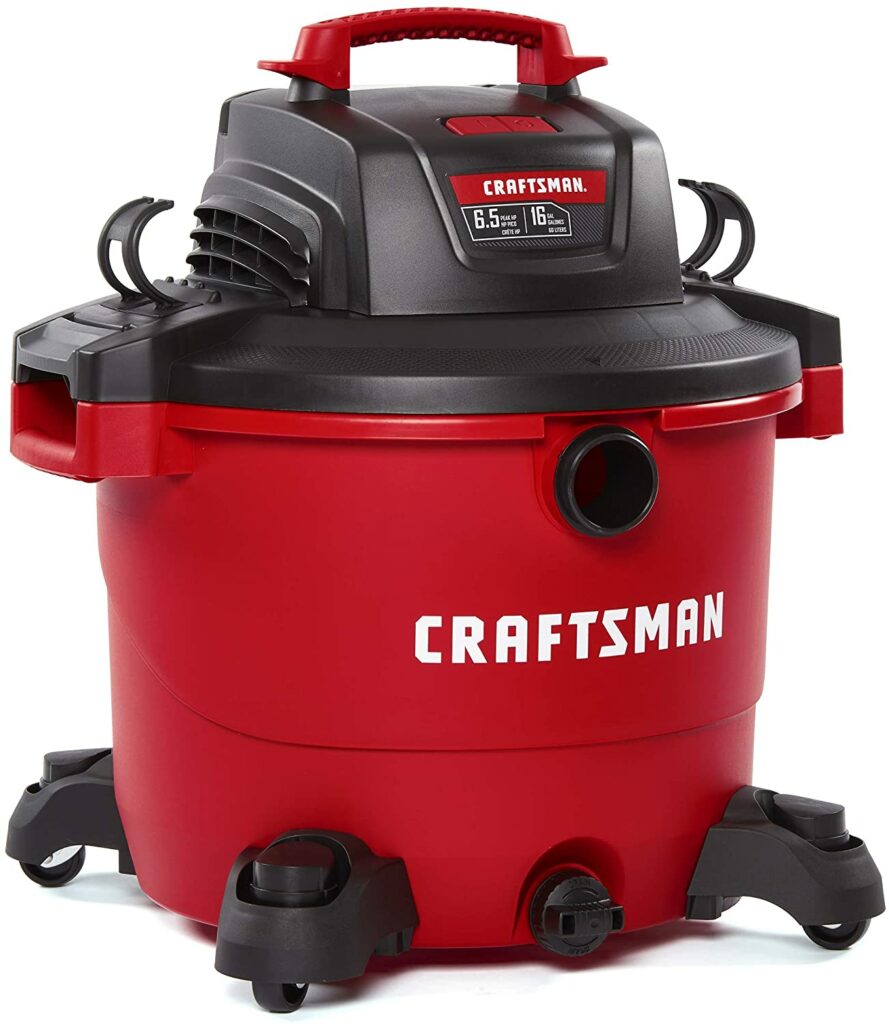 If you find no luck in moving rocks, the most unexpected but useful option is a vacuum cleaner.
Yep! We know it's quite sketchy, but some gardeners achieved a great deal of relief by using their vacuum to clear up gravel and small stones in the lawn. Craftsman wet-dry vacuum is one of the heavy-duty brands that has a powerful suction to do the job.
This vacuum has a powerful 6.5 peak horsepower and an oversized drain suitable for collecting small rocks and even acorns.
The 7-foot hose also has a 2 ½ inch diameter which fits small rocks and gravel. The hose is also built with dual-flex technology which allows you to move it 180 degrees without kinking.
It also comes with the following accessories:
2 Extension Wands
Utility Nozzle
Car Nozzle
Wet Nozzle
Qwik Lock Filter
Dust Collection Bag
Homeowners and gardeners alike like its powerful suction and is more discreet than old vacuum brands and versions. It is a good alternative for brooming or leaf-blowing your landscape and even your garage.
If you are planning to use it to clean pine needles in the gravel area of your lawn, this might not be the tool for you since it will also suck all the rocks and gravel.
The only concern most gardeners encounter with this vacuum is the size of its hose. However, it only takes some time and you'll get used to it and make it easier to maneuver in any direction you want.
Pros
Multipurpose: Can be used on dirt, debris, sawdust, liquid waste, and rocks and gravel
Big hose 
Strong suction power
Huge drain to handle rocks
Complete set of accessories
Not more lifting unlike using power brooms
More discreet
Ideal for the elderly and persons with hand or shoulder injuries
Leaves your lawn squeaky clean
Cons
May not handle large rocks 
Not time-efficient since you may need to frequently empty the drain
---
Simple Landscape Rock Removal Equipment For Gardens
If you still have no budget for some huge investment in garden tools, you may count on the following simple tools.
Though they may require physical work, you may count the labor as an excuse for a quick workout. Just think of it as hitting two birds with one stone: building muscles and cleaning the rocks in your yard.
Bow Rake or Landscape Rake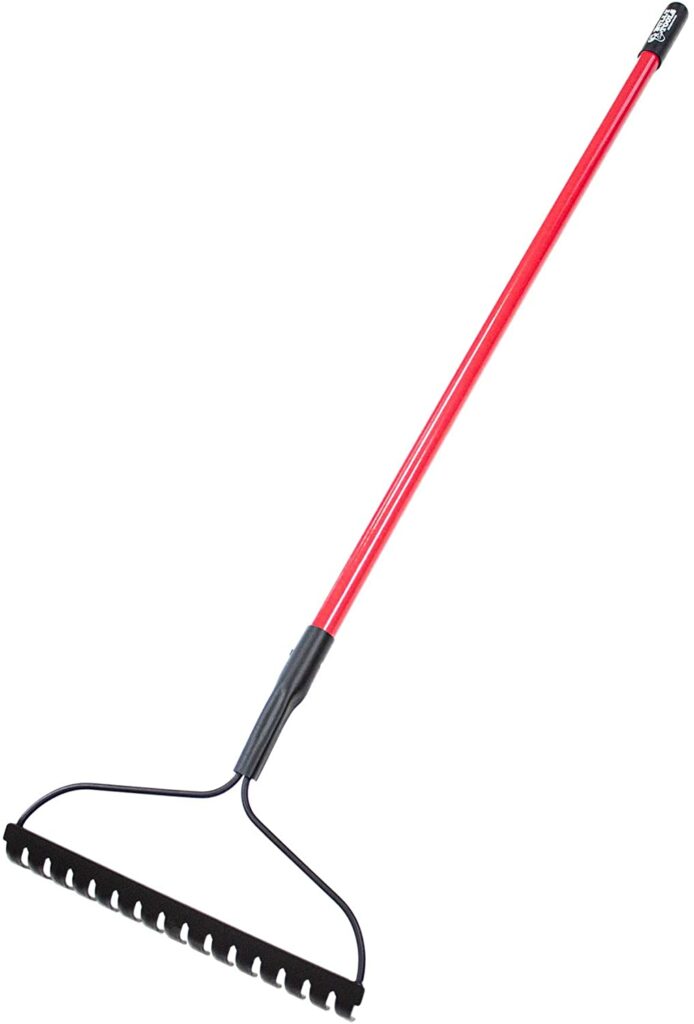 First up is the good old bow rake that can help clear out the rocks on the surface of your lawn. It is easy to move around as long as you have the arm and core strength.
Bully's bow rake is a heavy-duty bow rake welded together to improve its durability. However, it comes in a hot pink color which may discourage some male gardeners. One good thing about its bright color is it is easy to locate when you can't find it around your yard.
Other options are from Miya bow rake and Midwest Aluminum Landscape Rake.
Shovel/sifter
If you got loose soil or you're done turning it to expose the rocks underneath, segregating the soil and rocks can be a workout. Good thing, there are now some tools that can make segregation easier.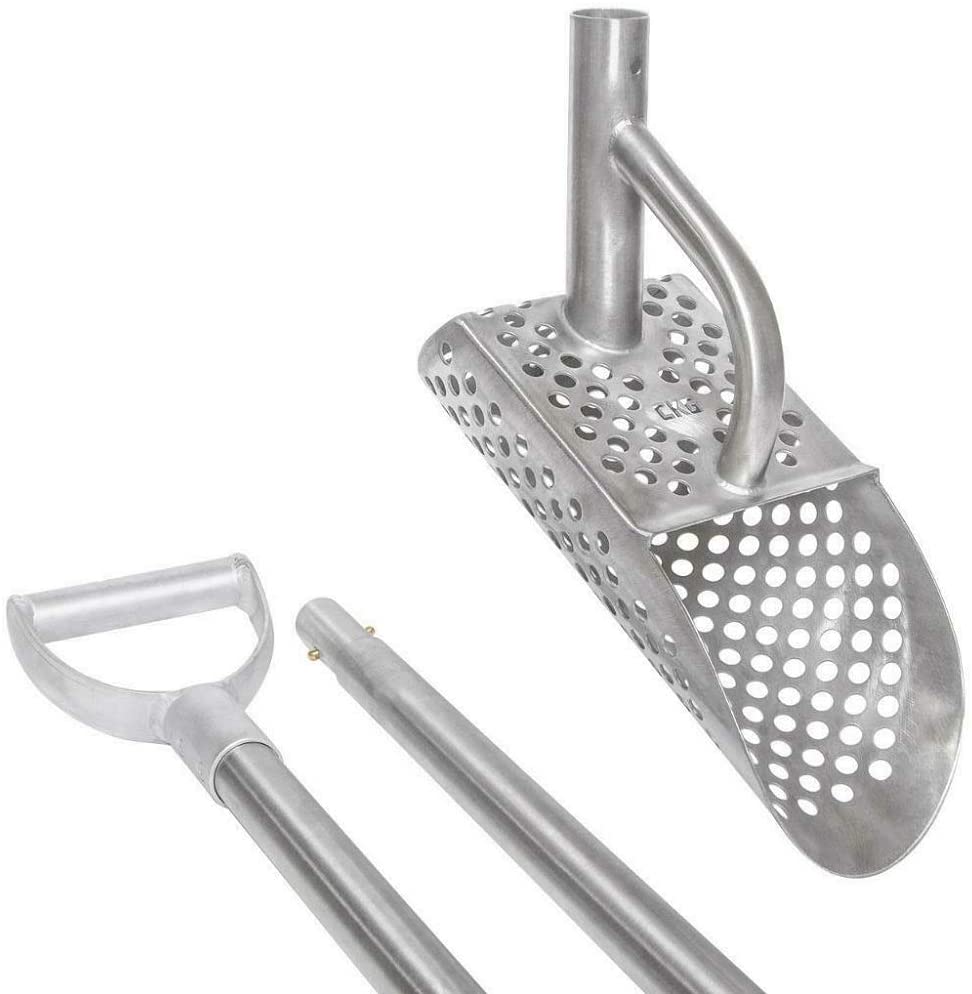 CKG Shovel Sifter is a resourceful idea to use for the rocks in your lawn. However, it will only work properly as long as your soil is not wet or clumped. Otherwise, the damp soil will clog up the holes.
Soil Sifter
A lot of gardeners have made a DIY sifter using screens attached to some old scrap wood. You may easily do it as well; however, you may also buy a ready-made one that is easy to use.
KS Kabells Soil Sifter is a simple screen attached to an ergonomically efficient wooden frame.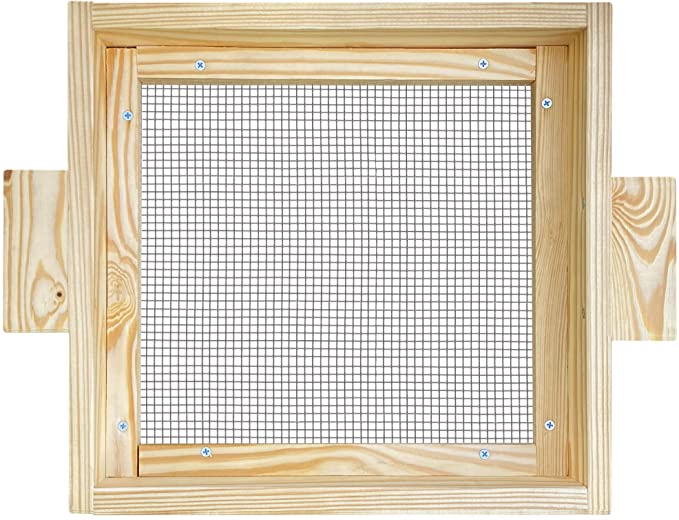 Rock Screening Attachment To a Tractor
If you are dealing with huge rocks and boulders in your landscape, it's best to use or rent a tractor and hook it up with a rock screening attachment.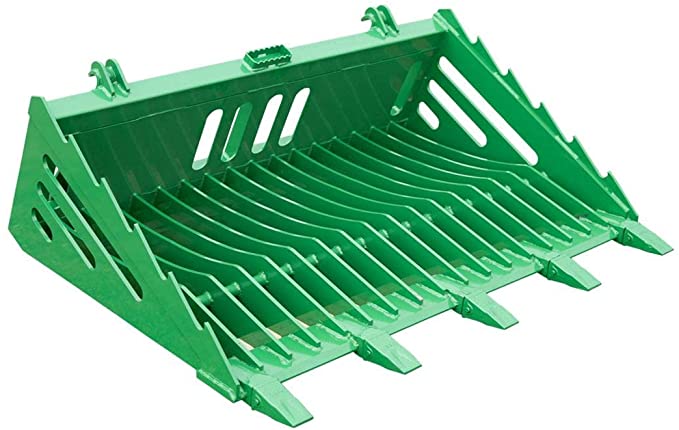 With a few twists and turns, you'll be able to remove the rocks in a few days up to a week without breaking your back. You may try using the brand Titan Attachments Skeleton Rock Bucket with Teeth.
DIY Soil Sifter
Probably the most cost-efficient option to remove rocks in your yard is making a do-it-yourself soil sifter. You can already have your sifter for about $20 to $50.
Here are the materials you'll need:
Materials:
8 pieces 2×4″ plywood
20 pieces nail
Saw
Hammer
Directions:
(1) Cut the wood based on your desired size. Each side should have two pieces of wood so that the first one will serve as the frame and the other one will serve as handles.
(2) Build the frame by nailing the wood together to form a rectangular shape.
(3) Once the frame is done, attach the chicken wire by hammering the staples to hold the screen in place.
(4) Cut the excess chicken wire using the tin cutter.
(5) Place the other set of wood and use the flatter side of the wood to the frame to make it look like a handle. Check the image below for reference.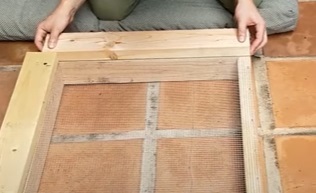 (6) You may also add a stand to the sifter, so you'll just nudge it a little bit rather than shaking the sifter in your hands. Check the image below for reference.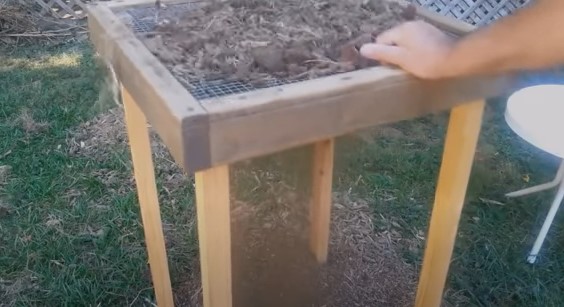 (7) With a stand, it will be easier for you to segregate the rocks and other debris, without lifting the sifting screen.
Another easy option to remove rocks in the soil is using an old milk or vegetable crate. You no longer need to build it and just use it as is. However, it can be heavier than the DIY sifter we mentioned above.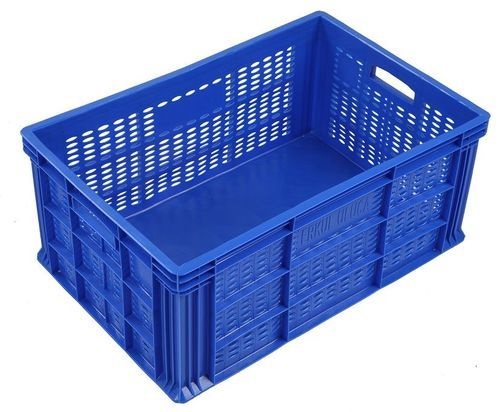 Final Thoughts
There are several ways to remove rocks from the soil, depending on their size and their location.
For deep-seated rocks in the soil, it's best to use a tiller and cultivators to bring them up to the surface. However, if the rocks are just scattered on the lawn, you can either use a power broom or a vacuum with powerful suction to easily collect them.
For a thrifty and practical gardener, creating a DIY soil sifter can also do the job in a few shakes. We hope that this post has helped you gather some ideas on how you can start your landscape work efficiently and without leaving you with injuries.
Let us know in the comments which landscape rock removal tool has helped you best in clearing up the rocks in your yard.
Also, if you find this post helpful, please don't forget to share this post with your friends so they can also utilize the tools that they have to remove the rocks instead of spending too much money on landscape services.