Did you know that you're spending about 5% to 30% of your monthly energy bills on the drafts that are coming in and out of your unsealed fireplace? 
Aside from the cold drafts, you might also be considering saving extra bucks from your energy bills by learning how to seal your fireplace on your own.
In this post, we'll discuss several ways of sealing your fireplace using different tools to keep it from draining your wallet. But first, let's discuss what's in it for you to spend time sealing your fireplace.
Effects of unsealed fireplace
Having a fireplace at home during winter and on chilly evenings is a cozy experience. However, your fireplace also needs extra care when it's unused throughout the year. Failing to do so can lead to the following consequences:
Drafts: One of the obvious effects of an unsealed fireplace is the uncomfortable air that makes your heater work harder to keep the place warm and its efforts useless.
Foul odor: Doing an incorrect way of sealing your fireplace can cause moisture to creep into your home and produce foul odor around the fireplace.
Molds: Aside from the odor, moisture from the fireplace can also cause molds in the long run. Just like in other parts of the home, mold is the start of bigger and expensive damage, especially among wooden furniture.
Water damage issues: When the cold air and moisture are left unfixed, the damage will creep onto your wooden fixtures and can start wood decay and other water-related damages.
High electric consumption: As mentioned above, the warm or cold air passing through the unsealed edges or damper of the fireplace will add up to your energy bills. The additional costs could have been more useful if it's spent on other important things.
Parts of a Fireplace
Before we proceed with the sealing part, it's important to familiarize yourself with the parts of your fireplace. Like other DIY projects, any mistake in repairing or modifying your fireplace can lead to bigger problems that are expensive to fix.
Keep in mind the parts of the fireplace below:
The integral parts in sealing your fireplace are: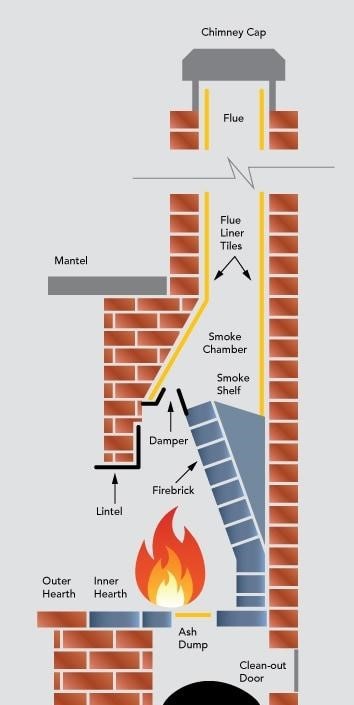 Chimney flue – a duct or pipe where all the exhaust from your fireplace passes through.
Throat damper or damper – a chimney cover that you can open or close to prevent cold air from coming into your home.
Chimney cap – a metal enclosure used to cover the chimney from water.
How To Seal a Fireplace?
You have a lot of options to choose from in sealing your fireplace. It all depends on how much space needs to be sealed and how much cold air passes through it. The fireplace seal options are as follows:
Option #1: Inflatable Chimney Balloon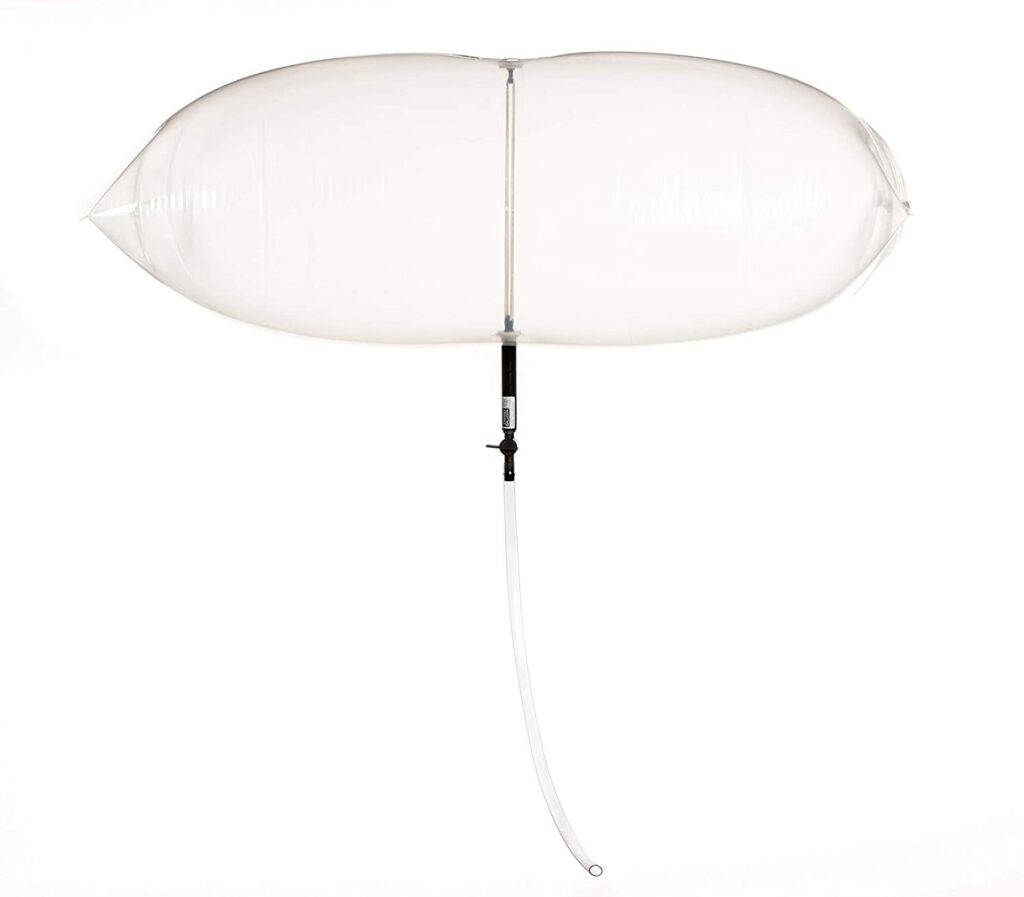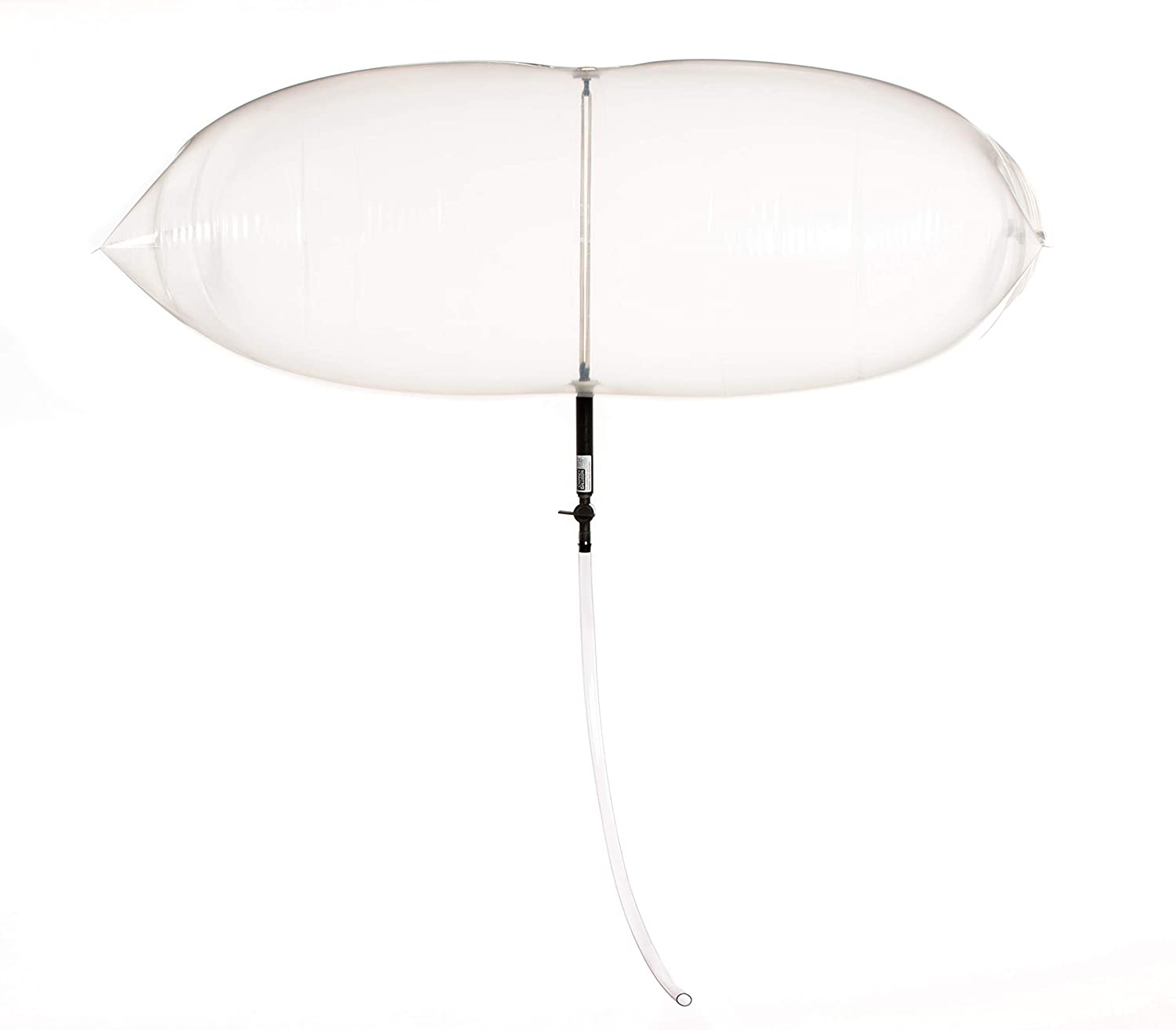 Inflatable chimney balloons are a chimney insert that you can use to block the cold air coming from your chimney. This option is suitable for you if you have no problem with water or animals coming in through your chimney.
The only catch with inflatable chimney balloons is it shrinks over time and you have to re-inflate it from time to time.
How It Works:
Partially inflate the chimney balloon through the black tube.
Insert the balloon below the damper and inflate it to its full capacity.
Put a notice in the fireplace or hang something on the tube lock to inform everyone in the house that there is a balloon placed in the chimney.
Option #2: Fireplace Cover or Door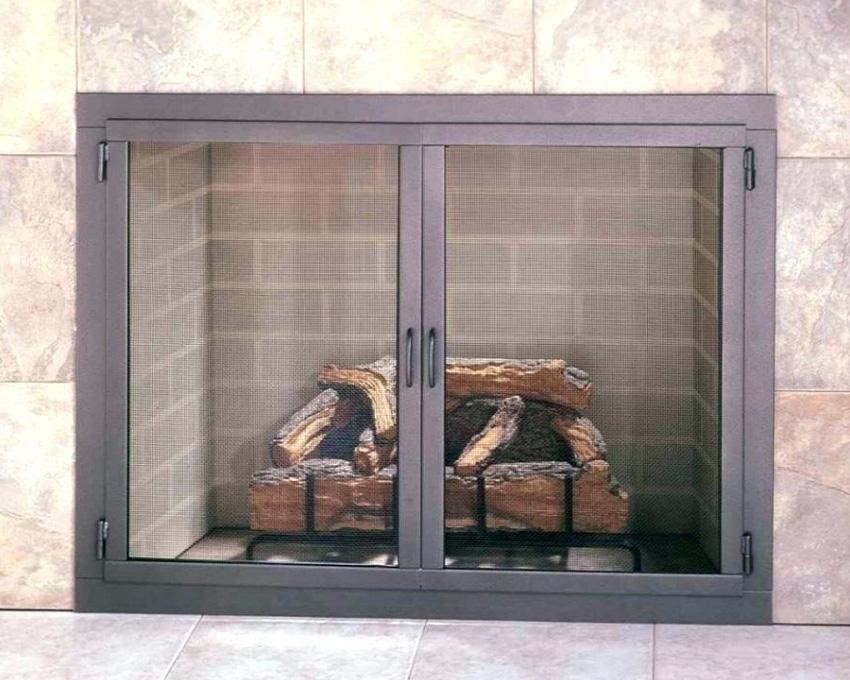 Fireplace cover is one of the aesthetic ways of sealing your fireplace and preventing cold drafts from entering your home. You can design the fireplace cover based on your interior design or how it can add as an accent to your fireplace design.
However, if the fireplace cover does not fit exactly to the frame of the fireplace, it will not serve its purpose.
To address that problem, here are some of the sealing tricks that you can try:
a. Caulking, a common practice in masonry, is a process that seals edges and keeps two panels attached. You can caulk the edges of the cover to make sure no air can pass through them.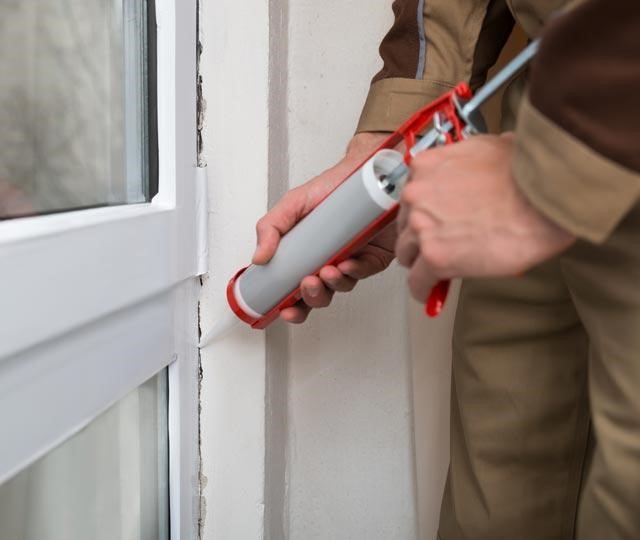 b. Weatherstripping is another way to keep your fireplace airtight with the use of a rubber seal or any weatherstrip material attached to the edges of your fireplace frame and doors.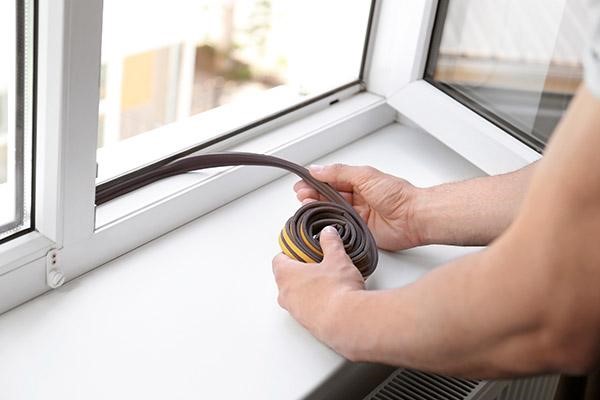 Pro Tip: Seal your fireplace but leave the chimney open
Closing both ends of the chimney and the fireplace may produce moisture inside the fireplace and chimney flue. Moisture forms due to the condensation that occurs between the two opposing temperatures inside your home and outdoors.
So, make sure to keep the chimney open or cover it with a screen or mesh to ventilate the chimney flue and prevent moisture from creating more water-related problems like odor and molds.
Option #3: Insulating foam board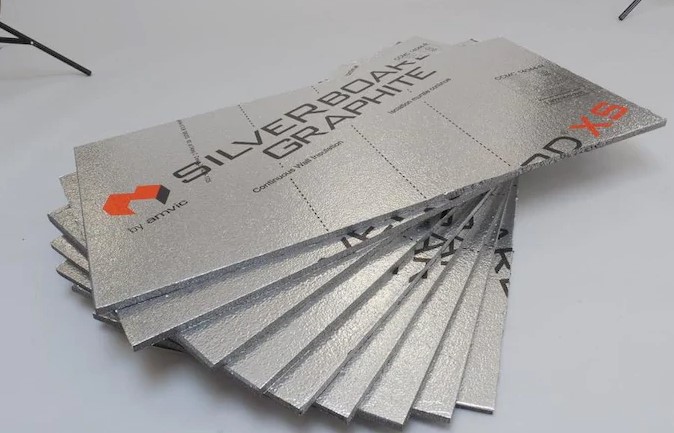 The best thing about insulating foam boards is you can do several DIY fireplace-covers out of it. Aside from that, it insulates your home from the cold temperature coming from the chimney.
You have two options for this method:
A: Insulation foam board and seal
Use a tape measure to get the measurements of the opening below your damper. You may also trace the area directly to the foam boards long as the foam board will fit the fireplace opening.
Cut the insulating foam board and place it below the damper to seal the cold air.
B. Plywood with insulating foam edges
Place the measurements of the opening of the fireplace below the damper and trace it onto the plywood.
Cut the plywood and attach the strips of the insulating foam board to the edges of the plywood to seal the fireplace opening.
Option #4: Specialized Fireplace Damper With Rubber Seals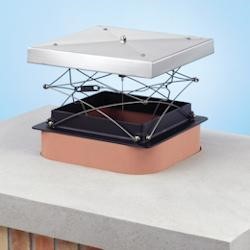 If you're not a fan of adding accessories to your fireplace, modifying its parts is one of your nest options. Dampers are meant to seal the fireplace from the drafts or cold air from the chimney.
Oftentimes, it doesn't work as intended and air can still seep through the edges of the damper. There are specialized types of dampers with rubber seals that will do the job efficiently and keep your fireplace airtight.
Option #5: Drape of Plastic or Insulated Magnetic Fireplace Cover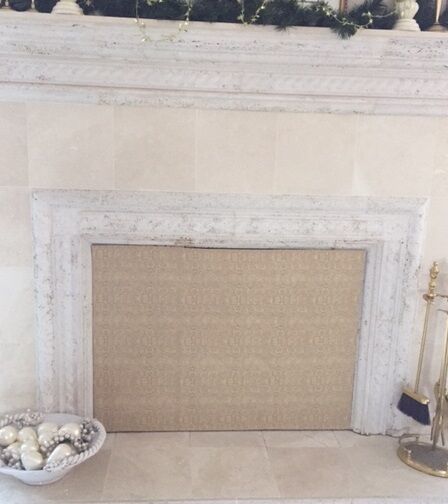 If you don't have time to make DIY fireplace sealers, you can drape a sheet of nice-looking plastic and tape it around the fireplace opening with masking tape. Since plastic is not durable, this option is only a temporary solution to seal your fireplace.
However, if budget is not a problem, you may opt for a magnetic fireplace cover as an easy solution. You can choose from a variety of options from online shops selling magnetic fireplace cover that comes in different colors, patterns, and sizes.
Option #6:  Thin Slab of Stone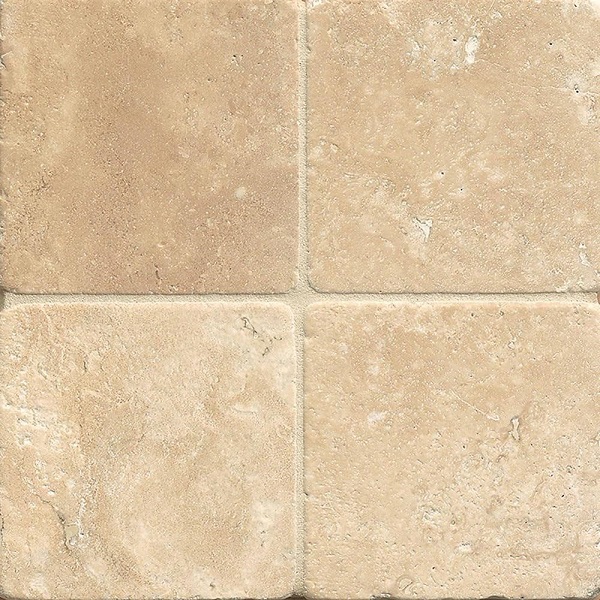 Some households are not only having problems with cold air but also with animals and water coming through their fireplace.
If you're experiencing the same problems, you can use a slab of stone and cover the flue or damper and caulk it to the edges to keep the stone in place.
When winter comes and it's time to use the fireplace again, it will be easier to remove the caulk without damaging the walls of the chimney flue.
You might also like: How to Replace An Outdoor Faucet or Spigot?
Tips in Maintaining a Fireplace
Aside from sealing your fireplace, proper maintenance trumps the list in preserving your fireplace and keeping it useful to your household.
Here are some tips to make sure your fireplace is in good shape:
Keep your fireplace free from creosote and soot buildup: Creosote and soot are the residues of the burned wood that stays inside the chimney flue. They are still flammable which can fire up anytime it meets fire or the next time you use the fireplace. When these substances build up in the flue, it can block the airflow and cause health and fire hazards.

Not all kinds of wood are good for your fireplace: Softwoods produce more creosote than hardwoods. So, opt for seasoned hardwoods like oak for your fireplace. Also, the woods should be dried for a year to remove any trace of moisture.

Install a carbon monoxide detector: The hardest thing about carbon monoxide is it has no odor and there are very subtle signs to tell that your fireplace is producing it. To prevent any carbon monoxide poisoning or detect it at its early stages is to install a detector and keep your family safe.

Choose a heat-proof glass door: If you have kids at home, adding a heat-proof glass will keep them safe from the fire embers and prevent them from poking or touching the fire directly.

Cleaning a fireplace is messy but it's necessary: Piled up ashes in your fireplace will only be the cause of soot and creosote buildup in the chimney flue. Not to mention the fire hazards it could cause. So, even if it's messy, use a mask and scoop the ashes after using the fireplace. You may even reuse it to fertilize your plants.
---
Frequently Asked Questions
Do unused chimneys connected to my fireplace need ventilation?
Sealing the fireplace and chimney will trap the air in the flue. Warm air from the fireplace and the cold air from the chimney will condense the trapped air and turn it into moisture until it becomes droplets of water.

To avoid moisture forming in the chimney flue, make sure to keep the chimney cap open when you seal your fireplace. That way the chimney flue will have enough ventilation and any moisture can dry up in itself.
What are the safety hazards that you need to consider when working on your chimney?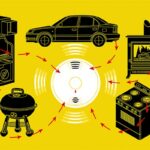 A blocked chimney will allow smoke and carbon monoxide into your home which is dangerous for your health and may cause a fire. At the same time, the smoke and creosote from the fireplace can damage your home furnishings too. Just Imagine the smell of smoke at every corner of your home that can even get to your lungs.

Another safety hazard is using highly combustible materials near your fireplace. Fires due to fireplaces happen when it's not properly maintained by professionals and dangerous gases start to enter your home.
What is a cold hearth syndrome?
Cold hearth syndrome happens when the dangerous gases that are supposed to be released through the chimney are redirected back to your house. Several factors lead to this problem.
 
One is when the temperature of the flue is too low and placed below the neutral pressure plane of the house. The second is when the chimney flue is not insulated properly. Here are the signs to know if your fireplace has a cold hearth syndrome:
 
●  Cold air from the fireplace
●  Smoke goes into the room instead of the chimney
●  Foul odor coming from your fireplace
 
If you suspect that your fireplace has a cold hearth syndrome, it's best to have fireplace professionals check it before you use it and cause accidents.
Final Thoughts
Sealing your fireplace is one of the most efficient ways to save on energy bills and even contribute to global energy conservation efforts. We hope that you found the best method for your fireplace in our list above.
If you find unusual marks like dents or cracks in your fireplace while sealing it, it's best to consult a fireplace specialist to make sure it's safe to use.
Being caught up in a fire is one of the worst things that can happen to you, so don't underestimate the fire hazards that go along with having a fireplace.
We hope that you learned a lot from this guide. Now that you've learned how to seal your fireplace, you'll also know how to work your way through it when the air gets blocked or it needs a bit of cleaning. Nonetheless, you also saved up from handyman fees!
If you find this post helpful, share this post with your friends and help them keep their fireplaces from eating up their energy bills too.
How much were you able to save since you sealed your fireplace? We're curious how much you were able to save from your energy bills since you sealed your fireplace.
Let us know in the comments how this post has helped you enjoy warm nights at home and what sealing method works best for you.