The soil condition is one of the main foundations of growing healthy tomatoes.
No matter how much care you give to your plants, if you want to ensure a good harvest of tomatoes for the upcoming growing season, you must pick the best potting soil that matches their needs.
Every type of plant has a soil preference where they thrive from germination up to bloom production.
Loam soil works best for tomatoes with a slightly acidic PH level that ranges between 5.5 to 7.5. The rich flavor of tomatoes also comes from the nutrients in the soil.
To ensure the rich taste of your tomatoes, a potting soil rich in phosphorus and potassium is ideal.
In this post, we listed down the top seven potting soil for tomatoes to narrow down your options and pick among the best ones in the market.
---
Top 7 Best Potting Soil For Tomatoes In 2023 – Reviews
We selected most of the farmer's favorites for cultivating tomatoes. Check out the best potting mixes that are suitable for any gardener:
1. Espoma Organic Vegetable and Flower Soil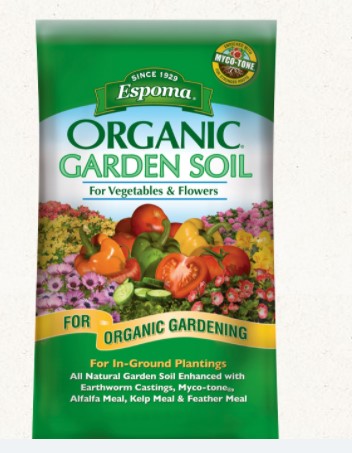 Espoma is popular for being a distributor of all-natural and organic plant care products.
For their line gardening soils, Espoma Organic Vegetable and Flower Soil is the one that will suit best for your tomatoes. Though it mentions that it's only good for in-ground planting, it also works best for potted plants.
This potting soil is enriched with 30% to 40% extra soil amendments to promote good drainage including Canadian sphagnum peat moss, peat humus, and earthworm castings.
What's more?
It is also enhanced with Myco-tone mycorrhizae which is a root fungus that has a symbiotic relationship with plant roots to enhance nutrient absorption. Espoma also used limestone to adjust the soil pH level that works for plants that love neutral acidity.
The special feature of Espoma potting soil is it includes extra nutrients that you would find in most organic fertilizers. It contains kelp meal, alfalfa meal, yucca extract, and feather meal.
Another factor that most gardeners love is it improves moisture retention and reduces drought stress. Plus, the brand itself has a reputation for not using toxic chemicals on its products.
You can use it for neutral-loving vegetables, fruits, and flowering plants. During application, you can mix it with blended plant food and other soil amendments at a depth of 3 to 4 inches.
Pros
Good for repotting tomatoes
Packed with organic nutrients
Good soil drainage
Contains mycorrhizae
Cons
2. Miracle-Gro Potting Mix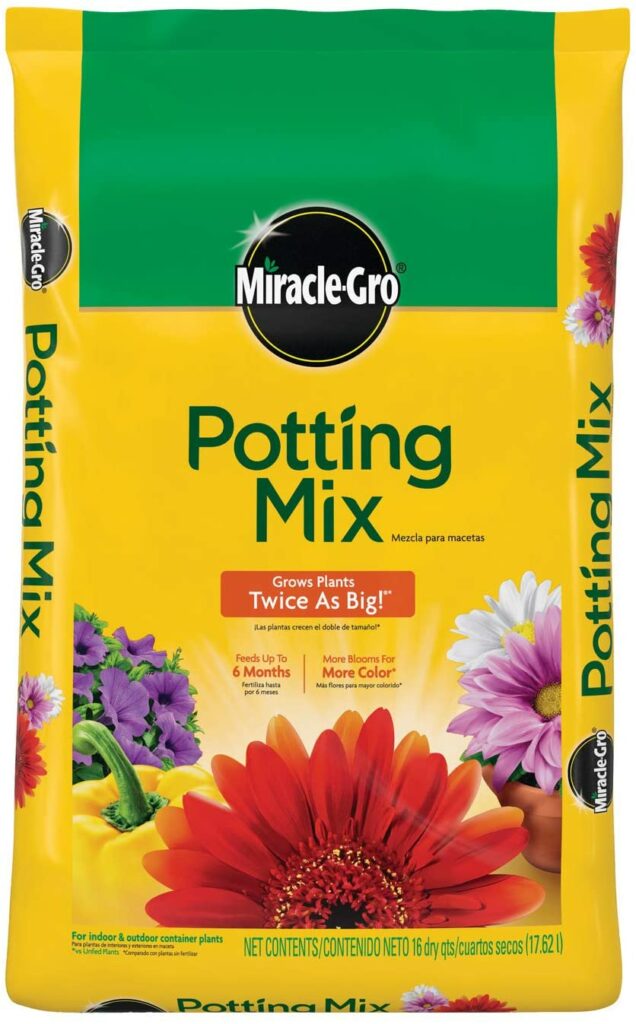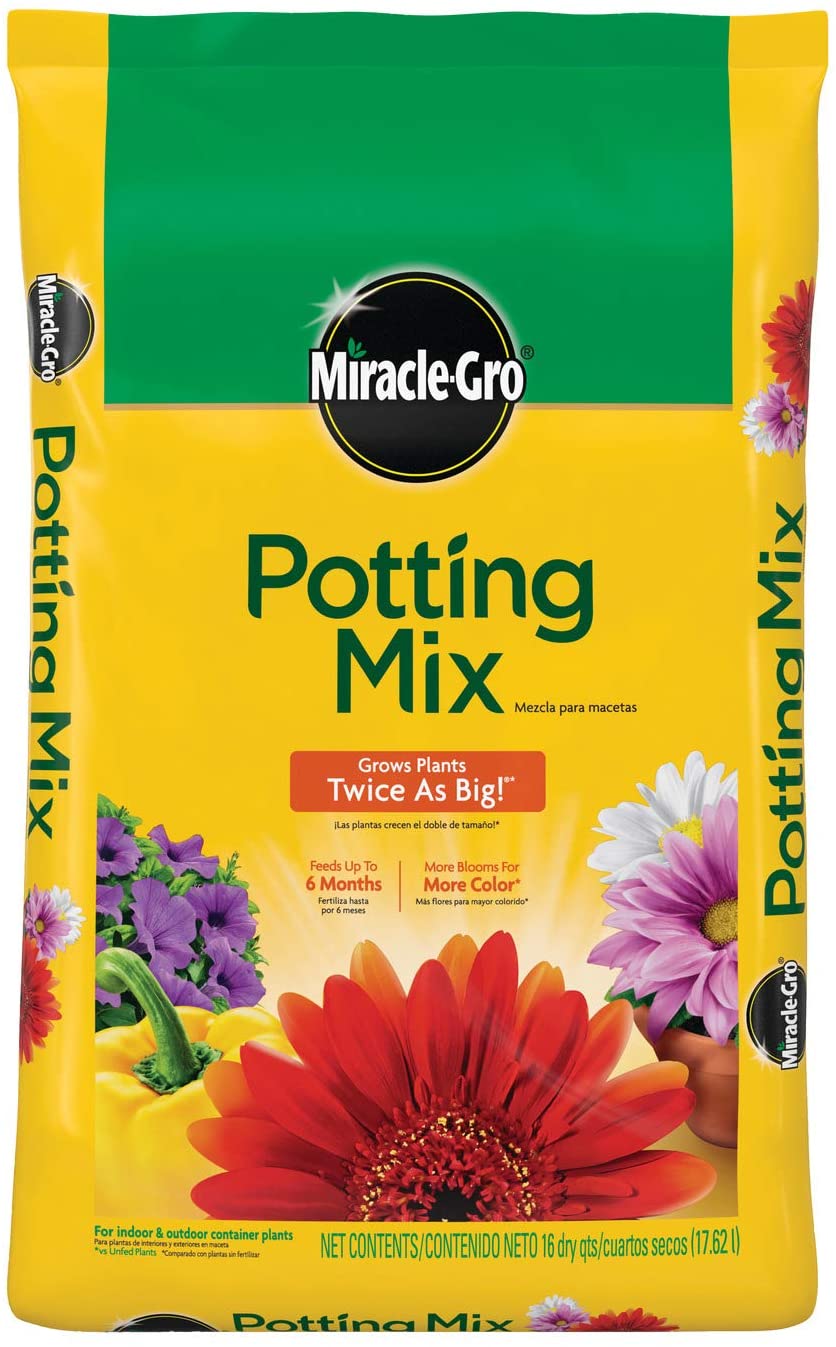 Miracle-Gro offers several varieties of garden soils depending on their soil requirements of plants.
At first, it can be confusing which is best since they have a different definition for the term potting mix than what most gardeners know.
For tomatoes, Miracle-Gro Potting Mix is recommended since it contains a lightweight consistency that makes good drainage for potted plants. It contains fertilizer with a 0.21-0.11-0.16 NPK ratio and feeds your plants for up to six months. That alone makes it stand out among other potting mixes.
This potting mix is formulated from processed forest products: peat, coir, compost, and sphagnum peat moss, perlite, and wetting agent. You can use it for indoor and outdoor:
Vegetable/fruits
Annuals
Perennials
Other flowering plants
Most gardeners love using Miracle-Gro Potting Mix since it has an added plant food that is essential for reducing plant shock when you repot your tomatoes.
The contents of the potting mix also ensure good drainage which is crucial for the root development of tomatoes and prevention against root rot. It also doesn't contain any pesticides.
Pros
Mulch and Soil Council Certified
Contains fertilizer that feeds your plants for up to 6 months
Soil mix with good drainage for repotting
Smells rich in nutrients
Cons
3. BLACK GOLD® Natural & Organic Flower And Vegetable Soil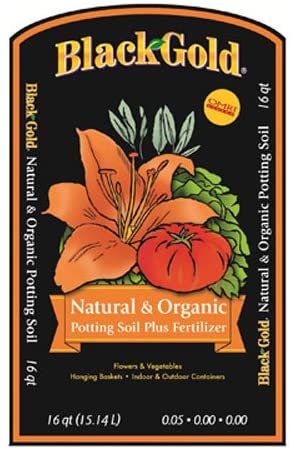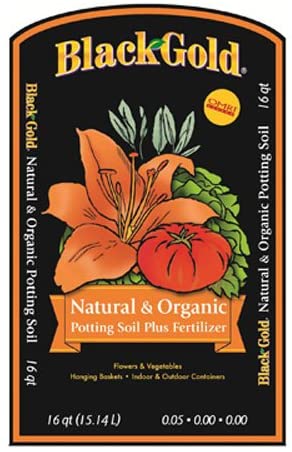 If you want to try a new brand aside from the mainstream variants of potting soil, you can try the products from Sun Gro Horticulture.
Their BLACK GOLD® Natural & Organic Flower And Vegetable Soil are gaining popularity as they can give you value for your money due to their quality.
As an ideal soil for container-grown plants, it is enriched with compost to nourish newly potted plants. It is one of the best organic potting soil for tomatoes and doesn't contain any synthetic materials.
This potting soil is derived from:
Canadian Sphagnum Peat Moss
Earthworm Castings
Horticultural Grade Perlite, Pumice, or Cinders
Coconut coir
Proprietary Blend of Endomycorrhizae
Dolomite Lime (Calcium and Magnesium)
Organic Wetting Agent
Vermiculite
The soil has an adequate particle size that helps improve soil aeration and provide the oxygen needed by plants for plant processes.
The loose consistency also promotes good drainage for your tomatoes to grow beautiful flowers and produce the best quality of tomatoes organically. It is suitable for all kinds of potted and even in-ground plants including:
Vegetables
Herbs
Bedding plants
Hanging baskets and window boxes
Indoor and outdoor containers
Trees and shrubs
Perennials
Annual
Potting Mix Component
Seeds or Cuttings
Garden Soil Amendment
Mulch
Turf and landscape
Most tomato gardeners choose this gardening soil as it is nutrient-dense and has a loamy mixture that works best for tomatoes. It can also increase moisture retention in the soil which prevents drought stress in your plants.
Pros
OMRI-listed
Organic potting soil
Nice earthy smell
Value for money
Cons
4. Fox Farm Ocean Forest Potting Soil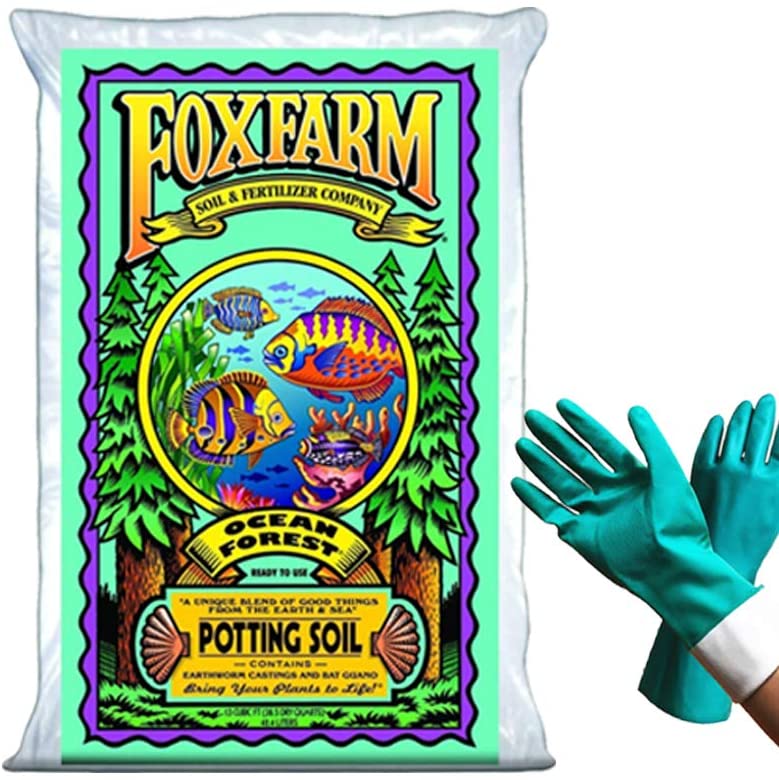 Fox Farm has become one of the mainstream producers of plant care products in recent years. They stand out not only with their out-of-the-box design but also for their effective plant care products.
From their list of gardening soils, Fox Farm Ocean Forest Potting Soil is the most suitable for potted tomatoes. It is a blend of nutrients from both land and sea nutrients that creates a nutrient-dense environment for potted plants. It contains:
Nitrogen: 0.3%
Phosphorus: 0.45%
Potassium: 0.05%
Calcium: 1%
This potting soil contains sphagnum peat moss, aged forest products, and sandy loam to promote well-aerated roots that will boost plant development. It has a 6.3 to 6.8 soil PH level that is within the range of acidity allowed for tomatoes.
It is derived from:
Sphagnum peat moss
Earthworm castings
Bat guano
Sandy loam
Fish emulsion
Crab and Kelp meal
Perlite
Fish emulsion is known in the gardening universe as an organic fertilizer rich in non-burning nitrogen and promotes soil fertility for vegetables and plants.
So, when you use this potting soil, it is no longer necessary to add nitrogen plant food for the first weeks. You can use it on potted plants such as:
Vegetable and herbs
Bedding and house plants
Roses
Perennials
Annuals
It is an all-time favorite of tomato gardeners because it works like magic on tomatoes. Their plants simply love them because of the accurate measurements from the organic materials used.
Some gardeners even tried to mimic tier formulation but the results still can't compete with Fox Farm's effectiveness.
You can mix this potting mix with other soil amendments but you can use it as it is. Here's how:
For container garden: Fill the pots and leave 1 inch (2.5 cm) below the top edge of the pots. Do not pack too tight and water your tomatoes thoroughly after planting.
This potting mix contains crustacean meals. So, if you're a vegan, you may want to skip this potting soil.
Pros
Ready to use without mixing to native soil
Good value for money
Rich in nitrogen
Has a sweet and earthy smell
Does not contain pesticides
All-natural potting soil
Cons
5. Michigan Peat Garden Magic Potting Soil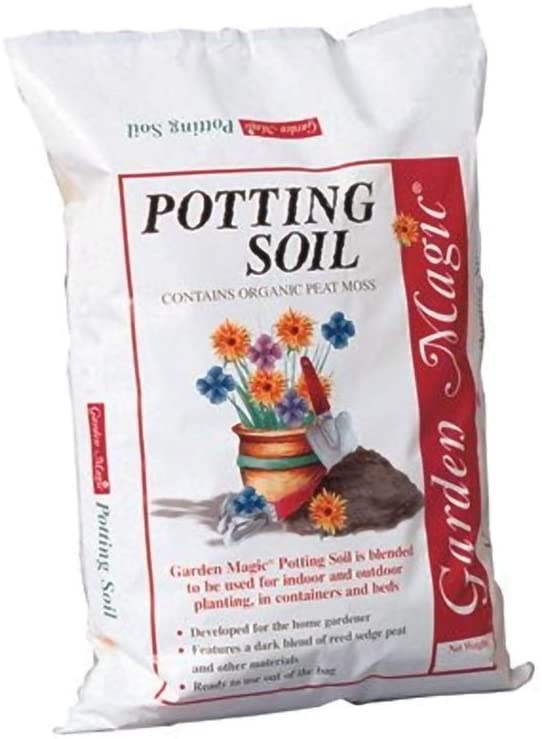 If you want to ensure a well-draining soil for your tomatoes, a peat-moss rich mix like Michigan Peat Garden Magic Potting Soil would be best for you.
This potting soil contains organic materials that add volume to the soil but leave the soil quick draining to prevent root rot in tomatoes.
It contains:
Reed sedge peat
Perlite
Sand
What's good about this potting mix is it also has water retention features that protect your plants from drought stress and survive momentary dry periods. It can be used for both indoor and outdoor plants including:
Vegetable and fruits
Bedding and house plants
Horsetail
Iris
Canna
The majority of gardeners like this potting mix for being simple and yet effective in cultivating tomatoes.
Sometimes, tomatoes don't need a lot of soil amendments but soil with quality organic products.
This potting soil is specially developed for home gardeners who want to grow their tomatoes in the simplest way possible.
Pros
Ready to use without other soil amendments
Great drainage and moisture retaining properties
Has a nice earthy smell
Affordable
Cons
Soil may get too moist due to high water-retentive abilities
6. Proven Winners Premium Potting Soil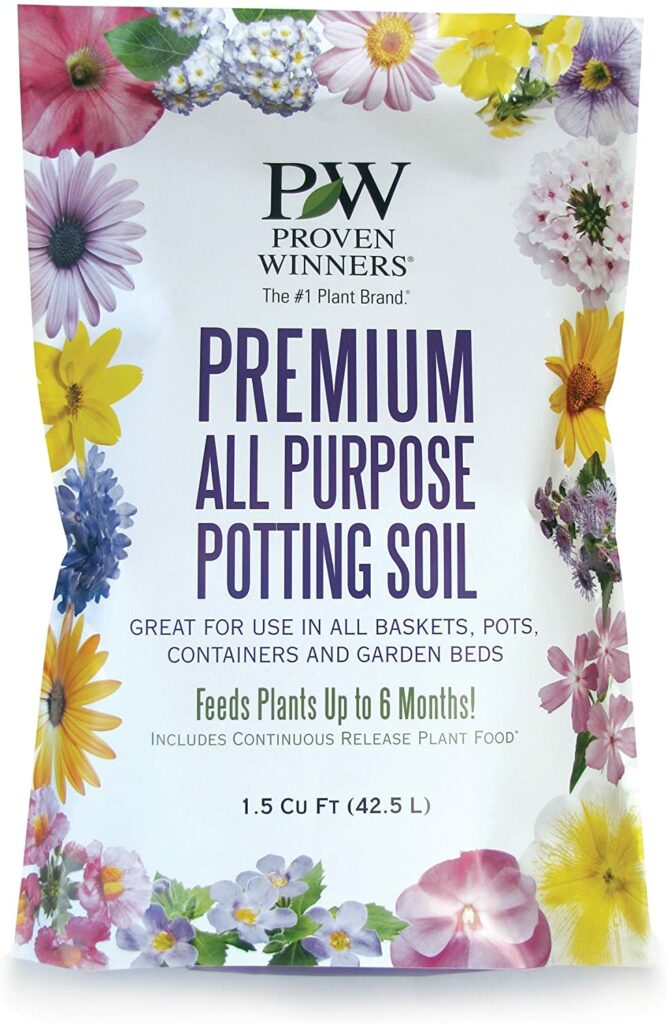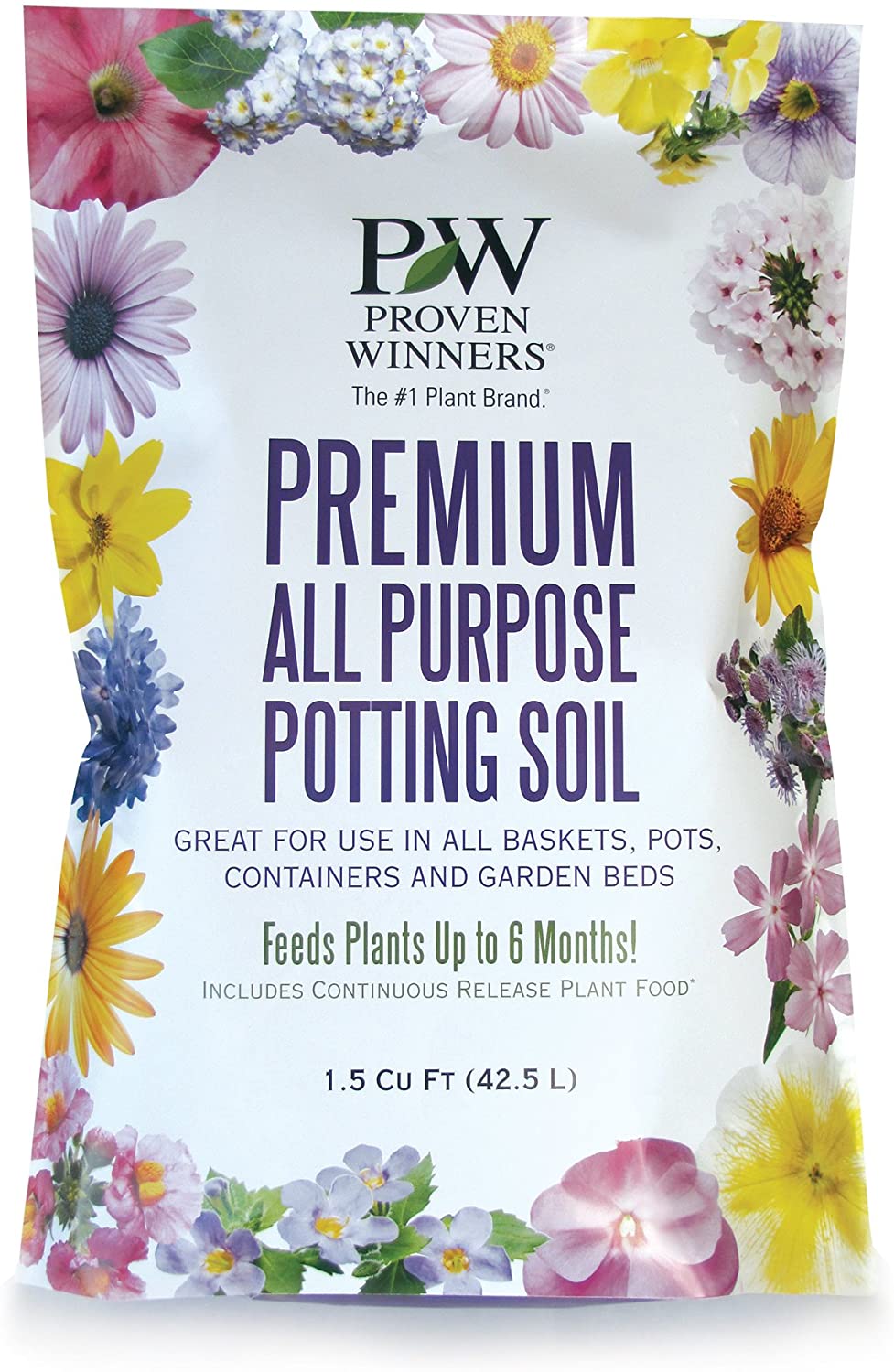 Proven Winners Premium Potting Soil is another affordable but high-quality potting soil for tomatoes and other plants. It costs almost half of the price of the mainstream brands but works at the same soil performance.
This potting soil is fortified with a 15-7-15 NPK slow-release fertilizer that can nourish your plants for up to 6 months. It also contains dolomite lime to neutralize the acidity in the soil.
Since it's already pre-mixed with fertilizer, you no longer need to buy another plant food for the next 6 months. Talk about savings!
It is derived from organic materials including:
Canadian sphagnum peat moss
Perlite
Wetting agent
Sand
Dolomite lime
Processed softwood bark
Proven Winner's Potting Soil is suitable for potted, inground plants that are placed both indoors and outdoors.
What improves its soil particles are the quality peat moss which creates small pockets of airways in the soil to let the plant roots access more oxygen
Overall, this potting soil is a real treat to you and your tomato plants. You can achieve the healthy growth of your tomatoes while getting more savings for soil preparation and fertilization costs.
This product is indeed a must-try for every gardener!
Pros
Easy and ready to use without mixing with other soil amendments
Affordable
Premixed with a slow-release fertilizer
Feeds your plants for up to 6 months
Earthy  smell
Converts to 11 gallons of soil
Cons
Not suitable for seed planting
7. Dr. Earth Pot of Gold All-Purpose Potting Soil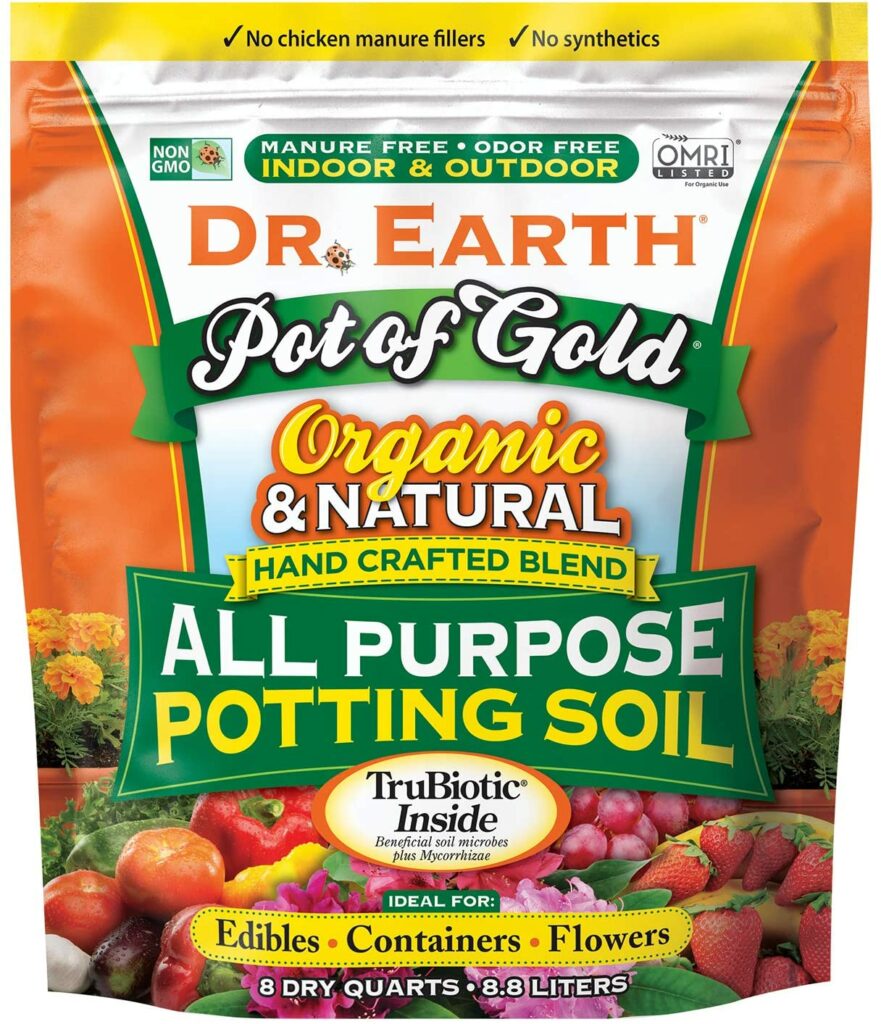 Our list will never be complete without the ultimate organic potting soil in the market.
If you want to make sure that you're giving the purest form of organic matter to your tomatoes, you can have it with Dr. Earth Pot of Gold All-Purpose Potting Soil.
It is derived from rich organic materials such as:
Aged fir bark
Fir bark
Perlite
Sphagnum peat moss
Composted green waste
Sawdust
Alfalfa meal
Fishbone meal
Bone meal
Feather meal
Kelp meal
Ecto & endo mycorrhizae
Beneficial soil microbes
Dolomite lime
Wetting agent
Dr. Earth's unique TruBiotic makes this potting soil more efficient in nourishing potted tomatoes. It is composed of beneficial soil microbes that promote better nutrient absorption in plants.
This potting soil is suitable for indoor and outdoor:
Seeds
Seedlings
Cuttings
Bare root planting
You may also use it as a soil amendment for inground trees and shrubs, seed cover, and mulching. Dr. Earth products have no manure contents and this potting mix is exclusively odor-free.
This potting soil has a soil PH level of 7.0 which is still within the acidity level that tomatoes can tolerate.
Though this pot of gold is pricier than others, the quality of products is a guarantee that they have the most organic potting soil in the market.
Plus, it's OMRI-listed and safe to use around kids and pets.
Pros
Food-grade organic contents
OMRI-listed
Contains TruBiotic
Multi-purpose
Odor-free
Manure-free
Cons
DIY/Homemade Potting Soil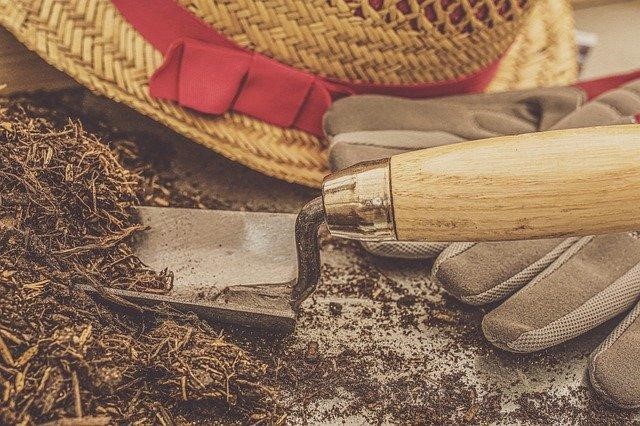 Some gardeners love to make their plant fertilizers and potting soils from scratch. Doing so gives them security and safety from the organic materials that they used.
If you also want to make your potting soil from scratch, here are the ingredients you'll need:
Peat Moss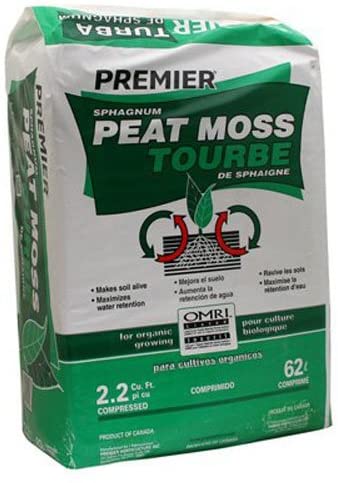 It adds volume to potting soil and enhances good water drainage in potted plants. It is made of decomposed moss that can hold moisture which it provides to plant roots whenever they need it.
Perlite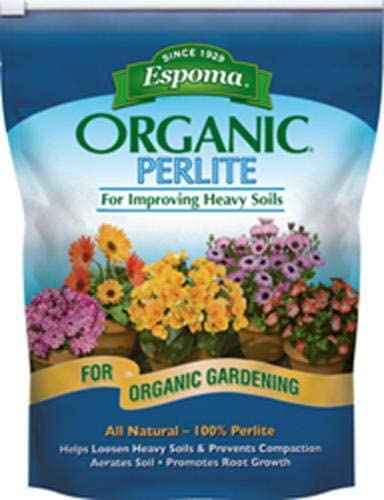 A mined volcanic glass that helps retain moisture in the soil while improving soil drainage. It also helps prevent soil compaction to prevent root rot.
Lime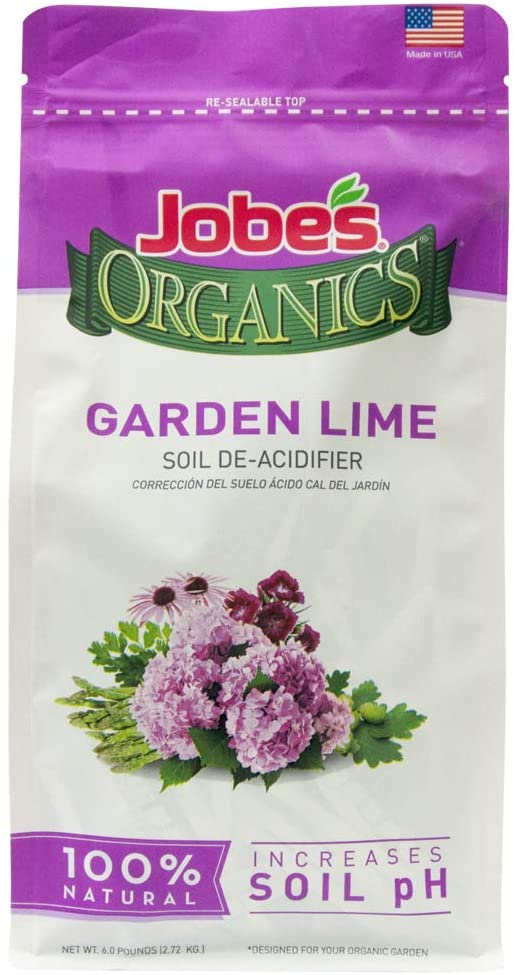 It helps neutralize soil acidity to qualify the soil for growing tomatoes. Without setting the right soil acidity, plants may struggle to absorb the nutrients from the soil.
Thanks to lime, you can control the acidity levels and save your plants from dying due to malnutrition.
Compost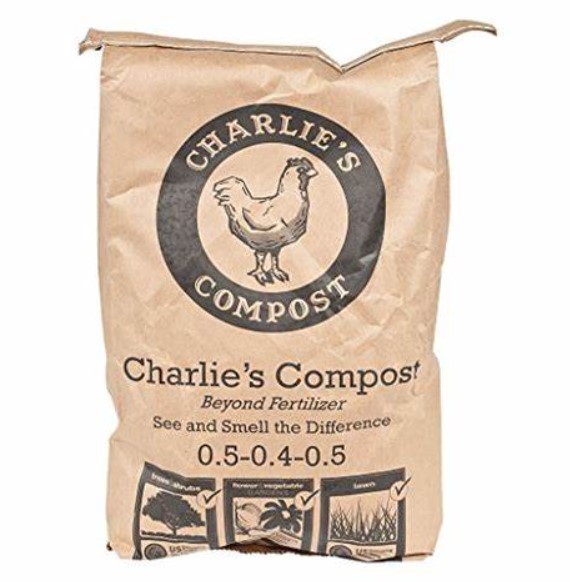 It promotes the healthy growth of plants with beneficial microbes from decomposed organic materials.
Fertilizer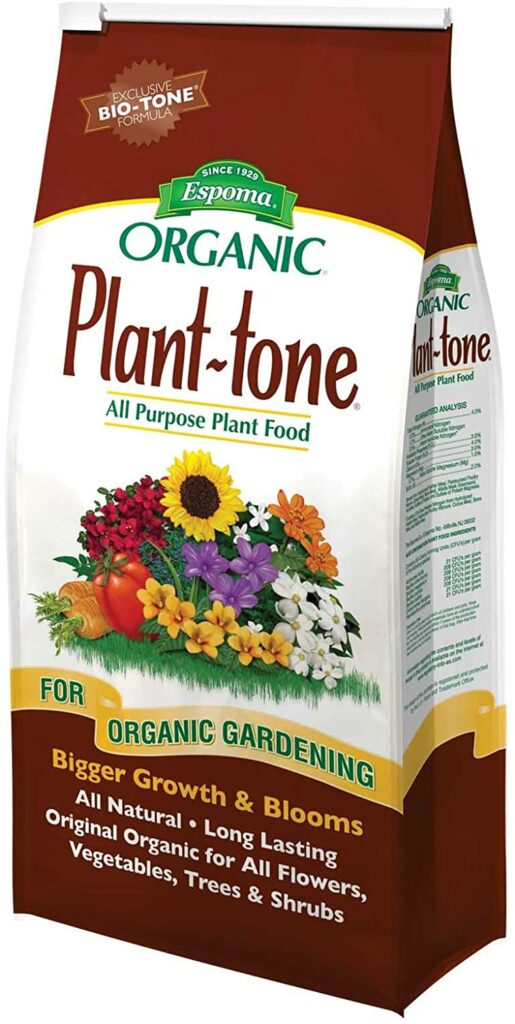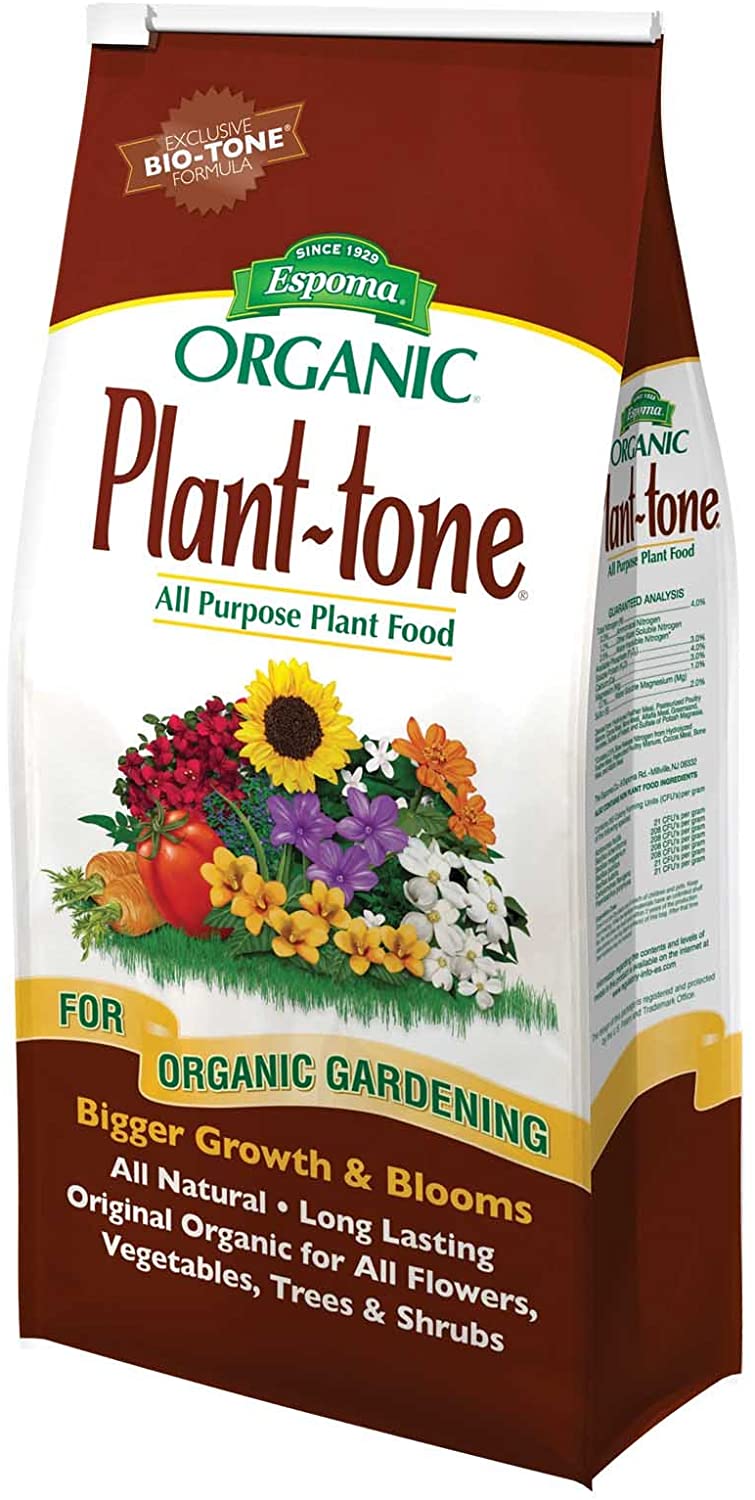 It helps enrich potted soils since they have less concentration of nutrients compared to ground soils.
To make your potting soil recipe, below are the measurements that you need. Use a big bucket to mix all the ingredients evenly with a spade.
6 gallons sphagnum peat moss
4.5 gallons perlite
6 gallons compost
1/4 cup lime
1.5 cups organic fertilizer
---
Everything You Need To Know About Planting Tomatoes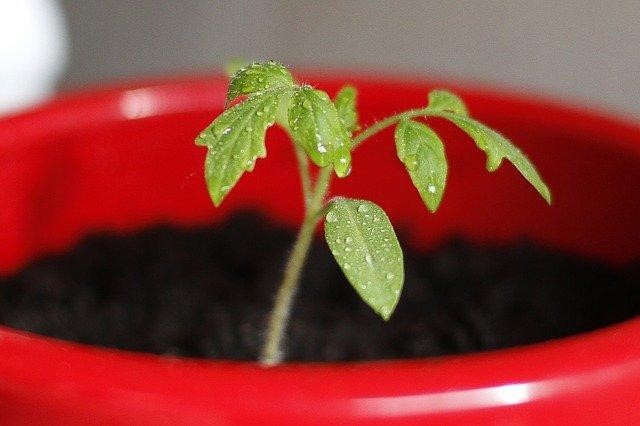 Tomatoes are not as sensitive as other plants. They grow well when all of their needs are met.
To help you take care of your tomato plants properly, here are the important tips in growing tomatoes so can enjoy a bountiful season this year:
Soil Preparation And Planting
Potted tomatoes need large pots to give them enough space for growth.
Drainage is really important for tomatoes to avoid drowning in their roots. Make sure to use a well-draining potting soil like loam soil and avoid clay soil.
To enhance the drainage in your potted tomatoes, you can add rocks at the bottom of the pot before you add the potting soil.
The soil condition is also crucial in the plant development of tomatoes. They love composted soil and get a lot of nutrients from manure.
Potted tomatoes should be planted 2 feet apart to provide plenty of room for root development and to prevent them from competing for nutrients in the soil.
Place stakes around the tomato plants to help support their developing stems during the growing season.
Sun And Water Requirements
Tomatoes require at least six hours of full sun exposure every day.
Tomato plants love moist soil. To know if the soil is moist enough for your tomatoes, you can stick your finger into the soil and see if it is too wet or too dry.
If your tomato plants are grown indoors, you should allow them to experience the outdoor environment for better growth. However, you must do it gradually. You can start by placing your potted tomatoes outside your house for at least 15 minutes.
During hot climates, always observe your tomato plants, as the soil can easily dry up.
Pests And Disease Control
Tomatoes are juicy and delicious not only for us humans but also for pests and fungal diseases in plants.
So, it's essential to prepare yourself in protecting your plants by applying pesticides and fungicides for tomatoes at the first sign of infestation or as preventive maintenance.
Common pests in tomatoes are:
Aphids
Whiteflies
Leafminers
Tomato hornworms
Tomato fruit worms
Colorado potato beetle
Common diseases in tomatoes are:
Tomato Early Blight
Tomato Late Blight
Buckeye Rot
Septoria Leaf Spot
Anthracnose Fruit Rot
Your first line of defense against these threats on your tomatoes is applying mulch. Mulch not only protects your plants from soil diseases but also helps retain moisture in the soil.
---
Frequently Asked Questions (FAQs)
Do Tomatoes do well in pots?
Tomatoes grow well in pots as long as you provide all of their needs to grow. Potting soil has a limited nutrient source compared to the soil in the ground.

You must improve the soil condition by adding compost, fertilizers, and even manure During soil preparation. You should also choose a potting soil that has good drainage.
Are coffee grounds good for Tomatoes?
Coffee grounds mixed with compost make a good treat for your tomatoes. They are high in nitrogen which boosts root and stem growth. It also attracts earthworms that provide beneficial nutrients to the soil.

Plus, they save your plants from slugs and other pests that hate the smell of coffee.

What are the best Tomatoes to grow in pots?
The best types of tomatoes to grow in post or containers are the following:
1. Cherry tomatoes
– Terenzo F1
– Tumbler
– Micro-Tom
– Tidy treats
– Sungold
– Heartbreaker
2. Saladette & paste tomatoes
– Glacier
– Sunrise sauce
– Plum regal
3. Large-fruited tomatoes
– Tasmanian Chocolate
– Defiant PhR
– Galahad
Do Tomatoes grow better in pots or the ground?
Tomatoes can grow well in both pots and the ground. However, there are several differences when it comes to planting methods such as:

– You will need to prepare and enhance the soil condition of potted tomatoes since their source of nutrients is limited.
– In-ground tomatoes need periodic nourishment but slow-release fertilizers are enough for potted ones.
– Smaller types of tomatoes should also be your top choice for potted tomatoes while you can plant any type of tomatoes in the ground.
Can you grow Tomatoes in a 5-gallon bucket?
Yes, one tomato plant can grow in a 5-gallon bucket especially with the black ones since it attracts heat which warms up the soil.

Do Tomatoes need deep pots?
Tomatoes need wider than deeper containers. They need more room to spread their roots as they grow horizontally for up to two feet. Here are the minimum pot sizes for every type of tomatoes:

– Micro to dwarf tomatoes: 3-gallon pot
– Dwarf tomatoes: 4-gallon pot
– Large or indeterminate tomatoes: 6 to 8-gallon pot

How often should you fertilize potted Tomatoes?
Potted tomatoes need more nutrients for bud and fruit production. You should feed them once a month or use a slow-release fertilizer for a consistent feed for a couple of months.
Is bone meal good for Tomatoes?
Bone meal is mostly recommended for growing tomatoes for boosting bud formation. They are slow-release sources of phosphorus and calcium which are the crucial nutrients needed by root and flowering crops like tomatoes.
Can you plant two Tomatoes together in a single pot?
It is not recommended to crowd two tomato plants in a single container. They will compete on nutrients and will have enough room for root growth.

Unless the pot is wide enough to keep them two-feet apart, plant only one tomato plant in one container.
Do Tomato plants like banana peels?
Banana peels are rich in potassium and phosphorus which are key nutrients for the healthy bud and fruit formation in tomatoes. You can either add it to your compost or make a banana peel tea for your tomatoes. Here's how to make a banana peel spray:

Materials:

1. Spray bottle
2. 3 liters of water
3. Banana peels
4. Cloth
5. Rubber bands
6. Large container

Procedure:

1. Cut the banana peels and place them in a large container.
2. Add the water and mix.
3. Cover the container with a cloth and seal it with a rubber band.
4. Let it sit for 3 to 5 days.
5. Transfer the banana peel tea to a spray bottle and apply it to your tomatoes.
Final Thoughts
Tomatoes are easy to grow once you've learned their behavior when it comes to fertilizers, soil condition, sun exposure, watering schedules, and susceptibility to pests and diseases.
As long as you provide them with the right nutrition and protection against damaging threats, you will enjoy taking care of these tomato plants.
Growing them in pots will also become a challenge if you can't provide the right soil condition, space, and drainage that they need.
The soil in pots is fairly crucial because your soil preparation will dictate the type of fruits that you will harvest at the end of the growing season.
Among our list of the best potting soils for tomatoes, Proven Winners Premium Potting Soil provides a promising potting soil to gardeners for its added fertilizer content and affordable price.
It is also free from harmful chemicals and was able to deliver bountiful harvests for most gardeners who tried it.
We hope that this post made it easier for you to find the best potting soil that suits your needs.
If you find this post informative, please share it with your friends and let us build a community of growers that help each other.
Which potting soil did you use for your tomatoes? Share with us your experience in the comments below.