New year, new lawn strategy!
As 2023 unfolds, most of us are ready to spruce up our properties by starting with our lawns. We all know that the first step towards growing and grooming a lush lawn is using the best liquid lawn fertilizer appropriate for the condition of your grass.
Many gardeners switch from granular lawn fertilizers to liquid ones because of a few differences in performance. They are easier to absorb and create a uniform spread through lawn sprinklers and misting systems.
If you're wondering which brand can revitalize your lawn, we listed the best liquid lawn fertilizers this year. Before we head to our list, learn why liquid lawn fertilizers make the best choice for treating your lawn.
---
Advantages of Using Liquid Lawn Fertilizers
We often look for the nutrient composition of fertilizers to see if they have the right combinations to improve our lawns. We immediately check for the NPK ratio or the nitrogen, phosphorus, and potassium ratio.
However, the fertilizer composition matters more than anything else. Liquid lawn fertilizers, in particular, have the following advantages over granular lawn fertilizers.
Easy absorption: Liquid lawn fertilizers have two channels to access the plant system of the grass. They can nourish through foliar feeding and root uptake. Due to its blend with water, the plant gets the nutrients when it absorbs moisture from the air and soil.
Easy to mix: Though some liquid lawn fertilizers need dilution, it may only take two steps to prepare the solution.
Lower risk of over-fertilization: Any plant would wither or burn with too much fertilizer. As they say, too much love for your plants and grass can kill them. Liquid lawn fertilizers provide a uniform veil of mist or spray that prevents over-fertilization.
Even application: The growth differences of grass are visible in lawns. Some parts of a treated grass might be greener, and some areas are bald with thin grass. Liquid lawn fertilizers ensure that every area of your yard gets equal nutrient uptake. Since the liquid solution is easier to spread and move around, your lawn will no longer have bare patches or bald areas.
Ideal starter fertilizer: Liquid fertilizers are light enough for grass seedlings. They are best for growing new grass since they can be absorbed in the leaves or the roots.
If you want to see fast results and an even shade of green in your lawn, better start with liquid fertilizers. We listed the best brands of liquid fertilizers that are part of the holy grail and even the popular choice of experts and keen gardeners.
9 Best Liquid Lawn Fertilizers in 2023 [Top Picks and Options]
1. Simple Lawn Solutions 16-4-8 NPK Lawn Food Quality Liquid Fertilizer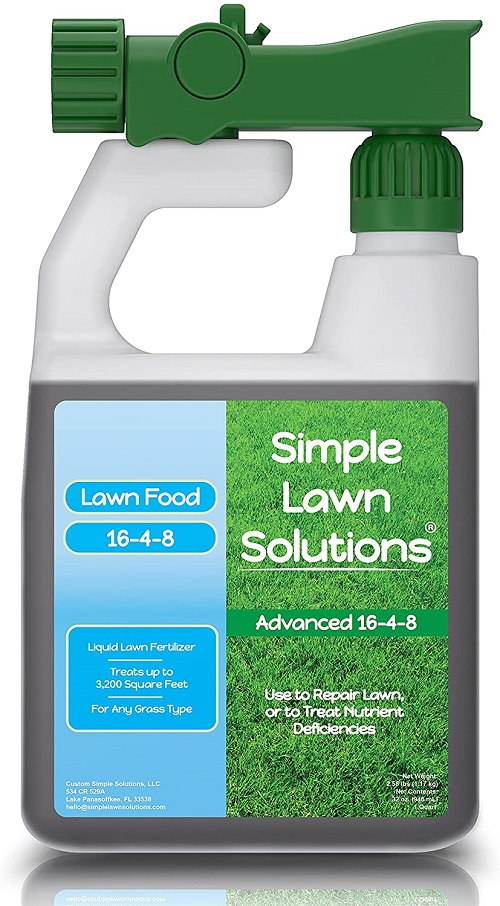 Simple Lawn Solutions Liquid Lawn Fertilizer is concentrated plant food for lawn repair and treatment for nutrient deficiencies. The manufacturer claims it can treat 3,200 sq. ft. of lawn. It applies to any grass types, such as:
Bermuda
St. Augustine
Zoysia
Buffalo
Centipede
Florida Palmetto
Bahia
Fescue
Ryegrass
Kentucky Bluegrass
This fertilizer has an NPK formulation of 16-4-8, where nitrogen is the highest to encourage grass growth. It has 4% phosphorus that helps strengthen the roots system of grass with 8% potassium to improve turf hardiness. It is not organic, but it contains seaweed (kelp) and fish to boost plant health.
The packaging comes with a hose-end sprayer but has become its weakest point. Most gardeners have seen improvement to their lawn using the solution of this fertilizer. However, the packaging is not working and does not release the fertilizer as advertised. So, most users transfer the fertilizer solution to another hose-end sprayer and buy the next batch of this fertilizer in a gallon-type bottle.
Lawns became lush and thick after two weeks of using this fertilizer. Using it every month can strengthen your grass and make it more resistant to drought and other plant stresses. The only concern of homeowners aside from its packaging is its coverage, which in their opinion, can only go as far as 2,000 sq. ft.
Pros
Easy-to-use
Provides lush green lawn within 1 to 2 weeks
Use kelp and fish to boost plant health
Help strengthen the grass against extreme weather conditions and drought
Applicable to most types of grass
Cons
Packaging problems
Coverage inconsistencies: Covers only 2000 sq. ft than 3200 sq. ft.
2. Scotts Liquid Turf Builder Lawn Food Fertilizer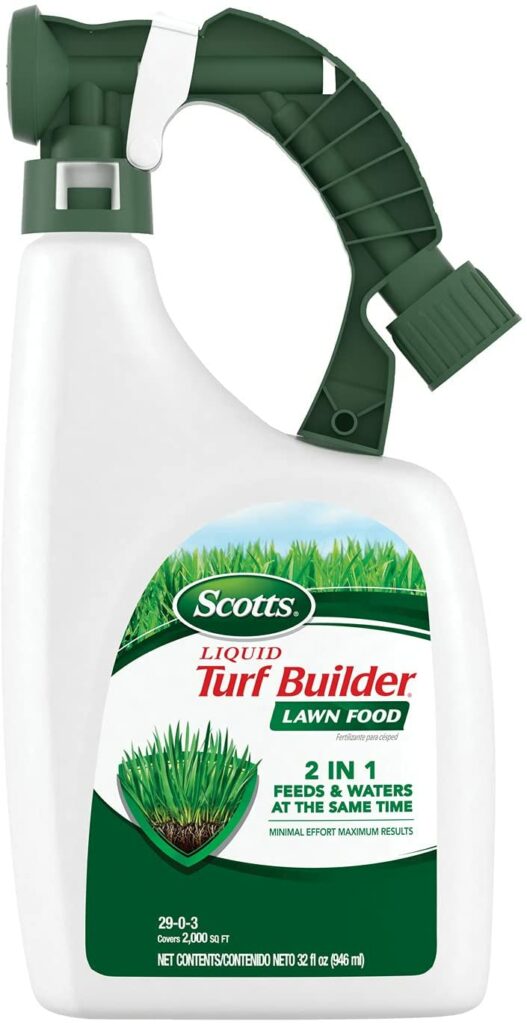 Scotts Liquid Turf Builder Lawn Food is among the popular brands of liquid lawn fertilizers in the market. Most gardeners try it first before going for other brands of lawn food. It both feeds your grass for lush growth and waters them.
The manufacturer claims that this fertilizer can cover 2,000 sq. ft. of lawn. It comes in a hose-end sprayer for easy application. This lawn fertilizer can treat any cool-season and warm-season grass. However, it is recommended for use on actively growing grass to see results.
The formulation of this Scotts Turf Builder helps strengthen and protect grass against future plant stress. It also helps bring back the lush growth of your dull and dying lawn for a week or two. Many gardeners stayed in using this brand. However, others find a better alternative for its faulty packaging.
The packaging is compact and smaller compared to a broadcast spreader. However, some gardeners are having issues in using the hose-end sprayer. The packaging fails to draw the solution out of the bottle, which causes frustration to most gardeners. The fertilizer solution, though effective, may have been overshadowed by its problems with its packaging design.
Pros
Easy to use
Help bring back the lush growth within a week or two
Compact and easy to store
Strengthens the grass to withstand plant stresses
Cons
Some batches of the hose-end sprayer are defective 
Needs a consistent watering schedule to prevent the grass from burning
Leaky packaging
3. Organic Kelp Fertilizer by GS Plant Foods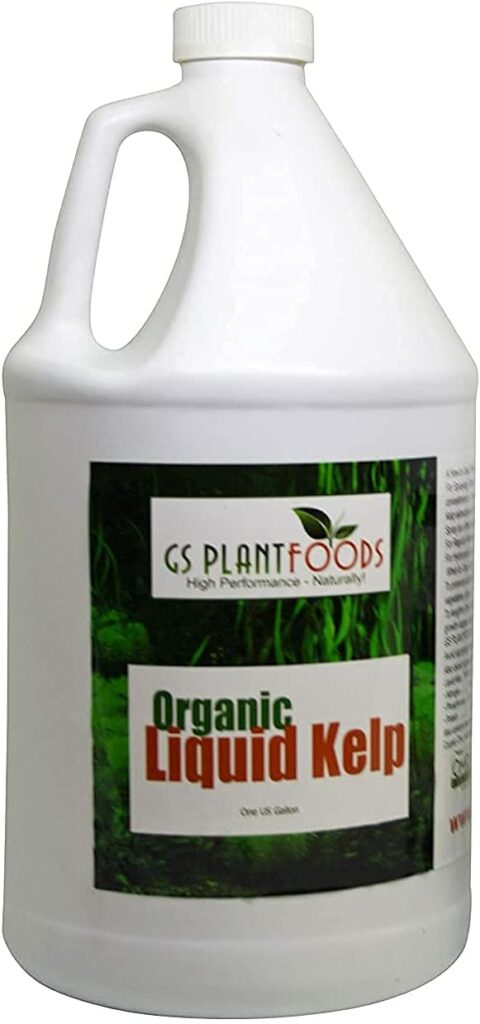 If you're looking for a cheap and organic alternative, Organic Kelp Fertilizer by GS Plant Foods is a must-try. It is an OMRI-listed organic fertilizer made of liquid kelp to boost plant health and growth.
This fertilizer contains seaweeds that help stimulate natural root growth, improve mineral uptake and boost overall plant growth, color, and vigor. It is a natural solution suitable for any soil and grass.
Aside from the benefits provided by kelp, this fertilizer also contains Ascophyllum Nodosum, which is one of nature's miracle plant foods. Seaweeds have been widely used in the horticultural and agricultural industry to strengthen the resistance of plants against extreme temperatures, drought, and other factors.
Since it is an organic fertilizer, it is also safe for use on fruits and vegetable plants. Its formula helps stimulate chlorophyll, giving the grass a greener and more vibrant color. The contents of this kelp fertilizer solution are as follows:
Nitrogen 0.3%
Phosphorus 0%
Potassium 0.6%
The solution also contains trace minerals, such as:
Sulfur
Magnesium
Calcium
Sodium
Boron
Iron
Manganese
Copper
Zinc
Carbohydrates
To use this concentrated kelp fertilizer for lawn care, mix 2 ounces of this concentrate with a gallon of water. A gallon of diluted kelp fertilizer can cover 1,000 sq. ft. of lawn. Most gardeners praise this organic fertilizer since it is cheap but effective in reviving dead yards to life.
Pros
Applicable to all types of plants
Bring back dead lawns
OMRI-listed
Easy to use
Works best on bermudagrass and St. Augustine grass
Help strengthen grass against extreme Texas heat
Ideal to be mixed with humic and fulvic (biostimulants) for a better performance
Cons
Requires regular applications to see results
A little bit expensive to some gardeners
Swampy smell
4. Simple Lawn Solutions Concentrated Starter Fertilizer with Humic Acid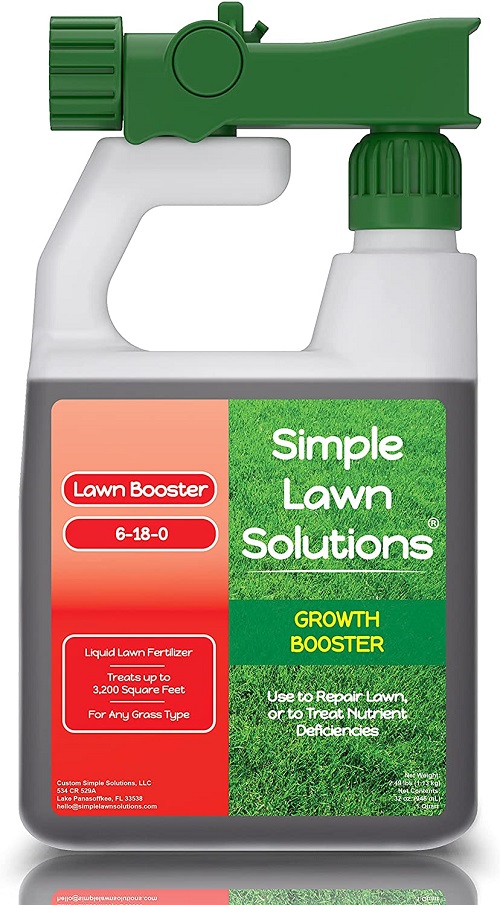 Simple Lawn Solutions has another product that helps start lawns or help new sod adjust to your soil. This liquid lawn fertilizer has a 6-18-0 NPK ratio that serves as a growth booster for your lawn grass seedlings.
Its main objective is to repair lawns with nutrient deficiencies. It also aims to increase the vertical and lateral grass growth, filling up bald patches.
This fertilizer is fortified with an advanced humic acid formula for enhanced plant nourishment. Aside from new grass seedlings, this brand also helps speed up the adjustment of newly added sod to your soil.
This formula comes in a hose-end sprayer packaging that allows you to use it immediately without mixing and measuring stuff. It applies to all grass styles, such as:
Bermuda
St. Augustine
Zoysia
Buffalo
Centipede
Florida Palmetto
Bahia
Fescue
Ryegrass
Kentucky Bluegrass
The extra phosphorus content helps promote seed germination and has been highly recommended by the manufacturer for seeding a lawn. The added humic acid or biostimulant helps increase CEC or Cation Exchange Capacity that helps release locked and stuck soil nutrients.
Most gardeners appreciate its good spread. However, it requires patience to see the results in your yard. Some instances also disappoint gardeners when the solution did not reach the advertised 3200 sq. ft. coverage.
Pros
With humic acid that serves as a biostimulant for the grass
Ideal for establishing sod 
Best for new lawns or during seeding
Easy to use 
Applicable to any grass and soil
Cons
Requires some knowledge on lawn care for proper application
The solution does not reach its advertised maximum coverage span.
5. Scotts Liquid Turf Builder with Plus 2 Weed Control Fertilizer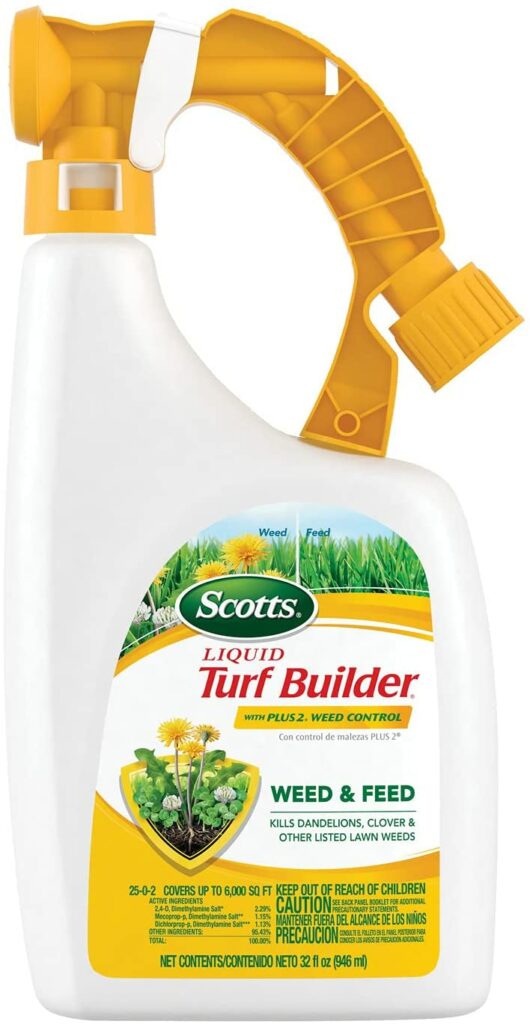 Another Scotts liquid lawn fertilizer comes in a weed and feeds formula. This fertilizer and weed killer has an NPK ratio of 25-0-2.
The manufacturer claims that it kills weeds without harming your lawn. It claims that it can cover 6,000 sq. ft. of lawn. It is composed of the following materials:
2, 4-D, dimethylamine salt (2.29%)
Microcop-p (1.15%)
Dichlorprop-p (1.13%)
The manufacturer claims that this weed and feed solution fertilizes the lawn under 24 hours while controlling weeds. It helps kill the tough and pesky weeds common in yards, such as:
Dandelions
Clover
Buckhorn
Chickweed
Ground ivy
Henbit
Knotweed
Lambsquarters
Oxalis
Pigweed
Plantain
Poison ivy
Ragweed
Spurge
Though it applies to most grass lawns, make sure that you do not spray it on the following types of grass as it can burn and kill them:
St. Augustine grass
Buffalo grass
Dichondra
Desirable clovers
You must use it on your lawn when the weeds are actively growing. Sadly, it does not kill crabgrass. Many gardeners make the mistake of accidentally burning their lawn due to improper application on the yard. This fertilizer works well if used correctly.
Pros
2-in-1: Weedkiller and liquid lawn fertilizer
Gets rid of weeds in 24 hours
Improves lawn health
Turn your dull lawn into a lush green patch of lawn
Cons
Can burn grass with improper application
6. LawnStar Chelated Liquid Iron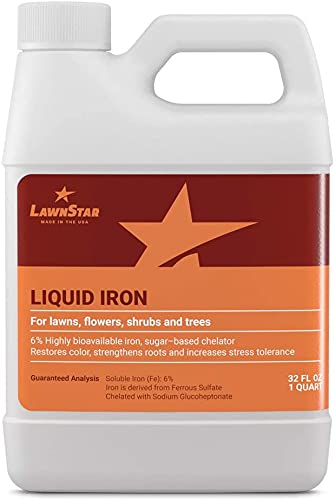 Iron is one of the gardening secrets that not most homeowners know. The yellowing and dormancy of grass are usually due to iron deficiency. Iron has been an essential nutrient in plan health, allowing it to perform plant processes to provide dark green leaves.
LawnStar Chelated Liquid Iron helps replenish and treat iron deficiency in plants. It contains 6% highly-bioavailable nutrients in the soil to fix and repair the leaf chlorosis and restore the vigor and life from the grass.
Aside from restoring plant health, iron also helps strengthen the roots and helps them achieve high-stress tolerance against drought and the extreme temperature outdoors.
Unlike other synthetic fertilizers, this fertilizer is free from EDTA. It is a sugar-based chelator. Also, it is a trusted brand by most professional gardeners and landscape artists. Gardeners have seen it work wonders on centipede lawns and other types of grass.
The only downside in using this fertilizer is it can stain wooden patios and other outdoor fixtures. So, make sure to handle it with care when transferring it in a sprayer. Overall, many gardeners are happy with the effect of chelated iron on their lawns.
Pros
EDTA free
Restores the deep green color in the grass
Help develop a stress-resistant root system
Easy to use
Ideal for treating centipede lawns
Trusted by most professional gardeners and landscape artists
Cons
Some gardeners notice that the effect of this fertilizer lasts for only two and a half weeks.
7. Organic Liquid Seaweed and Kelp Fertilizer Supplement by Bloom City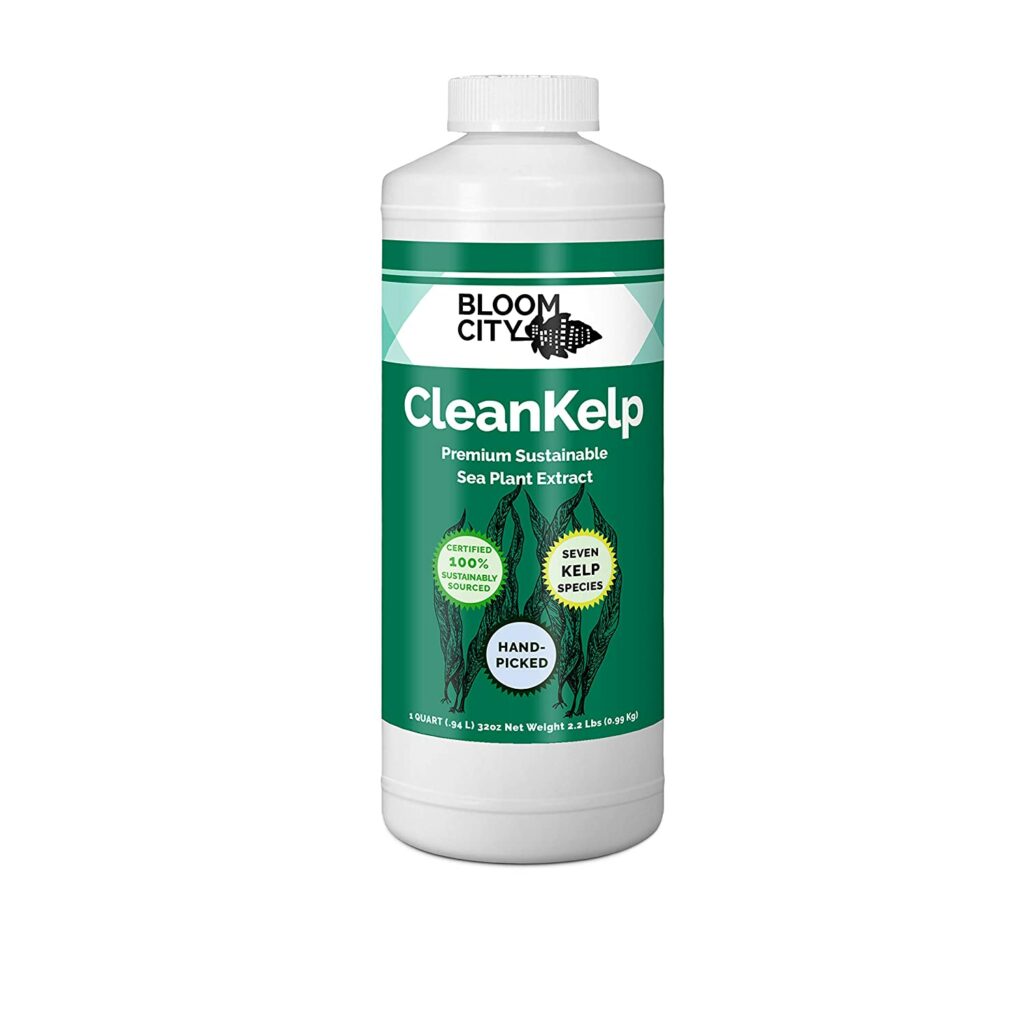 Liquid Seaweed & Kelp Fertilizer by Bloom City is a premium-grade fertilizer that contains seven kelp species compared to its competitors. Its formula promotes sturdy root growth and improves the health and color of the grass.
It has the following kelp species:
Ascophyllum Nodosum
Palmaria Palmata
Ecklonia Maxima
Laminaria Saccharina
Chlorella Vulgaris
Arthrospira Platensis
Chondrus Crispus
The manufacturer boasts its unique way of preserving natural enzymes and hormones in extracting the liquid seaweed. They remove the excess non-nutritious pulp of seaweeds to achieve the highest quality of nutrients and remove impurities that cause odor and residue.
This kelp fertilizer is ideal for nourishing both grass and plants. The recommended mixing ratio is 1:200, which means a small amount can go a long way. It is organic since it only uses kelp and other seaweed extracts.
The kelp contents are cold-pressed to ensure their high-quality extraction. It contains microalgae such as spirulina and chlorella that are mixed into the solution to extract all of its nutrients, forming a powerful plant food for plants.
There are no animal products included, and it is a vegan-friendly fertilizer. Most gardeners prefer this brand since it has little to no smell compared to its competitors.
Pros
Contain seven kelp species
With microalgae spirulina and chlorella for a diverse source of nutrients
High-quality extraction processes that help preserve kelp hormones and enzymes
Organic liquid lawn fertilizer
Vegan-friendly
Safe for use around kids and pets
No animal products included
Little to no smell
Cons
8. Plantworks Ltd Empathy Lawn Feed Liquid Seaweed Stimulant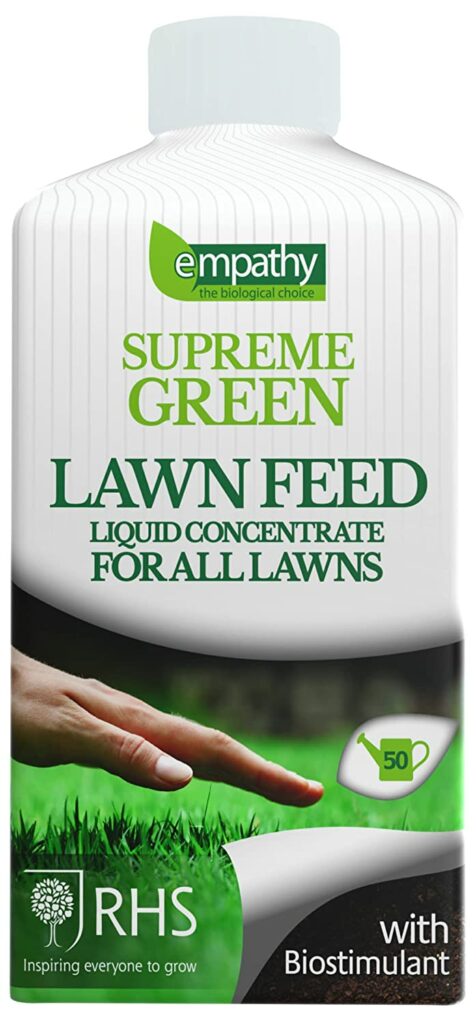 We aim to gather as many organic sources as possible for your lawn needs. Organic Seaweed Stimulant by Plantworks is another seaweed fertilizer suitable for nourishing all types of lawns. It contains natural growth factors such as auxins and cytokinins that improve plant development.
This fertilizer comes in a 0.26 gallon (1-liter) bottle that produces 2.38 gallons (9 liters) of plant food. It is fortified with extra iron to enhance the greening of your lawn. The kelp and seaweeds are sustainably harvested and specially formulated to promote the overall health of plants.
Most gardeners notice that their lawns have rapidly greened up using this kelp fertilizer. The combination of kelp, amino acids, and iron are the main drivers of the fast-acting effect on the grass. Aside from stimulating growth, it also helps strengthen the roots to increase stress tolerance.
The only catch with this brand is its packaging. The hose-end sprayer also fails to draw the solution out of the bottle. Most of them transfer the fertilizer solution to another sprayer.
Pros
Added iron and amino acids for rapid green-up
No chemicals
Fortified with growth factors like auxins and cytokinins
Improves the stress tolerance of plants
Help strengthen the roots
Cons
A bit pricey
One liter only produces 9 liters of diluted solution, which is less than its competitors.
9. Miracle-Gro EverGreen Fast Green Spray & Feed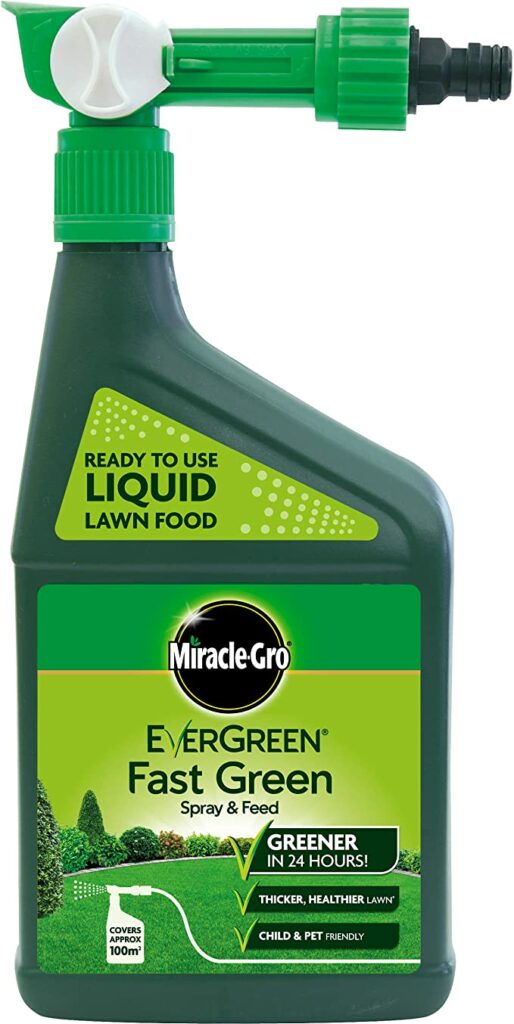 The last fertilizer on our list is a liquid lawn fertilizer from a mainstream brand like Miracle-Gro. The Miracle-Gro EverGreen Fast Green Spray & Feed promises a greener lawn in 24 hours. A bottle can cover around 100 sq.m. and has an NPK ratio of 27-0-1.
The ready-to-use formula of this fertilizer comes with added iron for greening. It comes in a hose-end spray packaging that aims to both feed and water your lawn.
The manufacturer recommends that you apply it every six weeks from early spring until fall to ensure that your yard will be more resistant to drought and other plant stresses.
This fertilizer is pet and kid-friendly. However, you should wait for the treated area to be thoroughly dry before letting anyone play in it. Most gardeners find this brand effective, simple to use, and come at an affordable price.
Pros
Easy to use
With added iron 
Waters and feeds your lawn at the same time
Rapid green-up approx. under 24 hours
Cons
---
Choosing The Best Liquid Lawn Fertilizer: Features To Look Out For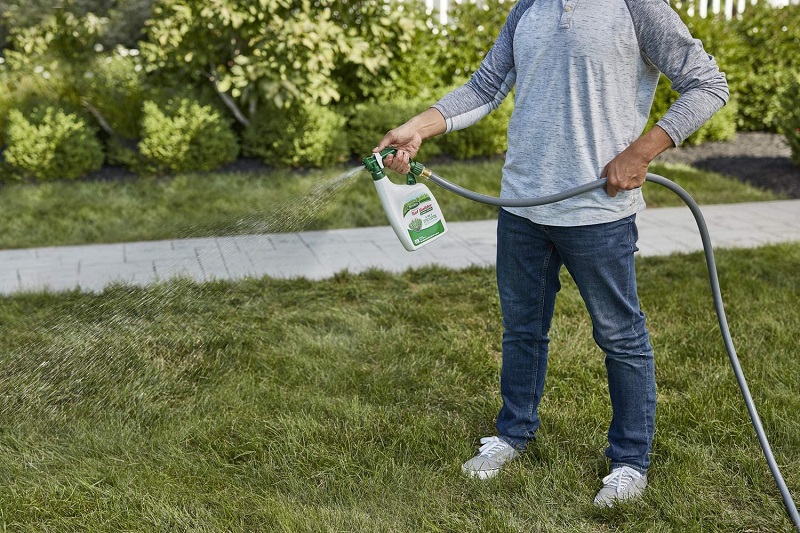 With the multitude of options around, it can be easy to fall into the trap of choice paralysis.
In some cases, you might even choose the first ones that come out of the search results just because it's too tedious to search, and you have no idea what to look for in a fertilizer.
So, in this post, we will help you find the right liquid lawn fertilizer for your lawn by looking for the following factors:
Is it organic or non-organic?
The composition of a fertilizer matters a lot because it dictates the toxic materials you allow in your lawn. There have been tons of articles about toxic agricultural products that have caused health problems among homeowners and farmers.
There are now multiple organic brands of fertilizers suitable for lawns, like kelp fertilizers and food-grade based organic materials. If you want to ensure that fertilizer is organic, check for its OMRI certification.
By choosing an organic and environment-friendly brand of fertilizer, you become a responsible green thumb of our planet.
Is it applicable to all types of grass?
One of the biggest mistakes of homeowners is buying something that they don't check. Upon application on their lawn, their thriving grass dies out of the blue.
Not all information about a product is on their Amazon page. So, it's crucial to look for their website or check the label before buying or using a product.
Some brands of weed and feed fertilizers can kill certain types of grass. The weed and feed types of fertilizers, in particular, are the ones that have a limited set of grass that it can treat. Some sensitive types of grass to these fertilizer solutions are St. Augustine and centipede grass.
Can you handle the smell?
Organic fertilizers usually have that organic smell that may not be pleasant for some gardeners. They often contain fish, seaweeds, and manure that can cause a pungent smell even when diluted.
Check if you can tolerate the fertilizers you'll use on your lawn since we're talking about several square feet of a yard that will smell for a couple of days.
Does it contain iron and added nutrients?
Iron and added macro or micronutrients are nutritious for your grass. They help make the grass greener faster and help strengthen the roots to make your grass healthier for a while.
Look for those brands that contain iron and added nutrients to ensure a long-lasting benefit for your lawn care.
Does the packaging work?
One of the main reasons gardeners switch from one brand to another is faulty packaging. It can be very frustrating to use a hose-end sprayer that doesn't work. If a brand has a superb fertilizer solution but comes in defective packaging can be very disappointing.
In some cases, some gardeners presume that all hose-end sprayer types of packaging are faulty. So, they invest in a sprayer that they can use for the fertilizer solution of their choice.
Final Thoughts
We hope that this post helped you find the best liquid lawn fertilizer for you. We all have different preferences when it comes to fertilizers.
So we tried to diversify the best liquid lawn fertilizers based on the types of gardeners that will use them.
Our top 3 liquid lawn fertilizers based on performance and eco-friendliness are as follows:
Let us know in the comments which brand of liquid lawn fertilizer has helped you achieve the lush, thick green lawn you ever dreamed of.
With your success in greening up your yard comes those envious neighbors around. Share this post with them so they can achieve a greener lawn too.