Since most of us are staying at home due to the pandemic, why not make your home a little more relaxing. Turn your backyard into a space of relaxation by making it look like your favorite summer destination. An accent that can give your backyard a relaxing vibe is adding a hammock. 
In this post, we listed the best backyard hammocks in 2022 so you can choose the most suitable one for you.
In A Hurry? Our Top Picks:
We also added some buying considerations guide so you can assess if the hammock is best for your location and your weight. 
Let's start looking for some hammocks!
(You could use the table of contents below to jump to the sections that are most important to you.)
---
10 Best Backyard Hammocks for 2022
Check out our list of the trendy and durable hammocks best for your backyard transformation. Designing your home doesn't have to be expensive as long as it satisfies your needs. 
Find your best bet from our list below:
1. Kootek Camping Hammock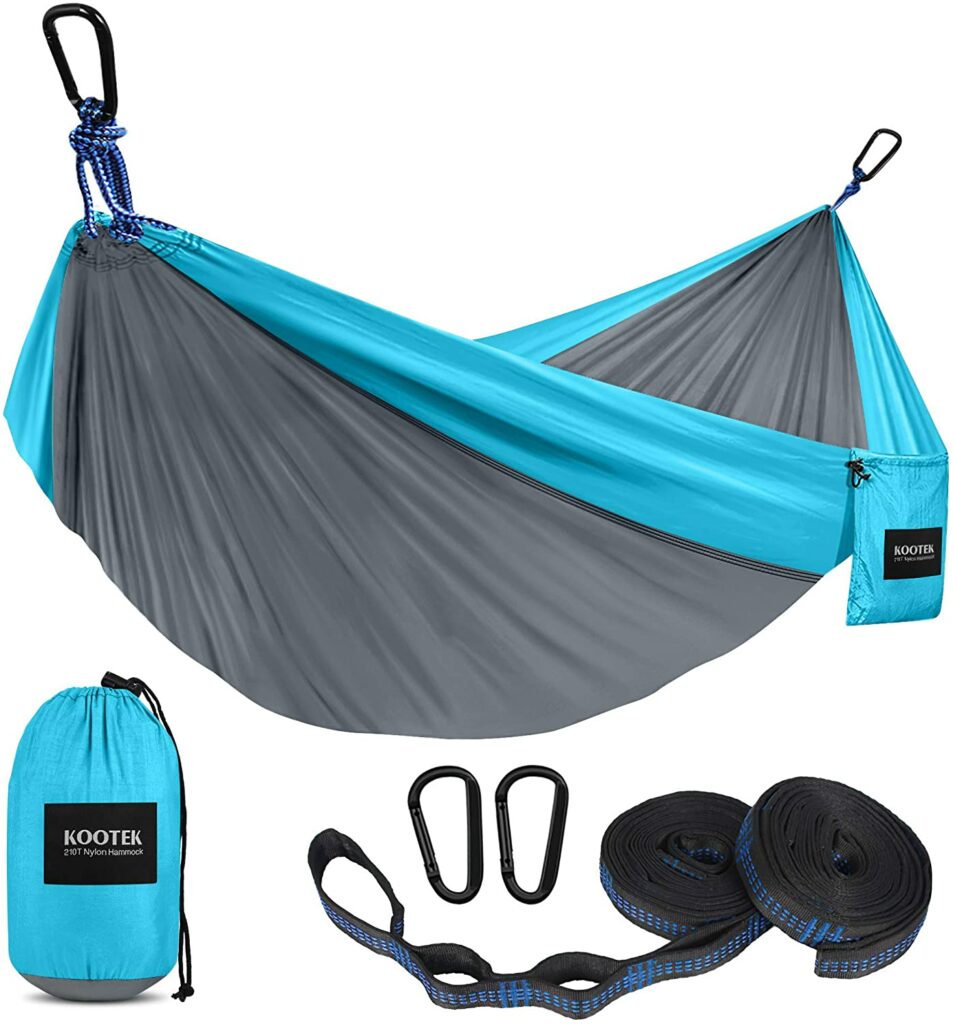 Dimensions:
Weight capacity: 500 lbs. (226.80 kg)
Hammock size: 118 x 70 inches
Strap length: 10 ft. 
Pouch size: 4.2 x 6.4 x 9.4 inches (L-W-H)
If you are fond of traveling or hiking, Kootek Camping Hammock is probably the most economical choice. It is only around $22 to $27, but it consists of high-quality materials that can last for years. This hammock comes with two 10-foot tree straps, two carabiners, and a pouch bag.
This hammock is best for families with an active lifestyle. It is easy to set up and fold if you want to hang it in another location.
Many customers praise it for being wide enough that they can use the extra space as a blanket.
It is suitable for:
Backpacking
Beach vacations
Backyard and patio amenity
Hiking
The material used for the hammock is a parachute fabric material. It is easy to clean and doesn't easily tear and fray. You can wash as often as you want since the fabric dries fast. 
Above all, the fabric used is not a dirt magnet, so you can leave it outdoors without batting an eye if it gets dirty immediately. The hammock is lightweight, compact, and foldable. Therefore, it is perfect for those who don't like bulky furniture in their yard. 
Two people can fit on this hammock. Though, some say that it can't handle much of the weight that it promises to carry. However, the majority of the customers are couples that are comfortably sitting on this hammock without issues.
Pros
Multi-purpose
Easy to set up
Foldable and lightweight
Durable and can fit two persons
No need to tie knots
18-month warranty
30-day return policy
Good customer service
Affordable
Cons
Color fades over the years of continuous use
The design may not blend into specific exterior designs
2. LazyDaze Hammocks 55″ Double Quilted Fabric Hammock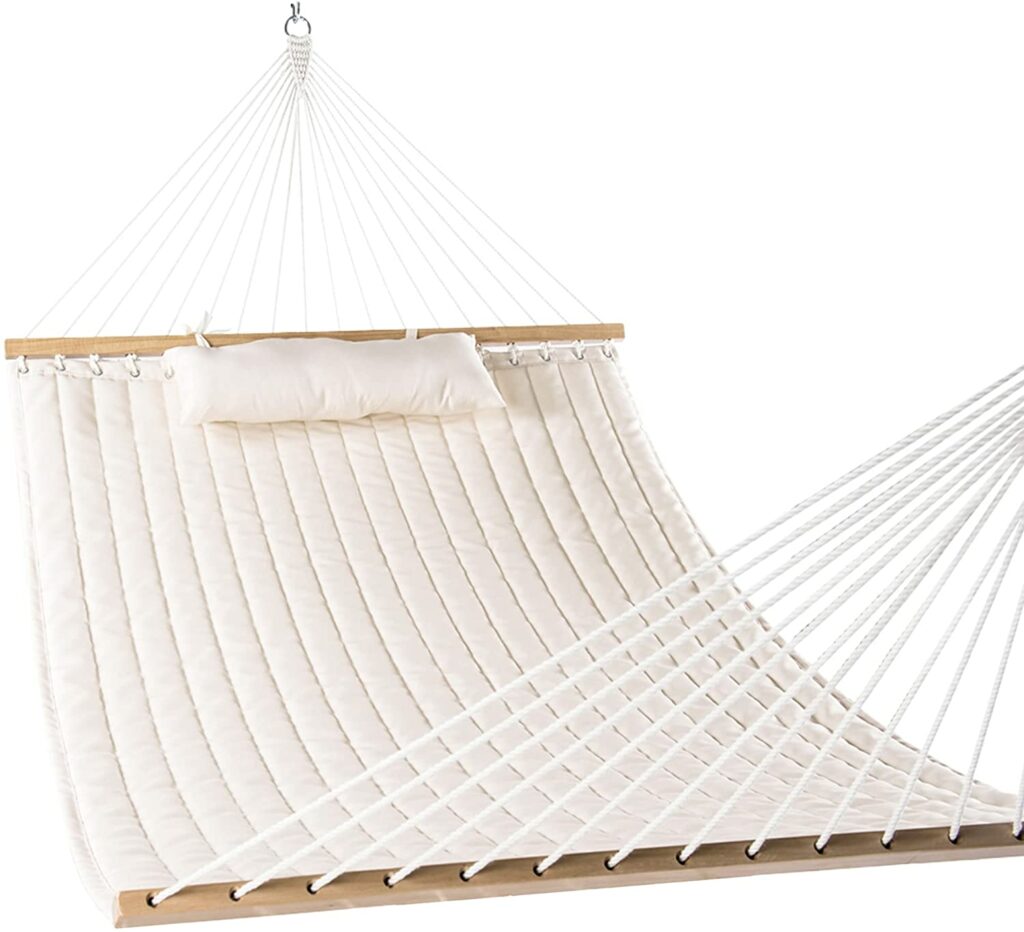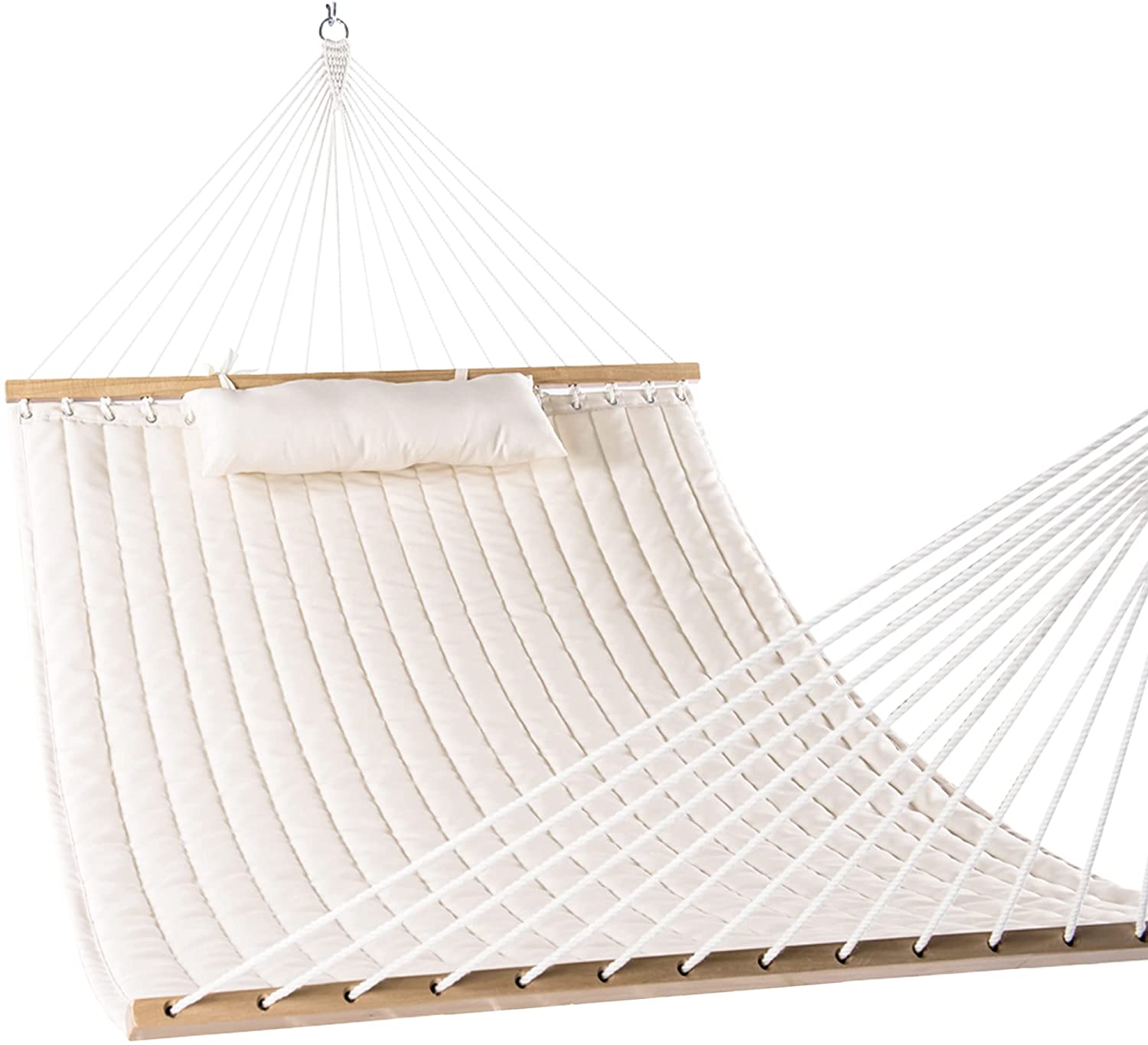 Dimensions:
Weight capacity: 450 lbs. (204.117 kg)
Hammock size: 78 x 55 inches
Wooden bar length: 55 inches 
Overall size: 141 inches
Moving on to the stylish hammocks, LazyDaze Hammocks 55″ Double Quilted Fabric Hammock is among the best options. It has two wooden boards that spread the hammock and make it wide for you to sit with your family member. The overall design of the hammock also resembles the hammocks you will find in beach resorts and hotels. 
Due to its unique design, it will complement Nordic or pastel-themed exterior home design. Your pets can also freely hop in since it has a flat surface than other types of hammocks. You can use it to design your indoors or create a relaxing space in your backyard.
The material used for the hammock is quilted polyester padding. A pillow is also attached to one of its ends that turns it into a perfect relaxation space. The hammock also comes with two chains and two S hooks.
It is best for:
Patio 
Garden
Backyard 
Poolside
Balcony
This hammock supports your weight through the handcrafted ropes that run through the wooden bar and are attached to the hammock. It is easy to set up and only takes two to three steps to hang. You can attach the hammock to the S-hooks connected to the chains and find a sturdy wall or tree to attach the chains.
Customers find this hammock very comfortable and aesthetically pleasing. However, one of the common complaints is that it is slippery even if it is dry or wet. It is also not advisable to leave it outdoors since it takes a while to dry. The retained moisture may turn into mildew and even cause stains that are hard to remove.
Pros
Aesthetically pleasing
Provides extreme comfort
Easy to set up
Perfect for fur babies and fur parents
It can fit two people.
Hotel-grade material
1-year warranty
Cons
Not suitable to be left outdoors and must be folded after use to preserve its condition
It may take a while to dry when washed
Slippery which can be a hazard for young children
3. Wise Owl Outfitters Hammock Camping Double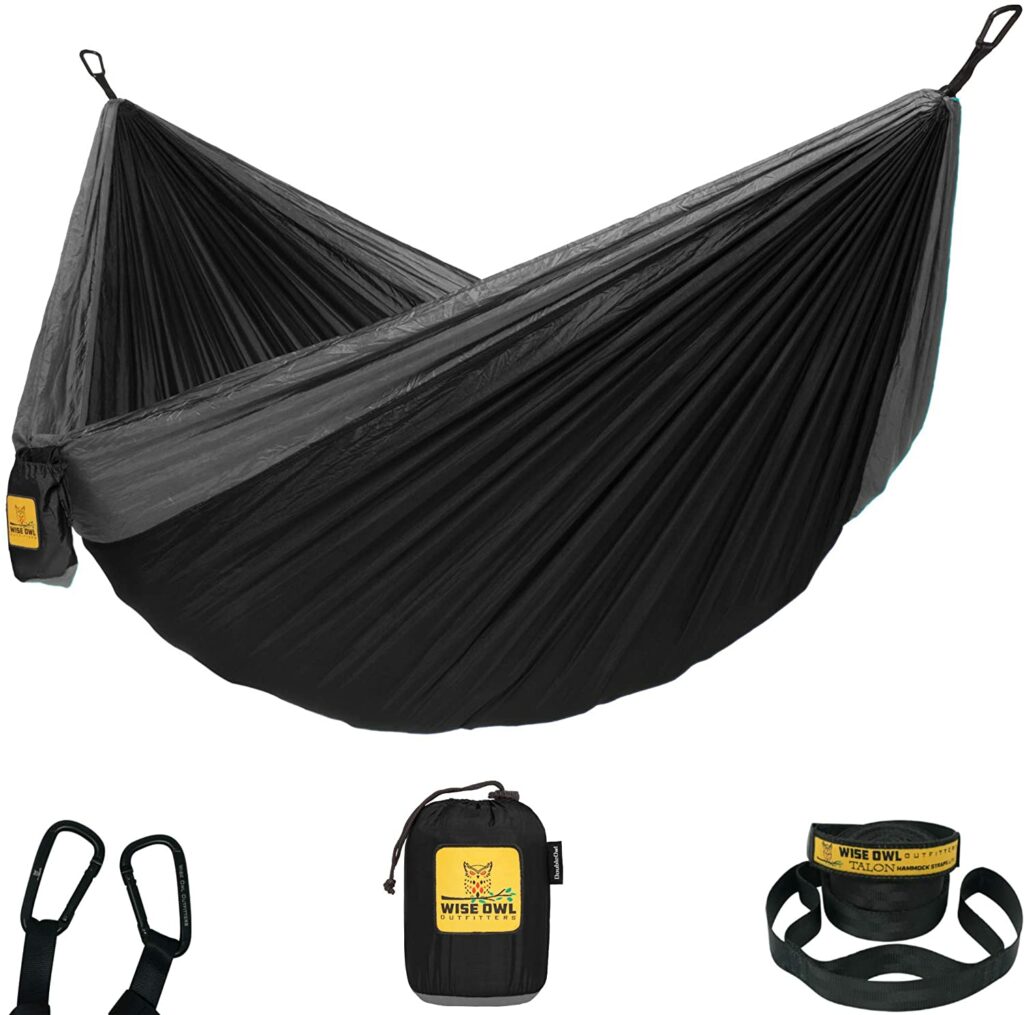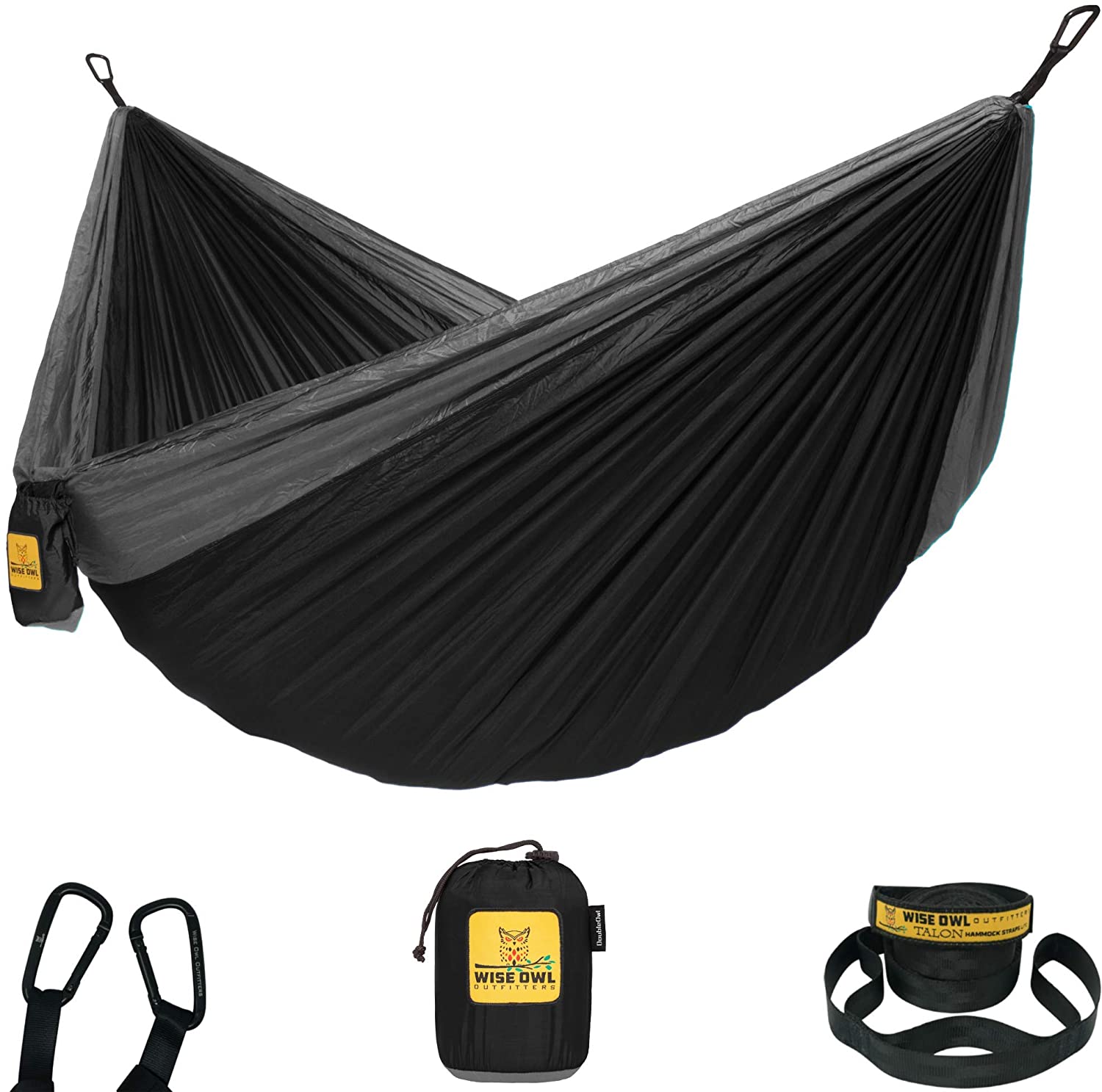 Dimensions: 
Weight capacity: 500 lbs. (226.80 kg)
Hammock size: 9 ft. x 4 1/2 ft.
Overall hammock weight: less than 2.2 lbs
Probably one of the well-known brands on our list is the Wise Owl Outfitters Hammock Camping Double. It rose to fame for its top-tier quality materials used that are at par with the big names in the industry like ENO. 
Many customers find the quality durable for half the price of the mainstream brands. It uses parachute-grade nylon to hold the weight of one to two persons.
Aside from using it to lounge in your backyard, this hammock has a multi-purpose use for:
Backpacking
Hiking
Beach trips
Wise Owl Hammock comes with two heavy-duty carabiners, two nylon straps with five separate loops, and a pouch bag. It is easy to set up and almost takes about three steps to have your relaxing space midair. 
The whole build for this hammock is easy to pack since they are lightweight and foldable. It is also easy to clean even if left outdoors. You can wash it with a detergent and water to remove stains, and you will end up looking brand new. 
The only downside of this brand is a few cases of the hammock ripping as soon as someone sits on it. However, only a few ripping incidents came up, and the majority are positive feedback for its affordability and durability.
The last warning is it can turn your kids into a cocoon. However, that may work in their favor.
Pros
An affordable alternative to the mainstream brand of hammocks
Lightweight and compact
Easy to set up
Durable
Easy to clean
Multi-purpose
Can fit two people within the 500 lbs. limit
Cons
Very few cases of hammocks ripping
4. SUNCREAT Double Quilted Hammock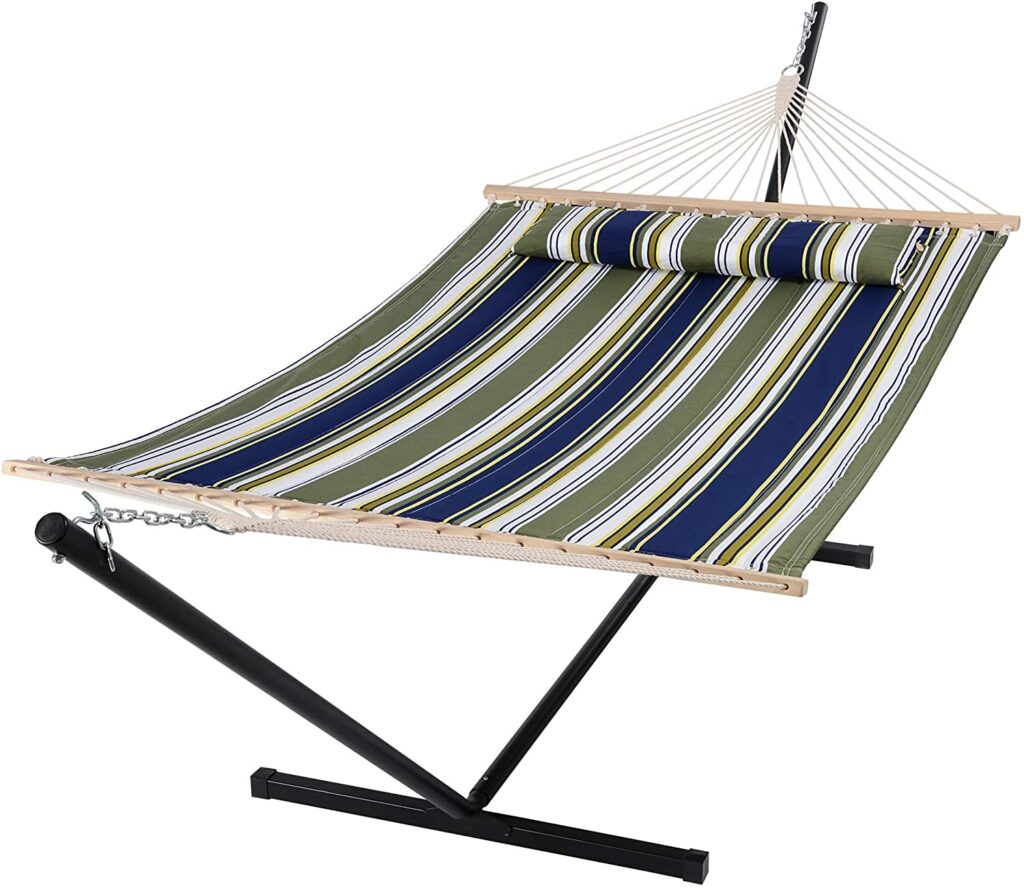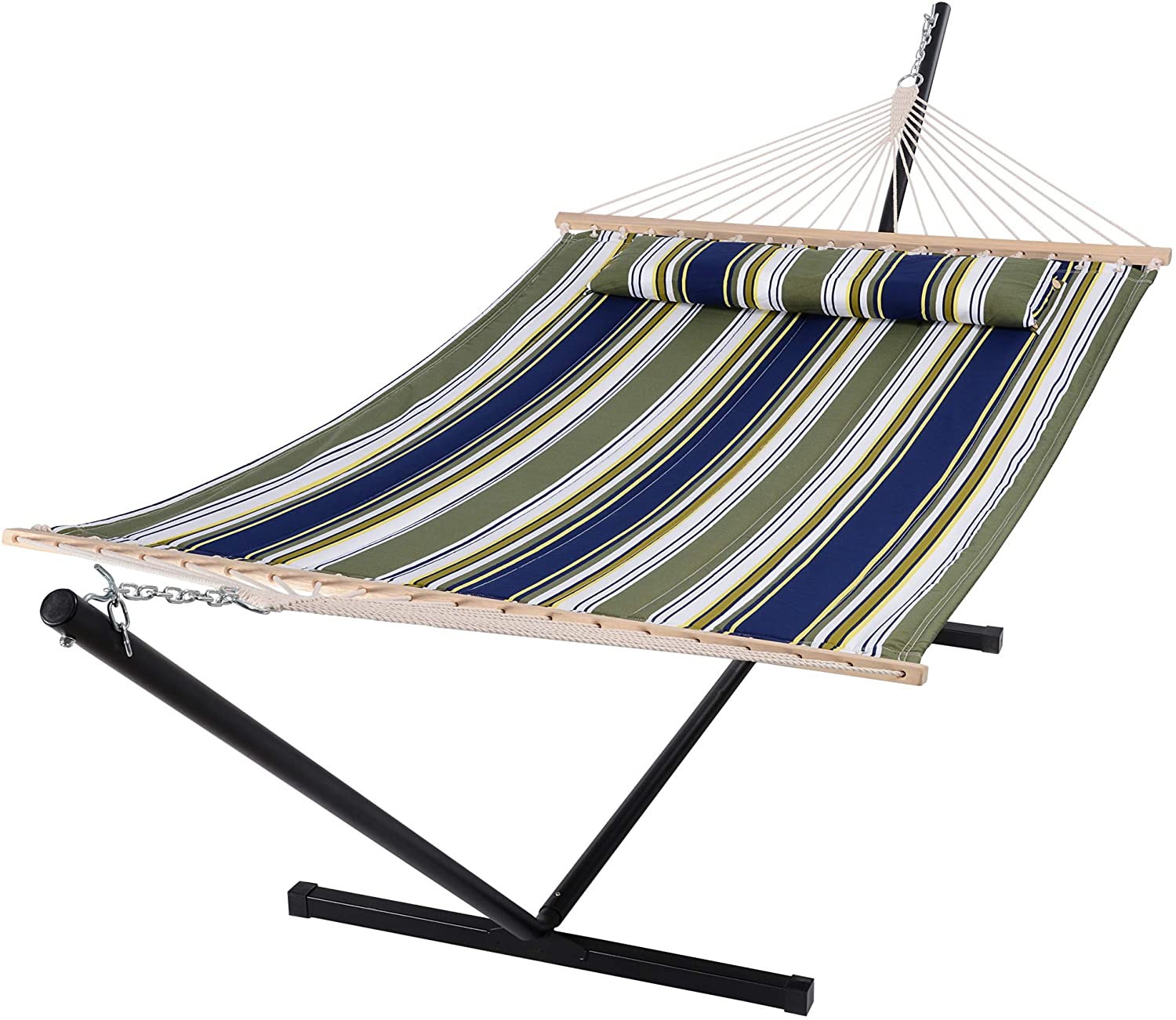 Dimensions:
Weight capacity: 475 lbs. (215.46 kg)
Hammock size: 78.7 x 55.1 inches
Overall size: 146 x 55.1 x 44.1 inches
Pillow size: 40 x 10.3 inches
SUNCREAT Double Quilted Hammock is another top-rated hammock in the market. It has two wooden spreader bars to make the hammock wider. Unlike other hammocks in this list, this comes with a stand that allows you to set it up in any location. 
The fabric used for the hammock is two-layered quilted polyester. It comes with a detachable pillow with a poly-fiber filling. The wooden spreader makes the hammock flat enough to prevent it from turning you into a cocoon. 
The steel stand has three parts that are easy to assemble through its snap-on buttons. The hammock stand connects to the hammock by an O-ring and 20 heavy-duty cotton ropes. 
Most customers love its durable quality and the comfort it provides after a long day of work. The stand will allow you to place your hammock in any location, be it under the stars or in front of the rising sun. 
Aside from the stand, it also comes with a bag to keep all the parts together in one pack. Unlike other products in this list, all of the customers are very satisfied with this product.
Pros
Complete package (stand + hammock)
Durable quality
Can support two persons
Easy to set-up
UV-resistant fabric that prevents the colors to fade
Easy-to-use snap-on joints
Well-made craftsmanship
Cons
5. Vivere Double Hammock with Space-Saving Steel Stand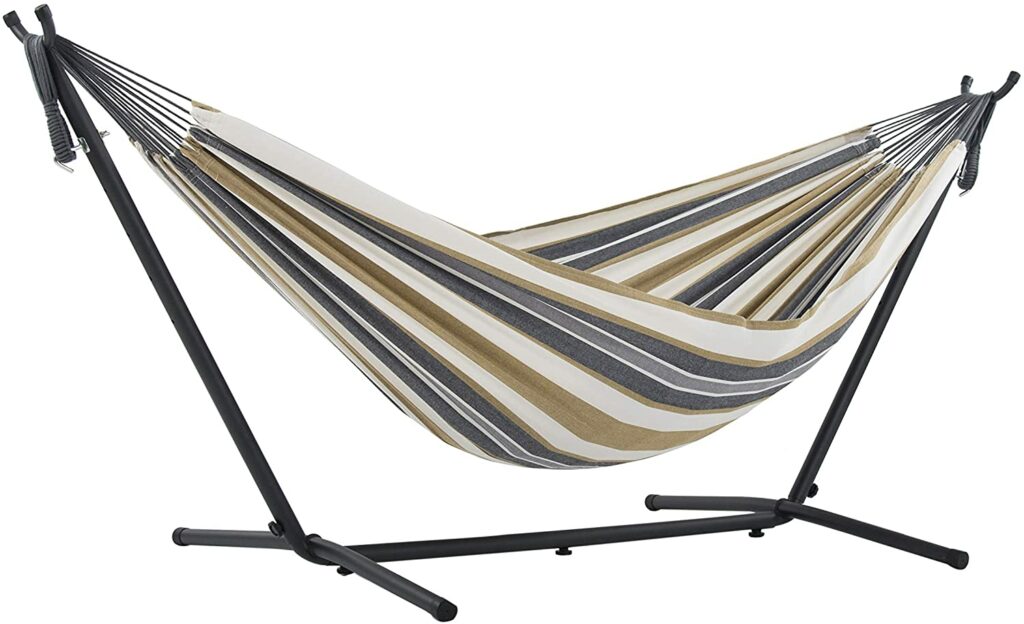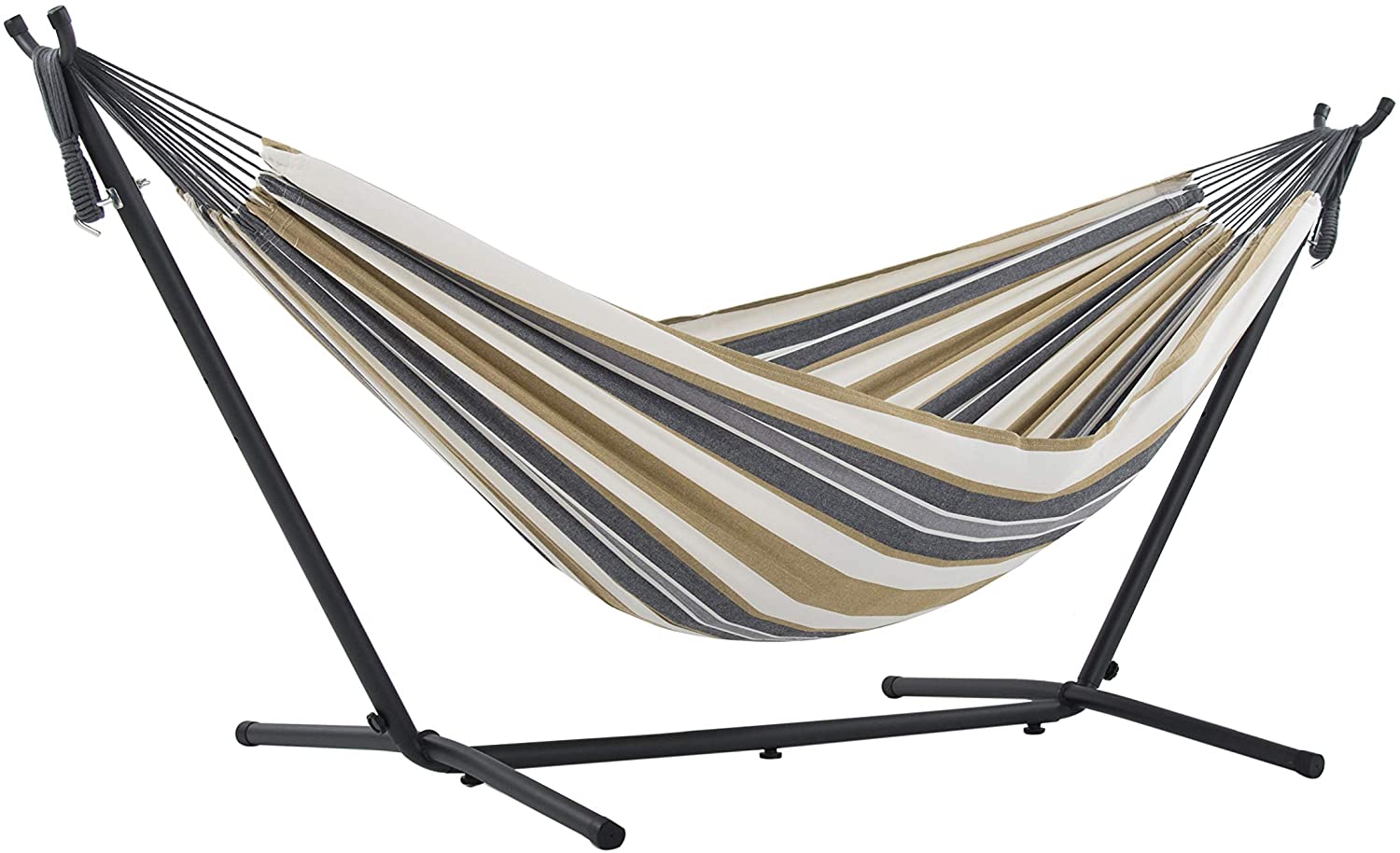 Dimensions:
Weight capacity: 450 lbs. (204.11 kg)
Hammock size: 12 ft. (hook to hook)
Overall size: 98 x 43 x 41 inches
Stand size: 9 1/2 ft.
Fabric size: 7 1/2 ft.
If you're overweight and looking for a hammock that is sturdy enough to handle your weight, this is the best choice for you. Vivere Hammock is the #1 best-selling brand on Amazon for its top-notch durability and adjustability. 
The best thing about this brand is you can choose the type of fabric of your hammock. They have variants such as cotton, polyester, and sunbrella.
Each type of fabric has its specific perks depending on your preference:
Sunbrella: It is a weather-proof fabric that can withstand the elements even if you leave the hammock outdoors. It doesn't have the smell of a chemical, and the color doesn't fade quickly. 
Polyester: The fabric is woven polyester that is highly resistant to stain, mildew, and weather damage. It is the type of fabric that can last for years due to its durability. 
Cotton: Cotton-made hammocks are soft and stretchy that can contribute to a more comfortable experience. It is breathable but not as weather-resistant as the other options and should be kept indoors after use.
Mesh: A more breathable fabric for your hammock and best used for beach outings.
The hammock comes with a stand, a detachable pillow, and a carry bag. The hammock stand is fastened with wing screws and has holes on its sides to adjust the hammock. Customers are raving about its top-notch durability to handle a weight that even exceeds the recommended weight.
The available options for the fabrics are also a plus and make you choose the best one according to your needs and preferences.
Setting up the Vivere hammock is a breeze. It is advisable to apply some mineral oil or WD-40 on its joints to prevent rusting and easier assembly.
Pros
#1 Best Seller in Amazon
Variety of fabric options
Top-notch durability
Adjustable hammock height
1-year warranty
No tools are needed to set up
No chemical smell
Weather-resistant fabric options
Cons
The joints may tend to rust and will require the application of WD-40 or any mineral oil.
6. Legit Camping Hammock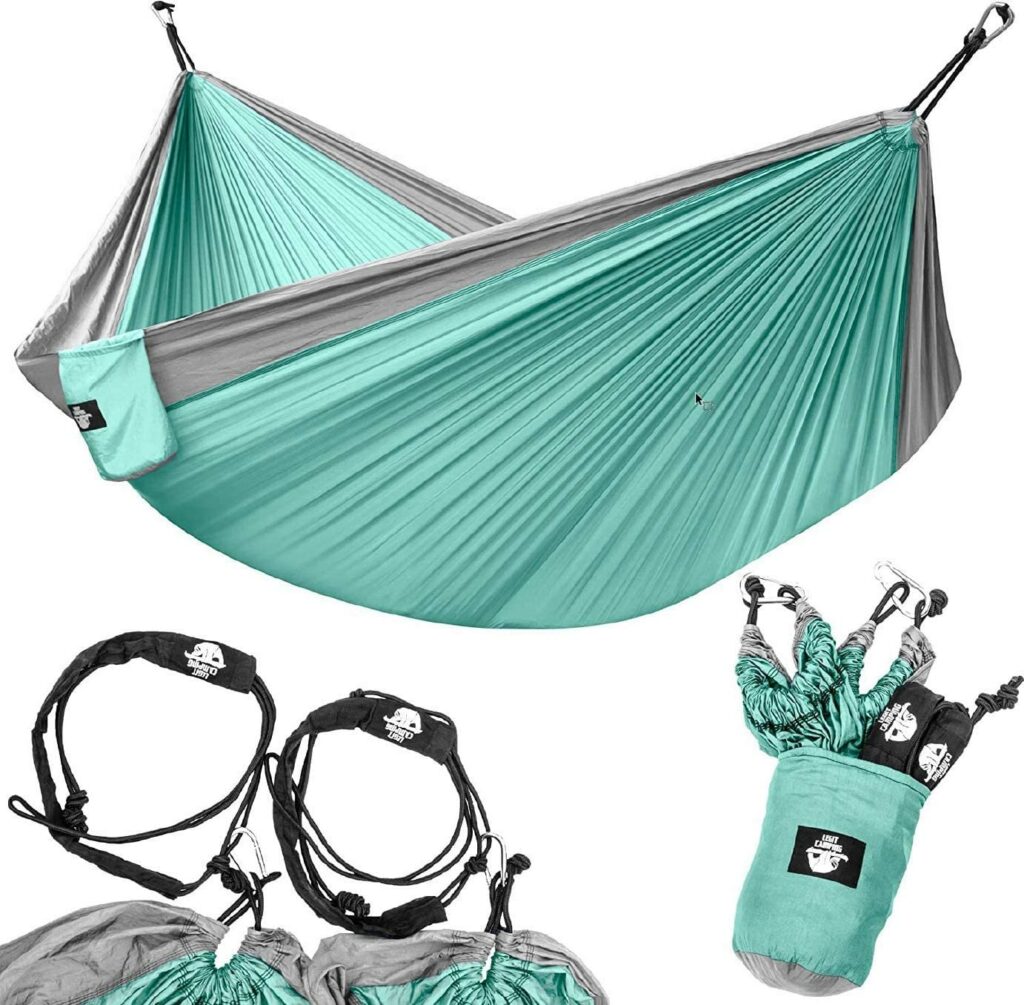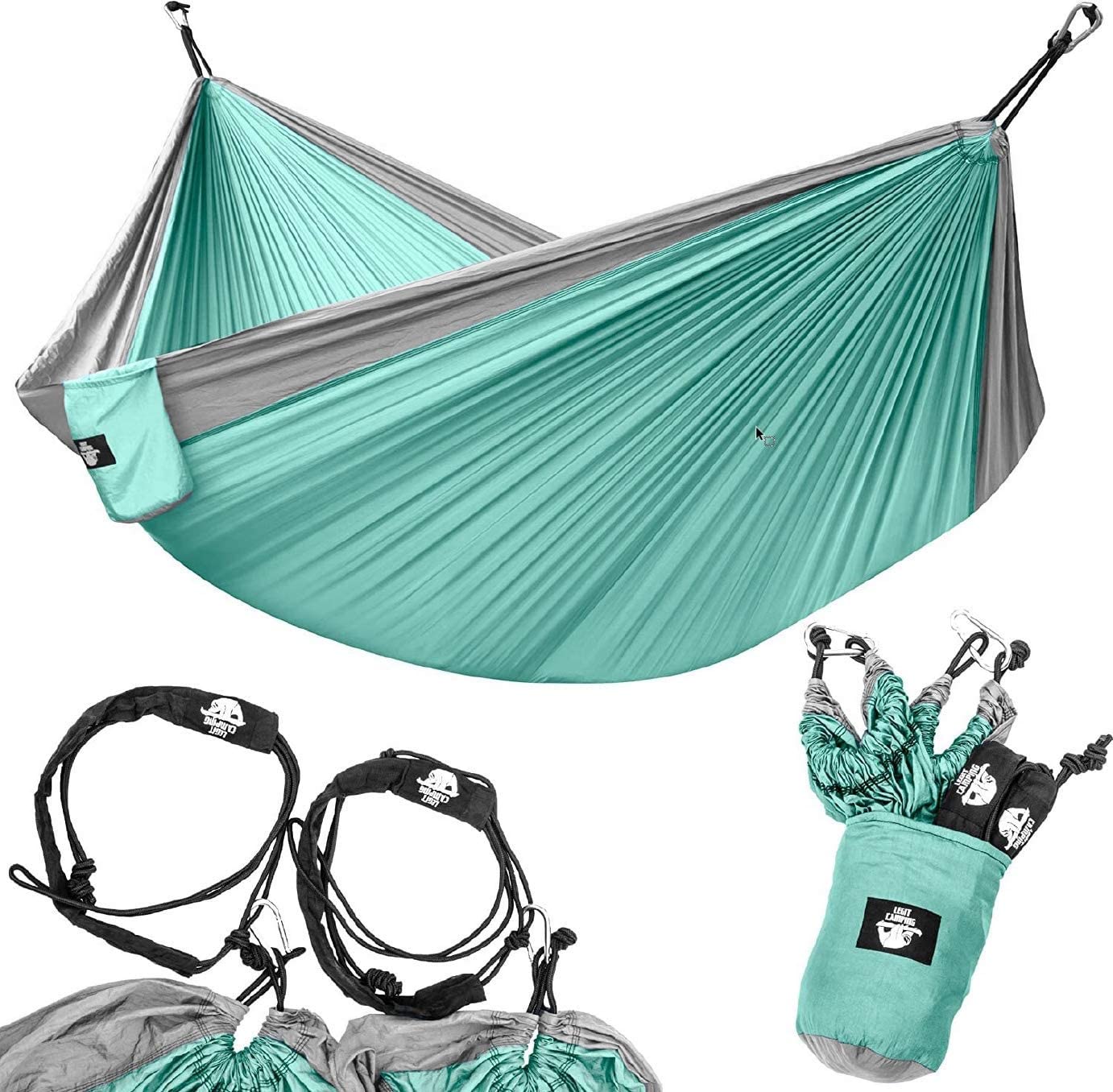 Dimensions:
Weight capacity: 500 lbs. (226.80 kg)
Hammock size: 10 ft. x 6ft. 
Overall size: 98 x 43 x 41 inches
Size when packed(pouch): 7 x 4 x 4 inches
Weight: 1.6 lbs. (including ropes)
If you are looking for another affordable multi-purpose hammock, Legit Camping Hammock is another good option. This brand put its name in the market due to its durable build and good customer service. The company even offers a lifetime warranty for their hammocks as long as you register the product within 30 days. 
The material used for the hammock is military-grade 210T nylon for superior support for your weight. It also comes with tree-friendly straps and heavy-duty carabiners. A pouch is attached to the hammock that you can use to pack the whole hammock, including its straps. 
Many customers find this brand as one of the affordable alternatives to expensive hammock brands in the market. This hammock is triple stitched on the seams and has an 8-inch polyester end that can support heavier loads. The tree-friendly straps can also hold up to 1,000 lbs. 
This hammock has a breathable fabric and can fit two persons. However, if you sit alone, it can turn you into a cocoon. To avoid that, you must lie on it diagonally. When you receive a product with a defect, you can immediately call customer service for a replacement or even a refund.
Pros
A perfect grab and go hammock
Lifetime warranty
Military-grade material used
Affordable
Comes with tree-friendly straps
Easy to set up and pack
Cons
You have to register the product on their website within 30 days to activate the lifetime warranty.
7. Hammocks Rada – Handmade Yucatan Hammock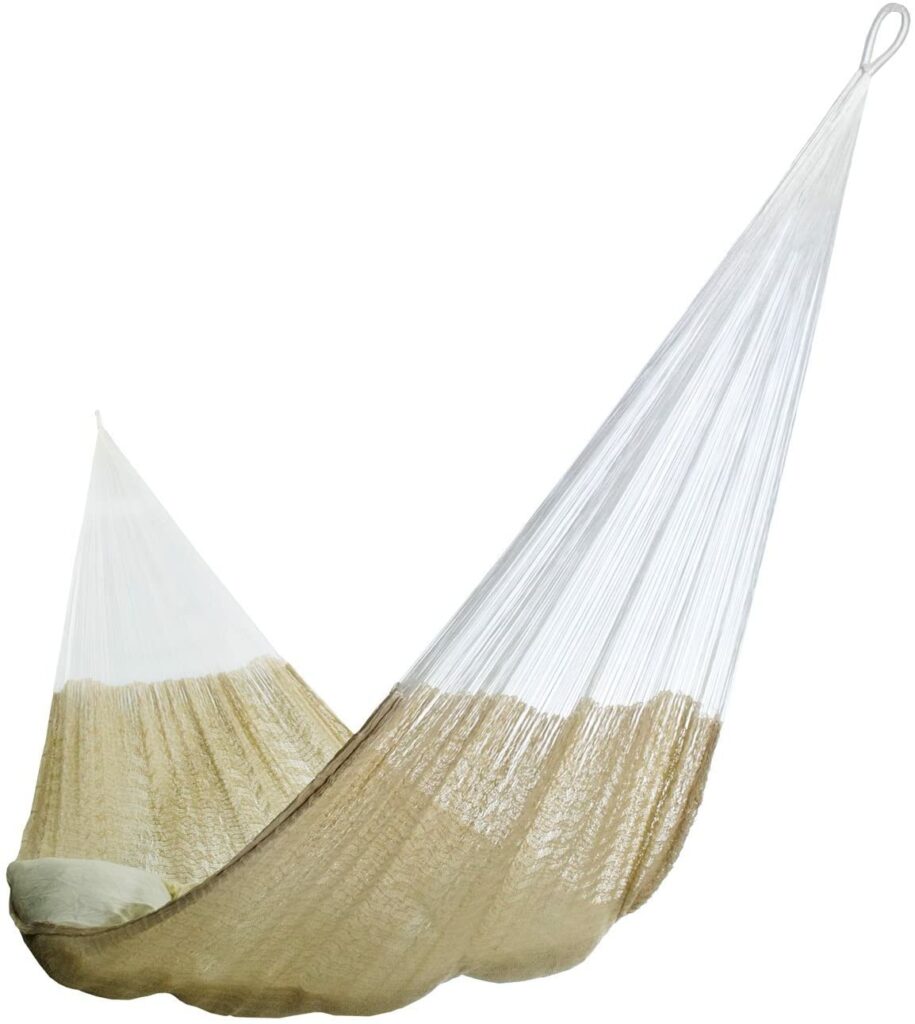 Dimension:
Weight capacity: 500 lbs. (226.80 kg)
Hammock size: 13 ft.
Using furniture or a decoration uniquely crafted by artisans can add more value to your home. Hammocks RADA – Handmade Yucatan Hammock is one of the few producers of artisan Yucatan hammocks. Their hammocks are intricately weaved, resulting in a comfortable sitting space suitable for your backyard. 
Unlike the camping and outdoor hammocks on our list, the handwoven material gives your home a tropical vibe. It can make you feel like you're on the beach between two coconut trees. The woven ham also follows the form of your body, which adds to the comfort it provides. 
Since the material uses thin strings, it is prone to tangles. It is made of 70% cotton and 30% nylon. Due to the nature of its materials, it is best to keep it indoors after use to preserve its good condition. 
You must store and set up the hammock properly by twisting it and turning it into a mini bun. You should also be careful in wearing shoes, belts, and even buttons when you sit on this hammock, as they can get tangled in the strings. 
Customers love this Yucatan hammock for its aesthetically pleasing look and its comfortable cotton material that is soft to the skin. It is also affordable and can be hung on a metal hammock frame if you have one.
Pros
Aesthetically beautiful
Handcrafted material is gentle and comfortable 
Affordable
Lightweight
Easy to set up
Breathable
Adapts your form and supports the weight of every part of your body
Cons
Gets easily tangled
Not weather-resistant due to cotton material
8. Covacure Camping Hammock With Net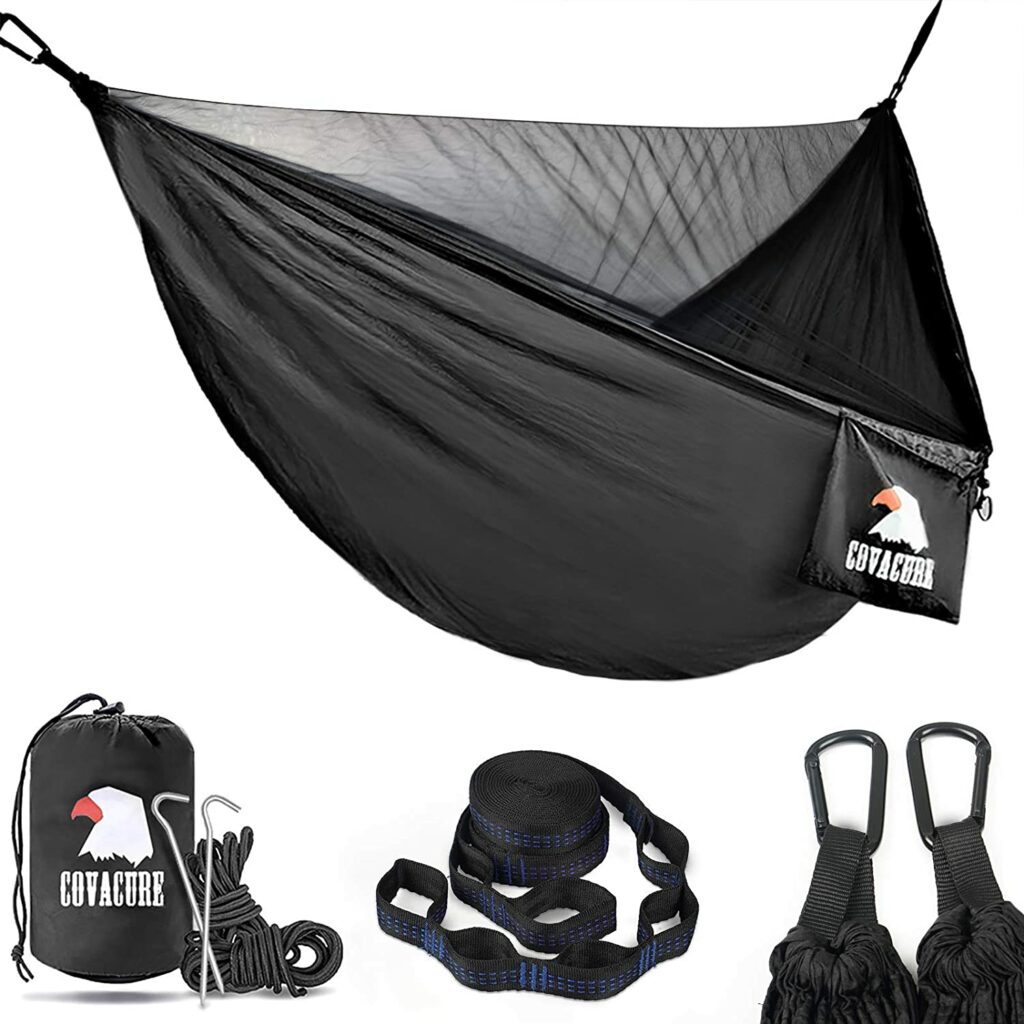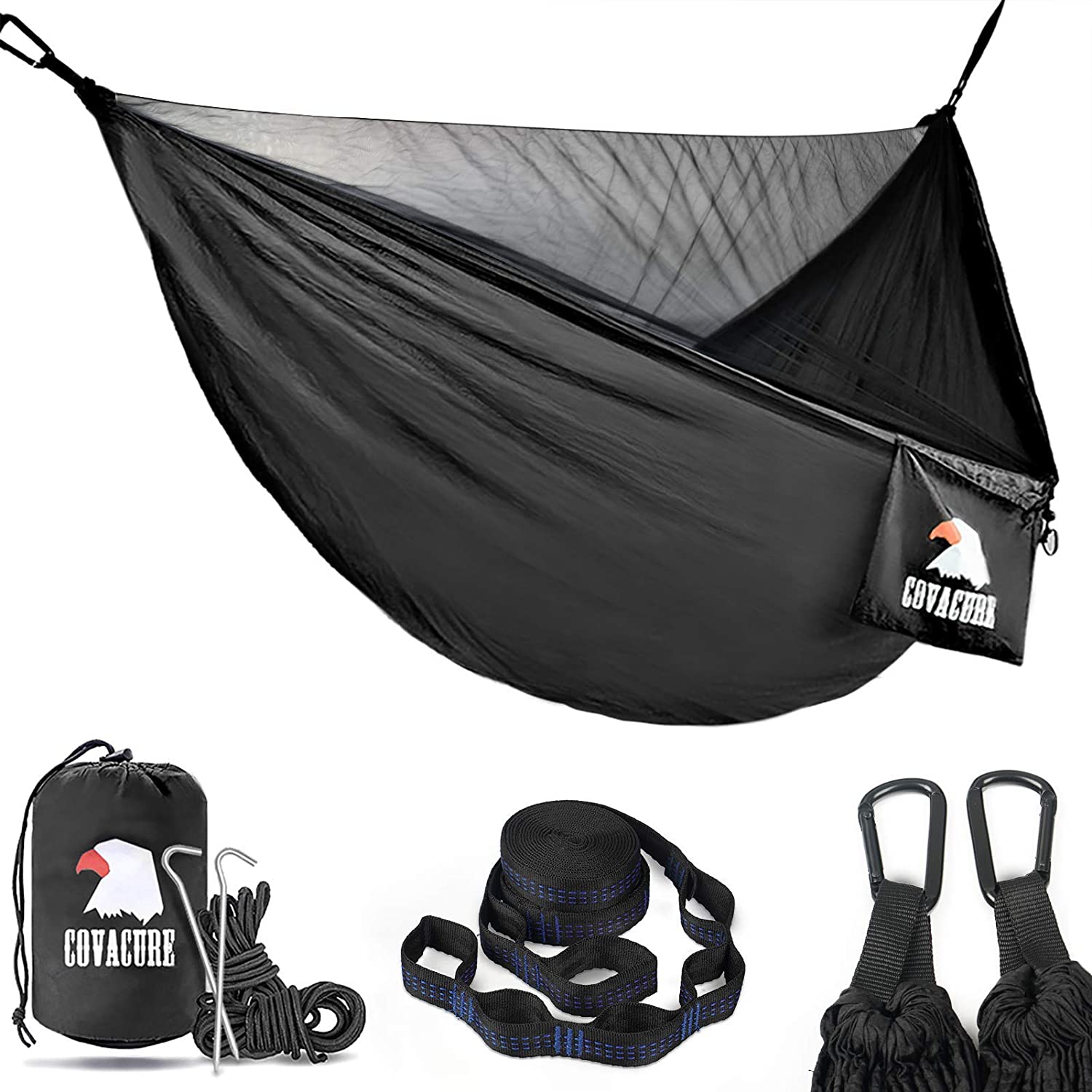 Dimensions:
Weight capacity: 772 lbs.
Hammock: 9.5 ft. x 4.6 ft. 
Overall size: 114.2 x 55 inches
Straps: 9.8 ft.
Weight: 1.93 lbs.
If the bugs are your concern in putting up a hammock in your backyard, Cavacure Camping Hammocks can help you with that. It has a mosquito net that you can zip up once you are on the hammock. It also comes with two carabiners, two stakes, a pouch, sand pegs, and two nylon straps. 
The hammock uses a tear-resistant parachute nylon fabric that can hold up to two persons in the hammock. The seams are triple stitched to ensure the durability of the hammock in handling your weight. The mosquito net is attached to it and can be easily zipped to protect you from pesky bugs. 
Aside from its durability, the fabric of the hammock is quick-drying. It is also breathable, which is best for warm and hot summer hikes.
It can be used for multiple occasions such as:
Hiking
Camping
Backpacking
Traveling
Beach vacation
The two straps are made of nylon with 6 adjustable loops. This hammock also comes with two sand pegs to keep your hammock as still as possible. Customers praise the brand for its complete set and additional mosquito net. The company also provides a free replacement for the hammocks in case something goes wrong.
Pros
Has an attached mosquito net and two sand pegs
Multi-purpose
Easy to set up
Durable and breathable fabric 
Affordable
Cons
Turn you into a cocoon when you place the mosquito net
9. Ankwell Hammock Chair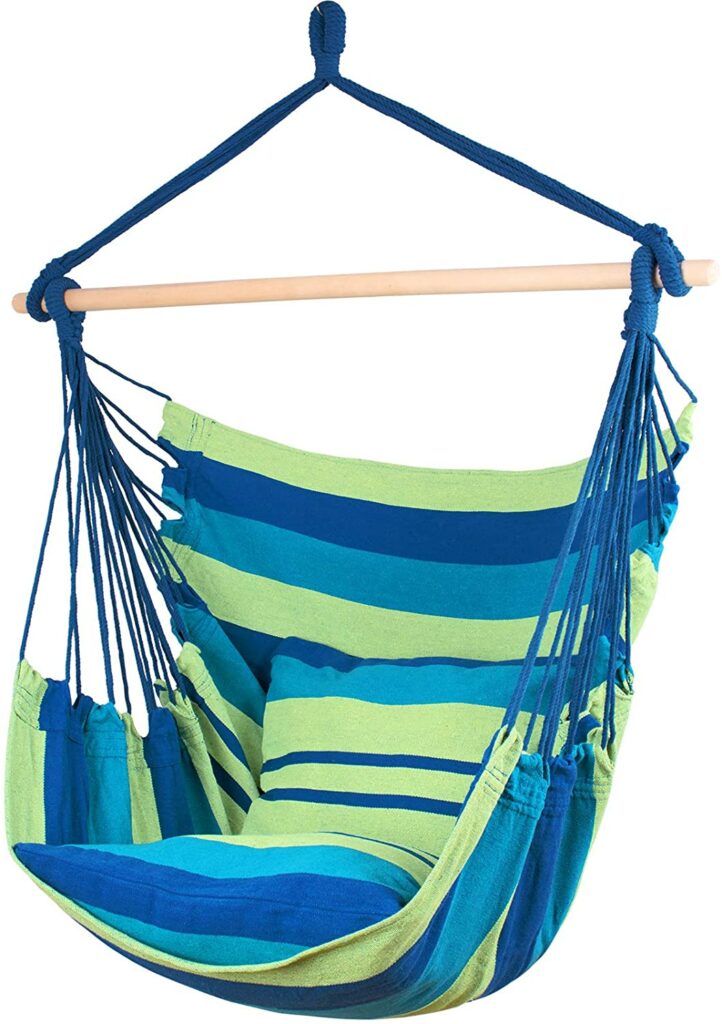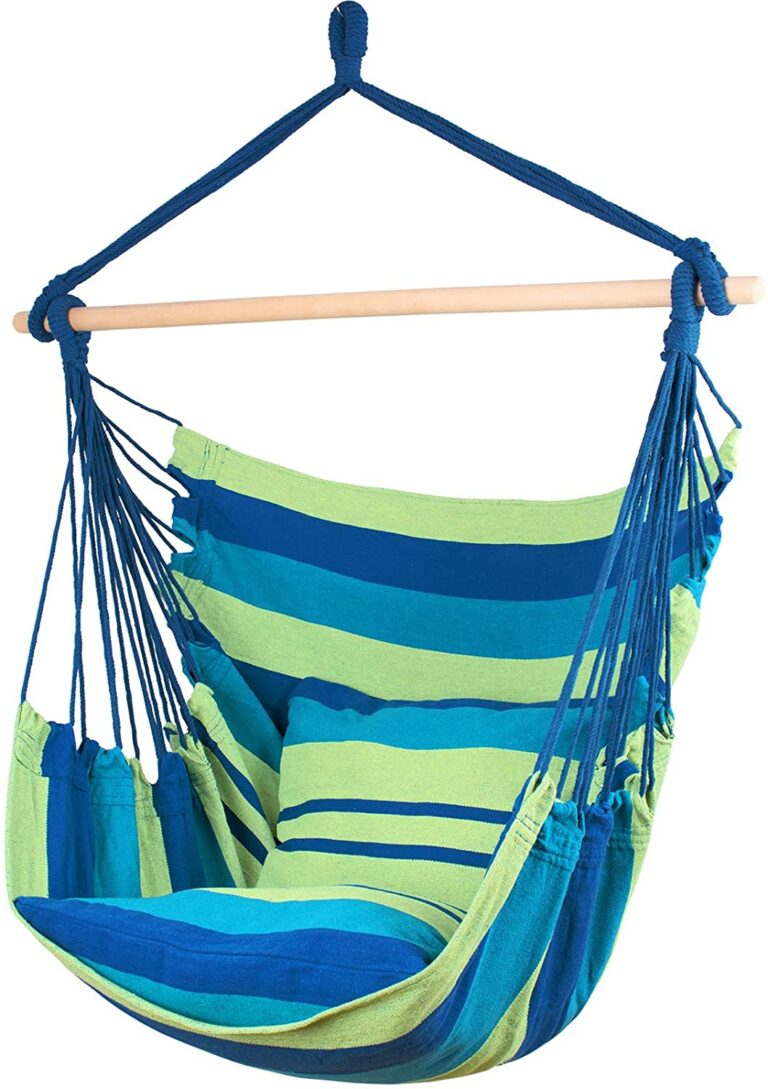 Dimensions:
Weight capacity: 330 lbs. (149.68 kg.)
Hammock size: 59 x 39 inches
If you are looking for another hammock that can complement your backyard design, you can try the modern hammock chair. Compared to the usual hammock, it is a single hammock made of cotton, nylon, and canvas. It comes with two cushions and 1 hand-made chair swing.
This chair is suitable for kids, adults, and kids with special needs. Many customers appreciate its intricate design that complements the look of their home. The extra pillows also make it more comfortable, especially after a long day of work from home. 
The hammock has a wooden board to balance both of its sides. However, it doesn't come with a stand or mount to hang it in your home. Though it is a chair, you can freely recline and rest your head if you lean back. It is also easy to clean.
Since it is a hammock chair, it can also be a suitable replacement for your typical tree swing in your backyard. It is also very comfortable and can even induce you to sleep and rest after a long day.
Pros
Aesthetic design and perfect for home decor
Easy to assemble
Comfortable and breathable
Easy to clean
Cons
Doesn't come with a mount or a stand
10. Kootek Camping Hammock With Mosquito Net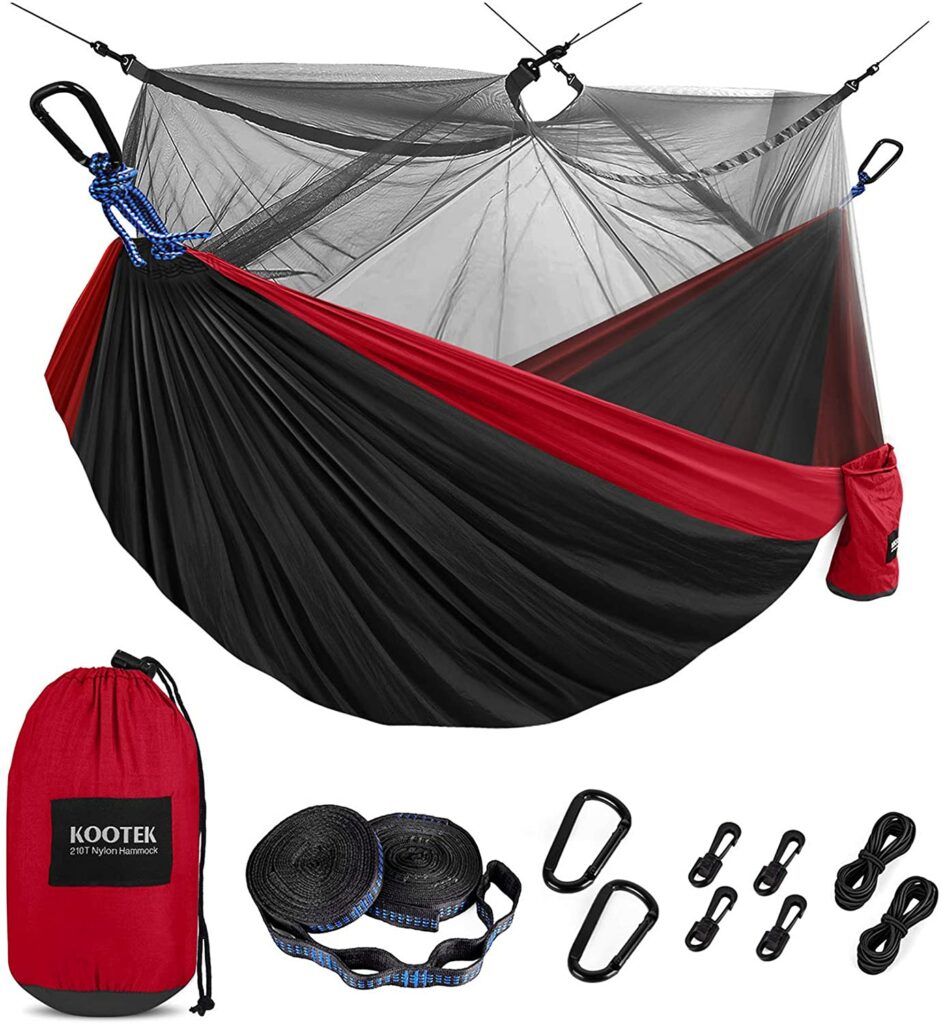 Dimensions:
Weight capacity: 500 lbs. (226.80 kg)
Hammock size: 118 x 70 inches
Strap length: 10 ft. 
Pouch size: 4.2 x 6.4 x 9.4 inches (L-W-H)
Kootek is an affordable alternative to the well-known hammock brands in the market. It has a line of hammocks that has a mosquito net for better bug protection. It also comes with two 10-foot straps, a pouch, and a pair of carabiners.
The material used for the hammock is a parachute fabric. It is durable due to its triple-stitched seams and straps with anti-fray. The materials are lightweight and easy to set up.
You can use it for:
Hiking
Beach vacations
Lounging at the lake
Patio and deck decoration
The tree straps of Kootek are also different from their competitors since you can adjust it even to its lowest loop if needed. It is also not made of ropes that require tying intricate knots. Though there are some cases that the straps started to fray, you can always call customer service for a replacement or refund.
Most customers love the mosquito net and the durable fabric of the hammock. The company also refunds your purchase if you are not satisfied with their hammocks. The only downside they find on this hammock is its low-bending mosquito net at the center.
Pros
Multi-purpose
Comes with a mosquito net
Easy to set up
Foldable and lightweight
Durable and can fit two persons
No need to tie knots
18-month warranty
30-day return policy
Good customer service
Affordable
Cons
Color fades over the years of continuous use.
The design may not blend into a distinct exterior design.
---
8 Things To Consider When Choosing Best Backyard Hammocks
Now that you found the best backyard hammocks in the market, here are some of the qualities that you need to check before you buy one:
Weight Capacity
No matter how beautiful a hammock can get, if it can't hold your weight, it won't be usable at all. If you are a bit heavy, you may want to choose the most durable hammock from Vivere Hammocks.
Fabric Type
When selecting a fabric, you should keep in mind that cotton deteriorates when exposed to different weather conditions. Choosing a cotton hammock needs extra care by placing the hammock indoors after use to preserve its pristine quality.
Suspension System
There are a variety of suspension systems that can hold your weight. Camping-type hammocks use tree straps with 5 to 9 holes.
Indoor and outdoor types of hammocks usually come with a stand with holes to adjust your hammock. Others have iron chains that come with an O ring or an S-ring for easier assembly.
Your Space
Another important consideration in buying the best backyard hammock for you is its size. Check if you have enough space to have a hammock with a stand, or a camping-type hammock would be more space-saving for you.
Weather Resistance
You also have to decide if you want a hammock that can be left outdoors or assemble it for every use.
Some hammocks may claim that they are weather-resistant. But only a few are really capable of withstanding the inclement weather. 
Ease-of-Use
Today, you have several assembly options like using carabiners, stands with snap-on buttons, or adjustable hooks. It is only a matter of preference since we all have our definition of what is easy and complicated at some point.
Design
You may want to make sure that the look of the hammock itself gives off a relaxing vibe. If your hammock only gives you anxiety if you're about to fall, then it will not serve as a relaxation spot, no matter how beautiful it is.
Maintenance
Check for hammocks that are easy to clean and store. Decide if you can handle the tangle-magnet Yucatan hammocks or fabrics that can retain moisture.
It is also worth pondering to check if the hammock is easy to store and set up at any given time.
Final Thoughts
Aesthetic-wise, Yucatan hammocks are the best option. Vivere hammocks have shown promising results for those who are conscious about their weight. You may also opt for a hammock with mosquito nets from Covacure and Kootek.
We hope that this post narrowed down your selection for your next relaxation spot. We are all running thin from some relaxation during this pandemic. Why not make your place of solace as we try to hope for better days to come. 
If you find this post interesting and informative, please don't forget to share it with your friends. 
Also, don't forget to share your experience with your new hammock in the comments section below. 
May you take time to relax and decompress in your new relaxation space after a long day. Even God took a rest on His 7th day of creation, what's more to us who are just humans.