Tilling the soil is a fun but laborious task. Without the right tools, you might end up using all of your energy for several hours under the sun. To be more efficient and reap a bountiful harvest, using a tow behind tiller can help you work smarter.
A tow-behind tiller or a pull-behind tiller is a motorized or mechanical machine that you can attach behind your tractor, ATV, or any vehicle to loosen the soil. It is commonly used in medium to large-scale farms due to the span of the planting area.
This post will share the best tow behind tiller for your farm and the essential features you should check before buying one.
A tiller machine is a big investment, so it's only natural to think long-term to get the most out of it for several years.
---
6 Best Tow-Behind Tillers For Your Farm – Product Reviews (2023)
We selected the best type of tow-behind tillers that will work best depending on your needs and the size of your farm.
1. DR Roto-Hog Tow Behind Tiller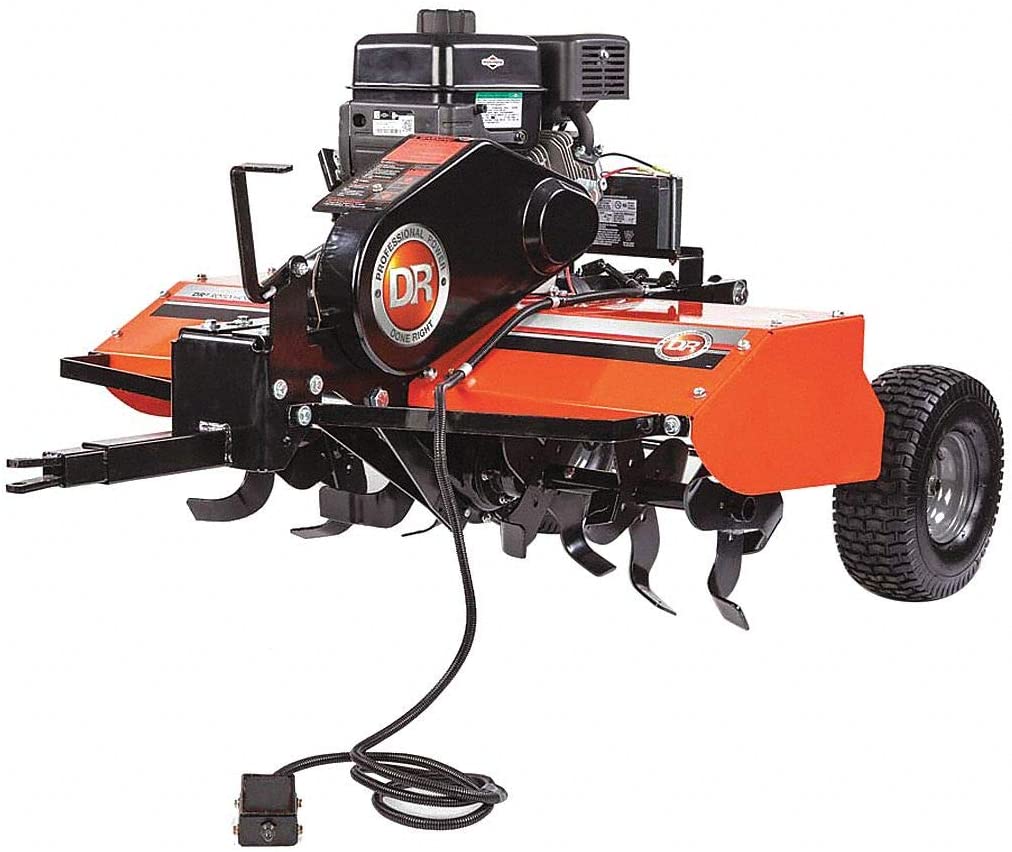 Roto-Hog Tow Behind Tiller is probably one of the most popular brands of the tow-behind tiller. It is a motorized tiller that uses the power of the vehicle to plow through the hard and compact soil. It has a 36-inches tilling width with 7 and ½ inches bolo-type tines. The tiller spans about 66 inches long and 39 inches wide with a weight of 259 pounds.
The belt drive system has an electric start that makes it time-efficient and easy to use. The engine displacement is a 205cc Briggs & Stratton 900 series and can reach a tilling depth of 10 inches with 9-foot pounds of torque. The tiller has two 14-inches-wheels that are high enough to move around and not get stuck in the soil.
This tow-behind tiller has shear pins that protect the engine in case the tines get stuck in a rock or a lump of soil and stop rotating. There are 24 bolo-type tines attached to the 36-inch tiller that has a rotation speed of 230 rpm.
One of its key features is the remote-controlled and battery-operated actuator. It helps gardeners raise and lower the tines without getting off the vehicle.
It provides a 250-pound force when the tines are lowered to dig deep in the soil. The battery is rechargeable and can last for a whole day's tilling work for medium-sized farm lots.
Pros
Has a wide tilling capacity of 36 inches
Remote-controlled actuator
Rechargeable battery for the actuator
Provides more tilling power with 9-foot pound torque
Money-back guarantee (you can ship it back if you're unhappy with your purchase)
Lasts for a long time
Cons
The pins on tines may get sheared when the tiller gets across a big rock. However, the supplier provides several spare pins with the tiller. 
Pricey (but high quality)
2. Field Tuff 36-inch ATV Tow Behind Tiller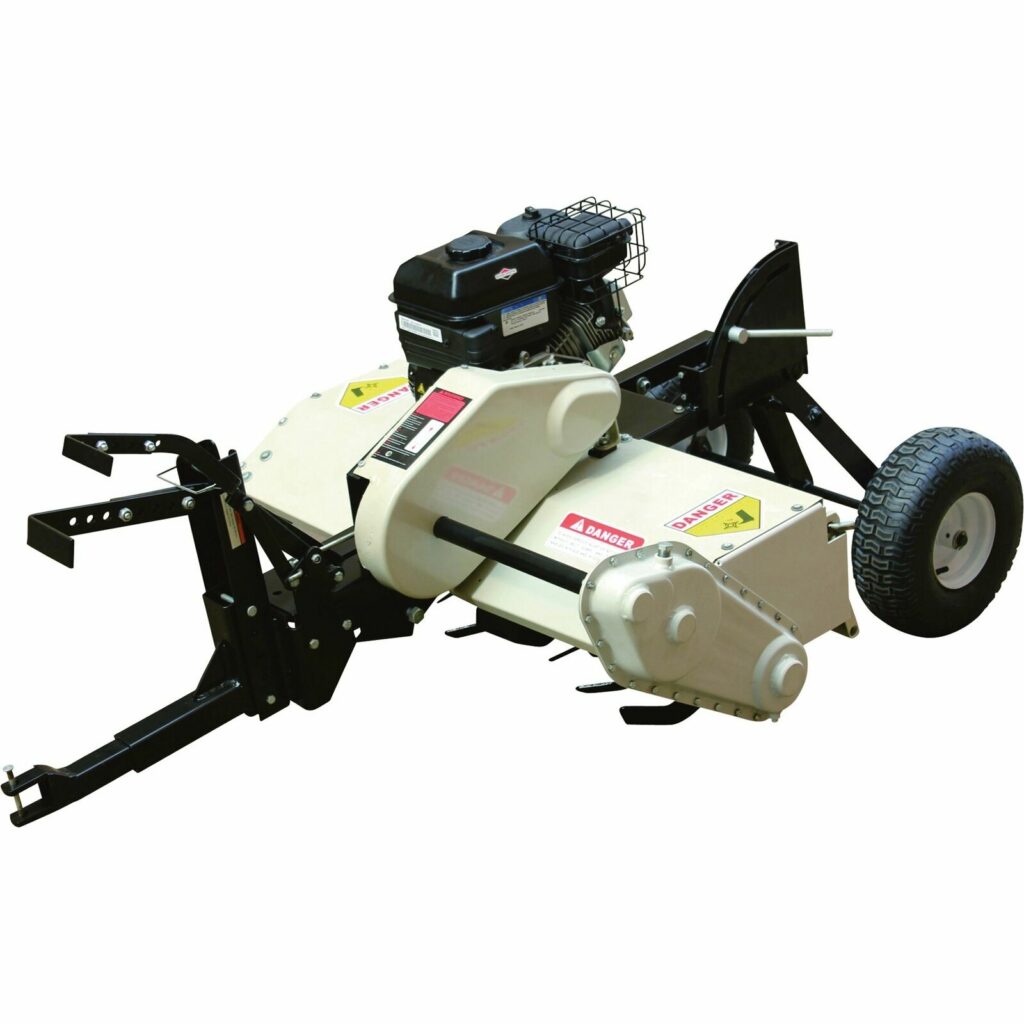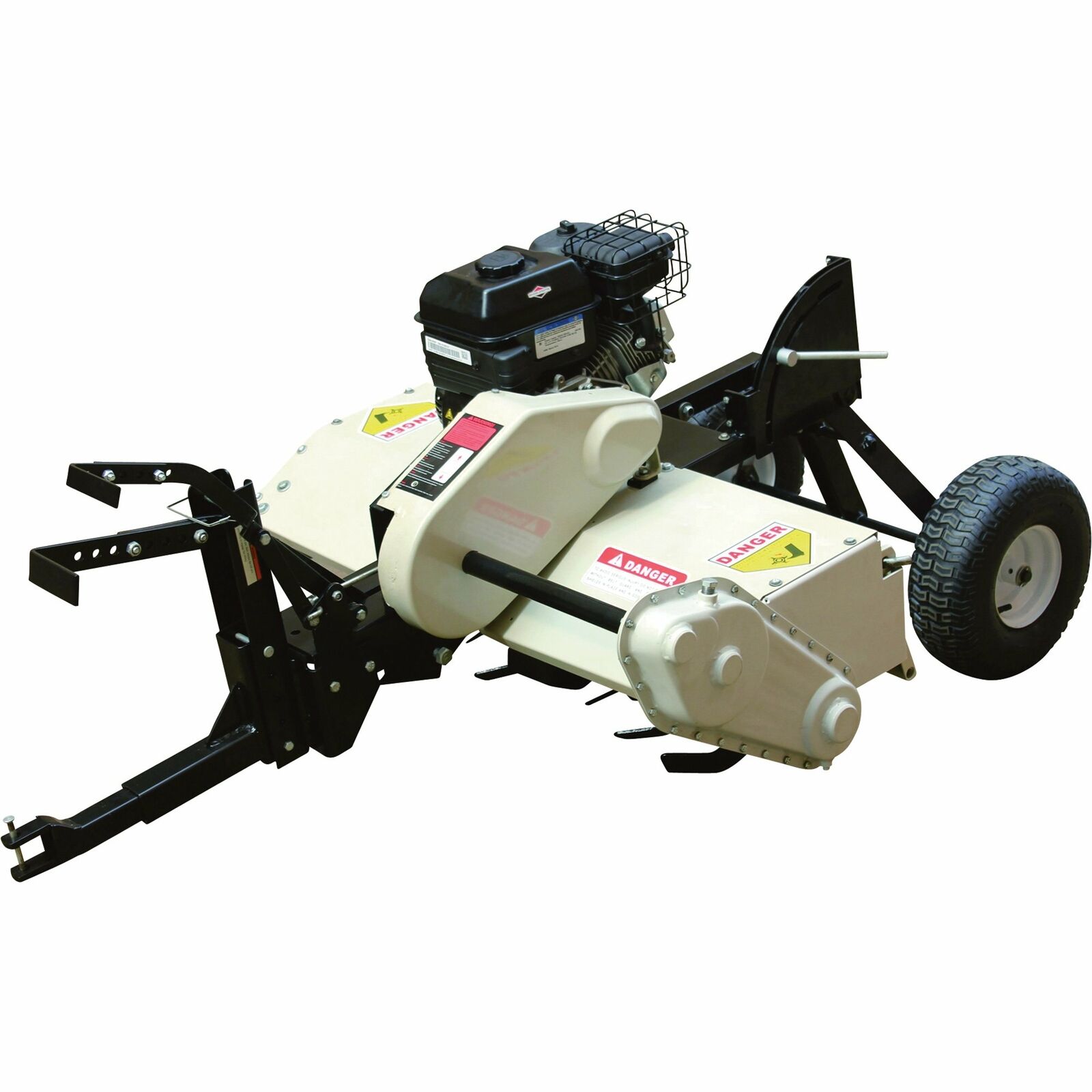 The Field Tuff 36-inch ATV Tow Behind Tiller is the top competitor of DR Roto-Hog when it comes to performance. It is equipped with a 205cc Briggs and Stratton motor and can be towed by a UTV, ATV, or lawn tractor. You easily attach it behind your vehicle through a standard hitch.
The working size of the tiller is 36 inches with 24 hardened 12 ½ inches steel tines.
The actuator has a manual adjustment lever placed near the towing vehicle to raise and lower the tines. The height adjustment can reach up to 5 inches and has a towing speed of up to 2 to 4 MPH. To achieve the best performance from this tiller, it requires a minimum of 16 HP vehicles.
The whole tiller is supported by 15-inch pneumatic turf tires and a belt-driven fuel-powered engine. Its depth can reach about 33.4 inches which is one of its best features.
The only concern by some gardeners is its manual height adjustments that can be hard to reach and may require getting off the vehicle to adjust the lever.
Most gardeners compare the engine of Field Tuff and DR-Roto Hog. Though the latter has a more powerful engine, they are at par when it comes to their performance in tilling the soil. However, some gardeners are having some issues with its belt mechanism.
Pros
Well-built and durable
Strong engine
Easy to start
A durable shield around the tines
Cons
Too heavy to lift by hand
3. Agri-Fab 45-0308 Multi-Fit Universal Tow-Behind Tiller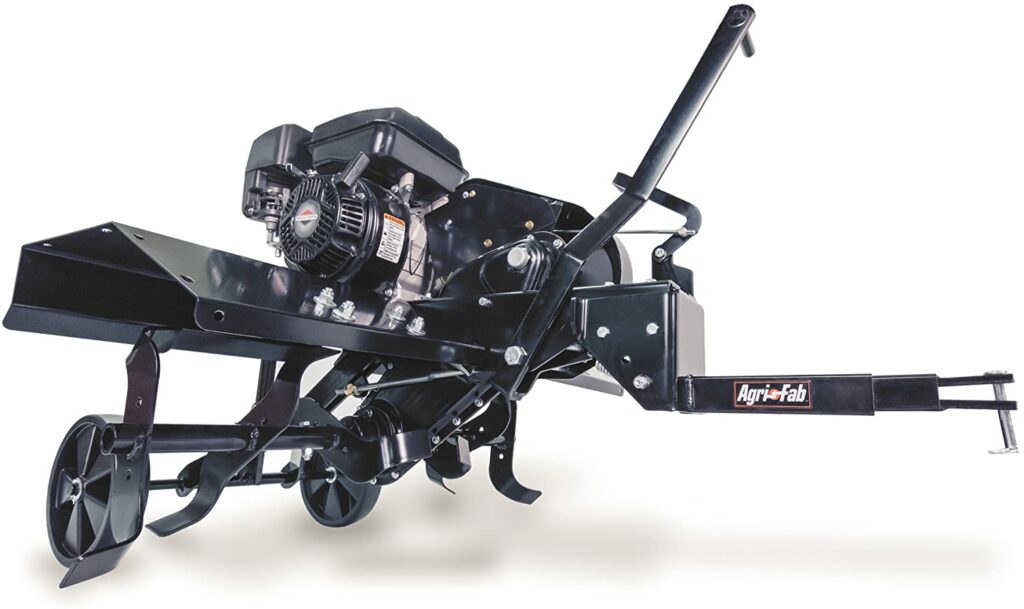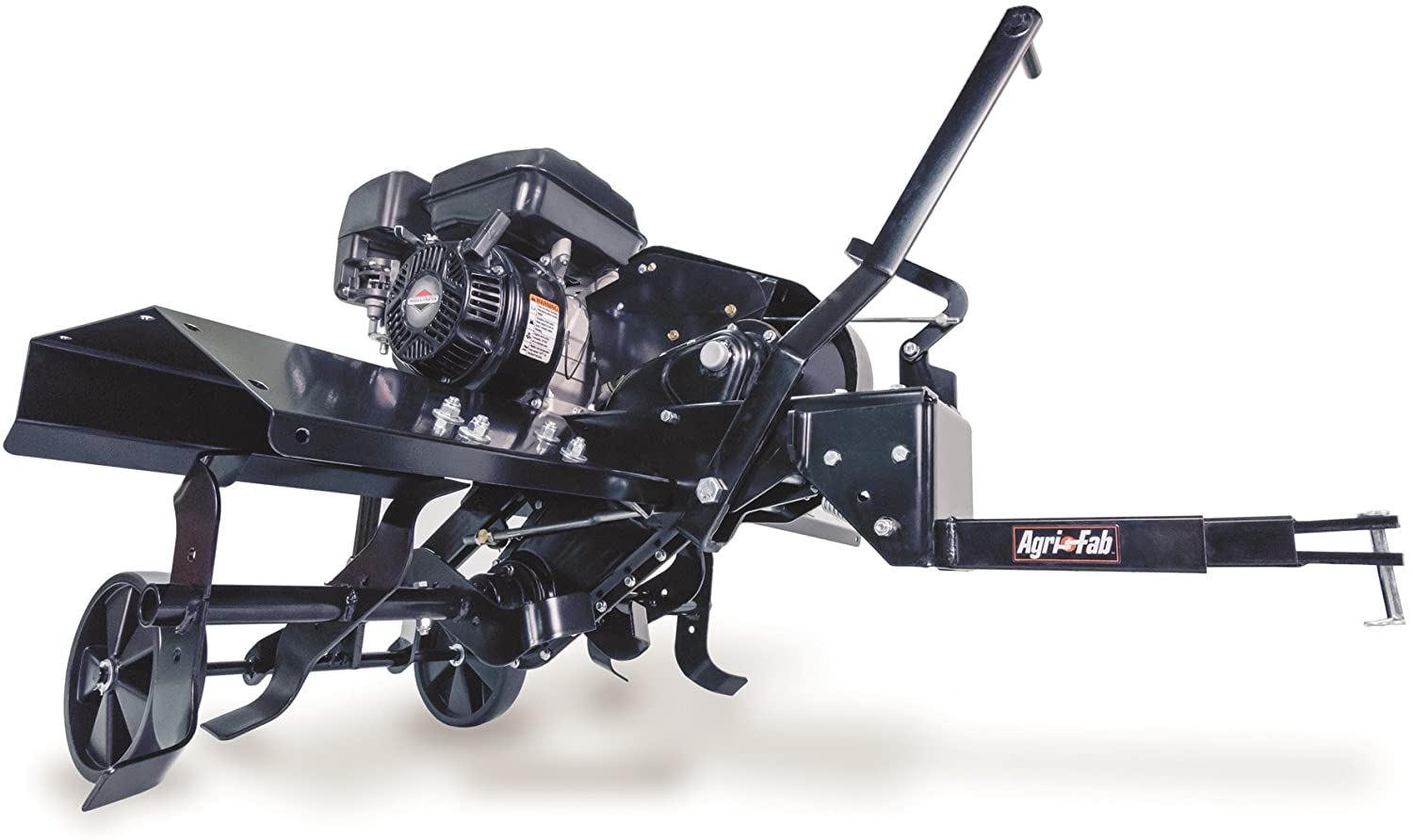 Agri-Fab 45-0308 Multi-Fit Universal Tow-Behind Tiller is a tow behind tiller with a dimension of 56 x 38 x 32 inches and weighs around 207.23 lbs. It is gas-powered and features a Briggs and Stratton engine and 6 double-edged 11-inch tines. The height adjustment ranges from 1.5 to 5.5 inches deep in the soil.
The tines move forward to get extra force from the vehicle you use. They are also protected with a durable hood to manage the spread of dirt and achieve smooth movements around your garden. It also has a 3-year consumer warranty in case you got some parts damaged during your soil preparation.
Most gardeners say that it works great on soil that has been broken up by a cultivator or a garden plot that has been planted before.
Any vehicle with a 16 to 17 HP works best for this tiller. The hitch pin attachment is also another feature that makes it easy to attach to any vehicle like an ATV or mower.
The only concern of most gardeners is it will require you to do several passes on your garden plot to break down the hard ground. So, it is recommended to have a cultivator break the big clumps of soil first before using this tow-behind tiller to get the best result.
Pros
Affordable than its competitors
Durable and lasts for a long time
Doesn't have a lot of defective part issues unlike other brands
Easy to use hitch
3-year warranty
Weighs less that makes it easy to move around
Cons
Fewer tines and shorter tiller size
Make take some time and need more passes to break up a hard ground
4. Streamline Industrial Tow Behind-Tiller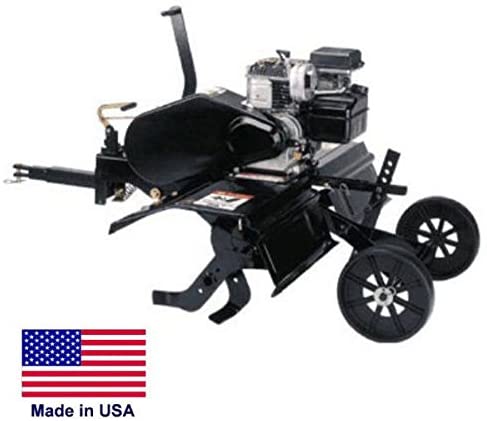 Streamline Industrial Tow Behind-Tiller is a perfect option if you are looking for some heavy-duty tow-behind tiller that you can use for industrial farming. It has 36 inches or 3 feet tiller width with a 5 HP 206cc Briggs & Stratton gasoline engine. The vehicle must have a minimum of 12 HP to tow this tiller.
The 7 gauge steel tines have an 11-inch diameter and are all double-edged for maximum performance. The tines move forward and have a tine rotation speed of 230 rpm. It can reach a depth of 1.5 inches to 5.5 inches. One of its notable features is the easy-to-use pin-style hitch that is spring-loaded to reduce stress when tilling a hard soil surface.
The wheels have a dimension of 15 inches by 6 inches and the overall dimension of the tiller is 56x38x 32. It's one of the heavy tillers in the market weighing around 249 lbs.
The company covers a 1-year warranty for both parts and labor. Most farmers and gardeners love its durable tines that won't bend even with the toughest soils. Its durability is made perfect for regular industrial use.
Pros
Designed for industrial use
Wide-span working width
Durable double-edged tines
Powerful engine
Cons
May require a piece of lifting equipment due to its weight
Pricey
5. Field Tuff 48″ ATV Tow-Behind Cultivator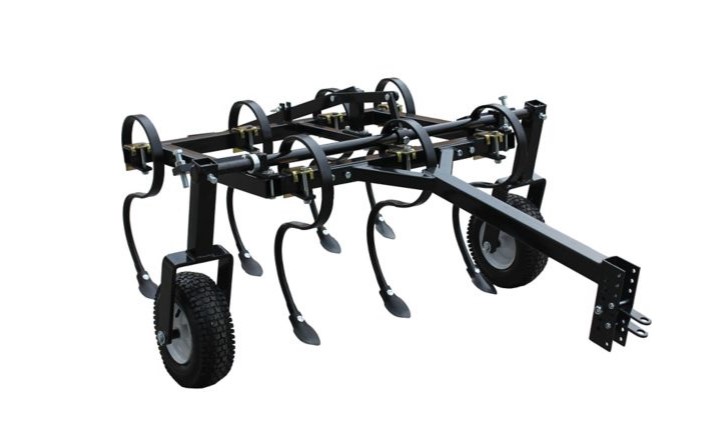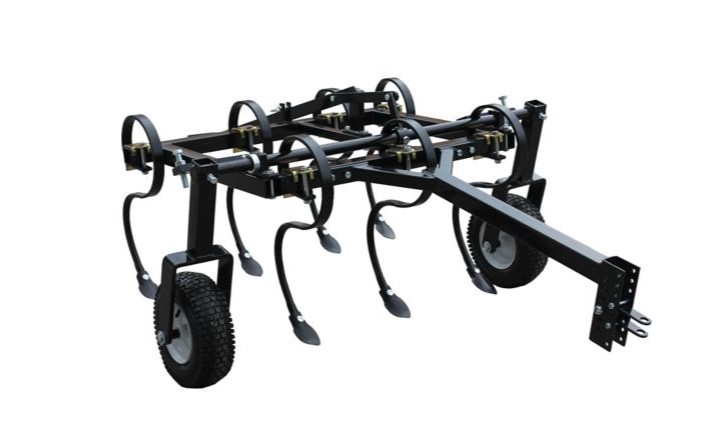 To break down the settled soil, overturn the nutrients and compost, and remove deep-rooted weeds, Field Tuff 48″ ATV Tow-Behind Cultivator can also do the job. It has a 48-inch working width that pulls most of its force from 500cc or larger ATVs. It is easy to assemble and use with one lever to adjust to turn the soil efficiently.
This cultivator connects to the vehicle through an easy-to-use pin-style hitch. The 7 shanks have removable shovels that are connected through a bolt. The steel is heavy-duty and durable enough to withstand the pressure of breaking up hard soil.
The shanks can reach about 8 inches deep in the soil that can get rid of any deep-rooted weeds in your garden plot. They can also reach 6 inches above the ground so you maneuver around uneven terrain. The tool is pretty straightforward to use as soon as you finish assembling it.
The only feedback from most gardeners is the defective bolts that connect the mini shovels to the shanks. They may break at some point, so you should equip yourself with extra bolts and an ounce of patience.
It would also be best to assemble it in a shady area so you won't get fried under the scorching sun of summer figuring out how to assemble it well.
Pros
Easy to use and attach to the vehicle
Durable shanks
Wide working width
Works well in medium-sized farms
Simple but effective in overturning the soil
Lighter and easier to move around
Cons
Defective bolts in some units 
The manual lever will require you to get off the vehicle to adjust
6. Brinly CC-56BH Sleeve Hitch Adjustable Tow-Behind Cultivator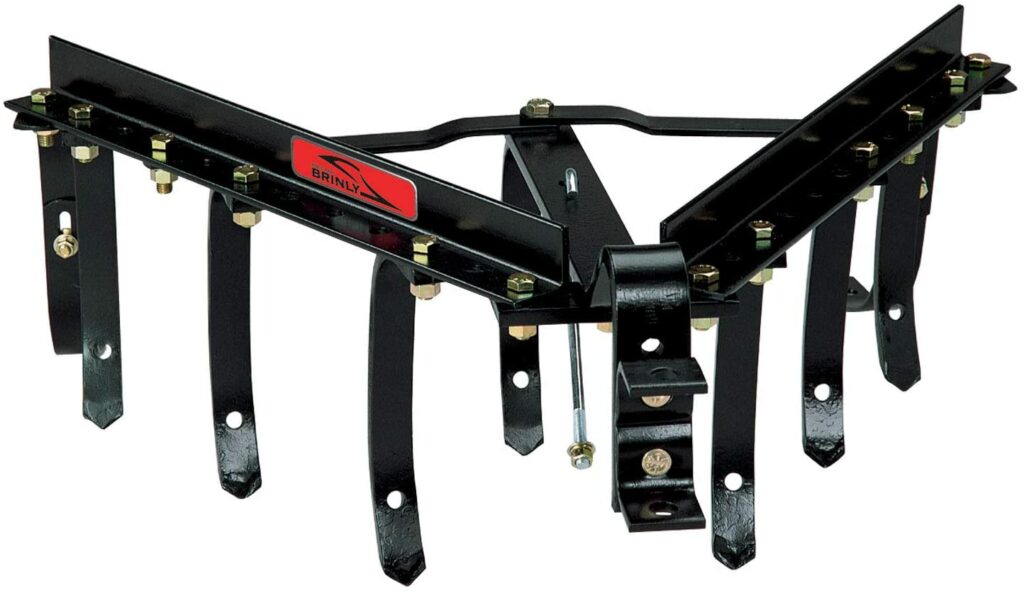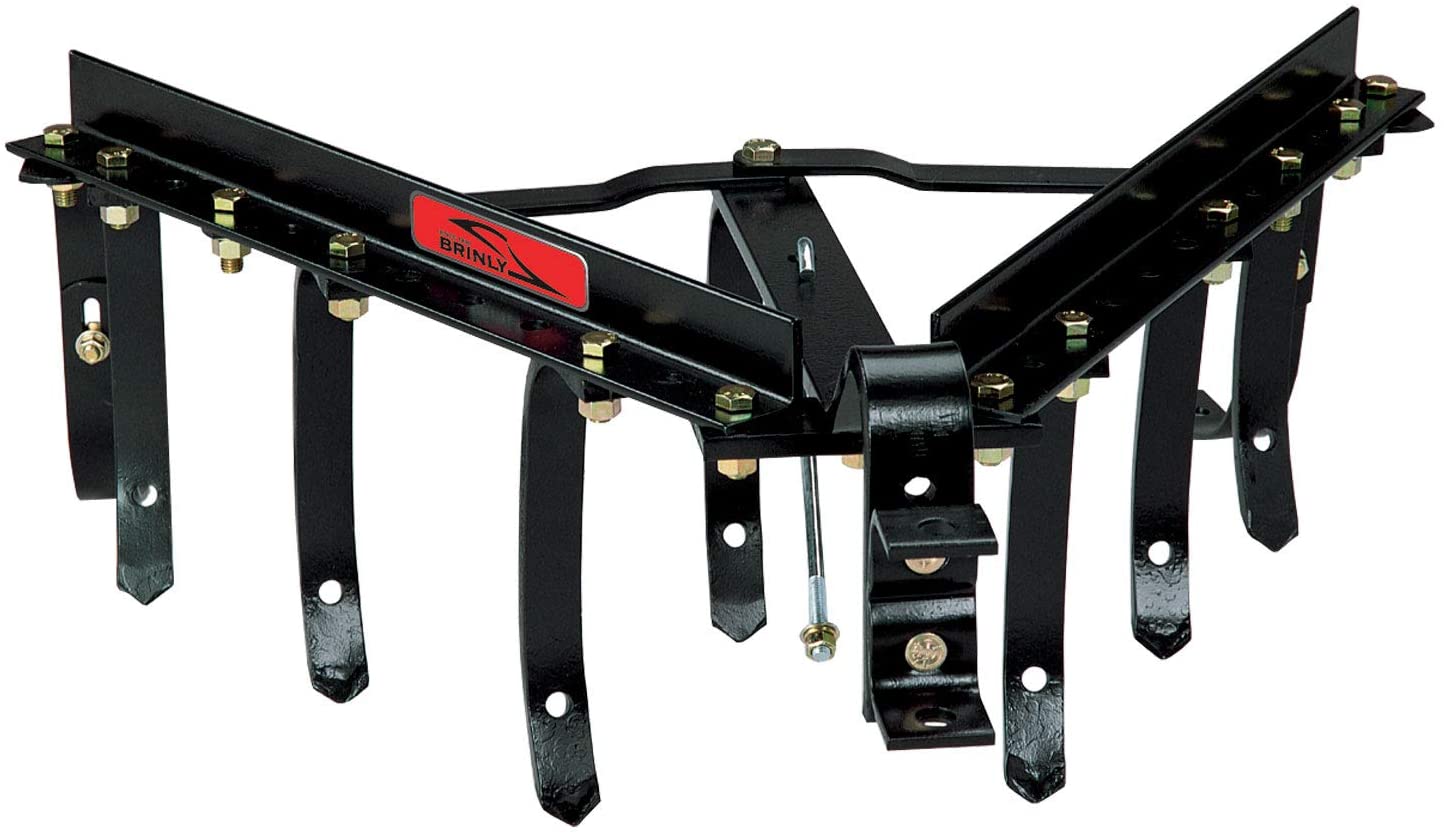 Another simple yet effective tow-behind tiller/cultivator is from Brinly. It has an adjustable working width that ranges from 18 inches to 40 inches that makes it flexible to any garden size. The 7-curved 11.5-inch steel shanks are also durably made to handle hard and compact soils.
The cultivator has a ¼-inch angle steel frame included, so farmers can add extra weight to push the shanks deeper into the soil. It also has adjustable control skids to manage the depth control depending on your preferred depth. However, it requires a sleeve hitch to attach the blade of the cultivator to your vehicle.
Most gardeners are delighted with this product since it is durable and works efficiently during soil preparation. Once assembled, it is fairly easy to move around with your tractor or ATV. It can even get rid of finger-sized roots and deep-seated roots like that of dandelions.
One of the only concerns of gardeners is the small parts that are either inappropriate for the vehicle and the lacking attachments.
Some of the bolts are not long enough to attach to some parts of the shanks. In some cases, there are no holes to attach the bolts in.
It also doesn't come with a pin hitch. So, you will need to buy it separately.
Pros
Affordable, durable, and efficient
Adjustable working width
Simple assembly
Adjustable depth control with an angle bar to add extra weight
Weighs lighter than motorized tillers
Cons
Unfit bolts
No pin hitch included
Some units need certain modifications to work well.
---
How To Find The Best Tow Behind Tiller For You?
The technical information of every tiller can get you hooked up and buy it immediately. However, there are considerable features that you should check before deciding which one to choose.
After all, a tow-behind tiller is a pricey investment so you may want to make sure you will get the most out of it.
Here are some factors to check before buying a unit:
The Durability & Number of Tines
You may also want to consider the quality and durability of the tines you will use, especially with hard soil surfaces.
There are steel bolo-type tines that are used for standard use and pick and chisel tines for rock hard soil.
Depth Control
Check for the depth control of the product, either battery-operated or manual. It will help get to the thickest clump of soil and uproot those deep-rooted dandelions in the soil.
Some models are adjusted through remote control or a lever within your vehicle so you don't get off your vehicle and adjust it manually. Lifting the tines will also help you make turns smoothly without dragging and scattering the dirt with you.
Electrical/Manual start
Some models have an easier start mechanism using an OHV electric start. Some models require manual operation to start the engine.
You may also want to consider models that have safety levers to make sure that operating the machine is safe and works as intended.
Battery
You also need to check the range of the battery and how long it will last. Choose a model that has a rechargeable battery feature that can shoulder a hundred or more cycles in one charge.
Gauge Steel Frame and Hood
The durable parts will enable your tow-behind tiller to handle tough terrains. The steel frame and hood also take an essential role to keep the tines in place and handle the pressure to push them to the soil.
---
Tips and Strategies in Tilling The Soil with a Tow-behind Tiller
With equipment, it can be fairly easy to cultivate and till your garden plot. However, some strategies can help you work faster and smarter to avoid ruining your crops and spending hours under the sun.
Check out these tips before moving your tow-behind tiller:
(1) The hard and rocky ground in your property can damage and bend the tines of your tow-behind motorized tiller. Since they are made of durable steel, they can cost higher than your average garden tool.
If you are planning to create a garden plot out of a lawn or an unplanted area, it is best to first remove the visible rocks and branches with a mechanical cultivator or manually remove it if you can.
(2) Breaking up the ground with a cultivator first can ease your tilling job later on. Otherwise, you will need to have several passes in the area before you achieve soft and loose garden soil.
(3) Measuring the garden plot against the tiller is essential to prevent damaging your other crops.
Some gardeners recommend placing a considerable distance between rows to make sure a tiller or cultivator can fit in them. You may also use a tiller or cultivator that has an adjustable working width.
(4) Check the moisture level of the soil before going off on your tilling task. If the soil is too wet, the tines of the tow-behind tiller will not rotate properly. Let the soil dry well before working on it.
(5) Tilling the soil properly takes time. You have to start with a shallow depth before getting deeper. The rule of thumb is to increase an inch or two on every pass.
(6) Every pass using your tow-behind tiller must be done at a slow pace. Your slow tilling strategy will allow the tines to work efficiently in breaking up clumps of soil and stubborn weeds.
(7) If you are working with a motorized tow-behind tiller, check the sound of the engine. If you feel that it is struggling to dig, try raising the depth a bit and slowly lower it again.
Forcing the machine might overload the engine and malfunction in the middle of your task. Be gentle with the engine, it can be tough but it's not bulletproof and can get damaged without proper care.
(8) If the tines are moving too fast, that means that the soil has become loose enough. You can lower the depth level at this point, to dig in the hard soil underneath.
Safety Tips in Using a Tow-Behind Tiller
A tiller can be a piece of dangerous equipment when an emergency occurs. The tines are too sharp and the overall weight of the tiller can crush any living being, not to mention the weight of the vehicle.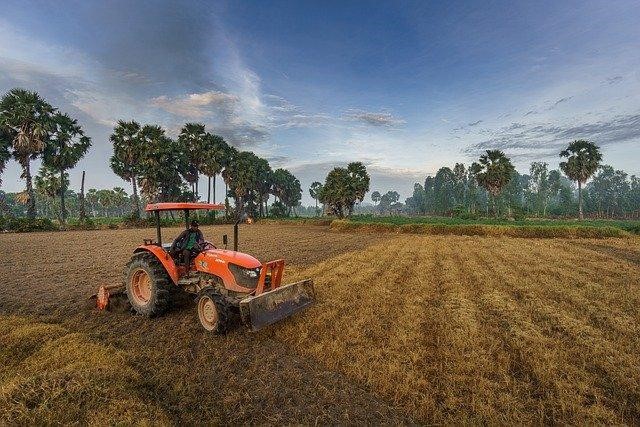 So, here are some tips for safely using your mechanical and motorized tow-behind tiller.
(1) Wear appropriate safety equipment and clothing before operating your tow-behind tiller. These include:
Boots
Gloves
Long-sleeved shirt
Pants or trousers
The long-sleeved and fitting clothes will prevent them from getting caught in the machine once it is operational. Your feet may also come close to the tines and get an injury or a cut without boots. Handling heavy-duty equipment should be planned to avoid emergencies.
(2) Before turning on the tow-behind tiller, make sure that you know how to shut it off immediately and where the safety buttons to press in case of emergency. Quick response and decisions can save a life or prevent serious injuries if you have full control of the equipment.
(3) Remove any visible debris in your work area. Any hard surface can untangle your tines and bend. They may also hide any wildlife that you may hurt during operation.
(4) Keep your kids and pets away from your work area when you start the tiller. Your pets may run towards your tiller and get injured, or worse, die.
Curious children may also push buttons and accidentally turn on the vehicle or the tiller and get injured. Make sure to remove the keys to your vehicle or remove the battery or fuel from the tiller when you let your kids play near the tiller.
(5) Gas-powered engines may need some warm-up before operation. Take this time to listen to the sound of the engine and see if there is something unusual.
Since you are dealing with a gasoline-powered vehicle you are at an increased risk for fire and combustion. If something feels off, listen to your gut and check the engine or actuator first.
(6) Don't leave your tiller running unattended. Even if you are near the equipment, any kid running or animal around the area may get caught in the tiller and cause serious injuries. Shut it off every time you get off the vehicle or take a pee. Always bring your keys with you.
(7) Work at the speed of your tiller. Using a vehicle to tow it may feel easy and convenient. However, pushing it too hard may cause a serious malfunction that can lead to accidents and injuries. Let your tiller and tines do the work but:
Do not move forward too quick
Don't force the tines when there's resistance in the soil
Don't dig too deep
Break up the hard soil with a cultivator or spade if it's too tough for your tow-behind tiller.
(8) Store your tiller in an outdoor area with a roof. Putting it in an enclosed area and starting its operation indoors may cause carbon monoxide buildup. Too much carbon monoxide buildup indoors can cause serious health issues to you and your family.
(9) If possible, you must cover the tiller including its tines to make sure no one can be injured when you are not around.
---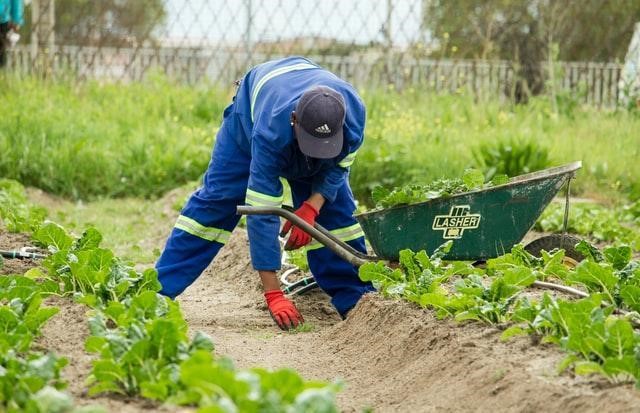 Frequently Asked Questions (FAQs)
Can a lawn tractor pull a tiller?
A tractor can be used to pull a tiller as long as they have an engine that ranges from 15 to 30 HP or 500cc. Otherwise, it will not be able to pull a 200 to 250-pound tiller including the pressure from the tines digging hard soil.
Can you put a tiller on a lawnmower?
Though riding lawn mowers can help you pull a tiller, it may pose some risk in uneven terrain. Garden plots may get too soft and uneven as the clumps of soil get smaller.
Unlike a flat lawn, you may risk falling off your mower. A tractor or an ATV has wheels built for uneven terrain and engine power to pull heavy equipment.
Can I use a cultivator to till the soil?
Yes. You can use a cultivator to till or initially break the ground before you use a tiller. Some soils are too hard for a tow-behind tiller and may need some help in breaking down the soil.
In some cases, farmers use a cultivator for prepping the soil of their garden plots and use the tiller afterward. However, some of them get their desired soil consistency with a cultivator alone.
Should I use a tiller or cultivator?
For industrial farms, it's best to use a tow-behind tiller for more time-controlled soil preparation. A motorized tiller would also help farmers and gardeners that are seniors and need more assistance from equipment in tilling the garden soil.
However, if you still have the strength and the time in your hands, a cultivator can be enough to break up the soil and prep it for planting.
Final Thoughts
The best tow-behind tiller for you depends on your health condition, the type of soil you're prepping, and the type of gardening you have.
Commercial gardening will benefit best from industrially made tow-behind tillers from Streamline.
However, if you are just building a sustainable lifestyle off the grid a tow-behind cultivator can be a cost-efficient and helpful tool in preparing your soil.
We hope that this post has helped you know more about the best tow-behind tillers in the market. A tow-behind tiller is an expensive investment that you should take some time to decide to buy. They may also cause risks that can harm your property and your family. Spending a few more bucks for quality-made equipment will give you more peace of mind as you use your tiller through the years.
If you find this post helpful, please don't forget to share your thoughts in the comments below and also share them with your friends. There are a few sources of information for farming equipment like tow-behind tillers so we hope this post gives you everything you are looking for,.
Thanks for reading and happy gardening!