Maintaining a lawn requires hard work. Aside from controlling weeds, you also have to consider the basic needs of your grass.
One of the crucial things that frustrate most gardeners is having low water pressure when they need to water a big lawn or a soccer field.
In a Hurry? Our Top Picks:
Before we proceed to the sprinklers, it's essential to understand the difference between the water pressure and water flow.
You will more likely get the water pressure you need if you have more water flowing through your plumbing system.
Sounds a bit confusing? Here's why:
Water pressure is driven by the weight of the water that enables your water to flow. It is affected by the size of the pipes and the amount of water that flows into your house.
The typical water pressure in a residential area is around 45 to 85 psi. Anything lower than 30 psi is too low and going beyond 55 psi is too high.
So, to increase the water pressure is so you can either increase your water flow. You can do it by choosing bigger water pipes or using water sprinklers specifically suitable for low water flow.
In this post, we listed the 9 best lawn sprinklers for low water pressure.
---
9 Best Lawn Sprinkler For Low Water Pressure – Reviews in 2022
Here are the 9 best lawn sprinklers that can help solve your problems with low water pressure: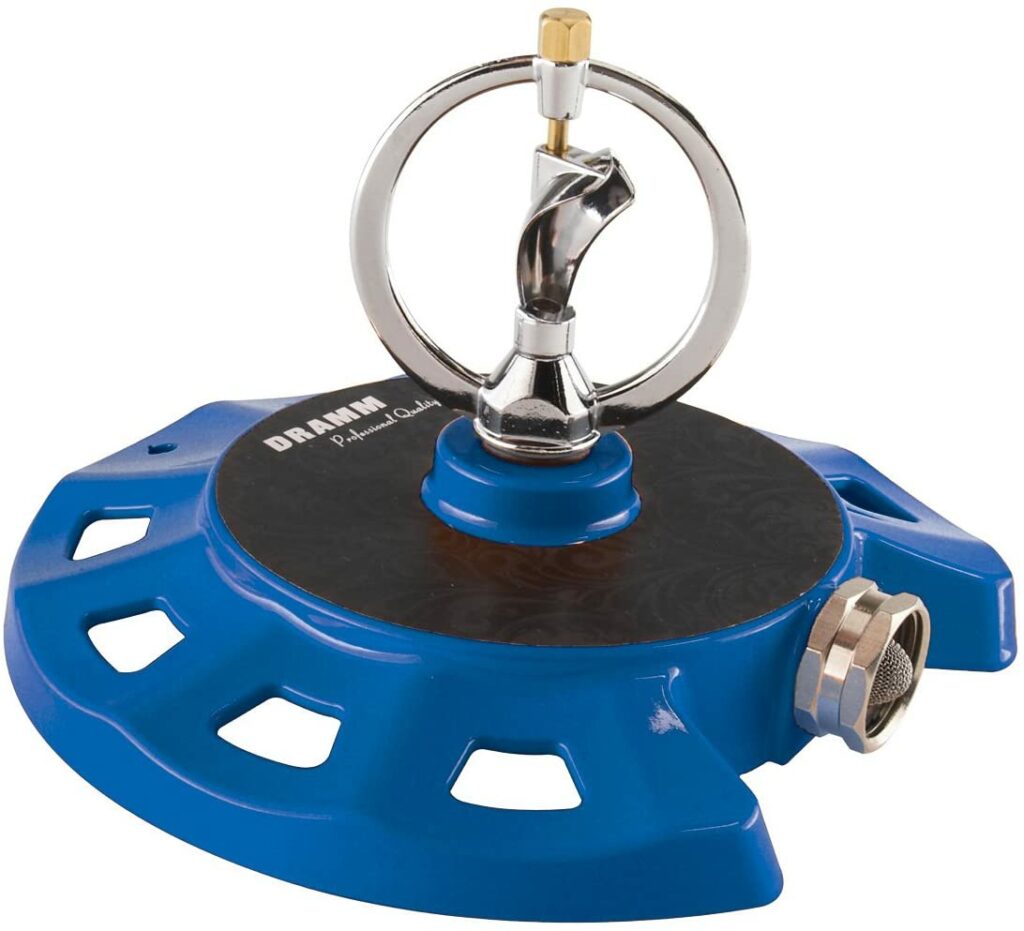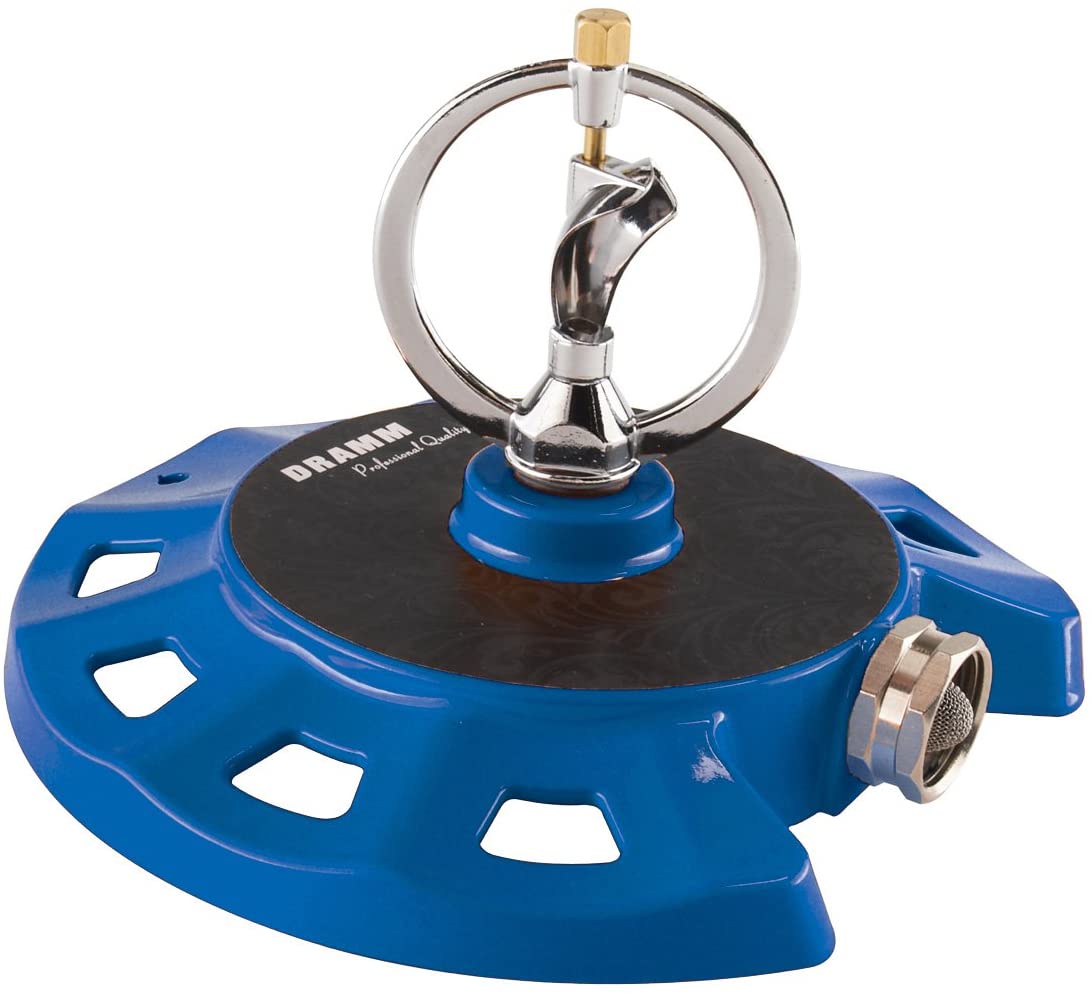 If you have the lowest water pressure of 20 psi in your area, Dramm ColorStorm Spinning Sprinkler can be a lifesaver for you. It can handle about 20 psi to 80 psi. It spins and waters your lawn in a downward spiral.
The water turns into a mist for better soil drenching that can cover about 38 feet in diameter. It has the following dimensions: 8.5 x 1.75 x 7.75 inches
This sprinkler has a heavy-duty zinc base and parts made of aluminum and heavy-duty plastic. Since it can handle low water flow and water pressure, it is suitable for gardeners using water from wells to water their lawns. It also comes with a molded hook so you can easily store it in your shed.
You can also choose its five colors:
Red
Orange
Yellow
Green
Blue
Berry
Gardeners love this sprinkler due to its flexibility in handling low and high water pressure. It also produces fine mists that can water sprouting seedlings with care and allows the soil to absorb water gently.
The only concern of some gardeners is it only waters the lawn in circles which leaves some dry spots on a rectangular field.
Since it is best designed for low water pressure, some parts may fail due to extreme water pressure.
The product itself has a great design, but a few gardeners doubt its durability. The fine mist may also be a disadvantage if you live in a windy area or region.
If you have a fluctuating water flow that goes from 20 to 80 at any given time, this sprinkler is not suitable for your needs.
Pros
Best for households with frequent low water pressure
Easy to assemble
Come with a lifetime warranty
Cover up to 38 ft. in diameter
Waters your lawn in a fine mist, resulting in better soil drenching
Cons
Not ideal for square or rectangular areas due to its circular coverage
Potential fail on material when used for high water pressure
The parts may not last if not stored properly or left outdoors to be damaged by the elements.
Not suitable for use in windy areas or regions since the mist will be unevenly spread on the lawn.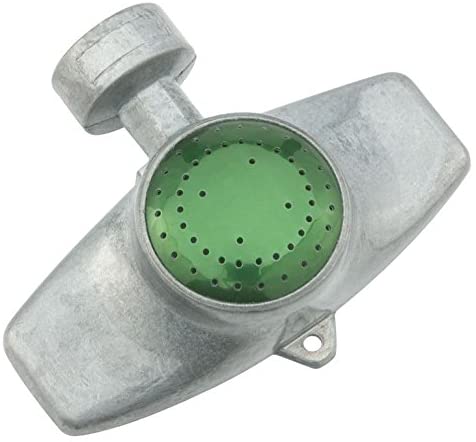 If you have a small yard and are not a fan of rotating sprinklers, Gilmour Circle Pattern Spot Sprinkler might catch your attention. It is a stationary sprinkler that has a dimension of 1.5 × 4.8 × 5.8 inches. This sprinkler releases water in a fountain-like shape that can cover about 30 ft. x 30 ft. of your yard in a square pattern.
This sprinkler is made of heavy-duty metal that contributes to its durability. It works best for low water pressure and is a perfect option for growing seedlings on your lawn. This sprinkler spreads more water so, watering your yard won't take long.
Gardeners love it since it's simple and does the job of watering the lawn in small spaces. It is also perfect for households with low water pressure. What makes it more interesting is you can use it for taking care of the bald spots on your lawn.
The only concern of some gardeners is its size. It's comparably smaller than what it looks like in the images. So, we keep emphasizing in this post that this particular brand is best for small yards or fields so you won't make the same mistake as others.
Pros
Perfect sprinkler for small yard with low water pressure
Releases more water in a short amount of time
Easy to set up
With lifetime warranty
Helps irrigate bald spots in your lawn
Cons
Comes with no rubber seal
Well-made but small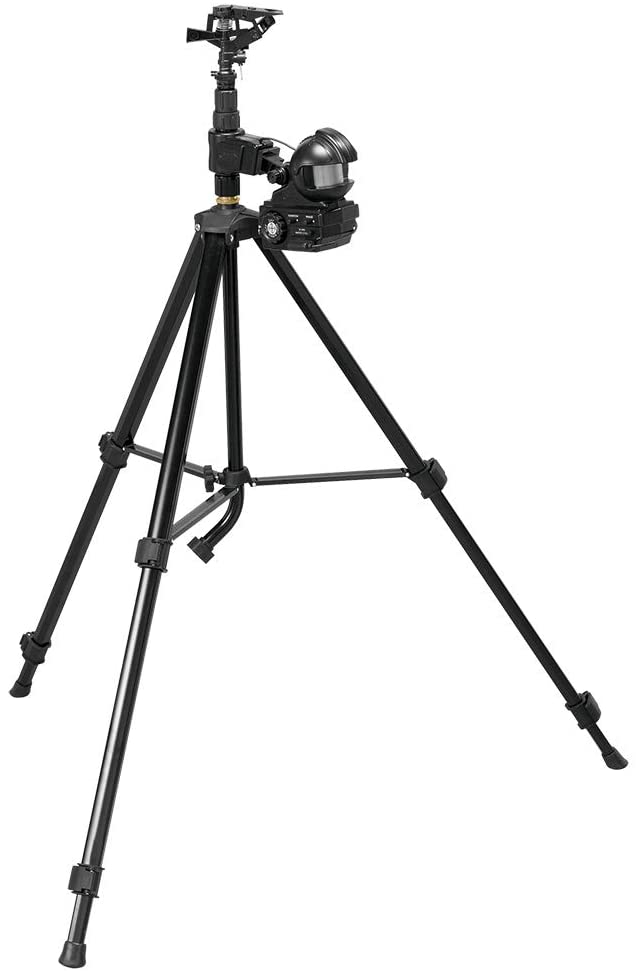 Now, onto the advanced type of sprinklers, we have Orbit Garden's Enforcer Motion Activated Sprinkler. If you're feeling quite generous for your lawn, this motion-activated sprinkler can handle low water pressure from a lake or well. However, it's more than just a sprinkler since it can also deter pests in your lawn and protect your growing grass and plants.
Let's start with the watering activation mode of this sprinkler. It has a 120-degree sensor that can activate watering in three different sensing modes: night, day, and always on. It is powered by four AA batteries and uses the sensing feature to conserve water and energy.
As a sprinkler, the water can reach up to 35 feet, and each watering session can last for up to 30 minutes.
This water sprinkler comes in a tripod with the hose and sensor attached to it. You need to connect your garden hose to the sprinkler and set the activation mode you want. When it is in its guarding mode, the sprinkler will splash a burst of water as soon as it detects any movement within a 40-feet range.
If you have problems with pests aside from low water pressure in your area, this can be a worthwhile investment for you. The splash of water is a gentle way to deter pests like geese and dogs and prevent them from stepping on your growing grass.
The only concern of some gardeners is its design. Since it is using a tripod for its sensor, it can stick out in your garden and may look like you've been filming something at home.
Pros
Serves as a pest deterrent, water sprinkler, and protector of your grass 
Works well with the water flow from a well or lake water
Durable and heavy-duty
Easy to set up
 The elevation of the sprinkler and sensor is adjustable
Cons
Quite pricey
Due to its height, it might stand out in your garden and look unattractive.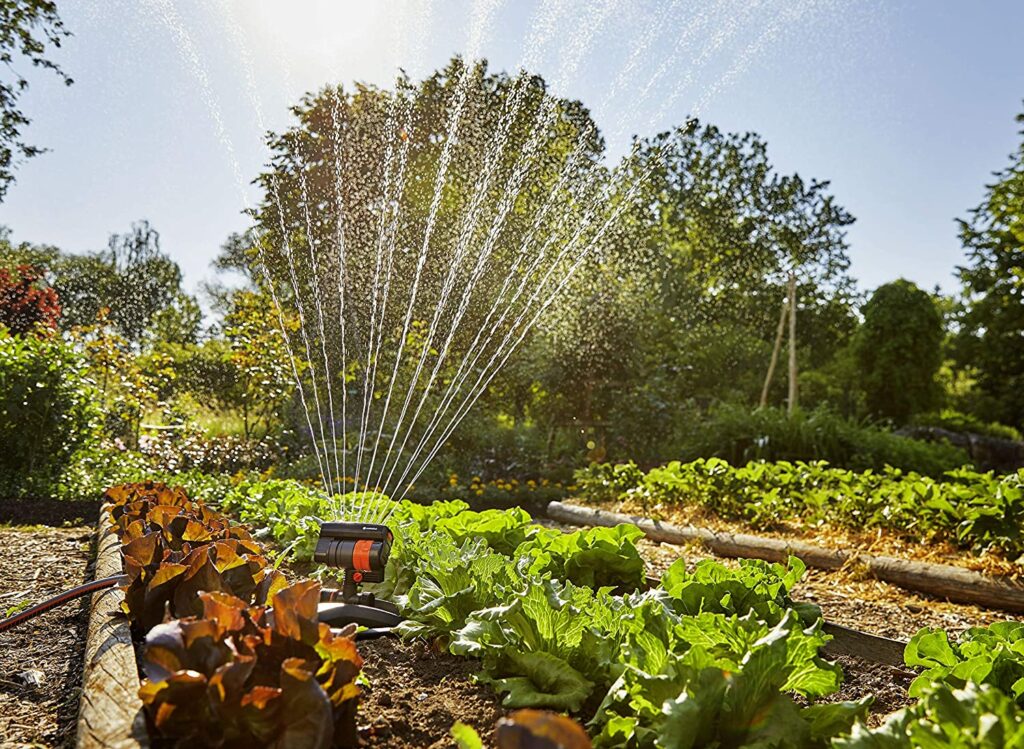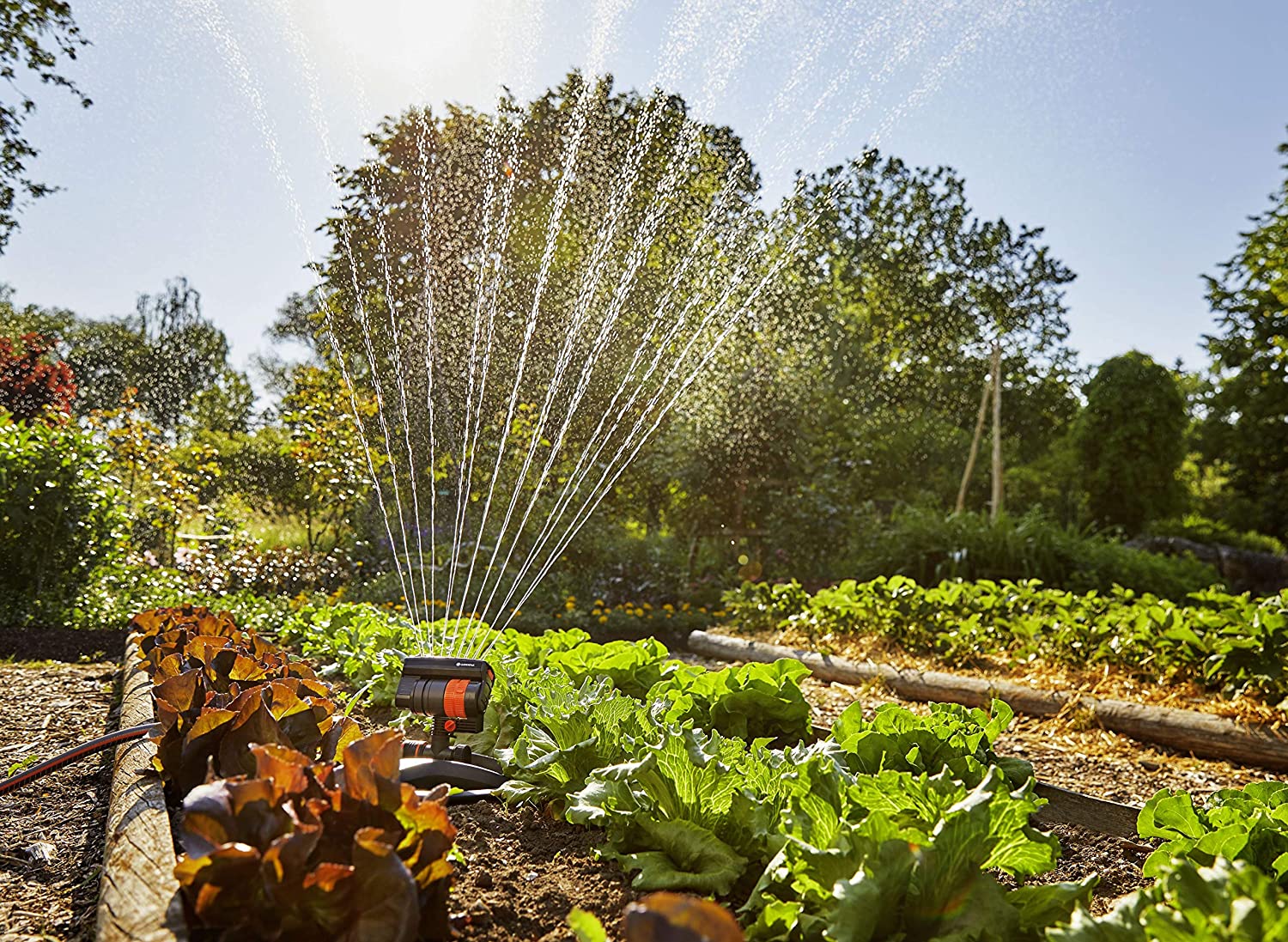 If you're the type of gardener who prioritizes long-term durability, you can get your money's worth with Gardena's Oscillating Sprinkler. It can handle the lowest water pressure of 20 psi to 90 psi and still provide the coverage best for your lawn.
The sprinkler is made of a heavy-duty sled base and 16 oscillating nozzles for even distribution of water. It is efficient in watering lawns, vegetable gardens, and other types of landscapes. You will also appreciate the details that the manufacturer put into the sprinkler since it has a filter that you can clean once in a while.
The materials are made of heavy-duty plastic that can withstand the harsh elements of the outdoors. Its watering coverage is as follows:
Minimum area coverage: 9 square meters
Maximum area coverage max: square meters
Range of spray: 3 meters to 18 meters
Maximum spray width: 12 meter
Another part of its best features is that you can adjust it in length that can go from 10 to 60 feet and width starting from 10 to 40 feet. You can use it using any traditional valve. You can also adjust its base in a 15% incline if you need to focus the watering on an area in your lawn. The dimensions of this sprinkler are as follows:
Product Width: 10.4 inches
Product Height: 3 inches
The brand Gardena is known in the gardening market as a very durable product. Most gardeners can attest to the durability of this sprinkler since they use it to water their lawn every day.
Gardeners also appreciate extra features such as the valve on the sprinkler itself to avoid going back and forth to your spigot to turn the water off.
Though it's pricey, most gardeners find it worthy of its value to its durability. If you feel a little bit generous to your garden, having this sprinkler is a good investment.
Pros
Durable and stable due to its wide base
Versatile and easy to adjust
Controllable and precise water distribution that saves you water, time, and money.
Ideal for small lawns and vegetable gardens
Works well even with 20 psi or low water pressure
Cons
Pricey
In some cases, the plastic arms can push the rubber nozzles.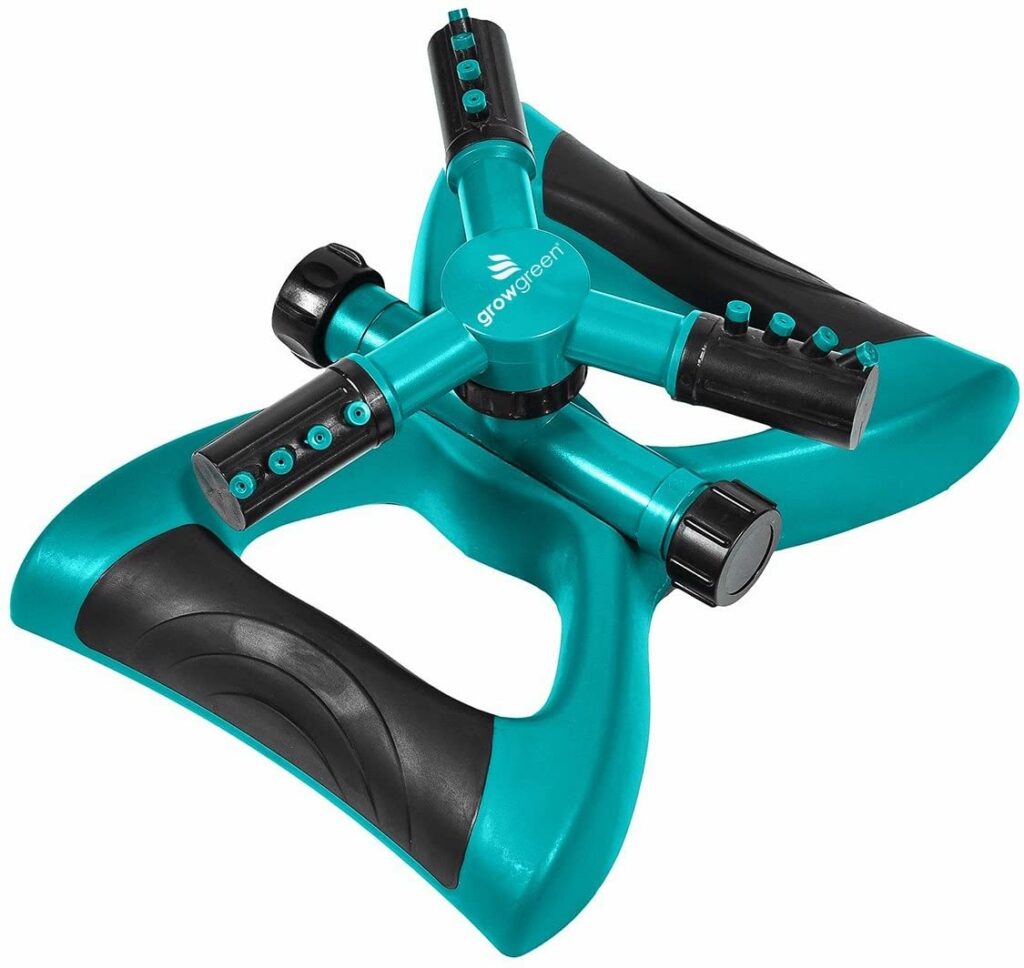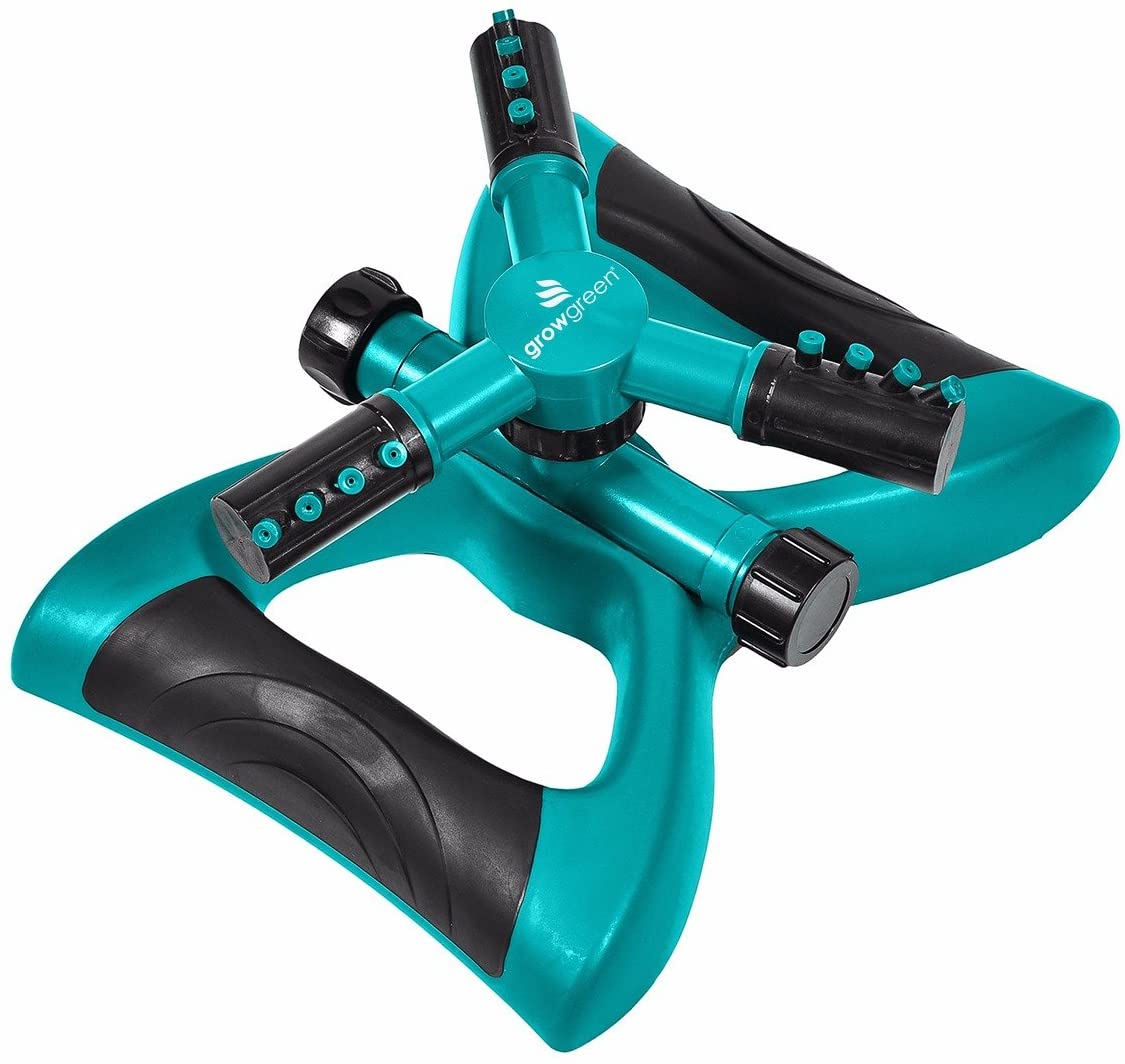 If you are not a fan of moving your sprinklers, this brand might give you the convenience of just watching your lawn get its daily watering.
GrowGreen Rotating Lawn Sprinkler adjusts well on varying water pressure, either it's high or low. It has a rotating nozzle base that spreads the water throughout your lawn in three bars of nozzle heads.
This sprinkler is built with durable ABS plastic and rust-proof polymer. The nozzle base rotates in 360 degrees and has a spray distance of 32.8 feet. The sprinkler nozzles are also adjustable depending on which area you want to direct the water most.
Unlike other sprinklers, it sprays water almost everywhere, so you no longer need to move to another location. Plus, you'll most likely get wet if you try to move it while it's on.
Gardeners love it since it can cope well in low and high water pressure. It also provides good coverage and has a spray pattern that kids will enjoy during summer. It's also quite versatile since you can use it in either small or large areas.
The only thing that concerns some gardeners is the maintenance. In some cases, the nozzles get clogged with soil and other debris and affect its performance. Also, it can get flimsy if you leave it outdoors for a long time due to the damages caused by the elements.
Pros
Ensure great coverage across your lawn
Versatile and can be used in either small or large lawns
With 360 degrees nozzle rotation feature
Adjustable nozzle direction
Easy to set up
Works well in low and high water pressure
Cons
Not suitable to use with a shrinking hose due to the pressure buildup that can get you wet as soon as it's on.
It should be kept in a shed or garage after use. Most parts of this sprinkler are plastic that ages faster than other brands made of steel, especially when left outdoors.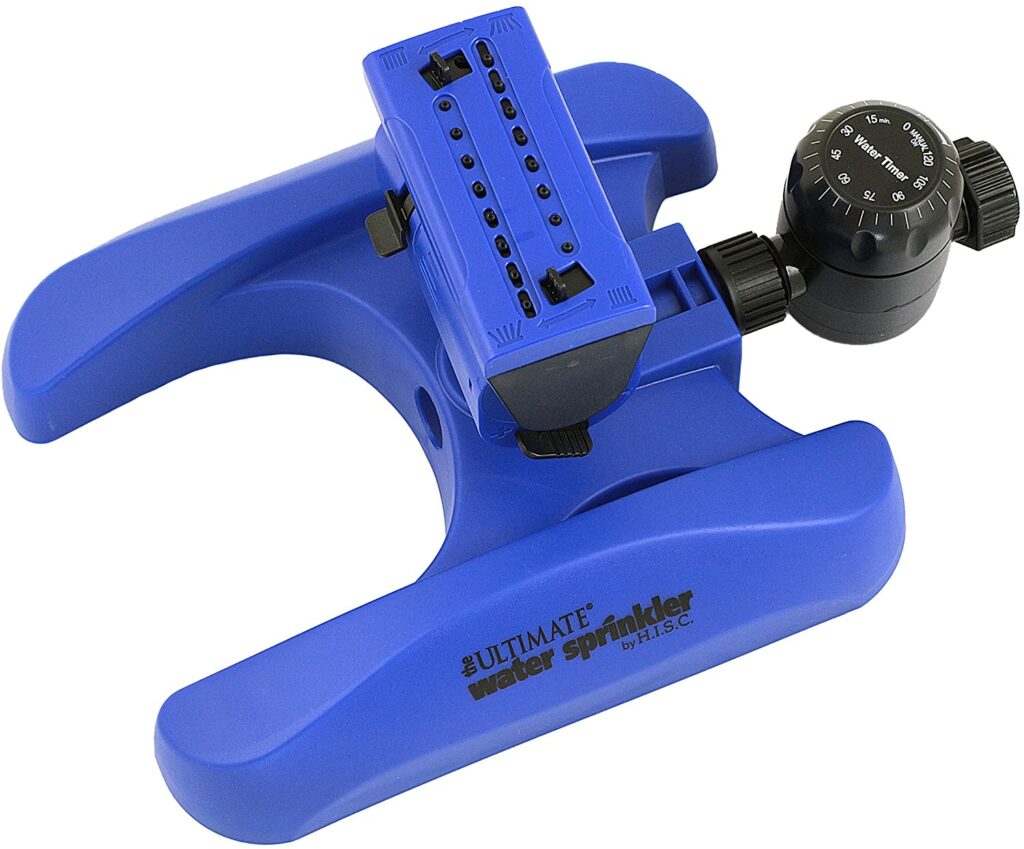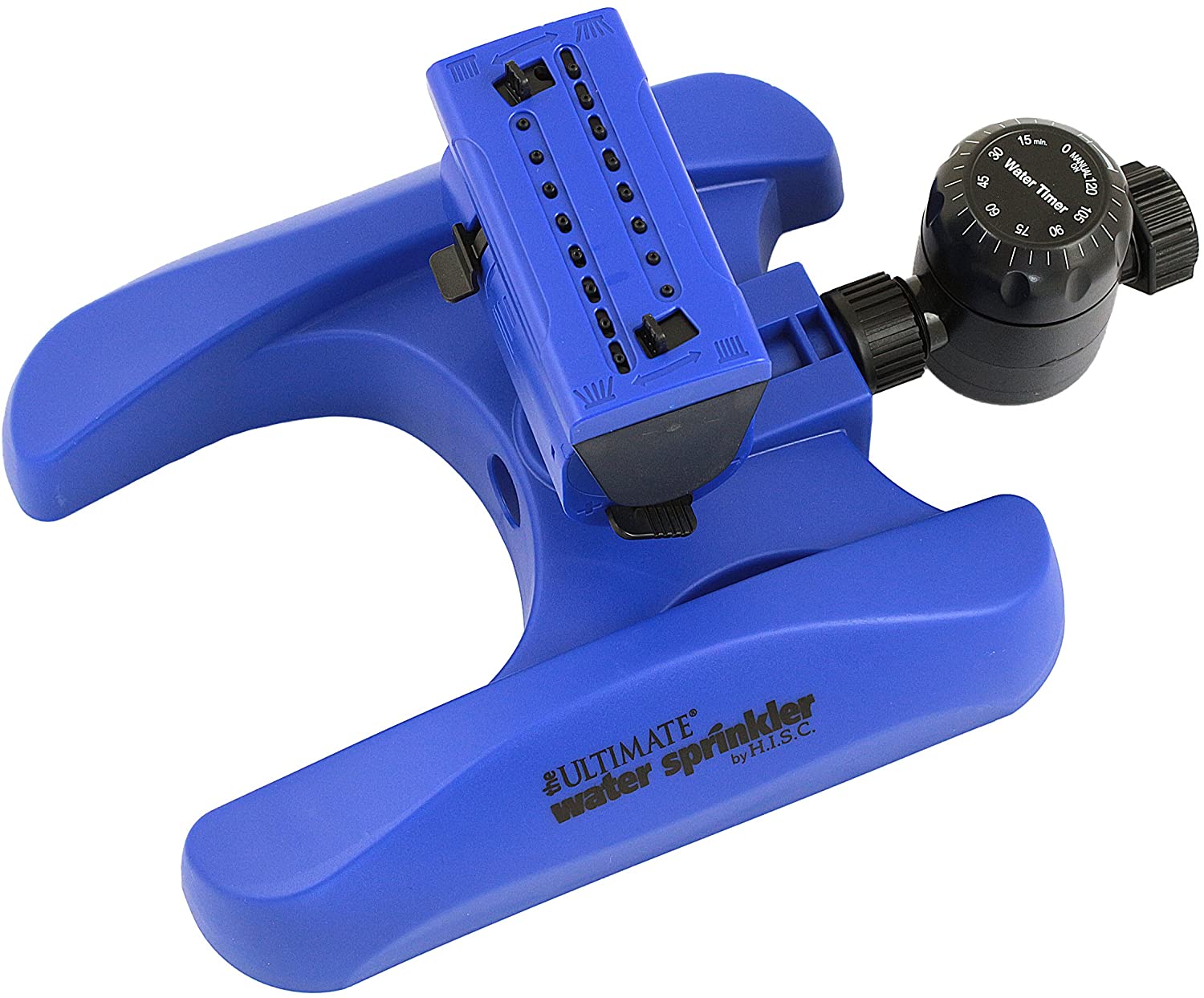 Aside from low water pressure, many gardeners also hate the tedious task of turning the faucet on or off.
Especially with huge yards, it can be hard to walk back and forth from the main water lever to the location of your sprinkler. With HISC Ultimate Water Sprinkler with Shut-off Timer, you no longer have to do that.
This sprinkler comes with a timer that shuts off the sprinkler without your intervention. You can set the watering for up to 2 hours. It is a perfect sprinkler for seniors who have difficulty in moving or people who often forget to turn off the faucet.
Busy gardeners can also count on this type of sprinkler since they can go to work without worrying about leaving the sprinkler open.
This sprinkler is made of ABS plastic and PP plastic for the base. The spray pattern rotates in 360 degrees with adjustable spray patterns. The coverage of this sprinkler is up to 4,000′ square feet and evenly water the lawn through its 16 nozzles. Its dimensions are as follows: 10.5x 9x 7.
What makes it popular among gardeners is its flexibility in watering varying lawn sizes and oddly-shaped strips of lawns in front or side of the house. It also hits the angles that are hard to reach by most sprinklers in the market. So, even watering means even growth of the grass in your lawn and fewer bald spots.
This sprinkler is lightweight, so it's easy to assume that it won't last at the end of the growing season. However, this surprises most gardeners since they've been using this sprinkler for years and still do its job well.
Though, without proper care and storage, this sprinkler can get flimsy due to sun damage.
Pros
Provides even coverage up to 4,000 sq. feet
With a shut-off timer that saves your time and water bill
Adjustable spray patterns
360 degrees of spray angles
Evenly waters oddly-shaped lawns and gardens
Works with low, moderate, and high water pressure
Cons
Plastic parts can break easily if left outdoors and exposed to the scorching sun. You should store it on every use.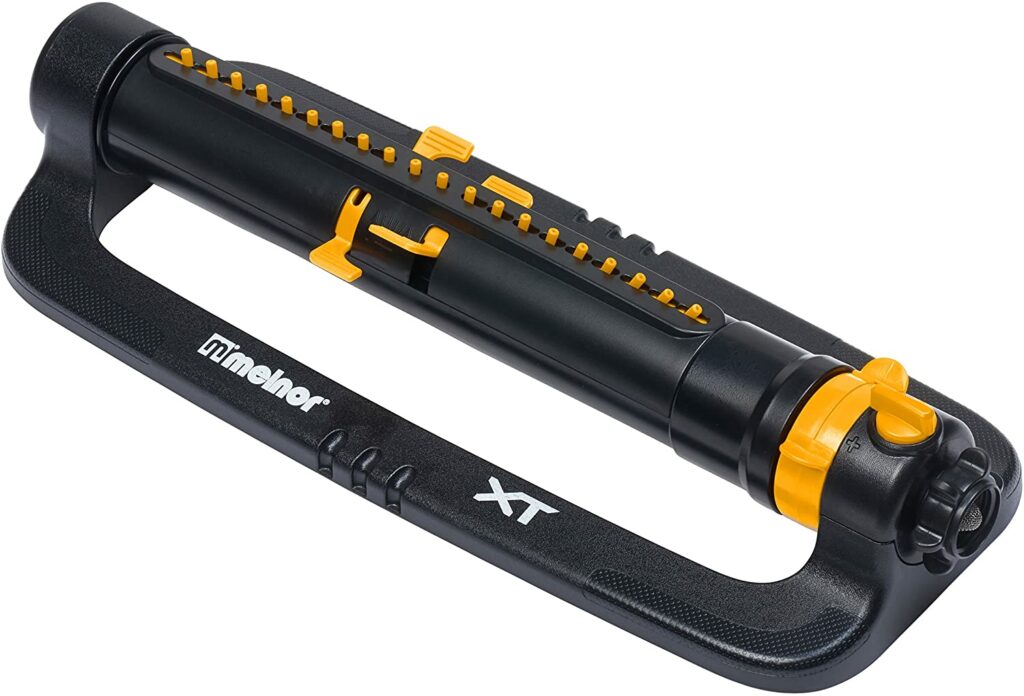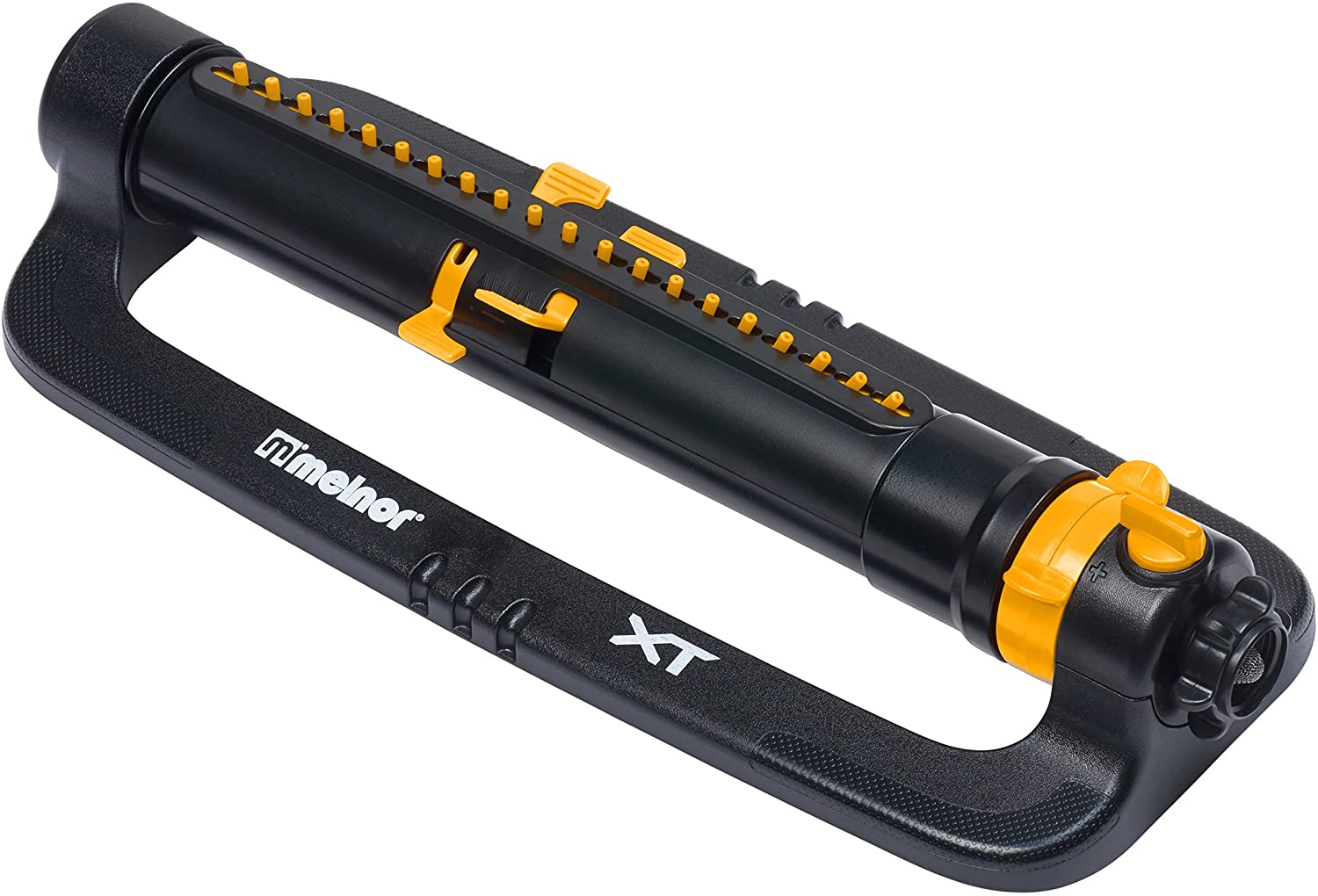 Some gardeners trust the quality of sprinklers that are made from metal. if you're one of them, then XT Metal Turbo Oscillating Sprinkler with Flow Control might suit your taste. It is made of a metal sled-type base and parts made of durable ABS plastic.
This sprinkler has a rectangular coverage that is perfect for large rectangular lawns. It has 20 brass nozzles to cover huge lawns and can be adjusted to fit smaller gardens or fields. The heavy-duty metal base also ensures that it's built to last.
XT Metal Turbo Oscillating Sprinkler has a height of 3.5 inches, a width of 17.2 inches, and a depth of 6.7 inches. Since it has metal parts, it is heavier than other sprinklers made of plastic and weighs 1.8 lbs. The coverage can reach up to 4,500 sq. ft. (65 ft. x 70 ft.) at 60 psi.
This sprinkler works well on low water pressure from 20 psi up to 80 psi. You can adjust it in three different ways:
Range adjustment: Expands the spray pattern vertically.
TwinTouch width adjustment: Extends the coverage on both sides.
Zoom control: Adjusts the water flow to change the size of the coverage pattern.
The best feature of XT Metal Turbo Oscillating Sprinkler is its adjustability. You can adjust it as you want without hurting your back in moving it from one place to another. You can shrink the coverage and expand it in just a few twists, resulting in more convenient garden care.
Some gardeners wish that the plastic parts are thicker. Nevertheless, the plastic spare parts of their sprinklers are still intact and working.
If your goal in buying a sprinkler is a feature with easy and quick-to-follow adjustments, this is the best brand for you.
Here's a video on how the adjustments work.
Pros
Flexible adjustment settings
Easy-to-use
Evenly waters small and huge fields
Works well with low and high water pressure
Heavy sled-type base keeps it on the ground
Cons
Easily damaged if left outdoors under the sun or rain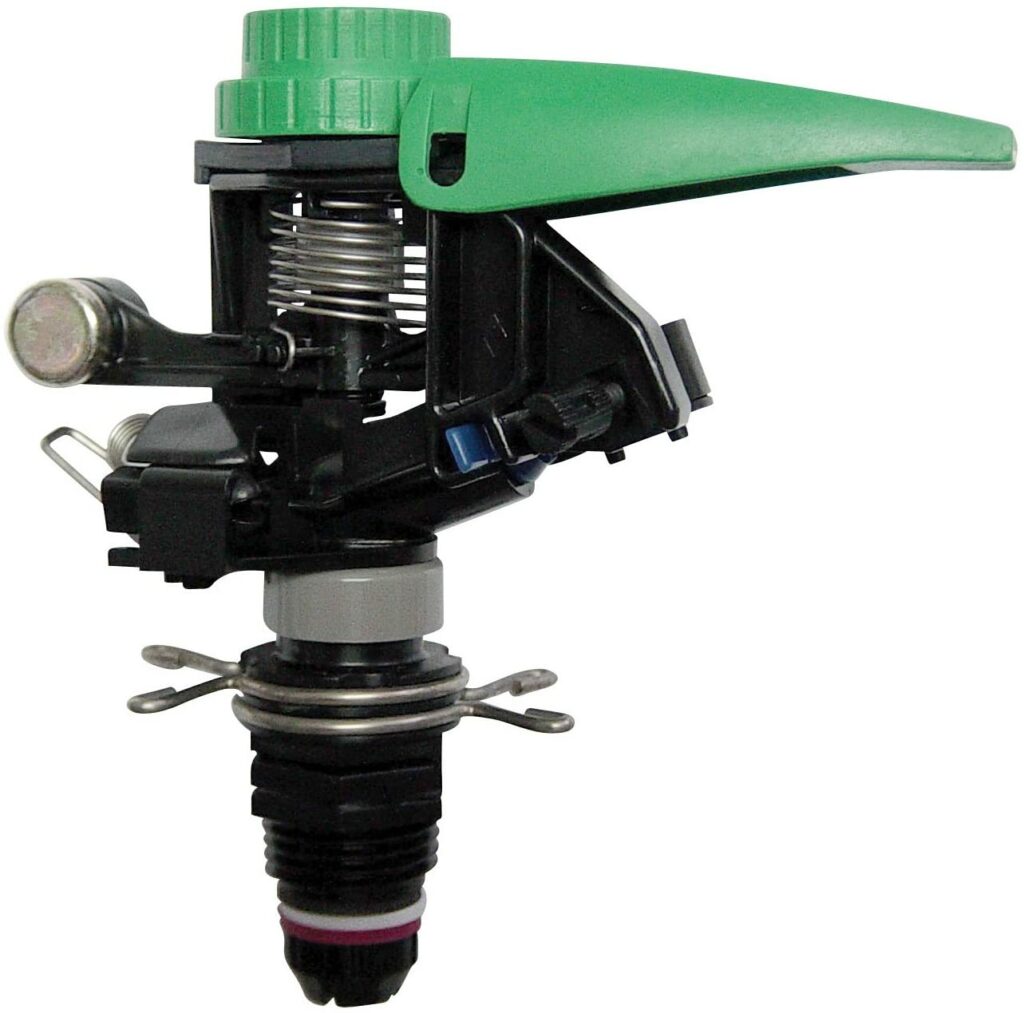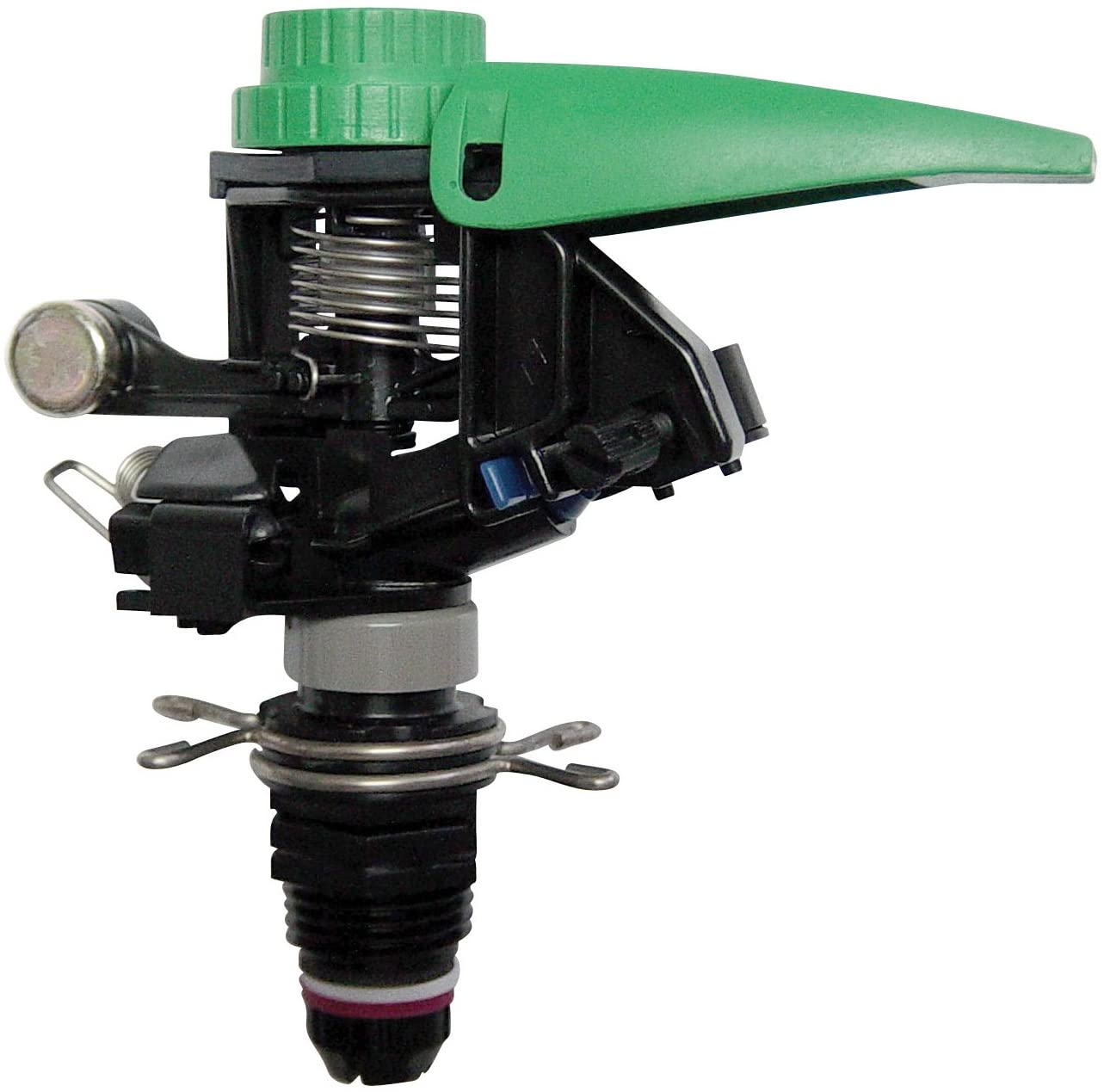 If you love the design of the traditional metal lawn sprinklers but hate their limitations, such as mineral buildup, would you like them in their plastic version?
If yes, then you'll love the Rain Bird P5R Plastic Impact Sprinkler. It resembles the traditional design and function of the traditional lawn sprinklers using durable plastic.
This sprinkler is made of stainless steel and polymer plastic parts. It has spray guide controls that allow you to adjust the water stream and control the water coverage. The spray pattern can be adjusted from 20 degrees to 360 degrees by adjusting the brass locks.
To adjust the spray distance of this sprinkler, you only need to lower the deflector on top of the nozzle. Another way to control the spray distance is to rotate the diffuser pin. The diffuser turns the water into fine droplets and also decreases their reach by 25% of its radius.
For low water pressure, this sprinkler will still spin but at a slower rate. The P5R model has five nozzles that you can use to match it with the water pressure in your area. You may try any of the nozzles so you can find the one that produces your desired spray pattern or distance.
Gardeners love this sprinkler since it resembles the design that they are familiar with. It is also affordable, which favors those who are on a budget to cater to their lawns. It is also pretty straightforward and doesn't require too many maneuvering adjustments on the gardeners' end.
The only concern with this sprinkler is some coverage concerns where some gardeners experience an uneven water distribution on their lawn. It may take some trial-and-error to achieve the spray distance and coverage you want to achieve, especially with big lawns.
Pros
Good quality even if it has plastic parts
Works well with low water pressure
High performance at low cost
Adjustable spray distance
Familiar design to most gardeners
Affordable
Cons
In some cases, the rotation gets stuck even if set to 360 degrees.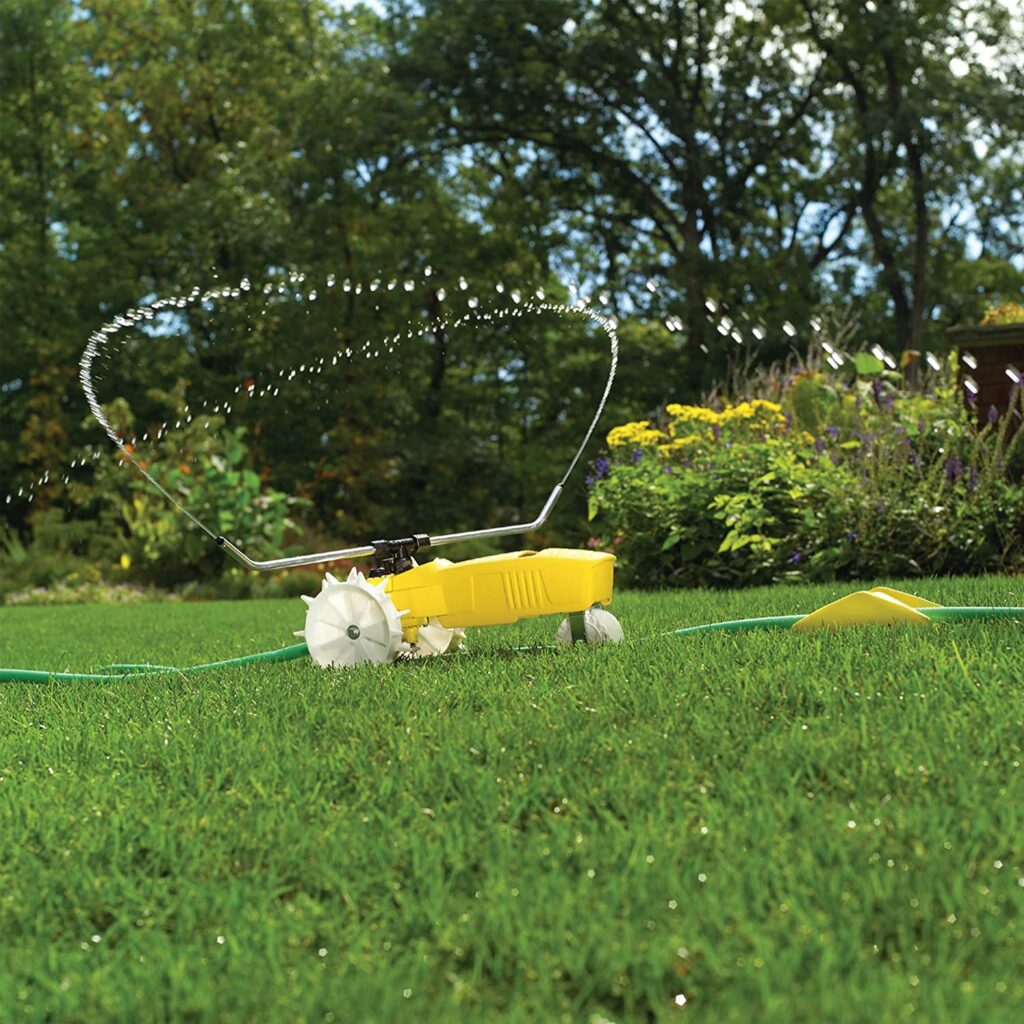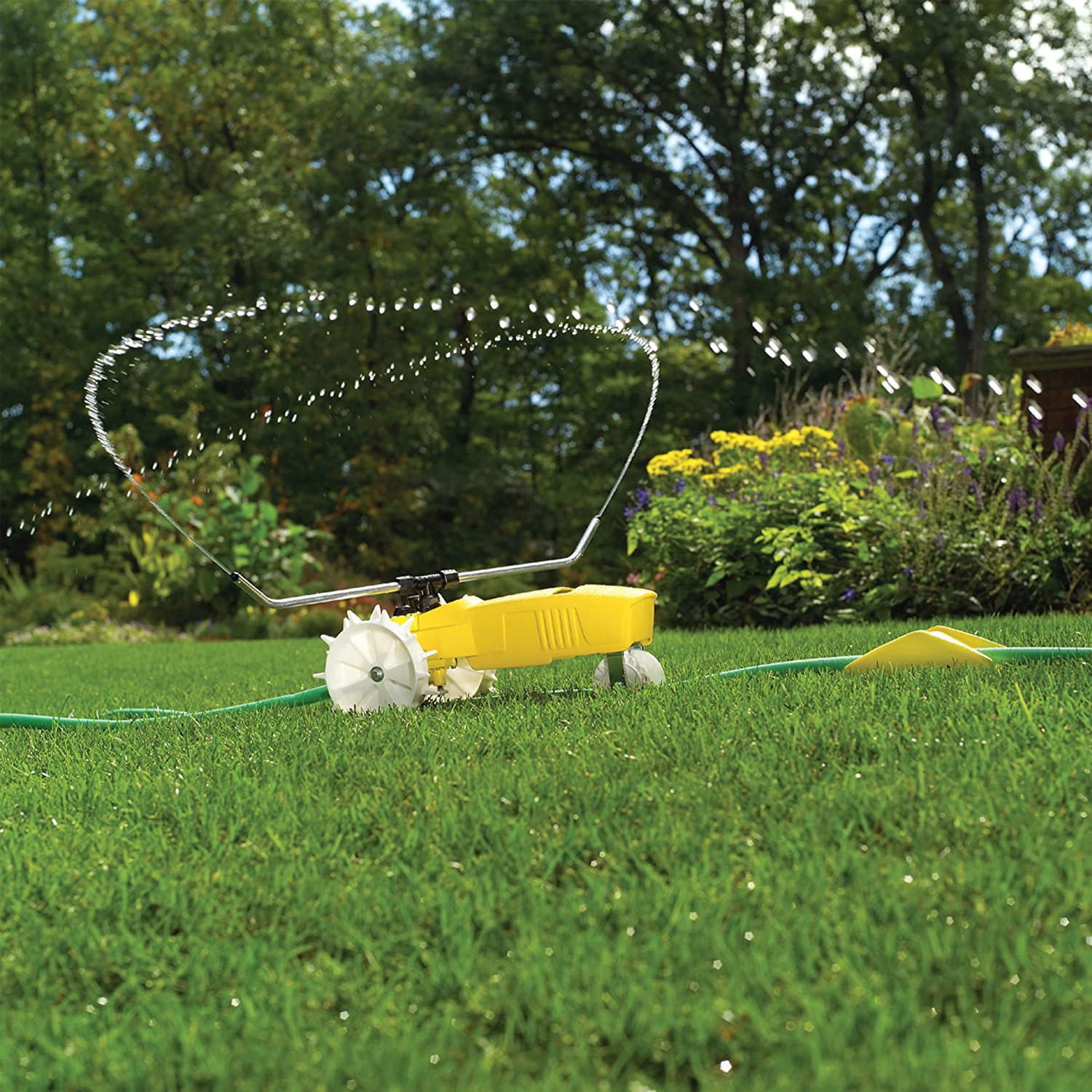 Nelson 1865 Rain Train Cast Iron is probably the definition of watering efficiency and fun. This sprinkler can water your lawn by moving on its own and shuts off whenever and wherever you set it. Plus, it doesn't require a power source and only uses an internal mechanism to keep the nozzles rotating and its wheels moving.
This sprinkler has a powder-coated cast-iron body with adjustable rotating nozzles with a coverage reach of 15 to 55 inches in diameter. Its watering coverage can reach up to 13500 square meters. You can let it travel across your lawn to a maximum distance of 200 feet.
Nelson Rain Train has speed settings that include slow, neutral, and fast. This sprinkler works by using the water pressure to propel the aluminum nozzles and move them around your lawn. If you have medium water pressure in your area, it will still move as expected.
However, if you have below-average water pressure, this may move slower than a turtle and cause puddles around your lawn. Other gardeners modify the sprinkler and close up one of the nozzles to ramp up the water pressure and get the sprinkler going.
This sprinkler travels backward and follows the trail of your garden hose. To shut it off, you have to leave the yellow stopper to your desired stopping location. Once the sprinkler reaches the yellow stopper, it will press a button that shuts the water off.
Most gardeners find it fun watching this sprinkler move across the lawn. It's like setting up a toy that does the watering job for you. It also eases the tedious task of moving the sprinklers around your lawn just to water it evenly.
The only downside of this sprinkler is when you set it in an incline which it cannot handle well. The ground must be flat or at least has minimal terrain for it to work as desired.
To avoid unnecessary hassles, place the garden hose as straight as possible so you can watch a smooth watering routine out of this sprinkler.
Pros
Wide coverage
Travels across your lawn on its own
With a powder-coated body that is chip-resistant
Shuts off on your desired location and time
Water your lawn on its own
Fun to have as your watering assistant in your garden
Value for money
Cons
Extreme low water pressure may not be sufficient to move it across your lawn.
Final Thoughts
In this post, we chose the best performing lawn sprinklers based on convenience and their efficiency.
We hope that this post helped you narrow down your options and find which sprinkler can help you take care of your garden. If you find this post informative, fun, or simply engaging, please don't forget to share it with your friends.
Which lawn sprinkler did you choose, and how did the watering work out for you? Let us know your story in the comment section below!