Who wouldn't love the aroma and taste of basil? It is an annual tropical plant that loves basking in the sun in warm weather.
Since we consume basil through its leaves, using the best fertilizers for basil can help increase leaf production. What else would be best for a bag of basil leaves but a delicious pesto!
Basil is not very demanding of nutrients. Regular feeding helps them become bushier, leading to more harvest of leaves. A healthy basil plant has a resistance to pest infestation and fungal diseases. They can also recover fast when the temperature stress sets in.
Organic compost or general fertilizer is enough for basil. However, due to the multitude of options in the market, it can be hard to choose one, especially if you haven't tried using fertilizers at all.
In this post, we listed the 10 best fertilizers for basil, so you won't spend money on trial and error using any brand.
Let's start!
(You could use the table of contents below to jump to the sections that are most important to you.)
---
10 Best Fertilizers For Basil [Top Picks & Options]
The following fertilizers are among the gardener's favorites in feeding their basil. Our list includes natural sources of nitrogen and general fertilizers that are not only applicable for basil but also to other plants.
You may notice three numbers like 10-10-10 or 4-4-4 as we feature the fertilizers. These numbers stand for the percentage of nitrogen, phosphorus, and potassium in every pack of fertilizer, respectively.
1. Jobe's Organics Granular Herb Plant Food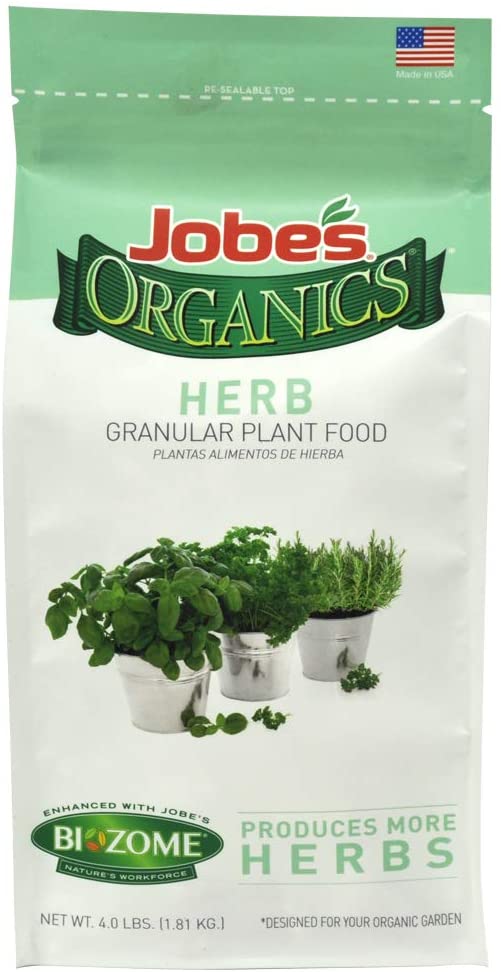 Jobe's Organics are among the favorite fertilizers of professional gardeners since it is made of organic materials and do not pose any harmful risk to the environment. The brand has two formulas for herb plant food suitable for basil, including a granular and water-soluble one.
We purposely included granular fertilizer in our list since it is the most popular among basil growers. However, you may also use the water-soluble formulation, depending on your feeding preferences. This fertilizer has an NPK ratio of 4-4-4, maintaining all the essential nutrients needed by basil plants.
This fertilizer is fortified with Biozome, which contains bacteria, mycorrhizae, and archaea that help speed up the breakdown of organic matter in the soil and make them available for your plants.
It is derived from the following organic materials:
Bone meal
Biozome
Nitrogen
Phosphorus
Potassium (Potash)
Processed manure
Sulfate of potash
Jobe's Organic Plant Food is a good option for those gardeners who practice conscious gardening that strives to use fewer to no chemicals as much as possible. It is also one of the affordable organic fertilizers on the market.
Due to its organic materials, it is safe to use around kids and pets. The only lingering concern about organic products like Jobe's plant food is its distinct stinky smell.
However, if you are not sensitive to the organic smell of processed manure, you'll have no problem using this fertilizer both indoors and outdoors.
Pros
Works well for herb varieties
Promotes optimal leaf growth without compromising the strong flavor of basil
Good value for money
Affordable organic fertilizer
OMRI-listed
Cons
2. CleanKelp Liquid Seaweed and Kelp Fertilizer by Bloom City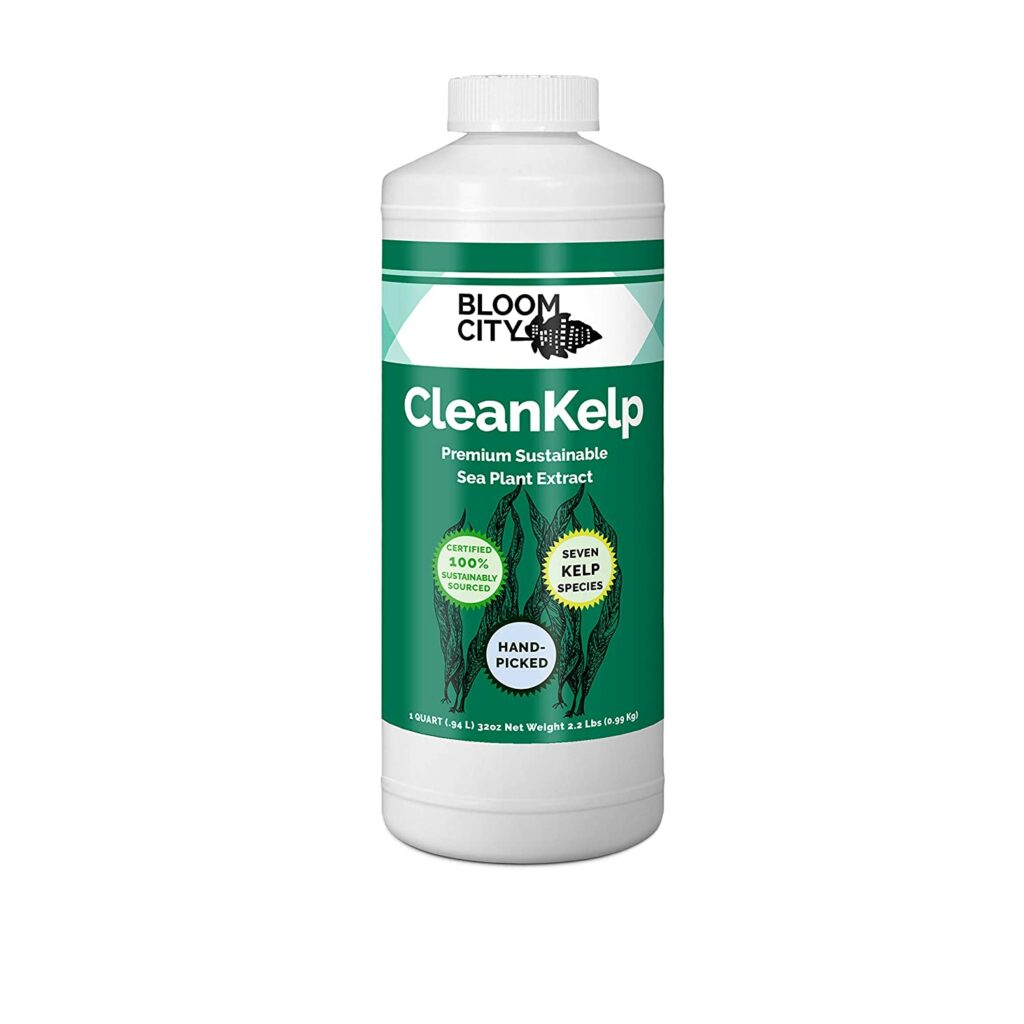 Seaweed like kelp is known as biostimulants, or biofertilizers contain better nutrients than conventional fertilizers. They contain microorganisms and substances that improve nutrient uptake and efficiency and the stress tolerance of plants.
The nutrients from seaweeds are sticky, so they do not leach and stay in the soil longer until the roots absorb them well. So, choosing seaweed as plant food for your basil is also a good option.
Liquid Seaweed and Kelp Fertilizer Supplement by Bloom City is an organic fertilizer derived from a blend of seven species. These include:
Ascophyllum Nodosum
Palmaria Palmata
Ecklonia Maxima
Laminaria Saccharina
Chlorella Vulgaris
Arthrospira Platensis
Chondrus Crispus
The manufacturer claims that it is uniquely processed to maintain the purity of the seaweed and retain its natural enzymes and hormones. It aids well in growing basil, especially during its root development.
Like other general fertilizers, liquid seaweed is also suitable for plants, such as fig trees, gardenias, geraniums, and garlic.
For conscious gardeners, cold-pressed seaweed extracts matter which may not be entirely available to all the ingredients of CleanKelp. According to its manufacturer, the micro-algae, spirulina, and chlorella are not cold-pressed along with their other contents.
The kelp meal is hand-harvested and grounded before the pressing process. They reiterated that the grounding process is necessary for better micronutrient extraction.
The best qualities of this seaweed extract from Bloom City among the best fertilizers for basil are that it does not stink and has shown ideal boosting performance for herbs like basil, rosemary, and lavender.
As for being environment-friendly, the product claims they are organic, but they are not yet listed in OMRI or any organic governing body to prove the claim. Nonetheless, it is one of the fertilizers gaining popularity in 2023.
Pros
Contain seven species of seaweeds with unique nutrients 
Versatile fertilizers applicable to several varieties of plants
Do not stink like other liquid seaweed fertilizers
Good packaging with a lot of contents
Good value for money
Perks up wilting and weak basil plants
Cons
Not recommended to use indoors
May require the use of safety gloves for better skin protection from the concentrated formula
3. Dr. Earth Organic 5 Tomato, Vegetable & Herb Fertilizer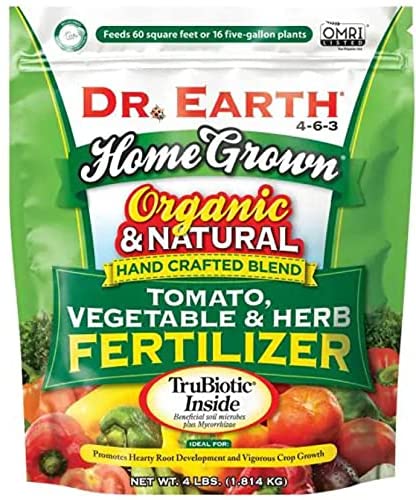 Dr. Earth provides the cleanest organic formula on the market. The manufacturer uses food-grade organic materials to ensure the cleanliness and quality of its products.
This fertilizer is derived from the following organic materials:
Fishbone meal
Bone meal
Feather meal
Alfalfa meal
Potassium sulfate
Fish meal
Kelp meal
Rock phosphate
Kelp flour
If basil is the main ingredient in most of your dishes at home, feeding your basil plant with clean organic fertilizer is crucial. This fertilizer contains TruBiotic, which helps improve the soil quality of plants by improving the balance between your soil and your plant. It also comes with extra contents like 6% of humic acids for better growth.
This fertilizer has a 4-6-3 NPK formulation that makes it a good plant food for vegetables that we serve on the table. It is also packed with probiotics, ecto, endo mycorrhizae, and seven champion strains of beneficial soil microbes that help enhance the flavor and aroma of basil plants.
Dr. Earth products are free from GMO, chicken manure, or sewage sludge. It is one of the cleanest organic fertilizers that has been certified by OMRI, CDFA, and MycoApply.
Pros
Cleanest organic fertilizer on the market
OMRI-listed
100% organic fertilizer
Uses food-grade organic materials to ensure the cleanliness of products
Enhances the flavor and aroma of basil
Contain TruBiotic technology for better nutrient absorption
Versatile fertilizer suitable for most edible plants
Vegan-friendly
Cons
4. Jobe's Organics All-Purpose Fertilizer, 4 lb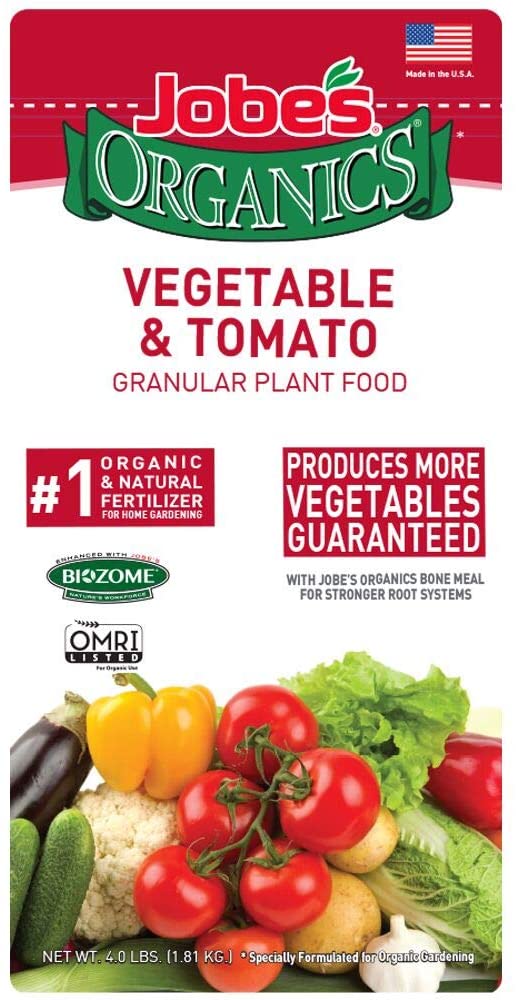 Aside from Jobe's Organic's Herb fertilizer, their all-purpose formula is also ideal for basil. It is suitable for pre-planting soil preparation and continuous feeding for your basil.
Jobe's Organics All-Purpose Fertilizer is a 4-4-4 NPK fertilizer that can be used for the general feeding of most plant varieties.
It is derived from:
Feather meal
Bone meal
Processed poultry manure
Sulfate of potash
Endo mycorrhizae
Ectomycorrhizae
Archaea
Since it is organic, it has that distinct organic smell that you can expect from organic products. So, some dogs may get a little frenzy to its smell. Most home and professional gardeners added this fertilizer as part of their holy grail in gardening due to its good effect on plants and the environment.
This general fertilizer is OMRI-listed and among the leading organic fertilizers in the market next to Dr. Earth. It is packed with BioZome and other nutrients such as:
Calcium (8%)
Magnesium (0.5%)
Sulfur (1.4%)
If you're trying to achieve an organic approach in gardening on a budget, you can never go wrong with Jobe's general fertilizer. The packaging also comes in a resealable bag.
Pros
OMRI-listed
Affordable organic fertilizer
No synthetic chemicals
Organic pre-planting and growing fertilizer for basil
Promotes root growth and flavor for basil
Improves soil quality through Biozome
Safe for the environment
Safe for use around kids & pets
Resealable packaging
Cons
Stinky smell 
The smell attracts dogs into your garden.
5. JR Peters Jacks Classic No.1.5 20-20-20 All Purpose Fertilizer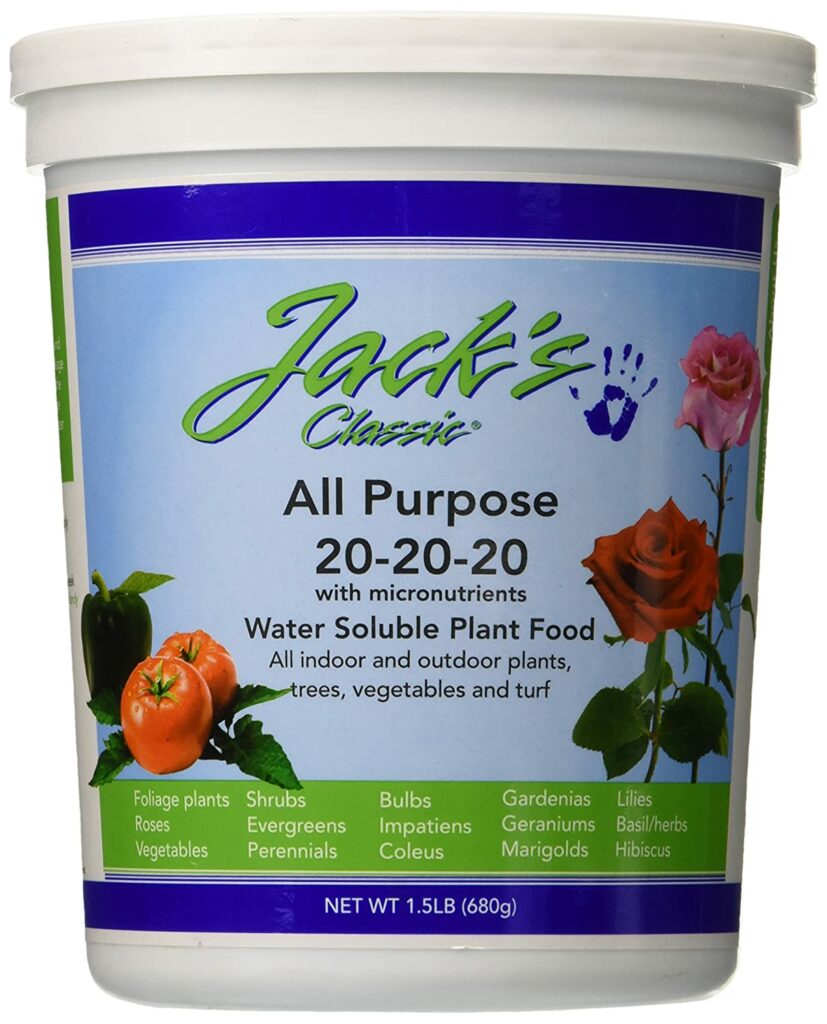 For a more potent general fertilizer for your basil, JR Peters Jacks Classic No.1.5 20-20-20 All Purpose Fertilizer is your best option. It is a 20-20-20 NPK fertilizer that can help revive basil plants recovering from pest infestation, fungal diseases, and temperature changes.
It is derived from the following materials:
Urea
Monopotassium phosphate
Potassium nitrate
Boric acid
Iron
Manganese
Zinc
Copper
Ammonium molybdate
Though it's not an organic fertilizer, it has a blend of synthetic and organic materials to achieve the formula for boosting plant growth and leaf production of basil. Since it comes in a higher concentration of NPK nutrients, make sure to watch your portions and increase the amount gradually.
It is also packed with other nutrients, such as:
Boron (0.02%)
Copper (0.05)
Iron (0.10%)
Manganese (0.05)
Molybdenum (0.0009%)
Zinc (0.05%)
The best thing about Jack's Classic general fertilizer is the high-quality organic produce that the plants provide. It is suitable for various growing mediums like soil and coco coir. It also doesn't have the stinky smell of organic products, making it a good option for feeding basil indoors.
This fertilizer comes in a tub that is easy to carry around. The tub is reusable as a pot or a bucket. However, it is not organic and is made of synthetic materials, which may not be a good option for those who aim to grow plants in an organic approach.
Pros
Potent formula helps revive recovering basil plants 
Promotes high-quality, aromatic, and tasty basil leaves
Resealable packaging (tub)
Packed with added nutrients and minerals
Cons
Synthetic fertilizer
Pricey
6. Southern Ag All Purpose Granular Fertilizer 10-10-10, 5 LB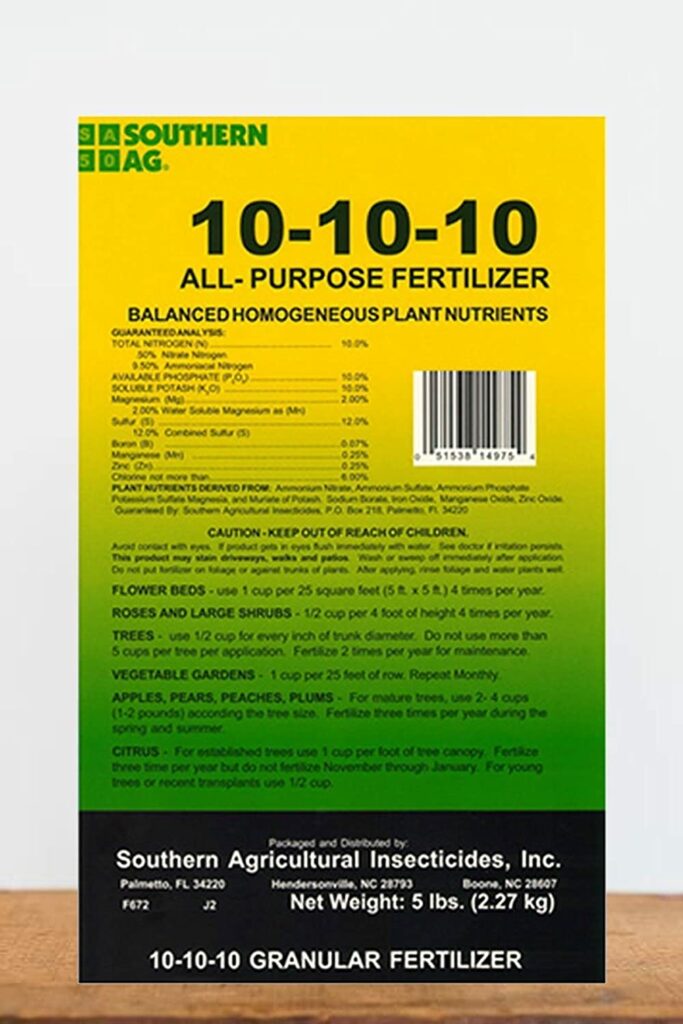 Southern Ag All Purpose Granular Fertilizer is another good option if you are looking for a general and balanced fertilizer for your basil. It only requires a few servings per feeding. So, a box can come a long way.
This fertilizer has a granular formulation. It is synthetic fertilizer where every cup can cover 25 feet of basil plants. It is derived from:
Sulfate of potash magnesium
Ammonium phosphate
Polymer-coated urea
Sulfate of potash
Manganese sulfate
Iron sulfate
Protein hydrolysate
Iron humate
Zinc sulfate
Ferrous ammonium sulfate
Ammonium sulfate
Sodium calcium
Borate
Most gardeners see improvements in their basil plants through increased leaf growth and richer deep green color. Some also consider it as among the best fertilizers for basil due to its role in helping their basil plants recover from plant infection.
This fertilizer also comes with extra nutrients such as:
Magnesium (Mg) (2.00%)
Boron (B) (0.200%)
Iron (Fe) (0.500%)
Manganese (Mn) (0.250%)
Zinc (Zn) (0.250%)
Some people think that this fertilizer is too small for its price and does not match its size online. Some gardeners also notice that it is too potent for potted plants. However, these observations are only based on the experience of some gardeners, which may not be the same for everyone.
Pros
Can cover a lot of growing area
Promotes more healthy basil leaves
Help revive recovering basil plants
Provides general nutrient distribution
Helps nourish the soil for basil plants during the pre-planting phase
Affordable than its organic counterparts
Cons
7. Scotts All Purpose Flower & Vegetable Continuous Release Plant Food, 3 lb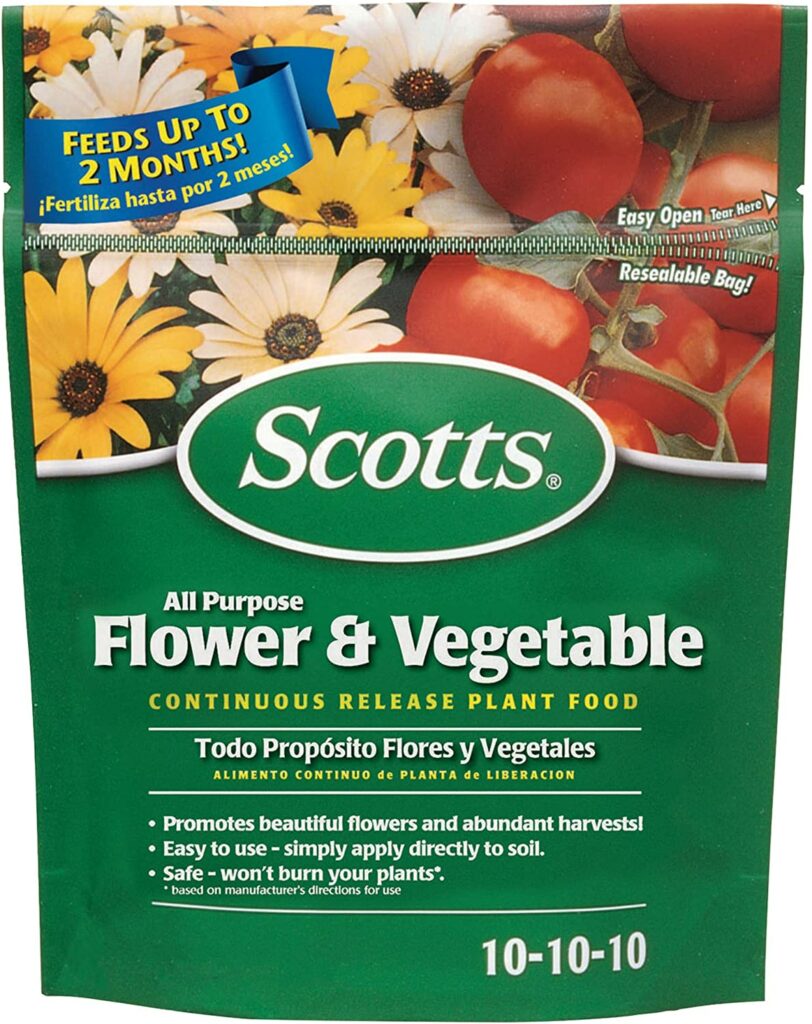 For a busy gardener, nothing beats the convenience of using a slow-release fertilizer like Scott's All-Purpose Continuous Plant Food. It can continuously feed your basil plants for two months.
It has an NPK ratio of 10-10-10 that can help nourish different plants. It is derived from:
Urea
Polymer-coated/sulfur-coated urea
Potassium chloride
Ammonium phosphate
It is a general fertilizer that saves you time and effort in feeding your basil, especially if you often forget to fertilize it on time. It has 2% sulfur which may help boost the aroma and flavor of basil, helps improve the quality of leaves, and allows them to become healthier and resist pests and fungal diseases.
Aside from being a time-saver, this fertilizer is also suitable for the elderly and those with physical disabilities. It is a convenient option that no longer needs mixing. The packaging comes in a resealable bag, making it easy to reuse, move around, and store.
The only concern that some gardeners may encounter in this fertilizer is it is synthetic. The wrong measurement can lead to overfeeding, which leads basil plants to lose their strong flavor and aroma.
Pros
Ensures continuous feeding for your basil plants
Easy to use, no mixing needed
Eases fertilization chores
Contain sulfur for a more enhanced basil flavor
Resealable bag
No smell
Suitable for busy gardeners, the elderly, and persons with disabilities
Cons
8. Malibu Compost Biodynamic Compost Tea Bags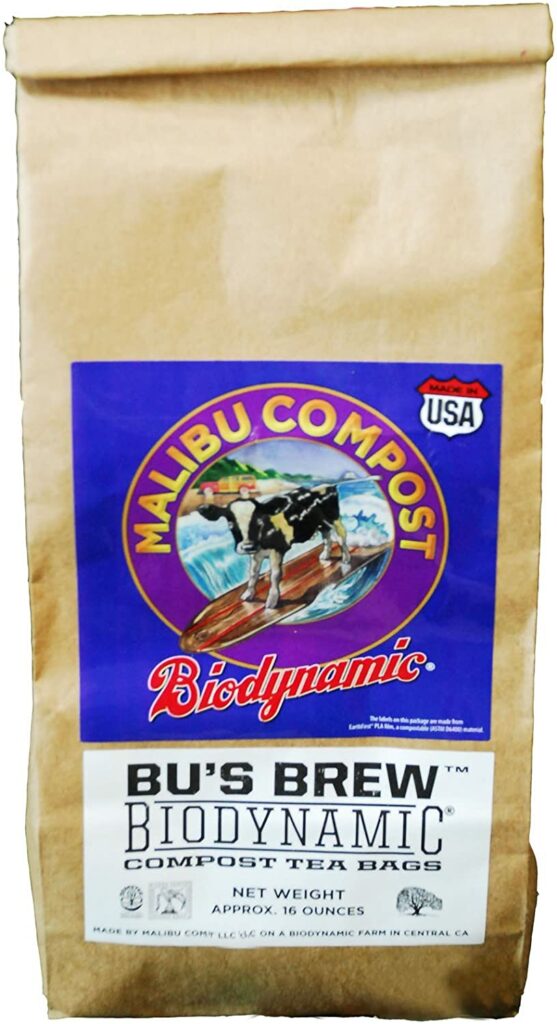 If you're a great fan of compost in feeding your plants, you no longer need to wait for your compost to be fully decomposed. Malibu Compost Biodynamic Compost Tea Bags now provides ready-to-use compost tea bags that can make up to 5 gallons of tea.
The compost tea is suitable for feeding basil through foliar feeding and improving their overall health. It is free from synthetic chemicals and ideal for organic gardening.
You only need to steep the teabag in 5 gallons of water for 8 to 12 hours and use it when watering your plants. The used tea bags are an ideal soil amendment to help prevent compaction and improve overall soil quality.
This compost can also help improve the health of your other plants at home aside from basil. It is suitable for flowers, veggies, shrubs, trees, and grasses.
The manufacturer of this fertilizer prides itself on its non-GMO formula and the clean organic materials used in making the teabags. It also doesn't include pesticides, herbicides, sewage sludge, and growth hormones.
If you're conscious of not using any manure in your basil, this may not be among the best fertilizers for basil that you should choose since it contains aged cow manure.
Pros
Improves water retention, root depth, and soil compaction
Eases the composting chores 
Provides immediate results
Organic source of nutrients
Non-GMO
No pesticides
No herbicides
No growth hormones
No sewage sludge
Cons
Contain cow manure that some gardeners don't want to use on their edible plants
9. Charlie's Compost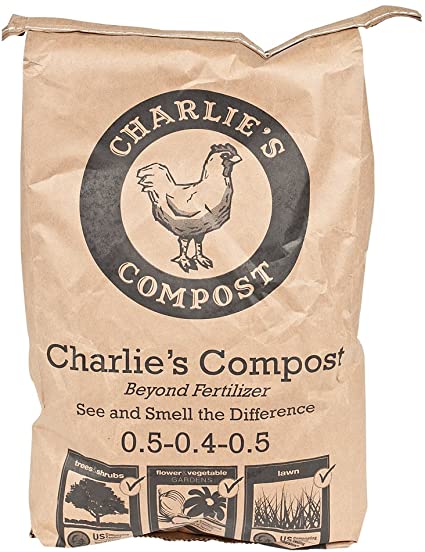 If you want compost directly added to the soil, the long wait is over with Charlie's Compost. It is a natural soil amendment and fertilizer made from the poultry farm in Kentucky. The chicken manure is mixed with organic materials available on the farm. It is derived from:
Chicken manure
Cornstalks
Straw
Forest products
Hay
Clay
Beneficial microbe inoculants
If you've got no space and time to make your compost, you can immediately avail them using this product. Basil loves any organic compost as long you don't overdo it.
It is a good soil amendment but may pose risks of burning plants if you use too much. Most gardeners recommend using it in small quantities to see how your basil will react.
For most gardeners, it may seem expensive. However, it can last for several months with proper usage and portioning.
If you're adamant about using synthetic fertilizers, this is among the best fertilizers for basil for you since it can serve as both plant food and soil conditioner.
Pros
Multi-purpose: soil conditioner and fertilizer
Easy to use 
Eases the composting chores
Help improve the soil and overall plant health of basil
Cons
May pose risks of burning your plants if you add too much. Use in small increments to check the response of your basil.
Contain chicken manure which may discourage some gardeners from using it for edible plants like basil
10. Lilly Miller Quart Fish Emulsion Fertilizer

Lilly Miller Quart Fish Emulsion Fertilizer is one of the great finds we had this year. It is an OMRI-certified organic fertilizer that is popular among basil growers. It has an NPK ratio of 5-1-1 and is fortified with 11 vitamins that help stimulate the microorganisms in the soil.
This fertilizer comes in a concentrated liquid and only requires two tablespoons for every gallon of water. Since it contains fish, some gardeners may think it's smelly. However, when diluted, the smell also dissipates. However, if you add too much to your basil, it may start to stink.
Many basil growers are a fan of this fertilizer since their sweet and Thai basil loves it very much.
Aside from basil, you may also mix it with other plants. Since it is high in nitrogen, make sure that you only add in a few amounts and increase them gradually to retain the flavor of your basil.
Pros
Organic fertilizer
Promotes healthy plant growth
Stimulates microorganisms in the soil
Cons
The stinky smell may attract some critters into your garden
---
How To Prepare The Soil For Basil?
Aside from using the best fertilizers for basil, the secret to healthy plants usually lies in the quality of the soil.
To achieve thriving basil plants, prepare the soil a few weeks before planting the seeds or transplanting them. Adding soil conditioners like compost and aged manure ensures healthy soil microbes and proper soil aeration.
Here are some natural sources of nitrogen that you can add to the soil before you plant your basil:
Down to Earth Blood Meal Fertilizer Mix 12-0-0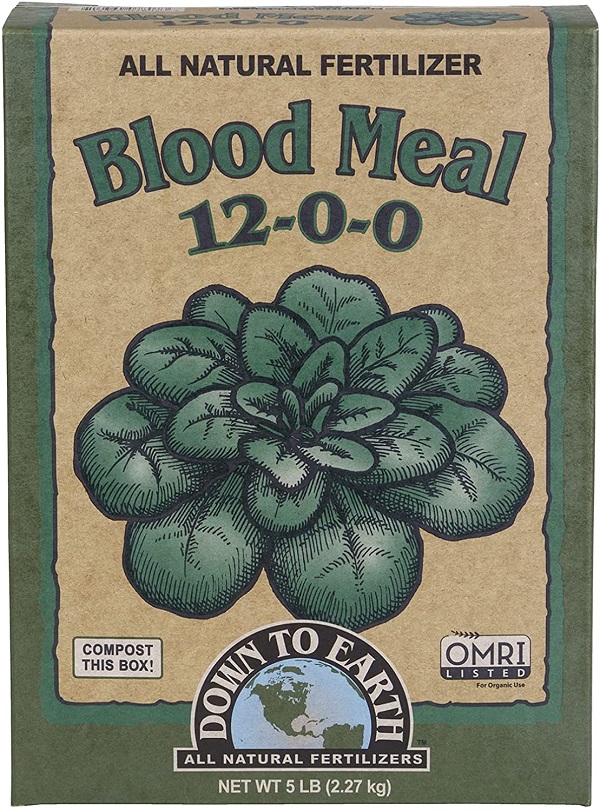 Down to Earth Blood Meal Fertilizer is an organic source of nitrogen for soil amendment with an NPK ratio of 12-0-0. It is usually used by organic gardeners to jumpstart the foliage development of basil seedlings. It is a certified organic product listed by OMRI.
Many gardeners love using blood meal since it has a lot of uses. It can also serve as a rabbit repellent. However, too much blood meal in your plant can burn your plants.
The only catch is its carton packaging since the manufacturer focuses on making the product as environment-friendly as possible. Due to its blood content, dogs and flies may get to your basil, so make sure to use a safety net over your basil just in case.
Pros
Environment-friendly
Organic nitrogen fertilizer
Multi-purpose
OMRI-listed
Rabbit repellent
Make the soil more acidic
Boosts foliar growth and encourages bloom production
Cons
Attracts flies and dogs
Non-resealable packaging
Down to Earth All Natural Cottonseed Meal Fertilizer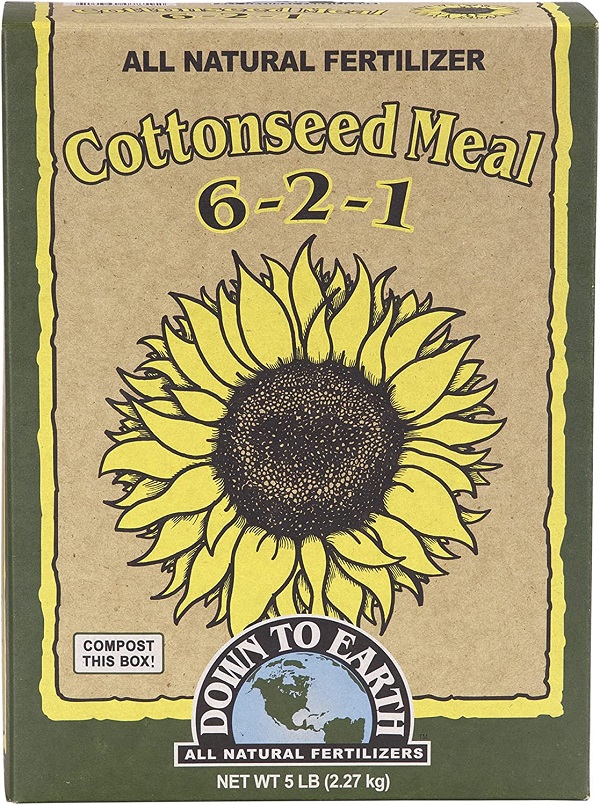 Down to Earth, All Natural Cottonseed Meal Fertilizer has an NPK ratio of 6-21-1 which helps acidify the soil if it's too alkaline or has a high pH level. It is a good alternative if you don't like the smell of blood meal in your garden. This fertilizer is also suitable for vegan gardening.
It is a common ingredient for fertilizers of acid-loving plants like rhododendrons, azaleas, blueberries, and strawberries, as well as coniferous trees and shrubs. You may add this fertilizer to the soil to help maintain its pH level.
Pros
Good soil amendment for basil
Natural source of nitrogen
Organic
OMRI-listed
Versatile plant food
Environment-friendly
Vegan-friendly
Cons
Non-resealable packaging
May lower soil PH or make it more acidic if not used properly
---
Reminders in Fertilizing and Taking Care of Basil
Basil is not too picky when it comes to fertilizers. However, too much general fertilizer or nitrogen fertilizer may increase its foliage but affect its flavor and aroma.
Make sure to start with a few amounts and increase it gradually. It's also helpful to harvest the leaves often to encourage your basil to produce more leaves.
Basil is delicious for us humans and pests like grasshoppers and sap-sucking insects. Since it is a common target of pests, we have a separate blog for issues like white spots and black spots on basil leaves.
The best way to protect your basil is to spray it with preventive pesticides and fungicides. You can both find these solutions in one application using neem oil. You may also use insecticidal soap if you're not a fan of neem oil.
Lastly, give your basil enough sun exposure that is not too harsh for them. If possible, potted basil must be placed outdoors during the day and indoors at night to keep them warm. You may also place it under a grow light for 6 to 8 hours every day.
Final Thoughts
We hope that our list of the best fertilizers for basil helped ease your green thumb frustration in looking for the best options. We highly encourage these brands since most gardeners, even the professional ones, consider them as their secret to the successful propagation of basil.
If you find this post helpful and informative, please don't forget to share it with your friends and family. We hope that you harvest a lot of basil leaves and enjoy the aroma and flavors of pesto-inspired dishes.
Let us know in the comments which fertilizer gave your basil a makeover this year.