Growing onions have recently become popular on the Internet due to their ability to grow indoors near the window sill.
If you're one of those gardeners who have a serious love for growing onions, you surely know that daylight and the best fertilizer for onions are crucial for big bulbs and bountiful harvest.
In this post, we will share the best fertilizers for onions to nourish them during their vegetative stage and bulbing stage.
In A Hurry, Our Top Picks:
However, before we head on to your fertilizer options, you must understand the fertilization process for allium varieties of plants like onions and garlic. Unlike other vegetables, they need a fertilization technique to grow in big sizes and taste delicious.
Onions that are grown from seeds undergo two phases before they are harvested. First, they go through the vegetative phase where the seedlings develop foliage or leaves.
At this stage, they need well-balanced nutrients to promote leaf growth and strong roots. The leaves will help nourish the bulb and play a vital role in the photosynthesis of the onions.
Once the leaves and roots have been established, the next phase takes place, which is the bulbing phase. The onion leaves must be in their best shape, green and upright, to ensure big and tasty bulbs.
With the help of nitrogen-based fertilizer, more leaves can emerge which means you'll enjoy bigger bulbs of onions.
In simple terms, you'll need two types of fertilizers in growing onions. During seedbed preparation, you'll need a balanced fertilizer and a nitrogen fertilizer as soon as a few inches of leaves start to emerge.
(You could use the table of contents below to jump to the sections that are most important to you.)
---
8 Best Fertilizer for Onions in 2021 [Top Picks and Reviews]
Now that you have the secret sauce in fertilizing onions, here are the best brands that you can safely try for your allium plants. The three numbers that we'll discuss pertain to the nutrient ratio or NPK ratio of every fertilizer.
The first number stands for nitrogen content, followed by phosphorus content, and the last number is for potassium.
For example, a 10-20-10 NPK fertilizer means that there is 20% phosphorus in every 10% of nitrogen and potassium.
Now, let's start
---
1. Jobe's Organics All-Purpose Fertilizer, 4 lb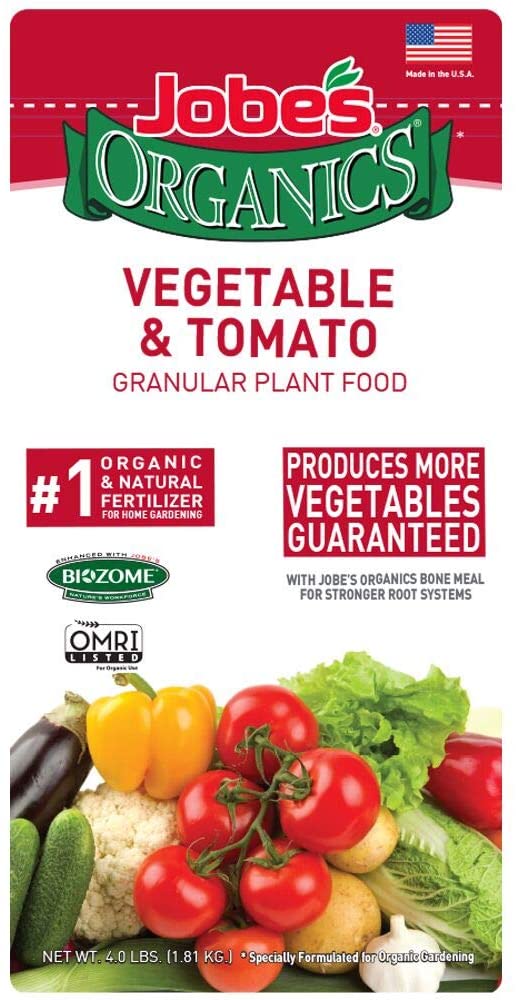 For your pre-planting fertilizer needs for onions, why not start with some organic goodness?
Jobe's Organics All-Purpose Fertilizer is popular for its affordability and positive impact on most plants. It is a 4-4-4 NPK fertilizer that can be used for the general fertilization of most plant varieties.
It is derived from:
Feather meal
Bone meal
Processed poultry manure
Sulfate of potash
Endo mycorrhizae
Ectomycorrhizae
Archaea
Due to the organic contents of this fertilizer, it has that distinct smell that you can find in most organic products. So, some pets, especially dogs, are attracted to its smell.
Other than that, most gardeners are satisfied with its efficacy in nourishing onions, flowers, shrubs, and other vegetables. It is OMRI-listed and does not contain any synthetic chemicals.
It is also fortified with BioZome and other nutrients such as:
Calcium (8%)
Magnesium (0.5%)
Sulfur (1.4%)
If you're trying to build an organic garden or are conscious about the quality of nutrients to feed your vegetables, Jobe's Organics is one of the best choices. It comes in a resealable bag and has been part of most organic gardeners.
Pros
OMRI-listed
Affordable
No synthetic chemicals
Organic pre-planting fertilizer for onions
Promotes strong root growth
Improves soil quality through Biozome
Safe for the environment
Safe for use around kids & pets
Resealable packaging
Cons
Organic smell 
The smell attracts dogs into your garden
2. JR Peters Jacks Classic No.1.5 20-20-20 All Purpose Fertilizer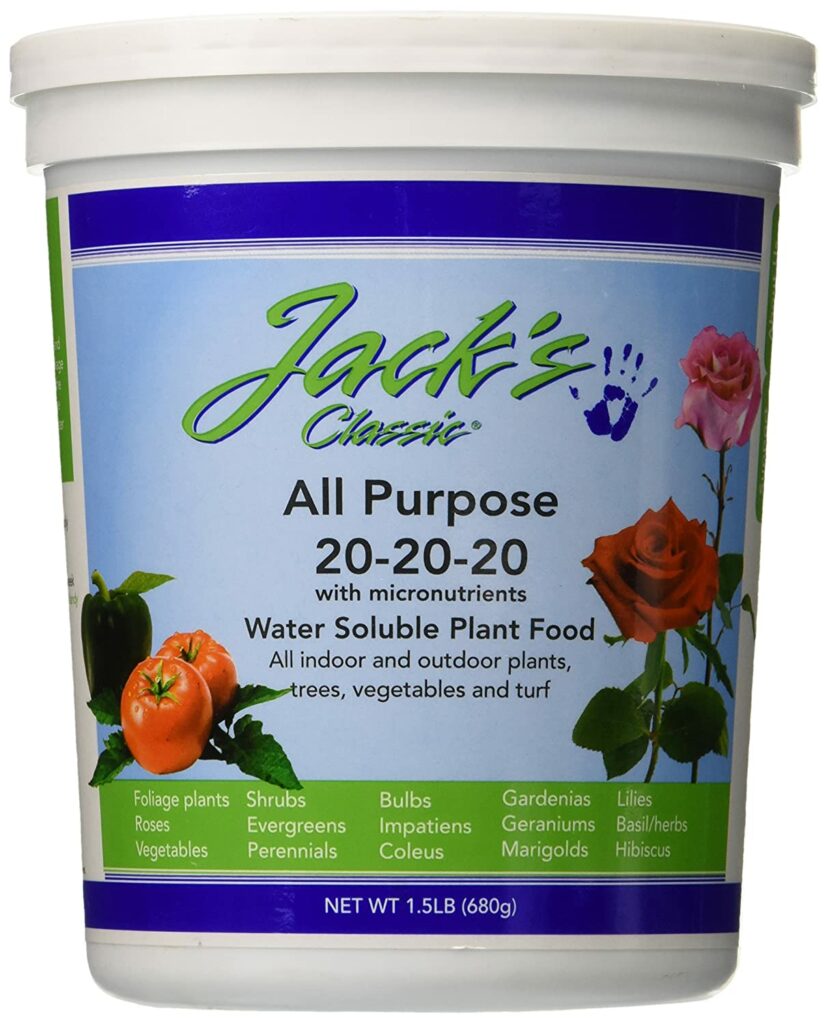 Another pre-planting fertilizer option that you can try is JR Peters Jacks Classic No. 1.5 All-Purpose Fertilizer. It is a 20-20-20 NPK fertilizer that can be used for both indoor and outdoor flowering plants and vegetables.
It is derived from the following contents:
Urea
Monopotassium phosphate
Potassium nitrate
Boric acid
Iron
Manganese
Zinc
Copper
Ammonium molybdate
This fertilizer is specifically designed to help onions and other vegetables to develop robust, big, and deep green leaves. It comes in a higher concentration so make sure to watch your portions in applying it in your seedbed.
It also contains other nutrients, such as:
Boron (0.02%)
Copper (0.05)
Iron (0.10%)
Manganese (0.05)
Molybdenum (0.0009%)
Zinc (0.05%)
The best thing that most gardeners love about Jack's Classic is the high-quality yield that they get during the harvest season. It is also very versatile and applicable to different varieties of indoor and outdoor plants. The packaging is also a tub that is easy to store and use.
However, it is made of synthetic materials. So, if you're into organic gardening, this might not be an option for you.
Pros
Promotes high-quality yield
Resealable packaging (tub)
Promotes healthy growth of leaves
Contains added nutrients
Cons
3. Southern Ag All Purpose Granular Fertilizer 10-10-10, 5 LB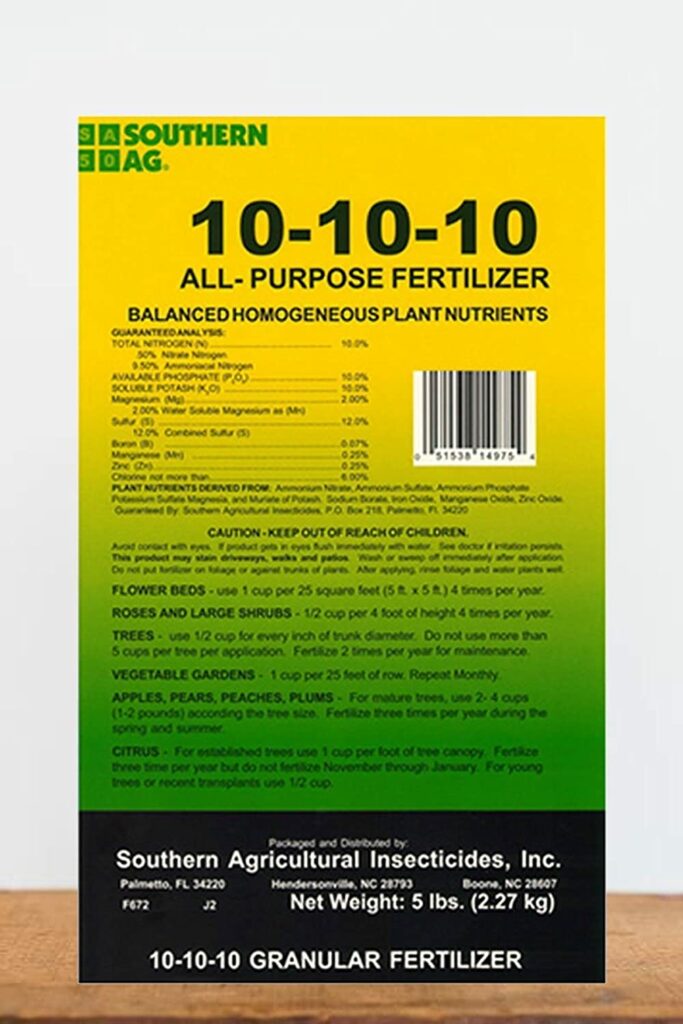 Southern Ag All Purpose Granular Fertilizer is a good option if you are fertilizing several feet of rows for onions. It is a granular synthetic fertilizer where a cup can already cover a 25-foot row vegetable seedbed.
It is derived from:
Sulfate of potash magnesium
Ammonium phosphate
Polymer-coated urea
Sulfate of potash
Manganese sulfate
Iron sulfate
Protein hydrolysate
Iron humate
Zinc sulfate
Ferrous ammonium sulfate
Ammonium sulfate
Sodium calcium
Borate
It is a non-organic fertilizer but some gardeners see improvements in their plant's growth and their richer color.
Some gardeners also use it to help revitalize their weak and pest-infested plants. This fertilizer also comes with added nutrients such as:
Magnesium (Mg) (2.00%)
Boron (B) (0.200%)
Iron (Fe) (0.500%)
Manganese (Mn) (0.250%)
Zinc (Zn) (0.250%)
The only concern of most gardeners is the size of this fertilizer. Most of them think that it is way too small than they expect.
Also, some of them think it's not suitable for potted plants. However, the basis of these opinions can be subjective since there are many factors why some plants don't make it.
Pros
Promotes healthy foliage and root development
Helps revitalize weak and pest-infested plants
Provides general nutrient distribution to onions
Helps jumpstart growth in seedling onions
Affordable
Cons
4. Dr. Earth Organic 5 Tomato, Vegetable & Herb Fertilizer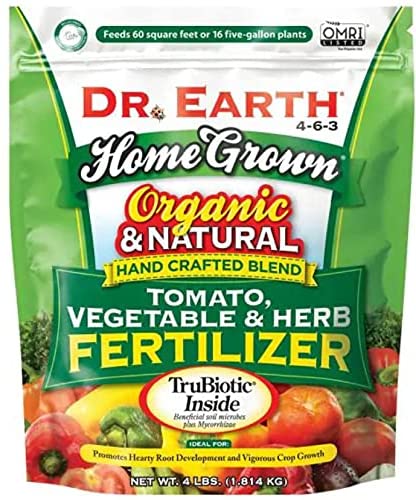 If you want to be a little bit extra in picking the cleanest version of fertilizer for your vegetable plants like onions, you can never go wrong with Dr. Earth. It uses food-grade materials to ensure its cleanliness and organic quality.
It is derived from organic materials, such as:
Fishbone meal
Bone meal
Feather meal
Alfalfa meal
Potassium sulfate
Fish meal
Kelp meal
Rock phosphate
Kelp flour
This fertilizer contains TruBiotic which helps improve the soil quality of plants. It also contains other nutrients like humic acids for better growth. It has a 4-6-3 NPK formulation that makes it a versatile plant food for various plants.
Aside from 6% humic acids, it also contains probiotics, seven champion strains of beneficial soil microbes plus Ecto and endo mycorrhizae for a more delicious and nutritious yield.
Dr. Earth prides itself on being free from GMO, chicken manure, or sewage sludge. It is one of the cleanest organic fertilizers and has been certified by OMRI.
Pros
OMRI-listed
100% organic fertilizer
Food-grade organic materials
Provides lush growth
Contains TruBiotic technology
Versatile fertilizer
Cons
5. Scotts All Purpose Flower & Vegetable Continuous Release Plant Food, 3 lb.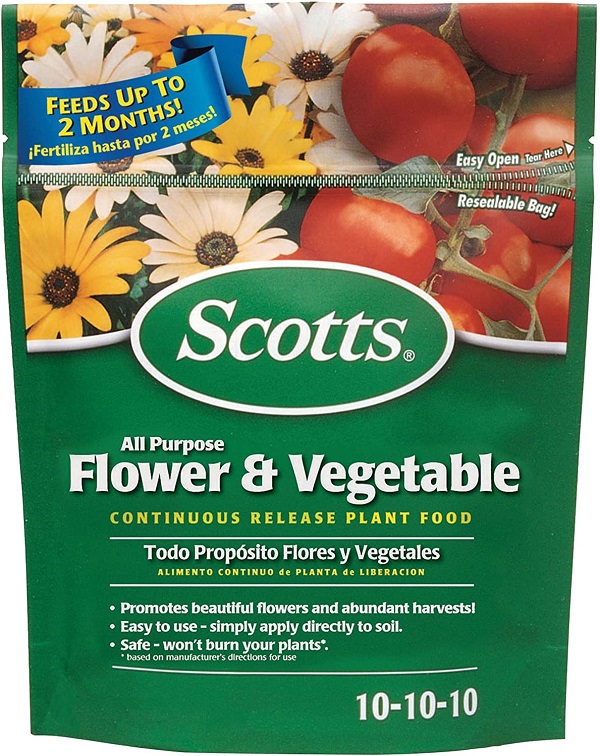 If you're looking for a way to continuously feed your onions until they develop into seedlings, you can have Scott's All-Purpose Continuous Plant Food. It helps feed your onions seedlings for two months with an NPK ratio of 10-10-10.
It is derived from the following materials:
Urea
Polymer-coated/sulfur-coated urea
Potassium chloride
Ammonium phosphate
It is a versatile fertilizer that eases the chore of feeding your onions every week. It contains 2% sulfur which helps increase the distinct flavor of onions.
The equal distribution of nutrients also aims to promote strong root development to allium plants and help develop healthy and upright leaves.
This fertilizer is ideal for senior gardeners and those with mobility problems It is convenient and no longer requires frequent mixing. It also comes in a resealable bag which makes it easy to use and store.
Most gardeners achieve a bountiful harvest after using this fertilizer to jumpstart the foliar and root development of onions.
The only concern that you may encounter in this fertilizer is its synthetic formulation. If applied in the wrong quantity, it may also cause overfertilization which may cause browning and other signs of burning.
Pros
Ensures continuous feeding for your onions
Easy to use
Lessens your fertilization chores
Contains sulfur for a more enhanced onion flavor
Resealable bag
No smell
Does not burn onions
Cons
6. Ammonium Sulfate (1 Gallon Bucket) by Earthborn Elements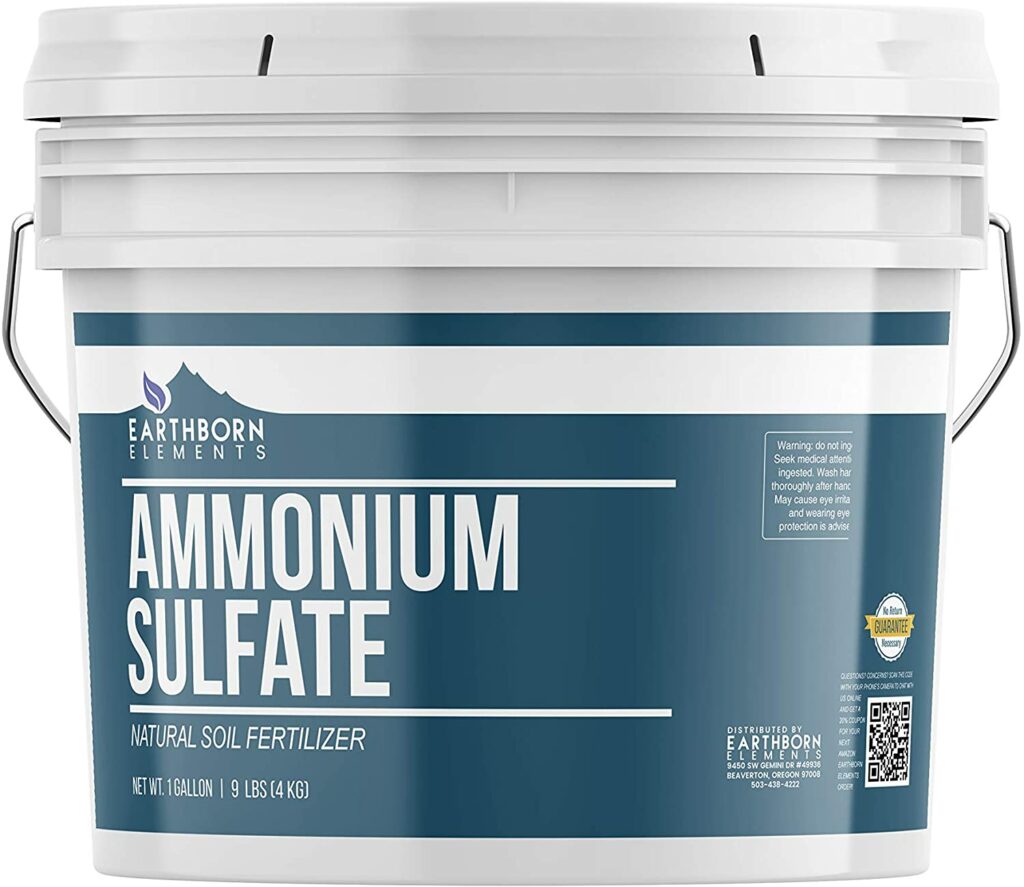 Moving on to the nitrogen fertilizers for onion, we have Ammonium Sulfate by Earthborn Elements. It is a plain ammonium sulfate that is rich in nitrogen and helps in lowering the soil pH level.
It is one of the secret natural fertilizers that most gardeners use to grow big bulbs of onions and healthy vegetables like spinach, lettuce, and leeks.
Ammonium sulfate is usually added to onions during their bulbing phase. It helps boost the foliage growth and keep the onion leaves upright. It's no secret that the more leaves an onion has, the bigger the bulb. This brand of ammonium sulfate contains no additives and comes in a resealable bucket.
Most gardeners love adding this brand to their onions because it helps them enjoy a bountiful harvest. They also notice that they get a better quality of onions with increased bulb size and a very sweet flavor.
The only problem that most novice gardeners have with this brand is that the label does not include any instruction on how to use it as a fertilizer and soil acidifier.
To use it as a fertilizer for onions, the recommended amount is 1 cup per one cup per twenty-foot row of onions. You must apply it to your onions when it is on their bulbing stage wherein the leaves are already established.
Pros
Organic nitrogen fertilizer
No additives and fillers
Affordable
Resealable bucket packaging
Money-back guarantee
Increases the bulb size of onions
Enhances the sweet flavor of onions
Cons
There are no application instructions on its label.
7. Hi-Yield Ammonium Sulfate 4LB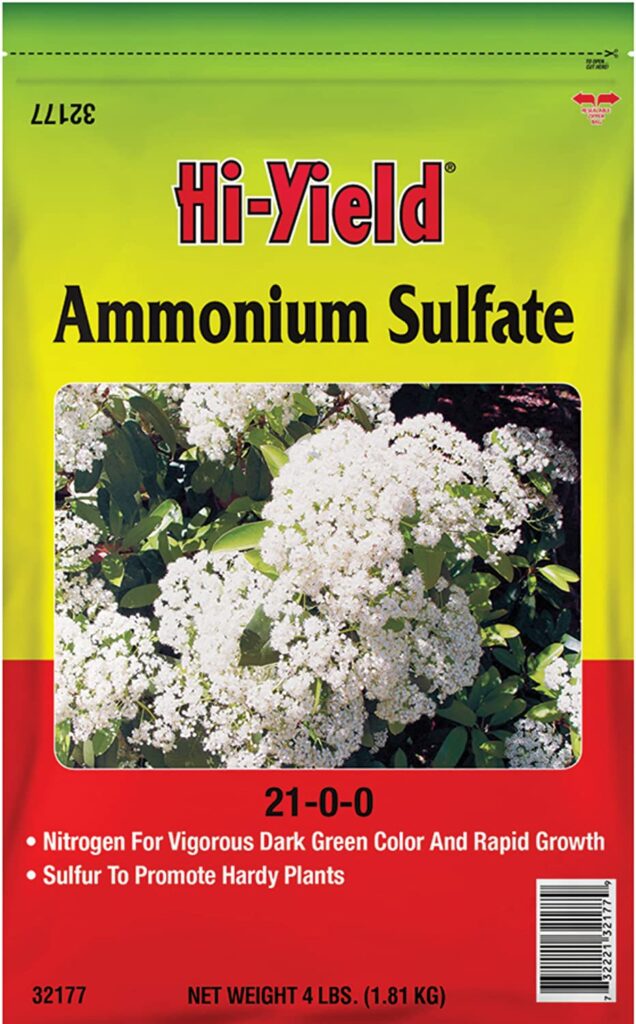 Another brand of ammonium sulfate popular to some organic gardeners is the Hi-Yield Ammonium Sulfate. It has an NPK ratio of 21-0-0 and contains sulfur for improved onion flavor. It promotes vigorous dark green color and rapid growth on most vegetables.
This fertilizer helps improve the acidity of the soil. It also has a fast-release formula of nitrogen that helps onions absorb nutrients immediately. The recommended application rate of this fertilizer is 1/2 cup per 10 feet of onions or 3/4-pound per 100 square feet.
This brand is highly recommended for its ability to increase the yield of onions, corn, and other vegetables. It also improves bulb sizes. If you want a brand that shares the application directions in using ammonium sulfate as a fertilizer, this brand is for you.
Pros
Contains application instructions
Helps increase the leaf growth of onions to support their bulbing stage
Comes with sulfur to enhance onion flavor
Acidifies the soil
Recommended by onion growers
Affordable
Cons
Inadequate information in using it for vegetables
8. HOSS Ammonium Sulfate Fertilizer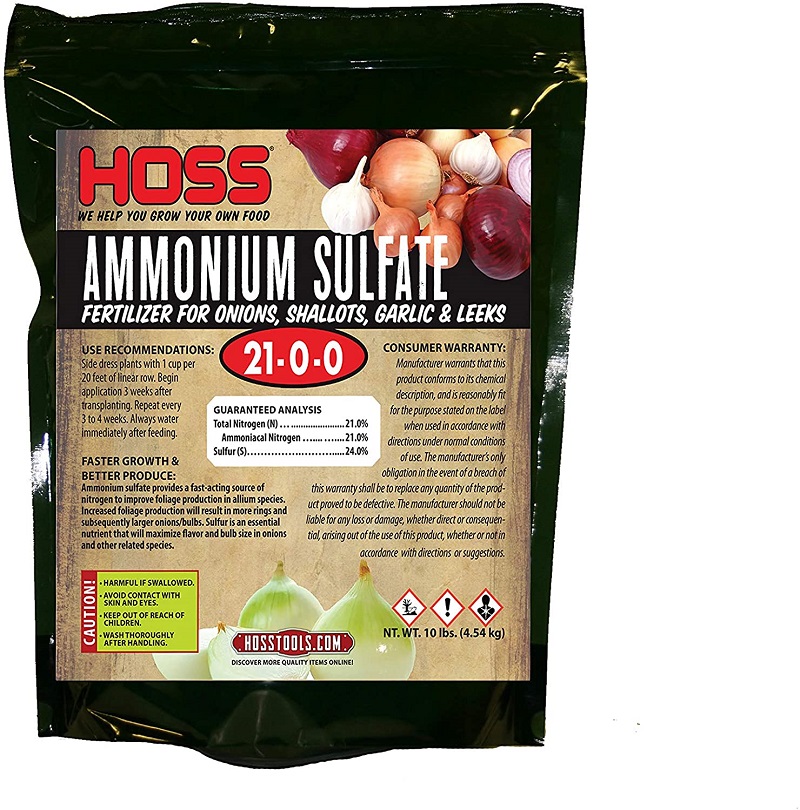 Last but not the least, we have the HOSS Ammonium Sulfate. HOSS is probably one of the most generous brands that share their knowledge and expertise in using ammonium sulfate and growing onions. Their ammonium sulfate has an NPK ratio of 21-0-0 and an added 24% of sulfur.
The best feature of this brand is it is designed to grow onions, leeks, and garlic, which are all in the allium family of plants. The combination of nitrogen and sulfur helps jumpstart the leaf growth in onions to help with photosynthesis and the bulbing stage.
This fertilizer also comes with proper application instructions so anyone can use it as plant food, even if they're a novice gardener or not.
The only problem with the HOSS brand of fertilizers is they are not widely available, unlike most mainstream fertilizers. Their products are only sold in select local stores and their website.
Pros
Designed in feeding allium plants
Complete feeding guide
Contains sulfur 
Improves leaf growth and boost root development
Resealable packaging
Provides generous resources in growing onions
Cons
Limited availability
Pricey
---
Things To Remember in Fertilizing Onions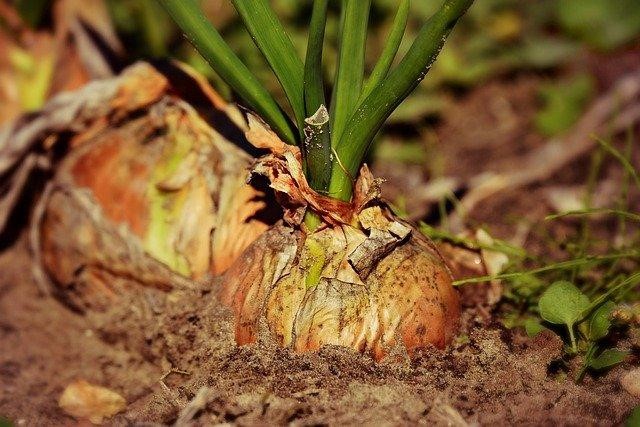 Growing onions is quite unusual since it's not used as a major ingredient but to add more flavor to dishes. It is also a day-sensitive plant that requires a lot of daylight during its bulbing phase. Onions have a bulbing photosensitive process where the bulbs increase in size through the presence of sunlight.
There are two phases in growing onions including the vegetative and bulbing phases. But before we head on the fertilization techniques, it's highly advisable to have a soil analysis before you fertilize your onions, especially if you're growing several rows of them.
Here are some tips that you need to know in every phase of onion growth:
Fertilization During The Vegetative Phase
If you're growing onions from seed, the focus of fertilization should be on developing strong roots and more leaves. Three weeks after planting, you can start fertilizing them.
Onions are heavy feeders during their first stage of growth, you must feed them with all-purpose fertilizers equipped with complete nutrients, such as:
Nitrogen: Helps boost leaf development in onions and overall growth from seeds to seedlings.
Phosphorus: Essential in developing strong roots for allium varieties. High soil temperature triggers the release of phosphorus in the soil.
Potassium: Helps protect plants from freeze damage during low temperatures at night and cold seasons.
Note: In some cases, you may also use superphosphate as an alternative for general 10-10-10 fertilizers. It helps jumpstart the development of strong roots for the onions and other varieties in the allium family.
After planting the seeds, you may place a straw mulch to keep the seeds safe from heavy rains and retain the moisture in the soil. After seven days, you may remove the mulch to allow the seedlings and new leaves to grow freely.
Fertilization During The Bulbing Phase
When the seedlings have started to grow up to 2 to 4 inches and the roots have been established, you may now transition to nitrogen-based fertilizer.
Using nitrogen will help boost the leaf growth in onions which will help a lot during the bulbing phase. Onions need a consistent supply of nitrogen to form big bulbs.
Onions can get an ample amount of nitrogen from aged manure or compost. These natural fertilizers help condition the soil and promote proper aeration.
Aside from nitrogen, onions also love an extra dose of sulfur for an abundant onion flavor than being a watery bulb.
Note: Choose composts that are made from dried leaves and vegetable leftovers. Refrain from composts that contain sludge and fillers to ensure that your onions absorb clean nutrients.
Ammonium sulfate provides a combination of both nitrogen and sulfur and usually comes with an NPK ratio of 21-0-0. It is also a good solution if the soil is becoming more alkaline due since it can help lower the soil pH or make it more acidic.
STOP fertilizing your onions once their neck starts to feel soft and you notice that they are already bulbing.
One of the telltale signs that the bulbing phase has started is when the surrounding soil around the stem or neck has cracks in them. You no longer need to fertilize them until the harvest day.
---
Tips in Growing Onions
Aside from proper fertilization techniques, here are some tips for successful onion production:
Onion Variety, Zoning, and Daylight Adjustments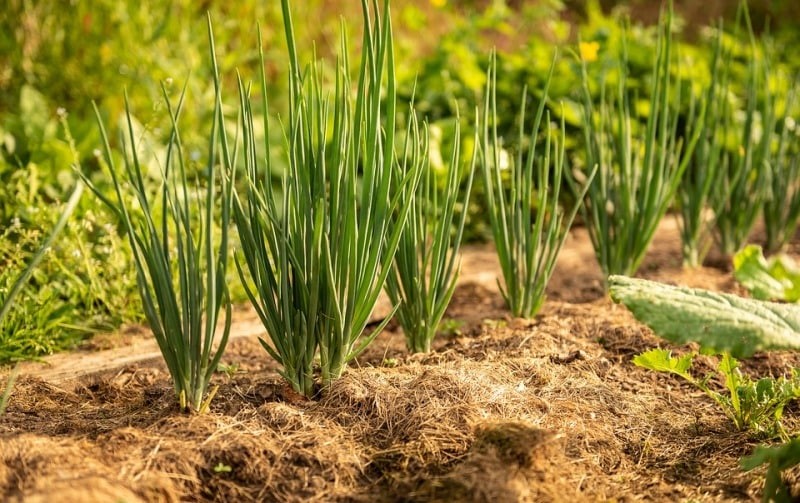 Selecting the right onion variety is a crucial factor in growing large bulbs of onions. It is linked with your location and daylight availability in your region.
Onions are daylight-sensitive plants and have a photosensitivity bulbing cycle where the bulbing process is triggered by the amount of daylight.
There are three classifications of onion varieties based on their daylight requirements. These include:
(1) Long-day onions: These are onion varieties that require longer daylight hours to form big bulbs. They thrive in the northern regions of the US that are above the 35 degrees latitude line since there is longer daylight in those areas.
Red Zeppelin (pungent, red, long-storing)
Walla Walla (sweet white flesh)
White Spanish (white)
(2) Short-day onions: These are the onion varieties that grow and thrive in the southern regions of the US that are below the 35-degree latitude. They only need shorter daylight and still produce big bulbs.
Red Rock, (F1) Onions
Red Creole
Merlin
Cipollini Yellow
Red Grano
Texas Early Grano
Snowball White
Texas Early Grano
(3) Intermediate-day onions: These are hybrid onion varieties that have the same genetics as long-day and short-day onion varieties. They are engineered to thrive in the regions a few degrees closer to the latitude. These varieties do not grow big bulbs.
It takes about 110 to 175 days for onions to reach maturity. Some gardeners plant onions early from February and March to get ahead of the summer solstice when the day gets shorter.
To grow big bulbs, they grab the chance to develop as many leaves as possible to allot the bulbing phase when the days are getting shorter.
Organic Fertilizers vs. Synthetic Fertilizers
Organic fertilizers take a lot of time to break down in the soil which means they slowly feed onions with nutrients. They don't require frequent feeding which is more economical.
Synthetic fertilizers, on the other hand, are absorbed by plants faster so you need to frequently replenish them in the soil.
Soil Amendments
Onions need a well-draining and loose soil to help the roots and bulb move freely.
To improve the texture of the soil, you must put about 3 inches of compost on the topsoil. They are also rich in nutrients which will help nourish your onions.
Watering And Pruning
Onions would be the last thing you want to prune. However, pruning out bent and dehydrated leaves can also help you to achieve big bulbs of onions.
When there are too many leaves, the weight of the leaves goes to the neck which makes it prone to crimping. So, try to remove any excess and bent leaves and leave the upright ones intact.
Probiotics bulbs start to develop, you should stop fertilizing but keep watering them every 7 days. You'll know that your onions are ready to harvest when the leaves start to dry out and fall on their own.
Pest and Weed Control
Armyworms and Anthracnose are the pests and fungal diseases that you need to look out for in growing onions.
If not caught early, they can wipe out your onions in days. One of the best practices is to check each onion whenever you water them. Other pests that may attack your onions are as follows:
Bulb mites
Leafminers
Onion maggots
Thrips
Weeds between onions are also notorious for delaying and preventing onions from developing into bulbs properly. Chickweeds are among the common weeds that grow around onion rows, so make sure to remove them as soon as you can.
Final Thoughts
Growing onions may look intimidating to some. However, they are easy to grow and only need a small patch of land.
As long as you know the onion varieties suitable for your location, the right timing, and the fertilization techniques, you're going to grow big bulbs of onions.
Who knows you might end up growing enough onions to give to your friends and family next spring. Isn't that exciting?
Our top pick for the general fertilizer is Jobe's Organics simply because it's organic and affordable. As for the nitrogen fertilizer, Hoss Ammonium Sulfate trumps the list because of their generous resources for growers in using the fertilizer and other growing instructions. However, several factors contribute to their effect on onions. So, the experience can be subjective to every gardener.
We hope that this post has shed some light on the options that can help you feed your onions. If you find this post informative, please don't forget to share it with your friends.
Also, let us know in the comments how much harvest you got out of the fertilizer you chose. Happy gardening!