The popularity of the fiddle leaf fig tree took off during this pandemic, along with other monstera varieties of plants.
Due to its perfect blend to most minimalist themes, many new pandemic-bred gardeners are now looking for the best fiddle fig fertilizers to nurture their violin-shaped plants.
Plant nutrition is essential for a lush green fiddle leaf fig aside from proper watering and adequate sunlight.
In this post, we will share the 10 best fiddle leaf fig fertilizers so you can have ideas on what to try for your plants.
We hope that we can cut out the time you spend doing trial and error and researching by listing them down for you.
---
10 Fiddle Leaf Fig Fertilizers in 2023 [Top Picks]
We have listed several fertilizers made specifically for fiddle leaf figs and have the right nutrient ratio that your plant babies will love.
We will be mentioning three letters such 3-2-1 or 10-10-10 which stands for the nitrogen-phosphorus-potassium ratios of fertilizers of NPK ratio.
So, 5-10-5 means there is 5% nitrogen in every 10% phosphorus and 5% potassium in that particular fertilizer.
Let's start!
---
1. Fiddle Leaf Fig Tree Plant Food For Ficus Lyrata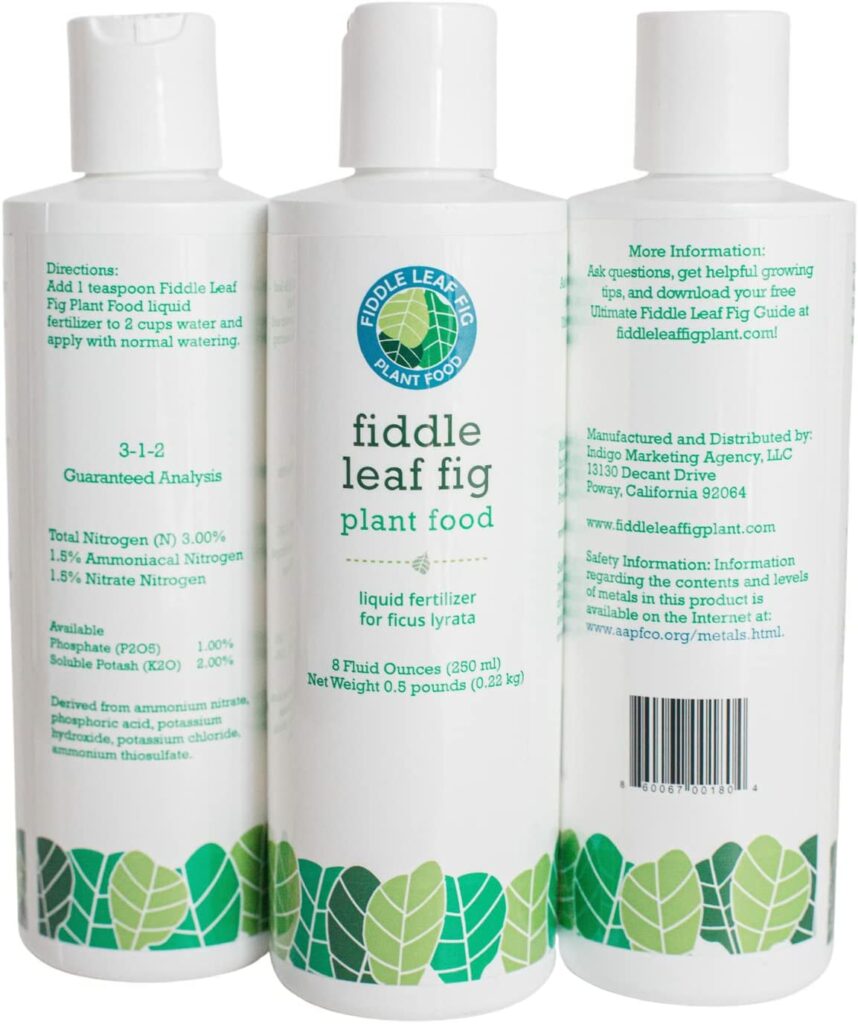 Fiddle Leaf Fig Tree Plant Food for Ficus Lyrata is one of the popular brands in the market specially made for fiddle leaf fig needs.
It is a liquid fertilizer that helps your fiddle leaf fig trees to absorb nutrients faster as it absorbs them from water. It is also among the favorite go-to fertilizers of most fiddle leaf fig enthusiasts.
This fertilizer has an NPK ratio of 3-2-1 which means it contains more nitrogen to boost the lush growth of leaves and phosphorus to aid in photosynthesis. Since it is in liquid form, it has less risk of burning your plants since it will either be absorbed by the roots or dissipate in the air along with moisture.
The brand prides itself on providing niche-based products for fiddle leaf fig. They take pride in the urea-free formulation of their plant food.
When you purchase this fertilizer, you will also have access to a free webinar and e-book about fiddle leaf fig propagation. It is a beginner-friendly option if you are new to growing houseplants like fiddle leaf fig.
The manufacturer claims that it's organic, but the only known ingredient mentioned about it is sea kelp. They are also not certified by OMRI and other organic-certifying bodies.
So, if you are conscious about going extra organic with your gardening, this issue might discourage you from buying it.
Pros
The liquid formulation ensures fast absorption of nutrients and less risk of burning your plants
Urea-free
Specifically formulated for fiddle leaf fig nutrition
Come with an e-book and webinar access for fiddle leaf fig care
Non-toxic
Easy-to-use and mix
Usable for a whole year (different seasons) of feeding
Calcium-fortified
Best for all ficus and rubber plants
Cons
Not yet certified as organic
A bit pricey for a small bottle
No clear information about its contents
2. Botanicare Grow Nutrient Fertilizer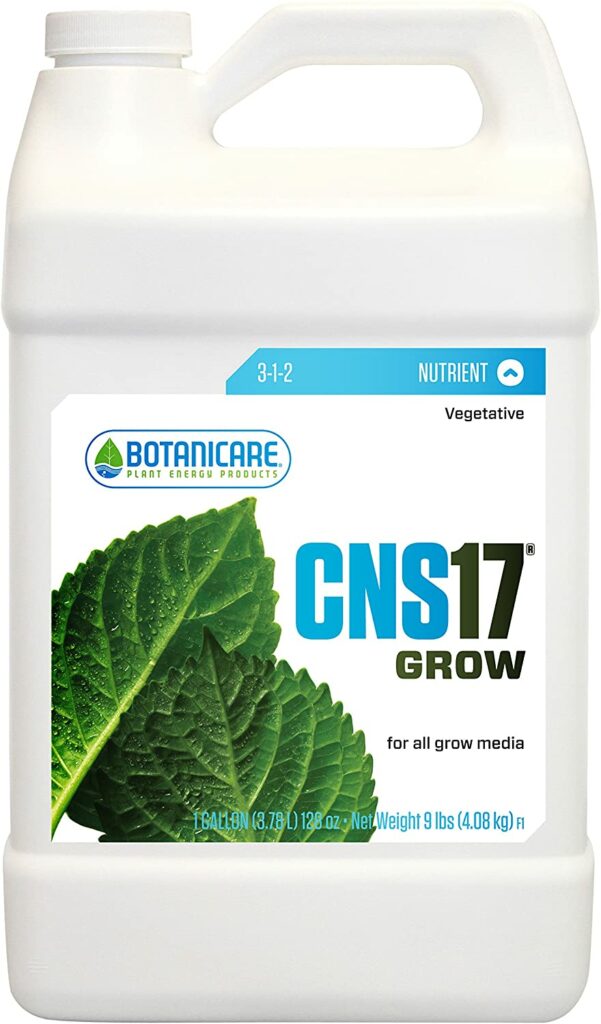 Another rockstar in fiddle leaf fig care is from Botanicare Grow Hydroponic Nutrient Fertilizer. If you want to save on your plant care but aim for the one that works, this fertilizer might be the one you're looking for.
It is a concentrated liquid fertilizer with an NPK ratio of 3-1-2 with additional nutrients such as 0.5% magnesium and 0.005% manganese.
Botanicare CNS17 Grow is highly concentrated, which makes it suitable for large-scale plant production or year-round feeding. It is highly efficient in nourishing Indoor house plants like fiddle leaf fig trees.
It is derived from the following ingredients:
Calcium Nitrate
MonoPotassium Phosphate
Potassium Nitrate
Magnesium Sulphate
Iron EDTA
Manganese Sulfate
Boric Acid
Zinc Sulfate
Copper
Sulfate
Ammonium Molybdate
Nickel Sulfate
Cobalt Sulfate
Potassium Iodide
Potassium Dichromate
Sodium Selenate
Acozine Blue
Rubinol red.
Most gardeners love this fertilizer for its capability to revive fiddle leaf fig trees with nutrient deficiencies. They also see immediate results within a month after application. It doesn't have a pungent smell like other chemical fertilizers and can be easily diluted in water.
For large-scale farming, you use the ratio of 1:200 for fertigation. If you are growing your fiddle leaf fig in a nutrient-fortified potting soil or using plant supplements, the manufacturer suggests that you reduce the application rate by 25%.
Pros
No bad smell
Affordable
Best for fiddle leaf fig trees and other indoor plants
A good treatment for fiddle leaf fig with nutrient deficiencies
Easy absorption of nutrients due to its liquid formulation
Affordable
Best for large-scale gardening
Easy to use
Cons
The formulation is not for all kinds of plants
Not derived from organic materials
3. EarthPods Ficus + Fiddle Leaf Fig Tree Fertilizer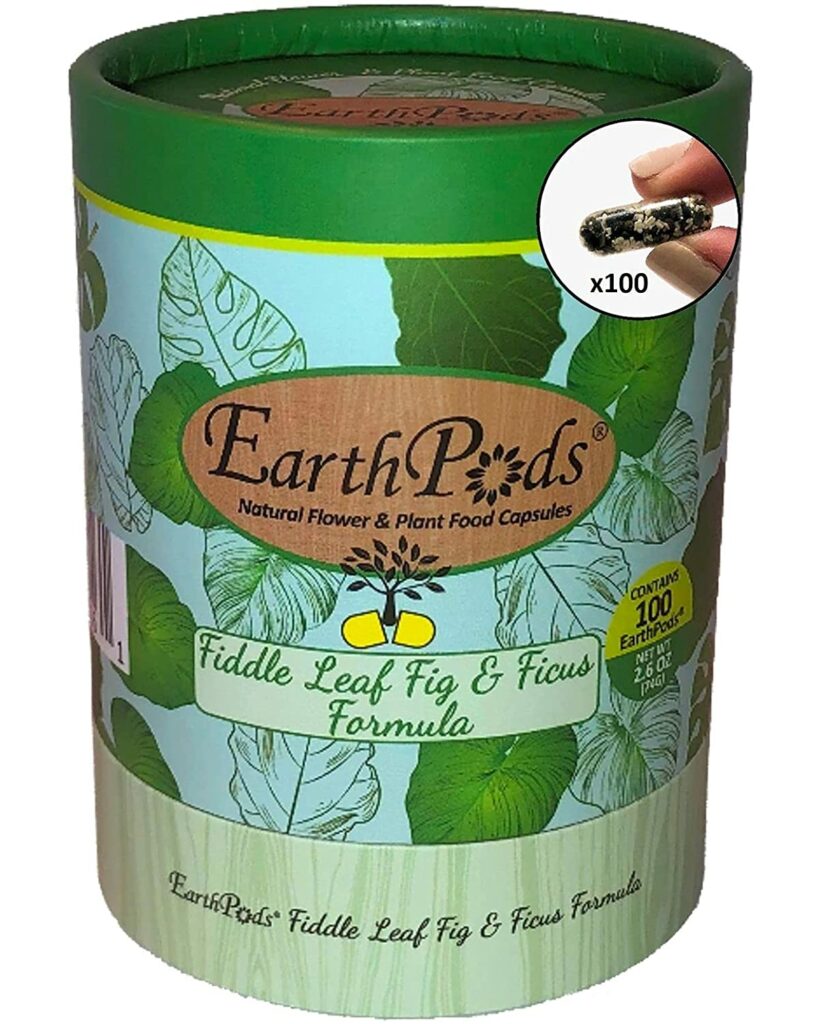 If you're into vegan gardening, one of the best options in the market is from EarthPods Ficus + Fiddle Leaf Fig Tree Fertilizer. It contains 100 plant food spikes which are formulated for ficus varieties and fiddle leaf fig trees.
It is also suitable for the following indoor plants:
All types of Fiddle Leaf
Monstera
Dracaena:

Braunii
Draco
Fragrans
Marginata
Massangeana
Sanderiana
Warneckii

Golden Pothos
Calathea
Colocasia
Schefflera
Dracaena
Philodendron
Snake plans
ZZ & other leafy houseplants.
Stromanthe
Hoyas
Zebra plant
Sweetheart plant
Elephant's foot
Tradescantia tricolor
The formulation of this vegan fertilizer aims to enhance the color and root and foliar growth and vibrant leaf colors of ficus plants. It also aims to replicate forest soil enriched with natural plant nutrients, trace minerals, and humates. It also comes in bulk, which means if you only need to feed one fiddle leaf fig, this fertilizer will last for approximately five years.
It is a slow-release fertilizer and does not require mixing. So, it is suitable to make plant feeding easy for the elderly and gardeners with disabilities. It is also designed to reach the root zone of plants, help reduce transplant shock, and resistance to pests, disease, and drought. It contains:
Minerals
Growth hormones
Beneficial microbes
Bacteria & fungi
Humic
Fulvic
Amino acids
The manufacturer also takes pride in using all-natural ingredients for the fertilizer and recycled paperboard soy-ink-printed packaging. You may also use it to mix in your compost tea, worm tea, and vermicompost tea.
You may also use it on all planting mediums, such as:
Apartment
Patio pots
Balcony planters
Window box
Containers
The only catch with this fertilizer is its affordability. You may only buy it in a bulk of 100s, which means it is a bit pricey.
However, if your priority is to achieve vegan gardening, EarthPods are among the best options in the market. It is one of the few brands certified by OMRI as organic.
Pros
Easy to use
No mixing required
Eco-friendly  
Vegan-friendly
Urea-free
No stinky smell, common to organic products
Eco-sustainably made
Can revive a dying plant
Child-friendly
Pet-friendly
Elderly and persons with disability-friendly
Cons
Pricey
Dissolves easily due to organic components
4. Fiddle Leaf Fig Tree Fertilizer by Aquatic Arts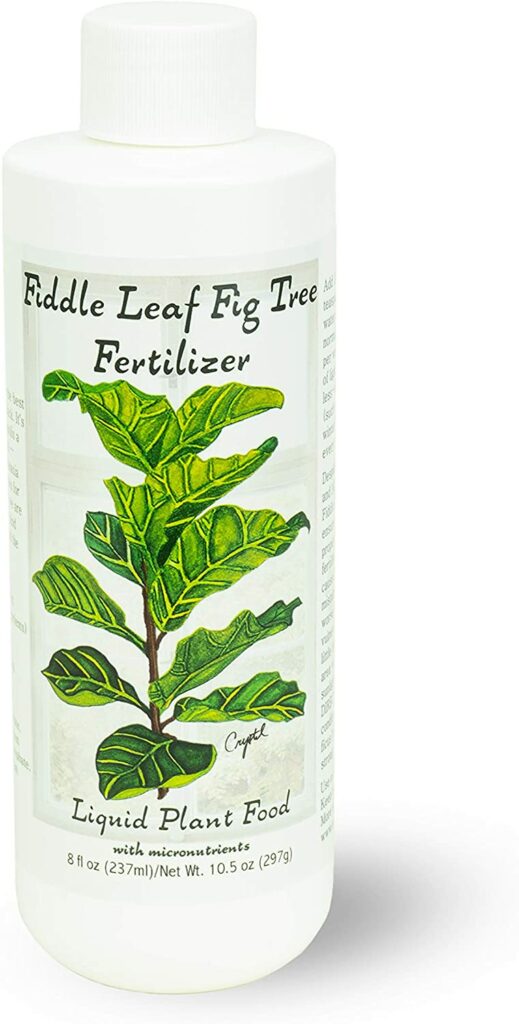 Fiddle Leaf Fig Tree Fertilizer by Aquatic Arts is another brand that comes for fiddle leaf fig enthusiasts which are specifically formulated for ficus varieties of houseplants.
It is a highly concentrated liquid fertilizer with a 3-1-2 NPK ratio. It is derived from the following ingredients:
Calcium nitrate
Magnesium sulfate
Potassium nitrate
Monopotassium phosphate
Manganese sulfate
The increased nitrogen content promotes new growth of leaves, while phosphorus is for the robust development and healing of the roots, and potassium for proper nutrient absorption.
The formulation of this fertilizer is designed to be mixed with water which makes it easier for the roots to absorb the nutrients, resulting in fast results.
It helps improve the health of the leaves and promotes sturdy branches. It works best indoor plant varieties, such as:
Ficus Lyrata
Ficus Audrey
Ficus Religiosa
Ficus Elastica
Ficus Benjamina (Weeping Fig)
Alli
Olympian or Kadota Fig Tree
Benghalensis
Black mission fig
Rubber plants
Weeping fig
Creeping fig
Another good thing about this fertilizer is it is concentrated, so you will only need one teaspoon for every two cups of water. An 8-ounce diluted mixture can even last for six months to one year for every ficus tree. It also comes with extra nutrients such as 3% calcium and 0.5% Manganese.
Most gardeners also find it effective in reducing the yellow and brown spots in fiddle leaf figs.
However, you should use it with caution and start with a smaller dose. Feeding fiddle leaf fig trees in a pot can be prone to over-fertilization.
However, if the plant is nutrient deficient and unstable, you may continue with the recommended dose.
Pros
Specially designed for ficus varieties and indoor plants
Highly concentrated and long-lasting
Liquid formulation promotes fast absorption of nutrients
Less risk of burn due to accumulation of fertilizer, common to slow-release formula
Best for indoor plant lovers
Cons
Recommended mixing ratios may be too concentrated for some plants. Proceed with caution by slowly starting with a milder dilution ratio to prevent overfertilization.
5. Fiddle Leaf Fig Slow-Release Fertilizer by Perfect Plants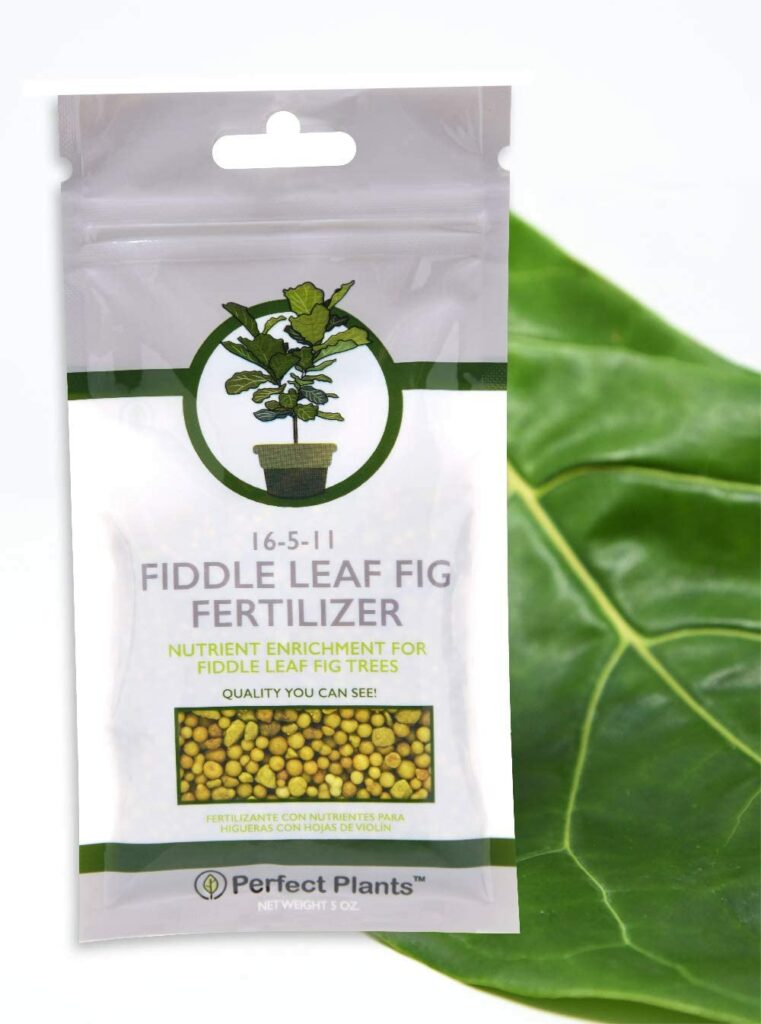 Fiddle Leaf Fig Slow-Release Fertilizer by Perfect Plants is another specific fertilizer for ficus varieties. It is a slow-release fertilizer with an NPK ratio of 16-5-11. It will consistently feed your plants for six months which eases up your time in taking care of your fiddle leaf fig.
It is derived from the following contents:
Magnesium (1.2%)
Nitrogen (16%)
Phosphate (5%)
Soluble Potash (11%)
Sulfur (6.4%)
Copper (.05%)
Iron (.89%)
Manganese (.11%)
Zinc (.05%)
This fertilizer comes in pellet form that you can place underneath the topsoil along the drip line and continuous plant feeding.
The pellets will release the nutrients every time you water your fiddle leaf figs. Its formulation aims to promote vibrant leaf color, glossy surface, and healthy roots.
Unlike the packaging of other fertilizers, it comes in a small resealable pack since a single pellet can last for a long time. Due to its consistent feeding, you will no longer worry about forgetting to feed your plants.
The only problem with most slow-release fertilizers is the probability of burning your plant.
The pellets may tend to gravitate towards the stem, which will cause it to burn. However, if they are placed away from the trunk, your fiddle leaf fig should be fine.
Pros
Feeds your fiddle leaf fig for six months
Easy to use
Twice a year application
Eases plant feeding for seniors and gardeners with disabilities
No mixing and measuring
Affordable
Fast results
Cons
May cause plant burns if not applied properly.
6. Osmocote Smart-Release Plant Food Plus

Another option for slow-release fertilizers for fiddle leaf fig trees is from Osmocote Smart-Release Plant Food Plus. It has an NPK ratio that suits ficus varieties which is 15-9-12. With more contents for nitrogen and potassium for abundant leaf growth.
Though it's not specifically made for fiddle leaf fig trees, it has the formula that can make them healthy and produce lush green leaves.
This fertilizer can last for about six months, which ensures continuous feeding for your fiddle leaf fig throughout that timeframe. It is fortified with 11 essential nutrients.
It is derived from the following ingredients:
Polymer-coated ammonium nitrate
Ammonium phosphate
Potassium sulfate
Calcium phosphate
You may use this fertilizer not only on your fiddle leaf fig trees but also on your other plants. So, if you are growing a vegetable garden, you can make the most from Oscomote.
Most gardeners find it effective in boosting the growth of almost any indoor houseplant, given that the application method is right.
What holds back some gardeners in buying this product is its potential plastic content.
If you are sensitive or conscious about this issue, this might not be the best option for you. However, if you are more focused on keeping your fiddle leaf fig alive, it might be worth giving this fertilizer a chance.
Pros
Slow-release fertilizer
Continuous feeding for six months
Suitable for any variety of indoor and outdoor houseplants
Eases gardening chores
No mixing
Easy to use
Cons
7. Malibu Compost Biodynamic Compost Tea Bags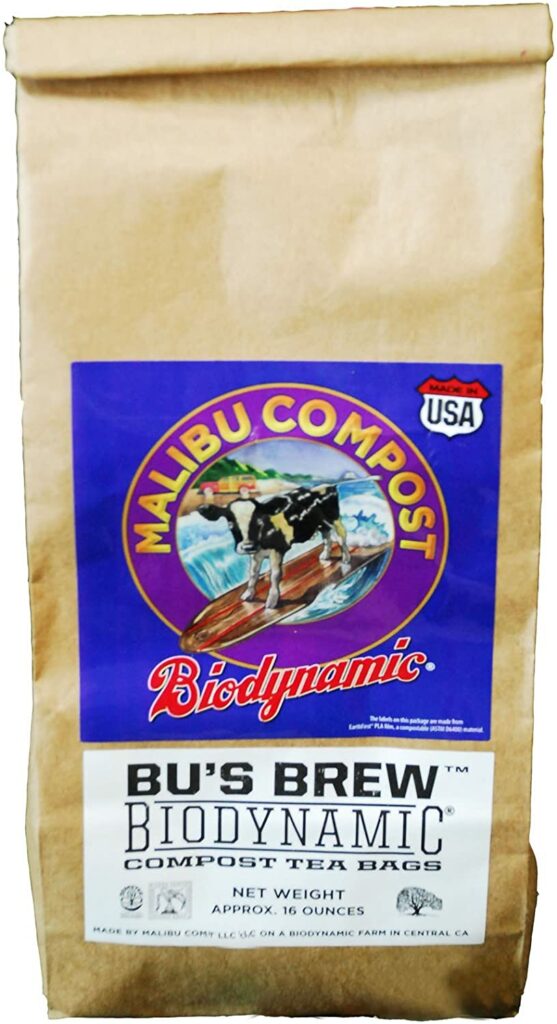 If most fertilizers don't do anything for your fiddle leaf fig, you can never go wrong with compost.
If you don't have the time and patience to create your compost tea, Malibu Compost Biodynamic Compost Tea Bags are a good quick fix. It is made of organic materials, which makes it a good option for organic gardening.
You only need to steep a compost tea bag in 2 to 5 gallons of water for 8 to 12 hours. Water the tea on your fiddle leaf figs. You can use the leftover tea bag as an addition to your compost pile.
You can use it for:
Flowers
Veggies
Shrubs
Trees
Grasses.
This compost tea is perfect as a foliar feed, preventing transplant shock, root booster, or soil drench. It has a well-balanced set of microbes and nutrients that will not over-fertilize your fiddle leaf figs.
You only need to use one tea bag every month, so a pack of this compost tea can last for you for four months.
Many gardeners see their plants flourish using this compost tea. It is organic, but it doesn't have the smell that usually comes with organic stuff. Lastly, it is certified biodynamic by Demeter-USA.
Pros
Improves root depth
Prevents soil compaction
Organic plant food
Non-GMO
No pesticides
No herbicides
No growth hormones
No sewage sludge
Affordable
Improves soil environment
Cons
Might not be sufficient for heavy-feeders
8. Fiddle Leaf Fig Plant Food by Easy Peasy

Fiddle Leaf Fig Plant Food by Easy Peasy is a concentrated liquid fertilizer that is specially formulated for ficus varieties.
It has an NPK ratio of 6-2-4 with a 3% sulfur. Its formulation aims to promote green and healthy leaves as well as healthy roots.
You may use it for the following varieties:
Ficus Lyrata
Ficus Audrey
Ficus Religiosa
Ficus Elastica
Ficus Benjamina (Weeping Fig)
Alli
Olympian or Kadota Fig Tree
Benghalensis
Since this fertilizer is diluted in water, the roots can easily absorb the nutrients from the moisture in the soil.
Unlike slow-release and granular fertilizers, it also has less risk of burning your plants. It is derived from the following ingredients:
Ammonium thiosulfate
Urea
Ammonium hydroxide
Phosphoric acid
Potassium hydroxide
Most gardeners find this fertilizer effective in reviving temperature-stresses fiddle leaf fig trees.
So, if you accidentally placed your Ficus plants in locations with a cold draft, help them recover by relocating them and applying this fertilizer.
Also, it lasts longer since it has a double formulation compared to the 3-1-2 NPK ratio of other fertilizers.
The only thing that you should remember is you should not use it with horticultural oil. It contains sulfur which can burn your plants when mixed with horticultural oil.
So, maybe skip the pest control whenever you feed your plants. Many precious and healthy fiddle leaf figs and other plants died because not many gardeners know about this deadly combination.
Pros
Specially made for fiddle leaf figs and ficus varieties
Best for reviving temperature-stressed ficus varieties
The liquid formulation eases nutrient absorption
Fast results
With extra nutrients like sulfur
Cons
Contains urea 
Pricey
May burn your plants if applied to plants treated with horticultural oil
9. Southern Ag All Purpose Granular Fertilizer 10-10-10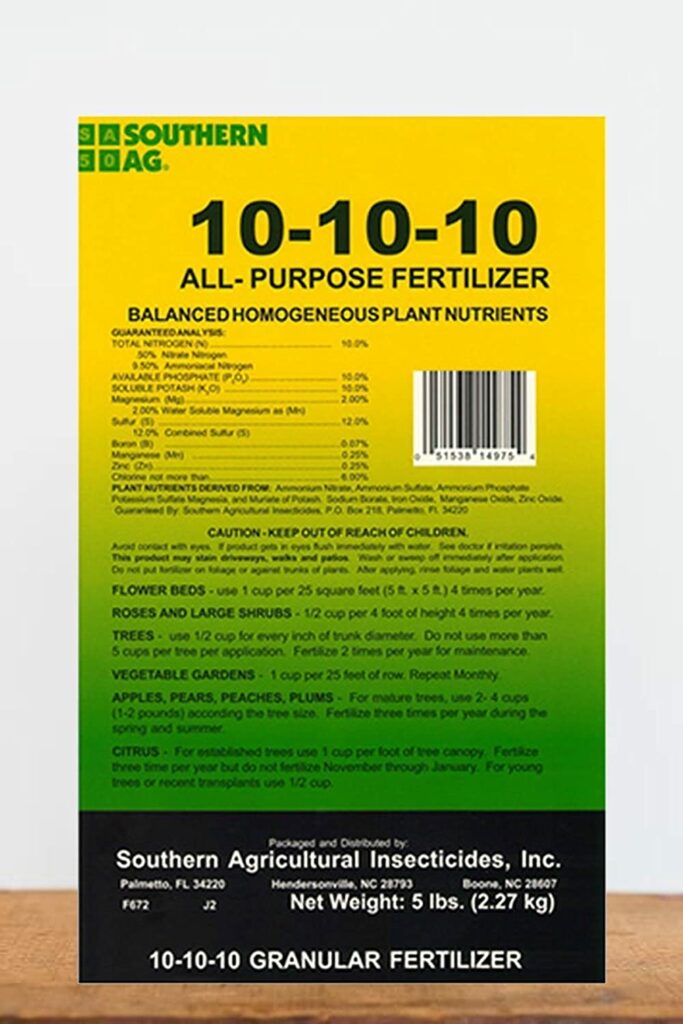 Aside from the 3-1-2 NPK ratio, most ficus varieties also benefit from equally formulated fertilizers like 10-10-10.
One of the popular ones is Southern Ag All Purpose Granular Fertilizer. It is a granular fertilizer formulated with the following nutrients:
Magnesium (2%)
Boron (0.2%)
Iron (0.5%)
Manganese (0.250%)
Zinc (0.250%)
This fertilizer can be used for a wide variety of plants. So, if you have a vegetable garden aside from your indoor plants, you can get the most out of this all-purpose fertilizer. It is derived from the following ingredients:
Sulfate of potash magnesium
Ammonium phosphate
Polymer-coated urea
Sulfate of potash
Manganese sulfate
Iron sulfate
Protein hydrolysate
Iron humate
Zinc sulfate
Ferrous ammonium sulfate
Ammonium sulfate
Sodium calcium borate
Most gardeners with thriving plants use it to keep their plants healthy. It can also feed acres of lawn grass and can be beneficial for maintaining the health of ficus varieties.
However, it may not be suitable for fiddle leaf figs with weak plant health, especially those at the brink of dying.
Pros
Maintenance feed for ficus varieties
All-purpose fertilizer
Affordable 
Best for gardeners with acres of plants
Cons
Not suitable in reviving sick and unhealthy fiddle leaf figs
10. Triple 10 All-Purpose Liquid Fertilizer with Amino Acids & Seaweed Extract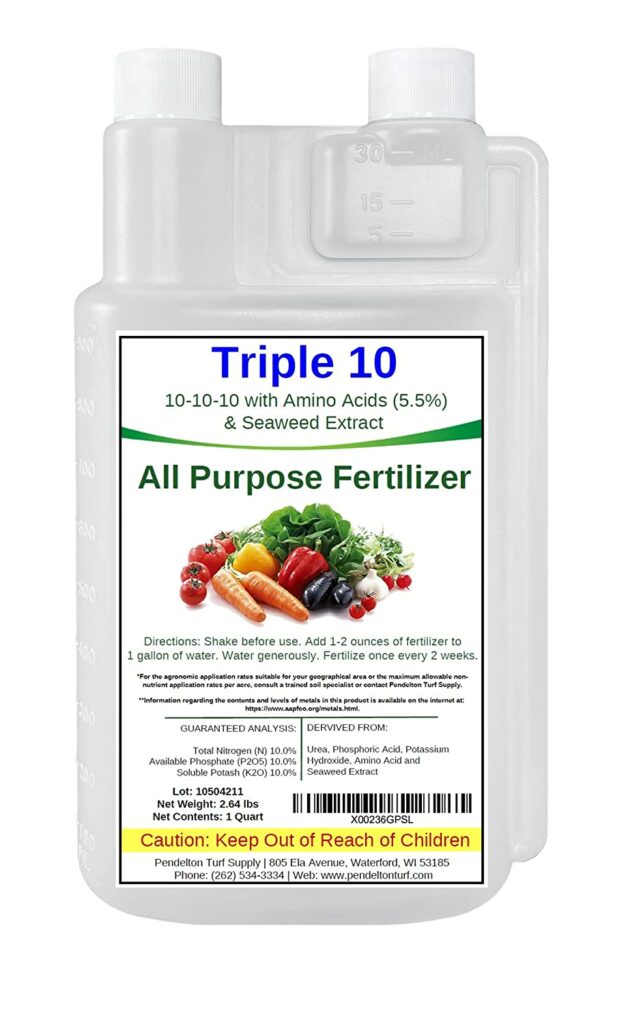 Another all-purpose fertilizer that is not known to most gardeners is the Triple 10 All-Purpose Liquid Fertilizer with Amino Acids & Seaweed Extract.
One of the secrets of some professional gardeners lies in using liquid seaweed extract to increase the resistance of the plants to disease, insects, and drought.
It is derived from:
Urea
Phosphoric acid
Potassium hydroxide
Amino acid
Seaweed extract
This fertilizer contains 5.5% of amino acids for better plant nutrition. A bottle of this fertilizer can produce 32 gallons of plant food. It has a balanced NPK ratio which makes it suitable not only for ficus varieties but also for other varieties of plants, such as:
Flowers
Fruits
Vegetables
Turfgrasses
The best features of this fertilizer begin with its resealable packaging. It also has a built-in measuring meter, where you can immediately measure the amount you need before mixing it with water. Its built-in measuring features reduce the mess that comes with mixing and aids in the easy dilution process.
Most gardeners who want to switch from mainstream brands of fertilizers like Miracle-Gro find it a good alternative. It is cheaper but effective in keeping plants healthy.
However, it has a strong smell. So, if you have a sensitive nose, this might not work for you.
Pros
All-purpose fertilizer
Resealable packaging with built-in measuring feature
A good alternative to expensive mainstream brands
Highly-concentrated 
Contains seaweed extract
Easy dispensing
Cons
---
Other Organic Fertilizer For Fiddle Leaf figs
Aside from commercial fertilizer available in the market, there are other organic sources of nutrients for your fiddle leaf figs.
Ficus varieties get a lot of benefits from high sources of calcium and nitrogen. In case you run out of fertilizers or simply want to take the more natural route, you may try any of the following:
1. Fish Tank Water
Dirty fish tank water may not be good for your fishes, but it is full of nutrients for your plants and trees.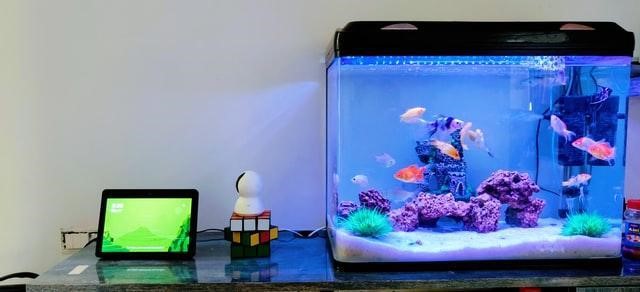 It contains all-natural growth stimulants like hormones such as cytokinins, minerals, vitamins, and enzymes. They help build healthy plant cell walls, strong root development, and increased resistance against diseases and plant stresses.
Before you pour the green water onto your fiddle leaf fig trees, ensure that it doesn't contain any salt.
Salt in the soil absorbs water and robs it away from the roots of your plants. To check if the water has salt is to check its conductivity to electricity.
Here's a quick way to check.
2. Manure
Cow or any farm animal manure is one of the best sources of nitrogens and other healthy soil microbes for your plants.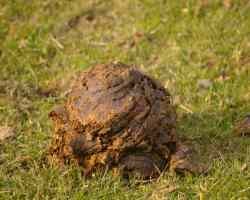 It should be dried and broken down into soil texture and placed on top of the soil. It also helps prevent soil compaction, allowing the air to reach the roots and promoting good soil drainage.
3. Coffee Grounds
Coffee grounds are among the frequently asked questions when it comes to fertilization. It is high in nitrogen and acidic, which may lower the pH level of the soil.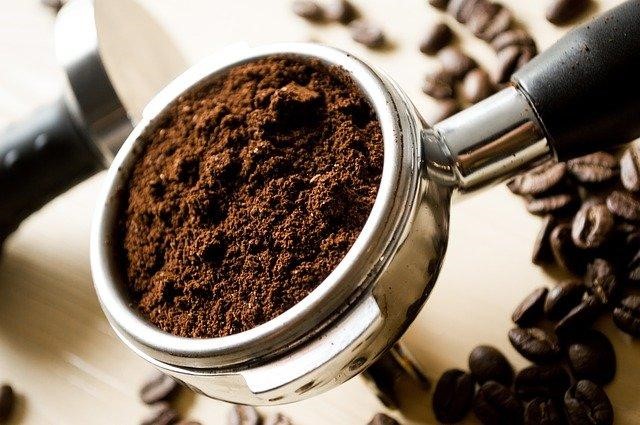 Be careful in adding it to your fiddle leaf fig trees as it may increase the pH level and cause nutrient deficiency due to unmatched soil pH.
Using a soil pH meter can be handy to help you monitor the acidity of the soil for your ficus plants.
4. Milk
Who would have thought that milk would be loved by plants aside from babies, right?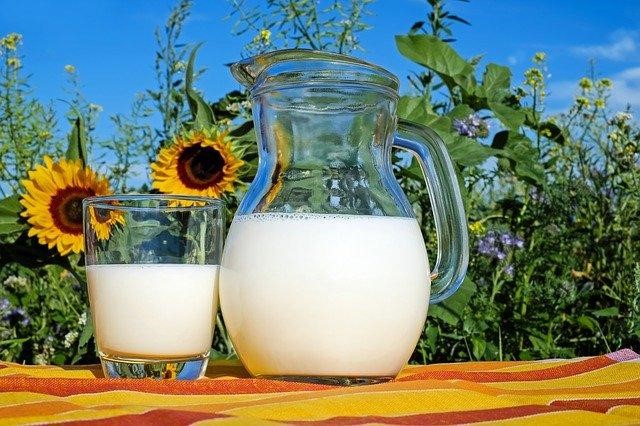 Milk is rich in calcium which is a secondary essential nutrient needed by plants. It plays an essential role as a secondary messenger of plant cells and a structural attribute in building the cell walls of plants.
To apply it to your plants, you may dilute unsweetened milk with a ratio of 10% milk and 90% water.
---
Tips in Fertilizing Fiddle Leaf Fig
Many gardeners are intimidated into taking care of fiddle leaf figs. Some find them very sensitive to temperature and overfeeding.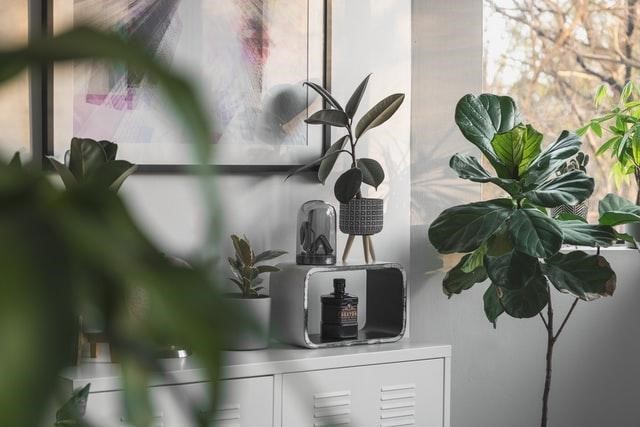 However, with the proper plant care, having a fiddle leaf fig tree indoors can change the whole vibe of your home.
Here are some tips that may help you care for them better:
Fiddle leaf fig trees need a lot of nutrients, especially during their growing years. When it is deprived of nutrients, it will show early warning signs, such as yellowing leaves and dropping leaves, and stunted growth.
The best ratio of nutrients suitable for ficus varieties is 3-1-2, 9-3-6, 6-2-4, or 10-10-10 NPK ratio. The fertilizer must be high in nitrogen and potassium for increased leaf production. Fertilizers high in phosphorus might not be suitable for fiddle leaf figs because phosphorus aids in bloom production.
Do not fertilize repotted or transplanted plants within a month or two because most potting soil has fertilizer in them. Your fiddle leaf fig trees may die due to overfertilization if you use potting soil with fertilizer and use another plant food.
The best time to fertilize your fiddle leaf fig is during spring and summer. During winter, its growth slows down, and fertilization is not necessary.
Water fiddle leaf figs weekly with 1 to 2 inches of water and fertilize them once a month. Make sure that you will only water them when the soil is dry to prevent root rot.
Avoid temperature stress on your fiddle leaf fig trees by placing them in a room with temperatures between 60F and 80F. They often struggle when placed in locations with cold drafts and rooms with temperature drops below 50F.
You must bring your indoor fiddle leaf fig trees outdoors once a week during the growing season to help them receive natural light and fresh air.
Fiddle leaf figs grow and thrive in slightly acidic soil and hate an acidic environment (below soil pH 6.0).
If you live in a cold region, you may notice the slow growth of your fiddle leaf fig. You may try to feed it for a whole year regardless of the season to help boost its leaf and root development.
Prune the dead or dying leaves to help your fiddle leaf fig tree to produce new leaves.
You must also constantly wipe the dust from leaves to maintain adequate light absorption.
Final Thoughts
Fiddle leaf fig trees may be sensitive, but they can grow well when given the right fertilizer and care.
We hope that this list has helped you find the right fertilizer for your fiddle fig tree. If you find this post informative, please share it with your friends.
Also, don't forget to share your experience about growing fiddle leaf fig trees in the comment section below.