Buying beautiful pots is one of the rewarding parts of being a gardener. As an orchid lover, it allows you to express your creativity in finding the best orchid pots with the right size, shape, material, and design.
Orchid pots make your plants blend or add an aesthetic accent to your interior or exterior home design that helps complete your design theme.
In A Hurry, Our Top Picks:
Most of us have seen orchids that cling to a tree, bare-rooted, and some in pots. The reason behind it is that there are two types of orchids.
Learn more about these beautiful and elegant flowers and know which suits best in the best orchid pots or stay bare-rooted clinging on a tree.
---
Two Types of Orchids: Which One Suits Inside a Pot?
Not all orchids thrive in a pot or are bare-rooted. However, most orchids love an adequate amount of moisture. They are prone to root rot if left submerged in water for a long time.
Before you start shopping for orchid pots, it is best to know if they will survive in it. Here are the two types of orchids:
Epiphytic Orchids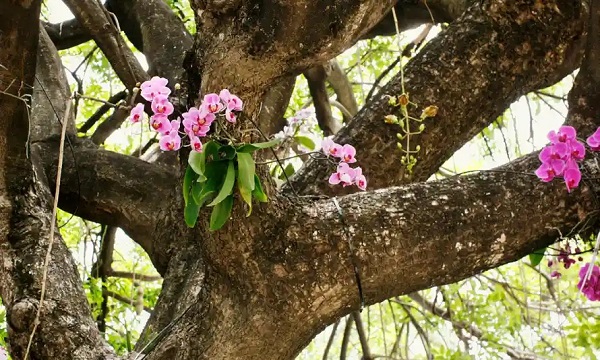 Epiphytic orchids survive bare-rooted, clinging on a tree. They absorb moisture from the humid air and use the tree or any living body to support their weight. Epiphytic orchids do not harm their host plant and wrap their pseudobulbs around its trunk or branches.
Orchids on trees have different plant requirements since they can survive in an aerial environment. They learned how to thrive in unpredictable weather where rain comes and goes. The roots of epiphytic orchids called pseudobulbs can store water until the next rainfall.
If you have insufficient enough space or have no trees around to hang your epiphytic orchids, you can put them in a pot.
However, they cannot grow in a typical potting mix. An ideal potting mix for epiphytic orchids includes Sun Bulb Better-Gro Special Orchid Mix, which contains lightweight materials like bark, hardwood, and charcoal. The pot should also be breathable and does not retain water too much.
Terrestrial Orchids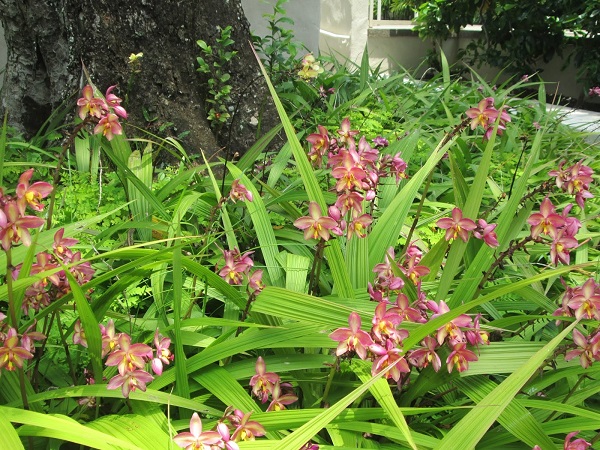 Terrestrial orchids grow in the soil where their roots can spread and get nutrients. They come in several types where some are frost-sensitive while some need a freezing phase to bloom in the next growing season.
Some terrestrial orchids have pseudobulbs that require a soil mix that dries out quickly to prevent root rot.
Other types of orchids have shallow roots that require frequent watering. Learning about the orchid variety is crucial to providing the right pot and soil medium.
15 Best Orchid Pots & Planters [Reviews & Top Picks]
Now that you have a brief idea about the two types of orchids and their needs, it is time to select the best orchid pots.
To make your selection more convenient, we divided the best orchid pots into different categories based on the material used:
Terra Cotta or Clay Orchid Pots
Terra Cotta or clay pots are an ideal orchid pot because of their weight and capacity to absorb fertilizer salts and excess moisture. Here are the best orchid pots made from clay with different designs and purposes:
1. Juvale Mini Terracotta Clay Flower Pots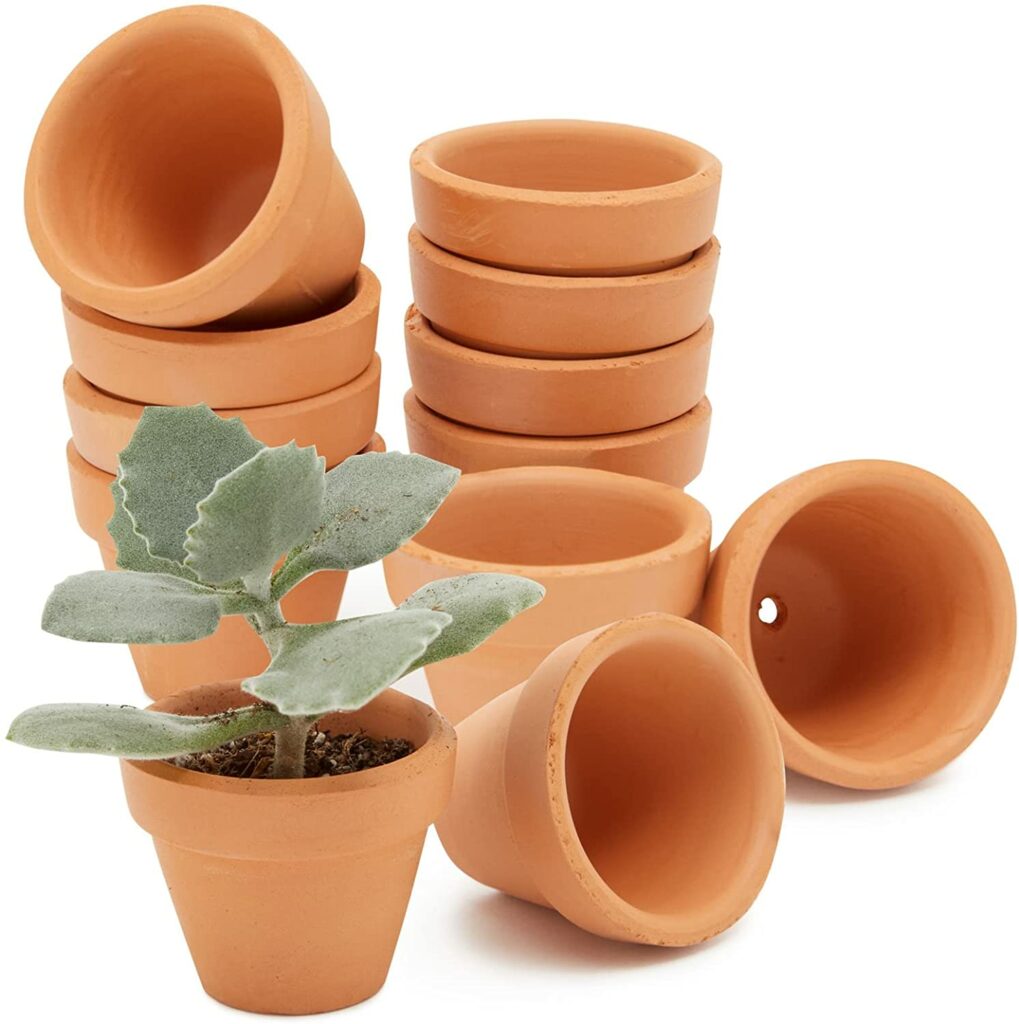 Let's start our list with the mini Terracotta clay pots ideal for deflasking baby orchids. It comes with ten pieces of small clay pots with a dimension of 1.5-inch height x1.1-inch width x 1.9-inch depth. Aside from orchids, it is also ideal for baby succulents and cactuses.
Deflasking is transferring orchid seedlings from the flask after their germination period. Orchids grown from seeds are placed in a flask since they require high humidity and a controlled environment to thrive.
The pots are tiny, creating a perfect growing environment for seedling orchids. Their size allows you to place or put them in various formations and designs in different locations. You can place them indoors or creatively place them in a tray for a more aesthetic look.
These small pots have one drainage hole at the bottom that fits the tip of your smallest finger. Gardeners also don't need to fuss about the soil content because it can only contain two to three tablespoons of orchid soil mix. Clay pots are highly absorbent to moisture, making them a perfect choice for deflasking orchid seedlings.
The only catch with these tiny clay pots is that their look can deceive an untrained eye. Some gardeners mistakenly buy them in hopes that they are huge. Refer to the image above to make sure you know what to expect when you receive your order.
Pros
Ideal for deflasking orchids
Tiny but durable clay pots
Provides adequate humidity for orchid seedlings
Easy to use 
Affordable
Versatile and easy to blend in any interior or exterior design
Cons
Too small for mature orchids 
2. Vensovo 4-Inch Terra Cotta Pots with Saucer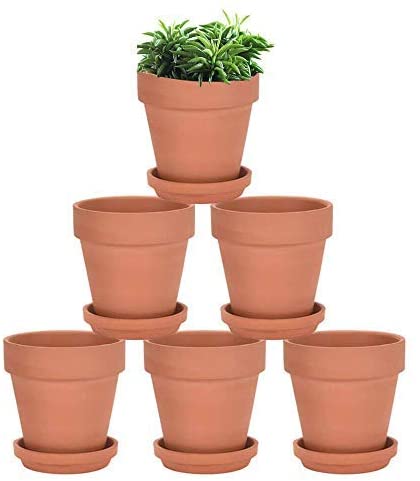 Transplanting young orchids require a bigger terracotta pot with a saucer. These 4-inch Terracotta pots are the perfect space for orchid seedlings that have overgrown their seedling pots. Its dimension is 4-inch height x 4-inch width x 4-inch depth. The manufacturer provides several colors for their clay pots which include:
Blue
Green
Purple
Yellow
Pink
Bare terracotta color
Each order consists of 6 pots. The pots have one drainage hole at the bottom and a saucer to catch the excess water. The drainage hole is about the diameter of a pencil. These medium-sized pots allow you to place your orchids in ideal places like window sill tabletop or on the porch.
Gardeners appreciate the durability of these pots because they don't easily break in a single accidental drop. The quality is thick, and the saucers fit well. That's why it is included in our list of best orchid pots this year. The packaging technique of the manufacturer is above expectations, and if there are occasional chips, they are willing for a refund or replacement.
Pros
Ideal for actively growing orchid seedlings
With different pot colors
Superb packaging to prevent breakage
With saucers to prevent water leakage
Breathable and provide a humid environment for moisture-hungry orchid seedlings
Best for transplanting baby orchids in a bigger pot
Cons
Some batches of pots break while some are durable. Either way, the manufacturer can provide a replacement or refund.
3. HomArt Rustic Terra Cotta Orchid Pot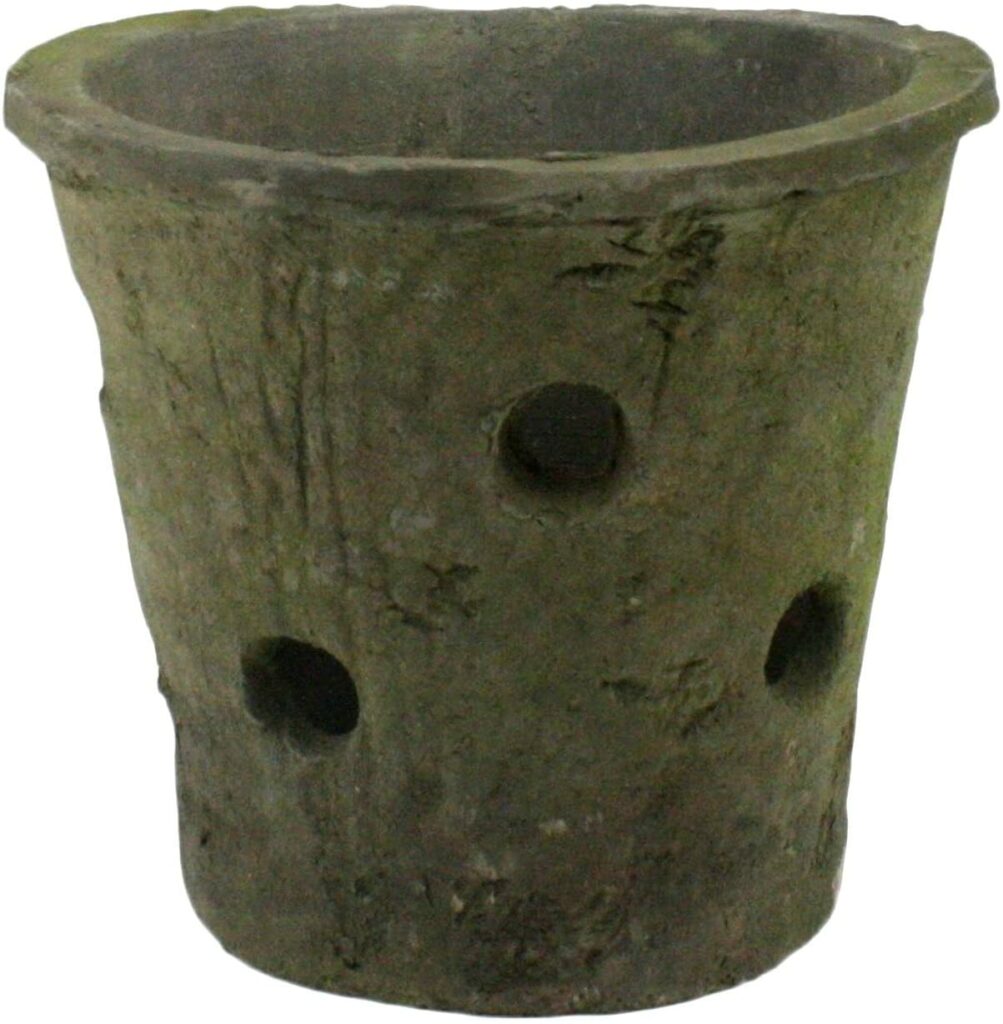 If you want to put your orchids in an artsy pot, HomArt offers one that blends in any interior or exterior design ranging from French Country to Tuscan. This orchid pot is hand-made and made especially for orchids due to its 6-inch holes on the sides.
HomArt Rustic Pot measures 6 x 5 inches with several holes on its sides and one at the bottom. It is heavy, which prevents the pot from toppling over when the roots of the orchid start to cling on its rim. Most orchid lovers like this pot because it dries quickly, making it ideal for orchid varieties sensitive to moisture.
Due to its deep moss green color, some gardeners find it hard to blend it into their interior design. Some also speculate that it is concrete-based and contains lime. However, the claims are not yet proven since some gardeners successfully grew orchids using this pot.
Pros
Rustic design
Ideal for transplanting orchid seedlings
With holes on the sides
Dries quickly
Best for moisture-sensitive orchid varieties
Hand-made
Cons
Heavyweight
Due to its weight, it may easily break if dropped
4. Zuotog Terracotta Pots, 6 inches Shallow Bowls with Drainage Hole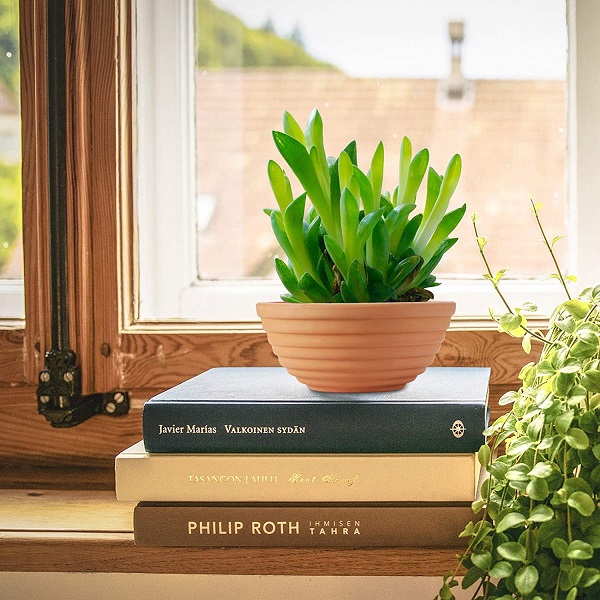 Some terrestrial orchids have roots that need shallow orchid mix because they require frequent moisture. The shallow pots from Zuotog Terracotta pots suit them the most. Each Zuotog pot has a 6-inch depth reducing the chances of root rot for some terrestrial orchid varieties.
The size of each Zuotog pot is 6 x 2.6 inches. It has a porous texture that creates a breathable environment for orchid roots. The key feature of this pot is its smooth outer layer. You can paint on the exterior part of the pot to bring your creative ideas to life.
The expanded rim of the Zuotog shallow pot also gives space for plant arrangements. Many gardeners commend its design due to its aesthetic addition to any interior or exterior home design. You may place beautiful ornaments on the topsoil to add some plant design to your plants, like tiny white stones.
The problem with this brand is not its product but its shipment. Most gardeners experience having broken pots due to poor packaging. The manufacturer is willing to replace the broken pots but requires patience due to the processes you need to take.
Pros
Affordable
Beautiful shallow pot design
Can be painted 
Ideal for moisture-loving orchid varieties
Versatile and can be used for succulents and other plants
Best for creative plant arrangements indoor
Cons
Poor packaging, but the seller is willing to replace any broken piece
5. D'vine Dev Terracotta Pots for Plants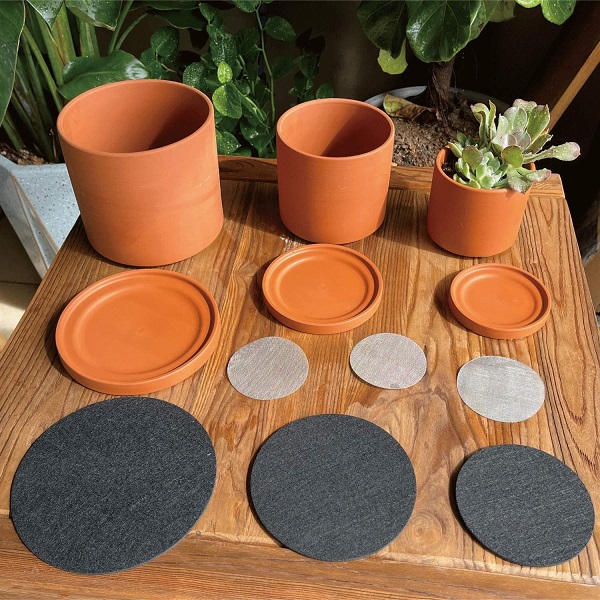 If you want a new design but love the terracotta material, a cylindrical option is ideal for you. D'vine Dev Pots creates a minimalist vibe through its sleek cylinder shape, complete saucer, and pads. Its height provides more stable support for growing orchid plants.
D'vine Cylindrical Terracotta pots have a matte finish that completes their beautiful design. It has one drainage hole at the bottom for water drainage. What makes it commendable is it comes with a drainage net, a scratch pad, and a saucer. Unlike other pots, it has complete accessories to make it ideal indoors.
Its size is 4.2 x 5.3 inches with a 6.5-inch depth. It's not too heavy, and with orchid mix and plant added into it, it won't topple over with a gush of strong wind. The material absorbs water which creates a humid environment for the roots of the moisture-loving orchid varieties.
Most gardeners commend the seller because of their prompt response to replacements and queries of the customers. The pot also looks gorgeous and honest to its claim. The only problem is that there are instances when the saucer does not match the pot size. Other than that, most gardeners are happy with this pot.
Pros
A cylindrical design ideal for a minimalist home setup
Durable and thick sides
With drainage net, saucer, and scratchpad
Prevent plants from toppling over
Weight just right to keep orchids safe
The material absorbs water which creates a humid environment for orchids
Cons
Some batches come with mismatched saucer and pot sizes.
---
Plastic Orchid Pots
Plastic pots are ideal for orchid seedlings. They help retain water longer and help keep the roots warm during cold weather. They are lightweight and easy to move around.
Here are some of the best orchid pots made of plastic:
1. Komplekt Plastic Store 10 pcs. Clear Orchid Pots Set w/ Holes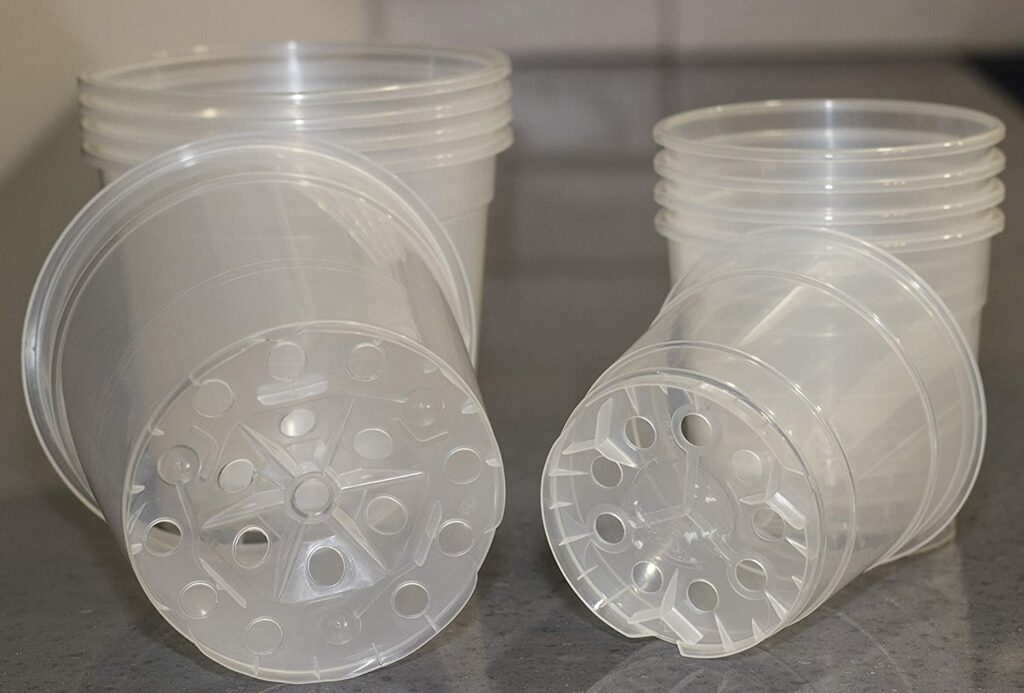 For gardeners who opt for pots ideal for baby orchids, these brands of orchid pots may be the best option for you. The orchid pots have transparent plastic material that allows air and sunlight to reach the growing roots of young orchids. The orchid pots also have several holes at the bottom for water drainage.
The manufacturer is proud of the size of the drainage and aeration holes because it prevents the orchid potting mix from falling out of the container. The set contains two different sizes, including 6.5-inch pots and 4.5-inch pots.
Gardeners and orchid enthusiasts commend the durability of the plastic material of the pot. The pots do not bend easily. It also provides the needs of the gardeners in propagating their orchids. However, there are some issues with the lack of holes on the sides of the pots.
Though the pots are made of durable plastic, some batches contain broken pots. Some gardeners also received one size of orchid pot instead of a two-sized set of plastic pots. In some cases, the gardeners no longer consider returning the defective ones since they are still usable.
Pros
Multi-use pots
Affordable
Durable and thick plastic
Ideal for propagating young orchids
Clear plastic that allows sunlight and air to reach the roots
Allow gardeners to peek on the roots of the orchids outside the pot
Cons
No holes on the sides
Some batches have broken pots, but the seller is willing to replace them.
2. Meshpot 2Pcs 6.3 Inch Plastic Orchid Pots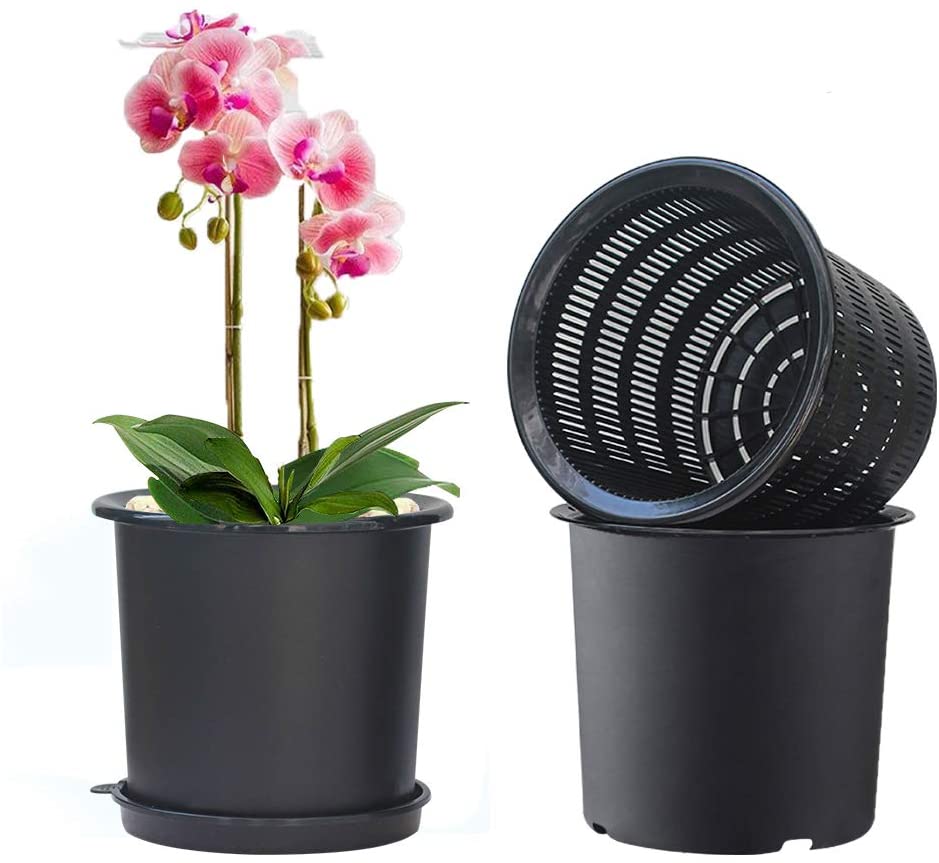 Meshpot orchid pots are ideal for transplanting overgrown and root-bound orchids. Every orchid pot is composed of an inner pot with patented holes to guide the roots and provide adequate aeration. Meshpot is made of food-grade plastic that can last for ten years outdoors.
The overall design of the Meshpot is intended for orchids and other moisture-sensitive plants. The patented holes help prevent the roots from choking the plant. It is ideal for use on the following orchid varieties and plants:
Orchid
Dendrobium
Clivia miniata
Phalaenopsis aphrodite Rchb. F.
Peace Lily
Succulents
Cactus
Snake plants
Each package contains two inner pots with holes, two outer pots, and two saucers. Most gardeners see improvements in the health of their root-bound and overgrown orchids as they start to bloom again. The potting material is durable. Its liner inside the pot maintains air circulation around the roots.
Despite its good features, the pot has some flaws that frustrate some gardeners. The lack of transparency in the plastic prevents them from gauging the moisture level of the bark and potting mix.
To address the issue, some gardeners no longer use the outer pot to let the roots breathe and monitor the moisture level of the potting medium.
Pros
Promotes root growth due to the patented holes in the inner pot
Provides good air circulation for the roots
Ideal for pot-bound and overgrown orchids
With saucer
Durable food-grade plastic material
Sleek and simple
Best for minimalist interior design
Breathable design allows dull and dying orchids to breathe and bloom again
Cons
Some gardeners are not a fan of non-transparent plastic since it limits their visibility on the moisture level of the potting medium (bark).
3. Santino 4.9-inch ORCHIDEA Self Watering Pots for Orchids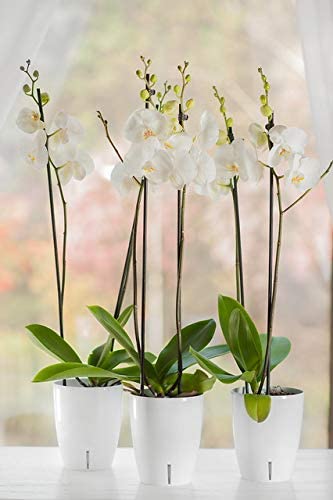 Moving on to a more modern-looking pot, we have Santino 4.9-inch Self-watering orchid pots. It consists of an inner and outer pot with a wicking system to continuously sustain the water needs of your orchids. It comes in several colors, such as:
Blue
Black
Pink
Light blue
Lavender
The inner pot has 10 holes that provide ideal aeration to the roots and drainage for the potting medium. The outer orchid pot has a water level indicator so you can check when to replenish the mini reservoir at the bottom of the orchid pot. Due to its design, it is leak-free and doesn't need a saucer.
The overall capacity of the Santino self-watering pot is 0.3 gallons with a height of 6 inches and an inner depth of 4 inches. Its design is ideal for moisture-loving orchids as it helps keep the roots moist for up to 4 weeks. Gardeners love this pot because of its sleek design and the improvement of the health of their orchids.
Some gardeners, however, look for a more transparent outer pot so they can check the moisture level of the potting medium. There is no handle to grip the inner pot upward, which frustrates some gardeners.
There are also cases of missing parts. However, the seller is very accommodating in providing the missing parts.
Pros
Sleek and leak-proof design 
Self-watering pot using a wick system
Time-saving
With water-level indicator
Ideal in maintaining proper moisture without overwatering orchids
Come with different color options
Durable plastic 
The inner pot has ten holes for root aeration and adequate drainage
Cons
Design flaw: no grip for the inner pot
Some batches have missing parts, but they have excellent customer service willing to provide missing parts and replace defective parts.
4. MUZHI Orchid Pot with Net and Holes, Round Self Watering Planter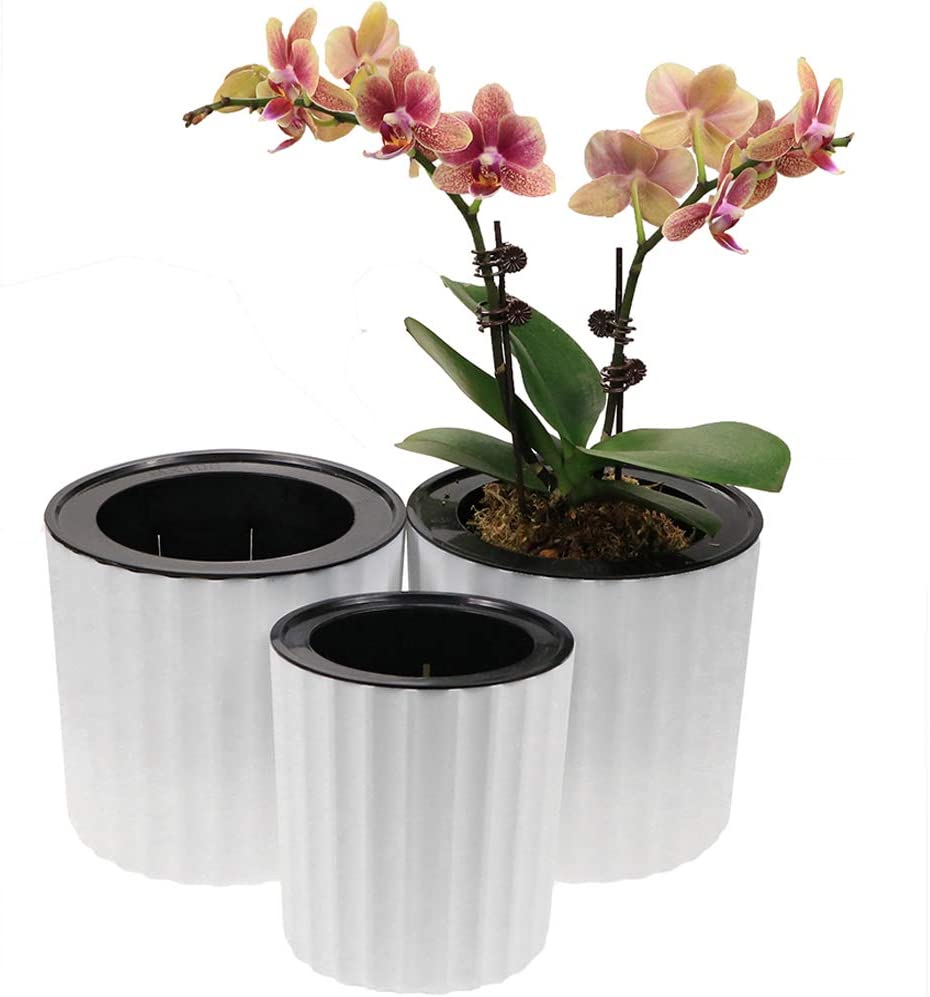 Muzhi Orchid Pot is one of the most well-designed orchid pots on our list due to its perfectly sized inner pot. It is a set of 3 self-watering orchid pots with two large orchid pots and one small pot. The diameter of the large ones is 4.4 inches, while the small one has a 3.5-inch diameter.
These pots have a double layer design wherein the outer orchid pot has unique vertical waves that provide an elegant feel. The outer layer has no holes since it serves as a temporary reservoir of excess water and moisture for the orchid. Its leak-proof design makes it suitable for tabletops and indoors. It works best for the following plants:
Phalaenopsis
Cymbidium
Dendrobium
Oncidium
Devil's Ivy
Golden Pothos
Herbs
African Violet
Cattleya
Orchids
The inner mesh of this orchid pot has a wide lip edge that eases your grip in lifting it out of the outer layer. The gap between the inner mesh and the outer layer is also beneficial in preventing the two parts from getting stuck when the roots grow. The inner mesh has several slits on its side for air circulation and keeps excess water off the substrate or potting mix.
For its self-watering feature, the inner mesh of this orchid pot has a wicking rope that will absorb water from the reservoir and transfer it to the substrate. It helps keep the roots moist and not wet. The ideal water level for the outer pot is 0.5 to 1 inch to prevent the water from reaching the bottom of the inner mesh.
The only concern of most gardeners who bought these pots is the lack of instructions for beginners about refilling and using the wick. Other than that, most gardeners agree that a set of these pots provide value for money.
Pros
Elegant and clean design 
Durable plastic
Well-designed double-layer orchid pot
Self-watering and making growing convenient
Leak-proof outer pot
Wide lip on the rim of the inner mesh for easy handling
Slits on the inner mesh provide aeration and proper drainage
Durable plastic
Ideal for repotting orchids
Easy to use
Best for novice gardeners prone to overwatering
Lightweight
Cons
Not enough instructions for beginners
5. Truedays Clear Orchid Pots with Holes Plastic Flower Planter 5.5 inch 4 Pack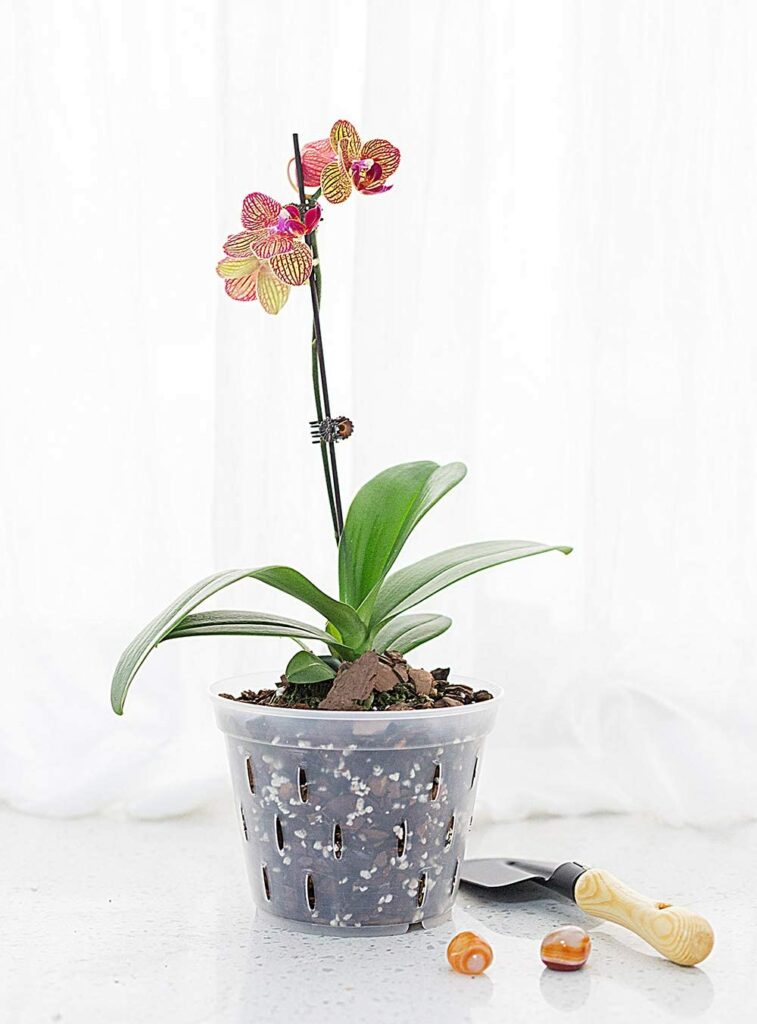 What most orchid lovers want in a pot are good ventilation and transparent material to check on the roots. Truedays Clear Orchid Pots provide these two features that make them a best-seller among orchid gardeners. Unlike its competitors, Truedays orchid pots have 18 side holes and 12 drainage slits at the bottom.
Due to the number of holes and slits, the pots ensure good ventilation and drainage for growing and dying orchids. The orchid pots may look small, but in reality, they have a 5.5-inch diameter at the rim and a 3.7-inch diameter at the bottom. It is 4.33 inches high, and each pack contains four clear orchid pots.
The transparency of the plastic is approximately 95% clear and 5% frosted, so you can still see the roots from the outside. These orchid pots are also wide and give plenty of room for the roots to grow to receive air, nutrients, and moisture. Due to its design, it's ideal for transplanting orchid plants.
The breathable design of this pot increases the water and nutrient uptake of orchids which enables them to grow new roots and bloom faster and better. It is specifically designed for Orchidaceae like Orchid, Dendrobium, and Cattleya.
Aside from drainage and aeration, the slits on the side help naturally prune the roots and prevent them from circling, leading to choking. Everything an orchid gardener needs is provided by this orchid pot. It is simple yet functional and beneficial to the health of the orchids.
The only problem you might experience with this brand is shipping woes where some end up broken or cracked.
Pros
With 18 holes and 12 slits
Easy to use
Bigger than expected
Reusable
Provides sufficient room for roots to grow
Provides a well-ventilated environment for orchids
Ideal for transplanting dying orchids
Best transplant pot for orchids
A transparent material that allows you to see the substrate and roots
Affordable
Cons
Some batches have broken pots but are refundable and available for replacement
6. HBServices USA 8″ Self Watering + Self Aerating Round Plant Pot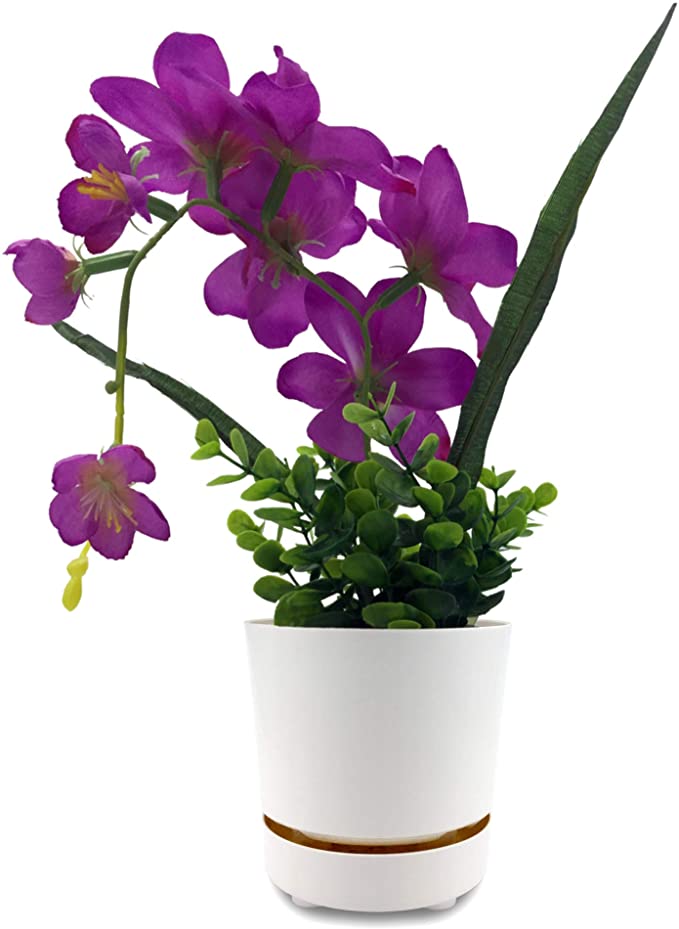 The self-watering pot from HB Services is a big-sized pot for transplanting matured and mature orchids. It has a unique watering system where the hollow legs serve as a link for the reservoir and the potting mix instead of a wick. Any excess water that runs up from the legs will go back to the saucer through the slits at the bottom of the pot.
The slits serve not only in drainage but also for the proper aeration of the roots. The design debunks the wicking system as it sometimes gets clogged and causes underwatered plants. The reservoir can hold up to 1 pint of water, which can sustain the plants with moisture for up to two weeks.
Since the pot is elevated from the reservoir, gardeners can easily see the water level without separating the parts of the orchid pot. It has a top diameter of 8 inches, a bottom diameter of 6.75 inches, and a total height of 7.25 inches. Since the reservoir under the pot also serves as a saucer, it is a leak-proof planter ideal for use indoors.
The orchid has a sleek minimalist design that can blend in with any interior design or theme. It is made of durable plastic, which is 100% BPA-free. The hollow legs and watering system work best for moisture-sensitive orchids like Cattleyas and Cymbidium.
Most orchid gardeners love this pot as a new home for their old orchids. It provides all the aeration and moisture needs of their plant babies that they see bloom weeks after transferring them to this pot. Its only flaw is it doesn't come with enough illustration and instruction on how the watering system works on its own.
Pros
Best orchid pot for Cattleyas and Cymbidium
Ideal for transplanting mature orchids
Best draining and self-watering design
Easy refilling
The reservoir can sustain water for up to two weeks
With slits at the bottom of the pot for draining excess water and aeration
Sleek and minimalist look ideal for any interior design
Durable plastic 
Provide plenty of room for roots to grow
100% BPA-free
Cons
No illustrations and instructions on how the self-watering feature works
---
Ceramic Orchid Pots
No gardener can resist the charm of a perfectly glazed and designed ceramic pot for orchids. Like terracotta pots, they provide stability and temperature control for orchids. Ceramic designs help add value to any home interior and exterior design.
Here are the best orchid pots made out of ceramic:
1. Atri Ceramic Orchid Pot with Holes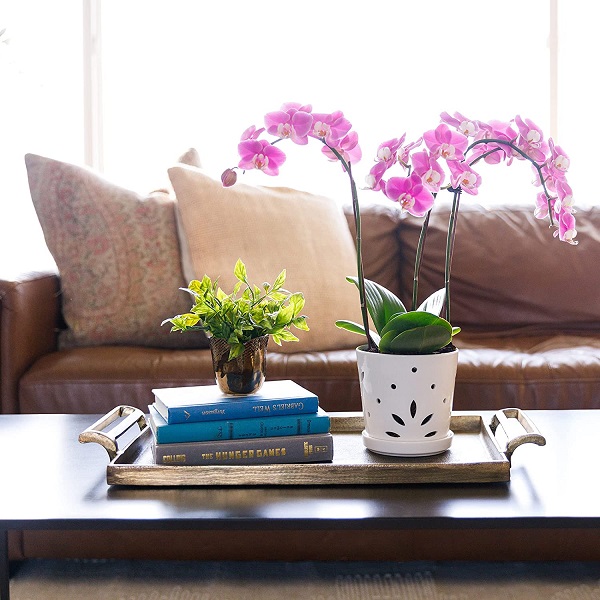 If you're feeling generous in treating your orchids or want to give a pot to someone, the Atri porcelain orchid post is your best bet. It is a porcelain pot with angled sides for watering and drainage functionality. It has small holes and angled slits on its sides to provide good air ventilation to the roots of orchids.
This porcelain pot has a detached saucer to collect excess water. It has a smooth finish and looks sleek and elegant. With its design, it can turn your orchid into a part of the interior design. It measures 5 x 5.25 inches with a 360-degree airflow from its vents.
This porcelain pot is handcrafted and produced commercially by a local family business. They use high kiln temperature to achieve a durable pot and finish it with white glaze for a more aesthetic design. It costs more than your average orchid pot but its design adds a kick to your usual planter at home.
Most gardeners recommend using a light mesh liner to prevent the bark chips and potting mix from coming out of the holes. Also, it is recommended that you soak the roots for 30 minutes in water every week to help maintain the adequate moisture level.
Most gardeners love its design and function but some find it too expensive and smaller than they expected. The package comes with the orchid pot and a sweet note from the family that runs this company which adds value to every piece.
Pros
Durable porcelain orchid pot
Aesthetic design that blends to any interior design
With a glossy finish for a minimalistic vibe
Has drainage holes on the sides and at the bottom for air ventilation and water drainage
With saucer
Easy to use
Ideal for transplanting orchids indoors
Cons
Does not come with a liner
2. Hypehouse Allen + Roth 8 in. Orchid Pot with Saucer White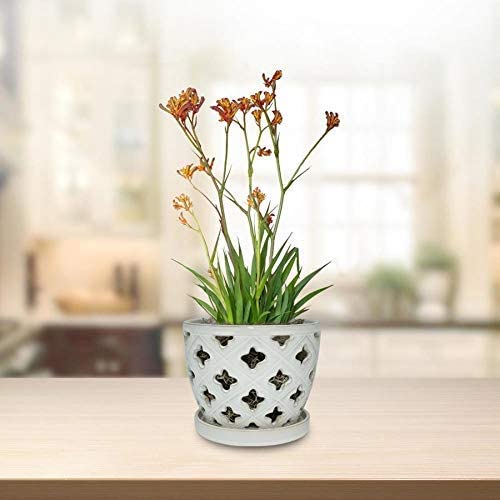 Another aesthetically pleasing porcelain planter is from Hypehouse. Their 8-inch orchid planter has clover-shaped holes that provide plenty of air vents for the roots of your orchids. It measures 8.27 x 6.81 inches and comes with a saucer.
The pot is wide enough to hold and keep the old roots of mature orchids. The holes are bigger than usual so you'll need a liner or the help of sphagnum moss to prevent the potting mix from getting out of the holes. These liners help maintain the air circulation around the roots without compromising the look of the orchid pot and volume of the potting mix.
Most gardeners are complaining about its price online which is higher than the local stores. Functionality-wise, it adds value to your interior and provides the necessary aerial requirements of orchids. It all depends on your priority if you'll consider its flaws or its function.
Pros
Clover-like holes make it look classy and artsy
Big enough to accommodate the old roots of mature orchids
Provides adequate water drainage and air for the roots of orchids
A sleek and glossy finish makes the pot look elegant
Ideal for big orchids
Easy to use
Best option for countertops and table tops as centerpiece
Cons
---
Other Orchid Planters: Orchid Baskets or Vanda Baskets
Wood orchid baskets provide an airy environment for epiphytic orchids. They are ideal for drought-loving orchid varieties and require fast-draining mediums.
Here are some of the next orchid baskets that you choose from:
1. PANWA Handmade 100% Thai Bamboo Woven 4 Inch Hanging Orchid Basket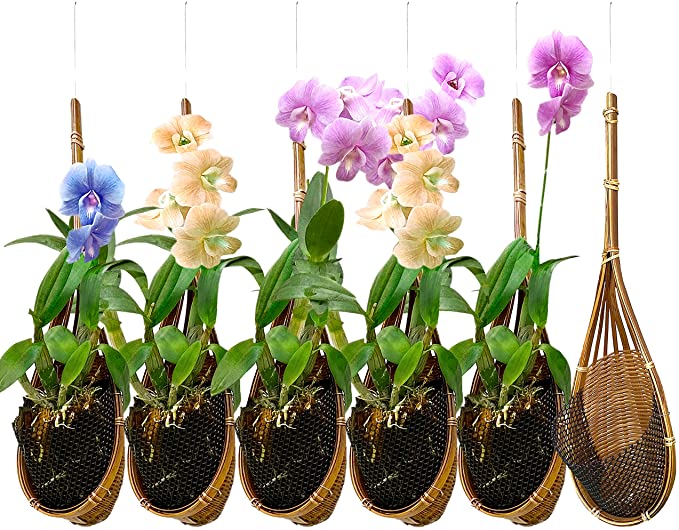 Aside from checking out the best orchid pots for this year, here are some instagram-worthy orchid planters that you may also like. This PANWA hand-made hanging orchid basket provides an airy environment for your orchids as well as a Bali-inspired theme to your exterior home design.
The hanging basket is made of hand-woven bamboo with a net covering to keep the potting medium and plant intact. It measures 14 inches from top to bottom with 4 inches in length for the main basket. It is an ideal option for hanging baby orchids.
Pros
Easy to use
Lightweight
Easy to clean
Easy to hang to water
Ideal for boho and Bali-inspired home themes
Well-made handcrafted baskets from Thailand
Cons
Too small for mature orchids
2. Sun Bulb Better GRO Octagon Cedar Basket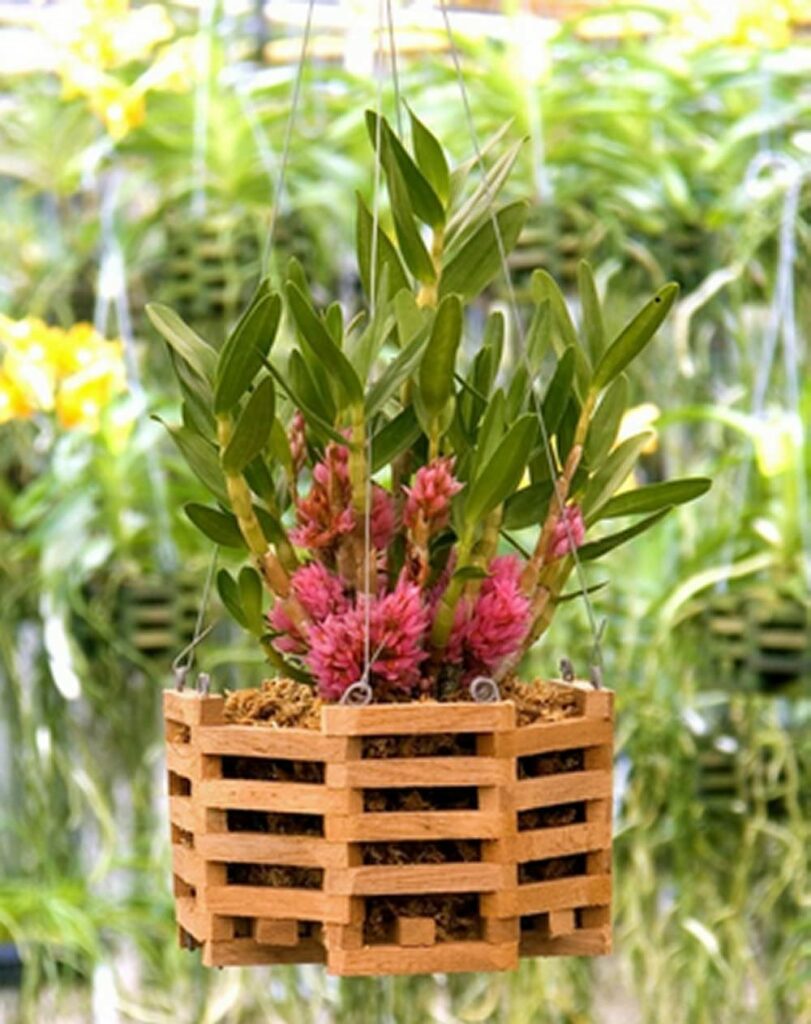 Another interesting planter design is from Sun Bulb. Their Vanda baskets or Octagon cedar baskets create a twist to the usual square-type of orchid baskets. It is made of cedar and provides plenty of space and air ventilation for orchid plants.
There is no need for assembly and you simply need to place a liner to keep the potting medium or bark in place and your orchid is ready to hang. They're aesthetically pleasing in a wood-inspired home or on an outdoor porch. The assembly is also sturdily made.
What most gardeners should know is that the gaps can be too big for fine barks. You must use a thin liner inside the basket to keep the potting medium intact. Otherwise, they may fall off gradually.
Pros
Unique shape and design
Versatile function: Ideal for either tabletop pots or hanging baskets
Ready to use and easy to fill
Durable and made to last
Made of hardwood
Cons
The gaps between the wood pieces can be too big for a fine orchid potting mix
Final Thoughts
We hope that we helped you find the best orchid pots around. We selected the gardener favorites and the functional ones so you won't have to deal with the tedious research.
From our list, here are the best ones we highly recommend:
Let us know in the comments which is the best orchid pot for you. Also, please don't forget to share this post with your friends and help them discover new pot designs.
Happy gardening!